When you're hiking, a high-quality pair of boots is perhaps more integral to your equipment than anything else.
For guaranteed reliability, the Lowa Renegade GTX Mid Boots are our best hiking boots for men. Unpredictable terrain and climate demand support, durability, water resistance, and comfort over prolonged usage, which these boots have in spades. 
Like any outdoor gear, hiking boots are designed for comfort and protection when you're out in the wild. The materials are typically tougher than regular shoes or boots, with additional padding and support to prevent slippage. And the outer, or tread, is designed with extra grip in mind for when you're climbing or descending. 
A boot is a boot, but looks can be deceiving — every pair can have major differences in fit, durability, and purpose. The right boot for simple trails isn't the same footwear you need for tackling mountainous climbs with steep inclines. And, picking the wrong boot for the job could halt you in your tracks or even lead to injury. 
As a starting point, we collated the top hiking boots around, taking into account real customer reviews and feedback. Then we narrowed down that list to the top 10 boots, and finally to our three best-in-class pairs of footwear. Thanks to our research, we can say with confidence that we found the best hiking boots for men.
The Hiking Boots for Men We RAVE About
Don't trail behind the pack with a low-quality pair of hiking boots.
The Lowa Renegade has everything you should be looking for in a reliable pair of hiking boots. Sure they're expensive, but you pay a premium for first-class cushioning and support, two of the most important factors. 
Read Full Review
Shop Lowa Renegade GTX Mid
Among all our chosen boots, the Salomon Quest 4D 3 GTX wins best internal support for multiple reasons. Tall, well-padded cushioning meets sophisticated lacing, ensuring a tight, supportive fit. 
Read Full Review
Shop Salomon Quest 4D 3 GTX
Where are you headed?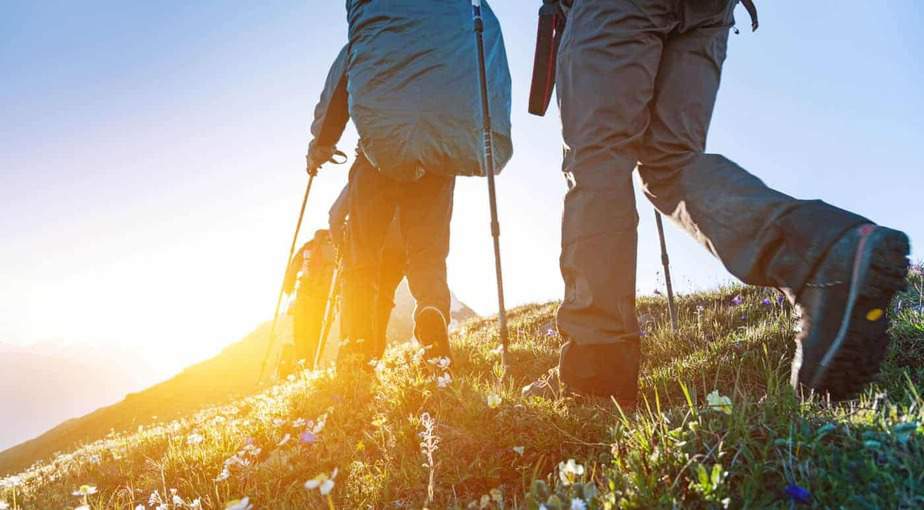 All hiking boots aren't created equal — each pair is designed with a preferred environment in mind. You could be hiking through arid or damp conditions, over flat or rocky surfaces, or on solid or loose terrain. Hiking boots fine-tune characteristics like stiffness, degree of ankle support, and tread to account for such conditions. 
You need less support on "easy," well-traveled paths, so you can use lighter, more flexible boots, or sneaker boots. Over long journeys, you'll benefit more from greater flexibility, which affords a more natural fit and better comfort. But on harsher trails, lightweight and flexible can translate into excessive wear and tear, or even potential injury. 
When you're hitting steep inclines or declines, or navigating broken and uneven ground, you need more rigidity and support with sturdier ankle cushioning, tougher upper materials, and greater insole padding, as well as a tighter fit around your feet. 
Choose the right fit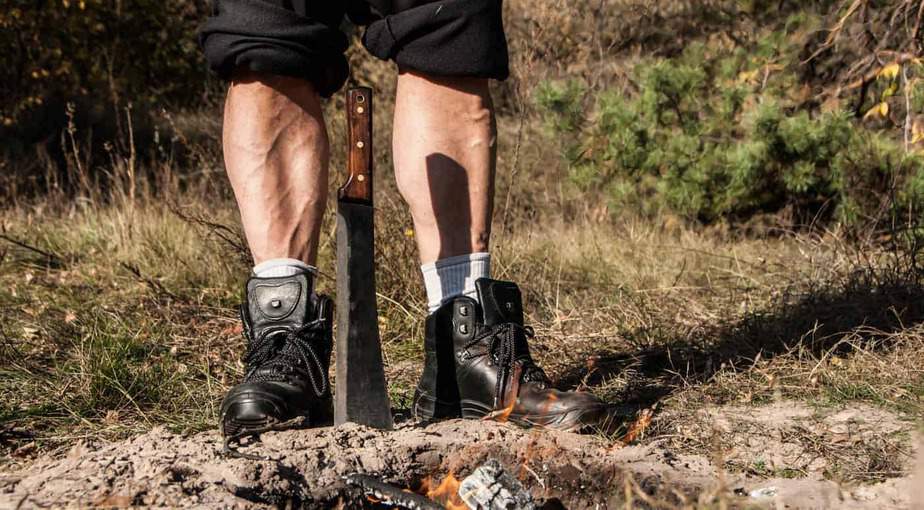 On the subject of fit, getting it right is absolutely vital. But it comes down to more than just size, which is just an arbitrary number that doesn't consider the unique traits of your foot from heel to toe. A lack of space in the toe box or too much space in the heel can be crippling. 
When you're traversing slopes, your heels rise and your toes spread inside of your boots. If the fit is wrong, it won't take long for blisters or chafing to cut your hike short. So think about these limitations, as well as whether the boots come in wide or narrow variations. 
Waterproofing vs. breathability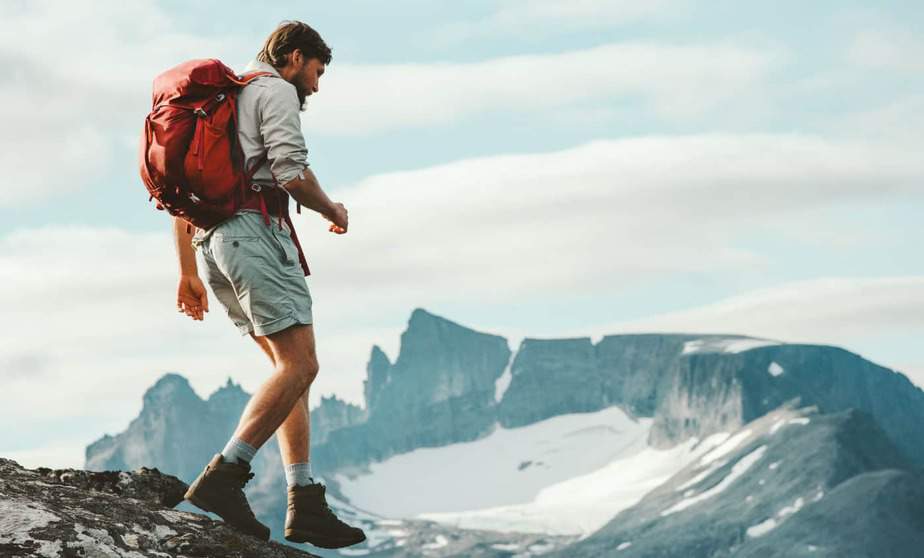 The last thing you want when you're out on a hike in the middle of nowhere is soaked feet. You won't have to worry in most cases, as almost all modern hiking boots are lined with waterproof membranes. What you may need to worry about is breathability, as moisture also needs to be able to escape your boots.
Waterproof membranes tend to increase the likelihood of your feet sweating when you're out on the trail. Pricier materials like Gore-Tex allow moisture to escape your footwear better than cheaper materials with worse breathability, which is why we considered this feature when making our recommendations. 
Uppers, outers, and other design choices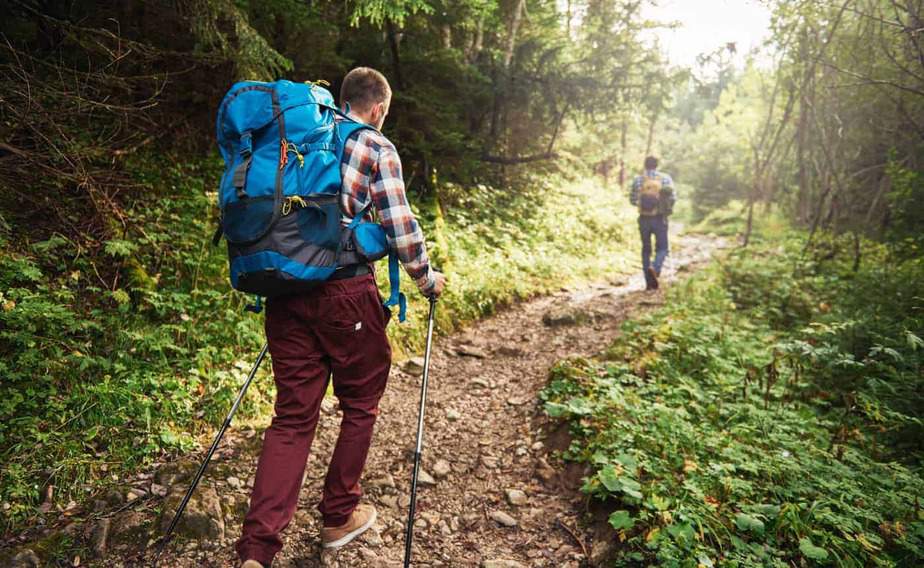 Leather hiking boots used to offer the best durability, while being easier to maintain. But the gap between leather and synthetic materials has diminished, far improving the range of choices you have. So whether you favor a leather or synthetic fabric upper, the most important points are fit and durability. 
Outside of the upper, you've got some other components to watch out for, which can vary in quality. The rubber outsole is designed to offer strong grip on unreliable surfaces, and the midsole provides support. Insoles offer cushioning underfoot to soften the impact of the midsole, and act as a springboard. 
Methodology
Any good review should focus on the opinions of real consumers who have used the products themselves. That's why we aggregate review scoring from a range of sources to decide which products are best-in-class. Our sources include authority websites, reviews on websites such as Amazon, and other "best of" lists.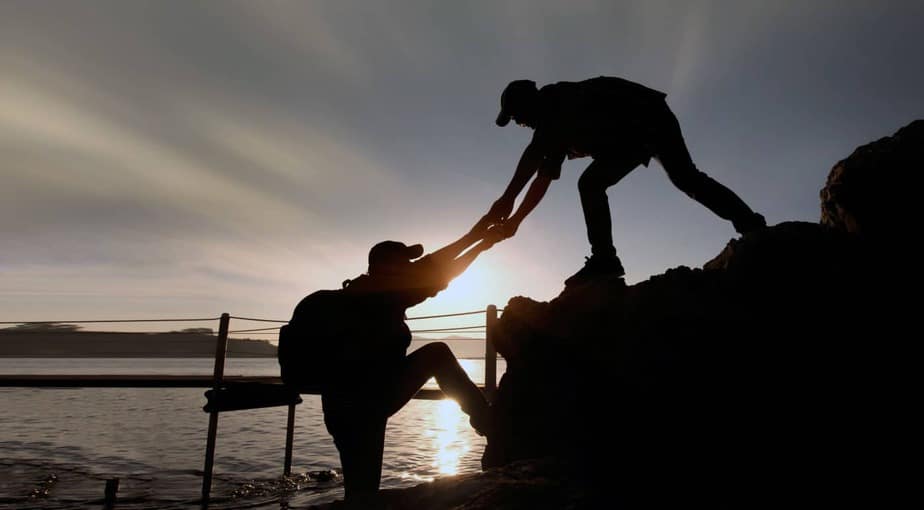 We start with a long list of anywhere from 20 to 100 products, before whittling the list down. Our short list of 10 products represents the most frequently mentioned category leaders, which have scored highly across the board. Then, we applied custom criteria to determine the best of the best, as outlined below. 
Fit:

Whether your feet are comfortably secured, and whether there are wide or narrow options available. 

Internal support

: When you're traversing uneven surfaces, proper internal and ankle support is essential. 

Waterproofing

: Most hiking boots are waterproof, but some are more impervious than others. 

Outsole and tread

: Quality, design aesthetics, and tread depth don't always go hand in hand. But striking a balance is possible. 

Upper material

: Though some materials are more attractive than others, they can be less durable. We looked closely at material choice for the upper. 

Liner breathability

: Waterproofing can affect breathability. We looked at just how breathable each pair of boots is. 
The Best Hiking Boots for Men
Are hiking boots necessary? 
We get it — if you're getting into a new hobby, why should you sink a couple hundred dollars on new boots? There's always the temptation to make do with the footwear you already have, or cheap out on inexpensive boots. And it may work out, but we guarantee that you'll lack the support and comfort of the real deal. 
A proper pair of purpose-built hiking boots means getting the necessary support for your feet on uneven terrain. Those sneakers you have may be great for pounding the pavement, but they won't hold up against treacherous terrain. On steep slopes, you'd only be a slip away from a sprained ankle or worse. 
The same can be said about the level of comfort offered by your footwear, specific to the unique movements of hiking. Your feet slide horizontally and vertically with constant elevation changes, which can be uncomfortable in the wrong footwear. But hiking boots utilize additional padding, special lacing systems, and other features to ensure proper grip and comfort. 
How should hiking boots fit?
When it comes to choosing your hiking boots, don't just take the numeric size at face value. Pay attention to the length, width, and heel, and how each part of the boot feels. You could have the most comfortable boots in the world, but if the fit's wrong, you're going to notice. 
Most people have one foot larger than the other, so start with that one, and insert it into the corresponding boot, unlaced. Push your toes into the toe box, and check that you have about one finger's worth of space behind the heel. Any more or less and you'll probably want to try a half-size up or down until it feels right. 
In terms of width, your feet shouldn't feel cramped around the toes or the sides, nor slide around. These are signs that you may need a wider or narrower variation. And finally, ensure that your heel doesn't slide up and down when you're walking — this is a fast track to blisters. 
Do hiking boots need to be broken in?
To get the most out of your boots, spend some time breaking them in gently. Leather isn't the untamed beast it once was, but you'll find that more lightweight models are easier to break in. The last thing you should do is try to break in a pair of boots by hiking a long distance in them. 
For a foot-friendly way to break in a new pair, try wearing them around the house while they're still clean. Lace them up and insert the insoles you'll be using on the trail, ensuring they're secured snugly. Alternatively, take a walk at a relaxed pace around the block on flat surfaces rather than on any uneven or rocky terrain. 
Don't ignore pinch points, chafing, and pain in general — no amount of breaking in will compensate for poor fit. Though new boots feel stiffer to begin with, they shouldn't hurt you. If they do, consider using more supportive insoles, or trying a new size altogether. 
Should hiking boots be waterproof?
Waterproof designs have come along massively since the early days of hiking, and leather is no longer the only option. Though most modern hiking boots come with waterproof membranes, Gore-Tex or otherwise, they're not absolutely required. It all comes down to personal preference, as well as the type of hiker you are. 
Waterproofing benefits hikers who are always battling adverse weather or ground conditions. Snowy tundra, streams, rivers, or constant rain — they're all factors that demand a strong waterproof liner. If you want your socks to remain dry and toasty, definitely buy into this feature. 
But you're paying a price — whether or not your boots have a pricey Gore-Tex membrane, or a cheaper lining. Waterproofing always sacrifices some degree of breathability, meaning your feet can get hot and sweaty. You'll have to choose between the lesser of two evils and decide which problem is likely to bug you more. 
What are the best hiking boots for men?
So now you know that a quality pair of hiking boots is essential for any strenuous hikes on testing terrain. Any of the hiking boots we listed here are more than sufficient for the job. For the very best, or something unique from an up-and-coming brand, we picked out three particularly special pairs.  
There are several things we looked for in a good pair of hiking boots, and the Lowa Renegade GTX checks every box. They're well-padded for comfort, provide exceptional ankle support, and can battle through any type of terrain with ease. These are the qualities that earned them the top spot on our list of the best overall hiking boots for men. 
Alternatively, if you want to wear something unique that you won't see frequently on the trail, there's the Forsake Range High. Though this boot is not the overall winner, it's a product from a small company that's doing all the right things. That's why it gets our accolade for the best new brand hiking boots. 
Or, there's the Salomon Quest 4D 3 GTX, which are our best internal support hiking boots. They're the one pair we found that beats the overall winner for internal stability and support. And with a strong lace locking system, there's no room for movement or chafing. 
RAVE Recommends
Outdoor gear is a huge industry, and there are heaps of useful pieces of equipment for when you're out hiking. Some are quality of life improvements, whereas others can get you out of a jam in an emergency. Here are our top recommendations for other products that are super useful when you're out on the trail: