Giorgio Armani embodies Italian fashion, and some of the best men's colognes bear the Armani name.
One of our top picks from the best Giorgio Armani Colognes collection for men is Acqua di Giò Absolu. Perhaps one of the bestselling men's fragrances in the U.S., this subtle aquatic and woody scent will transport you to the Mediterranean Sea, reminding you that summer is eternal.
Second to none, Giorgio Armani has always pursued unique relationships to license his apparel, accessories, and fragrances. The Armani name is now nearly synonymous with refined and elegant taste, partly due to the mystique of Armani himself.
His fashion and styles have traveled around the world courtesy of Hollywood, having designed costumes for over 100 films. Armani launched his first fragrance in 1982, and it was an overnight sensation. Since then, he has been making men's and women's scents beloved by perfume and cologne wearers alike.
Since choosing the right cologne for yourself is a very personal decision, we ranked the top five Armani colognes to help you decide which one is best for you. So if you've set your sights on an Armani cologne to add to your collection, check out our ranking and make an informed decision!
Born 40 miles south of Milan in Piacenza in 1934, Giorgio Armani is the greatest fashion designer produced by modern Italy. Initially, Armani planned for a career in medicine and even enrolled in medical school, but he left after joining the army in 1953.
Armani began his career in fashion as a window dresser at the Milan department store La Rinascente in 1957. He also worked in the menswear department, where he was exposed to the marketing side of the fashion industry.
In 1964, he landed a job designing men's clothing for Nino Cerruti. Over time, Armani's skills were in high demand and he freelanced for as many as 10 other clothing manufacturers.
The empire of fashion
Armani left Cerruti in 1970 to work exclusively as a freelance designer, and opened an office in Milan in 1973. His work drew the attention of critics and the press, and in 1975 Armani launched his own menswear label.
In 1976, Armani began producing clothing for the U.S. market. His fame grew as a result of the 1980 film "American Gigolo," which featured his designs prominently in the wardrobe of Julian Kaye, played by Richard Gere.
This marked the beginning of a long-running relationship with Hollywood. As Armani himself noted, "My relationship with the movies has always been very strong, eventually marking the various stages of my career."
Even if you don't own a piece of Armani clothing, chances are you have been inspired by some of his designs. Armani has designed costumes for well over 100 films, including "The Untouchables" (1987), "The Dark Knight" (2008), "Inglourious Basterds" (2009), "The Wolf of Wall Street" (2013) and "Elysium" (2013), among others.
Armani also produced much of the wardrobe for another American pop culture icon during the 80s: "Miami Vice." During the 1980s, Armani was in great demand to style top Hollywood stars, and is widely credited with inventing the red carpet "power dress."
Armani has always been known for his pared down looks. Grace Mirabella, former editor-in-chief of Vogue, described Armani's look as "Style without excessive design. Armani dresses busy women who can't be occupied with themselves."
This commitment to approachability and wearability also influenced his approach to dressing Hollywood stars for the red carpet. He once remarked that a successful red carpet look should be "elegant…timeless and stylish, rather than trend-driven and overtly fashionable. Neither the outfit nor the wearer should look as if they are trying too hard."
The 1990 Oscars was the pivotal moment of stars working with famous designers, as Armani dressed five major actresses: Jodie Foster, Michelle Pfeiffer, Jessica Lange, Jessica Tandy, and Julia Roberts. More and more actors and actresses began pairing up with designers, a trend that continues to this day.
Throughout the '80s and into the '90s, Armani continued to expand his line, introducing socks, eyeglasses, watches, sportswear, skiwear, and cosmetics, among others. By the end of the '90s, he had over 200 stores spread over 37 countries around the world.
In 2000, the Guggenheim Museum in New York City hosted an exhibition of his work. In recent years, he cultivated a creative partnership with Lady Gaga, and designed outfits for at least two of her concert tours.
Over the years, Armani created numerous sub-labels catering to different markets. As of 2016, his company was worth an estimated $3.1 billion.
Other ventures
Armani has explored a variety of other ventures, showcasing his creativity and eye for good investments. He signed an agreement with Emaar Properties PJSC in 2005 to oversee the design and style for seven luxury hotels and three vacation resorts, the first of which opened in Dubai in 2010.
Armani is also an avid sports fan and is the president of the Olimpia Milano basketball team. He has designed uniforms for the English national football team, as well as the English Premier League team Chelsea. He also designed the Italian Olympic team uniforms for the 2012 Summer Olympics.
Armani fragrances
All along the way, Armani has been developing and releasing lovely fragrances for men and women. Armani's first fragrance, simply named Armani, was released in 1982, and the first men's fragrance Eau Pour Homme released in 1984.
Giò and Acqua di Giò, both of which appeared in the 1990s, were the first floral fragrances produced by Armani. The late '90s saw the introduction of Emporio Armani She and He, marking what has become an Armani trope: duo fragrances.
Methodology
We developed this ranking of the top five Giorgio Armani colognes for men through analysis of metadata collected from several trusted review sites. We also spent hours of online research, listening to and reading reviews from industry experts, fashion critics, and cologne enthusiasts around the world. We also got a chance to test them for ourselves!
During our research, we considered the following categories to pick the top five colognes:
Duration: Most folks want their cologne to last, so we paid attention to the duration of the fragrance notes.
Projection: How much does your cologne project out into the world?
Fragrance notes: Which scents does your cologne feature, and are they on top, in the middle, or at the base?
Price: Since cologne can be a significant investment, we made sure it is worth the cost.
Concept: Packaging and advertising are supposed to match the essence of the scent. But does it?
As you consider another bottle of Armani cologne, be sure to check out our list of the top five Armani colognes for men!
Best Armani Colognes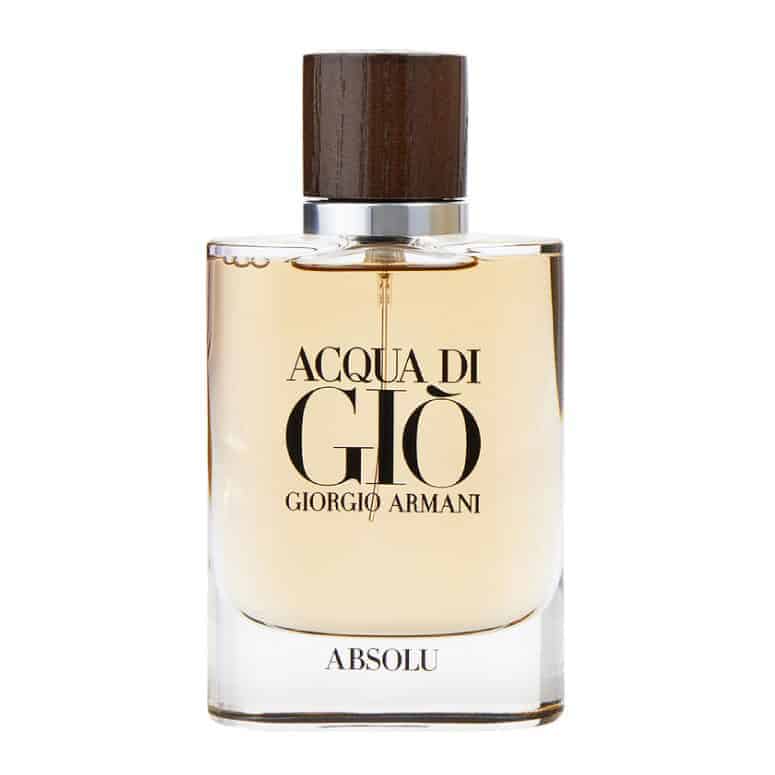 Our first Armani cologne is relatively new, having been launched in 2018. Acqua di Giò Absolu is a variation on the popular Acqua di Giò line of fragrances Armani has been producing since the '90s. This one, developed by Alberto Morillas, brings together woody and aromatic ocean notes without too much brininess.
The fragrance opens with citrusy top notes of bergamot, lemon, and grapefruit. There is also pear and green apple with delightful sea notes. The floral heart notes include geranium, fresh lavender, and rosemary to add some spice. At the base are lovely scents of wood and patchouli, along with tonka bean and amberwood. Labdanum also brings in an amber sweetness to help round out the wood. Overall, this great seaside cologne features a woody heart soaked in amber. Though it lasts long, it only has moderate sillage, making it a flexible summer scent.
Pros
Complex seaside scent
Great wood notes
Ages really well
Cons
Moderate projection
Pricey
Some may not like amber
Our second Giorgio Armani cologne is Armani Code, which was originally launched in 2004. Classified as an Oriental spicy scent, this dark fragrance manages to not overwhelm the wearer – or anyone nearby. It was produced by Antoine Lie, Antoine Maisondieu, and Clement Gavarry. The scent opens with a lovely citrus bouquet of lemon and bergamot, which avoids becoming overly sweet.
After about 30 minutes, the heart notes begin to emerge, featuring star anise, olive blossom, and Guaiac wood. The leather base notes are also present relatively early on, along with tobacco and tonka bean. Armani Code has moderate lasting power of six hours or so, with moderate sillage. It is a very flexible scent, though it is especially popular among the younger crowd. This is a scent that works really well in the colder months of the year.
Pros
Citrus and wood notes
Very flexible
Decent price
Cons
May not be for all seasons
Caters to younger crowd
Some may not like citrus top
Our third Giorgio Armani cologne is Eau Pour Homme. This cologne mixes a casual feel with classic tones and notes to create a scent that every man should have in his collection. Developed by Roger Pellegrino, it was launched in 1984 as Armani's first men's fragrance.
The fragrance opens with a fresh blast of citrus notes, including California green orange, bergamot, mandarin orange, lemon, and lovely basil. The heart notes include spicy cinnamon and nutmeg, mixed with a range of florals such as carnation, rose, lily, jasmine, and lavender. This elegant heart is then solidified by a musk base, with patchouli, sandalwood, and cedar. With moderate lasting power and sillage, you can wear this cologne for most occasions and seasons.
Pros
Lovely opening and deep finish
A classic scent
Very flexible
Cons
Moderately expensive
Doesn't really stand out
Moderate sillage
Another interpretation of the popular Acqua di Giò line, Essenza was launched in 1996. Like Acqua di Giò Absolu, this version was also created by Alberto Morillas. It is more concentrated, and is technically a men's perfume. Aside from intensity, Essenza's marine notes take more of a back seat, while the woody notes are much more front and center.
Hints of grapefruit and bergamot are at the top, along with calone and water notes. The heart notes feature a lighter collection of florals, including jasmine and an herbal mixture of sage and basil. But the real kicker is underneath, where base notes of cedar, patchouli, vetiver, and musk are accompanied by clary sage, ambergris, amber, and spicy black pepper. This combination makes for a dark, long-lasting, strong scent. You can wear it in the evening during the warmer months and into autumn.
Pros
Masculine and woody
Long-lasting
Very good sillage
Cons
Pricey
Not as airy as the original
Not for every occasion
Our last Armani fragrance is Emporio Armani Lui. Developed by Daniela Andrier and classified as a citrus aromatic fragrance, it was originally launched in 1998. Since its release, it has been considered another classic. This scent is definitely casual and works well indoors, whether at the office or at home.
The top notes include a citrus bouquet of mandarin orange, lemon, bergamot, yuzu, and pineapple, along with fresh green apple, sage, and spicy cardamom. The heart notes include rose, jasmine, and cyclamen, with subtle hints of nutmeg and orris root. Base notes of sandalwood, tonka bean, musk, cedar, oakmoss, and resinous amber provide substance. With moderate lasting power and projection, this scent is perfect for everyday use.
Pros
Refreshing citrus
Decent lasting power
Good for daily use
Cons
Doesn't stand out
Users report uneven duration
Not very romantic
Related Rankings
RAVE Recommends
Self-care is not a crime! Check out these other great products that will work well with your favorite cologne:
Brickell Men's Daily Advanced Face Care Routine: Here is a great grab bag of products to care for your skin.

MR.GREEN Manicure Set: A good manicure set is a must for the modern man.

RUGGED & DAPPER Face Moisturizer for Men: Here is a great facial moisturizer to keep you looking and feeling young.

Akunsz Shaving Brush for Men: Use this great shaving kit with your new plush shaving cream.

Chris Winn
Chris Winn is a freelance writer who works in the Minneapolis area, where he and his family are beholden to two cats and a dog.