We recommend products based on unbiased research from our editorial team. We may receive compensation if you click on a link.
Read More.
No other beard trimmer is within a whisker length of the Wahl Lithium Ion Plus, our pick for best beard trimmer.
Why's it so great? You'll have to keep reading to find out the whole story. But what we can tell you is the Lithium Ion is an all-in-one beard trimming solution, featuring 4 different beard attachments, unique self-sharpening blade technology, and a whole lot more. We've got all the details on the Lithium Ion and 9 other top-notch beard trimmers.
Are you follicle-ly gifted? Is that face-snuggie a work of art? Don't whack at that thing with just any razor. Cultivate your facial hair with a beard trimmer from our ranking of the best beard trimmers on the market.
"What, pray tell, makes these beard trimmers any better than my razor or hair clippers?" you might wonder.
We're glad you asked. With shorter blades than hair trimmers, beard trimmers are the precision instrument you need to keep those epic chin whiskers trimmed up neat.
So keep reading, our fine bearded friends. By the end of this ranking, we're confident you'll find the best beard trimmer for you.
The Beard Trimmers We RAVE About
Hey Beardo, it's time to shave. Trust one of these beard trimmers to do the job.
You need your trimmer to trim your beard, of course. But what else should it do? Here are a few features to look for in your next beard trimmer.
What kind of beard look are you after?
The kind of beard you're hoping to grow makes a lot of difference in what beard trimmer is best for you. Are you growing a chin strap beard? You're going to need a variety of guards and trimmer heads. Is your beard game full and free-flowing? If so, then 3 guard settings will do.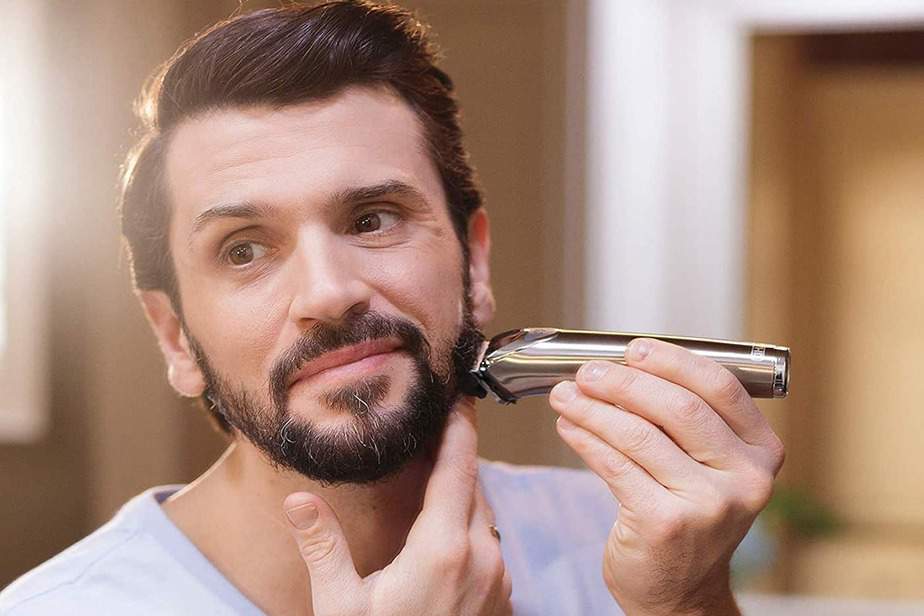 Cord or no cord?
Beard trimmers come with power cords and without power cords. You can sometimes save a little money upfront with a corded beard trimmer, but cordless beard trimmers save power (and money!) in their own way.
Cordless beard trimmers, which don't suck up electricity every time you use them, are up to 10 times better for the environment, and in turn, for your bottom line. Besides, the best beard trimmers often come with high-quality, rechargeable lithium-ion batteries, which are convenient and durable.
If you shave on the go a lot, or in unusual places, like in the backseat of a Lyft rushing from the airport to a business meeting, then that's another reason to go cordless.
Battery life
Whenever possible, go with a trimmer that includes one of those lithium-ion batteries we mentioned earlier. Otherwise, you might spend too much time and money replacing sub-par batteries.
Maintenance
The best beard trimmer not only does its job on your beard — it's also easy to take care of.
Make sure your beard trimmer is waterproof, because if cleaning the trimmer takes much more effort than rinsing it off under running water, it's too difficult to keep clean. Also, if your beard trimmer is waterproof, you can shave in the shower! Some Philips Norelco products even feature a vacuum setting to help with cleanup.
Build
Here are a few things to look for in the build of your next beard trimmer:
Is the battery dependable?

Are there high-quality stainless steel blades?

Is there a wide range of available extensions and attachments?
If your beard trimmer checks all these boxes, and isn't completely made out of plastic, chances are it's a well-built model. Good choice.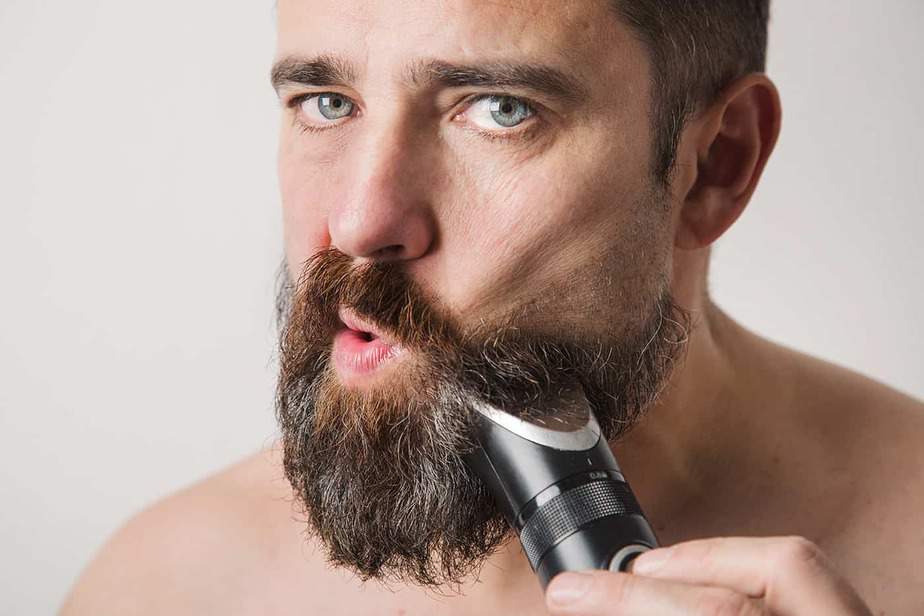 Brand name
You may be tempted by the budget-priced beard trimmers on the market. But how can you be sure these are reputable brands? When it comes to beard trimmers, we say stick with a brand name you recognize.
The reason is simple: You've heard of the brand. This means the brand's been around awhile, and has been producing a quality product.
In addition, major brands are likely to have more generous return policies if your beard trimmer choice ends up being less than the best.
How do I use my beard trimmer?
There's more to using your beard trimmer than just putting it to your face and switching on the power. Here are some tips to effectively keep your facial mane nice and orderly.
Keep it oiled
Many beard trimmers come with their own oil. But if not, WD40 will do. Just drip a little on the blades (make sure your trimmer is nice 'n' clean first!) and wipe off all the excess before using your beard trimmer.
Start shaving
Go against the grain, in an upward direction since facial hair grows out and down. If your beard is long, start with your 3 guard and go down from there. If you want to go shorter than 1 guard, just remove the guard entirely. Look out for strays!
Cleanup tips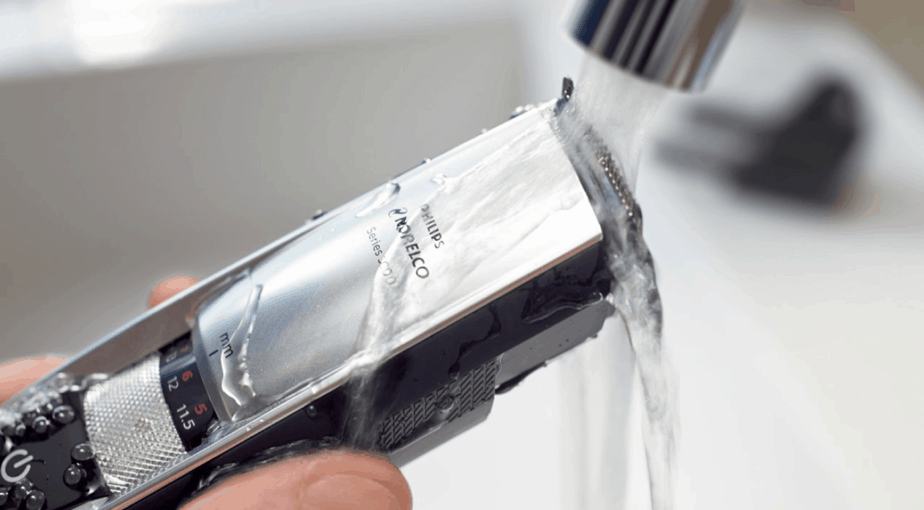 Grab a waste basket before you start to catch the small clippings. Then clean up extra trimmings with a damp paper towel.
When you're done, remove the guards and rinse them with soap and warm water.
Use the brush that came with your trimmer to brush away any hair that might have built up while shaving.
Remove the blade head, which is usually as easy as pushing up with your thumb.
Clean between the blade heads — cotton swabs work well for this.
Replace the blade head and turn on the trimmer for a few seconds to knock loose any stray hairs.
Run your trimmer underwater. CAUTION: This is only if you have a waterproof trimmer. Running a non-waterproof trimmer underwater can damage the trimmer and rust the blades.
Methodology
While putting together this ranking, we triangulated and cross-referenced reviews and rankings from a wide variety of trusted, reputable sources. We also combed through hundreds of customer reviews to find out how the people really felt about the experts' favorite products.
When evaluating our long-list of the best beard trimmers, we looked closely at the following:
Motor strength
Warranty
Price to value ratio
Battery longevity
Blades/cutting teeth
Grooming accessories
Okay, you're almost there. Trust us, you're about to reach beard nirvana. Don't stop now, because our ranking of the best beard trimmers is coming up next.
What is the best beard trimmer for long beards?
If your beard has grown to old-timey gold prospector lengths, you need to make sure your trimmer is up for the challenge.
RAVE's pick for best beard trimmer specifically for full beards is the Remington MB4045B The Beardsman Beard Boss Full Beard Kit (an honorable mention in our top-10 list).
With 120-minute battery life on a 4-hour charge (plenty of time to whack back that face hedge), as well as an XL-length trimming comb, this kit has everything you need when it's time to show that beard who's boss.
Are you dreaming of award-winning facial hair? Here are some tips and pointers if you're looking to up your beard game.
Use beard oil: You don't want a dry and scraggly beard. Keep it well-conditioned with beard oil, even in the early stages of growth.
Train, don't trim: Does it really need to be said that the best way to grow a beard is to refrain from trimming it? And when it comes to your mustache, use beard oil to keep it out of your mouth.
Brush and/or oil your beard on the daily: Develop a regimen that works for you.
But perhaps the most useful tip while growing your beard is to stay patient.
How do I choose the best beard style?
Beards come in all sorts of shapes and sizes. Here are a few of the most popular styles, and some pointers on how to grow them.
Balbo
The Balbo is a beard with a floating, close-cut mustache and no sideburns. To grow the Balbo, first grow a full beard. You'll need a good beard trimmer, as well as a razor, to get the details right. 
Bandholz
You won't need your trimmer or razor for quite a while if you choose the Bandholz style — a mustache connected to a full beard. First step is to grow your beard as long as you can (for many, that's as long as 7 months!), then trim it to style.
Garibaldi
The Garibaldi is a little like a shorter Bandholz. First, grow your beard for as long as 4 months. Trim the bottom of the beard to a rounded shape at the 20cm mark (or shorter), and keep your mustache trimmed up neat.
Imperial
Is your beard objective to look like a 19th-century railroad tycoon? Then the Imperial is for you. Grow your beard as long as you can (or at least as long as the Garibaldi), then trim to style. Remember with the Imperial, the focus is on the mustache.
Van Dyke
Styled after a well-known 17th-century Flemish painter, the first step in styling the Van Dyke is to shave all the hair on the cheeks and neck, as well as sideburns. Leave that mustache alone! Then, shape the beard to an inverted T, while letting it grow to about 2 inches. Next, trim your beard to achieve that signature V shape.
Is it good to grow a beard?
Should you even grow a beard in the first place? The decision is, of course, up to you. You might want to first talk it over with your significant other (they'll almost certainly have a strong opinion on the subject).
Here are some other things to consider before you make your choice.
Beards protect your skin: Thick beards can block up to 95% of UV rays. In addition, it's believed by some that shaving can spread the bacteria that causes acne.
Make an impression: Studies show men with full beards are perceived to be more mature, active, and healthy.
Stay healthy: It's said by some that growing a beard helps you stay healthy, doing everything from preventing bacteria from entering the mouth — lessening the chance of gum disease — to filtering out allergens, and even helping to prevent wrinkles.
Be more confident: Confidence helps breed success. By growing a beard, you're setting a higher standard for yourself and opening the door to new areas of personal success.
What are the best beard trimmers?
If you've decided to grow a beard, or just need a new tool to keep it in check, here are the best beard trimmers on the market.
Our pick for best overall beard trimmer is the 9818 Lithium Ion Plus from Wahl, the number one brand of beard trimmers and hair clippers. The trimmer comes complete with self-sharpening blades, and 4 different attachments heads. Without a doubt, it's the best beard trimmer around.
If you're in need of a beard trimmer and you're on a budget, look no further than the Philips Norelco Multi Groomer, with 13 pieces to handle all your grooming needs — from a precision trimmer for fine detailing to a nose and ear trimmer.
But if money is no object, the Philips Norelco Beard Trimmer Series 7200 is the best beard trimmer for you. Create less mess with the vacuum system to suck up all the stray hairs, and keep yourself lookin' fly with the innovative lift-and-trim technology and self-sharpening steel blades.
RAVE Recommends
Now that you've picked out the best beard trimmer, what else do you need to help create the perfect beard-care regimen? Check out RAVE's picks for great beard trimmer accessories.
William Kennedy
William Kennedy is a staff writer for RAVE Reviews. He lives in Eugene, OR with his wife, daughter, and 2 cats, who all politely accommodate his obsession with Doctor Who and The Smiths.