The air inside your home may be up to 10 times dirtier than the air outside! To counteract this, the best air purifiers will keep your home's air clean and healthy.
Whether you are dealing with pet dander, allergens, mold, or even tobacco smoke, the Winix PlasmaWave 5300 Air Cleaner employs an innovative 3-stage cleaning process to wipe out these problems.
We were so impressed with this machine that we chose it as our top pick for dealing with smoke.
Key Point: In this Winix Air Purifier Review, we explore the pros and cons of owning a PlasmaWave 5300 Air Cleaner and who will benefit most from buying one.
Company Notes
Winix hails from South Korea and has been developing consumer products since 1973. They offer a line of air purifiers, humidifiers, and dehumidifiers.
Though based in South Korea, they have been marketing and producing their products globally for some time.
Winix PlasmaWave 5300 Air Cleaner
Winix offers several different air purification systems, and the PlasmaWave 5300 Air Cleaner is one of the least expensive.
The device features a three-stage filtration process, including an activated carbon pre-filter insert, to remove not only larger particles from the air, but also odors and other gases.
The second stage is the true HEPA filter, which is now standard in the industry. HEPA filters were originally developed during the second World War to help protect scientists working on the atomic bomb in the Manhattan Project.
HEPA filters are capable of removing up to 99.97% of all fine particulates 0.3 microns or larger in size, including dust, pollen, smoke, mold spores, and pet dander.
The final stage features Winix's PlasmaWave patented technology. Functioning like an ionizer – though Winix claims it does not produce ozone – the PlasmaWave technology produces both positive and negative ions to create plasma clusters that eliminate a wide array of viruses, chemical vapors, and bacteria.
Winix describes the PlasmaWave technology as the same way nature cleans air: The plasma combines with water in the air, forming hydroxyl radicals that attack pollutants. Once these pollutants are destroyed, all that is left is water vapor.
Coverage and Noise
The Winix PlasmaWave 5300 Air Purifier is capable of cleaning the air in a 350 square foot or medium sized room.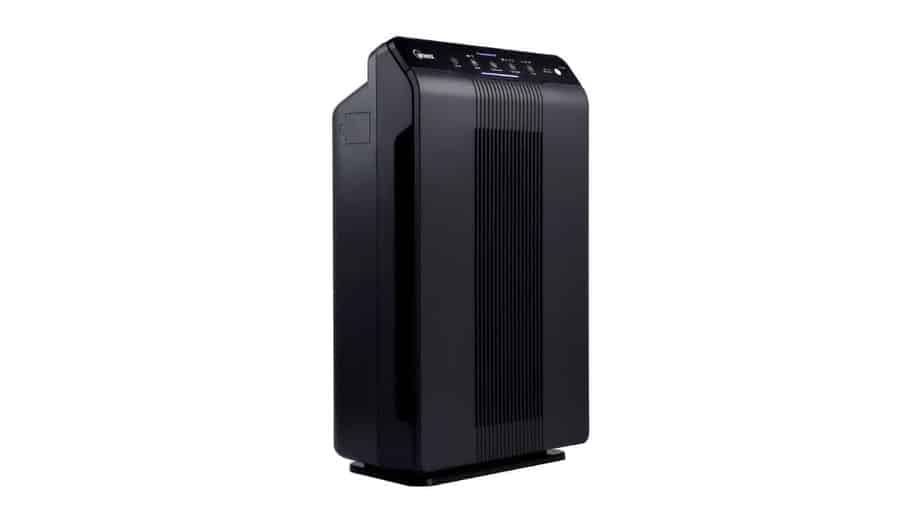 The machine has three different speeds, as well as a turbo speed. Consumers often remark upon how quiet the machine is, even when it is set at higher levels. This characteristic is perfect if you want to place this air purifier in your bedroom for a good night's sleep.
Additional Features
This purifier offers a number of other features that add to its value.
The LED panel has an indicator to tell you when to change the filters. For HEPA filters, the general rule of thumb is once every 12 to 18 months, and the carbon pre-filters need to be changed once every three months or so.
You can generally find a replacement filter pack including both the HEPA and activated carbon filters for about $40.
Another feature is the built-in air quality sensor, which monitors the quality of the air in your home. You can set the machine to automatically turn on when the air quality is low. There is also a handy sleep mode that dims the LED lights and places the machine on the lowest speed.
When you engage the auto mode, this machine also runs on the most energy efficient speed. And, since it is Energy Star rated, you can count on the fact that it's not going to hit your electric bill too hard.
Unfortunately, the machine does not come with a remote control, and the Winix app does not allow you to control the device remotely. However, the machine can be programmed and then left to operate on auto.
The Pros and Cons of Owning a Winix PlasmaWave 5300 Air Purifier
The Winix PlasmaWave 5300 Air Purifier is a very easy machine to use. At $199, it is an excellent deal, especially with all the great features that come with it.
But let's take a deeper look at the pros and cons of owning this air purifier:
Pros:
Removes odors from the air immediately
Runs very quietly regardless of setting/mode
Reduces allergy symptoms
Cons:
The device is affordable, but replacement filters are expensive
Plays a tune when switched on, which annoys most users
Provides illumination regardless of setting/mode
Fan slows down after a short while
Who Should Buy the Winix PlasmaWave 5300 Air Purifier?
This device is best for people looking for air purifiers within a budget. Additionally, if you smoke or your room has foul odors, you should also buy this air purifier.
Who Shouldn't Buy the Winix PlasmaWave 5300 Air Purifier?
If you're looking for a more tech-savvy air purifier, you should avoid purchasing this product. It has no remote control or an app you can use to control the device.
Conclusion: Considering it's affordable price tag, the Winix PlasmaWave 5300 Air Purifier is one of the best models of air purifier on the market; and we believe it's the best for dealing with smoke and lingering smells.
Related Reviews

Chris Winn
Chris Winn is a freelance writer who works in the Minneapolis area, where he and his family are beholden to two cats and a dog.