Scientists have linked clean air with good health for years.
But only recently, many of us have discovered that indoor air quality is often much worse than outdoor air quality. Consequently, there is an increased interest in air purifiers, which are the number one tool for improving the air quality in your home.
If you are in the market for a good air purifier that can handle larger rooms, you need look no further than the Idylis AC-2118 Air Purifier. This device offers great features, high quality filtration, and a competitive price.
Idylis AC-2118 Air Purifier – A Lowe's Brand
Idylis is the in-house brand of the North Carolina based Lowe's Hardware. All of the Idylis products, including air purifiers, humidifiers, and freezers, focus primarily on improving household environments. The AC-2118 is the top of the line in the Idylis series of air purifiers.
Because the product is manufactured exclusively for Lowe's, the warranty and customer service are also overseen by Lowe's. It is generally easy to get access to customer service agents either on the phone or online, and the Lowe's website also includes an FAQ page that is very helpful.
If you misplace your device's manual, you can also get access to an electronic copy online. Additionally, the machine is covered by a five-year warranty, which is one of the longest and most extensive in the industry.
Air Filtration Process
The Idylis AC-2118 Air Purifier features a two-stage filtration process including an activated carbon pre-filter and a HEPA filter, both of which are standard for the industry.
The activated carbon pre-filter captures odors, some VOCs (volatile organic compounds), and also larger particles like pet hair, which would otherwise reduce the life of your primary filter.
The high-efficiency particulate air (HEPA) filter is the primary filter, and is great for capturing most particles in the air. HEPA filters have been tested and found to remove 99.97% of particles 0.3 microns or larger. For reference, human hair is about 50 microns, so these filters can get at really small particulates.
You can purchase the replacement filters in single or triple packs, at around $20 per filter. The machine features a helpful sensor that tells you when to replace the filters so you don't have to keep track of their life cycle.
Coverage and Noise
The Idylis AC-2118 is a relatively large machine, standing at 30 inches tall and 13 inches deep, and weighing almost 19 pounds. Since it is so large, it is somewhat inconvenient to store when not in use, and there is no built-in handle for moving the machine around.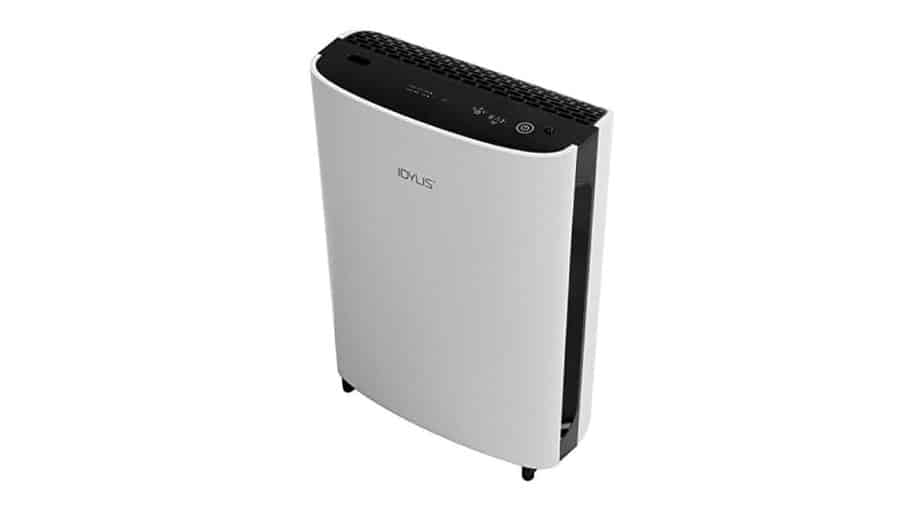 However, what you get for all of this size is a fairly powerful machine that is able to purify a large room rapidly. The Clean Air Delivery Rate (CADR) for the device is certified by the Association of Home Appliance Manufacturers (AHAM), and can recycle the air in a room of 465 square feet once every 15 minutes on the highest of its five speeds.
At the highest setting, the noise level is certainly elevated at 60 decibels, but it is not too overwhelming.
Additional Features
There are several other features of the Idylis AC-2118 that add to its value. For instance, the device offers one of the most sophisticated timing systems on the market, allowing you to set it to run automatically for durations between one and eight hours. The machine can also be programmed to run on different days of the week.
The auto setting also features an air monitoring system that tells the machine when to turn on and at what speed, depending on the air in your home. There is also a sleep mode that dims the lights on the LCD touchscreen and places the machine on a quieter speed so you can sleep soundly.
The device also comes with a handy remote control for your convenience.
If you are worried about how much power this large machine requires, you will be relieved to hear that it is Energy Star rated, and very energy efficient.
Conclusion
The Idylis AC-2118 is definitely a set and forget machine that is easy to use and very effective at removing allergens, pet dander, mold, dust, smoke, and other pollutants from the air in your home. The $300 price tag places the Idylis AC-2118 Air Purifier in the mid-tier range, and definitely matches the features and power you will get from this excellent machine.
Related Reviews

Chris Winn
Chris Winn is a freelance writer who works in the Minneapolis area, where he and his family are beholden to two cats and a dog.