The Honeywell True HEPA HPA300 Air Purifier is our pick for the best air purifier for pets. As it turns out, it is also featured in several other of our ranking lists as well.
What the Honeywell Air Purifier excels at is removing large particles from the air, such as pet dander and hair. But the Honeywell isn't just great for pets, it's great for any space where there's a large influx of airborne particles that other air purifiers might struggle with.
Key Point: In this Honeywell Air Purifier review, we explore the pros and cons of owning the True HEPA HPA300 Air Purifier.
Honeywell: A Very Brief History
There are several reasons why we chose this particular air purifier for handling pet dander and odors, but a good place to start is the manufacturer.
Though the early roots of the Honeywell Corporation are found in the 19th century, it was in 1906 that Mark Honeywell founded the company in the small town of Wabash, IN. Honeywell had invented a mercury seal generator to use as a home heating device, and founded the company to manufacture and market it.
Over time, Honeywell has grown significantly, rising to become a Fortune 100 company. They have developed a number of significant technologies, many of which were created for military use. Their ventures include the production of computers, cameras, and airplane control systems, among many, many other products. By far the most well-known is the round thermostat control found in numerous homes across the U.S.
The Honeywell HPA300
With a reputation as an engineering powerhouse, Honeywell's products are high quality. They have been producing air purifiers for over 75 years, and they are one of the most widely recommended manufacturers of air purifiers by doctors for people suffering from allergies.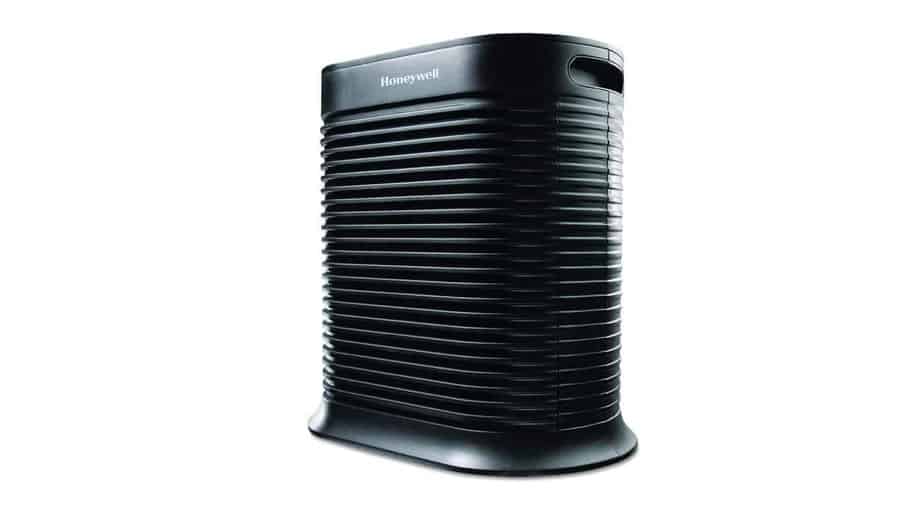 Honeywell offers a number of air purifier models, and the HPA300 is one of their top of the line products. Improving on earlier models, this air purifier uses three different HEPA style air filters, as well as an activated carbon pre-filter.
Air Filtration
High-efficiency particulate air, or HEPA, filters are now the industry standard for filtration. These filters can remove up to 99.97% of fine particulates in the air larger than 0.3 microns.
For reference, most pet dander is over 2.5 microns. And the HPA300 actually uses three of these filters.
The carbon pre-filter is a mesh layer covering the air intake. Activated carbon is excellent for catching larger particulates, like pet hair, and is especially efficient at capturing odors.
The carbon pre-filter can be vacuumed and is inexpensive to replace, coming in at around $8.
The True HEPA filters can also be vacuumed, but for optimal performance, they should be replaced every 12 to 18 months. These filters can be purchased on Amazon in a pack of three (bundled with the carbon pre-filter) for around $60.
The filters are accessible through a front cover and are generally easy to change out, though some users report that closing the front cover can sometimes be tricky.
Coverage and Noise
The HPA300 offers four speeds, labeled "germ," "general clean," "allergen," and "turbo." The lowest and quietest speed is "germ" and is optimal for use in the bedroom.
Honeywell claims that at the highest speed, the HPA300 can recycle the air in a 465 square foot room up to five times. Though at this speed, the noise level does become loud.
Since the device draws air in through the front and sends it out the top, you can also place it in the corner.
Other Features
Several additional features are also included in the HPA300. One is a useful timer that can be set so that the machine will turn off after two, four, or eight hours of operation.
There is also a helpful dimmer that allows you to turn down the lights on the top of the machine, which is a welcome addition if you keep this machine in your sleeping area.
The device is also Energy Star rated, adding to its economic profile. And, there is a sensor to tell you when it is time to change out the filters. Each of these features contributes to a longer life span for this air purifier.
Because of this, it will last for years, bringing you and your home sweet relief from pet dander and other allergens!
Pros and Cons of the Honeywell True HEPA HPA300 Air Purifier
While the Honeywell brand is known for its top features, it's not the perfect machine we all wish it to be!
To help you decide Let's dig deep into the upsides and downsides of owning and using this product:
Pros:
AHAM approved with high CADR ratings
Provides HEPA-grade filtration system
Accessible replacement filters
Low maintenance cost
Energy-efficient
Cons:
Unreliable odor filter
Noisy turbo mode
Non-washable carbon filter
No child/pet safety lock feature
Who Should Buy the Honeywell Air Purifier?
You should buy the Honeywell Air Purifier if you have space not more than 50 sq. ft for the best air boost. People who don't like the hassle of using WiFi or smartphones to operate air filters should also buy this device.
Who Shouldn't Buy the Honeywell Air Purifier?
People sensitive to smell should not buy this product as most buyers complained that it smells like plastic for a few days. This could trigger an allergy or asthma attack.
Conclusion: The price point for the Honeywell True HEPA HPA300 air purifier is mid-tier, at around $300. But given the various features, outstanding quality of filtration, coverage, and limited five-year warranty backed by Honeywell, this machine is well worth the price.
Related Reviews

Chris Winn
Chris Winn is a freelance writer who works in the Minneapolis area, where he and his family are beholden to two cats and a dog.