We recommend products based on unbiased research from our editorial team. We may receive compensation if you click on a link.
Read More.
Have you tried looking for a vacuum before? The decision can be daunting.
Do you opt for the cheapest? Or go with the most expensive in the hopes it will work the best?
The Vacuum Cleaners We RAVE About
Sorting through the vast array of options to choose the right one can seem an impossible task. Luckily, you've come to the right place.
We've taken the guesswork out of buying your new machine. By poring over the features, mechanics, and pros and cons of all the latest models, we've compiled the most thorough list of the best vacuum cleaners available to help you make your new purchase with ease and confidence.
In this article, we explore the ins and outs of five different types of vacuum cleaners:
In each category, the vacuums are ranked from 1-10 based on both performance and value.
But first, let's explain a bit about the makeup of modern vacuum cleaners.
What makes the best vacuum?
The best vacuum cleaners all share a few things in common. They will be durable and long-lasting; have high enough suction power to pick up any dirt, debris, and hair they pass over; and will be versatile.
They won't be prone to breaking, shorting, or losing power, and will be light enough to maneuver around your house easily.
Many models will have added features, like specialized pet hair cleaning attachments, extended hoses, or easy-empty dirt canisters.
The ones we've included on our list are broad and varied enough to cover any of your cleaning needs. But choosing what one is right for you will depend on a lot of personal factors.
What should you look for when choosing a new vacuum cleaner?
There's a lot to consider before you make a big purchase like this, but here are some of the basics.
How much are you willing to spend?
You might think that you have to dish out hundreds and hundreds of dollars to get a decent vacuum, but we've included models on our list for every budget.
Think about what you want from your new machine and look for a variety that won't break your bank. Our rankings are based on a value metric, so you'll be able to compare performance with cost.
What space will you be cleaning the most?
If you have a 5000 sq. ft. ranch, a handheld or stick vacuum isn't going to cut it. You want something that has powerful suction and a long cord (or is robotic!).
If you have a lot of upholstery you might want something that includes attachments specifically for that. Consider what space you'll be using it in to help you determine which variety will suit your needs.
Do you have pets?
Not all vacuums are created equal. While a certain model might be perfect for picking up dust and debris, it might not work at all for pet hair. If your furry friends shed a lot, you'll want to pick a model with high suction power specifically designed for picking up fur.
Is the noise factor important?
If you're a late-night cleaner living in an apartment or condo, you'll want a vacuum that emits as little noise as possible. A lot of the cheaper models make a lot of noise, so you'll want to check that first.
To help you choose the perfect vacuum for your needs, we've divided our list into 5 categories. Each category ranks ten vacuum cleaners, starting with our highest rated.
We're certain you'll be able to find the perfect machine for your needs!
Best Robot Vacuum
A relatively recent addition to the world of vacuum cleaners, robotic models really take the effort out of cleaning. These models move throughout your home automatically and have smart sensors to prevent them from falling down stairs or bumping into walls. Robotic vacuums are perfect if you want your floors cleaned while you're away or you're a multi-tasker and don't want to devote time to vacuuming.
This is the top of our list for a reason. While it's an enormous investment for such a small machine, it boasts a run time of up to 120 minutes before recharging and resuming. Its multiple programmable features make it the best in easy cleaning.
Pros
"Recharge and resume" feature
Schedule from the associated app
Works great for carpet
Cons
High price point
Known to scratch hard floors
Can lose Wi-Fi connection
A more moderately priced Roomba, this version still packs a punch. You can track and run the robot from your app or use it with Alexa or Google Assistant. Use caution if using on dark rugs though, as it tends to not work well with those.
Pros
App is easy to use
Strong suction
Three separate cleaning brushes
Cons
Doesn't work well with clutter
Can get lost returning to charger
Not great for animal fur
3
ILIFE A4s Robot Vacuum Cleaner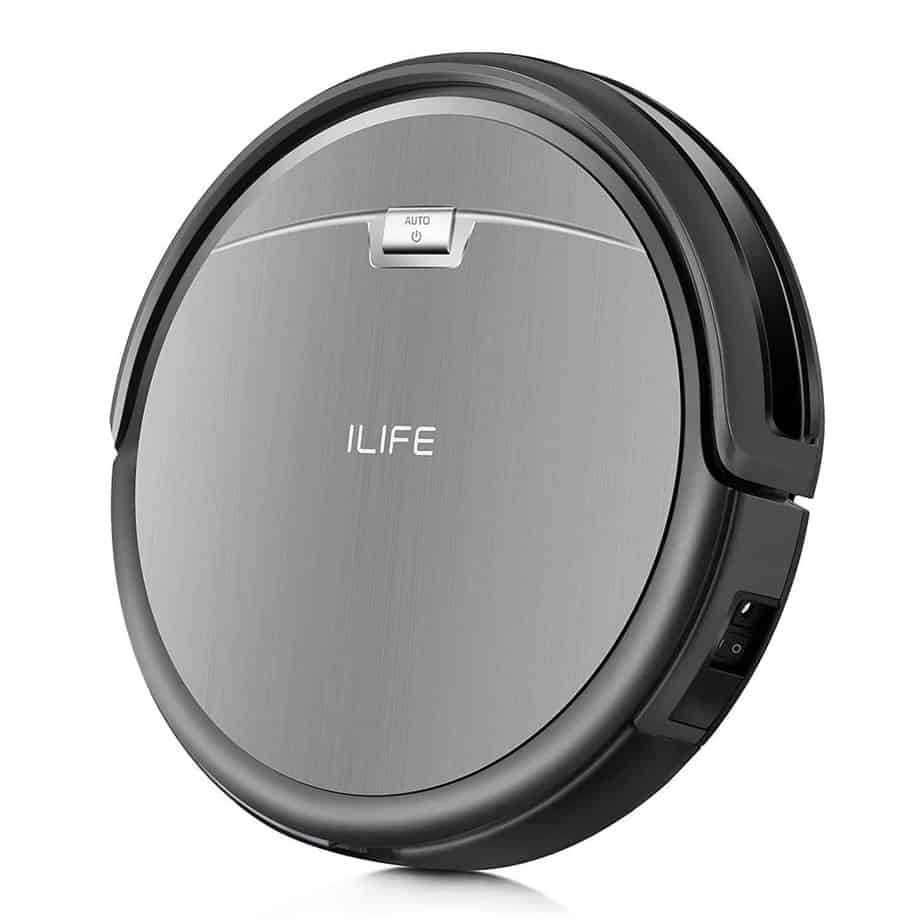 For such an affordably priced model, this vacuum will run for up to 140 minutes before having to recharge. Its smart sensors ensure it won't bump into your furniture and it offers both manual and scheduled cleaning options. While you'll have to clean the filter often, it does do a good job of picking up pet hair.
Pros
Good value
Thorough cleaning
Easy-empty dirt tray
Cons
Filter has to be cleaned often
Doesn't go from hardwood to rug well
Doesn't work on high carpet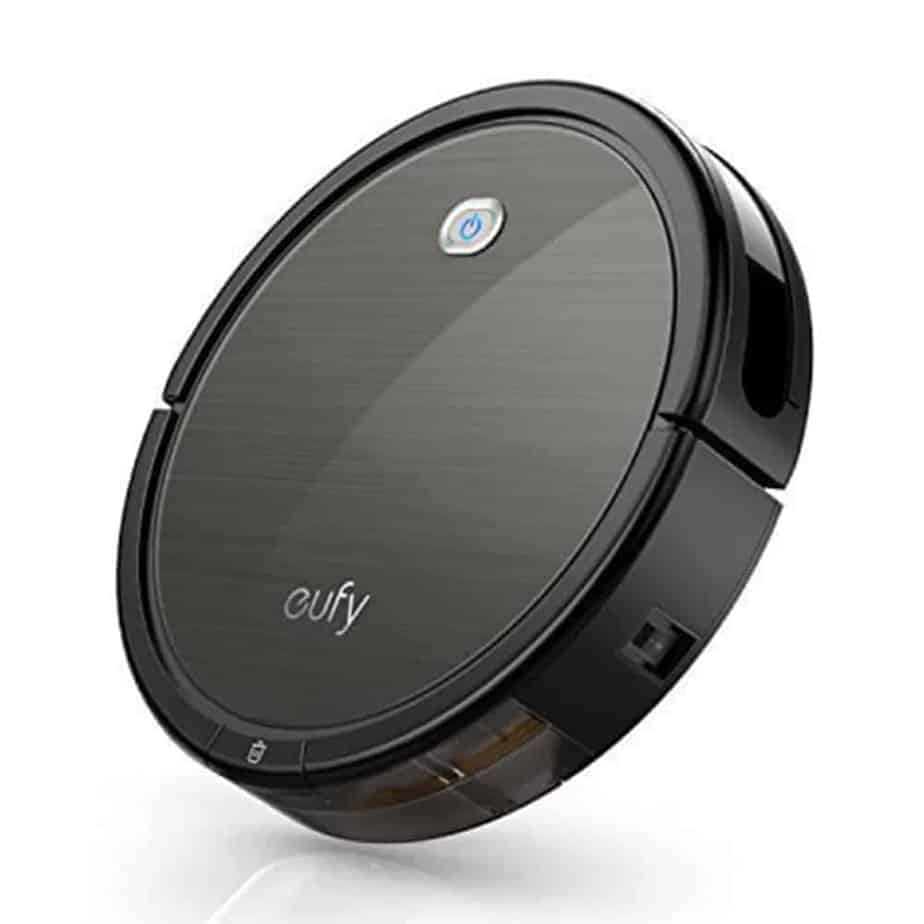 This vacuum has an especially low profile at just over 3 inches, making it perfect for cleaning those hard-to-reach spots under your furniture. With a spacious dustbin and three cleaning modes, it makes cleaning a breeze. This one works best on simple floor plans that the robot can navigate easily.
Pros
Not good for lots of pet hair
Filters aren't replaceable
Doesn't thrive on carpet
Cons
Runs quietly
Navigates well
Great for hardwood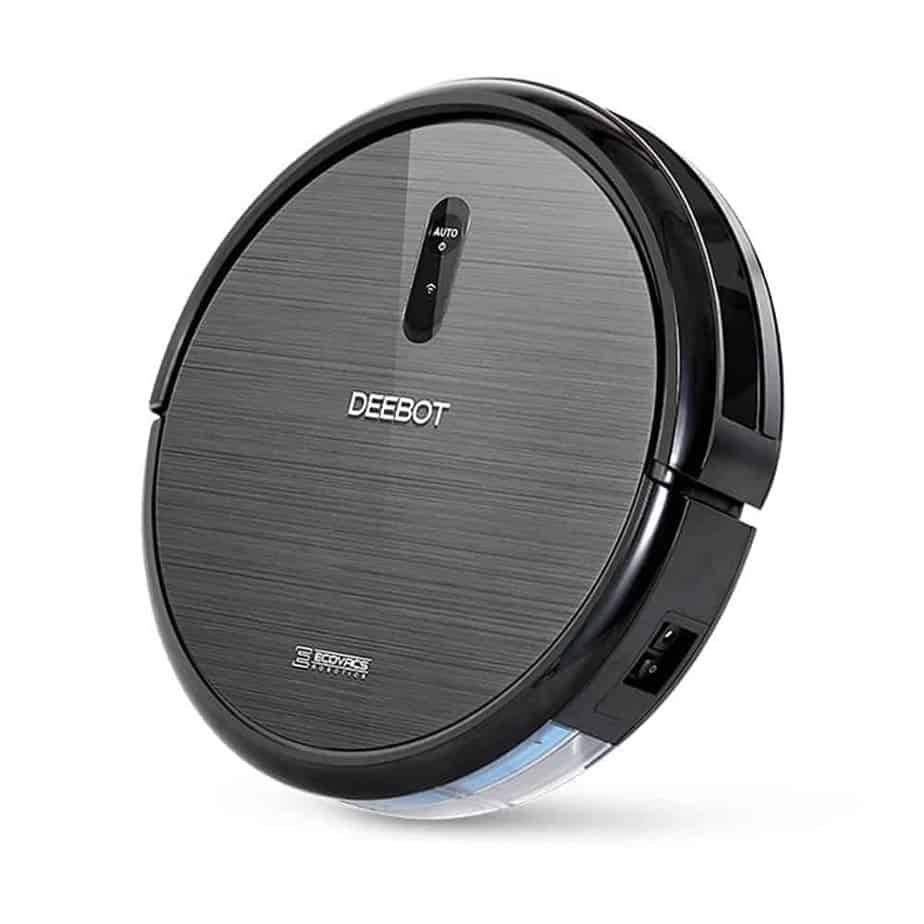 At around $250, this is one of the more affordable robotic vacuums on our list. It has extra-long battery life and can connect to smart app and voice-activated controls. It runs pretty quietly, too, making it perfect for late night cleaning while you sleep.
Pros
100-minute battery life
App is easy to use
Navigates obstacles well
Cons
Has trouble connecting to Wi-Fi
Dustbin has to be emptied often
Can get stuck under low furniture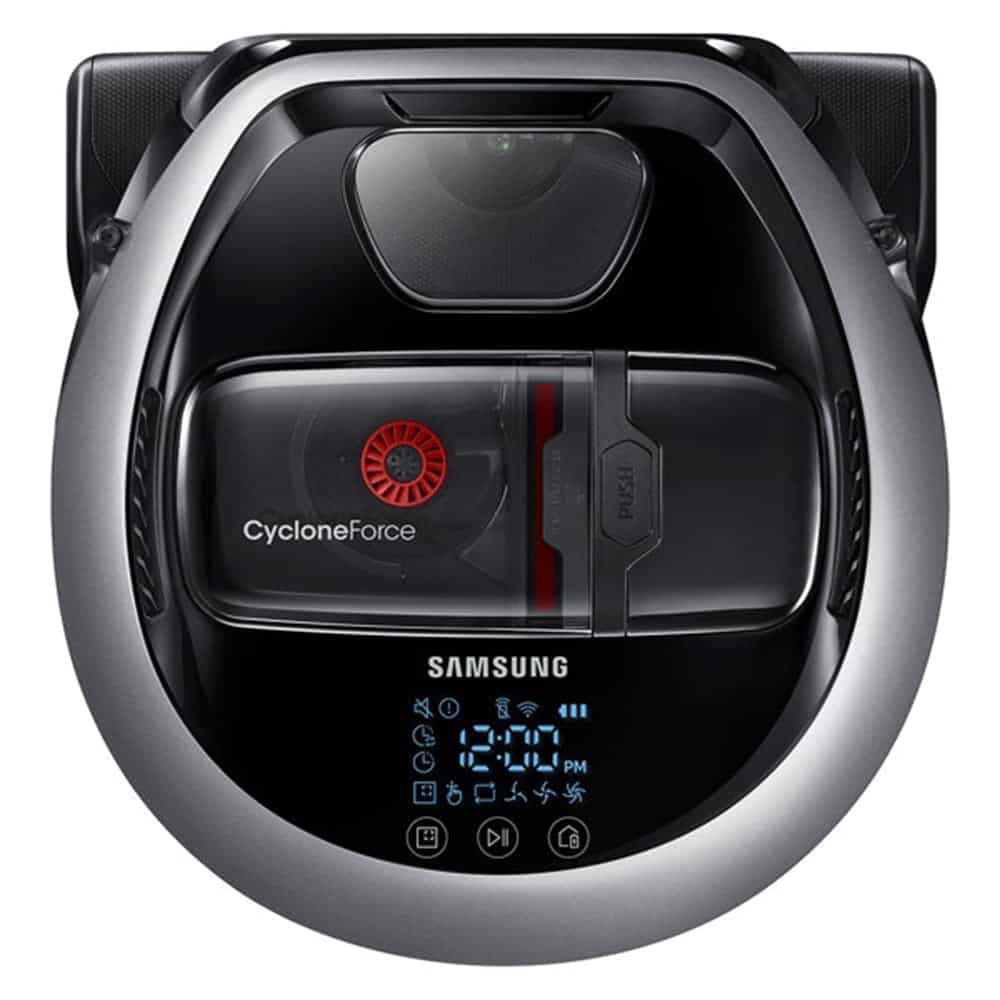 This little robot is a cleaning powerhouse. It has a self-cleaning brush that lifts dirt and debris from carpet easily. It also has an onboard camera and 9 different sensors for navigating through your home as it cleans.
Pros
Wide cleaning brush
Won't damage hardwood floors
Doesn't spit out dust when full
Cons
Small dustbin
Will sometimes be inconsistent in cleaning
Doesn't use virtual wall technology to navigate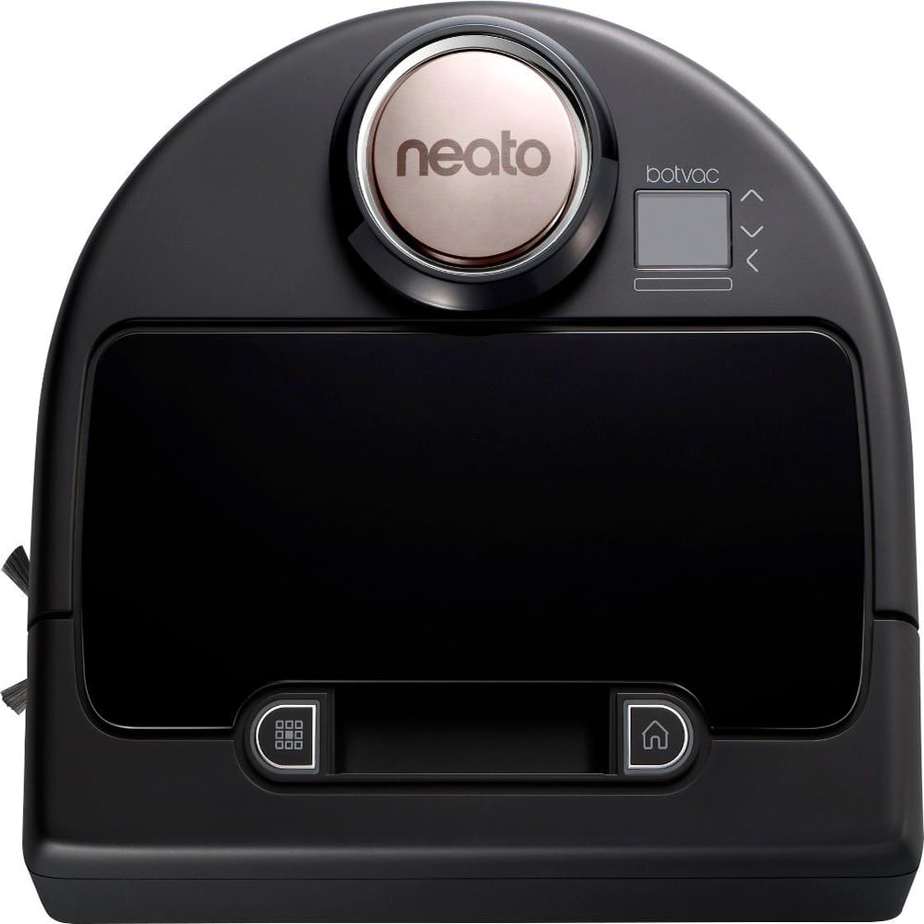 Unlike most robotic vacuums, this model doesn't utilize a circular design, but instead opts for a D-shape. This is ideal for cleaning against walls and getting into those tough-to-clean corners. It has a large cleaning brush and two cleaning modes, ensuring your floors are thoroughly cleaned every time.
Pros
Eco and Turbo mode
Large dust bin
D-shape cleans corners well
Cons
Filters are hard to clean
Dustbin door can be hard to close
Can bump into walls and mark them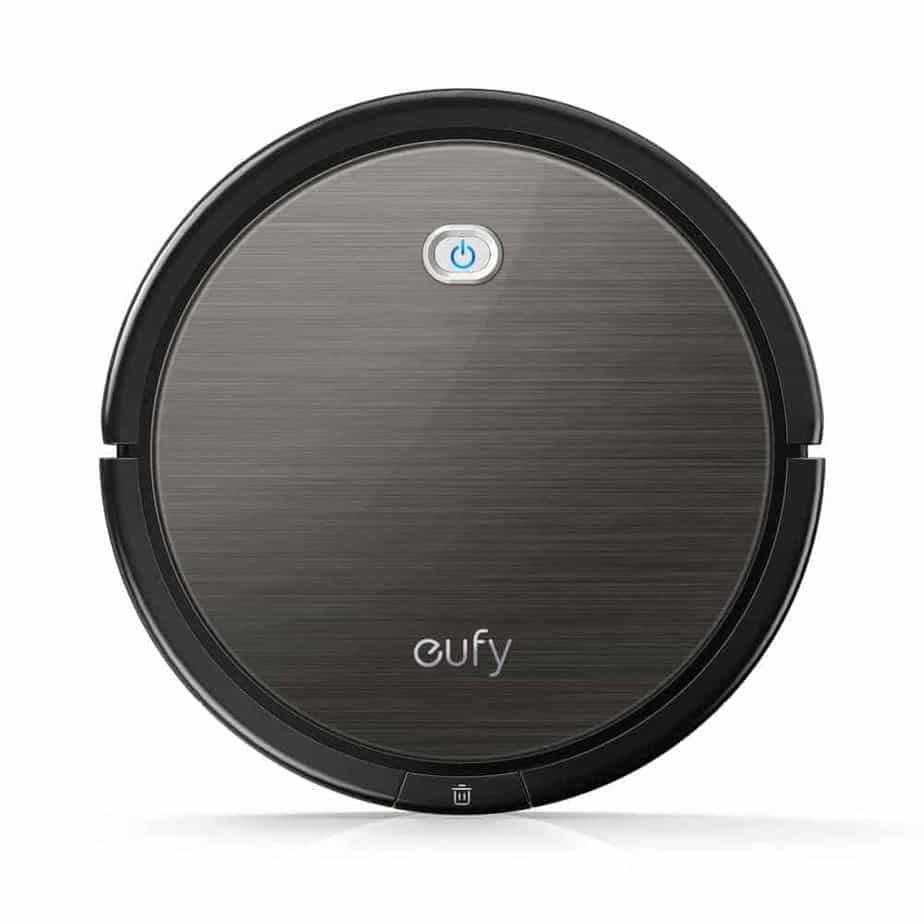 This is an upgraded version of Eufy's RoboVac. In this model, they included an upgraded bumper and improved suction inlet. It's a quiet little vacuum with a lot of power, featuring a power boost option for cleaning carpets and deep messes.
Pros
Automatic boost for carpet
Runs very quietly
Works well for medium pile carpet
Cons
Heavy (11 lbs)
Not the best at returning to base
No accompanying smartphone app
It doesn't have the longest run time of all the robotic vacuums, but it does have a lot of power and added features. It offers return and resume charging so it will clean, charge, and then continue cleaning. It uses visual navigation to clean efficiently and thoroughly.
Pros
Works with Alexa, Google, etc.
Comes with extra filter and brush
Recharges and continues cleaning
Cons
Not the best at returning to base
Can get stuck on furniture
App doesn't add much
This little robot doesn't mess around. It's a more basic model but it still does the trick, cleaning thoroughly with two different brushes. You can schedule it to clean while you're away, or turn it on manually.
Pros
Comes with extra filter
Has two main cleaning brushes
Can schedule cleanings easily
Cons
Heavy (12 lbs)
Not smart home connected
Runs loudly
Best Canister Vacuum
Canister vacuums are essentially two-part vacuums. They have a canister that collects the dirt and usually houses the motor and a separate hose and brush. These models allow you to clean spaces that would be difficult with other vacuums, like staircases and under furniture.
1
Dyson Big Ball Multi Floor Canister Vacuum
Dyson strikes just the right balance between style and functionality with this model. Its ball steering design turns on a dime and cleans thoroughly. With high-strength filters, this model is great for allergy sufferers, too.
Pros
Washable filters
Easy to turn and steer
Only 9 lbs
Cons
Not great for a lot of pet hair
Hard to get into tight corners
Takes up a lot of space
2
Miele Compact C2 Electro+
The Miele is a bit pricier than the Dyson, but has a lot of great features. Its six-speed motor manages to still be very quiet, and it has two specialized heads for cleaning both hardwood and carpets. The one downside is that it's pretty heavy, but it has great suction power.
Pros
Two floor head attachments
Six-speed motor
Auto-rewind cord feature
Cons
Heavy (19 lbs)
Bad ergonomics
Runs loud
3
Miele Compact C1 Turbo Team
This little vacuum isn't the flashiest machine out there, but it does the trick. At 15 lbs, it's easy enough to roll around, and its compact design makes it easy to store. It still features the signature Miele six-speed motor for specialized cleaning.
Pros
Compact design
Carpet & bare floor attachments
Works great on low-pile carpet
Cons
Floor attachments can be noisy
Not good for high carpet
Attachments aren't very flexible
4
Miele Complete C2 Hard Floor
This vacuum combines all the best of other Miele products and then ups the ante. It's a bit on the heavy side, but it comes with a variety of attachments and tools. It's durable and has impressive suction power.
Pros
Wide cleaning brush
Multiple tool attachments
Tells you when to change the bag
Cons
Better for hardwood than rug
Blows air back into your face
Heavy
5
Bissell Hard Floor Expert Deluxe 1161
At just 9 lbs, this thing is a breeze to take around your house. Its powerful suction makes it great for hard floors and carpet alike. Another nice feature is that the controls are on the handle, so it's simple to maneuver.
Pros
Lightweight
Adjustable suction strength
Washable filter parts
Cons
Not great for pet hair
Hose is brittle
Hard to maneuver over carpet
6
Eureka Mighty Mite 3670G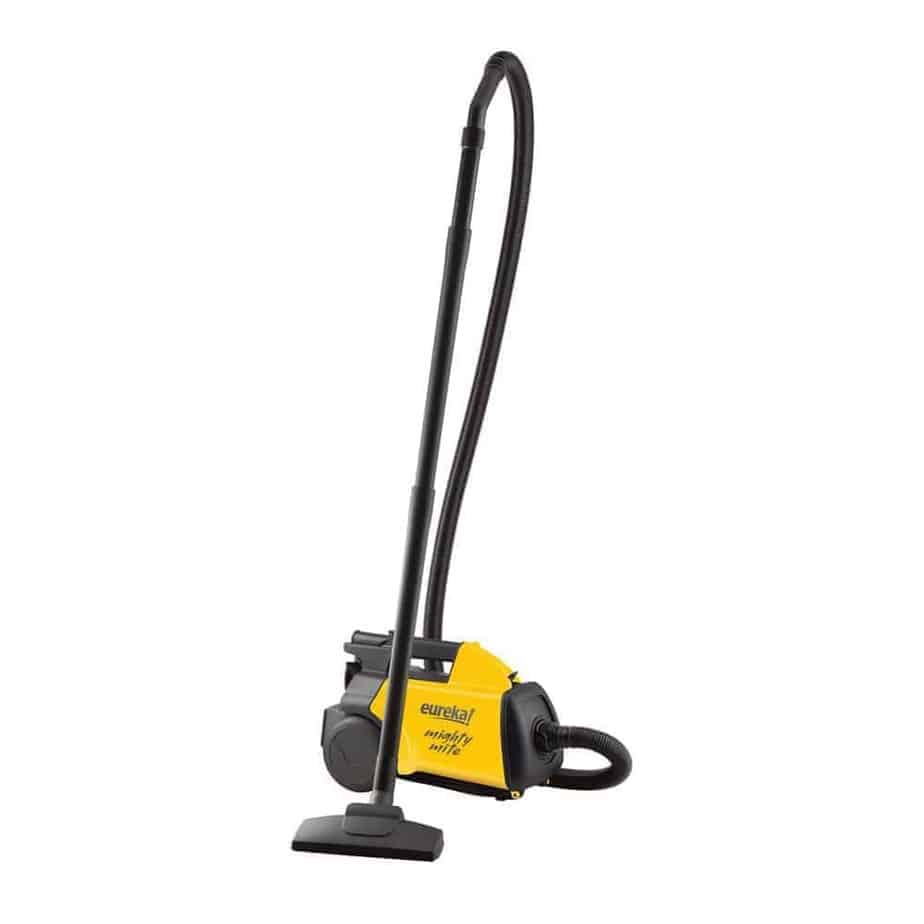 This vacuum is a bargain at around $130. For the price, it can't be beat. Comparable to a shop vac, it has a blower port and contains a HEPA filter to clean out any dust and debris.
Pros
Affordable
Easy to change bags
Compact design
Cons
Short power cord
Hose can kink
Hardwood attachment isn't great
This Dyson has a great feature: It self-rights when it topples over. It does a great job cleaning carpets and its turbine tool picks up pet hair thoroughly without getting tangled. With no bags or filters to wash, it's easy to clean and manage. Its suction can make it hard to push over carpets, however.
Pros
Gentle but thorough on carpets
Self-righting feature
Compact and easy to store
Cons
Can be hard to use on carpets
Short power cord
Heavy (17 lbs)
8
Miele Complete C3 Alize
If you have a spacious home, this might be the vacuum for you. It has a 36-foot operating radius to reach across even the biggest rooms. It's fairly lightweight and runs quietly. Its thorough filtration system makes it ideal for allergy sufferers.
Pros
Spotlight makes dirt easy to see
Small and quiet
Long cord and hose
Cons
Not good for high pile carpeting
No hardwood floor attachment
No spin brush attachment
9
Hoover PortaPower Lightweight Commercial CH30000
At only 8 lbs, this Hoover is super lightweight. It features a reusable bag and a built-in blower, and its cord is long enough to reach across most any room. It's a great model for commercial use, but can also be used in your home.
Pros
33-foot power cord
Ultra lightweight
Strong suction power
Cons
Short hose
No wheels — must be carried
Floor attachment can clog
This Bissell gets high marks for how quietly it runs. It's a little bulky, but it makes up for it with incredibly high-powered suction. Ergonomic handle controls make it easy to use.
Pros
Roller brush feature
Easy to clean under low furniture
Extra quiet
Cons
Short power cord (23 feet)
Bulky and hard to maneuver
No upholstery attachment
Best Stick Vacuum
Stick vacuums can vary in design but are generally lightweight, easy to carry, and often more affordable than their upright counterparts. These are perfect for light cleanups around the house. They're also ideal if you live in a small space like an apartment and don't have a lot of extra space for storage.
1
Hoover Linx Cordless Stick BH50010
This little Hoover has a 40-minute battery life, so you can clean large areas without having to recharge. It even has a little fuel gauge to show you how much battery is left. It's easy to assemble and easy to maneuver through your house.
Pros
Cordless and lightweight
Easy to use and maneuver
Fuel gauge shows battery life
Cons
No extra attachments
Bristles can be hard to clean
Not good for pet hair (will clog)
2
Dyson V8 Absolute Cordless 214730-01
At only 6 lbs, this Dyson is a breeze to carry around your home. It features powerful suction, and it has the ability to transform into a handheld vacuum. Its HEPA filter means the highest level of filtration, making it good for allergy sufferers or areas with a lot of dust.
Pros
Comes with docking station
Includes attachment holders
Transforms to handheld
Cons
Trigger must be held while using
Dustbin can be messy to empty
Battery life may diminish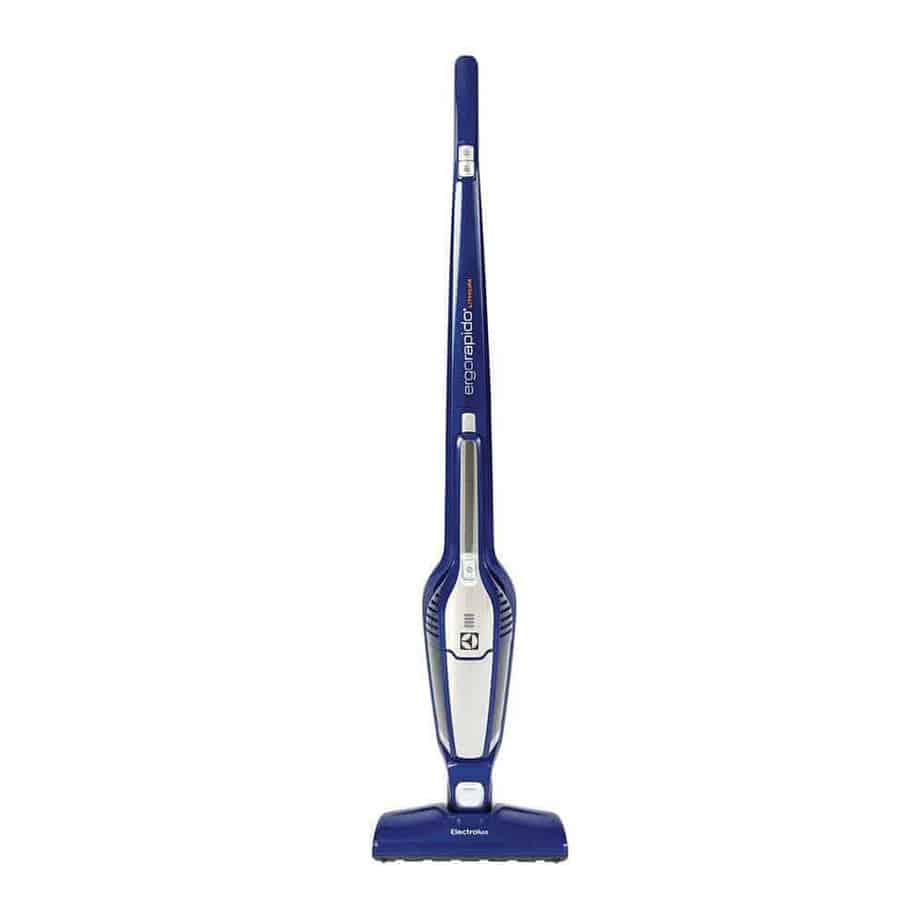 This little powerhouse is only 5 lbs. Its cordless feature makes it easy for anyone to use. Its battery life is only 20 minutes, but it reaches a full charge in about 4 hours. It's a great model for quickly tidying small areas in your home.
Pros
Works great for bare floors
Includes crevice & dusting tools
Transforms to handheld
Cons
Not good for corners
Must be moved very slowly
No charging port
4
Dyson V7 Motorhead 227591-01
This 5 lb Dyson has two modes: regular suction and max mode. Max mode decreases the battery life, but will give you an extra boost for cleaning carpets or bigger messes. Its battery life on regular suction will give you up to 30 minutes of clean time.
Pros
Ultra lightweight
Great for curtains and ceilings
Cleans carpet well
Cons
Not good for pet hair
Doesn't have HEPA filter
10min of battery life on max mode
5
Dyson V6 Cord Free 209472-01
This is Dyson's cheapest model, but it's a nice machine. It's only 4.5 lbs, which means you can clean ceilings or tough-to-reach corners without getting tired. It doesn't have a long battery life, but it's perfect for touch-up cleaning around your house.
Pros
Ultra lightweight
Works well on low carpet
Transforms to handheld
Cons
No specialized attachments
Hair can get stuck on the brush
Doesn't work on thick carpets
7
Hoover Cyclonic Stock SH20030
This Hoover is affordable on just about any budget. It's corded, so you don't have to worry about running out of power and recharging. For quick pick-ups around your house, it's a great model.
Pros
Easy recline handle
Great on hardwood floors
Big dustbin
Cons
No extra attachments
Can clog easily
Inconvenient power button
8
Black & Decker Cordless Lithium 2-N-1 Stick Vacuum
This sleek little model weighs only 9 lbs and takes up very little storage space. Its detachable handheld device is a great added feature for picking up small messes. Its sensors tell you when the filters or batteries are running low.
Pros
Handheld vacuum attachment
Powerful suction
Two speeds for optimized cleaning
Cons
Not good for pet hair
Runs loudly
Difficult to empty and clean
9
Hoover BH50020PC Linx Signature Cordless
This is a moderately priced vacuum with all the features you know and love from Hoover. Its reclining handle allows you to easily vacuum under furniture. It transitions well from carpet to hardwood.
Pros
Lightweight and maneuverable
Washable filter saves money
Cleans carpet and hardwood well
Cons
Battery only lasts 20-25 minutes
Dustbin has to be emptied often
No handheld attachment
10
Dirt Devil Accucharge Cordless BD20035RED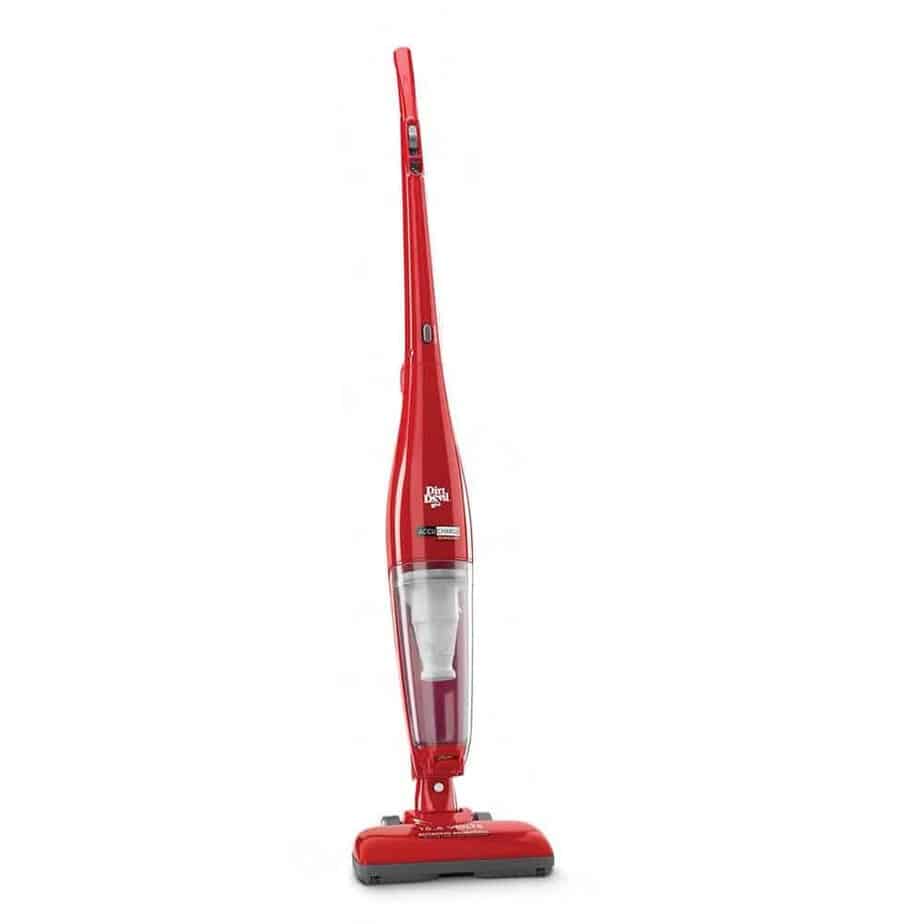 Anyone in the family will be able to push this vacuum around the house — it comes in at less than 6 lbs. Its foldaway handle and compact design make it easy to store in any hall closet. It picks up light pet hair well and works best on hard floors.
Pros
Lightweight and affordable
Perfect for cleaning stairs
Rotating brush with on/off button
Cons
Not super strong suction
Hard to get into tight corners
Battery life is under 20 minutes
Best Upright Vacuum
Upright vacuum cleaners are what you might know as traditional vacuums. As the name suggests, they stand upright. They can have bags or they can be bagless. They might come with attachments, but the basic structure consists of a vacuum that is pushed from a handle at the top. These vacuums work well on carpets and are best for all-purpose housecleaning.
3
Dyson Ball Animal 2 227635-01
Dyson has a reputation for creating powerful vacuum cleaners, and this model is no exception. With impressive suction, a HEPA filter, and their well-known ball technology, this vacuum is no joke. This model is specifically aimed at pet-owners and features exceptional fur-cleaning power.
Pros
Easy-empty dust bin
Long-reaching hose
Extra strong suction
Cons
High price point
Hard to maneuver over carpet
Prone to clogging and jamming
4
Dyson Ball Multi Floor Origin
A slightly cheaper alternative to the previous Dyson, this one still features strong suction and ball-steering technology. However, it's not designed to pick up a lot of animal hair, so be wary if you have a pet that sheds a lot. For basic cleaning, though, it does an impressive job.
Pros
Hose is easy to use
Strong suction
Sturdy and maneuverable
Cons
Heavy
Difficult to put into storage
Hose can break over time
It's hard to beat this price for an upright vacuum. This Bissell, coming in at under $80, features washable foam filters and includes a TurboBrush attachment for thorough cleaning of stairs and furniture. It's not great if you have pets or are cleaning lots of heavy messes, but otherwise it's a bargain powerhouse.
Pros
Long power cord
Lightweight while still powerful
Easy to assemble
Cons
Doesn't work well for pet hair
Hard to reach under furniture
Emptying canister can be messy
7
Dyson Ball Multi Floor 2
This Dyson features a slim design: It is smaller and lighter than some of the other models. But despite weighing only 15 lbs, it still manages to have powerful suction. The detachable hose is a nice feature, adding an extra 10 feet to the vacuum's reach.
Pros
31-foot cord plus 10-foot hose
Easy to maneuver
Slim design
Cons
Can get stuck on carpet
Noisy when running
Canister has to be emptied often
8
Hoover WindTunnel T-Series Rewind Plus
In a lot of places, Hoover is still synonymous with vacuum. This one in particular is not the fanciest model on the market, but it does the trick and is a great value. If you don't have heavy messes but want a reliable all-around cleaner, this vacuum is a good bet.
Pros
Auto-retracting cord
Lots of hose attachments
Durable and long lasting
Cons
Short power cord
Not great on bare floors
Suction pulls hose while in use
9
Hoover WindTunnel Pet Rewind
What's great about this model is that despite being a pretty basic vacuum, it does a great job cleaning and covers all your bases. Its fold-down handle makes it easy to store without taking up a ton of space. It runs a bit loud, but it's a great value for an all-purpose vacuum.
Pros
Filter change indicator
Fold-down handle
Rubberized head picks up pet hair
Cons
Heavy (18 lbs)
Belt eventually must be replaced
Hard to maneuver under furniture
10
Hoover Sprint QuickVac
This vacuum is super affordable, especially for an upright model. If you need a basic cleaner for both hardwood and carpet, this will do the trick. It's lightweight and good for getting those hard-to-reach spots in your house.
Pros
Great price point
Has an easy on/off foot pedal
Good for carpet and bare floors
Cons
Short power cord
Emptying canister can be messy
Filter must be cleaned often
Best Handheld Vacuum
Handheld vacuums aren't by any means meant to replace full-sized vacuum cleaners. But they are perfect for cleaning small nooks and crannies. They're also ideal for cleaning up small messes when you don't want to go through the hassle of taking out the full-size vacuum. Handheld vacuums can be corded or battery powered, and they're usually lightweight and easy to carry.
1
Dirt Devil Scorpion Quick Flip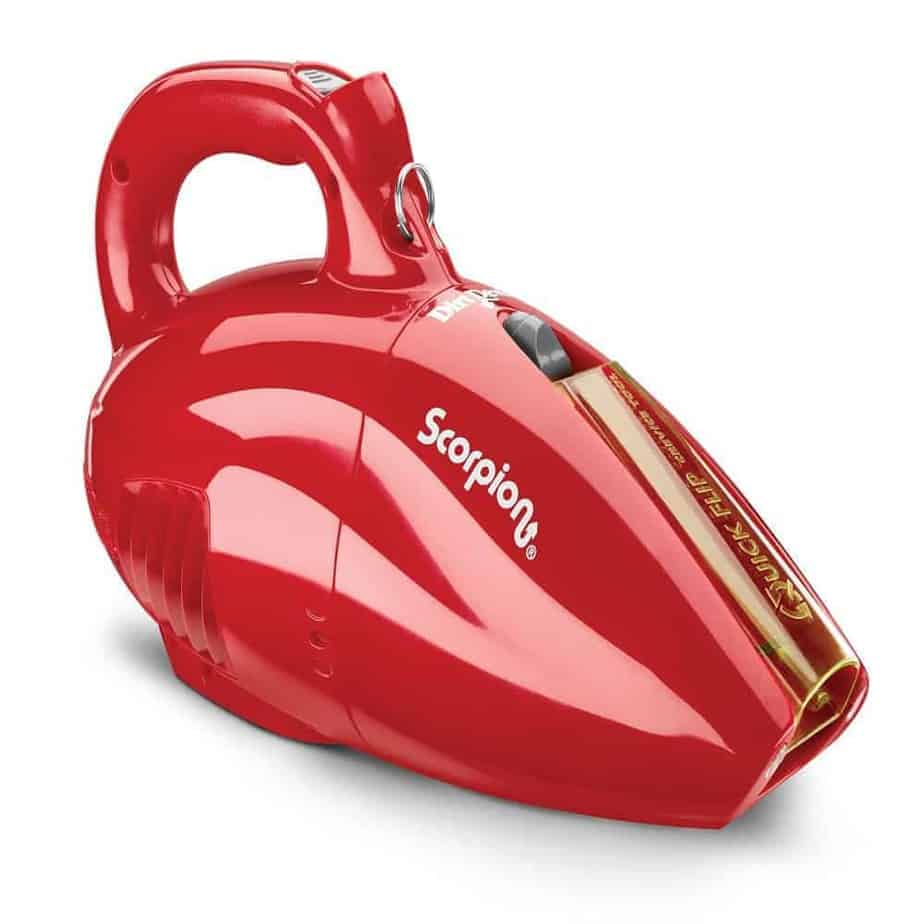 Corded handheld vacuums can be a bit of a hassle, but with a 16-foot cord, this Dirt Devil can reach anywhere in the room in one go. It's both lightweight and budget-friendly. The carrying strap is a nice feature that makes cleaning a lot easier.
Pros
2.5-foot hose
Crevice cleaner attachment
Easy to clean
Cons
Runs loud
Doesn't filter dust well
Vents blow back dust and air
2
Black & Decker 16V Cordless Lithium
This handheld cleaner has a narrow nozzle that's perfect for getting into all your home's nooks and crannies. Its slim rotating nozzle has a flip-up brush, too. It's cordless and takes about 4 hours to reach a full charge.
Pros
Good battery life
Lightweight at only 2.7 lbs
Crevice attachment
Cons
Loses suction after about 10min.
Plastic parts can break
Can be quite loud
3
Bissell Pet Hair Eraser 33A1
This model is perfect if you have pets. Its rubberized nozzle is great for picking pet hair up from furniture and upholstery, making it an ideal addition to your upright pet vac. It's corded, which means you don't have to worry about a dead battery while you clean.
Pros
Rubberized nozzle picks up hair
Two nozzle attachments
Long power cord
Cons
Heavy for a handheld (5 lbs)
Canister can be hard to empty
Doesn't work well on light dust
4
Eureka EasyClean Lightweight 71B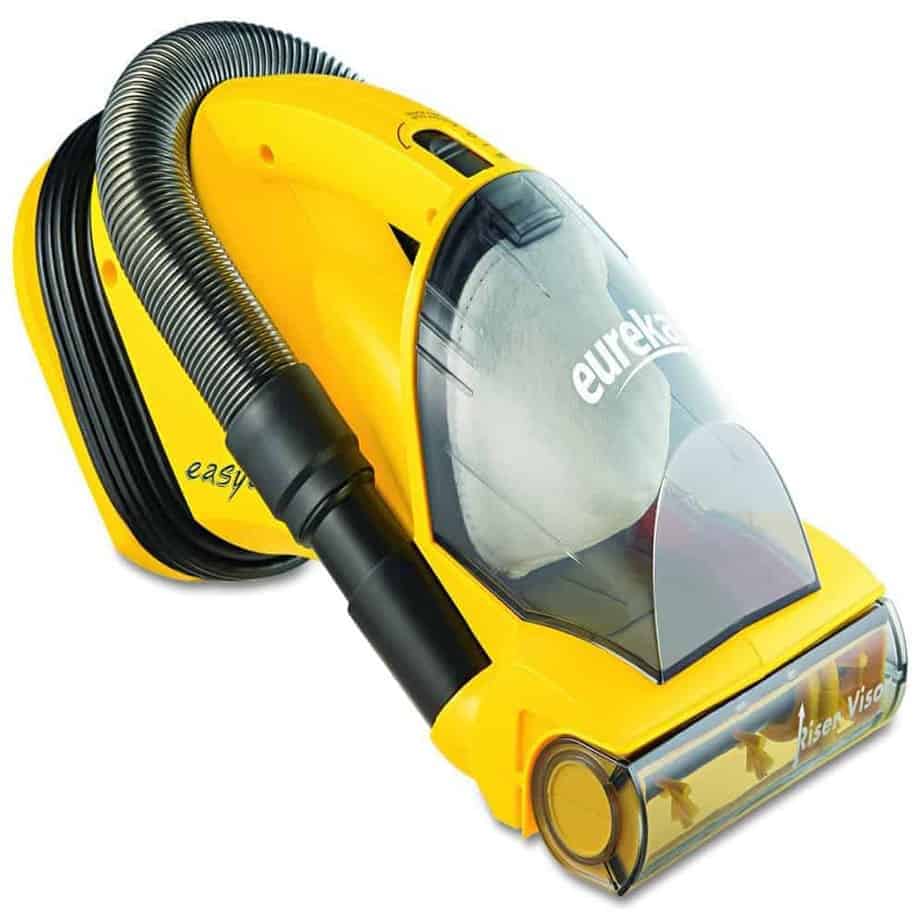 This model combines a lot of features you'd find on a full-size vacuum in a compact design. It has a motorized brush, a hose attachment, and a long cord for cleaning entire rooms. The wide nozzle means you can clean larger areas at once, too.
Pros
Multiple color options
Long 20-foot cord
Works great for stairs
Cons
Hair will cling to the filter
Heavy to carry around
Filter can't be washed with water
5
Black & Decker MAX Lithium Pivot
Black & Decker built this model with a totally unique design. Its flat nozzle rotates to store compactly. You get good suction power in a device that stows small.
Pros
Folds down for compact storage
Charges quickly
Affordable for a lot of power
Cons
Runs loud
Not great for sand, similar debris
Canister door can weaken & break
At almost $200, this handheld by Dyson is a bit of an investment. What do you get for the extra cash? Interchangeable attachments for a variety of uses (that can all be used with Dyson floor models), quiet usage, boost power for those stubborn messes, and 20-minute battery life.
Pros
Quiet when running
Easy-empty canister
Lightweight at only 3 lbs
Cons
With boost, battery lasts 15min.
Blows air back at you when in use
Can clog easily
8
HoLife Cordless Hand Vacuum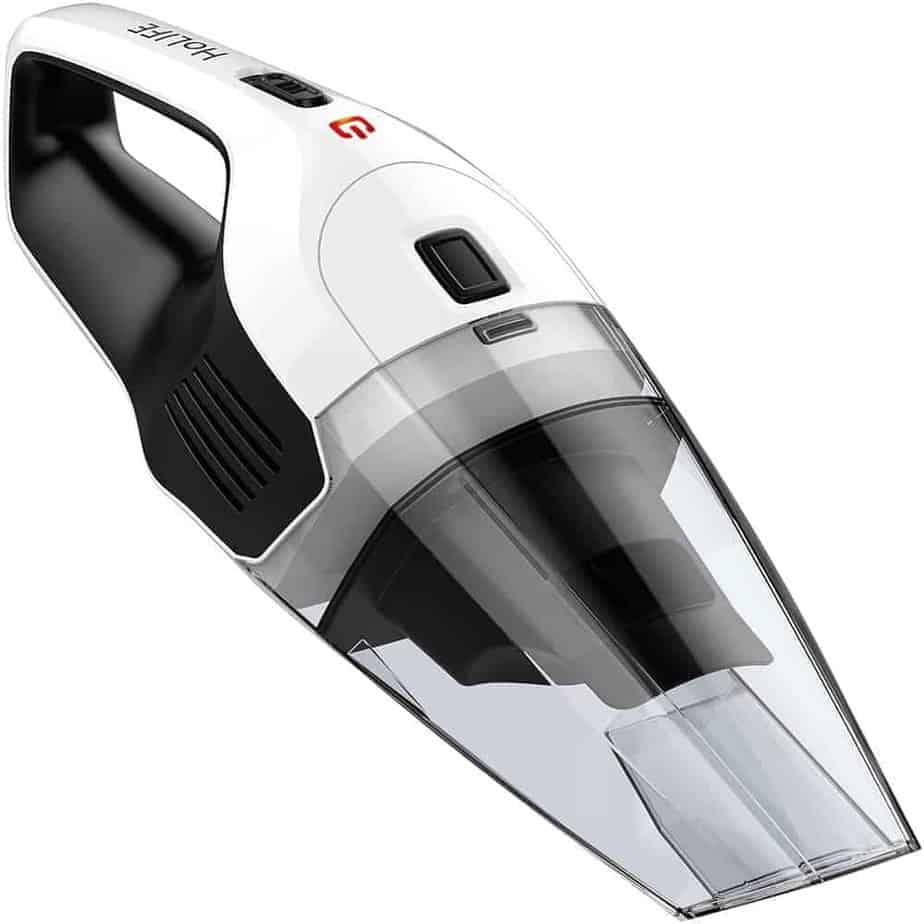 At only 3 lbs, this thing is a breeze to carry around as you clean. What makes the HoLife vacuum special is that it can clean both wet and dry messes. It's small and charges standing upright, so it takes up little space.
Pros
Short charge time
30 minutes run time
Attachments for specialized cleaning
Cons
Doesn't work well for pet hair
Filter compartment hard to open
Suction isn't great
This lightweight vacuum features a zippy little design with an ergonomic handle. It's less than 4 lbs, so it's easy to carry around the house while you clean. It has a motorized attachment and crevice tool so you can clean all areas of your home with ease.
Pros
Reusable easy-rinse filters
Powered turbo tool & crevice tool
Lightweight
Cons
Long charge time for short usage
Brush attachments are flimsy
Battery must be removed to charge
10
Bissell Cleanview Deluxe
Similar to their Pet Hair Eraser model, this Bissell has a rubberized nozzle that's great for picking up stubborn debris. Its 18-foot cord will reach all corners of the room, while the 2-foot hose extends its reach further. Nozzle and hose attachments make it an even more versatile vacuum.
Pros
Long power cord
Adaptor nozzle with 2-foot hose
Good for short pet hair
Cons
Hose is stiff
Operation is loud
Not great on plush carpet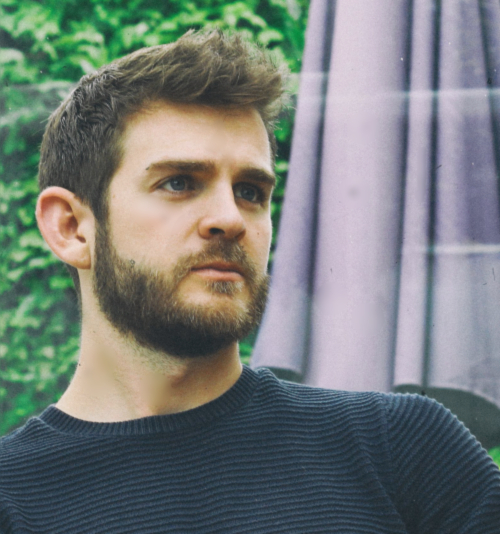 Morgan Bennett
Morgan Bennett is a freelance writer living in the Wicker Park neighborhood of Chicago. He is known locally as a craft beer evangelist and collector of obscure movie trivia.