Our choice for the best personal blender is the NutriBullet NBR-1201.
Specially designed to extract nutrients from fruits and vegetables, the NutriBullet NBR-1201 is convenient and powerful. It's the perfect kitchen accessory for anyone who's looking for easy ways to improve their health.
Whether a protein shake has become part of your pre- or post-workout regime, or you love to have a breakfast smoothie to start your day, or you've just decided you want to supplement your diet with more fruits and veggies, a personal blender is a must-have item.
The very first blenders were developed to make tasty milkshakes and other drinks at local soda fountain shops. The personal blender returns to these roots with its focus on a single-serve design.
Though the basic design of the blender is pretty standard — a tapered container, a motorized blade at the base, and a lid — the best blenders will easily outlast and outperform the competition. We gathered our strawberries and blueberries, combined them with our favorite yogurt, added some milk and honey, then hit "blend" to see which personal blender did the best job!
The Personal Blenders We RAVE About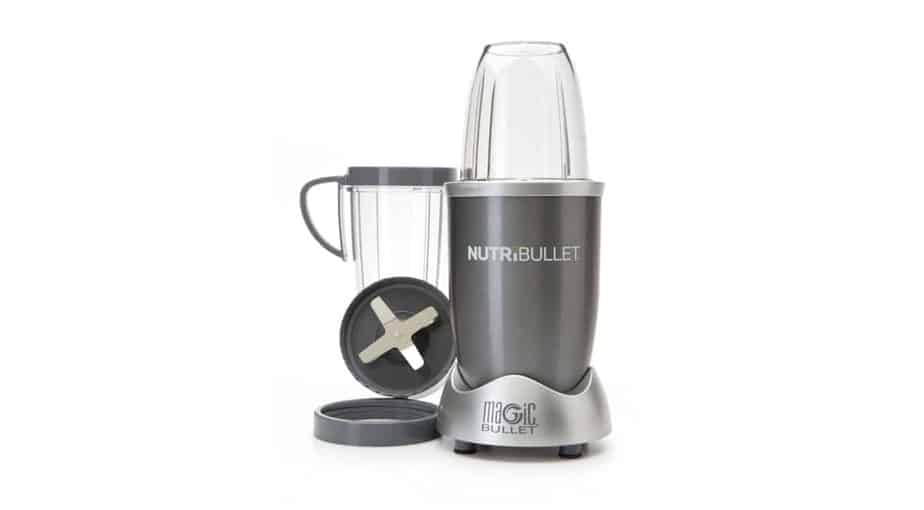 Best Overall
NutriBullet NBR-1201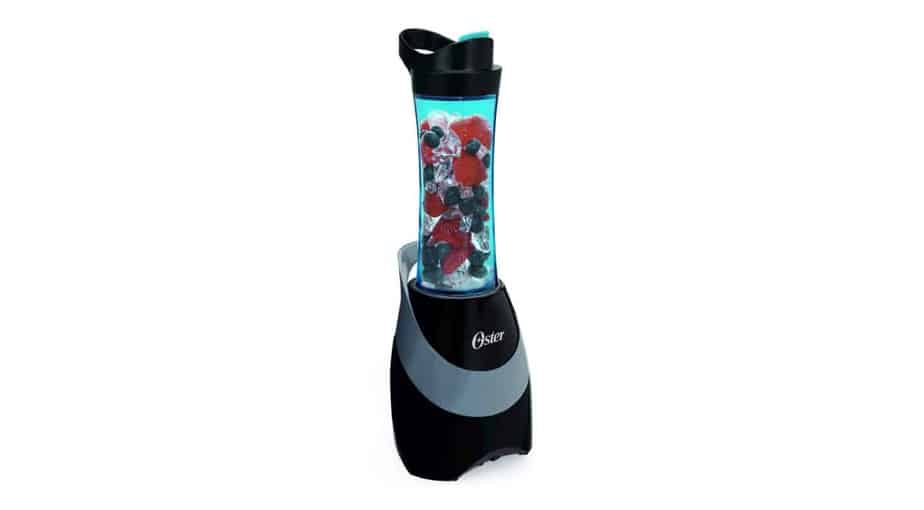 Best Budget
Oster My Blend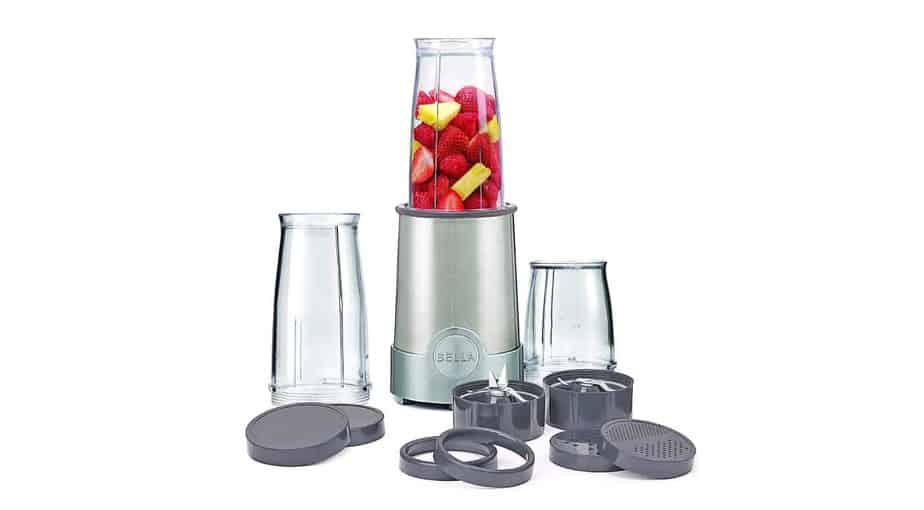 Best Accessorized
Bella 12-Piece Rocket Blender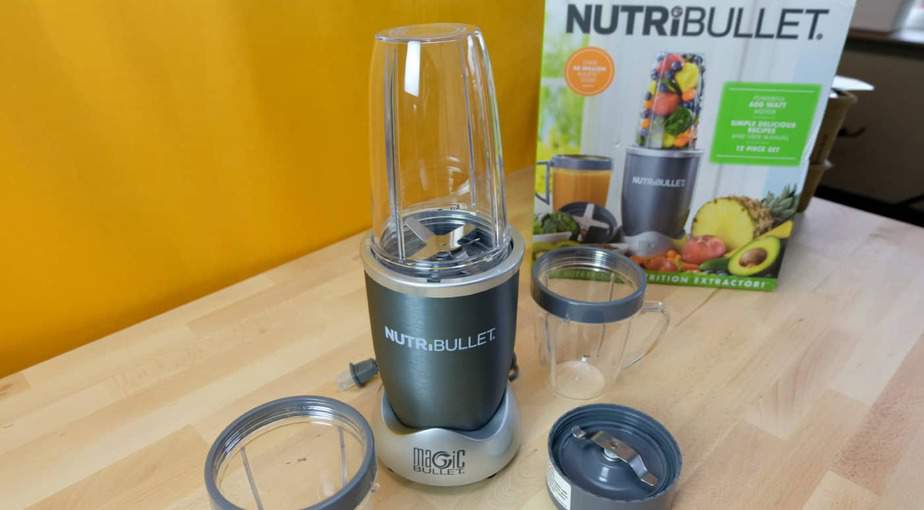 Human ingenuity has created all kinds of interesting gadgets to make our lives easier, and here at RAVE, the blender is one of our personal favorites.
The kitchen blender was the first motorized kitchen item in American history, and it wouldn't have been possible without the invention of the small electric motor in 1910.
The blender wasn't actually developed to deal with food, but rather with drinks — delicious ice cream drinks, that is.
It was engineer Stephen Poplawski from Racine, WI who invented the first blender. It was 1922, and Poplawski was working for the Arnold Electric Company. They wanted to make a machine that could more efficiently mix up malts and milkshakes that they could market to soda shops.
The Poplawski blender featured a cup with blades at the bottom which could be affixed to a motor on a stand. Voilà, the blender!
Poplawski's invention was then improved upon by Fred Osius and later Fred Waring, who launched the Waring blender in 1937. Waring was a promotional machine and traveled around the country lauding the benefits of the blender. He had a personal story to tell, since he used the blender to prepare the vegetables that he needed to deal with his own stomach issues.
In that same year, W.G. Barnard, founder of Vitamix, also introduced his own blender, which used a stainless steel cup instead of Pyrex glass like the Waring.
Smooth moves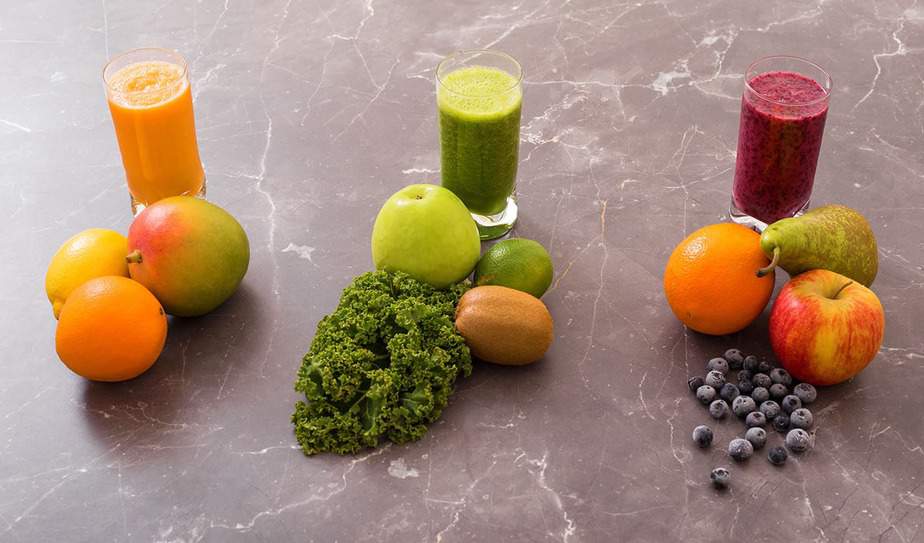 Blenders, whether personal or conventional, are especially associated with the smoothie. And there is no doubt that the history of the smoothie is tied up with the history of the blender.
Smoothies have their roots in the Mediterranean and subtropical cultures, where fruit-based drinks have a long history. But it was in the 20th century, with the invention of refrigeration and the blender, that the smoothie started to catch on in the United States.
But it wasn't until the 1960s and the health food movement that the smoothie really took off — even the name "smoothie" comes from that time period. Most folks credit the term to Steve Kuhnau, who opened his first health food store, "The Smoothie King," in 1973. Kuhnau himself credits local hippies in Louisiana for the name.
There are literally hundreds of recipes for smoothies, but most include either fruit or vegetables (or both), and often feature milk, yogurt, or non-dairy milks, as well as a sweetener like honey. They are also often fortified with vitamins and proteins for that extra oomph.
How does a blender work?
Most blenders have a simple design and construction, consisting of a motor, a blade, and a tapered container with a lid. The container can be affixed to the motor and blade, and it usually includes a rubber seal to keep liquid from spilling out the bottom.
When you place fruit or some other item in the cup and turn on the motor, the blades and cup shape will create a vortex vacuum in the center of the container and will pull the item toward the middle of the cup. The lid is there to make sure no ingredients go flying across the room.
Once the ingredients are mixed to your satisfaction, you can stop the motor, take off the top, and enjoy!
Blender models
There are 3 main types of blenders: the countertop blender, the personal blender, and the immersion blender.
The countertop blender is perhaps the most variable in terms of size, shape, and materials. It is the classic style of blender, with the motor and blades located on the base of the product. The containers of countertop blenders are made from stainless steel, plastic, or glass, with glass generally preferred in terms of its functionality and stability.
The personal blender is really a subset of the countertop, since the blade and motor are also usually found on the base of the product. What's unique about personal blenders is their size. Personal blenders are generally meant to serve one, making them easier to use and clean.
The immersion blender includes a motor, usually embedded in a handle, with blades on the bottom that can be immersed into a container of ingredients that need blending. Though this type of hand-held blender offers a bit more flexibility and control, it's typically not as powerful as a countertop blender.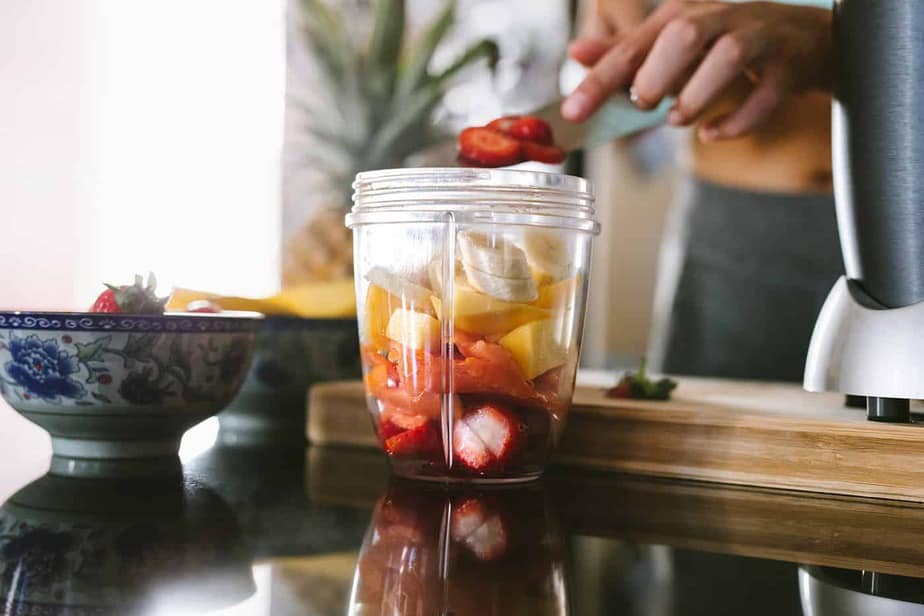 Methodology
This ranking was developed through a rigorous methodology that included meta-data analysis of trusted review sites and hours of research watching and reading reviews by culinary experts, personal trainers, and smoothie lovers everywhere. During this process, we distilled the key criteria listed below as crucial elements to keep in mind when purchasing a personal blender. We then created a scoring system of up to 100 points and ranked each personal blender based on how they did in these essential categories:
Price: Not all blenders are created equal, and the price doesn't necessarily tell you much about quality. Some of the cheaper models can do just as much as the more expensive ones.
Quality: This refers both to the durability of the product as a whole, as well as the quality of construction and materials. You don't want a blender that leaks, do you?
Accessories: Most personal blenders include at least some accessories, but are they really useful or will they just clutter up your cabinets and never get used?
Replaceable parts: If your personal blender breaks down, can you easily replace the parts? Or are you going to have to go out there and buy another blender?
Motor strength: The maximum strength of the motor and the number of available blend settings are the most important factors in determining what your blender can do.
Cleaning: A blender that is easy to clean is a blender that is easy to love.
Whether you're making a nutritious breakfast smoothie, an after-workout protein shake, or just a delicious treat, check out our list to help you decide which personal blender works best for you!
Best Personal Blenders
At the top of our list is the powerful, convenient, and easy-to-use NutriBullet NBR-1201. The NutriBullet includes a 600-watt motor with high torque power, and includes both a flat milling blade and an extractor blade. The extractor blade is designed to break down the skin, seeds, and stems of fruits and vegetables, which is where many of the vital nutrients are found.
The NutriBullet features a quiet motor, and it offers the convenience of not having to do significant clean-up after use, since the blending container doubles as a handy to-go cup that you can bring with you when you leave the house. That means one less dish to wash and serious time saved in your morning routine.
The NutriBullet is super easy to use, and it's kid friendly too. It's also available in 3 different colors. It comes with 2 short cups, one tall cup, and 2 resealable lids. And best of all, the price is very competitive. Overall, this is a great machine for whipping up your favorite drinks!
Pros
Easy to use
Quiet motor
Can deliver more nutrients
Cons
Doesn't handle ice well
Don't overload as it can leak
Our second blender is the Ninja Master Prep Professional QB1004, which doubles as a food processor. This product has a 450-watt motor which is mounted on the top of the blender, providing more efficient blade movement. The single-speed button allows you to control the evenness of the food while processing or blending it.
The QB1004 comes with 3 containers, including a 48oz. pitcher, a 16oz. chopper bowl, and a 40oz. processor bowl, each of which includes blades and splash guards to keep your kitchen from getting too messy. This is a stylish-looking blender, if we do say so ourselves, and it would fit right in with any kitchen décor.
At only 7 inches tall, the blender is amazingly compact, especially given that it doubles as a food processor. Though the warranty on this blender isn't great, it is still an excellent appliance given the price.
Pros
Quiet motor
Doubles as a food processor
Blades can handle ice
Cons
Expensive
Restrictive warranty
Our next personal blender is the Magic Bullet MBR-1701 17-Piece Express Mixing Set. You may be familiar with the Magic Bullet name from their (in)famous infomercials. The Magic Bullet features a 250-watt motor, which is capable of making smoothies, grinding coffee, or even chopping some vegetables.
Once you fill the cup with your desired ingredients and twist on the blade of your choice, the motor can be easily activated by pressing the cup down onto the base. The 17-piece set includes 6 different containers, along with various lids and lip rings, as well as a useful recipe book.
The Magic Bullet is compact and easy to clean, and all of the materials are microwave and dishwasher safe. The product comes with a limited one-year warranty. This is a great personal blender at a decent price — and hey, who doesn't remember those infomercials with some fondness?
Pros
Wide variety of accessories
Easy to clean
Super simple to use
Cons
Not great with harder foods
Motor may heat up
A bit pricey
4
Hamilton Beach Personal Blender
Coming in at fourth on our list is the Hamilton Beach Personal Blender. This blender features a smaller 175-watt motor that does a good job of breaking down various fruits and veggies. The 14oz. container doubles as a travel mug and comes with a reusable top that snaps on when you finish making your smoothie and you're ready to head out the door.
The materials are BPA-free in the food areas (i.e., in the container), so you don't need to worry that your drinking mug is toxic. The jar and its lid are both dishwasher safe, making cleanup a snap. And this is another easy-to-use blender in that there is only one button.
This is a slim profile blender that will look good on your kitchen counter, and at just $30, it's a phenomenal deal to boot.
Pros
Simple to use
Dishwasher safe
Amazing price
Cons
Motor is a bit weak
Not many accessories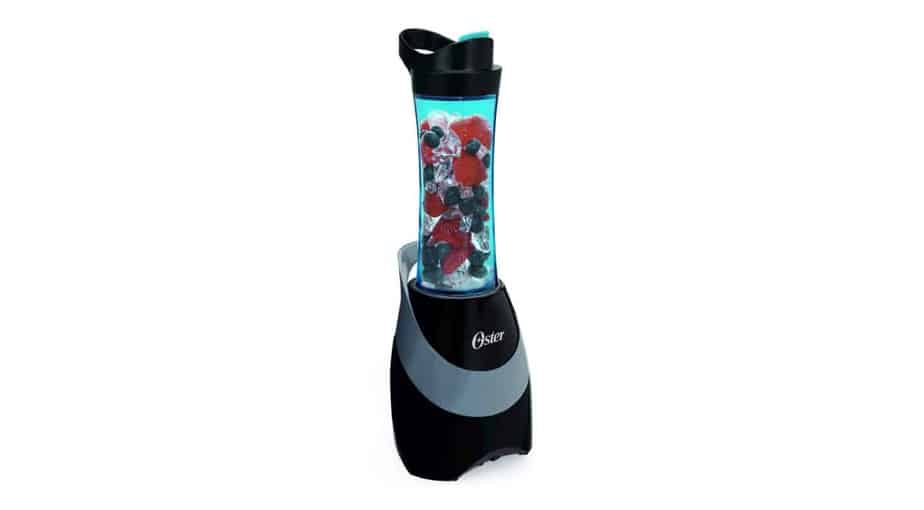 Our next blender is the Oster My Blend, which comes from one of the original blender makers, the Oster Company. These folks have been making blenders since 1946, with the Osterizer being the most famous of their products. The Oster My Blend is a personal blender that is perfect for making smoothies and other single-serving drinks.
This blender features a 250-watt motor that is housed in the base. The blender is easy to use: You just add your ingredients to the container, twist on the blades, and place the container onto the base. Then press down and presto — you have your favorite fruity drink!
The container is a 20oz. bottle that doubles as a travel mug, and it's BPA-free and dishwasher safe. And you can buy additional 20oz. bottles separately if you need extra mugs around the kitchen. At only $25, it is hard to beat the price of this reliable blender, which is why we also named it our Best Budget Blender!
Pros
Great price
Simple setup
Relatively quiet
Cons
May not be big enough
Takes longer to blend
Not great with ice
6
Bella 12-Piece Rocket Blender
Our next blender is also our Best Accessorized Blender: the Bella 12-Piece Rocket Blender. We know, we know — there are other blenders out there with more accessories, but the combination of accessories and price just makes this an obvious choice. This blender features a 240-watt motor, which is on the weaker end, but it can still do most jobs without a problem.
To use the Bella Rocket Blender, just fill the container with your ingredients, twist on the blades, and then lock the container into place, and you can start blending. The compact size makes it easy to store and clean, and the cups are dishwasher safe.
Included with this little gem are 3 cups and 4 lids, as well as lip rings for leak-free drinking. The cups have been known to stain, so be sure to wash them thoroughly after each use. This blender will give you good versatility at an amazing price.
Pros
Great price
Comes with accessories
Straightforward design
Cons
Motor can't handle frozen items
Cups sometimes stain
Doesn't include replacement parts
The Epica Personal Blender comes in seventh on our list of best personal blenders. Epica is a relatively unknown company, but their personal blenders are generating some buzz. This blender features a strong 300-watt motor that can handle the ingredients that go into your favorite drink.
The design of the Epica Personal Blender is similar to many of the other blenders on our list. The motor unit is housed in the base. You fill up the blending container, attach the blades, securely lock the container onto the base, and hit the power button — easy as that.
This blender container also doubles as a 20oz. to-go mug, and it comes with a drinking lid. The bottle is BPA-free, dishwasher safe, and doesn't stain. These features, along with the Epica's relatively low price point, make this a great option for making smoothies to take on the go.
Pros
Affordable price
Durable blending container
Strong 300-motor
Cons
Questionable motor durability
Relatively unknown company
Fairly standard design
8
Cuisinart 350-Watt Blender with Electronic Touchpad
Our next personal blender is produced by a household name. The Cuisinart CPB-300 350-Watt Blender features impressive motor strength for a personal blender. It's able to break down ice chunks and frozen fruit without a problem. This blender comes with a number of useful accessories, including a 32oz. blending jar and an 8oz. chopping cup.
Additional accessories include a set of 4 16oz. travel mugs with lids. These travel cups can double as containers for blending, making cleanup easier and more convenient. All of the parts are dishwasher safe. The blender itself features an electronic touchpad with LED indicator lights, which adds a nice touch of modern style.
This blender has been on the market for a long time, and it's available at a relatively low price. If you want a name brand personal blender that you can trust, this just may be the one for you!
Pros
Trusted brand name
Comes with accessories
Quiet
Cons
Questionable durability
Blades dull over time
Can overheat easily
9
Aicok LED Smart 1200-Watt Personal Blender
The Aicok LED Smart 1200-Watt Personal Blender is a unique blender on our list. For one thing, it features the most powerful motor among the products that we reviewed: 1200 watts.
But the most unique aspect of this personal blender has to do with the LED Smart technology that modulates the timing of the blend depending on the ingredients you've placed in the container. The blender will adjust to the ingredients, pausing or speeding up as necessary. This makes for an easy, hands-free experience.
The Aicok LED Smart 1200-Watt Personal Blender also comes with 2 large Tritan plastic travel cups, which are durable and easy to clean. Though the price is a little higher than some of our other winners, and the included accessories more limited, if you need serious wattage, this is the blender for you.
Pros
Content-sensing technology
Travel cups included
Powerful motor
Cons
May not be large enough for some
A bit more pricey
Questionable durability
10
Keyton 21oz. Personal Blender
Rounding out our list is the Keyton 21oz. Personal Blender. This blender features a 300-watt motor housed in its base. The blending container doubles as a 21oz. portable sports bottle. A lid is included.
This is an easy-to-use personal blender, offering convenient one-touch operation. There are also useful suction cups on the base so that you can place the blender on any surface and know that it's secure. The container is BPA-free and dishwasher safe.
This is an ultra-compact personal blender that offers solid motor strength (300 watts) and a sleek look. That's a great combination at a great price!
Pros
Super affordable
One-touch operation
Dishwasher safe
Cons
Top sometimes leaks
Can't handle ice
Blades can dull quickly
Related rankings
Which blender is easiest to clean?
Blenders are all about convenience. So who wants to spend a great deal of time cleaning up a blender? Nobody, that's who. If a blender is easy to clean, it's easy to use, and therefore, it's easy to love.
Plastic is one of the easiest materials to clean. It's lighter than glass, and less prone to break if dropped on the floor or in the sink. The majority of modern blenders have plastic blending containers (although glass containers are also readily available if that's what you prefer). Both glass and plastic containers will typically be dishwasher safe.
Some higher-end blenders even come with a self-cleaning setting — just pour in some warm water and let the blender do its thing.
If your blender doesn't have a cleaning mode, here's a quick and easy way to do the same thing:
First, pour hot water in your blender, filling up about half the container. Second, add some dish soap. If you want, you can add some lemon or vinegar as well. Then put the top on, hold a towel over it, and turn on the motor for about 10-15 seconds. Then pour out the water and rinse with more hot water. Presto! Your blender will be clean as a whistle!
Which blender is best for bartending?
One of the great things about blenders is that they are excellent at crushing ice, which means they're great for a whole bevy of mixed drinks. So naturally, you might be wondering which blender is best for your boozy concoctions.
A big factor in answering that question has to do with whether we are talking about home bartending — i.e., making a few drinks for friends or family — or professional bartending. If you are interested in a blender for a professional gig, it is really best to go with a commercial blender.
That's because commercial blenders are built to handle the constant usage that comes with serving drinks to multiple customers. The motors tend to be better ventilated, and assembly and cleanup are typically much easier, since a bartender will often have to clean a blender multiple times a shift. These blenders also usually come with really good warranties.
But these blenders can be very expensive. A typical starting price would be $1,000.
Not to worry, though, if that price point is a little high for you. You can find quality blenders that are excellent at crushing ice and cost as little as $200. You will definitely want a more robust blender for mixing drinks (think 500+ watts), and glass containers tend to be better than plastic because they don't absorb flavors over time like plastic containers might.
What is the difference between a blender and a food processor?
People often confuse blenders and food processors. It's an honest mistake, given how much they share in common. They both have similar components, like a blade that moves at high speed and a container in which you put ingredients to be liquefied or broken down. But there are some important differences.
For instance, blenders are much better at handling liquids like soups, purees, mixed drinks, or smoothies. Blenders also generally need some form of liquid to get the process going — otherwise, ingredients tend to just bounce around.
On the other hand, a good food processor is much better equipped to deal with more labor-intensive tasks like chopping onions or making pesto. Food processor containers tend to be big and have flat bottoms, which makes it easier to add ingredients as needed. Most food processors even have a blade attachment that can help you knead dough.
What are the best personal blenders?
If you love smoothies or like to work out and need a good dose of protein before or after your trip to the gym, then you know that a good personal blender is a must. But with so many models to choose from, what is the best personal blender for your needs? Through our wide-ranging research, we have taken the guesswork out of choosing the best personal blender.
When shopping for your next personal blender, here are some questions to consider:
Is the blender easy to use?
Can you clean it without much hassle?
What kinds of accessories does it come with?
What is the durability of the blender?
Can you replace parts if it breaks down?
How much does it cost?
Is the motor powerful enough to break down your favorite ingredients?
Taking these and other questions into account, we have pinpointed some of the key qualities that make for a great personal blender.
Our research led us to select the NutriBullet NBR-1201 as the best personal blender.
Before you need to whip up your next triple-berry smoothie, check out the full list of our 10 favorite personal blenders.
RAVE Recommends
Once you've got your personal blender picked out, have a look at some of our favorite blender accessories:
Optimum Nutrition Gold Standard 100% Whey Protein Powder: Perfect for your pre- or post-workout regime.

Reusable Wide Straws: These wide-straws will make sure your smoothie goes down nice and easy. Best of all, they're reusable!

'Superfood Smoothies: 100 Delicious, Energizing & Nutrient-dense Recipes': For some great smoothie ideas, check out this recipe book.

BlenderBottle Classic Loop Top Shaker Cup: Here are some great travel mugs for when you need to take your shake on the go!

Chris Winn
Chris Winn is a freelance writer who works in the Minneapolis area, where he and his family are beholden to two cats and a dog.