Summer is here. What does that mean? It's time for you to create an outdoor oasis in your backyard so you can relax and enjoy the sunshine.
However, with the sun comes a need for shade, and a patio umbrella is just what you need. A patio umbrella adds beauty and practicality to your outdoor space.
We did some hard research on the best patio umbrellas. After deciding what we love in an umbrella, we created our methodology, presented evidence before our panel of judges, and came up with our top choice. Dun dun dun: The ABCCANOPY Solar 9 Ft. Patio Umbrella with LED Lights is our top choice for an awesome patio umbrella for long summer days. It will keep you cool in the shade during the day, and you can hang out under it at night while the LED lights glow.
Simple to set up and put away for storage, this outdoor gem proves to be durable and sturdy with a high-quality water-, UV-, and fade-resistant fabric that will last for years. However, it was a difficult choice, and we wouldn't be honest if we didn't name some runners-up. Keep reading for the next best choices in patio umbrellas.
When you are shopping for a patio umbrella, consider a few things, such as the size and material of the umbrella, as well as where you want to place it.
Whether you need a study table umbrella for summertime cookouts or something a little fancier to keep your guests cool and relaxed, we have the 10 best patio umbrellas for you to choose from. We did the research for you, so keep reading to choose the perfect umbrella to transform your outdoor space into a magical summer retreat.
The Patio Umbrellas We RAVE About
Nothing says summer like a vibrantly colored outdoor umbrella that blocks out the sun while you relax and read a book, or perhaps binge Netflix on your iPad. When looking for an umbrella, you should look for a product that adds to the ambiance of your backyard, does its job and protects you from the sun, and holds up well.
Here's what we found out about the trends in outdoor patio umbrellas for 2019: LED lights are in. People love the mood they set — calm and relaxing. You can use LED lights during the day or night.
Vibrant colors and patterns scream, "Summertime!" Many people want to add zest to their patios and brightly colored outdoor umbrellas do just that.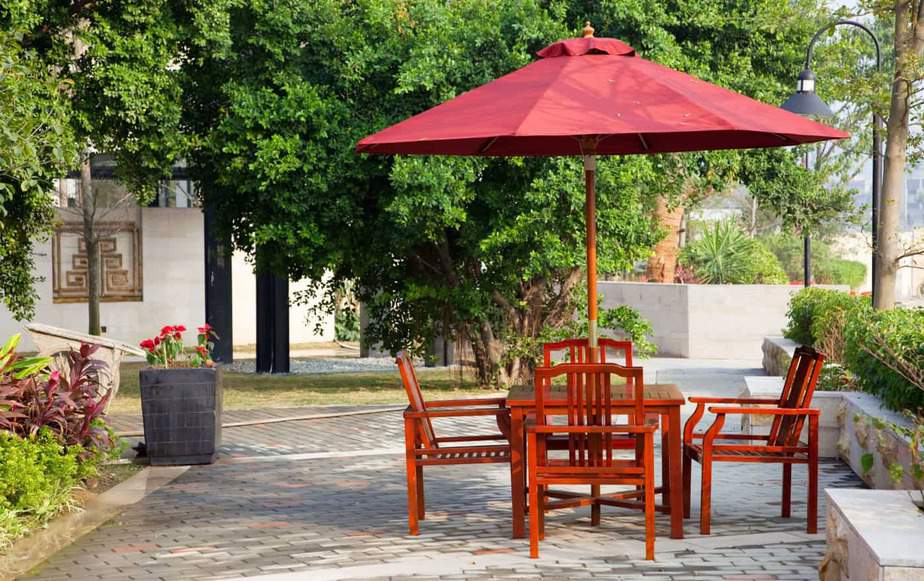 Easy assembly is also a must. No one wants to pore over long, poorly written directions for hours, just to have their umbrellas fly up and break like the ones in "Mary Poppins." Don't worry — all the ones we reviewed are easy to assemble and easy to store.
What to look for in a patio umbrella
You may think buying a patio umbrella is a simple process, and it can be if you know what you are looking for. All patio umbrellas are not created equal though, so it is important to know some deciding factors to make the best decision possible.
Umbrella size
When it comes to umbrella size, the best rule of thumb is to make sure the umbrella is larger than your sitting area. To choose the correct size, measure the space you want to shade. Don't forget to take the chairs into consideration, too. Then, add about 2.5 feet to each side to determine the correct size you need.
For example, if you need 48 inches of shade, you will want an umbrella diameter of about 9 feet. If you need 60 inches of shade, use an umbrella with a 10 foot diameter.
For extra-large spaces, a cantilever is perfect. These large umbrellas are made to angle over more than just a table. They work well for tables without holes, lounge chairs near a pool, or patio chairs that need shade.
Types of materials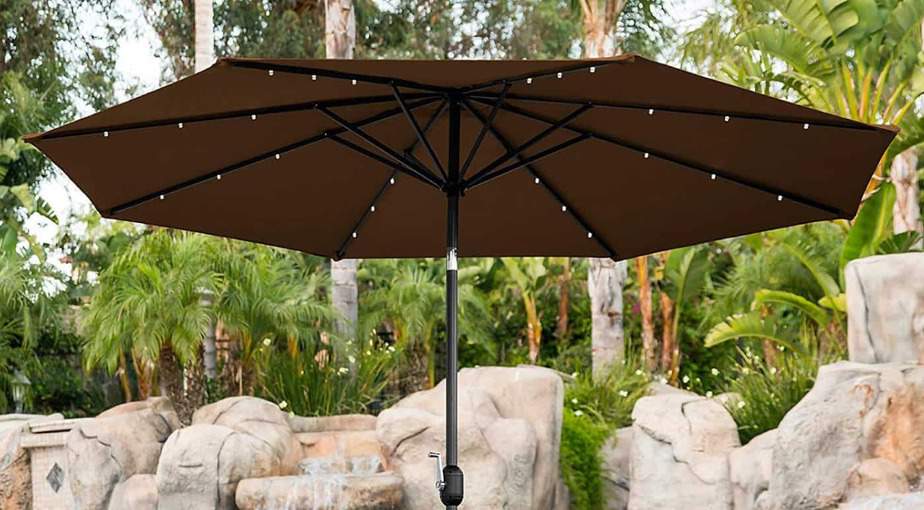 Fabric is important when looking for an umbrella. You want a fabric that is lightweight, stain proof, and of course, UV-resistant.
Two common fabrics are Sunbrella and polyester.
Sunbrella:
Is currently the industry leader in umbrella fabric
Is fade-proof
Contains locked-in color
Is water-resistant
Is mold- and mildew-resistant
Polyester:
Usually has a warranty against fading and mold
Is solution dyed
Comes in a large selection of patterns and colors
Both of these fabrics are great choices as they provide UV protection and are fade-resistant, easy to clean, and long-lasting.
Umbrella frames are usually made with fiberglass, wood, or aluminum. The most commonly used material is aluminum because it is the most durable, and is rust- and weather-resistant. It also has the widest selection of finishes, so you can get different colors.
Mechanics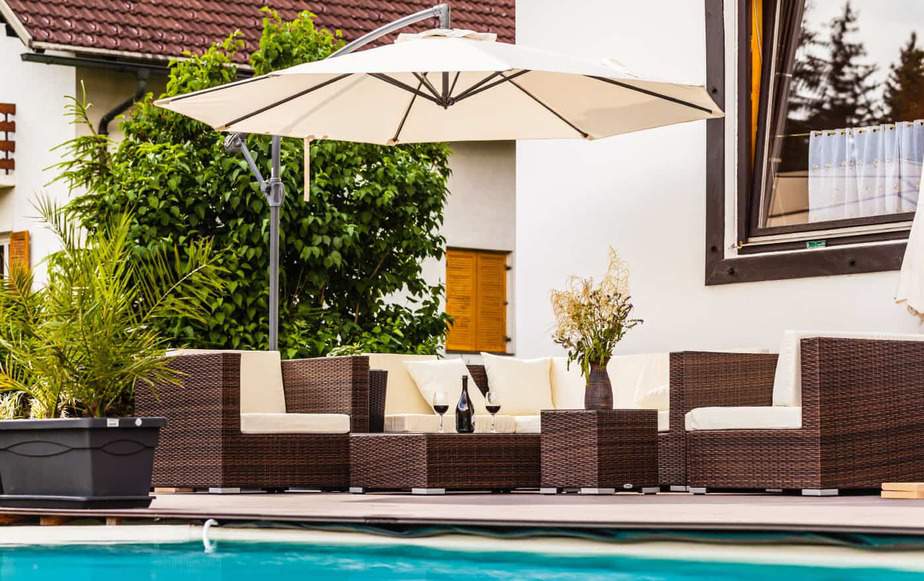 There are two different mechanics when it comes to patio umbrellas: the lift method and the tilt method.
The lift method refers to the method used to open the umbrella's canopy. There are three basic lift methods:
Push up: You hold the hub and manually push the canopy up and lock it in place.
Pulley: A rope helps raise the umbrella hub with cords that expand and open the canopy. It is then locked in place.
Crank: A crank opens the umbrella until the canopy is completely open.
The tilt method allows canopies to be tilted to block out the sun when it moves positions. Tilting umbrellas are only available with a crank system. There are three types of tilt umbrellas:
Push button: Uses a button to tilt the canopy.
Crank: Uses a crank to move it in different positions.
Collar: A collar, or a ring, is located around the hub of the umbrella and is twisted to tilt the canopy.
Best patio umbrellas for different climates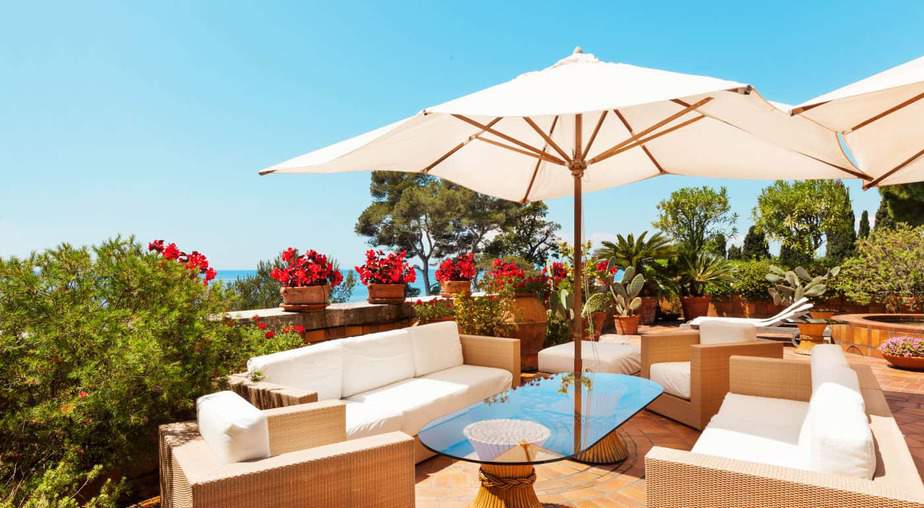 Something you need to take into consideration is your climate. What is the temperature like? How often does it rain? Is it frequently windy?
If you don't get a lot of rain, you might be fine with an inexpensive basic patio umbrella. If it rains a lot, like in Seattle or Miami, look into a larger, sturdier, more durable umbrella. If you see a lot of wind, look for one made out of fiberglass or wood.
Basically, the harsher the weather, the more durable an umbrella you need.
Methodology
Here's the fun part. How did we judge these umbrellas? We came up with a list of qualities to look for in a patio umbrella, and here is what we found:
Durability: You want your umbrella to last for years, so we looked for the most durable options.
Stability: Nobody likes their umbrellas flying around with the wind, so we looked for the most stable ones.
Nice design: We asked ourselves the following questions: What is unique about this design? Does it work well for this product?
Easy to set up: We looked for umbrellas without lengthy set up times. In other words, your second-grade daughter should be able to set up the umbrella with no problem.
Easy to store: When you're not using it, the umbrella should be quick and easy to take down and store.
Vibrant colors/patterns: Everybody wants a pretty umbrella, so we looked for bright colors and creative patterns.
Size: There are different sizes of umbrellas, ranging from 7.5 to 15 feet. We looked at various sizes and how suitable they for different outdoor living spaces.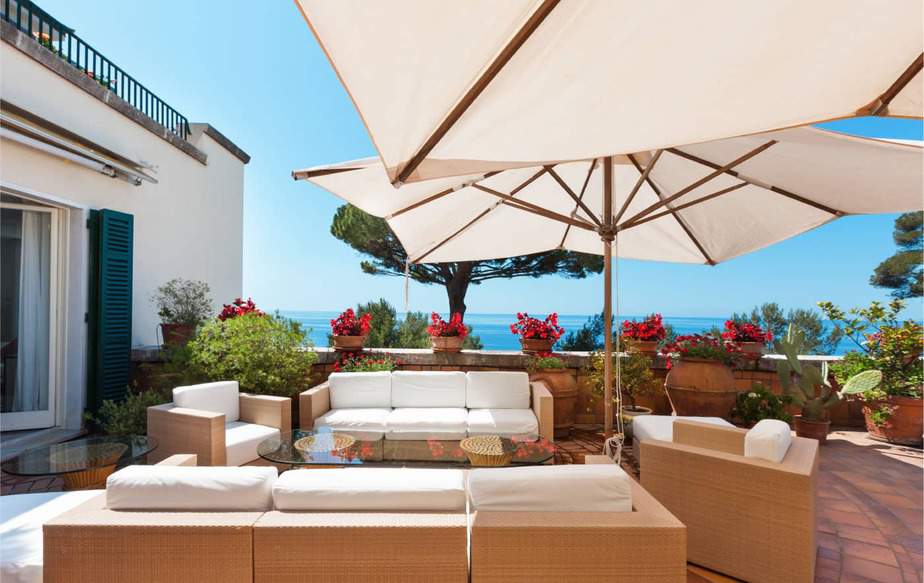 The Best Patio Umbrellas
Q: Do I need to buy a stand/base?
A: It depends on the type of umbrella you buy. Some come with stands or bases, and others do not. If the one you choose does not come with a stand or base, you can easily buy an inexpensive one. Do your research on the specific umbrella you want to buy, and make sure you know whether you will need to buy a stand or a base for it.
Q: Will the colors on the canopy fade over time?
A: Yes, inevitably over time the colors on the canopy will fade. That's what happens when the elements meet the canopy. However, while some of the umbrellas we reviewed are made with fade-resistant material, that doesn't mean they won't ever fade, but it does slow down the process.
If you want, you can limit the amount of fading by choosing a lighter color. For example, blue is a wonderful, summery color, but it is likely to fade much faster than beige. Also, make sure you keep the umbrella closed when you are not using it to extend the life of the umbrella as a whole.
Q: What should I use as a weight to keep the umbrella from blowing away?
A: No one wants an umbrella on the loose. Most large outdoor umbrellas come with a warning against using it if the wind is stronger than 10 mph. If the wind is strong, fold up your umbrella and don't use it.
However, there are other options. Some bases come with sandbags to weigh it down, and you can also use water and rocks to secure the base. Make sure that whatever you use is securely in place so you don't have a flyaway umbrella.
Q: What are the best patio umbrellas?
A: All 10 patio umbrellas we reviewed are great picks, depending on your needs. However, here are our top four:
ABCCANOPY Solar 9 Ft. Patio Umbrella with LED Lights
Abba 9 Ft. Aluminum Market Table Umbrella
Rubeder 10 Ft. Cantilever Patio Hanging Umbrella
Blissun 7.5 Ft. Patio Umbrella
RAVE Recommends
Need a few more accessories for your patio umbrella? Check out these products that pair nicely with your newest outdoor addition: