We recommend products based on unbiased research from our editorial team. We may receive compensation if you click on a link.
Read More.
Need new patio furniture for your next barbeque?
You've come to the right place. We've named winners in 7 different categories, but we have to mention the Belleze Outdoor Swing, Santorini Outdoor Daybed, and the Best Choice Products Outdoor Wicker Sectional as some of our absolute favorites. For our full list of the 21 best outdoor furniture pieces, read on.
The Outdoor Furniture Sets We RAVE About
We don't know about you, but for us here at RAVE, when the frost starts to disappear, we get the itch to go outside. The second the temperatures start to climb, all we can think about is spending our days outdoors, under the sun with a drink in our hands.
What fun is it being outdoors, though, if your patio isn't a good place to relax?
From sectionals to porch swings, from metal to wood, we've got 21 pieces of patio furniture to impress your barbeque guests and inspire jealousy in your neighbors. Here are some of the best outdoor furniture picks to take your backyard from ordinary to outdoor oasis.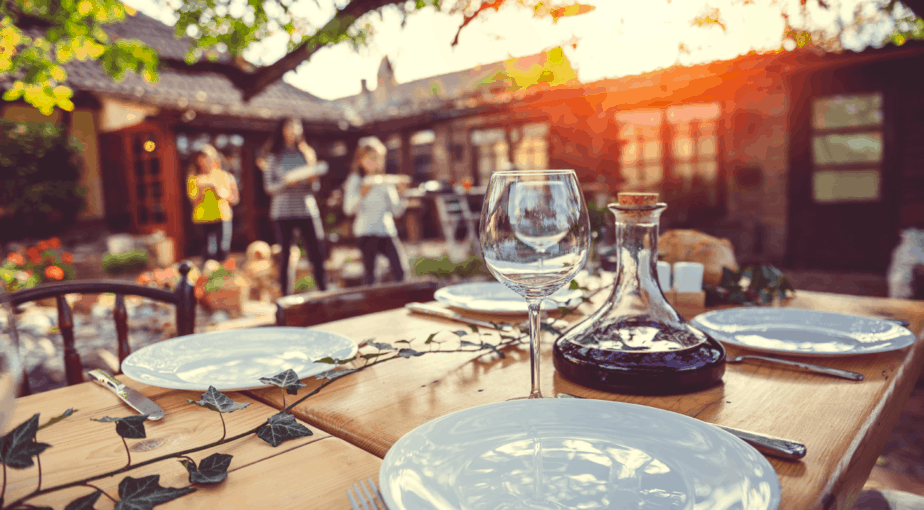 Outdoor spaces are becoming increasingly important in the home and design world. Entire shows are even being dedicated to sprucing up your landscaping and turning your backyard into a showstopping outdoor paradise.
When you can turn your backyard into the oasis you've always wanted, you'll find that you don't need a fancy summer vacation to the tropics! All you really need to get that resort-style feel is your backyard, a great patio furniture set, and some margaritas or daiquiris in the blender.
We're turning our backyards into our very own paradise!
Just like selecting the best furniture and décor for the interior of your house, selecting the right outdoor patio furniture also requires time and effort. The furniture you choose to put outside is crucial to the success of your backyard as a whole, and there are a few questions you should ask yourself before making a purchase.
How do you plan on using your outdoor furniture?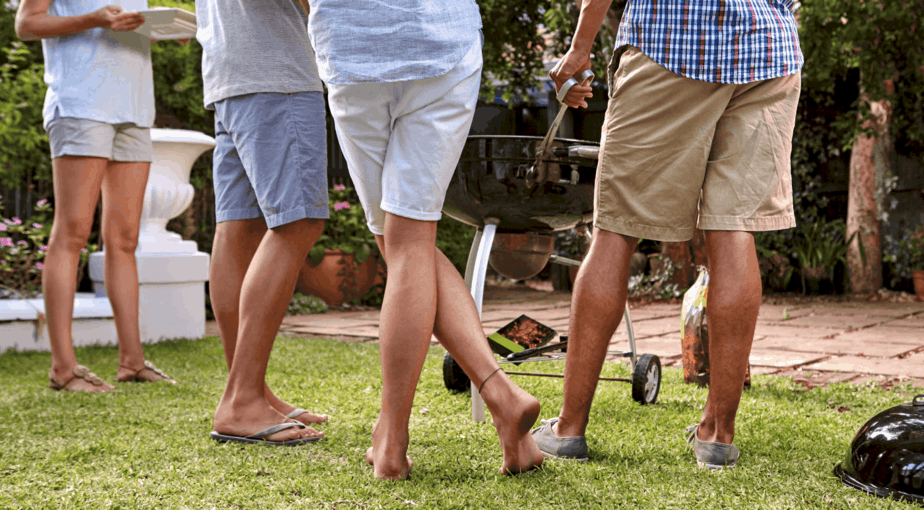 Are you someone who's determined to be the next backyard barbeque legend? Or does lounging solo on an Adirondack chair with a glass of lemonade in your hand and a book on your lap sound like a much better plan to you? Maybe a little bit of both?
Either way, this is an important question to think about when purchasing patio furniture, because you have to have an idea of how much seating and how many eating surfaces you'll need. You don't want to throw a party and realize only half of your guests have places to sit, so keep this in mind when shopping.
Will the furniture last?
Once you have an idea of what your furniture is going to be used for, you'll want to be sure you're looking for pieces that can withstand the weather conditions where you live. That's why we've made a point of including outdoor furniture made from different materials, so that you can choose the material that will work best in your outdoor living space.
Here are some common choices when it comes to material:
Metal
Metal furniture is typically lighter than wood and doesn't require as much maintenance. It's usually quite durable, although with some metals in some climates, you do have to worry about rust. Aluminum and wrought iron are popular choices for sleek, stylish outdoor furniture. These materials are usually less expensive than wood.
Wood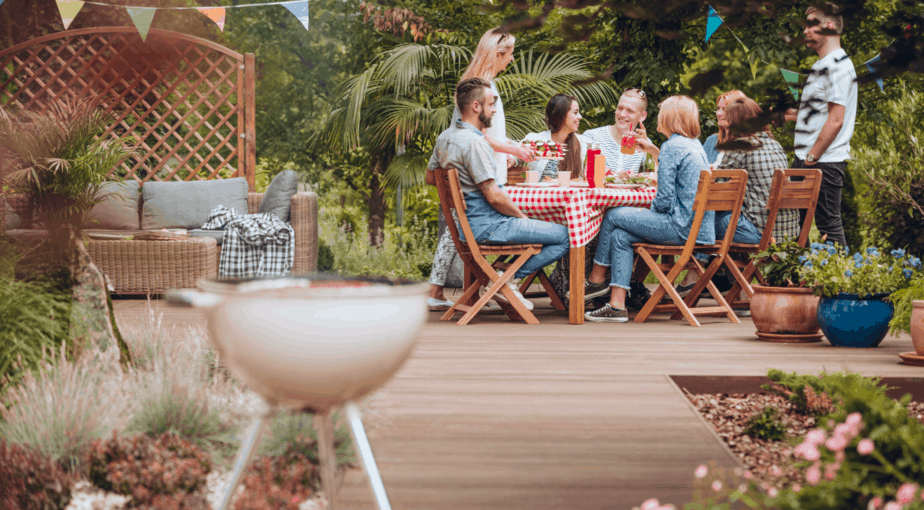 Wooden patio furniture is long-lasting (as long as you care for it properly), sturdy, and perfect for tying together your interior and exterior décor.

Its natural color scheme goes well in any space and gives you a more earthy feel. Just make sure the wood is treated so that it's able to withstand the elements.
Wicker
No matter what you may initially think when you hear the word "wicker," this material is meant for much more than a little girl's room. It's comfortable and lightweight, and it comes in a variety of colors so it can fit with any décor. Plus it can be placed indoors or outdoors, so it's great both for an outdoor patio or an enclosed porch.
What look are you going for?
The last thing you'll want to ask yourself is exactly what look you're going for in your backyard. If you want to walk outside and picture the tropics, wood furniture may be your best bet. If you want a more Parisian feel, we'd definitely say go for the wrought iron look.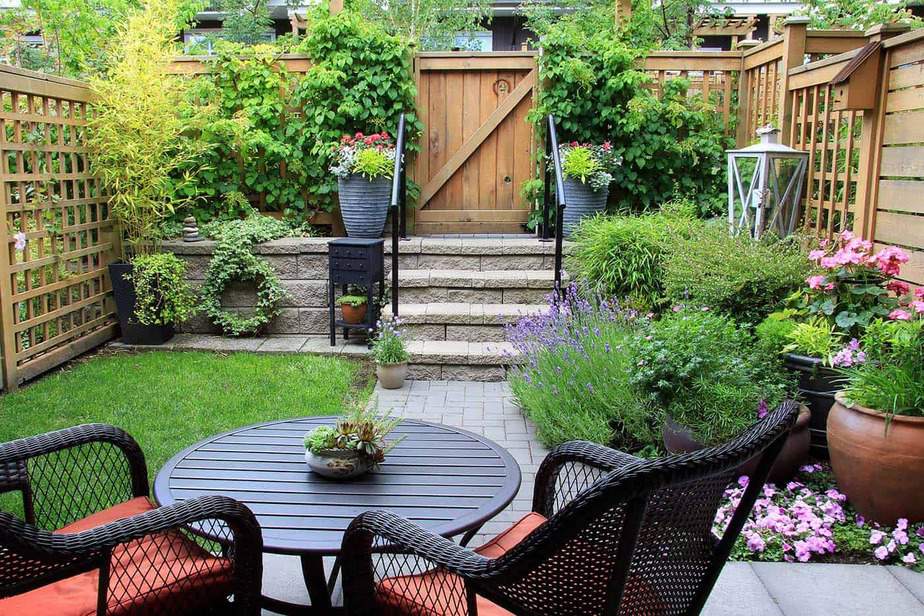 There's tons of patio furniture that comes in sets — we've included several of our favorites down below — but you might want to purchase your patio furniture piece by piece so you can mix and match. Don't be afraid to think outside of the box. After all, it's your space, so get creative and have fun!

Time to shop!
Just like any other room in your house, the furniture you choose to decorate your outdoor space is crucial to pulling that space together successfully. To help you get the backyard of your dreams, check out some of the best outdoor furniture below.
Methodology
We want to make your outdoor furniture search as easy and as fast as possible. To do that, we dug deep in our research as we compiled our winners. Our list of the best patio furniture pieces and sets is based on a number of key criteria, including:
Brand reputation
Price to value ratio
Style
Durability
Customer ratings
Customer reviews
Popularity
Materials
Whether you want to be the next Bobby Flay hosting a TV-worthy backyard barbeque or you're just looking to spend some low-key alone time in your backyard this summer, we've got the best furniture pieces out there that will take your backyard to the next level.
That being said, we can't promise that you'll be the next TV star with your own backyard BBQ show. But we can promise that these outdoor furniture picks will wow anyone that steps foot into your outdoor oasis.
Best Wood Patio Furniture
1
Belham Living Avondale 5-Piece Adirondack Conversation Set
The Belham Living Avondale 5-Piece Adirondack Conversation Set is the perfect twist on your favorite outdoor furniture piece! Can't you just picture yourself cozying up around the fire on a cool summer's night? Music playing, marshmallows toasting, good company by your side? Okay, we'll stop there before we put you in hardcore daydream mode.
This outdoor patio set comes with 2 chairs, 2 ottomans, and a side table perfect for placing a tray with a pitcher of ice-cold lemonade and a few glasses for you and your friends. Or you can swap that lemonade out for a blender full of margaritas — your choice (we won't judge!).
Crafted from wood with a tropical feel, this set has earned lots of love from the people who bought it: 100% of customers would recommend this set to a friend. Customers say this set was easy to assemble, made with super durable wood, and is also extremely comfortable. We dug through the reviews and the worst we could find was that there were no extra screws included, and that you need to grab your own screwdriver because the provided Allen key doesn't get the job done. Those are pretty small complaints, though, so we still think that this set is more than worth a purchase.
2
3-Piece Acacia Wood Picnic Style Outdoor Dining Table
This 3-Piece Acacia Wood Picnic Style Outdoor Dining Table takes your ordinary outdoor picnic table, kicks it up a few notches, and makes it into a gorgeously sleek, stylish outdoor dining table. The wood has a natural, earthy look and will fit right in with any of your outdoor décor and furniture.
Almost all buyers of this outdoor dining table love it. They report that it was easy to put together, good quality, and a great price. The one downside is that some customers say the weight limit affected how many people could sit on the bench at once, and for that reason, this table is our second wood furniture pick.
3
Oana 4-Piece Acacia Wood Patio Sectional Chat Set
Add some beauty to your backyard with the Oana 4-Piece Acacia Wood Patio Sectional Chat Set. It includes one left arm sectional set, one right arm sectional set, one corner sectional seat, and one coffee table. We definitely think having the word "chat" in the name is fitting — imagine all the gossip that can take place here!
This outdoor set ranks in at number 3 for our wood patio furniture category because while it is a beautiful set that is easy to put together, some customers said the cushions fade easily in the sun, and a few mentioned that the wood split and sagged after a few months.
Best Wicker Patio Furniture
1
Best Choice Products 7-Piece Outdoor Patio Wicker Set
Your backyard will quickly become the go-to spot for gatherings with this 7-Piece Outdoor Patio Wicker Set. Complete with a 3-piece sectional sofa, 2 single sofas, one wooden top table with a shelf for storage, one ottoman, and comfortable padded cushions, this set is high-quality, sturdy, rust-resistant, and totally chic-elegant. Featuring soft neutral colors, this set will fit seamlessly into your patio décor. Customers love it and often comment that it's quite easy and quick to assemble.
While this set is water-resistant, the manufacturer warns to take precaution during inclement weather conditions. The frame is weather-resistant, but the cushions are not. Cushion covers, excluding the cushion itself, are water-resistant and can withstand washing or rain, but they aren't waterproof. So, to ensure it lasts, we suggest putting the cushions in your shed when weather is bad.
Besides the cushion situation, the worst thing someone seems to say about this product is that you have to assemble each separate piece, and if that's the only complaint about this set, that works for us. With no other major complaints about this set, we crown it the best wicker patio furniture.
2
7-Piece Outdoor Wicker Dining Set by Great Deal Furniture
This 7-Piece Outdoor Wicker Dining Set by Great Deal Furniture will most likely have you bringing your dinner outside night after night. You won't be able to get enough of it! This set seats 6 people, perfect for your average family size and then some. Plus, its neutral color goes along with any color scheme and backyard décor.
Some customers complain of the legs staining their patio, while some others believe the table is smaller than marketed. For these reasons, this set rings in at number 2 in our best wicker furniture category. But overall, it's still a really great patio dining set, and most folks agree it's worth what it sells for.
3
Coral Coast Laynee All Weather Wicker 3-Piece Patio Swivel Chair Set
How often can you find swivel chairs that are meant to go on your patio?! This Coral Coast All Weather Wicker 3-Piece Patio Swivel Chair Set comes with 2 swivel chairs that are convenient for sitting at any angle, perfect for keeping the conversation going with anyone around you.
This set also comes with a side table. However, some customers wish it was just a little bit bigger. And unfortunately, some people were missing screws and instructions when their package arrived in the mail. It's not a full-size set so we are ranking it as our second runner-up, but it's the perfect set for a couple.
Best Metal Patio Furniture
1
Better Homes and Gardens Clayton Court Motion Outdoor Bistro Set
The Better Homes and Gardens Clayton Court Motion Outdoor Bistro Set completes your entire patio. It's the perfect set to sit at in the morning relaxing with a hot cup of tea, or just as the sun is setting with a glass of wine in your hand and your best friend by your side. It's stylish, sleek, and perfectly suited to just about any space.
The base of the chairs, plus the table itself, are all made from heavy-duty wrought iron. Though they are said to be treated for UV protection and water- and mildew-resistant, some people did mention that their set ended up rusting.
This set is easy to put together: Most customers report it took them less than 20 minutes (but some people do suggest that it's a 2-person job). And while the cushions included with this set aren't exactly neutral colors, you do have 2 colors to choose from and they're both gorgeous — they'll be the stars of the show.
The average star rating for this set is a solid 4.7, so it was an easy choice for our overall winner for the best metal patio furniture. The set is small, so it can fit on smaller decks and balconies, it's great quality, and it's offered at an amazing price. We think you'll love it!
2
Cayman Black 7-Piece Aluminum Rectangular Outdoor Dining Set
Invite the whole neighborhood over for a BBQ with this 7-Piece Aluminum Rectangular Outdoor Dining Set and entertain your guests in style! This set includes one table with 6 chairs. Its distinctive style means it will absolutely be the talk of any summer shindig. Plus, it will fit seamlessly with any patio furniture you already have.
Pieces seem to ship separately with this set, with one customer saying they received only 2 chairs with the table but received the others after. But we don't believe that's any reason to not purchase this set. Compared to other dining sets, this one is an excellent value.
3
Mainstays Slat Outdoor Garden Bench
Patio furniture is more than just dining and bistro sets, and this Outdoor Garden Bench from Mainstays is the perfect example of what else patio furniture has to offer. Reminisce about your days of picnicking at the park as a child with this adorable patio bench that will go perfectly with any patio set you already have (or one that you choose from this list!).
Some customers did voice complaints that their bench arrived poorly packaged, resulting in some dents and scratches on the surface, while others mentioned that the bench is extremely heavy and somewhat difficult to put together. For these reasons, this bench isn't our overall winner in its category, but it's still a great buy — especially for the price.
Best Patio Furniture Sets
1
5-Piece Patio Outdoor PE Wicker Rattan Sectional Furniture Set
2
Arizona 9-Piece Eucalyptus Square Patio Dining Set
Bring the tropics to your backyard with this 9-Piece Eucalyptus Square Patio Dining Set. The rich earthy tones of this set, made with 100% FSC-certified eucalyptus wood, will leave you thinking you're hanging out in a resort on the beaches of Hawaii. Just purchase an umbrella for the table and you'll have everything you need for a day of relaxation.
This set is easy to assemble and even includes a free maintenance kit so you can ensure it lasts as long as possible. Customers left and right are saying how much they love this set and how they often get compliments on it. Purchase it for yourself and be the talk of your neighborhood this summer!
3
Best Choice Products 6-Piece Outdoor Folding Patio Dining Set
Lose the mindset that folding chairs cannot be sleek and stylish and allow the 6-Piece Outdoor Folding Patio Dining Set prove to you how amazing folding chairs can really be. This patio set includes 4 folding chairs and a glass-top table, plus an umbrella.
Several people have complained that the chairs do rust pretty quickly, so we suggest storing them in a shed or garage when there's rain in the forecast. Some people also say it seems a bit smaller than your usual patio set, so that's something to keep in mind. But overall, it's still a great buy, especially for the price.
Best Patio Swing
1
Belleze Outdoor 3-Person Patio Swing
Live in style and spruce up your backyard with this Outdoor 3-Person Patio Swing from Belleze. With an overall rating of 4.8 stars, customers are absolutely in love with this swing, and we know you will be too!
This swing is made with a high-quality, water-resistant steel frame that ensures it'll last a lifetime. And since it comfortably fits up to 3 people, we're sure you'll make some great memories with friends and loved ones. It even has an adjustable canopy, which is suitable for both sunshade and rain protection — perfect for use all season.
On the flip side, some people did mention that assembly wasn't the easiest thing in the world. While it's doable to put together yourself, an extra set of hands will make the process much easier. Plus, the included tools aren't the best, but that's more or less to be expected with any tools that come provided for DIY products.
The widespread popularity and glowing customer reviews are really what make this swing our pick for the best patio swing, and its chic and stylish design definitely helps too. It's sturdy and durable, it comes with an adorable canopy, and it's the perfect place to spend a few hours outdoors on a beautiful day.
2
Best Choice Products 2-Person Outdoor Convertible Canopy Swing
Escape to an outdoor oasis with this 2-Person Outdoor Convertible Canopy Swing from Best Choice Products. This swing, along with its adjustable and convertible canopy, provides optimal shade and gives you a smooth, gentle glide, making it the perfect spot for you and your friends to enjoy some time outdoors without being in the sun.
Customers love how durable and sturdy this swing is, and many of them noted that it's a lot better quality than they were expecting. It's easy to put together, and, at a ranking of 4.7 stars, it's a great addition to any backyard.
3
Mainstay 3-Seat Porch & Patio Swing
Water-resistant and rust-resistant, this Mainstay swing is just what you need to complete your front porch or patio. The frame is powder-coated steel and the canopy is UV rated, so it's safe from weathering and discoloration. Unlike many smaller swings, this swing seats 3 people comfortably — the more, the merrier!
Some customers do have complaints that this set isn't the most long-lasting. Some mention that their set rusted after one season, while others say that assembly was quite tough and that the product didn't come with the necessary instructions and parts. The swing as a whole is still a great buy, though, so we're ranking it as an honorable mention.
Best Outdoor Dining Table
1
Fonzo Outdoor Bronze Cast Aluminum Rectangular Dining Table
With an overall rating of 4.8 stars, the Fonzo Outdoor Bronze Cast Aluminum Rectangular Dining Table takes home the title of best outdoor dining table. According to buyers, this table is exactly as they hoped it would be. It's solid, roomy, and beautiful.
This outdoor dining table is the perfect addition to any patio, especially for those who like to host summer BBQs, as it easily seats 6 people with plenty of space for each person. Plus, it's built to last a lifetime in an outdoor environment. Customers mention that it's sturdy with no signs of wobbling or wear.
If you plan on purchasing this table, be wary of the assembly process. Many reviewers noted that it's super important to keep the table legs loosely attached when securing the support ring. Aside from this tricky step, assembly should be a breeze — though you may want to grab a few of your own tools to make things easier on yourself.
Once you've got it assembled, expect this table to serve you and your barbeque guests well for a long time to come.
2
Daria Natural Stained Acacia Wood Dining Table
The Daria Natural Stained Acacia Wood Dining Table is sleek, with sharp clean lines and a naturalistic feel. We absolutely love the earthy tone of the wood finish, and the rustic metal legs add a unique touch.
89% of customers have awarded this table a 5-star rating, giving it an overall rating of 4.3 stars. They mention that it's a great value for the price, that it's beautifully made, and that it can easily sit 6 people. With customers this happy with their purchase, we highly suggest you get one of these tables for yourself.
3
Safavieh Dilettie Outdoor Folding Table
The Safavieh Dilettie Outdoor Folding Table is no average folding table. Classy and stylish, it's the perfect table for entertaining. This table is made of a neutral brown rattan, which means it fits seamlessly in any space. It folds up easily for lightweight, hassle-free storage when not in use.
Customers do mention that it's not the most sturdy table, and that means it falls behind our other 2 dining table picks. But nonetheless, it's a great table for its price.
Best Outdoor Sectional
1
Santorini 9-Piece Outdoor Daybed Set
2
Beranda 3-Piece Outdoor Sectional Set
Take your summer parties and barbeques to the next level with the Beranda 3-Piece Outdoor Sectional Set. This 5-seater features a gorgeous gray-washed eucalyptus wood frame topped with super comfortable and chic cushions, making this the perfect spot to lounge with a book or gather together with friends or family.
This set comes with 4 accent pillows as well as a slat coffee table, which makes it perfect for entertaining. With an average rating of 4.5 stars, this sectional definitely earns a spot on our list.
3
Rattan Wicker Outdoor Sectional 7-Piece Set by River Source
The Rattan Wicker Outdoor Sectional 7-Piece Set by River Source is the perfect place for you and your family and friends to gather together, kick back, and enjoy a beautiful summer's day or night outdoors.
This sectional is made of a cocoa brown wicker rattan material and comes with creamy white cushions, so it can complement a wide variety of color schemes. However, since the cushions are a light color, we do suggest bringing them indoors in bad weather to prevent them from getting ruined. As long as you take care of this sectional, you should be able to enjoy it for years to come.
Are outdoor furniture sets waterproof?
When it comes to knowing whether or not your outdoor furniture set is waterproof, it's best to check the manufacturer's notes for that product. Each outdoor furniture set is different, and many of them are made from multiple materials, which may have different care requirements.
With that being said, cushions that come with outdoor furniture sets are almost always water-resistant. While this means that they're not entirely waterproof, they are still meant to be able to withstand normal amounts of rain, dew, and humidity.
On the flip side, some metals may rust in the rain if they're not properly treated to withstand rain and snow. Again, this comes down to checking the product description given by the manufacturer to find out whether or not the specific set you bought is waterproof.
For the most part, these sets are intended to be outdoors, so most manufacturers will bear that in mind while creating the product. However, it's better to be safe than sorry. Move your furniture into a shed or garage when you know the weather will be bad to ensure the longest life possible for your furniture.
Is one type of material better than another for outdoor sets?
There is no right or wrong material when it comes to outdoor furniture sets. As you can see above, outdoor furniture sets come in several different materials, from wood to wicker and rattan to wrought iron. When it comes down to it, the choice is up to you.
You can always see if there's a manufacturer's note about the specific item you're purchasing that says how to care for your furniture set and if there are specific climates you want to keep it away from. (Humidity, for example, can be especially hard on some types of furniture.)
These manufacturers know that they're creating products that are going to be outdoors. They take the proper steps to ensure the materials used are going to last in outdoor conditions, so you shouldn't have much to worry about no matter what type of material you choose.
But to be safe, try to protect your furniture set with some sort of tarp or cover when really bad weather is on the way. If the pieces are on the smaller side, you can store them in a shed or garage.
As a general rule, though, this furniture is made for the outdoors and should be fine out in the elements.
What is the best outdoor furniture?
There are so many different pieces to choose from! From simple dining tables to benches to swings to full sectional sets, choosing the right outdoor furniture can be a hard decision. To help you, we've put together this list of our favorites.
Our top picks are as follows:
Best Wood Patio Furniture: Belham Living Avondale 5-Piece Adirondack Conversation Set
Best Wicker Patio Furniture: Best Choice Products 7-Piece Outdoor Patio Wicker Sectional Set
Best Metal Patio Furniture: Better Homes and Gardens Clayton Court Motion Outdoor Bistro Set
Best Patio Furniture Sets: 5-Piece Patio Outdoor PE Wicker Rattan Sectional Furniture Set
Best Patio Swing: Outdoor 3-Person Patio Swing
Best Outdoor Dining Table: Fonzo Outdoor Bronze Cast Aluminum Rectangular Dining Table
Best Outdoor Sectional: Santorini 9-Piece Outdoor Daybed Set
All of these picks are amazing in their own unique ways, and we would recommend them to anyone who's in search of the best outdoor furniture. No matter which one you choose, we know you'll love it.
RAVE Recommends
A day spent lounging on your new outdoor furniture wouldn't be complete without these amazing products.
10' Solar Patio Umbrella: Bring the look of your patio together with this 10' Solar Patio Umbrella. The full coverage protects you against harmful UV rays, but once the sun goes down, keep the party going under the glow of the umbrella's solar-powered LED lights.
Natural Gas Grill: Become your neighborhood's grilling machine with this Natural Gas Grill With Infrared Rear Burner & Infrared Side Burner. From burgers to hot dogs to corn on the cob and grilled veggies, this grill is exactly what you need to feed a backyard full of hungry party-goers.
Rectangle Fire Pit: Break out the marshmallows, graham crackers, and chocolate!
Wicker Bar Set: Nothing will make your patio feel more like a private resort than your own backyard bar! (Complimentary drinks and butler service not included.)

Brianna Perry
Brianna is a 23-year-old New York native and certified yoga instructor up to the 200 level. You can most often find Brianna tucked away with her nose in a book. She has an affinity for all things floral, dreams of living in the wilderness, and would never, ever turn down a Reese's Peanut Butter Cup.