The best linen sheets aren't just a status symbol.
Paradoxically, they are also a frugal buy because high-quality linen can last for decades. Our winner, Linoto Luxurious 100% Pure Linen Bed Sheet Set, edged out other linen sheets designed to add a touch of luxury to your bedroom.
Luxurious Yet Durable: What Makes Linen One of the Best Choices for Your Bed Sheets
There's so much to say about linen. After all, people have been using this fabric since ancient times.
Egyptians used linen as a form of currency and as a way to display wealth. Linen was also highly prized by the Mesopotamians.
Today, almost anyone can bring what was once the fabric of royalty into their home. What makes linen an even better choice nowadays is its eco-friendliness.
Linen is extracted from the flax plant, which doesn't require an irrigation system since rainwater is enough to make it flourish. When it comes to fertilizers and pesticides, the flax crop doesn't need much as long as it's planted in rich soil. Plus, flax crops love CO2, absorbing a lot of it and releasing the oxygen we need to live.
Linen's durability has also made it the fabric of choice for many European families. It's no surprise that linen sheets are often passed from one generation to another as an heirloom because, unlike most other fabrics, linen doesn't pill easily. Vintage linen is highly prized among linen lovers because used linen tends to be softer. As a result, many manufacturers pre-wash the fabric for extra softness before selling it.
The Linen Sheets We RAVE About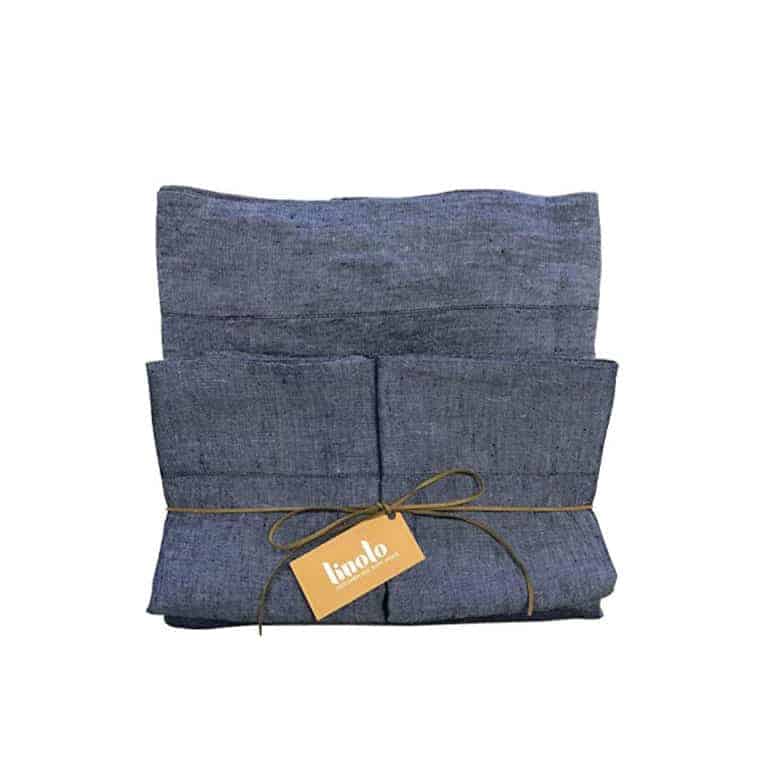 Best Overall
Linoto Luxurious 100% Pure Linen Bed Sheet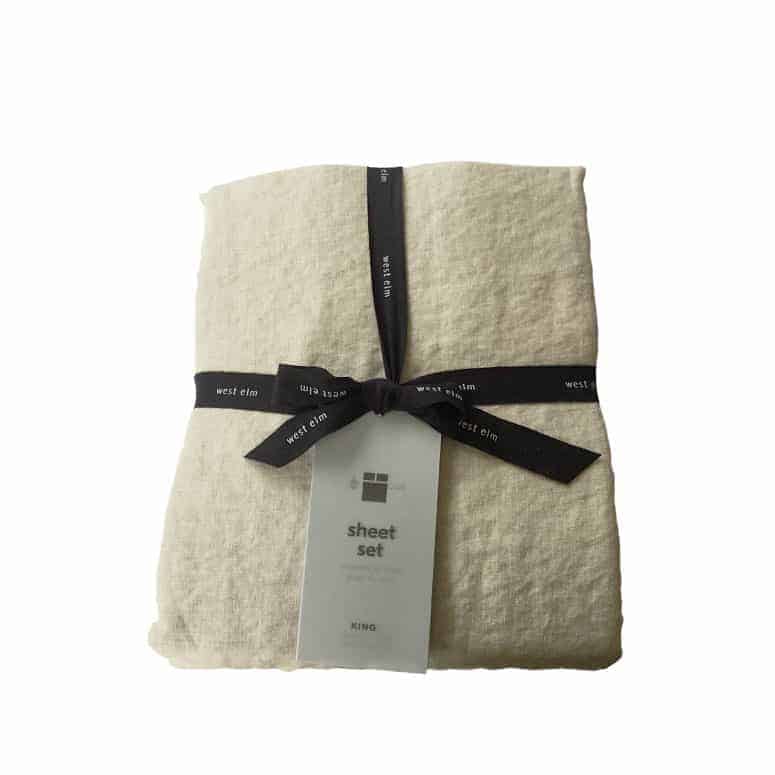 Best New Brand
West Elm Belgian Linen Sheet Set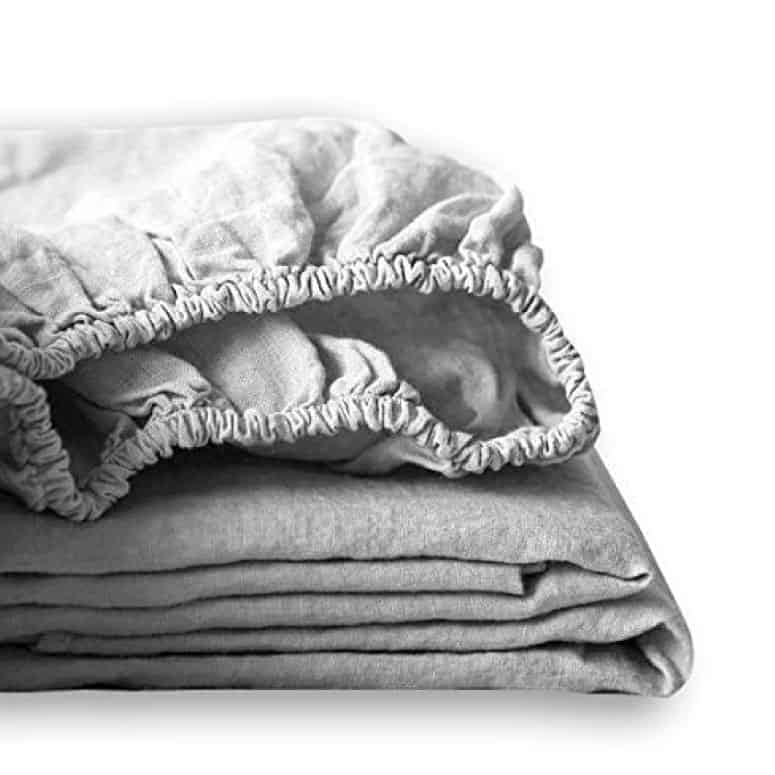 Most Affordable
King Linens 100% Linen Solid Color Simple Fitted Sheet
Everything you need to know about the world's oldest fabric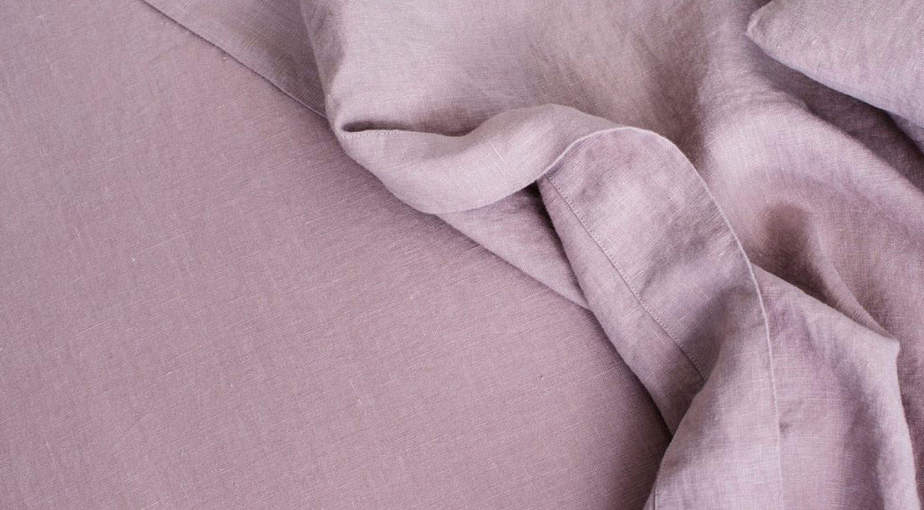 Unlike cotton, the quality of linen isn't determined by thread count but by the origin of the flax. Thread count isn't important because flax fibers are thicker than cotton fibers, so you don't need as many to create a long lasting product.
On average, high-quality linen has a thread count of 80 to 150. Anything claiming to be above 150 is most likely a marketing tactic.
Linen is similar to parmesan cheese in this way: Location matters. Due to a unique combination of craftsmanship and the tradition of cheese making in Italy, European lawmakers only consider parmesan made by artisans in Italy to be "real parmesan." In a similar way, linen is only considered to be high-quality when it's sourced from France or Belgium.
How linen feels on the skin
The feel of linen is quite different from your everyday cotton and polyester blend. It's more on the crisp than soft side. However, linen does soften up with time, meaning you can wash linen a couple times to soften it before use.
However, many manufacturers use stone washing, a technique used to soften up linen and increase the flexibility of the fibers. In most cases, it's not necessary to wash your sheets several times before you use them.
Anti-allergenic and antibacterial potential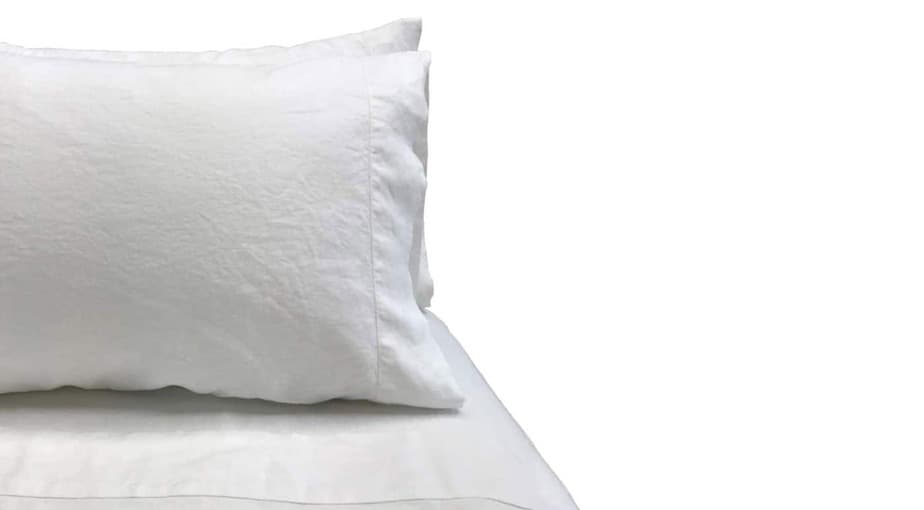 Known to repel bacteria and keep skin dry, linen bed sheets are a good choice if you suffer from skin diseases, allergies, and sensitive skin.
The mechanisms through which linen repels bacteria are simple. Since linen can absorb a lot of moisture and keep your skin dry, the environment isn't warm and damp enough for bacteria to multiply. You can find other fabrics with similar properties as linen, but if a fabric is advertised as antibacterial, it could be because it's treated with chemicals.
Biodegradable and eco-friendly
The flax plant is very versatile, and processing it leaves minimal waste. All parts of the plant are used: Linseed oil is used as a wood varnish and the seeds are used in foods for their rich nutritional profile.
Not only are flax crops eco-friendly, but linen sheets are as well. When untreated with artificial dyes, linen sheets are 100% biodegradable. Luckily, linen does have a natural hue to it. The following colors are usually a sign that the fabric isn't dyed: ivory, light beige, ecru, and gray.
Weight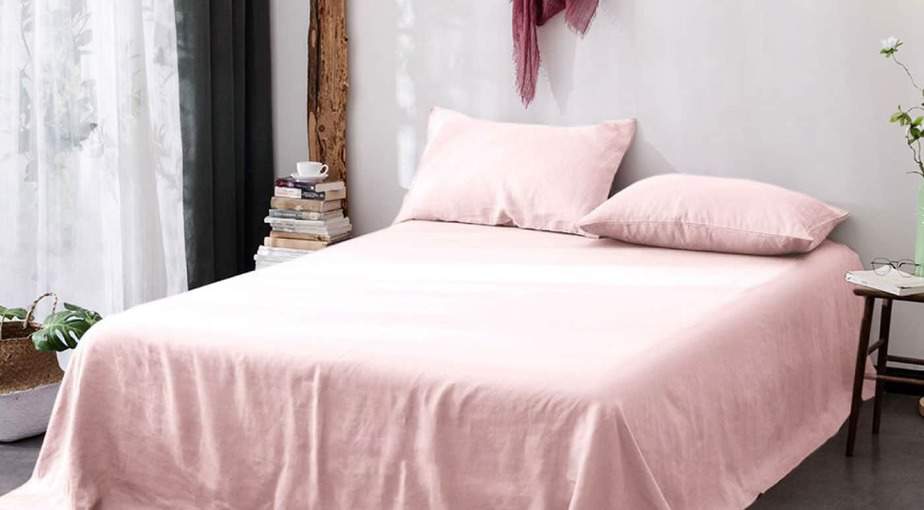 The weight of linen sheets can tell you a lot about whether the fabric will keep you warm or cool.
For increased breathability, look for linen sheets that weigh around 6 ounces per square yard. In colder climates, anything between 7 and 7.3 ounces per square yard will do.
Elasticity and maintenance
Linen is durable, but it doesn't have as much stretch as many other fabrics, which can be both a blessing and an inconvenience. While linen is resistant to friction, it does tend to get wrinkly. On the other hand, the little crinkles in the fabric are part of its charm, giving it a unique look.
Because linen also doesn't bounce back like many other fabrics, it must be treated with care. Avoid folding linen fabrics and leaving them in the same place for prolonged periods of time, as the folds might not go away easily. You should iron linen sparingly, and before you apply heat on the fabric, make sure you spray it with clean water to strengthen the fibers.
While linen fabrics require extra care, going for a linen/cotton blend (or worse, a polyester/linen blend) isn't a better alternative.
Adding cotton fibers to a linen fabric might come with benefits such as a much softer feel and fewer wrinkles, but it comes at the expense of durability and breathability. Cotton isn't a heavy fabric, but it's inferior to linen when it comes to the ability to keep your skin cool and dry.
Polyester has roughly the same properties as cotton, but it's cheaper and man-made, making it less eco-friendly.
Linen never goes out of style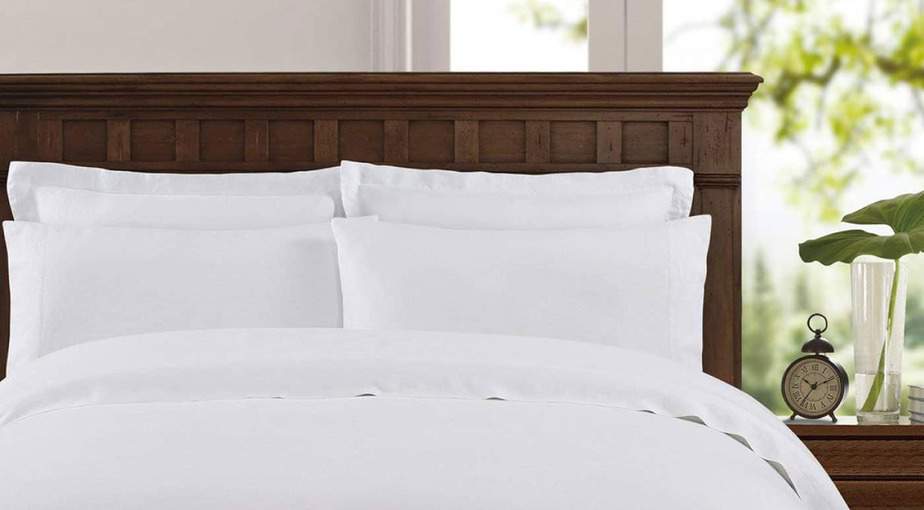 Or at least it hasn't gone out of style in the last few thousand years.
Whether you live in a farmhouse or a modern apartment, linen has a versatile look. And, judging by the number of vintage linen aficionados, time won't decrease the value of your linen sheets. Time only increases linen's value, as wear makes the fabric softer and shinier.
Methodology
Not all linen is created equal, not even linen sourced from France and Belgium. To help you choose a premium quality set of linen sheets that will last you for years to come — and who knows, maybe one you can leave as an heirloom to the next generation — we selected and ranked our picks based on the following criteria:
Source of linen and where it was woven
Numbers of colors available
Fabric strength
Shrinkage
Pilling resistance
Wrinkle resistance
Eco-friendliness
Keep in mind, the best way to test the quality of a linen product is to give it a few washes. Linen straight out of the box can feel a bit coarse.
In our review, you'll notice that we use the term Oeko-Tex. This term refers to the Oeko-Tex Standard 100 certification, which certifies that all the textiles were tested for hundreds of harmful substances and found to be safe for human use.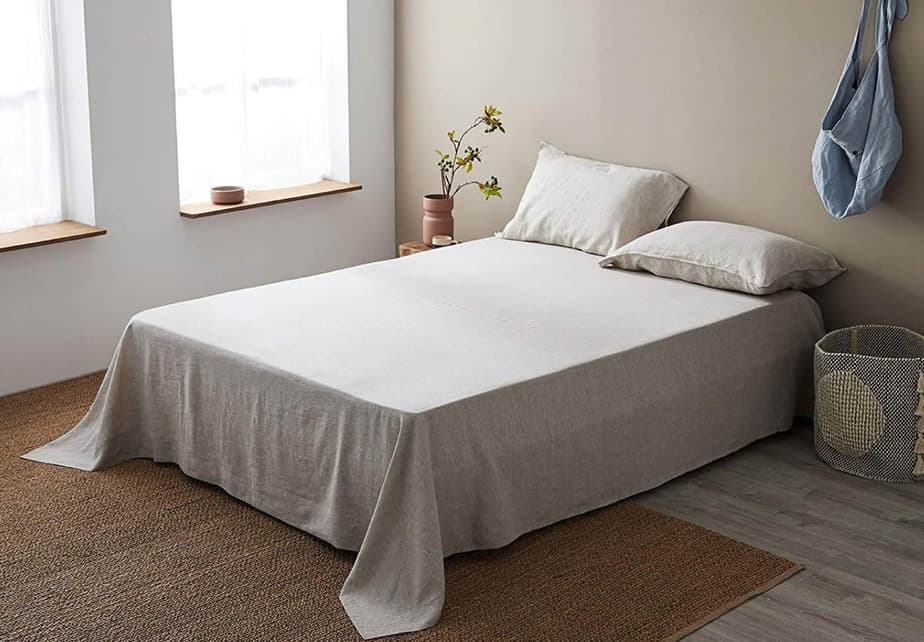 The standard for testing includes looking for dangerous as well as potentially dangerous substances. This list is updated each year, and there are currently 17 groups of chemicals known to be harmful to humans.
The Best Linen Sheets
1
Linoto Luxurious 100% Pure Linen Bed Sheet
Our winner comes with the widest range of colors and sizes you can find online. With 15 color options, you'll easily find one that fits your style. Linoto Luxurious 100% Pure Linen Bed Sheets are made in the U.S. with premium linen sourced from Belgium, and they are seamless.
Color and size options aside, we couldn't help but notice how crisp and fresh the sheets feel and how resistant they are to wrinkles. Not to mention that the instructions put a smile on our faces: Finally, a set of linen sheets that can be washed in a washing machine without risking damage to the integrity or color of the fabric.
These sheets have the highest price tag on our list, but you'll have a hard time finding a set of bed sheets with a more luxurious feel.
Pros
15 colors
Five size options
Stone washed
Extra soft
No seams
2
West Elm Belgian Linen Sheet Set
How can you go wrong with 100% Belgian flax and a three-year warranty? The West Elm Belgian Linen Sheet Set comes with a lot of promises, including long wear, a softer feel, and increased breathability.
But it doesn't stop there. Although the sheets seem to be designed for a warmer climate, the fabric doesn't wear thin with time. Instead, it only gets softer without losing integrity.
As a downside, we did notice that these sheets are manufactured in China despite being sourced from Belgium. However, the facility in which the sheets are made is certified as a Fair Trade Facility.
Pros
Oeko-Tex certified
Seven color options
100% Belgian linen
Affordable
Three-year warranty
3
Merryfeel Luxurious 100% Pure French Linen Sheet Set
Affordability with few compromises is the hallmark of Merryfeel. Looking at how delicate and breathable these French linen sheets are, we believe they're best for warmer climates, or at least during the summer, as they absorb heat and moisture wonderfully.
We also liked the large variety of colors and the fact that the color is evenly distributed.
While you may experience some shrinking after a few washes, the sheets come with a deep 15'' pocket that should fit thick mattresses even after a bit of shrinkage. These sheets come pre-washed, but we recommend you wash them gently in cold water before putting them to the test.
Pros
Seven colors
Five sizes
Oeko-Tex certified
French flax
Affordable
4
Len Linium European Made Pure Linen Sheets Set
Sourced and woven in Belarus, these linen sheets are highly praised for their breathability and texture. While they aren't made out of your typical linen sourced from France or Belgium, they still pass the test of durability, pilling resistance, and eco-friendliness.
They also come in a wide variety of colors, especially for a budget buy, and they have a deep fitted pocket for thicker mattresses. One drawback is the thinness of the linen, which makes it less versatile.
Len Linium sheets might not keep you warm during the winter, but they're the ideal choice for a scorching summer thanks to the breathability and lightness of the fabric. Also, keep in mind that these sheets aren't pre-washed, so if you find them to be too crisp straight out of the package, don't panic. The degree of softness increases after a few washes.
Pros
Eight colors
Five sizes
Eco-friendly
Breathable
Affordable
Cons
Not suitable for winter
Belarus linen
5
DAPU Pure Stone Washed Linen Sheets Set
Made of French linen with no added chemicals, DAPU Pure Stone Washed Linen Sheets are an excellent choice if you have sensitive skin. Allergies shouldn't be a problem either, as the linen doesn't contain artificial dyes.
Despite being so affordable, these sheets come with no risks attached. If you aren't satisfied with your sheets, you can take advantage of the company's 30-day, no questions asked return policy.
As a downside, DAPU has a limited size selection, offering only twin, full, queen, and king.
Pros
Six colors
French linen
Oeko-Tex certified
30-day refund policy
Cons
Only four sizes
Lightweight
6
Lausonhouse 100% Pure French Linen Sheet Set
With over 20 years of experience in making linen sheets, Lausonhouse rarely disappoints. Although they manufacture their sheets in China, they import their linen from France. As a result, they only use strong, long-lasting flax fibers.
The pre-washed Lausonhouse 100% Pure French Linen Sheet Set comes in seven colors. Shrinkage after washing is minimal, and you'll also get softer linen straight out of the box.
Another aspect we liked about these bed sheets is the biodegradable packaging, which is a linen bag in the same color as the sheets. However, one major drawback is that there are only three sizes.
Pros
Seven colors
French Linen
Pre-washed
Eco-friendly
Cons
Fewer sizes
Thinner linen
7
Echelon Home Washed Belgian Linen
Do you have a thick mattress? If so, you might want to opt for the Echelon Home Washed Belgian Linen Sheet Set. These sheets have deep 15-inch pockets made to fit even the thickest mattresses without unnecessary stretching.
This budget buy is made with pre-washed Belgian sourced linen, so you can enjoy it straight out of the box. The only criticism we have is that the thinness of the fabric may indicate a lack of durability.
These sheets aren't as thick as we would like. At this price, however, we can't ask for more. While they might not last for decades, they'll definitely outlive your average sheets.
Pros
Six color options
Eco-friendly
Belgian linen
Pre-washed for softness
Affordable
Cons
Fewer sizes
Thinner linen
8
Simple&Opulence 100% Stone Washed Linen
Simple&Opulence 100% Stone Washed Linen sheets break the mold of plain, simple looking sheets by adding a lovely trim. Aside from having a smart design, these sheets also come with a deep 14-inch pocket and five color options.
These highly rated sheets come with the advantage of being gentler on your skin since no chemicals were used in the manufacturing process. Plus, the linen is stone washed, making it soft and ready to use from day one.
That said, there are few sizes to choose from, and you have to buy a comforter separately.
Pros
Oeko-Tex certified
Stone washed
Belgian linen
Five colors
9
Stone & Beam Belgian Flax Linen Sheet Set
The Stone & Beam Belgian Flax Linen Sheet Set is a great choice if you're shopping on a budget and have a thick mattress. The deep pockets on these sheets are even deeper than advertised, so you don't have to worry about them not fitting your bed.
This set comes in an elegant, 100% biodegradable and reusable drawstring bag, making it a great gift for a loved one.
When it comes to drawbacks, we did notice that the break-in period for the linen is longer. These bed sheets require quite a bit of washing and using until the fabric gets softer. They also tend to wrinkle a bit more than other bed sheets.
Pros
Breathable
Five colors
Fits thick mattresses
Belgian linen
Cons
Prone to wrinkles
Decreased softness
10
King Linens 100% Linen Solid Color Simple Fitted Sheet
Have you heard about the benefits of linen sheets but aren't sure if you would like the feel of them? King Linens offers a wonderful way to try them out. These linen sheets aren't the best when it comes to softness and durability, but they do the job for a bargain.
While the sizing and color options are limited, these sheets are made of linen sourced from Belgium and certified to be free of harmful chemicals. They're a great alternative if you suffer from sensitive skin or tend to break out easily.
Unlike others we reviewed, these sheets don't come in a set: It only includes one fitted linen sheet. But if you're on a budget and want to try linen without breaking the bank, consider the King Linens 100% Linen Sheet.
Pros
Four colors
Oeko-Tex Standard
Belgian linen
Affordable
Eco-friendly
Related Rankings
How Long Does Linen Last?
It depends whom you ask, how the linen fabric is made, and under what conditions it's preserved.
Some manufacturers guarantee their bed sheets will last for three years. But you can find plenty of vintage linens online that are 20-30 years old and still look exquisite.
If you ask Egyptians, they'll tell you linen should last thousands of years because the mummies you learned about in history class are all wrapped in linen that's still intact to this day, keeping moisture away from the body and preventing further decay.
But moving on from linen-wrapped mummies, linen does get better with time — even when it comes to bed sheets. The more you wash your linen, the softer it gets, and while some companies do pre-wash linen, using it on a daily basis also increases softness.
The price point and the source of the linen can tell you a bit about its lifespan. French and Belgian linen last longer than other types.
Perhaps the best way to ensure that your linen will last for decades to come is to prevent damage by following the manufacturer's instructions. Also, make sure you never wash linen bed sheets at a high temperature or iron them too often.
How Do You Maintain the Quality of a Linen Product?
Linen is often said to be a sensitive fabric, which couldn't be further from the truth. Here are a few tips to help your linen stay in tip-top shape for many years to come:
Wash in cold or lukewarm water
Air dry or use the tumble dry setting
Don't place linen sheets in a crowded load in the washing machine
Try detergents on a small area to see how the linen reacts to them
Check the manufacturer's instructions
Stay away from bleach to avoid weakening the fabric
Use an iron sparingly and at a low temperature
It may seem like a lot, but keep in mind that linen is more resistant to decay, mildew, and moths than most other fabrics.
Detergent wise, you may need to shop around until you find a formula that doesn't contain any bleach and dyes. Look for labels such as "made for sensitive skin" or "made to wash baby clothes" to increase your chances of finding a gentle formula.
If you do want to bleach linen, allow it to sit in oxygenated water for a few minutes.
What Are the Best Linen Sheets?
The search for the best linen sheets can be exhausting, as there are many new companies advertising their products online. To help you out, we looked at characteristics such as fabric strength, source of linen, eco-friendliness, color selection, and pilling resistance.
Other things to look out for when determining the quality of linen are:
How much it shrinks after a few washes
Whether there are unintentional irregularities in the fabric
How much it wrinkles
A common misconception is that linen wrinkles a lot. While linen does indeed wrinkle and it is not as soft as cotton, your linen shouldn't look like it has thick lines all over the place. Instead, it should have a rough, sandy appearance.
The Linoto Luxurious 100% Pure Linen Bed Sheet ticks all of the boxes, from the source of linen to durability and texture. But since it was such a tight race, check out the other brands on our list as well to find the best linen sheets for your needs and budget.
RAVE Recommends
Need some inspiration for your next linen or bedroom related purchase? Here are a few eco-friendly picks for all budgets:
ETNODIM Women's Pajamas Set Sleepwear: Match your crisp linen bed sheets with a luxurious linen pajama set. Breathable and airy, these pajamas will keep you cool even on the hottest summer nights.

Zen Chi Buckwheat Pillow: Most hypoallergenic options come at the expense of chemical treatments. Organic buckwheat doesn't require any chemicals to keep allergies at bay. Plus, the pillow is odorless and can be refilled and adjusted for your comfort. 

Non Toxic Laundry Detergent Pacs: Try this gentle, non-toxic yet efficient detergent for your linen laundry. It's free of perfumes and made specifically for sensitive skin and fabrics.

Sofia's Linen Pure Flax Linen Blanket: Make the switch to a lighter throw blanket that allows your skin to breathe. Unlike fluffy blankets made from other materials, this linen blanket is hypoallergenic. 
Miriam Brait
Miriam Brait is a freelance writer and label reader, and she's passionate about helping others make informed purchases. In her spare time, she enjoys going on long walks, reading good books, and spending quality time with loved ones.