After carefully surveying all the immersion blenders on the market, we're confident the Cuisinart SmartStick Hand Blender is the best hand blender available. 
Some who've used the product call it "perfect in every way." Easy to use and even easier to clean, with a reversible chopper blade, the Cuisinart SmartStick effortlessly handles everything from soup to smoothies.
The kitchen is your domain. From knives to pots and pans, you have everything just the way you like it. You accept nothing but the very best.
But maybe you're preparing dinner for your friends and family, and you need to make whipped cream for the dessert. You reach for the perfect tool for the job — an immersion blender. But you find…nothing?!
Don't let this happen. The best blender is a cook's best friend. We want to make sure you don't get caught empty-handed while cooking.
The Immersion Blenders We RAVE About
Immerse yourself in our top picks of the very best immersion blenders.
No matter what you call them — hand blenders, stick blenders, wand blenders, or immersion blenders — this is one versatile tool.
What's different about immersion blenders as opposed to regular blenders is, rather than pouring what you want to mix into a pitcher on a blender base, you simply stick the immersion blender into whatever you need to blend. It's perfect for soups, salsas, pesto, and more.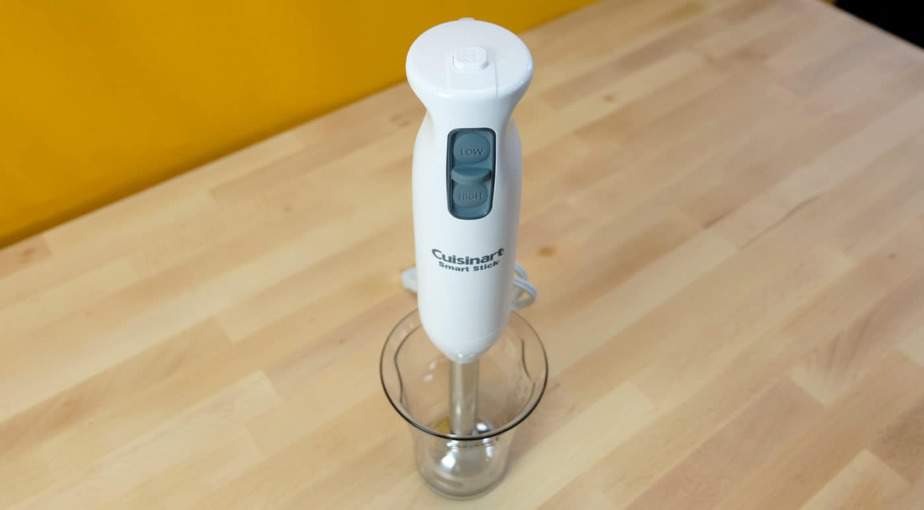 But the best immersion blenders also need to be tough enough to handle everything from cooked meats to potatoes and vegetables. Luckily, we've got all the information you need to pick the best hand blender — a tool no kitchen master can do without.
How do immersion blenders work?
Simply put, an immersion blender has a motor that turns a rotary blade or other attachment at a high speed. This simplifies many common kitchen tasks that involve blending, mixing, and beating.
The process of assembling your blender will vary from brand to brand. But to give you a general idea, here are a few pointers for when your new best kitchen-friend is fresh out of the box.
When assembling your immersion blender, line up the motor body, or the heaviest part of the blender, with a blender attachment. Fasten these parts together securely.
If the attachment doesn't connect easily, simply press the release button — that should do the trick.
Most immersion blenders have spring-loaded catches. Wait to hear the click. That means the components are properly fitted into place. But note: Some hand blenders may have screw-on attachments.
Plug in your blender well outside of your work space. Accidentally severing the cord of your blender is a real risk. It's dangerous. So take every precaution to make sure it doesn't happen. We even suggest weighing the cord down with something heavy to keep it from developing a mind of its own.
How to use your blender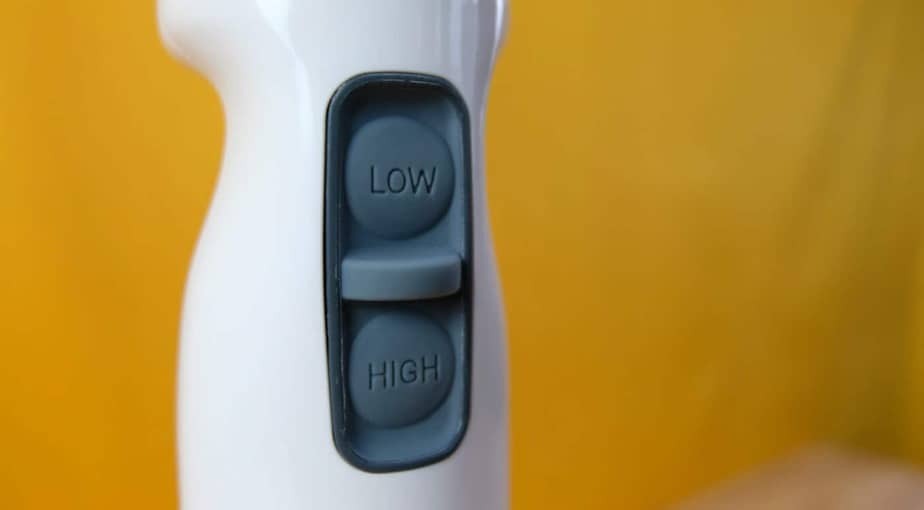 When you're ready to use your hand blender, simply insert the blender into the mixture you need to blend. For best results, be sure the blender attachment is completely submerged in the mixture. Failing to do so could result in food-splattered kitchen walls. Which would put a serious damper on any dinner party.

While blending your mixture, don't forget to move the blender slowly in an up-and-down motion. This will help create a well-blended, smooth consistency in your mixture.

If you're mixing tougher ingredients, like vegetables or certain kinds of soups, you may have to increase your blending time. Check your mixture to ensure it's smooth throughout.

Running the motor of your blender for too long can damage it. Try to stick to blending in 30- to 50-second intervals.

When finished blending, be sure to unplug your blender and store it safely. An activated blender not submerged in liquid can cause injury. Which brings us to our next subject: immersion blender safety.
Safety and your new immersion blender
When blending, keep your blender motor above the liquid at all times. Failure to do so could lead to a burned-out motor, shorted electrical components, or —  even worse — electrocution.
Always unplug your blender when cleaning it. It's fine (and a good idea) to clean your immersion blender using a sponge or damp cloth with hot water and soap. Be extra careful around the blades!
Store your blender in a safe location. Children might mistake your blender for a toy. Be sure to always store your blender safely out of arm's reach.
Now that we've got that out of the way: What should you make with your immersion blender?
Here are just a few simple and delicious things to make with your new favorite kitchen appliance. Have fun!
Recipes for your hand blender
Salsa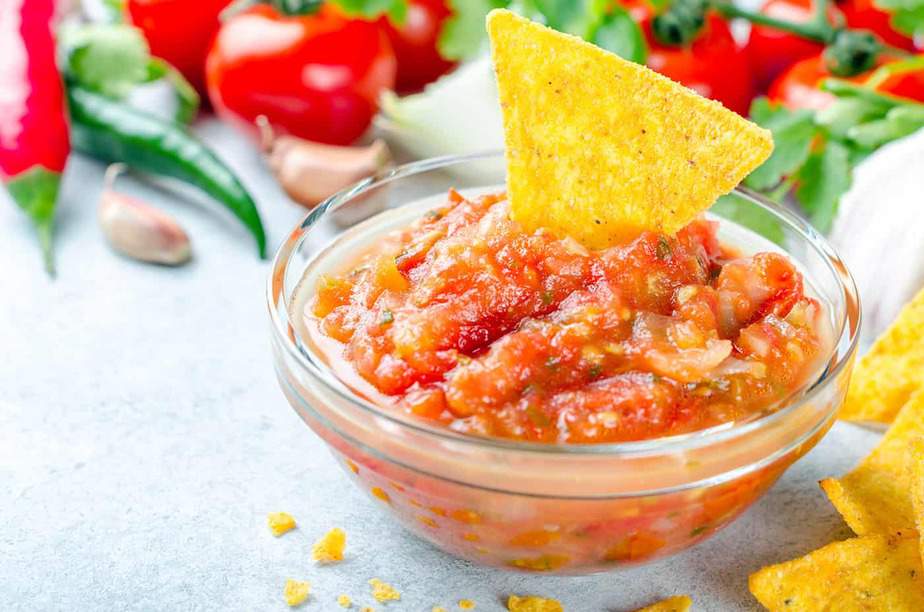 In order to make the smoothest salsa possible, add tomatoes, onion, garlic, jalapeño, cilantro, and a little bit of salt and pepper to a dish. For best results, make it a tall, narrow, stainless steel dish. Move your immersion blender up and down until your ingredients are blended to your preference.
Pesto Sauce
Add basil, garlic, pine nuts, olive oil, and a little salt and pepper to a tall, narrow, stainless steel mixing dish. With an up-and-down motion, blend together the ingredients. Don't forget to keep the blades of your blender level.
Batter
Mixing batter with an immersion blender helps to prevent lumps. In fact, most hand blenders even come with a beater attachment to help you easily mix the smoothest batter possible.
Smoothies
You don't need a full-sized blender to make a delicious smoothie. To make a smoothie with an immersion blender, first add frozen fruit, some yogurt, and enough juice to cover all the ingredients in a tall, narrow, stainless steel mixing dish. Then mix thoroughly.
Homemade Mayonnaise
To make delicious homemade mayonnaise, simply add 2 egg yolks, 1 tsp lemon juice, ½ tsp salt, and ½ tsp dry mustard to a tall, narrow, stainless steel mixing dish. Blend these ingredients. Then slowly add 1 cup olive oil or canola oil, a little bit at a time, while continuing to run your blender.
Pro tip: Wait until the first little bit of oil completely disappears before adding more oil.
If the mayonnaise is too thick, blend in 1 tsp water at a time until the mixture reaches your preferred consistency.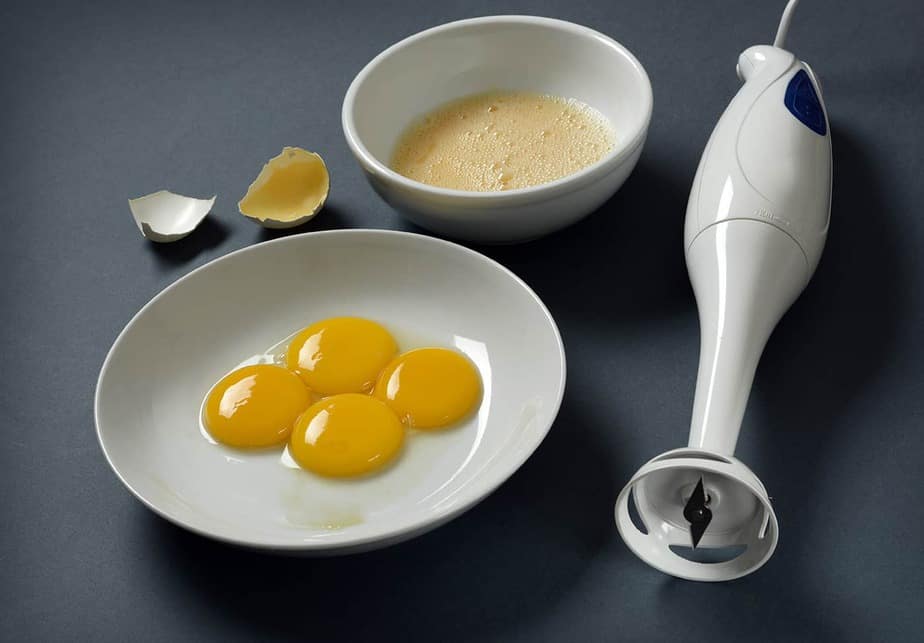 There you have it. With all this information, you're well on your way to making full use of your new hand blender. Now it's time to pick the perfect tool. 
Methodology
First and foremost, our methodology relies on a meta-data analysis of consumer reviews. This allows us to examine the advantages and drawbacks of dozens of different products based on thousands of customer experiences. We also take into account the advice and recommendations of industry experts and professionals.
When we were compiling this list, these are the primary factors we were looking for:
Quality of materials
Warranty
Price
Durability
Wattage
Brand reputation
Overall popularity
With that, you're ready to start shopping for your perfect hand blender. 
Best Immersion Blenders
What are stick blenders used for?
Immersion blenders, sometimes known as stick, wand, or hand blenders, are very helpful tools in the kitchen. They're perfect for making salsas and sauces, or for pureeing large amounts of soup.
But a good immersion blender should be powerful enough to process all kinds of foods, including cooked meats, potatoes, and vegetables. Some home immersion blenders are meant to be used for blending drinks or making smoothies. Obviously, the more heavy-duty models, like the ones that can handle nuts, will typically be more expensive.
Immersion blenders differ from regular blenders because rather than pouring the liquid, or whatever you might need to mix, into the blender pitcher, the immersion blender is inserted right into the container with your ingredients. Think pots of soup, for example.
Note: Be careful crushing ice with an immersion blender. That's a task best left for a food processor.
Can you blend frozen fruit with a hand blender?
A smoothie can be an easy and nutritious way to start your day. Some people think you need a standard blender to make a smoothie. Not true!
Immersion blenders can mix lots of things. Specifically, they're perfect for blending frozen fruit for smoothies.
If you're interested in upping your smoothie game, try this:
Cut half a frozen banana into small chunks.

Drop the banana pieces into the immersion blender beaker or jar, along with ¼ cup frozen kale, ¼ cup frozen blueberries, and 3 halved fresh strawberries. And for flavor, we humbly suggest a generous tablespoon of nut butter.

Pour in 1 cup of milk. Add in more milk (or coconut water, if you prefer) until the fruit is just covered.

Insert the immersion blender into your concoction. Make sure it's completely submerged to prevent splatter. (You want to drink your smoothie, not wear it.)

Mix until smooth.

Safety is everything. When sampling your smoothie, do not stick your finger into the beaker or jar while the immersion blender is in there too. Accidentally pressing the power button is too easy to do, and you don't want those blades spinning near your fingers.
Life hack: If you're in a hurry, drink your smoothie straight from the beaker. Saves dishes!
What can I do with a hand blender?
If you're still undecided about adding a hand blender to your kitchen toolkit, we've helpfully compiled a few common food items that can be made much more easily with an immersion blender.
Tomato sauce
Hand blenders are a great tool to use when making your own tomato sauce. First, simmer tomatoes until they're soft. Then, break down the tomatoes into a thick sauce using your immersion blender. For flavor, toss in a little freshly chopped basil. Add meatballs, or use the sauce in lasagna. Freeze the leftover sauce for later.
Hollandaise sauce
Hollandaise sauce can be tricky, but your new immersion blender can help. To make a delicious hollandaise sauce, beat the eggs, lemon juice, and water with the immersion blender while slowly adding melted butter into the egg mixture.
The slow pouring action allows the butter to emulsify with the eggs and prevents scrambling. Add a little powdered sugar for extra sweetness, or just a splash of vanilla extract for depth.    
Vinaigrette
Save money when you move beyond store-bought salad dressing. It's easier than ever to make your own vinaigrettes with your new hand blender.
Blend a mixture of olive oil, honey, and vinegar (balsamic, red wine, or rice wine — your choice), or olive oil, honey, and lemon juice. Add a pinch of salt and you've got your own vinaigrette. Add extra herbs and seasonings to taste.
Are hand mixers and immersion blenders the same?
The words blender and mixer can sometimes be used interchangeably. But they're really 2 different tools, designed for different tasks.
So what exactly is the difference between a blender and a mixer? Which tool do you need for your next kitchen project? We've got the information you need to pick the right kitchen device for your next culinary masterpiece.
Basically, a blender turns things into liquids. Blenders make milkshakes, or turn cooked apples into applesauce. If this is what you're after, an immersion blender is for you.
A mixer, on the other hand, combines ingredients rather than turning them into liquids. It's perfect for batters and doughs.
Bakers use mixers. Cooks tend to use blenders.
To sum up: Immersion blenders and hand mixers are similar, but not the same. That being said, you'll often see immersion blenders called "hand blenders," which can add to the confusion. Just remember that "blender" is the operative word.
What are the best hand blenders?
When you're shopping for a new immersion blender, there are a ton of factors to consider. These were the factors that we deemed most important in the search for the best hand blender on the market:
Quality of materials
Warranty
Price
Durability
Wattage
Brand reputation
Overall popularity
Based on this methodology, we came up with the Cuisinart SmartStick Hand Blender as the best hand blender — for most folks. But be sure to take a look at all 10 winners up above. They're all fantastic products, and one of them is bound to be the perfect fit for your kitchen and your needs.
RAVE Recommends
Once you've picked out the perfect immersion blender for your kitchen, try these add-ons: