RAVE takes a look at the best hot tubs available to buy today.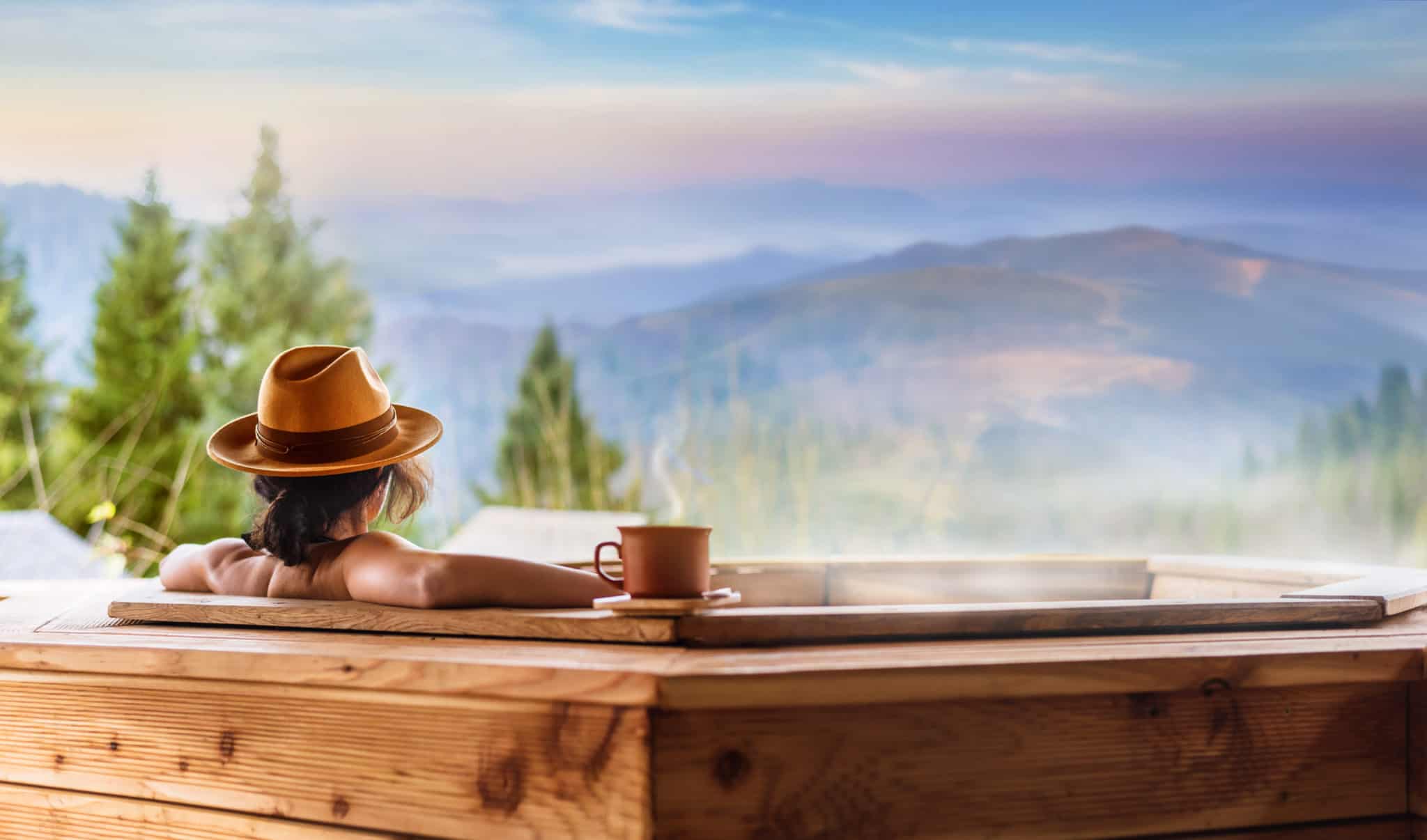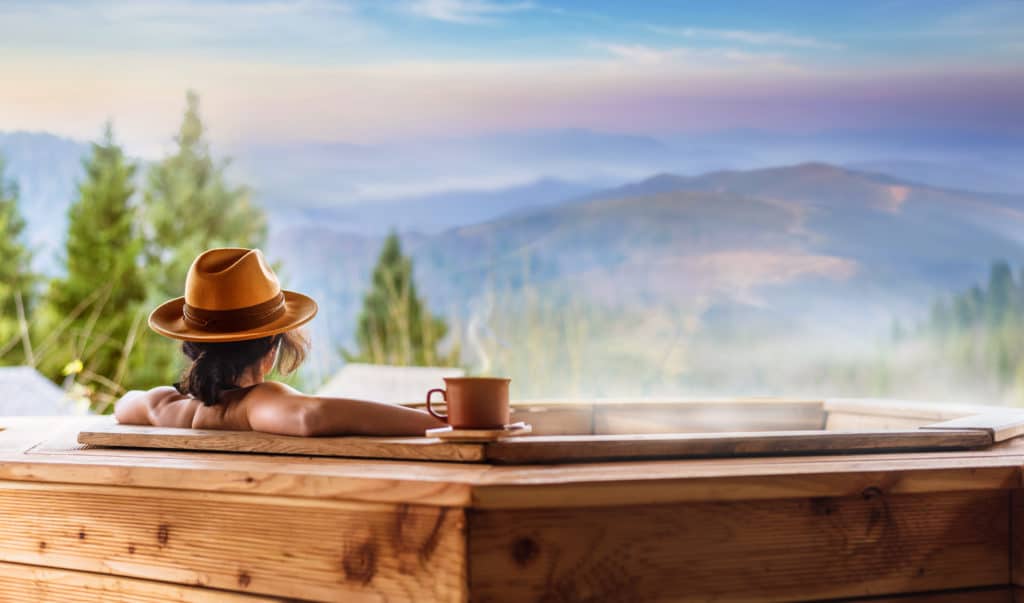 Nearly everyone loves hot tubs. There's nothing quite like easing the tensions of a rough day by soaking in a jacuzzi, but they are also perfect for relaxation any time. After a hard workout, they can soothe sore muscles. Before bed, a soak in the hot tub can promote a night of sound sleep.
Some research even says that one 60-minute session in a hot tub might burn calories and help you lose weight. There's no doubt about it—home hot tubs have many benefits.
Commercial models are just as popular. Public gyms, in particular, advertise their hot tubs as post-workout strategies and cool-down tools. They can also be great additions to the workout itself, offering resistance training to rowers or runners with less risk of getting injured.
The Home Hot Tub We RAVE About
AquaRest Spas Premium 300 2-Person Hot Tub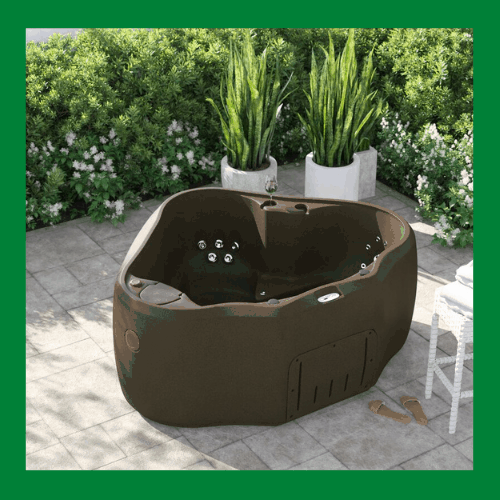 This AquaRest hot tub caught our eye for being as cute as a button. Not everyone needs a huge hot tub, and this affordable one to two-person jacuzzi-powered model is ideal for you and a friend. Plus, it's light enough to be portable, so you can take it with you if you plan on moving.
We love the little touches in this spa—An Ozonator, drink holders, and dual side controls. But the coolest thing about this hot tub for two has to be the nine-color cascading backlit waterfall!
Hydrotherapy
Most people love their hot tubs for the hydrotherapeutic benefits they offer. Hydrotherapy is a form of physical therapy and cleansing using water. It's been popular throughout history, and ancient people would visit hot springs for their physical and spiritual benefits. Today, there are many different kinds of hydrotherapy meant to treat various conditions.
The principal therapeutic action of hot tubs is the heat and jets. The jets offer hydro massage, which helps loosen tense muscles and soothe strained limbs, while the hot water helps the user relax and unwind.
Hydrotherapy also includes moving about in the water to increase strength with a lower risk of injury. If you have been injured before, using water as resistance training is a safe way to get back into shape. Some hot tubs are big enough to accommodate this kind of movement so that you can train either in your local gym or your own home.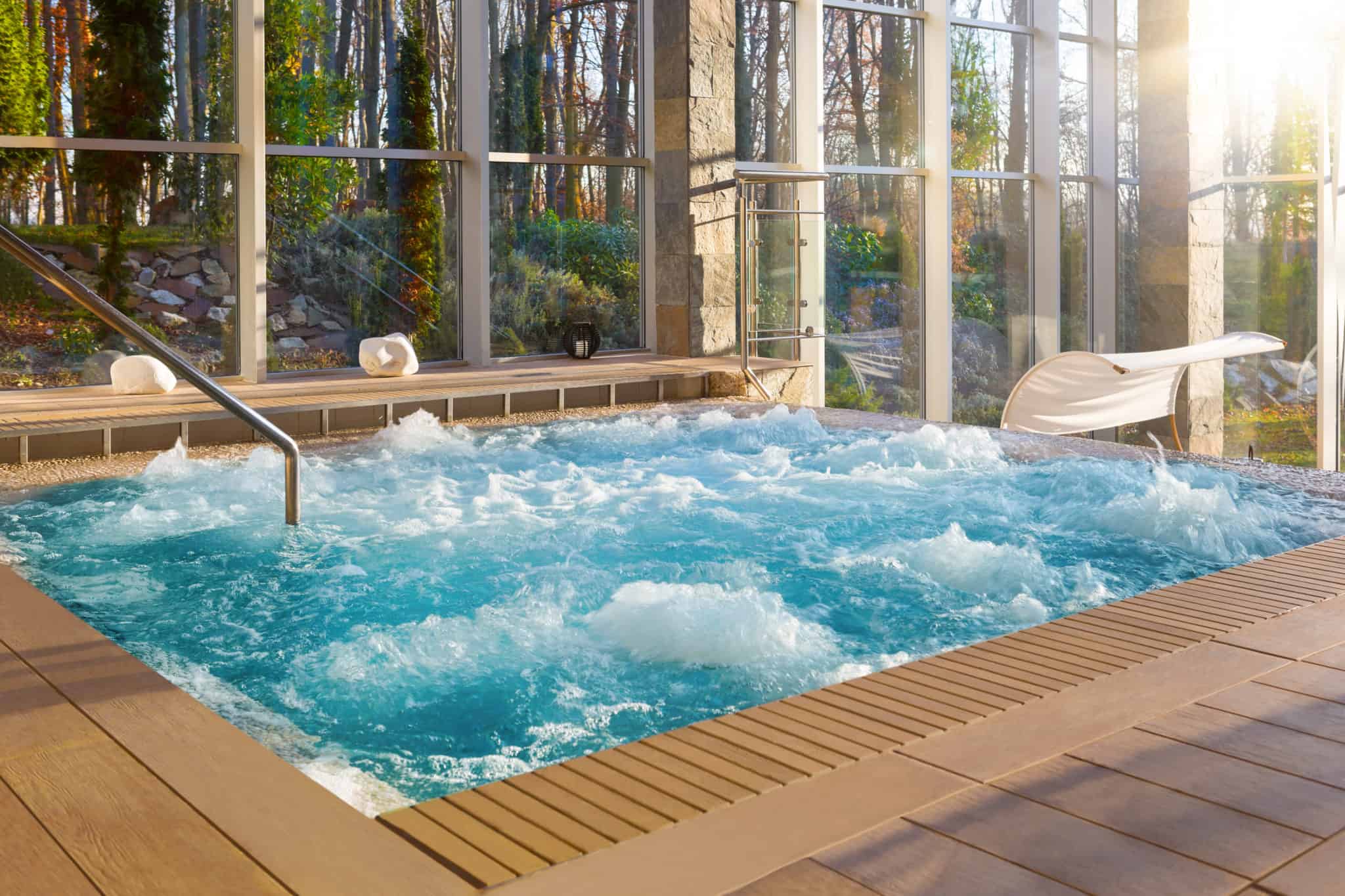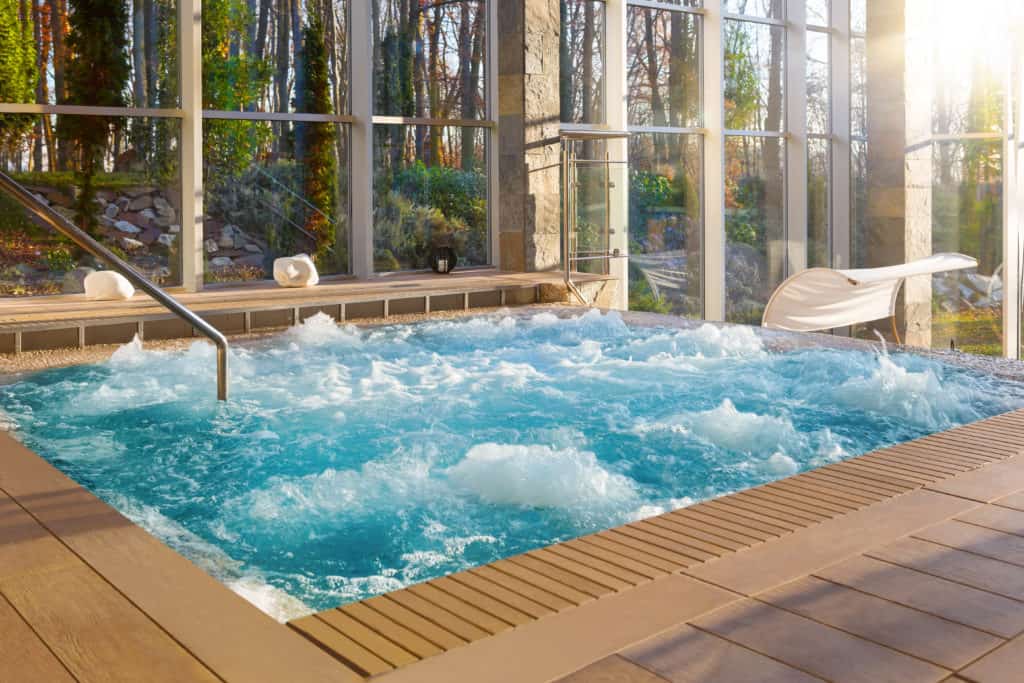 You may also enjoy: The Best Healthy Tanning Bed Machines
What to Look for When Shopping for a Hot Tub
Not all hot tubs are the same, and not everyone uses them the same way either. Check out the shopping guide below to give yourself an idea of what kind of tub you're looking for.
Primary Use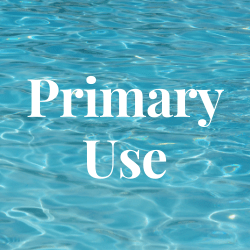 If it's purely for recreation, you can be a bit more flexible in choosing your tub. But, if you're planning on buying a hot tub for a specific reason, this will narrow down your choices. Therapy tubs, for example, will have certain specifications that a more generic model won't.
Additionally, size matters. If it's just two of you… you have more, cheaper options. However, if have a big family, you may need to upgrade to a large capacity hot tub.
Commercial Tubs
Most commercial hot tubs don't have as many bells and whistles as a private tub would. For example, they often have fewer jets and are much shallower to bolster safety concerns. For a hotel or gym's pool area, the hot tub is usually a simple structure primarily focusing on keeping in heat.
Home Gyms
Hot tubs that double as mini-pools might be larger than your average tub and will also have a lot more features available. In addition, these pools often come with a variety of attachments so you can exercise however you wish. They also tend to have more power to provide you with a strong current to swim against. Later, the setup can transform from a workout space to a relaxation sanctuary.
Backyard Retreat
If all you're interested in is a quiet, calm place to rest in your own home or yard, you might want extra features. While there are certainly less expensive hot tubs that function simply as a place to have a warm, outdoor soak, you can also get tubs with features like:
Advanced filtration systems
Built-in audio systems
Waterfalls, lighting, and other decorative features
Remote controls
Customizable jet configurations
Inflatable Hot Tubs
Inflatable hot tubs are also available and have become more popular because they are less expensive, portable, and easy to store. Unfortunately, they typically don't have many alternate functions, and an inflatable hot tub has less powerful jets, which don't make them ideal for hydromassage. However, they are still relaxing places to soak and enjoy the warmth and can be a great alternative to a more permanent setup.
Inflatable tubs also come in various sizes, meaning you can have an individual tub or one that you can share with the entire family.
Size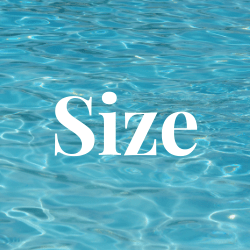 Whether you're considering a hot tub for your home or the gym, you need to think about how many people will be using it. If you're buying for yourself and only plan on having a maximum of four, you won't need nearly as much room as if you're planning on accommodating a whole group of people.
Similarly, if you're buying a hot tub for your business, you have to plan for more people and adhere to the local safety codes to limit the possibility of accidents. Again, this planning could influence how big you want your hot tub to be.
That said, if you really value your privacy, you can also plan for a smaller setup. Smaller hot tubs that fit only two or even a single person are also available for purchase.
Price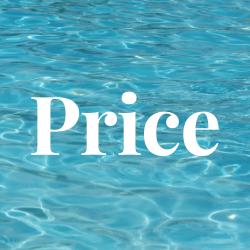 A hot tub is an investment for your home or gym. If you are looking for a lot of cool features, you will likely be looking at higher price tags. If these luxuries are worthwhile to you, you might be comfortable with the investment.
However, if you don't need all the bells and whistles and prefer something basic, check out the lower-priced models. You can still get a great hot tub for your home or gym without going broke.
Materials and Insulation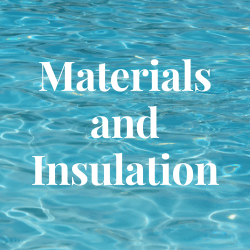 If your tub is well-insulated, it will take less energy to keep the water hot. A tub with good insulation will last longer than one without as the heating elements will not be constantly overworked.
Very commonly, a hot tub's insulation will be foam-filled, meaning the entire cabinet is insulated. Hot tubs that are poorly insulated are not very energy inefficient, so keep that in mind. Most high-end models will boast their efficiency on their websites.
It is possible to increase the insulation of your hot tub if you end up buying a flawed model. However, it's better to do your research first and decide which hot tub will be more insulating for your needs.
Commercial hot tubs have it a little easier in that they are often sunk into the floor of a building. This means manufacturers don't insulate the walls as much because less heat will escape from the sides. However, proper materials are still a matter of concern and will keep your tub hot and clean for all your customers.
Sanitizing Systems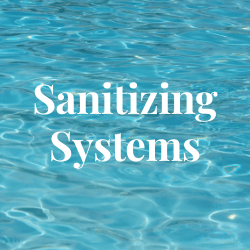 If you don't want chemicals in your hot tub, there are plenty of other ways to keep the water clean. Saltwater tubs, UV cleaning, and Ozonators are just a few alternative methods for hot tub cleaning.
For most hot tubs systems, bromine or chlorine is added to the water to remove germs. This is an effective method for pools, so most commercial hot tub owners use bromine or chlorine to keep their clients healthy.
Ultraviolet
UV light has been shown to kill bacteria in certain environments quickly. More hot tubs than ever are equipped with UV as a sanitizing method because it is chemical-free and removes microorganisms and toxic by-products. This method is environmentally friendly and is sometimes used in tandem with other methods.
Ozone
Ozone easily oxidizes a hot tub or pool water, meaning it will break down any matter floating in the water. After this reaction, the ozone disperses into oxygen, leaving no trace in the hot tub.
Salt Water
Saltwater systems use electricity to convert the salt in the water into chlorine or bromine. This process leaves your pool with integrated cleansers that are already commonly used for sanitizing water.
However, saltwater systems will often need more upkeep than other systems and can corrode the metal parts of your hot tub.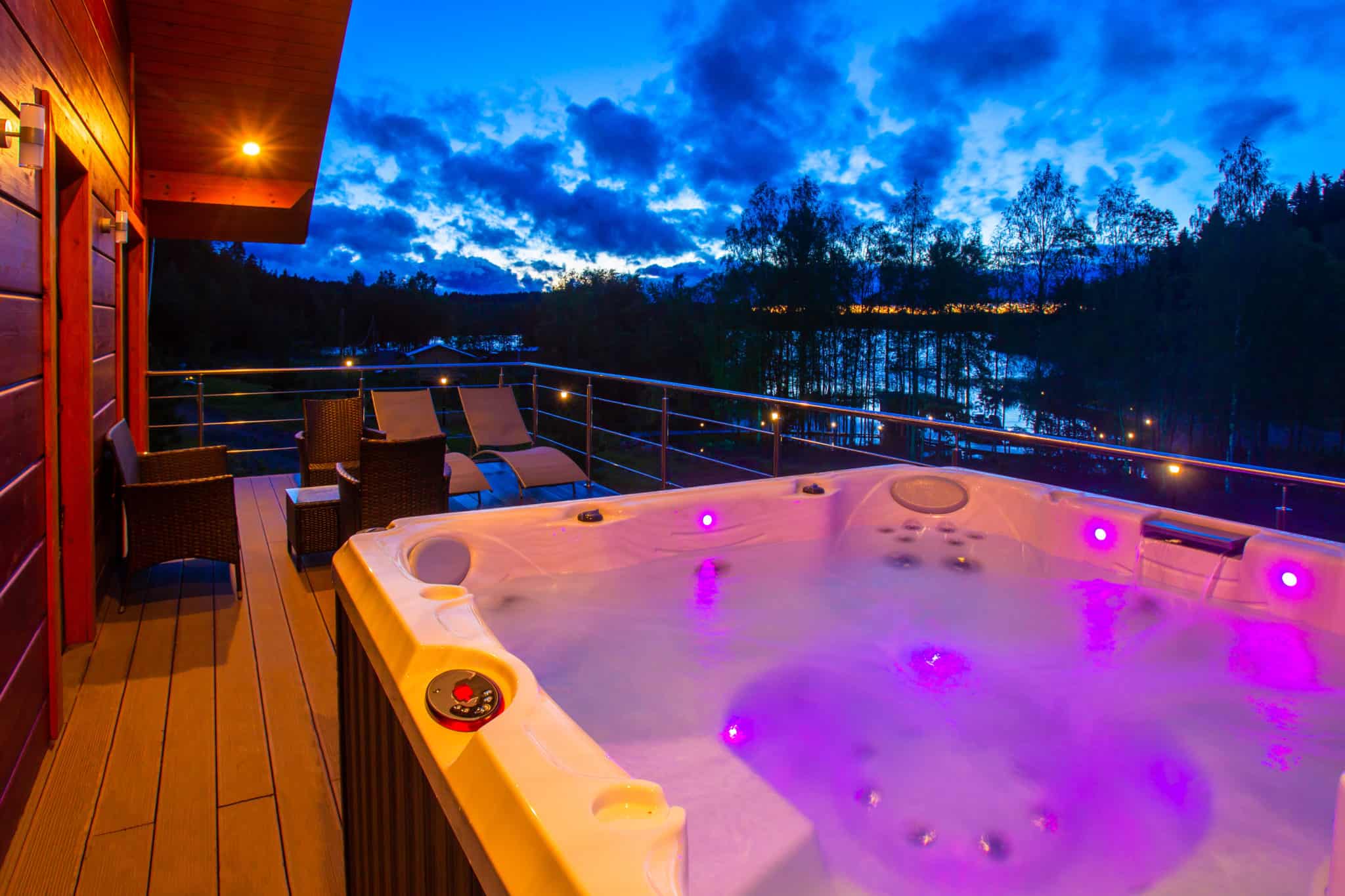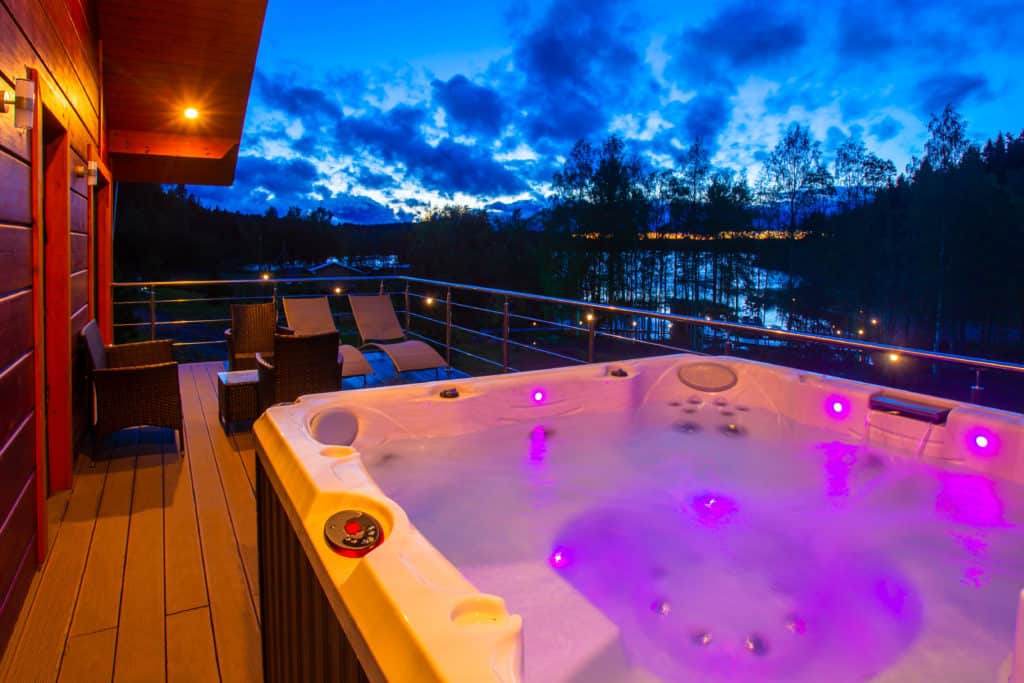 Home vs. Gym/Commercial Use
Homeowners mainly own hot tubs that are for residential use for private, family occasions. Hot tubs for gyms or commercial use function as relaxation services for spas, apartment buildings, health clubs, or hotels.
Gym or commercial hot tubs have to follow stricter health and safety codes than residential hot tubs. These codes are put in place to serve a greater number of people with various needs. They help keep the water from becoming contaminated and make it harder for accidents to happen.
Gym or commercial hot tubs tend to be larger and easier to get in and out of. They also have more than one pump and usually have better or more visible steps with bright colorings to help identify where the edges of the steps or seats begin.
This next section will introduce you to RAVE's top five hot tubs for home use, followed by our top five recommendations for gym and commercial use.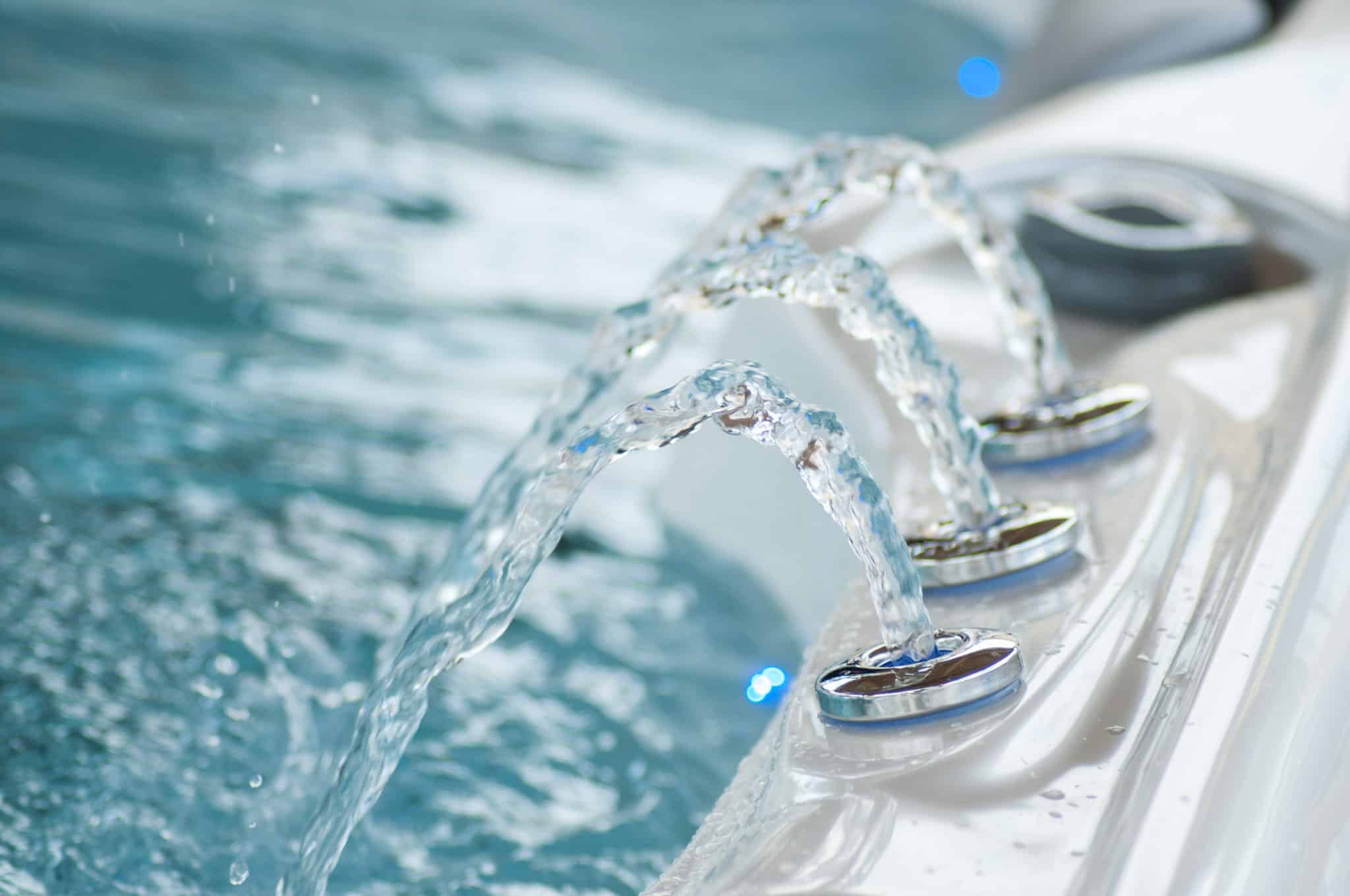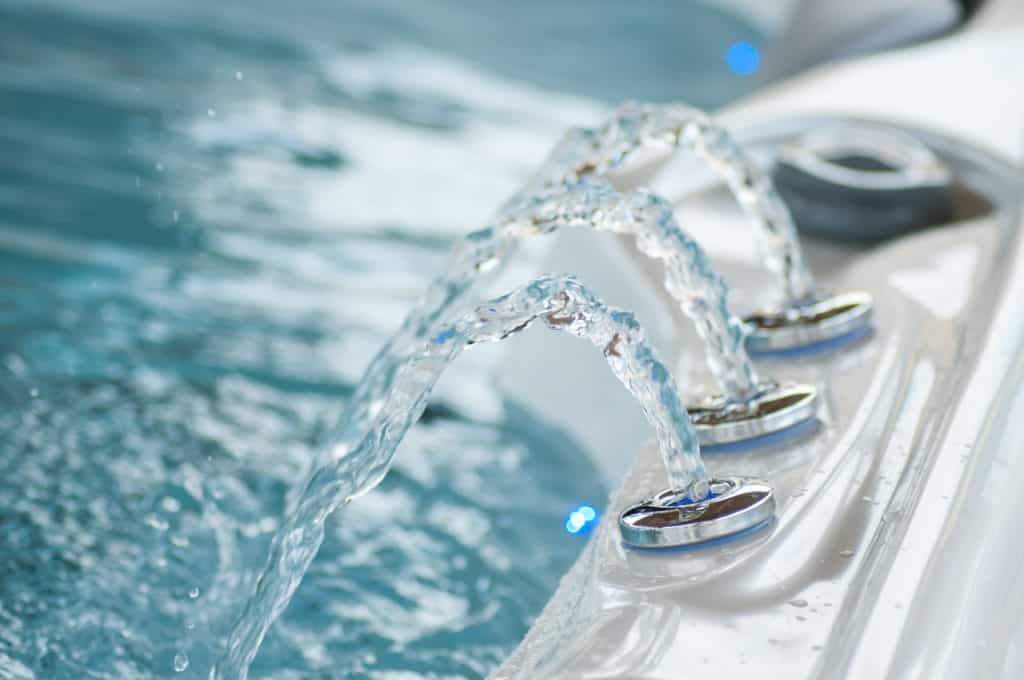 RAVE's Best Hot Tubs for Home
1. AquaRest Spas Premium 300 2-Person Hot Tub
Customization – 90/100
Size – 80/100
Features – 91/100
Overall Value – 85/100
Perfect for date night, this smaller model is for one to two people only. However, it is small enough to move about your yard to get that specific ambiance for anniversaries or tuck out of sight for larger gatherings.
With 20 hydrotherapy jets, both tub inhabitants can enjoy a thoroughly relaxing experience. A waterfall complete with a color-changing light feature provides a romantic atmosphere. In addition, the Easy-Klean Filtration System guarantees clean water for each use.
Specs
Minimum Temperature: 70 Fahrenheit
Maximum Temperature: 104 Fahrenheit
Weight: 232 pounds
Number of Jets: 20
Number of Pumps: 1
Maximum Capacity: 2
2. Caldera Paradise Series Makena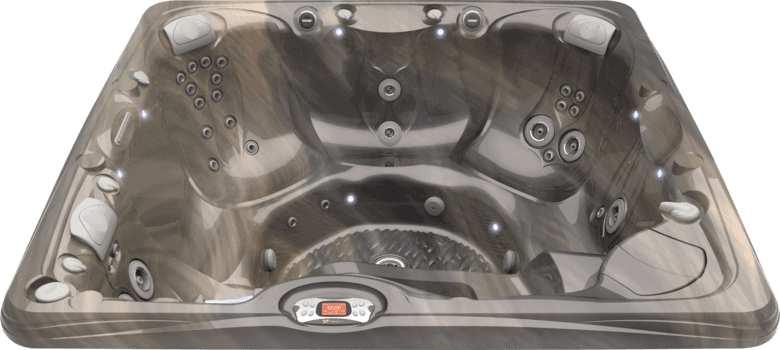 Customization – 95/100
Size – 92/100
Features – 92/100
Overall Value – 94/100
The best hot tubs for home and gym are ones that let you relax, knowing the water will ease your cares away. Caldera's Makena is one such hot tub.
The Makena contains a foot ridge to help keep you in the right spot as the jets do their job. Hydrotherapy jets work to massage all your limbs, including your feet. LED lights and an Acquarella waterfall complete the picture of relaxation for you and your family.
The Makena uses a patented FreshWater Salt System instead of chlorine to keep its water clean. This system is meant to reduce the amount of time spent on water care for hot tubs, giving you more enjoyment for less effort.
Specs
Minimum Temperature: 80 Fahrenheit
Maximum Temperature: 104 Fahrenheit
Water Capacity: 395 Gallons
Number of Jets: 46
Number of Pumps:
Maximum Capacity: 6
3. Master Spas Twilight Series 7.2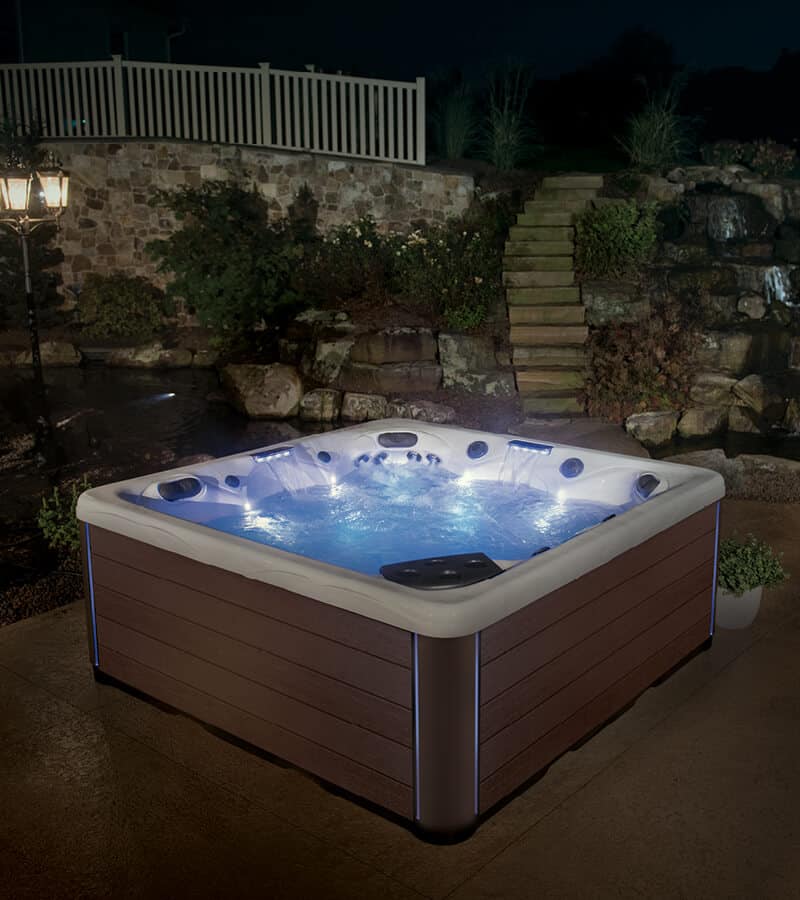 Customization – 85/100
Size – 90/100
Features – 91/100
Overall Value – 89/100
For the ultimate spa experience at home, Master Spas Twilight Series 7.2 is one of the best hot tubs for home. Designed with luxury in mind, the TS 7.2 contains the brand's patented StressRelief Neck and Shoulder Seat as well as Master Spas' Master Force Bio-Magnetic Therapy System.
The entire structure of this spa is designed to provide the best relaxation therapy for its users. So no matter what part of your body is aching or sore, you can adjust the jets to provide you with strong relief.
Besides being a leading contender for home hydrotherapy, the TS 7.2 contains an LED Orion Light System, EcoPur Charge filtration system and is more energy-efficient than comparative brands.
Specs
Minimum Temperature: 50 Fahrenheit
Maximum Temperature: 104 Fahrenheit
Water Capacity: 305 Gallons
Number of Jets: 36
Number of Pumps: 2
Maximum Capacity: 6
4. ThermoSpas 4-Person Hot Tub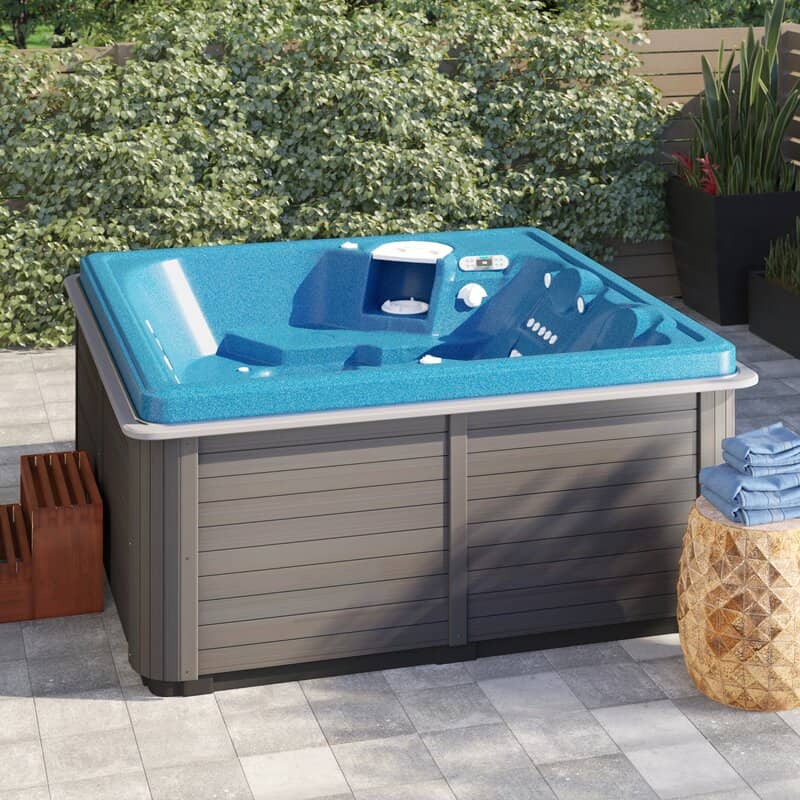 Customization – 85/100
Size – 82/100
Features – 95/100
Overall Value – 87/100
A family-friendly design with different seat heights, this 4-person tub boasts a lounger seat and LED lights. Sturdy and comfortable, this ThermoSpas model contains such features as sculpted armrests and a solid interior frame.
This tub preheats and recycles heated air to give you a more consistent and energy-saving heat for the duration of your soak. In addition, the jets provide a deep-tissue massage from the neck down, and the controls are easy to use for all your family members.
Specs
Minimum Temperature: 80 Fahrenheit
Maximum Temperature: 104 Fahrenheit
Water Capacity: 365 Gallons
Number of Jets: 42
Number of Pumps: 4
Maximum Capacity: 4
5. Coleman 90363E SaluSpa Inflatable Hot Tub Spa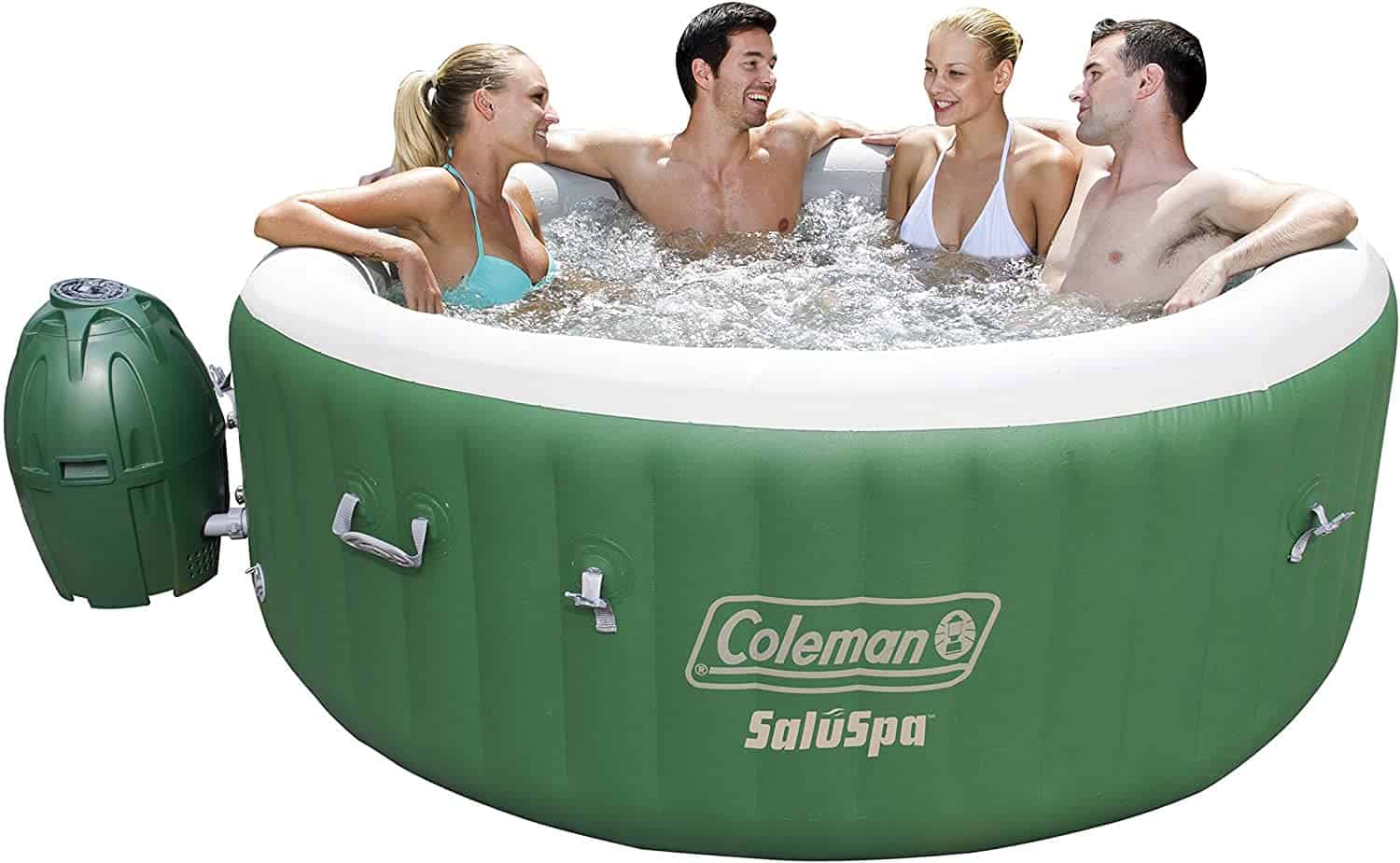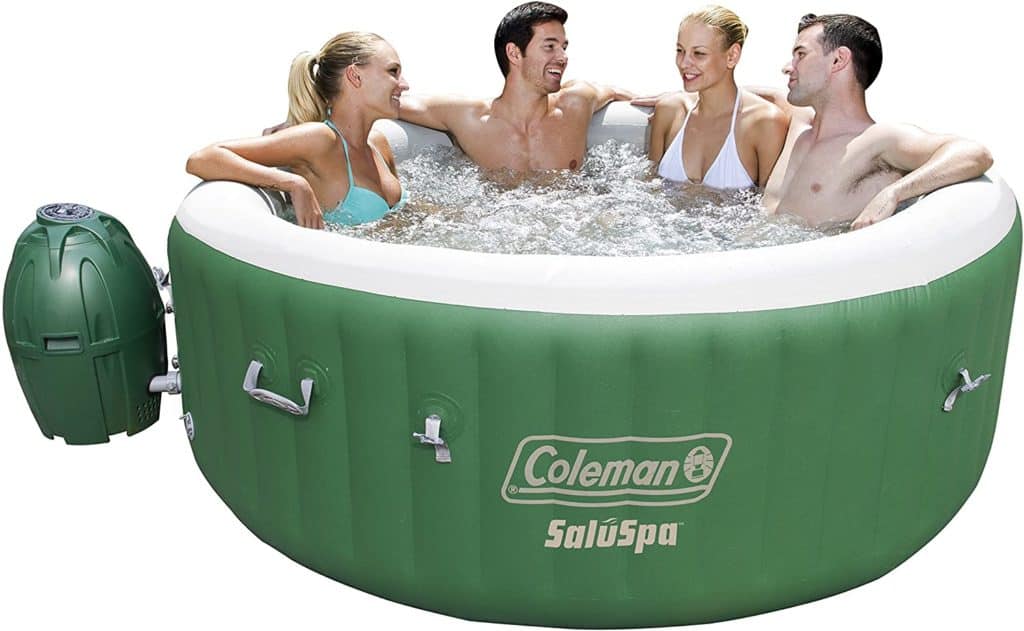 Customization – 90/100
Size – 90/100
Features – 95/100
Overall Value – 93/100
Inflatable home hot tubs are designed for ease of use and moving convenience. Though this may turn some people off of owning a hot tub, inflatable spas can be just as enjoyable as solid ones. They also tend to be less expensive, making them an easy option for more families.
The Coleman 90363E, for instance, contains 114 air jets for an overall massage experience. It's also very sturdy and heats water to 104 Fahrenheit, which is the norm for non-inflatable tubs. It can seat four to six adults depending on how large everyone is and how close they want to sit to each other.
The walls are Tritech material, both durably puncture-resistant and UV resistant. A Chemconnect chemical dispenser keeps the water clean and fresh with chlorine. The included pump inflates the tub and heats the water while maintaining equal pressure to prevent deflation.
Specs
Minimum Temperature: 80 Fahrenheit
Maximum Temperature: 104 Fahrenheit
Water Capacity: 242 Gallons
Number of Jets: 114
Number of Pumps: 1
Maximum Capacity: 4-6
RAVE's Best Hot Tubs for Home Commercial/Gym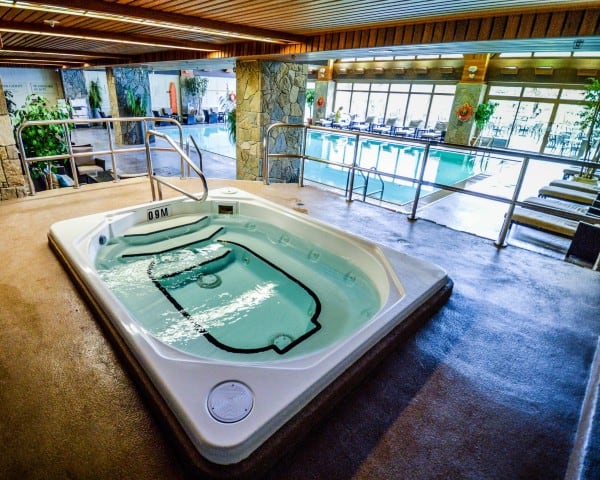 1. Hydrother H-1200C
Customization – 95/100
Size – 95/100
Features – 95/100
Overall Value – 97/100
This large, commercial hot tub offers sturdy handles, clearly marked water lines, and shallow steps to provide the ultimate safe experience. A water level controller and two inline thermometers ensure the volume and temperature both stay consistent.
This hot tub is available with either chlorine or UV sanitation systems to provide the standard levels of sanitation for swimmers. Additional add-ons available include an underwater LED light, an audiovisual beacon, and a push-pull emergency button.
Specs
Size: 144″ by 92″
Depth: 42.5″
Water Capacity: 840 Gallons
Number of Jets: 9 Large, 4 Medium
Number of Floor Drains: 2
Maximum Capacity: 10-12
2.ThermoSpas Aquacisor Fitness Series
Customization – 94/100
Size – 89/100
Features – 98/100
Overall Value – 96/100
For private or public gym use, the Aquacisor offers both exercise and relaxation options. With a total of six exercise attachments, the Aquacisor is a valuable resistance strength tool for jogging, rowing, or general strength training.
After a workout, the jets provide powerful massage features for rejuvenation and relaxation alike. This model comes with the option of LED lights and a stereo to better customize your experience. In addition, titanium components within the heaters help the heat systems last up to ten times longer than comparative models.
One of the best hot tubs for home and gym, the Aquacisor looks after all aspects of a workout. Pillow jets, underwater lighting, and temperature control all help this model excel beyond a fitness hot tub norm.
Specs
Size: 93″ by 88″
Depth: 53″
Water Capacity: 650 Gallons
Number of Jets: 38-67
Number of Pumps: 4-6
Maximum Capacity: 7
3. Endless Pool E2000 Fitness System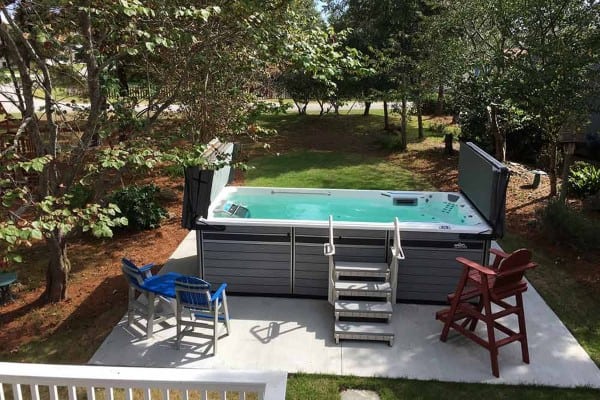 Customization – 93/100
Size – 83/100
Features – 96/100
Overall Value – 93/100
An endless pool is one of the best hot tubs for the gym, as it can give you a full-body workout and rehabilitation all in one. Made to accommodate lap swimmers who don't have much space, an endless pool provides a steady current to swim against, similar to a treadmill. As a result, you can swim for miles without ever moving beyond its four walls.
The E2000 has four hydrotherapy seats and a cooldown seat for post-workout recovery. Plus, the circulation pump ensures a constant stream of heated water for resistance training. Finally, a waterfall feature adds some customization to the model as well.
Twelve multi-colored LED lights provide underwater visibility, and there is an option for Bluetooth speakers, a floor mirror, or even a pace display.
Specs
Size: 20′ by 89″
Depth: 58″
Water Capacity: 2,395 Gallons
Number of Jets: 34
Number of Pumps: 3
Maximum Capacity: 2-4
See Also: RAVE's Best Above-Ground Pools
4. Coast Spas C-812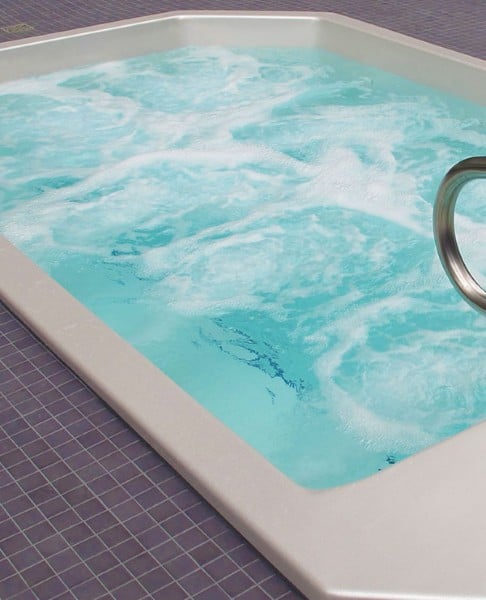 Customization – 96/100
Size – 93/100
Features – 95/100
Overall Value – 95/100
The C-812 is one of the top-rated hot tubs for commercial use. The floors and steps are textured to prevent the possibility of slipping, and each edge is colored with a stylish blue hue to indicate where the depths change.
Tiled accents make this tub one of the most attractive commercial hot tubs available. A custom jet and circulation system provides optimal health standards for the water and keeps consistent heat with ease.
High-powered jets and low-velocity suction provide a delicate balance of massage therapy and clean pools. As a result, the water has the correct amount of force for proper hydrotherapy, but it also maintains the appropriate level of sanitation for multiple users.
Specs
Size: 144″ by 93″
Depth: 46″
Water Capacity: 661 Gallons
Number of Jets: 10
Number of Drains: 2
Maximum Capacity: 8-10
5. Riptide Riverflow Round Inground Hot Tub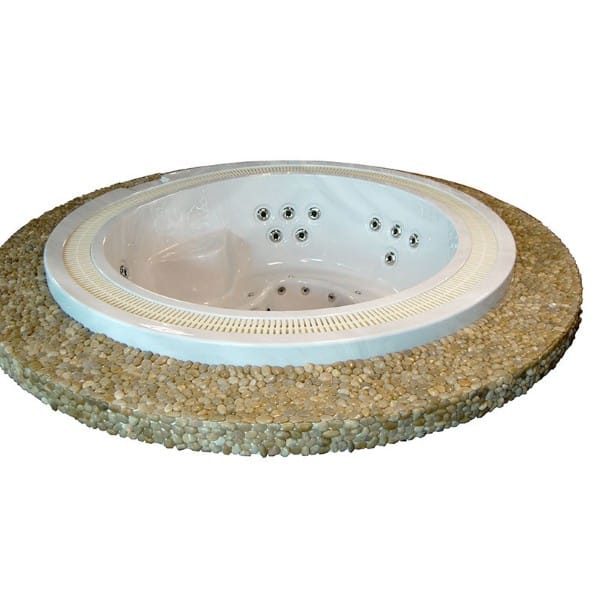 Customization – 92/100
Size – 88/100
Features – 95/100
Overall Value – 94/100
This round tub provides the perfect relaxation experience after a challenging workout. Unlike other models that use drains for discrete water circulation, the Riverflow relies on an overflow drain to keep things moving. This transparent system shows users exactly how often the water is replaced and sanitized.
Filtration is done via sand, and an automatic chlorine system ensures a thoroughly sanitized experience for all users. Coupled with an Ozone system, the Riverflow Round's water cleaning surpasses brand standards to give you the freshest hot tub water available.
Thirty-eight hydrotherapy jets and eight massage jets provide the ultimate relief for sore and knotted muscles. One large LED keeps the bottom of the tub clear so you can see where you're going. When considering hot tubs for the gym, the Riverflow Round should be one of your top choices.
Specs
Size: 91″ across
Depth: 38″
Water Capacity: 370 Gallons
Number of Jets: 46
Number of Pumps: 2
Maximum Capacity: 6
Conclusion
Whether you're looking for a home or gym hot tub, there are plenty of options available to suit your needs. Hydrotherapy is easier than ever when you have your own private spa, and some models can even accommodate your workouts through resistance training.
Commercial hot tubs are often more generic and safety-conscious, while home models have more luxury options and features. However, the best hot tubs are built to last and will afford you a relaxing finish to your day.
Heather Ryerson
Heather Ryerson is a freelance writer who enjoys creating content across a broad range of industries, including travel, education, cannabis, and more. An iced coffee addict and Maine native, she is happiest when she is fully caffeinated, working near any body of water, and hanging out with the fam.