RAVE Reviews' pick for the best flannel sheets come from Pinzon. We picked their signature flannel sheet set for many reasons, but up front we'll say these sheets offer the best combination of softness and breathability around.
And at 190 GSM, they'll help the coldest sleeper stay cozy all night long. What's best about Pinzon, however, might be the broad range of color options and relative affordability, which keeps your bedroom decorating choices open, without also costing you a fortune.
Looking for the best flannel sheets to outfit the bedrooms in your snowy mountain retreat? Or are you a cold sleeper, requiring just the right balance of softness, breathability, and warmth in your bed sheets? Either way, a new set of flannel sheets could be right for you. But it's important to make your bedding choices with careful consideration and not "just jump into bed" with the biggest name product.
Maybe you're worried flannel sheets will keep you too warm? Since the weight of flannel sheets is measured by GSM (grams per square meter), how do you know what is a good weight for flannel sheets? And besides being warm, are flannel sheets breathable?
How long do flannel sheets last, and how do you keep flannel sheets soft? We bet you have a lot of questions.
Luckily, RAVE Reviews has all the information you need with out ranking of the 10 best flannel sheets. So keep reading, because the perfect set of flannel sheets (and everything you need to know about them) is out there waiting, just for you.
The Flannel Sheets We RAVE About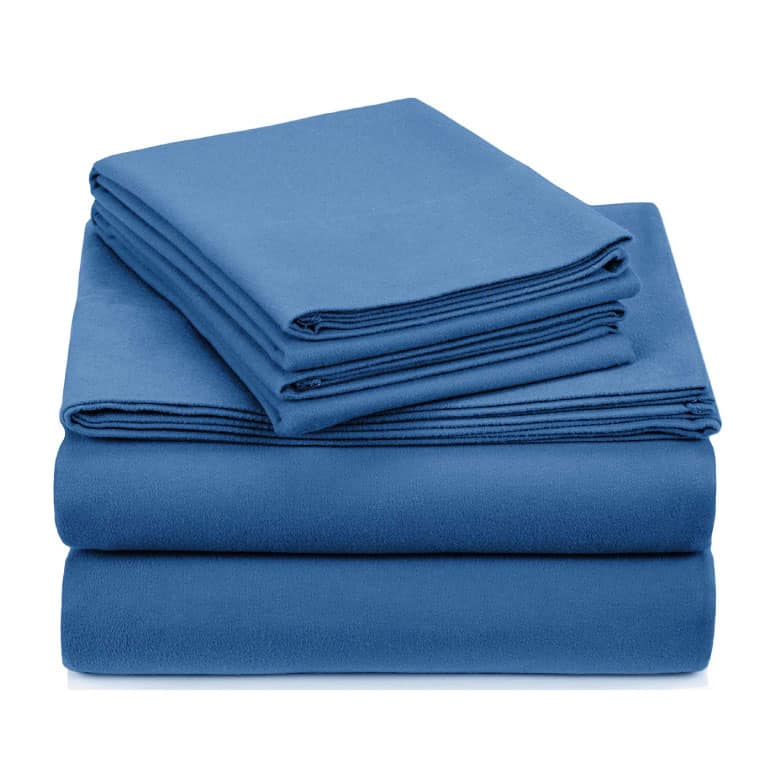 Best Overall Flannel Sheets
Pinzon Signature Flannel Sheet Set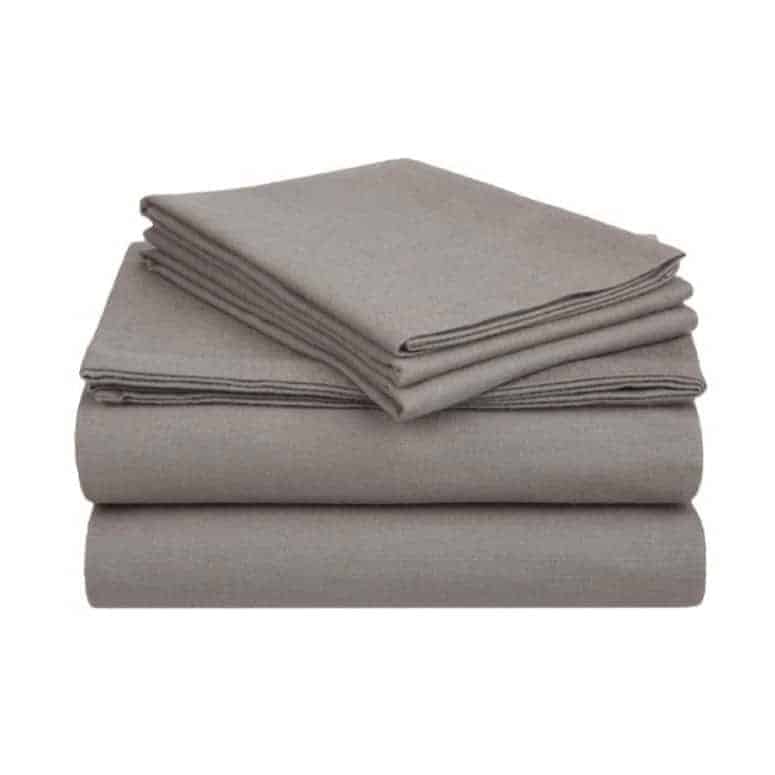 Best New Flannel Sheets Brand
eLuxury 100% Cotton Flannel Sheet Set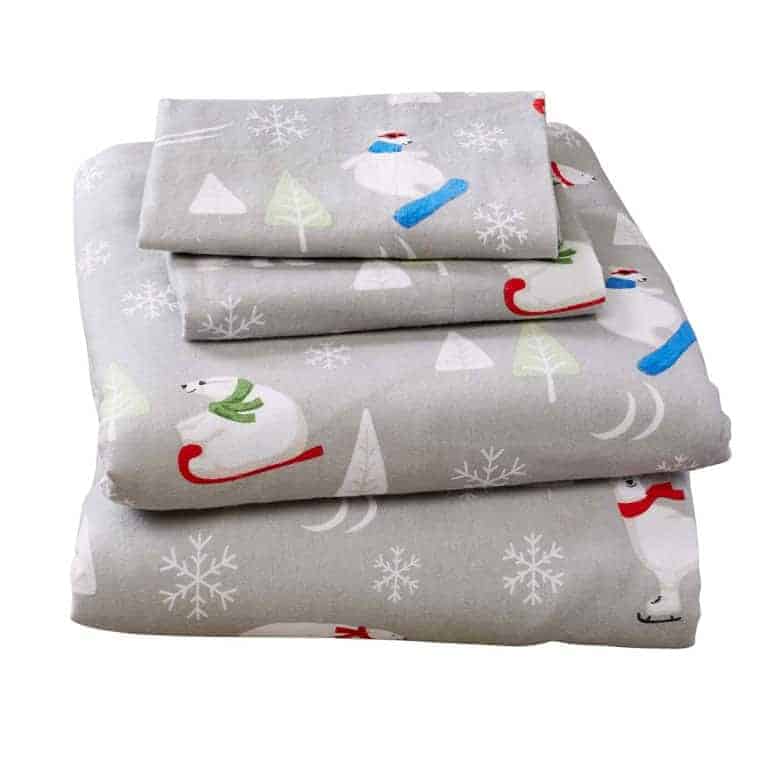 Best Cheap Flannel Sheets
Home Fashion Designs Cotton Flannel Set
Are flannel sheets hot?
Maybe, for you, flannel sheets have a bad rep.
"They're just too hot," you might be telling yourself.
And yeah, you might not want to sleep under flannel sheets in Palm Springs in the middle of August.
Because there's no way around it: flannel sheets will be warmer than cotton sheets.
But the fact of the matter is, in addition to being warm, flannel sheets can also be very soft and breathable.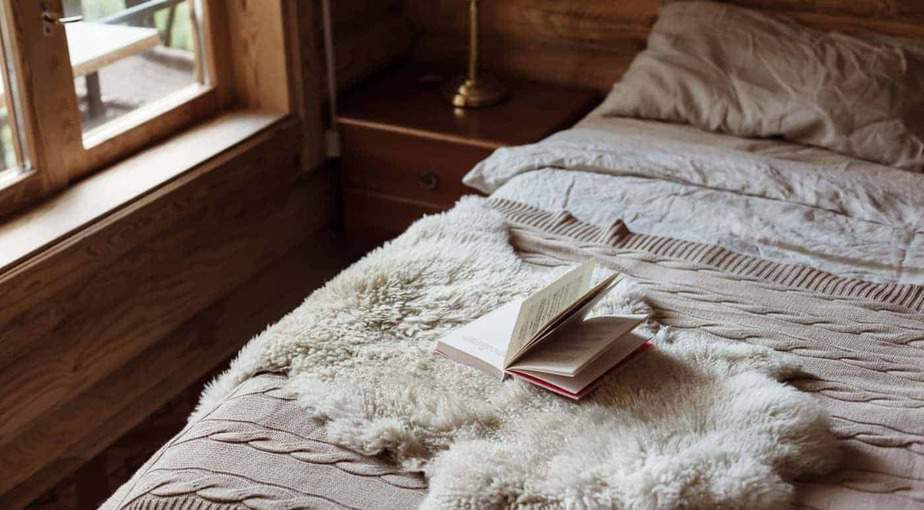 So more than anything else, this simple question about flannel sheets is probably first and foremost on your mind: "Will flannel sheets be too hot for me?"
Flannel sheets will keep you warm, no question. However, high quality flannel sheets will also wick away moisture, helping to prevent overheating while you sleep.
And while flannel is warmer than cotton, it allows your skin to breath much better than many man-made fabrics, like fleece. The reason is that the brushed surface of flannel helps prevent air and body heat from becoming trapped.
Here's a fun trick: If you have to sleep in flannel sheets during the warm summer months, put a flannel sheet between your top sheet and your comforter. The flannel will soften up your bed, without making you too hot!
So in summary, flannel sheets will keep you warm. But if they're good flannel sheets, they won't make you hot and sweaty.
What is the best weight for flannel sheets?
When it comes to picking a flannel sheet set, how heavy should your new set be? And how does weight affect your sheet's softness and durability?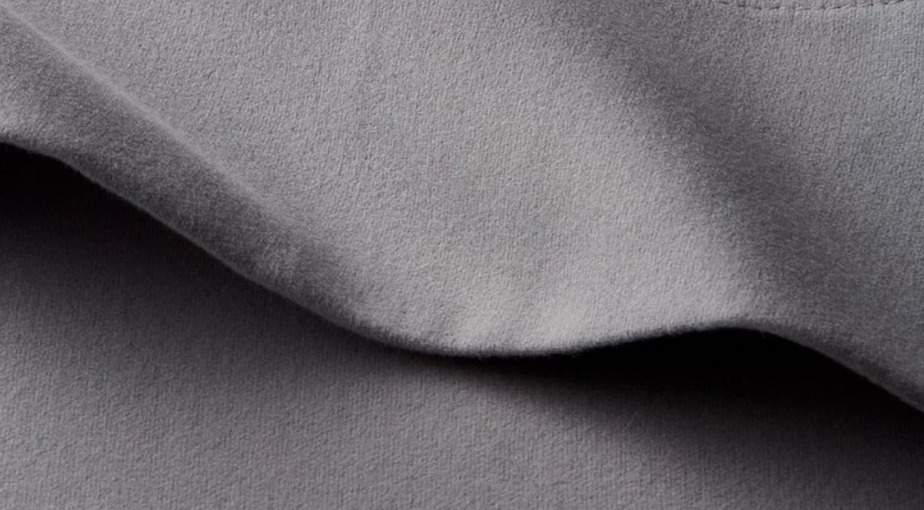 When it comes to flannel sheets, weight will be measured in either ounces or grams, or as we stated earlier, GSM (grams per square meter).
So to achieve optimal durability and warmth, look for sheets with a GSM of 170 or higher, or at least 5 ounces.
Here's a fun fact: By definition, flannel is loosely woven wool fabric that is not napped. Flannelette, on the other hand, is more or less lightweight, soft, and fuzzy cotton fabric.
In Europe, they still make a distinction between flannel and flannelette, but in America, most flannel isn't true flannel, it's flannelette.
You can get real flannel in the U.S., but it's a lot more expensive than what is commonly called flannel in America.
How do you keep flannel sheets from shedding?
In addition to being warmer than cotton sheets, there are some unique care considerations to be aware of before buying flannel sheets. Specifically, flannel is prone to something called "pilling" or "shedding."
Pilling is caused when flannel fabric rubs against itself during the wash cycle, and there's no way to completely eliminate pilling. But it can be reduced. Here's how:
Only wash flannel sheets in cold or warm water
Use a gentle detergent.
Add a cup of white vinegar and cold water
Add liquid fabric softener (see note below)
Dry flannel sheets on "Gentle"
Here's a helpful note: Using fabric softener with flannel sheets is a matter of controversy. Some say fabric softener leaves behind chemicals that stiffen fabric fibers, reducing softness over time, as well as increasing the appearance of pilled fibers. Try this at your own risk.
How do you keep flannel sheets soft?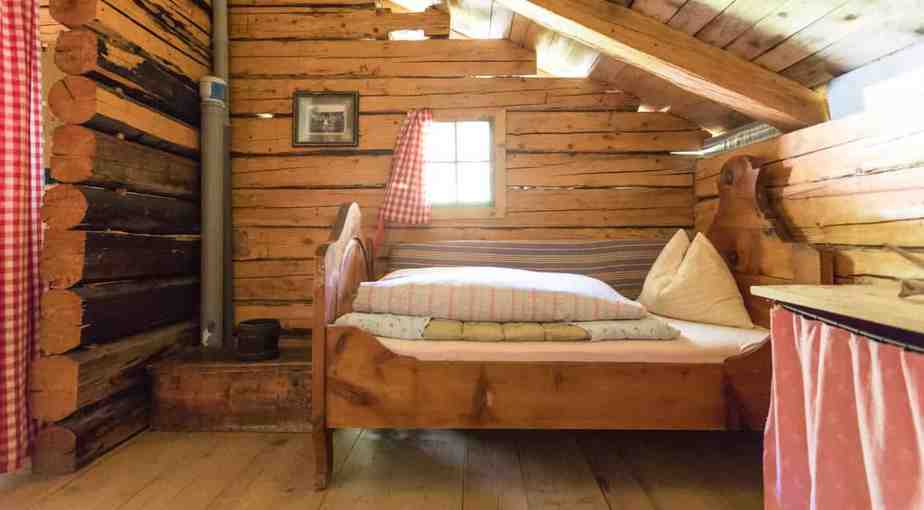 With use, flannel sheets can become pretty rough, losing their soft and comfy appeal. To prevent this from happening to your next set of flannel sheets, follow these simple guidelines.
The first time you wash your new set of flannel sheets, add one-half cup of white vinegar. This helps prevent pilling (roughness and bumpiness), and will also help preserve the color of the fabric.
Always wash flannel sheets in warm water, never hot. Hot water can shrink the material, causing it to be become less soft over time, while also promoting pilling.
Instead of using a softener, toss tennis balls into the dryer with your sheets. The movement of the tennis balls keeps the fabric from rubbing together, reducing fabric clumping which can lead to pilling.
More than anything, when it comes to flannel sheets, it's best to avoid the dryer all together and air-dry them instead. In addition, changing your sheets on a regular basis goes along way to keep the set soft and reduce wear and tear.
I think we covered everything. Sound good? If so, coming up next is RAVE Reviews' ranking of the 10 best flannel sheets.
Methodology
While formulating our ranking of the 10 best flannel sheets, RAVE Reviews first took a look at similar rankings from go-to, reputable sources from all over the internet. We also listened to bedding industry professionals, interior designers, and, of course, thousands of consumers just like you.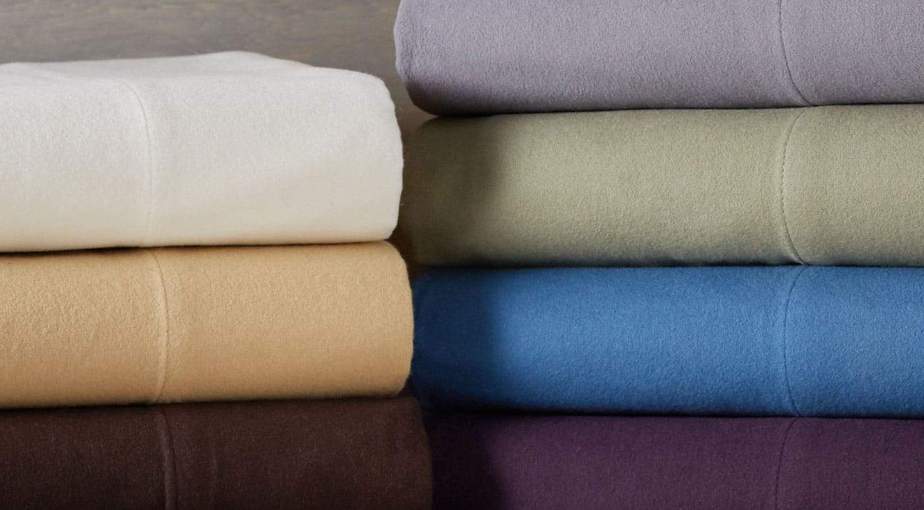 RAVE Reviews rated each flannel sheet set on the following features:
Like thread count and cotton sheets, GSM is the most common unit of measurement in the world of flannel sheets, indicating the weight of the sheets, as well as the softness and quality of the product.
Flannel sheets can cost a little or a lot, so we reviewed products across a variety of price points. We were especially interested in factors like GSM versus price, and price versus available color options.
At RAVE Reviews, we aim to give new brands in the game a leg up, since new brands are often about making a quality, sustainable product, sold at reasonable prices. And the world needs more brands like that!
In addition to the criteria listed above, we also ranked flannel sheets on these characteristics:
Ease of care
Average Customer Rating
Whether they can be used all year or just in the winter
Durability
Whether or not the product was available in solid colors, printed patterns, or both
Company warranty, shipping, and return and refund policies
Available sizes
With this process and criteria in place, we feel confident our round-up of the 10 best flannel sheets only includes the very best.
So let's not delay a minute longer. It's time to get shopping!
The Best Flannel Sheets
1
Pinzon Signature Flannel Sheet Set
Pinzon's signature flannel sheet set won the top spot in our ranking because at 190 GSM, and given the product's reasonable price point, you won't find this kind of quality just anywhere.
We love that the set is available in 11 color and design options. The sheets are 100% cotton, and made in Portugal.
With velvety flannel, the sheets' breathable weave and double-napped finish on both sides give the product an ultra-soft feel.
In addition, there's a 4-inch hem on flat sheets and pillowcases, and everything is machine washable and dryable.
In addition, the sheets are made in an OEKO-TEX Standard 100 factory, meaning all textiles produced  at the facility meet high safety and environmental standards.
Purchase of the set gets you a flat sheet, a fitted sheet, and 2 pillowcases, and the set comes size queen, king and California king, with no twin size option.
Pros
11 color and design choices
190 GSM
OEKO-TEX Standard 100
Cons
No twin size
Must purchase whole set
2
Legacy 6 oz.Velvet Flannel Collection
Second place in our ranking of the best flannel sheets could be the first choice for all you cold sleepers out there, or for anyone looking to stay warm and snug at their wintery retreat.
The weighty, 6 oz. cotton flannel sheets were woven by master weavers in Portugal, and they're brushed on both sides for incredible softness, as well as minimal pilling.
Available in 8 color options (but no pattern choices) these sheets come in the full range of sizes — from twin to king, but no California king.
We also really appreciated the double-stitch detail accents on the flat sheet and pillowcases.
What we didn't like was that, while the collection includes a flat sheet, fitted sheet, pillowcases, duvet cover, and sham, everything is sold separately.
A plus side to this, though, is that it does give consumer the choice to save a little money while mixing and matching products.
Conveniently, all items in the collection are machine washable.
And another plus for the Legacy collection is that the fitted sheet is extra deep — fitting mattresses up to 16 inches thick, while the available extra deep fitted sheet fits mattresses up to 20 inches thick.
Pros
Heavy, 6 oz.
Patterns available
Brushed on both sides
Cons
Items sold separately
Only sold at companystore.com
3
Home Fashion Designs Cotton Flannel Set
Up next in our ranking of the 10 best flannel sheets is a set that deserves attention for, if nothing else, all the fun design options the sheets come in — from polar bears, to penguins, and owls.
This makes these 180 GSM, 100% Turkish cotton sheets perfect for a child's bedroom, or for the bedroom in your mountain cabin.
In fact, this cotton flannel set comes in 16 colors and printed design choices, not to mention a full range of sizes — from twin, to California king, with a twin XL size included.
What we also love about these sheets are the deep pockets, the fitted sheets able to hug mattresses up to 17 inches thick.
We also appreciate how durable and easy to take care of these sheets are. They're reported to be machine washable, wrinkle resistant, fade resistant, shrink resistant, and pill resistant.
And, best of all, less than $50 gets you into a complete set of flannels.
Pros
16 color and design options
Deep fitted sheets
Affordable
Cons
Pilling issues reported
Durability issues reported
Fading issues reported
4
Mellanni Flannel Sheets Set
4th in our ranking of best flannel sheets comes from Mellanni.
Their 100% cotton, 170 GSM, 3-piece flannel sheets set is warm and breathable, coming in 4 color options and 2 printed design choices.
The sheets' double-napped finish gives the them a soft and velvety feel on both sides.
In addition, the set comes in a full range of sizes, including twin XL. Conveniently, the pockets are very deep, and everything is machine washable.
We particularly liked Mellanni's lifetime guarantee, with a no-questions-asked refund policy. You don't even have to return the product!
What concerned us was the fact there are higher GSM, more affordable options on the market.
Nevertheless, consumers love the softness and durability of the sheets, contributing to this flannel sheets set landing in our top 5.
Pros
Lifetime guarantee
No-questions-asked refunds
6 color and design options
Cons
Shipping damage reported
Ripping reported
Durability issues
5
eLuxury 100% Cotton Flannel Sheet Set
Rounding out the top 5 in our ranking of the 10 best flannel sheets is also our pick for best new flannel sheet brand.
Sold exclusively at eLuxury.com, these sheets are 100% cotton, with 15-inch pockets.
eLuxury.com is also a veteran owned and operated company, with their sheet sets coming in 4 solid color options.
While there's no print design choices, the set comes in a full range of sizes, including twin XL and California king.
Something we especially liked about eLuxury's sheet offerings is that the sets are 100% free of any harmful chemicals and that eLuxury has a strong commitment to supporting philanthropic causes and charities.
However, eLuxury only quotes the weight (or GSM) of their sheets as depending on the size of the set, and we'd like to see more color and design options.
Still, we love that eLuxury offers free shipping and the reported softness and durability of the product.
Pros
Veteran owned/operated company
100% free of harmful chemicals
4 color options
Cons
No design choices
4 colors only
GSM varies by size
6
Boll & Branch Fair Trade Organic Cotton Solid Natural Sheet Set
The Boll & Branch's fair trade, organic cotton, natural sheet set earns the 6th spot in our ranking for a variety of reasons.
First off, we love Boll & Branch's commitment to using 100% GOTS-certified, fair trade organic cotton, meaning these sheets were made without the skin-irritating chemicals or toxic dyes found in conventional cottons.
We also like that, in addition to the sheet set, purchasing from Boll & Branch gets you a reusable tote bag! The set, however, doesn't come in any solid color options, available instead in 4 design patterns.
In addition, the sheets only come in full, king, and queen sizes. We love the proprietary pill-resistant finish, however, as well as consumers' reports of softness, durability, and breathability.
Pros
Fair trade cotton
Free tote bag
Pill-resistant finish
Cons
No solid colors
Spendy
Full, king, queen only
7
Linens & Hutch 4-piece Flannel Sheet Set
The Linens & Hutch 4-piece flannel sheet set is made from a plush, cotton-rich blend, and is the only microfiber set of sheets in our ranking.
Nevertheless, the fabric is double-brushed, making the sheets extra soft and comfortable.
In addition, the sheets are antimicrobial, hypoallergenic, and antibacterial. This makes these sheets the only choice for anyone with allergies or sensitive skin.
And they're not just wrinkle resistant — they're wrinkle free! There's no ironing required and, of course, the sheets are machine washable.
The set comes in a full range of sizes, including California king, but only 4 color options, and no print design options.
At only 135 GSM, however, and with only 4 color options (including white), we couldn't rank Linens & Hutch any higher in our ranking. Particularly due to the upper mid-range price point.
Pros
Good for allergies
Wrinkle free
Microfiber
Cons
Upper mid-range price
135 GSM
4 colors only
8
Whisper Organics Cotton Flannel Sheet Set
8th place in our ranking of the best flannel sheets goes to the cotton flannel sheet set from Whisper Organics.
What caught our eye about this product was the full GOTS certification, meaning this bedding is nontoxic and chemical-free.
At 170 GSM, the sheets come in only 3 color options, however, with no design pattern choices.
And while the set should come in the full range of sizes, there were stock-out issues on certain sizes at both Amazon and Whisper Organics.
Something else that contributed to us ranking Whisper Organics lower down on our list was consumers reporting the sheets too hot for summer or spring, and issues fitting mattresses larger than 12 inches.
But consumers love how soft and warm these sheets are, commenting on how great they feel when the weather is cold.
Pros
Full GOTS certification
170 GSM
Very warm
Cons
Stock-out issues
Fit issues
3 colors only
9
Pointehaven Heavyweight Flannel Sheet Set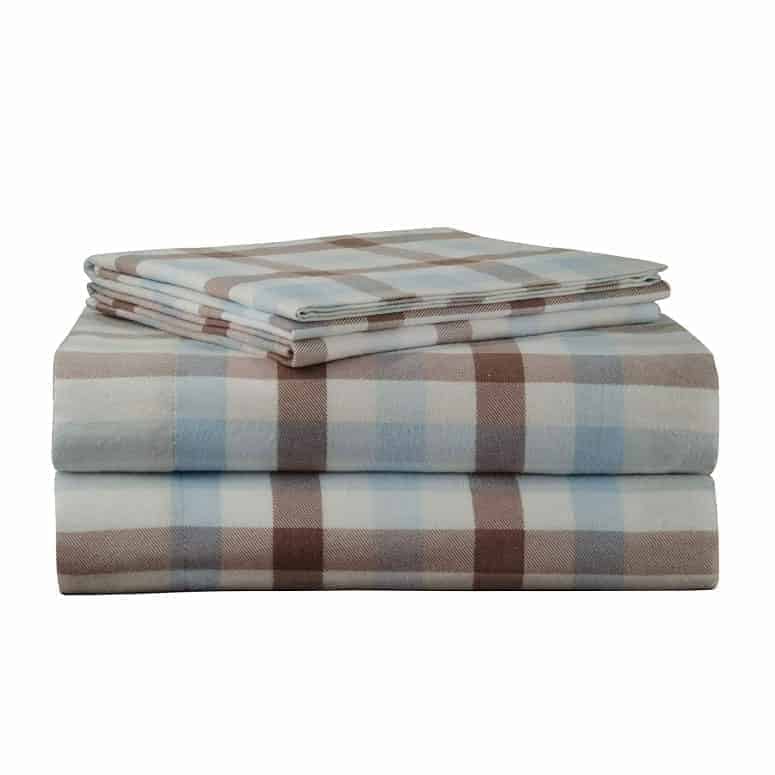 Our 9th pick in our ranking of the 10 best flannel sheets is the heavyweight flannel sheet set from Pointehaven.
What we like about these sheets is that the set is 170 GSM, 100% cotton, and fits mattresses up to 16 inches.
Consumers remark on how soft they are, calling the sheets pill-resistant, and heavy — perfect if you're looking to stay warm in the night.
The set comes in a full range of sizes, but only three printed design options, and no solid colors.
In addition, consumers report real-life colors not exactly matching how they appear online.
Nevertheless, these are durable, well-made sheets from Pointehaven.
Pros
170 GSM
100% Cotton
Pill-resistant
Cons
Color match issues
Printed designs only
No solid colors
10
Malouf Portugese Flannel Sheet Set
Last in our ranking of the 10 best flannel sheets comes from Malouf.
Their Portugese flannel sheet set is made from breathable 100% cotton, brushed on both sides for extra velvety softness and warmth, while the durable fiber structure resists pilling.
We were concerned that the set lacked a twin option, but liked that the set comes in the rare split king size.
In addition, the set comes in 4 solid color choices, though there's no print designs to choose from.
And we appreciated how the flat sheet and pillowcases feature a hemstitch finish for a clean, classic look.
Most of all, these expensive flannel sheets are best suited for anyone for whom home budget is no issue and who hopes to freshen up their bedroom decor.
Consumers comment the sheet set is good year-round and easy to take care of.
Pros
Split King Size
100% Cotton
Hemstitch finish
Cons
Spendy
No twin size
4 solid colors only
Related Rankings
To finish our crash course in all things flannel sheets, we decided to answer some FAQs. After reading this, you'll be more than ready to take good care of your brand new set of flannels.
How long do flannel sheets last?
Now that you've picked the best flannel sheets, you might want to know how long your investment will last. Here are some pointers to help you keep your new sheets nice and soft for the long haul.
Are they made from high-grade cotton?
Sheets made from low-grade cotton will wear out quicker because the shorter fibers in the fabric will just turn to lint in the dryer.
Drying your sheets on low or medium to help prevent the fabric from becoming brittle will also help prevent fiber breakage.
Chemicals in detergent can damage cotton fibers. Avoid brighteners, in particular.
In addition to these guidelines, body stubble and even the body weight of the sleeper can play a part in how long your flannel sheets will last. It also helps to change your sheets on the regular because it will help your sheets last longer, but also because not changing the sheets is just gross.
In short, a quality set of sheets should last you 6-8 years. Take extra good care of sheets and you could enjoy them for up to 12 years.
What is the difference between microfiber and flannel sheets?
"But wait, RAVE Reviews, what is this we're hearing about microfiber and microflannel sheets?"
Microfiber and microflannel have recently joined the world of cotton and flannel bed linen. Here's what you need to know…
Microfiber and microflannel are pretty similar
Both are synthetic material. Both will keep you soft and warm. And while both are lightweight, microfiber and microflannel can be a little more static-y in cool, dry conditions, as compared to traditional cotton or flannel.
And just like the real thing, microflannel feels more like flannel, and microfiber feels more like cotton.
But what exactly is microfiber and microflannel?
The synthetic fibers — typically nylon, polyester, or acrylic — that are used in microfiber fabric are much narrower than the fibers used in organic material.
This means a lot more threads can be packed into a much smaller area, making microfiber sheets extremely soft and flexible.
Microflannel, on the other hand, is always made from polyester. Like real flannel sheets, microflannel is as soft as real flannel, with the durable, low-maintenance quality of polyester.
Also, microflannel sheets, for example, resist pilling much better than real flannel sheets.
So, should you pick microflannel or real flannel sheets? The choice is up to you. But there are some ecological-impact considerations to mull through when choosing a product made from synthetic material instead of organic material.
For the purposes of ranking the 10 best flannel sheets, RAVE Reviews tried to stick to the real thing.
Which is warmer flannel or fleece?
Maybe you're here for one reason and one reason only: you're a cold sleeper, regardless of whether you're on a ski trip or just in your regular bedroom at home in the middle of July.
You need sheets that are going to keep you warm.
So should you pick flannel or fleece? Here's how to choose:
With a plain, smooth surface, fleece is a man-made fabric, generally made from polyester. To make fleece, threads are wrapped around each other, which produces a fabric that can be much thicker and stretchier than flannel.
Flannel, on the other hand, is made from cotton, and it is a loosely-woven brushed fabric, known for feeling lightweight and soft against the skin.
So if you're looking to stay super-duper warm, but waking up sweaty is not a concern, fleece may be right for you. If you're not so good at taking care of your linens, fleece might also be a good choice for you.
The synthetic materials, however, that go into the process of making fleece have increasingly become a problem for our oceans.
Flannel sheets are all-natural, without any harsh chemicals. They'll also keep you warm, but their breathability will help prevent waking up sweaty. Flannel sheets do, however, require a little extra work to take care of.
What are the best flannel sheets?
To answer this question, RAVE Reviews first picked an undisputed champion, the best overall flannel sheets in our ranking, and that prize goes to the Pinzon Signature Flannel Sheet Set.
Pinzon's 190 gram sheets earned the top spot with a combination of velvety softness, as well as breathability. Best of all, the sheets are available in a lot of different color options, and getting into a set won't won't cost you a fortune!
If supporting a new brand is a priority for you, RAVE Reviews recommends checking out the 100% Cotton Flannel Sheet Set from eLuxury. Available in 6 different colors, these sheets vary in their GSM depending on their size. But what remains consistent in eLuxury's product is warmth, softness, and breathability.
For those decorating a bedroom on the cheap, or maybe looking for a fresh set of sheets for a kid's bedroom, Home Designs Cotton Flannel Set could be for you, mainly because these sheets come in all sorts of fun colors and designs. But in addition to that, they're lightweight, warm, and won't break the bank.
RAVE Recommends
Now that you have the perfect flannel sheets, check out these 5 great products to help you complete your bedroom decor!