Matteo says we should be less obsessed with the thread count of our duvet covers.
Keep reading to find out what they do think is important to look for in a duvet cover. But for now, take our word when we say Matteo's Sei duvet cover is without a doubt the best duvet cover on the market — with a mid-range price point, a silky feel, and a broad selection of color options.
Congrats! You are finally moving in with whoever and wherever! But what's that stain on your comforter? No, that just won't do.
Whether you're settling into your forever home — or just the first home of your own without mom and dad — your in-laws are visiting, or you're just finally ready to put away that Teenage Mutant Ninja Turtles bedspread, it sure sounds like it's time to buy a duvet cover…even if it's just a new Ninja Turtle one.
But you have questions. Your main question may very well be, "What the heck even is a duvet cover?"
There are a lot of other questions too, such as, "What material is best for a duvet cover? Why are duvet covers so expensive? What is the best thread count for duvet covers?
Spoiler alert: duvets are pretty expensive. But there's a lot more to know. Don't worry, in addition to ranking the 10 best duvet covers, RAVE Reviews is here to answer all your questions.
So don't delay in finding your perfect duvet.
The Duvet Covers We RAVE About
According to Matteo, high thread count doesn't really matter. At 600 thread count, this 100% cotton, sateen weave, Sei duvet cover still manages to feel silky, with a reasonable price point. And best of all, it's available in a wide-array of color options.
Read Full Review
Shop Matteo Sei Duvet Cover
Brooklinen, RAVE's pick for best new brand in the bedding business, is a Brooklyn startup from a husband-and-wife team who wanted a place to find beautiful and comfortable sheets and bedding without also spending a fortune. So Brooklinen's classic duvet is affordable, comfy, made from 100% long-staple cotton, and durable. What more can you ask for in the perfect duvet cover?
Read Full Review
Shop Brooklinen Classic Duvet Cover
If you don't have a lot of money to spend on a duvet cover, but you want the dollars you do spend to go to a good cause, look no further than the Organic Duvet cover set from SOL Organics. This 300 thread count duvet cover is made from 100% certified organic cotton. And best of all, at less than $100, you won't have to spend a fortune on this quality product. The company name isn't a bad selling point either!
Read Full Review
Shop SOL Organics Organic Duvet Cover Set
What is a duvet cover?
"Honey, we need a new duvet cover."
"Sure thing," you respond.
Thing is, you're not exactly sure what a duvet cover even is — maybe something your grandparents kept in their extra bedroom? So the first thing you do is Google search "What is a duvet cover?" And here's your answer.
A duvet is sort of like an extra puffy comforter or bedspread, more or less a fabric bag stuffed with "soft stuff" like feathers or other kinds of filler.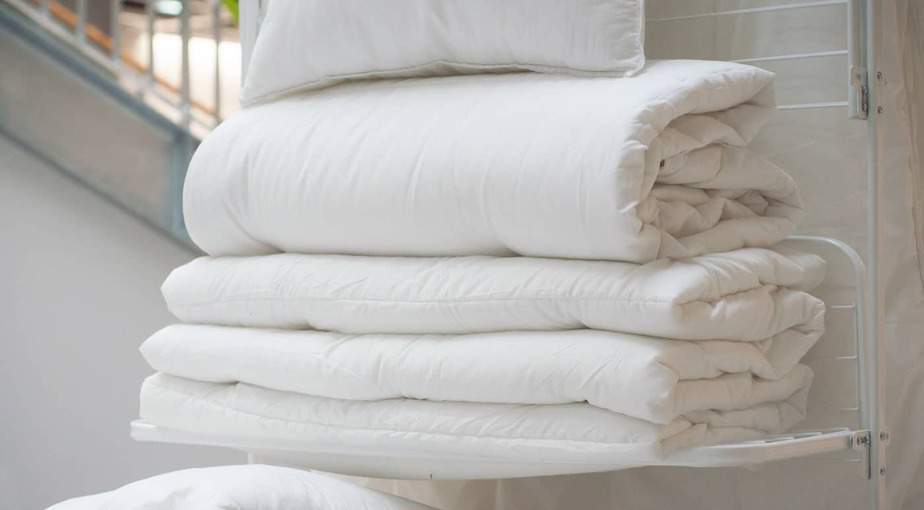 So, a duvet cover encases your duvet, keeping it safe and clean. Think of it like a pillowcase for your duvet.
Your choice in duvet covers also goes a long way in setting the tone of your bedroom's decor.
Duvets aren't cheap, however, particularly a duvet full of feathers — and neither are duvet covers.
You've picked out a quality duvet that fits your aesthetic, so don't stop short choosing a quality duvet cover.
Does higher thread count mean better quality?
Before we proceed any further let's settle this thread count issue. What is thread count? Does thread count really matter?
Simply put, thread count refers to the number of horizontal and vertical threads per square inch of the material your duvet cover is made from.
Generally speaking, a high thread count means a softer feel. The product may also be more durable. It may even get softer over time!
200 to 800 thread count is a good range. But occasionally, you'll see numbers over 1,000. But does higher thread count really mean better quality?
The answer is…maybe.
Don't assume a duvet cover is high or low quality based strictly only on the thread count.
There are tricks to artificially inflate a product's thread count, and these days fewer chemicals and more mechanical finishings are used in the manufacturing process. This helps low thread count duvet covers look and perform better than before.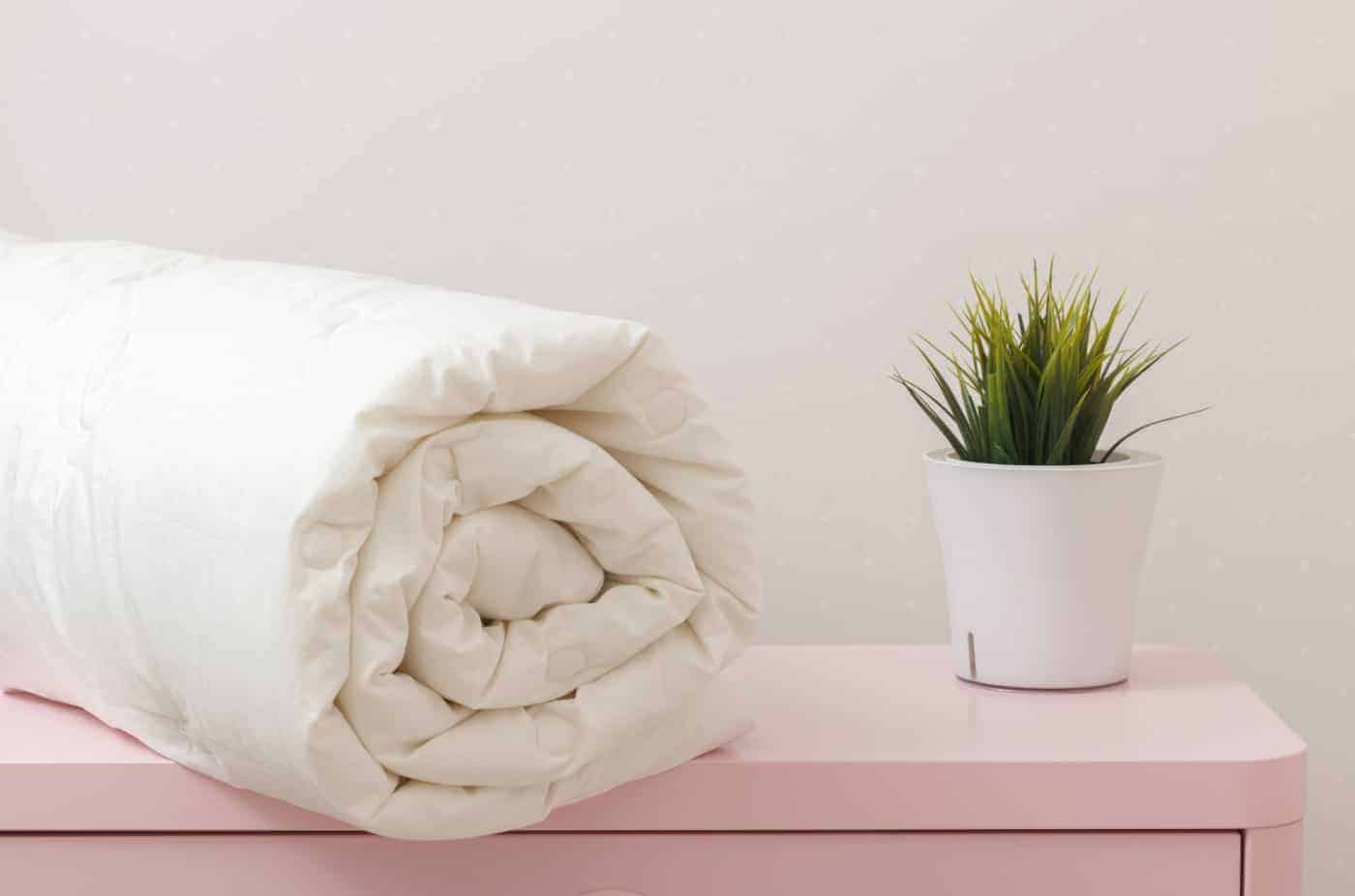 And if you're on a budget, low thread count will definitely save you some money.
Another term you're going to see in this ranking is "Sateen Finish." Sateen is nothing more than cotton cloth made with a satin weave. Sateen will make your product feel very soft, but is also a little less durable than a tighter weave.
What material is best for a duvet cover?
Now that we have thread count out of the way, let's next turn to the next question, "What material should your duvet cover be made of?"
Here's what you need to know.
The most common material for a duvet cover to be made from is cotton, because of its breathability. Do you live in a colder climate? Then consider a duvet cover made from flannel or microfiber.
Look out for long staple cotton (simply referring to the length of the cotton fiber) or a sateen finish to give your duvet cover that little something extra.
For the purposes of our ranking, RAVE Reviews stuck to cotton and linen duvet covers for adult-sized beds.
Why are duvet covers so expensive?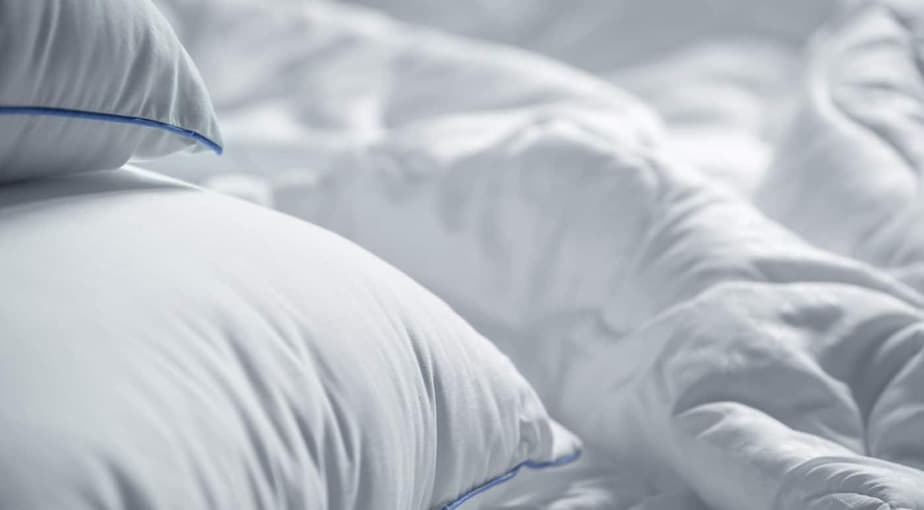 Here's a helpful note: you're going to drop a dime on a lot of the duvet covers out there. But there are some quality and affordable duvet covers on the market. Our ranking will show you both.  
Here are also some reasons why duvet covers can cost a lot:
Duvet covers can sometimes cost a lot because it takes a lot of fabric to cover a duvet as well as drape over a large king or queen-sized bed. You also want your duvet cover to last a while. After all, it will take a lot of wear and tear covering the top of your bed.
Plus, want your duvet cover to look nice, and be wrinkle-resistant. That all costs money. High thread count will also make your duvet cover a little more expensive, as well as additional accessories like button tabs, or covered welting cords.
Increased cost of duvet covers can also come from increased manufacturing costs. Duvet covers are often made from higher-end fabrics, with additional features like matching patterns and long zippers. That all adds up.
Also, it takes a little more skill to make a quality duvet cover, so extra labor costs factor in to duvet cover price tag.
Now you know everything you need to know to make an informed decision about the best duvet cover.
So, coming up next is RAVE Reviews' ranking of the 10 best duvet covers.
Methodology
When putting together this ranking of the 10 best duvet covers, RAVE Reviews referenced similar rankings from reputable and trusted sites across the internet, including rankings from industry professionals, interior designers, and thousands of consumers.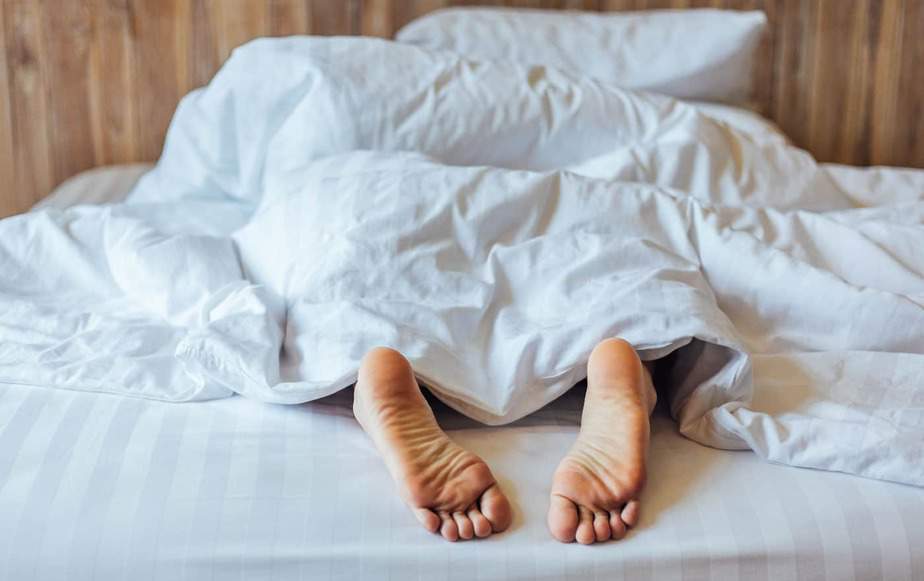 RAVE Reviews rated each duvet cover on the following:
What is the thread count? Is there a sateen finish? What material is the cover made from?
We've established that duvet covers can cost a lot. But what are you getting for your money? RAVE Reviews especially considered factors like price versus available color options.
Is the duvet cover made by a new brand on the market, working to make a quality, sustainable product at a reasonable price? We gave those kinds of brands a little extra love in our ranking.
With this process and criteria in mind, we can't wait to show you the 10 best duvet covers.
We're confident that after reading our ranking of the 10 best duvet covers, you'll be so excited you'll want to go out shopping just to go back to bed!
The Best Duvet Covers
Once you
After reading our ranking of the 10 best duvet covers, maybe you're still not sure you even need one.
Maybe the answers to these frequently asked questions about duvet covers will help you make up your mind.
Do you really need a duvet cover?
Here's some key points we'd like to start with…
If you have a duvet, you probably spent some money on it. So why not keep it nice?

With a duvet cover, you can easily change up the look and style of your bedroom's decor without buying a whole new duvet.

Not only do duvet covers help keep your duvet clean and protected from stains and other kinds of wear and tear, duvet covers are easily removed for cleaning, and fold up nicely for storage.
Here's a helpful fact: some people skip a top sheet if their bed has a duvet, since a duvet acts as pretty much the same thing as a top sheet. This practice is most common in Europe, and to sleep in a bed made in this fashion is to "sleep European." Now you know.
You might also be wondering, "Can a duvet be used as a comforter? What's the difference, anyway?"
Comforters are thick, quilted, fluffy blankets that sit on top of your sheets, creating a layered look. The sole purpose of a comforter is to keep you warm, and taking care of your comforter is easy since you can usually throw them in the wash along with all your other bedding.

Sometimes duvets are referred to as comforters, particularly in the U.S. So yes, duvets and comforters are very, very similar. Most people who use a duvet, however, only use the duvet, as opposed to a combination of sheets and other blankets.
So with a duvet, making your bed will be easier than ever!
Duvets are also a little more difficult to keep clean than comforters, though, which is part of why most people with a duvet cover it with a duvet cover.
How to put on a duvet cover
When it comes to putting a duvet cover on your duvet, the struggle is real. Particularly after washing it. It's a little like trying to stuff a big bag of feathers into a big sack and somehow managing to keep it all flat.
Truth is, there are not one, but at least two ways to do it. Try both, and thank us later.
The Traditional Way
Lay the comforter flat on top of your mattress.

Turn your duvet cover inside out. Insert hands, find the two top corners. Hold one corner in each hand.

With hands inside the duvet cover, reach down and grab the duvet's top two corners.

Holding the top two corners, flip the duvet cover right side out over the comforter. Shake and fluff until the duvet cover covers most of the comforter.

Pull the duvet cover down, stuffing the bottom two corners of the comforter inside the bottom two corners of the duvet cover. Everything neatly aligned?

Zip (or button) it all up!
The California Way
Take your duvet cover from the dryer, turn it inside out, and lay it flat on top of your bed, with the opening of the duvet cover facing away from you.

Place your duvet on top of the duvet cover. Are all the corners nearly aligned? If your duvet cover has corner ties, tie all interior corner ties of the duvet cover to the loops on the duvet.

Stand opposite of the opening of the duvet cover, then roll the comforter and duvet cover. Adjust the edges as you roll, making sure everything rolls together.

After rolling, grab hold of one end of the roll. Stuff the comforter roll inside the enclosure of the duvet cover and continue across the entire roll.

Zip (or button) up the duvet cover. Position so that the zipper (or button) enclosure is aligned with the bottom of the bed.

Start unrolling! Well, more of a mixture of unrolling and separating the duvet cover from the roll.

Give the duvet cover a few shakes, and voila!
What is the softest material for duvet covers?
When you sleep, you like to sleep soft. So you're going to need a duvet cover that's made from all the soft things. But what should your soft duvet cover be made out of?
As previously stated, most duvet covers are made from cotton. But what kind of cotton will make the softest duvet cover?
If softness is what you're after, look for Egyptian, Supima, or Pima cotton.
And don't necessarily equate a high thread count with a soft duvet or duvet cover!
Maybe instead of softness, you tend to sleep hot. If this is you, what kind of duvet and duvet cover should you look for?
If you tend to sleep hot, look for a duvet and duvet cover made from linen, since linen naturally wicks away body heat.
Another good option for hot sleepers is a duvet and duvet cover made from TENCEL, an eco-friendly fiber derived of sustainable wood sources.
Bedding made from TENCEL remains breathable, wrinkle-resistant, highly durable, and very smooth. The TENCEL absorbs moisture while supporting your body's natural temperature regulation as you sleep.
Lastly, if you do sleep hot, stay away from down inserts, and look out for duvets and duvet covers made from lower-quality cotton.
High quality cotton, however, can be quite breathable.
What is the best duvet cover?
You need a duvet cover, and you need it quick. So we won't waste any more time. Here are the best duvet covers you should buy.
For the best combination of softness, durability, and color options, choose the Matteo Sei Duvet Cover, RAVE's pick for best overall duvet cover. This duvet cover has a 600 thread count, and is made from 100% cotton, with a sateen weave. Best of all, this duvet cover is very reasonably priced!
RAVE's pick for best new duvet cover brand goes to Brooklinen, a Brooklyn startup redefining the bedding industry in all sorts of ways. Their classic duvet cover, at 270 thread count, is soft, made from 100% long-staple cotton, and is very durable, with long and strong corner ties, and big and sturdy button closures.
Outfitting a dorm room? Or decorating a bedroom on a budget? If this you, choose SOL Organics organic duvet cover set, RAVE Reviews' pick for best cheap duvet cover.
This duvet cover is made from 100% certified organic cotton, with a 300 thread count. And besides all that, priced at less than a $100, SOL Organics' product is not only sustainable — it's very affordable!
RAVE Recommends
You've picked out the best duvet cover. Now complete your bedroom's new look with these great duvet cover accessories.