The best crib mattresses don't necessarily have to be the most expensive, and Milliard's Hypoallergenic Baby Crib Mattress is proof of that.
At only $60, this waterproof, lightweight, and durable crib mattress is as good as they get. The Milliard Crib Mattress is made with high quality, naturally hypoallergenic foam that promotes airflow and regulates your baby's temperature, while supporting and cradling their head and bodies — almost as comfortable as in the womb!
Your baby's first year will be filled with important decisions, and choosing the right crib mattress is one that shouldn't be overlooked. Not only because a good night's sleep for the baby means a good night's sleep for you (though it's not a small matter during those first years), but because a good crib mattress can make all the difference to your baby's comfort and safety.
Until a few years ago, brands were not as conscious about the chemicals used in their mattresses, and many used to contain harmful substances. Thankfully, parents have become more aware of these issues, and brands have followed suit by making natural and organic versions of their popular mattresses, and removing toxic elements.
Still, there are several other things to keep in mind, and dozens of materials, sizes, styles, and brands to choose from. So which should you go for? What is the best crib mattress? There is no one answer to that question, and that's why we at RAVE have come up with a ranking of the 10 best crib mattresses for you to choose from.
The Crib Mattresses We RAVE About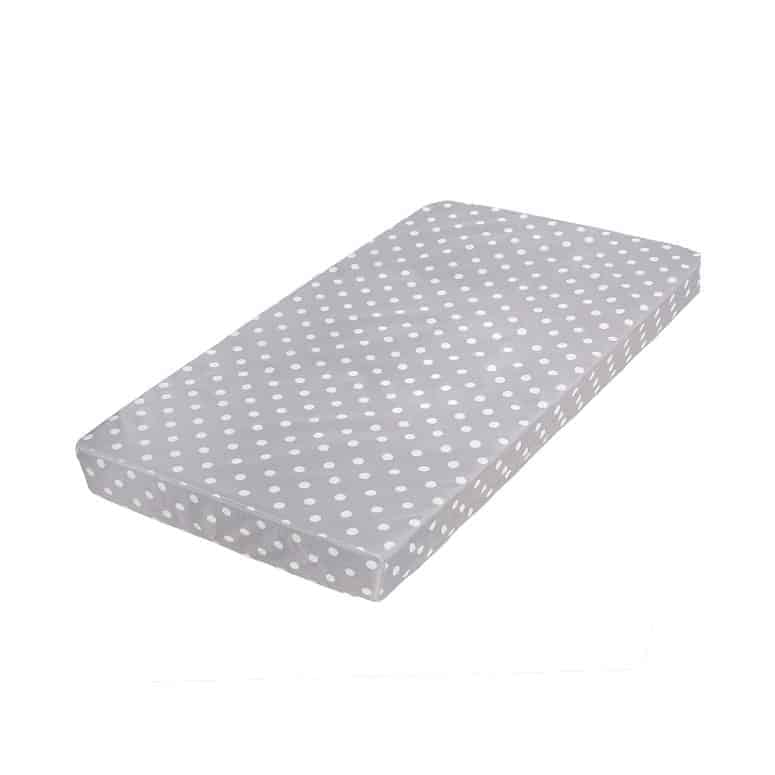 Best Overall
Milliard Hypoallergenic Baby Crib Mattress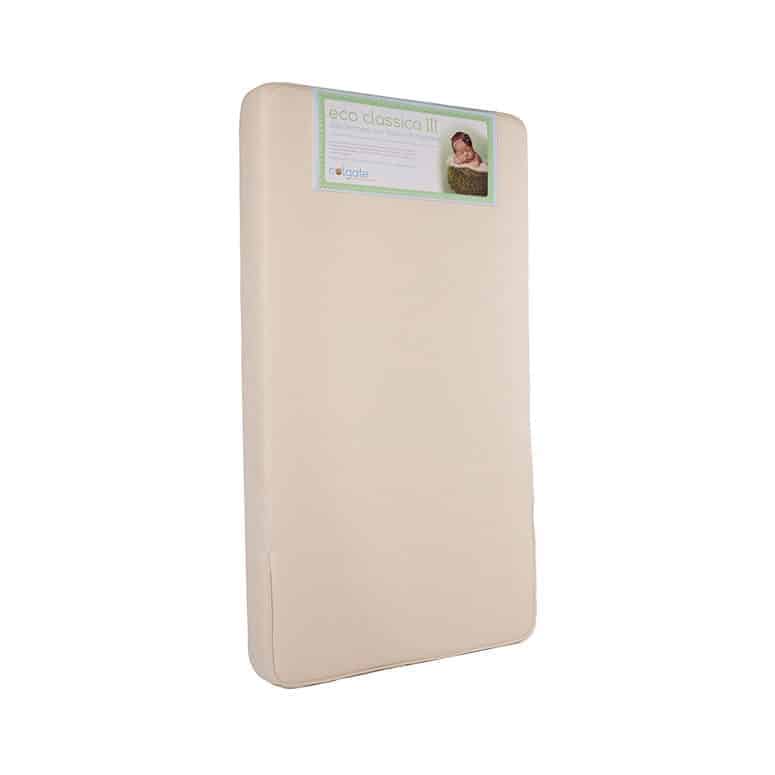 Best Organic
Colgate Eco Classica III Dual Firmness Crib Mattress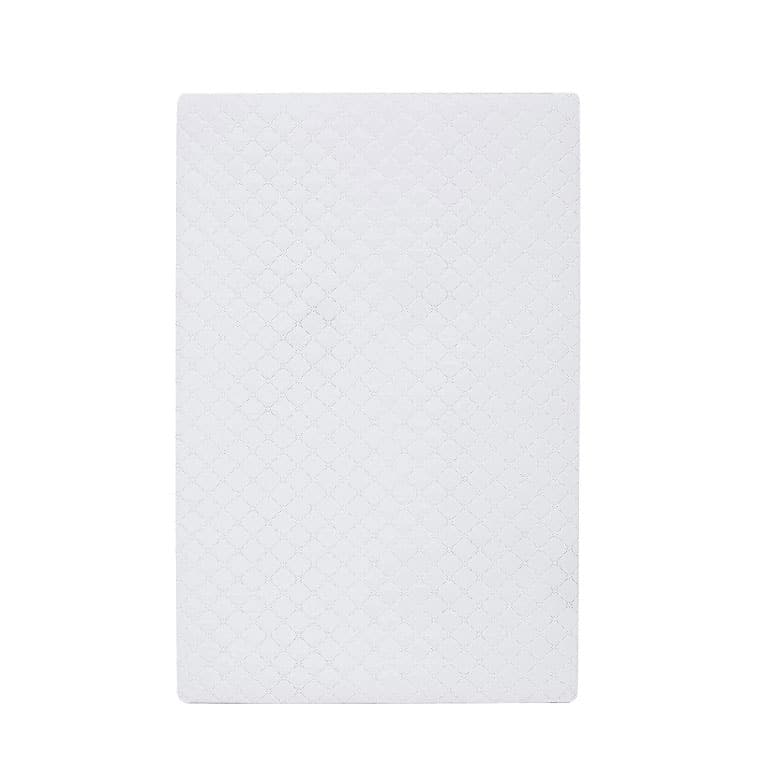 Best Mini Portable
Dream On Me 3 Portable Crib Mattress
How to Find the Best Crib Mattresses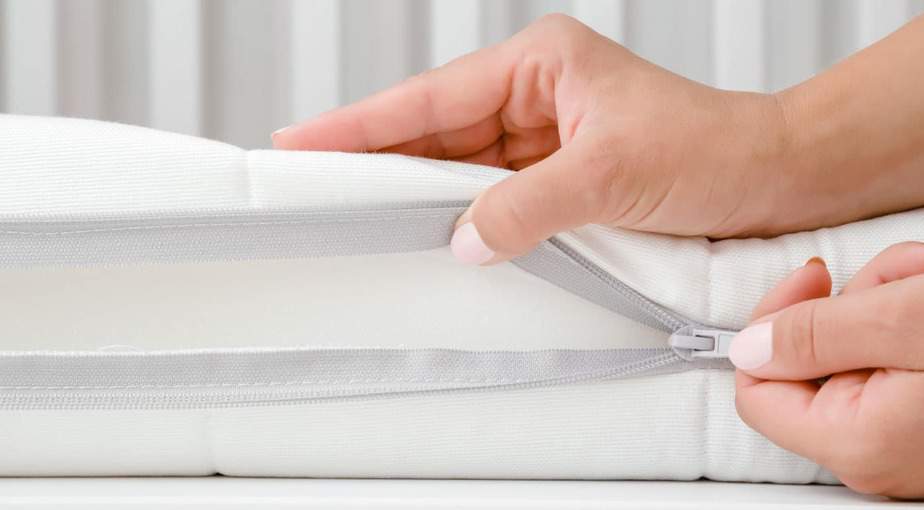 Buying a crib mattress is one of the many challenges new parents will encounter. But why is choosing the right crib mattress so important? A good mattress has the potential to transform the way your baby sleeps, and make for a happier, healthier baby — and much happier parents, too!
It's not all about comfort, though. Safety is an important factor too. Sudden Infant Death Syndrome (SIDS), also known as "cot death," is the number one cause of death for infants from one month to one year of age, and is a parent's worst nightmare, even though it is relatively rare. Although there is no one accepted explanation for SIDS, scientists believe that high quality crib mattresses can reduce the risk.
Some studies showed that toxic materials in the mattresses were to blame for the infants' sudden deaths. According to Dr. James Sprott, a scientist from New Zealand, and Dr. Barry Richardson, from Great Britain, harmless household fungi and microorganisms — which often thrive in beds without damaging anyone's health — can combine with chemicals present in low quality mattresses, producing toxic gases.
Thankfully, mattress companies have come a long way in the last two decades, and trusted brands use safe and certified materials in their crib mattresses. Here are some of the certifications you should look out for when buying a crib mattress:
GREENGUARD: A product with this certification is assured to release the lowest levels of harmful chemicals, such as formaldehyde volatile organic compounds (VOCs), into the air.
CertiPUR-US: Foams with this certification are made without toxic chemicals (such as flame retardants, formaldehyde, and phthalates) and heavy metals (such as mercury and lead). They have also been tested and guarantee low VOC emissions.
GOTS: This stands for Global Organic Textile Standard, and certifies that at least 70% of materials — whether latex, cotton, or wool — are organic, and that the foam used has been CertiPUR-US certified.
So now you know how to de-code a label, but let's take a step back. Which type of mattress should you go for in the first place?
There are three main types of crib mattresses — foam, coil, and dual firmness — and all three can provide excellent comfort and support for your baby, as long as they are high quality.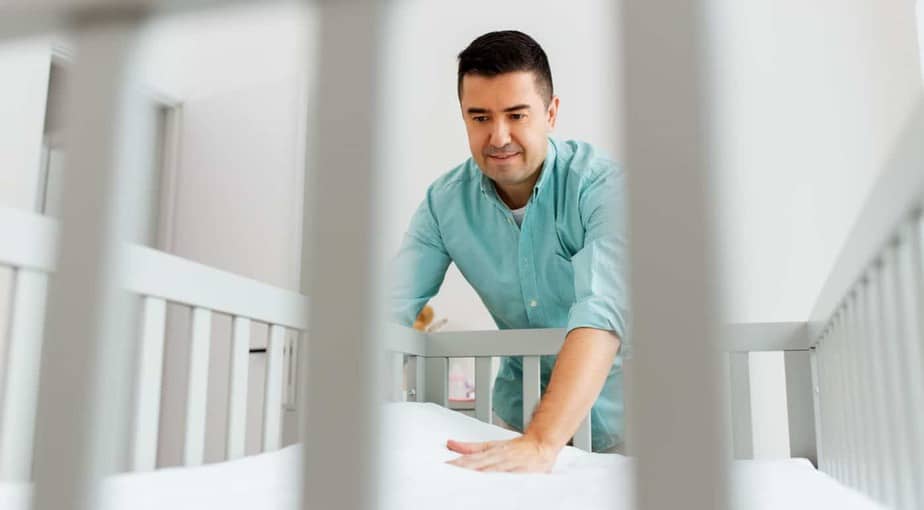 Foam
Foam tends to be light and easy to transport, but if you intend to use a foam mattress for a newborn baby, make sure it is very firm, as a mattress that you "sink into" can make it hard for your baby to breath.
Coil
Coil rib mattresses are designed with metal coils and are usually firmer, which is perfect for babies. But they are also bouncy, which is fun for those lively toddlers! Coil mattresses are a little more costly than foam, but also tend to last longer.
Dual firmness
Dual firmness crib mattresses are a third, great value option, as they adapt to your child's needs as they grow. While one side is firmer — made with either coils or high-density foam — and perfect for young babies, the other is soft and cushiony, providing the perfect level of support and comfort for your toddler.
How Long Do Crib Mattresses Last?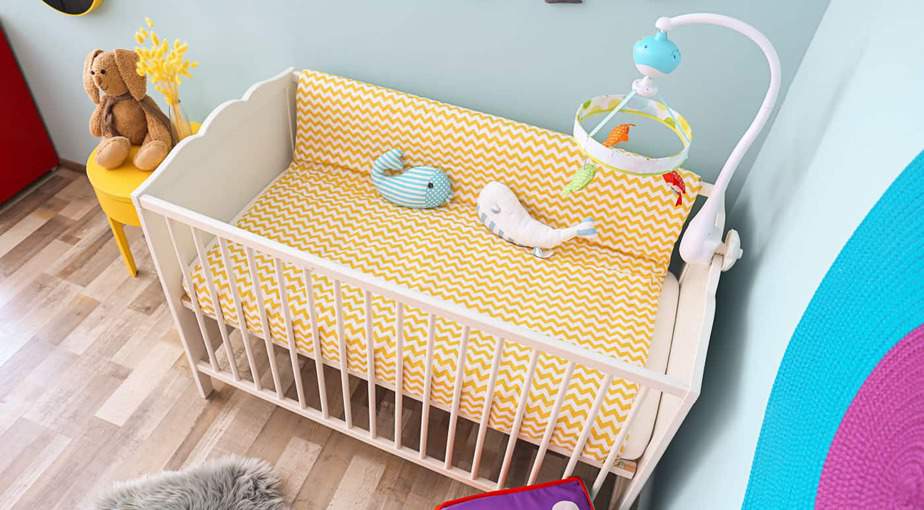 On average, crib mattresses last between three to five years, depending on the quality of the mattress, how often it is used, and how it is cared for.
You can keep your mattress in good condition by using a mattress cover or pad to stop spills ruining the mattress. If leaks do happen (which, let's face it, is very possible), make sure to clean them up immediately, as harmful bacteria or mold could develop in damp conditions. You can also vacuum the mattress to remove built-up dirt.
Be sure to also air out the mattress from time to time. You should also do this for at least two days when you first buy it, as airing it out helps release any harmful VOCs. Only use suitable disinfectants and detergents when cleaning it as well.
Methodology For the Best Crib Mattresses
We know how important your baby's health and comfort are, so our ranking is based on in-depth research, extensive data analysis, and a robust scoring system. We've looked into dozens of brands, studied different materials, and spoken to sleep experts and doctors, so you can trust that our rankings are grounded on data and facts. Here are some of the factors we took into account:
Are the materials high quality?
Is it a good value?
Is it the right size for most cribs?
Is it durable?
Does it come with a waterproof cover?
Does it feature dual firmness?
Is it easy to clean?
Is it a trusted, certified brand?
We then created a scoring system to rate each crib mattress based on feedback by users and experts. Using a scoring scale of 0-100, we formulated an average across different categories for a final tally and built our ranking from there. Read on to find out which mattresses made our top 10 best crib mattresses list!
The Best Crib Mattresses
1
Milliard Hypoallergenic Baby Crib Mattress
Milliard's excellent crib mattress is affordable yet high quality, and is made with 5.5 inches of luxurious high quality CertiPUR-US foam which gently contours your child's body without letting them dangerously sink in. The good folks at Milliard have achieved optimal firmness through constant testing and research, so you can rest assured that this mattress will give your baby a good night's sleep.
In fact, the mattress was especially designed to relieve aches and pains. Sure, your baby isn't won't be working out, but learning how to navigate the world is not an easy feat, and takes its toll. Good support, like that provided by the Milliard mattress, will help your baby recover and develop healthily and in comfort.
The mattress is also completely hypoallergenic, meaning it can help avoid irritation, sneezing, coughing, and other breathing problems which so often afflicts young children.  This is also a good option if your child suffers from asthma or allergies which cause skin irritations.
Pros
Great value
Hypoallergenic
Comes with a removable cover
Cons
Not dual firmness
Cover is not machine-washable
2
Newton Wovenair Baby Crib Mattress
On the other side of the price scale is Newton's Wovenair baby mattress, a breathable and completely washable crib mattress that is especially designed to promote air circulation and reduce the risk of SIDS. Even though SIDS is extremely rare, it's worth taking every precaution, even if just for your peace of mind.
The innovative design lets air pass through the mattress, preventing your baby from getting too hot and sweaty. One thing parents absolutely love about this mattress is that it is entirely washable — just unzip the cover, soak, rinse, dry, and voilà, your crib mattress is as good as new.
The Newton is GREENGUARD certified, and does not contain any metal springs, polyurethane foam, glue, or other harmful chemicals. In fact, it is made up of 90% air!
Pros
Reduces risk of suffocation
Entirely washable
Hypoallergenic
Cons
Expensive
A bit firm for toddlers
3
Colgate Eco Classica III Dual Firmness Crib Mattress
This organic, GREENGUARD and CertiPUR-US certified mattress is a high-quality option that stands the test of time while providing a healthy and safe sleeping environment for your child. The foam is infused with plant oils and is free of harmful chemicals. Plus, this mattress is shielded by an organic cotton cover with a waterproof backing.
Crucially, the Colgate Eco (and in case you were wondering, there is no relation to the toothpaste brand) comes with two different firmness levels. One side is firm and supportive, perfect for newborn babies, while the other is softer and more giving, which will keep your toddler cozy yet supported.
Dual firmness is great for your pocket (you buy one mattress rather than two) but also for the planet, as you'll be using the mattress for longer and consuming less. If you like the sound of that, what are you waiting for? The Colgate fits all standard cribs and toddler beds!
Pros
Dual firmness
Organic
Lightweight
Cons
Cover cannot be removed
Both sides are quite firm
On the expensive side
4
Sealy Baby Crib Mattress
Sealy has made a great value coil mattress that is safe, supportive, comfortable, and easy to clean. The 204 heat-tempered coils offer firm orthopedic support, while perimeter border wire and an innovative weight distribution system help create an even surface and prevent sagging, making this an impressively durable crib mattress.
Which is great, since you'll probably want to use this for as long as possible, and thanks to its dual firmness design, your child will be able to sleep on their Sealy for years. Just use the extra firm side for your new baby, then flip it over when they grow into a toddler. It happens in the blink of an eye!
The mattress is covered in hypoallergenic cushioning, which makes it incredibly comfortable while avoiding allergies, and comes with a hospital grade waterproof cover that prevents the spread of bacteria on its surface.
Pros
Dual firmness
Hypoallergenic
Great if you prefer coils
Cons
Waterproof cover is noisy
Chemical smell when new
Indentations can form with time
5
Babyletto Pure Core Non-Toxic Crib Mattress
This mattress is free of polyurethane foam, phthalates, flame retardants and other potentially dangerous materials, so you can sleep easy knowing your baby is safe and healthy. And, the core is made of recyclable polyester, so you'll be doing your bit for the planet too. Being non-toxic and mostly natural as well, the Babyletto gets high marks for being super practical.
Its cover, which is made from soft quilted cotton face and a vinyl-free waterproof backing to protect the mattress against accidents, can simply be removed and thrown into the wash–a dream come true for busy parents! If you like the Babyletto crib mattress, try it with one of their excellent cribs or popular toddler beds.
Like some of our other favorites, the Babyletto crib mattress is dual-sided, so it has a very firm side suitable for babies, and a plusher side which is great for toddlers.
Pros
Easily removable cover
Dual-firmness
Non-toxic
Cons
On the expensive side
Waterproof cover is noisy
Can sag with time
6
Simmon Beautyrest Innerspring Crib Mattress
The Simmons Beautyrest Innerspring crib mattress is made with 231 luxury pocketed coil springs, providing that familiar innerspring bouncy feel that many of us adults love so much, as well as the right amount of breathability that helps your child stay cool and your mattress stay free from bacteria and mold buildup. Your toddler probably won't be able to resist bouncing on this!
But don't worry, the Beautyrest will maintain its shape thanks to its reinforced border protection and Innofoam corner protectors, which provide stability, even in the face of bouncing toddlers. It's a good thing that this mattress is so durable, as you'll be keeping it from crib to a toddler bed. Use the firmer side when your baby is young, and flip it for toddler use.
This crib mattress boasts a high quality woven fabric covering, which is soft on your baby's skin, and features a waterproof stain-resistant backing, providing protection against stains.
Pros
Durable
Offers great support
Dual firmness
Cons
Seams come apart
You can feel the coils
Baby side can be too firm
If you are looking for a high-quality crib mattress with GOTS certified organic materials and GREENGUARD certification, look no further. The Emily Crib mattress is made in the US with natural materials, so it's free of polyurethane foams. Instead, it boasts high quality organic cotton, a 100% Natural Eco-wool quilted cover, and an organic coconut pad. Plus, the whole mattress is handcrafted.
This crib mattress is made with 150 coil innersprings, which keeps the mattress supportive enough for babies, and fun for toddlers (for better or worse). Border protection keeps the mattress firm and stops it from sagging or dipping at the sides.
The mattress is double-sided but not dual firmness, meaning it is designed to be flipped often to prevent indentation and to keep the mattress fresh and clean. This mattress is great, but it is a little on the expensive side, and doesn't come with a mattress protector, so you'll have to buy that separately.
Pros
All natural
Hand crafted
Durable
Cons
Expensive
Mattress protector not included
Smelly when new
8
Dream On Me 3 Portable Crib Mattress
Dream On Me has been owned and operated by the same family since 1988, and they put great care into making high quality mattresses and bedding for babies and children.
This mattress is the perfect pick for mini cribs, since it measures 24 x 28 inches, and is only 3 inches thick. This good value little gem is also free of phthalate and lead, and the cover is waterproof, so you can wipe away any spills or accidents and keep it clean easily. Cleanliness is also maintained thanks to hypo-allergenic components and efficient air-flow systems.
So if you like to travel, or you're often out and about when your baby is due for naps, get your hands on one of these (and pair it with a travel crib). They make life so much easier!
Pros
Portable
Easy to clean
Great value
Cons
Not durable
Not for normal size cribs
Not very firm
9
Naturepedic Classic Organic Crib Mattress
If you want an organic mattress, Naturepedic's Classic Organic crib mattress is another good option: filled with certified organic cotton and made with non-toxic materials, this crib mattress is free of toxic chemicals, and also offers hypoallergenic benefits by keeping dust mites away.
This is a coil mattress, so support is provided by 150 coils, which give a firm but bouncy feel on both sides. However, as a dual firmness mattress, one side (for your baby) is slightly firmer, while the other side (for your toddler) is on the softer scale. A helpful waterproof surface, as well as clever waterproof seams, prevents moisture from penetrating the mattress.
Although parents love the all-natural approach, some customers report sagging in the middle of the mattress, or sloping at the edges. This is because cotton is known to give a little under pressure, so it's easy for indentations to form.
Pros
100% organic
Waterproof
Firm feel
Cons
Heavy
Expensive
Sags easily
10
Safety 1st Heavenly Dreams Crib Mattress
30 years ago, little yellow stickers that read "baby on board" started appearing on the cars of new parents. The brand that made these iconic stickers has now expanded into all sorts of safety-conscious products for babies, toddlers, and older children.
The Heavenly Dreams crib mattress by Safety 1st is a favorite among parents on a budget who do not want to give up on safety because, despite being a fraction of the price of other brands, this crib offers quality and practicality. The Heavenly Dreams model is made with high-density and high-quality memory foam, which is comfy yet firm enough to be safe for babies.
In addition to its price, parents love the Safety 1st useful waterproof cover, which can be easily wiped clean in case of accidents. However, some customers reported denting and deteriorating materials, so if you're looking for something that will last for several years (or maybe for a second child) you'll be better off choosing a different mattress.
Pros
Budget friendly
Waterproof cover
Lightweight
Cons
Strong smell when new
Seams come apart
Waterproof cover can deteriorate
Should I buy a new crib mattress?
Having a baby is expensive, and saving a few pennies on a crib mattress by taking a hand-me-down might be tempting. However, used crib mattresses — even if they belong to family or close friends — are not always safe.
Firstly, these mattresses, much like adult ones, tend to sag over time and although we might be able to put up with a few dents and bumps, it's a lot more important for babies to sleep on a firm, even surface than it is for us. Reinforced edging can also weaken with time, meaning your baby could roll to the side, and possibly get hurt on the crib railings.
As if that were not enough to convince you, some studies suggest that used crib mattresses could increase the risk of SIDS. Researchers believe this is because of harmful pathogens, such as mold, bacteria, and fungi, which accumulate in used mattresses, sometimes undetected.
If your budget is an issue, don't worry, there are plenty of great budget-friendly mattress options out there. Take a look at our ranking to choose your favorite.
How much should I spend on my new crib mattress?
Just like adult mattresses, crib mattresses come in a variety of materials, styles, and of course, price tags. Travel mattresses can cost as little as $30, while standard crib mattresses can go from $50 to $300 and more. Fully organic mattresses tend to be a bit more expensive, as do dual firmness ones.
However, remember that you'll be able to use that type of mattress for longer, so it might be worth the extra penny. Always keep an eye out for hidden costs, too. Some mattresses include waterproof covers, while others come without, so you'll have to spend extra money on those.
Overall, the costs depend on the brand, the materials, durability, and quality. However, low prices don't always mean low quality. As you can see from our ranking, there is a fair number of great, quality, and budget-friendly crib mattresses for you to choose from.
How big should a crib mattress be?
Safety is always a concern with babies and toddlers, so it's important to stick to the correct size crib mattress. Standard crib mattresses should measure approximately 27.5 inches wide (this varies about .25 inches between brands and versions), 52 inches long, and about 5-6 inches thick, which is the maximum thickness allowed by law.
A mattress which is too small can leave wide gaps on either side of the crib, which is risky as the baby can roll and get stuck or hurt. It's always a good idea to follow the "two finger rule," meaning that you should not be able to fit more than two fingers between the crib posts and mattress edges.
It's always a good idea to buy your crib first, then choose a mattress accordingly. And if it doesn't fit, don't be afraid to send it back and order a different one!
Can I keep my crib mattress when my baby becomes a toddler?
It's often important for infants to sleep on relatively firm mattresses until they are properly mobile. The firm and even surface makes it easier for your child to breathe properly, and reduces the chance of SIDS. So if you feel your new crib mattress and think "Ouch, that's way too hard," don't worry. It's actually what your baby needs.
When your child starts rolling, pulling themselves up, and sitting (which tends to be around 9 and 12 months) they are ready for a softer and more comfortable mattress.
You can avoid the hassle and cost of buying a new mattress by investing in a dual firmness mattress right from the start. These handy crib mattresses are hard on one side and softer on the other, so it can accompany your baby all the way from crib to bed.
Which are the best crib mattresses?
With so many great brands and models on the market, choosing the best crib mattresses is no easy feat. That's why we spent weeks aggregating data from trusted review sites across the internet and speaking to customers (you can read more about our methodology above).
This research and data analysis led us to narrow the list down to the absolute best top 10 crib mattresses. Our number one, Milliard's Hypoallergenic Baby Crib Mattress wins top spot thanks to its great value, high quality materials, and clever design, which helps keep your baby cool at night.
If you prefer coil mattresses, or would like to invest a little more and get your hands on a dual firmness crib mattress, scroll back up and comb through our ranking, as there are plenty of great options for all types of mattress, and baby, requirements.
RAVE Recommends
When you're a new parent, there is nothing as precious as a good night's sleep. Our 10 best crib mattresses should help with that, but here are a few more things that will help the family stay happy at bed time.
Dr. Kasey Nichols, N.M.D.
Dr. Kasey Nichols, N.M.D. focuses on sleep disorders and drug-free pain management utilizing both conventional and alternative medicine at his private practice,
Onyx Integrative Medicine and Aesthetics
, located in Gilbert, AZ. He served as the Director of Medical Operation and Administration at a national substance abuse disorder corporation with 16 facilities across seven states. He graduated from Cleveland University-Kansas City with a Bachelor's of Science in Human Biology, graduating with honors, and holds a Doctorate from The Southwest College of Naturopathic Medicine. He holds licenses in both Arizona and Kansas. Dr. Nichols has given numerous talks to professional organizations, given interviews for newspapers across the United States, and numerous television news interviews with ABC 15/CW 61 in Arizona, Channel 3 in Arizona, and others. Dr. Nichols has appeared in
Cosmopolitan
,
Reader's Digest
,
WebMD
,
Healthline
, and many other health and lifestyle publications.