After bringing the heat all day everyday, you need to cool down when it's time to sleep.
To do so, look no further than Threadmill's cotton sheet set, RAVE's pick for best overall cooling sheets.
We love the sky-high thread count of 800, as well as the down-to-earth price point. We also appreciate that the sheets are luxuriously woven from the finest extra-long staple cotton, and not a synthetic material.
You'll have to keep reading to hear all the other reasons we rave about these sheets. But for now, just know that if you need a new set of cooling sheets, head straight for the very best: Threadmill.
Cooling sheets aren't just for balmy summer nights — though they're good for those, too. Thing is, some people just sleep hot, even in the wintertime.
This can be uncomfortable, and an issue if you're sleeping with a partner whose body temperature stays more stable than yours.
Or maybe you're just looking to outfit your summer house with a nice set of cooling sheets, to help you and your guest get some rest after a long day in the sun.
Regardless of the reason you're shopping for cooling sheets, RAVE Reviews has the information you need to pick out the very best cooling sheets.
By the end of this ranking you'll know what the best material is for sheets to keep you cool, whether that's cotton, bamboo, or microfiber.
Most of all, you'll know that without a doubt — cooling sheets do work!
The Cooling Sheets We RAVE About
Best Overall Cooling Sheets
Threadmill Cotton Sheet Set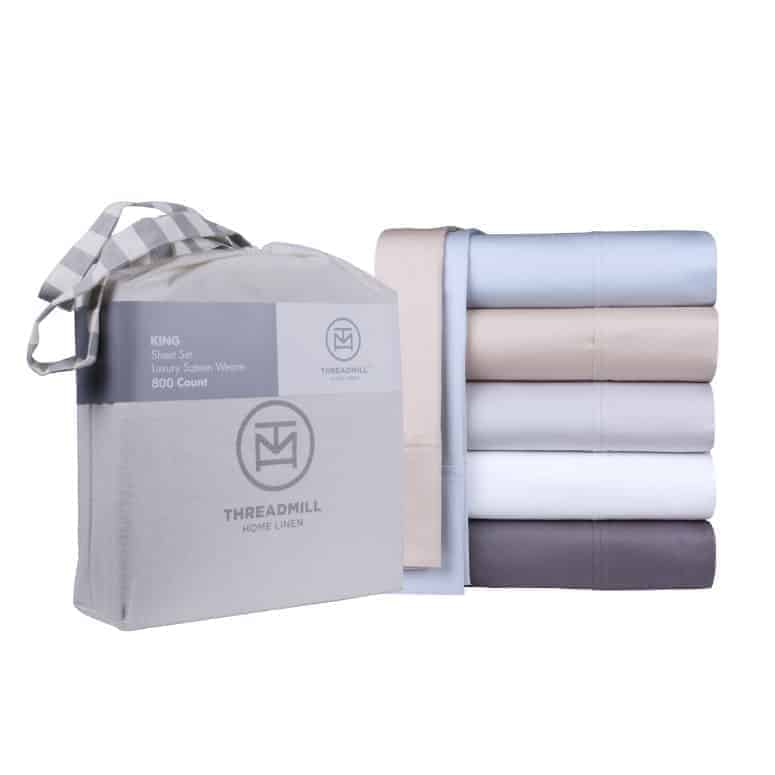 Best New Cooling Sheets Brand
SHEEX Original Performance Sheets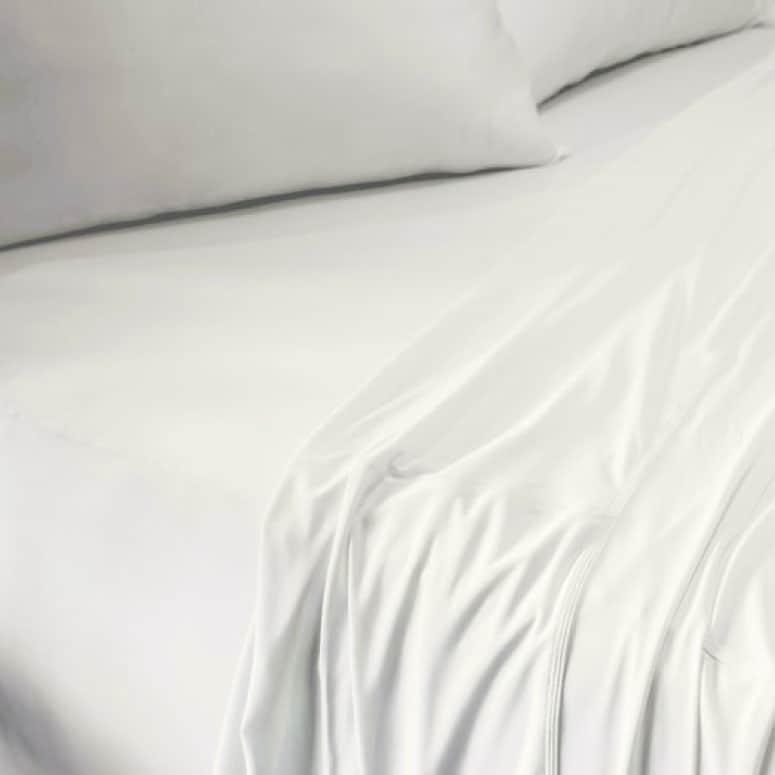 Best Cheap Cooling Sheets
Nestl 4 Piece Sheet Set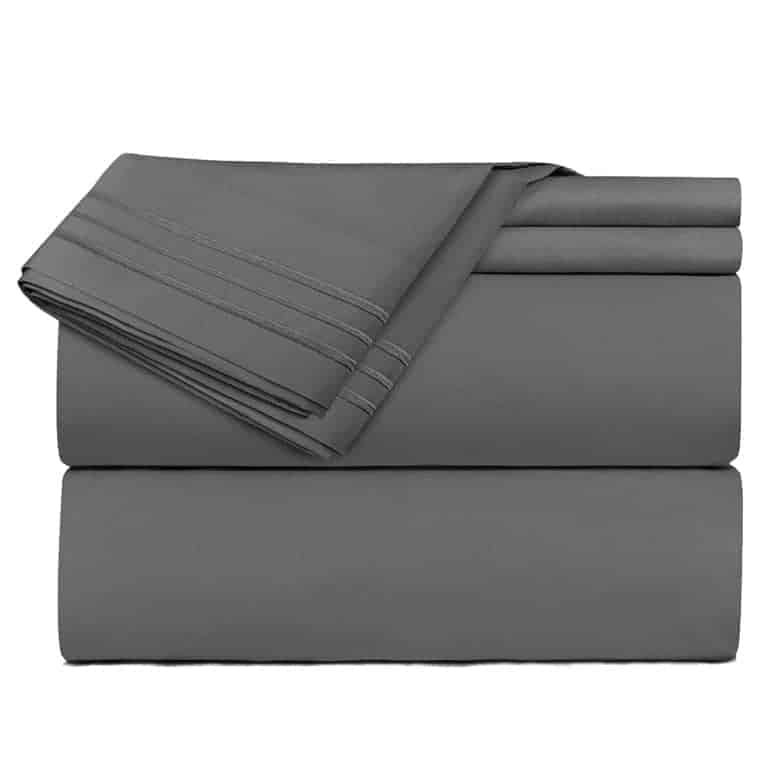 Here's a new best pick-up line for you: Hey, you're so hot you need a new set of cooling sheets from RAVE Reviews' ranking of the 10 best cooling sheets.
Alright, maybe that's the worst pick-up line ever.
But what's definitely true is that cooling sheets are made from breathable fabric. That's how they work. And there should be no doubt in your mind — cooling sheets do work.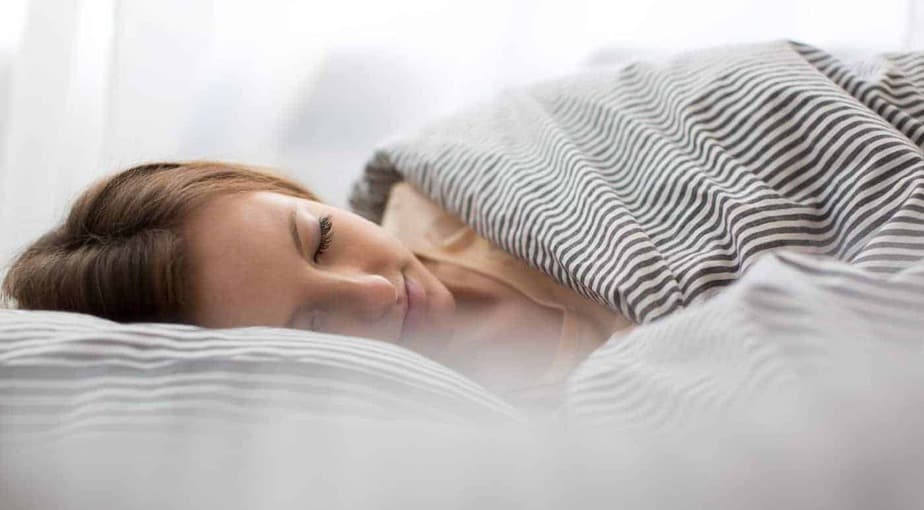 Here's how: breathable fabric helps even the hottest sleepers — or really anyone sleeping in a stuffy environment — wake up feeling fresh and ready to face their day.
Sometimes that means the sheets are made from a natural fiber like cotton, flax, or bamboo — we gave a little extra love to those natural fabrics in our ranking.
But lots of quality cooling sheets are made from man-made materials like microfiber, polyester, or spandex. We included those sheets in our ranking, as well.
Types of Cooling Sheet Materials
Here are the top 5 reasons a nice set of cooling sheets might be right for you:
You live in a warm place, all year long
You easily overheat in the night
You're looking to cut energy costs
You get the best of both worlds — some sheets will keep you warm in the winter, and cool in the summer.
So how do you choose the best material for sheets to keep you cool? Here's a quick rundown on the pros and cons of different fabrics.
Egyptian Cotton
Pros:
Strong
Soft
Breathable
Durable
Cons:
Cotton Blend
Pros:
Wrinkle resistant
Durable
Affordable
Cons:
The ecological impact of mixing cotton with synthetic materials
Polyester
Pros:
Durable
Stain, moisture, and wrinkle-resistant
Affordable
Cons:
Environmental impact of synthetic materials
Jersey Knit
Pros:
Cons:
Bamboo
Pros:
Antimicrobial
Hypoallergenic
Soft
Cons:
Microfiber
Pros:
Water/stain resistant
Good for sensitive skin
Durable
Cons:
Silk
Pros:
Hypoallergenic
Good for warm and cool seasons
Moisture wicking
Cons:
And if you're here to shop for cooling sheets, we're going to just go ahead and say stay away from most linen and flannel, because loads of quality sheets are made from these materials, but they're likely going to be too hot for you.
What is Weave?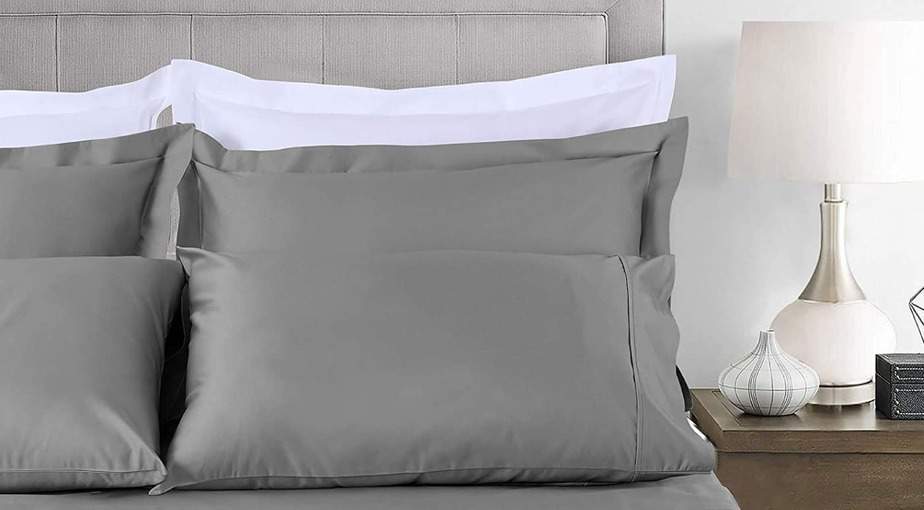 Next, it's time to talk about weave. What's the difference between percale and sateen, anyway? Here's what you need to know to find the best weave for your cooling sheets.
Known for a crisp matte finish, percale-weave fabrics are pill-resistant as well as lightweight and breathable. A great choice for the best cooling sheets.
Sateen is similar in appearance to satin, with one key difference: sateen fabric is made from cotton, while satin-weaved sheets are made from silk. Overall heavier than percale, sateen is cool to the touch, making it a solid choice for the best cooling sheets.
Shiny and luxurious, satin sheets are, in a word, silky. Also a good and classic choice for the best cooling sheets.
Like sleeping in a comfy and worn-in old t-shirt, jersey will keep you cool in the summer and warm in the winter. Its versatility is what sets it apart as a cooling sheet.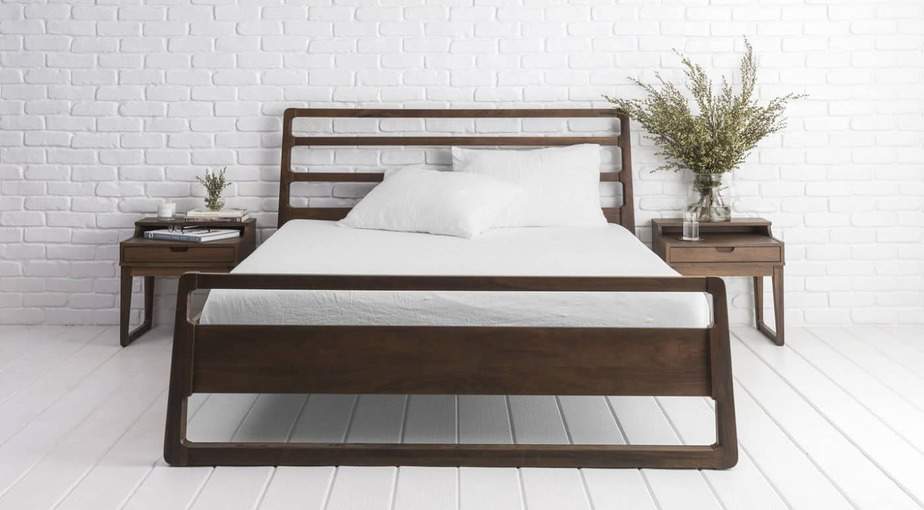 Natural or Synthetic Fibers?
The next consideration when purchasing a new set of sheets is whether or not to go with natural or synthetic fiber. What about organic? Is microfiber better than cotton? Is cotton or polyester better for sheets? Here's what you need to know:
Natural materials are just that: natural. They come from, and return more easily to, the natural environment. This is the best choice in fabric if you're looking to minimize the ecological impact of your purchase.
Taking natural materials one step further are organic materials, made with little or no synthetics pesticides, or fertilizers. But, a little like your organic produce at Whole Foods, this means your organic cooling sheets will cost a little bit more.
Synthetic materials are just that: synthetic or man-made. Cooling sheets made from synthetic material can be just as comfortable as sheets made from natural materials, but since they're made from man-made materials, they won't breakdown as well in the landfill.
A final word about thread count: if you pick cotton sheets, you're going to hear a lot about thread count. Put simply, thread count simply means the number of horizontal and vertical threads per square inch.
Does thread count really matter? Here are some differences a high thread count can make:
Certain thread counts can equal softer sheets
Thread count can affect the durability of your sheets, helping them last longer and wear more evenly
High thread can mean more luxurious feeling sheets, but some manufacturers cheat by cramming low-quality threads into their sheets at a high volume — so beware!
For these reasons and a whole lot more, RAVE says rather than prioritizing high thread count, instead figure out the thread count that's right for you.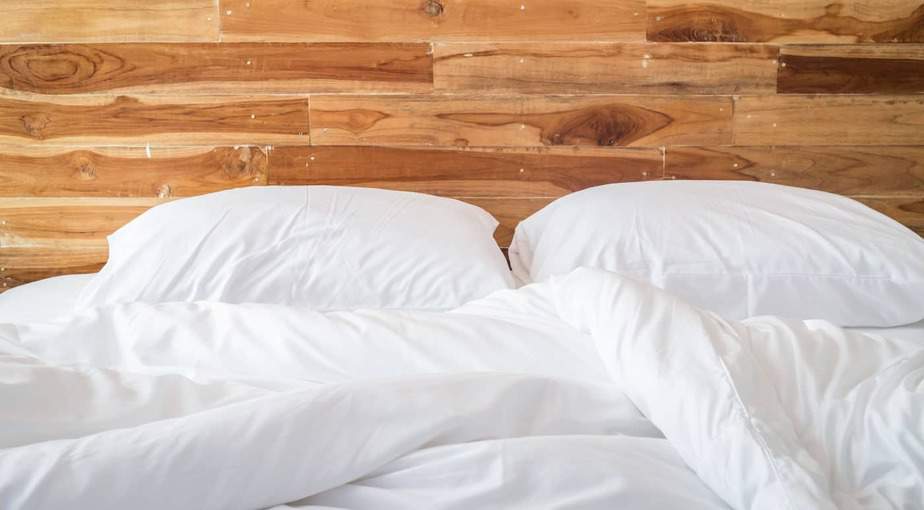 With this information at your disposal, you're all set to pick the best cooling sheets. A comfy night's sleep awaits.
Methodology
When evaluating the 10 best cooling sheets, RAVE Reviews first consulted similar lists from trusted and reputable sources from across the internet. We paid extra special attention to lists originating from sleep professionals and consultants.
We also kept in mind our personal preferences when it comes to getting a good night's sleep.
We ranked each set of sheets on the following factors:
Price
Material
Thread count (where applicable)
Manufacturer
Return policies/warranties
Number of color options
Variety of sizes available
We feel certain cooling sheets judged by this criteria will produce the very best results. So turn off the fans and put on some pants. Your hot and uncomfortable nights are coming to an end.
The Best Cooling Sheets
Related Rankings
In addition to telling you all about the best cooling sheets, we thought we'd answer some frequently asked questions from hot sleepers seeking relief.
With these answers, you'll be sleeping cool and comfortable in no time.
What is the best mattress to keep you cool at night?
In addition to cooling sheets, the right mattress will help regulate your body temperature.
Here's how to find the right mattress if you're a hot sleeper, or if you're shopping in a bedroom in a warm climate…
Avoid soft mattresses:
Hot sleepers should avoid most soft mattresses because you tend to sink into them while you sleep. The more you sink, the hotter you'll get.
Try a medium-firm mattress:
With a medium-firm mattress you'll sleep more "on top" of the mattress. The less you sink, the cooler you'll stay. Though depending on if two people are sharing a bed versus one, sometimes a firm mattress is a better way to go.
In addition to the mattress, your mattress cover goes along way to regulate body temperature at night. If you're a hot sleeper, RAVE recommends sticking with a non-quilted cover because they tend to be thinner and more breathable.
Softness isn't the only consideration when choosing a cooling mattress. You'll want to consider the material your mattress is made from. RAVE says stick with celliant, tencel, or lycra because all three are known to stay breathable while also wicking moisture away while you sleep.
What's the best cooling pillow?
Now that you have the best cooling sheets and the best cooling mattress, do cooling pillows really work? The answer is, yes!
Here's what you want to look for in the best cooling pillow:
Breathable pillows allow air to move freely throughout the pillow, preventing warm air for building up while you sleep.
Pillows containing water or gel transfer heat from your body to the water or gel.
Pillows with phase-change materials
Phase-change materials, or PCMs, use the power of science to help you stay cool at night.
When PCMs absorb or release heat, they change from liquid to solid and back again, helping to regulate your body temperature.
But don't take our word for it, trust its big-name inventor. Apparently PCM technology was originally developed by NASA.
However, those who have tested various pillow coolness say the best cooling pillow is filled with good, old-fashioned, buckwheat.
Yep, you read that right — buckwheat.
Turns out the Japanese have been filling their pillows with the hulls of buckwheat seeds for a long time. The results are firmness, with contour support for proper head and neck positioning.
Best of all, buckwheat pillows are breathable!
How do I stop myself from overheating at night?
If a cooling pillow, mattress, and sheets aren't enough to keep your hotness in check while you're in blissful repose, take these simple steps to help check your temp while you slumber.
Keep the space free of direct sunlight
Keeping windows, blinds, curtains, and doors shut (or mostly shut, without cutting out all ventilation) goes along way in keeping a space cool at night.
Open up the space at night
Once the sun sets and can do no more heat harm, open the space to let the fresh air in.
From a simple fan, to a ceiling fan or a BedJet, using any kind of fan will keep the air circulating over your body while you sleep.
The evaporation from even a warm shower taken right before bed will help your body cool down.
Don't exercise or eat right before bed
Both intense exercise and digesting a big meal heat up your body's internal motor.
Here's a fun one: stuff your sheets in a plastic bag and put them in the freezer for 20 minutes.
Day or night, one of the best ways to regulate your body temperature is to drink plenty of water. Keep some by your bed for a late night sip.
What are the best cooling sheets?
You sleep hot. You need relief and you need it now. After extensive deliberation, RAVE Reviews is ready to present three of the very best cooling sheet sets in the following categories: best overall, best new brand, and best cheap cooling sheets set.
The best overall cooling sheets are without a doubt the Threadmill cotton sheet set. First off, they're cotton, which makes them very breathable!
Next, Threadmill will have you resting in luxury, with first-rate craftsmanship, produced at the highest standard of sustainability. And somehow, Threadmill manages to do all this and keep their sheets very reasonably priced!
RAVE's pick for best new brand in cooling sheets is SHEEX Original Performance Sheets.
Founded by two basketball coaches at the University of South Carolina, their goal was to create bedding that was as breathable as their athletic wear, and they succeeded!
SHEEX sheets and pillowcases are made from a unique, breathable fabric creating superior ventilation and heat release.
But if you're shopping for cooling sheets on a budget, your best bet is to go with the 4 Piece Sheet Set from Nestl. Why? Because they're high quality and affordable, made from premium microfiber that's double brushed for softness and comfort.
RAVE Recommends
As well as cooling sheets, here are a few more products to help keep you staying cool as a cucumber all night long: