We all know that a cup of coffee is best when made with freshly ground beans.
But sometimes even the best coffee makers don't give us that option. Thankfully, the Barsetto Grind and Brew Automatic Coffee Maker combines the best of two worlds, bringing us a state of the art burr grinder and a high-quality coffee maker, all in one convenient package.
Ahh, coffee. Where would we be without it? Coffee is a lot of things — a welcome moment of respite, your driving force, and, often, your only motivation. For many of us, coffee is not a choice, it's a necessity. Although sipping on your latte while people-watching in your favorite café is indeed very lovely, nothing beats having a freshly brewed cup always within reach.
The Coffee Makers We RAVE About
Owning a coffee maker doesn't only mean you can enjoy a cup of coffee whenever you want, but, more importantly, it means you can choose your own type of coffee beans and the level of roast, not to mention all the extra little touches that make your coffee a work of art.
But buying a new coffee maker is not an easy feat: there are dozens of different types and brands, from simple pour-over coffee makers to super-techy ones. What you choose depends, obviously, on how you like your coffee, but also on your lifestyle and habits. We've divided our favorite coffee makers into several categories. So, go ahead! Browse our list of the 30 best coffee makers and make your choice!
Finding the Best Coffee Makers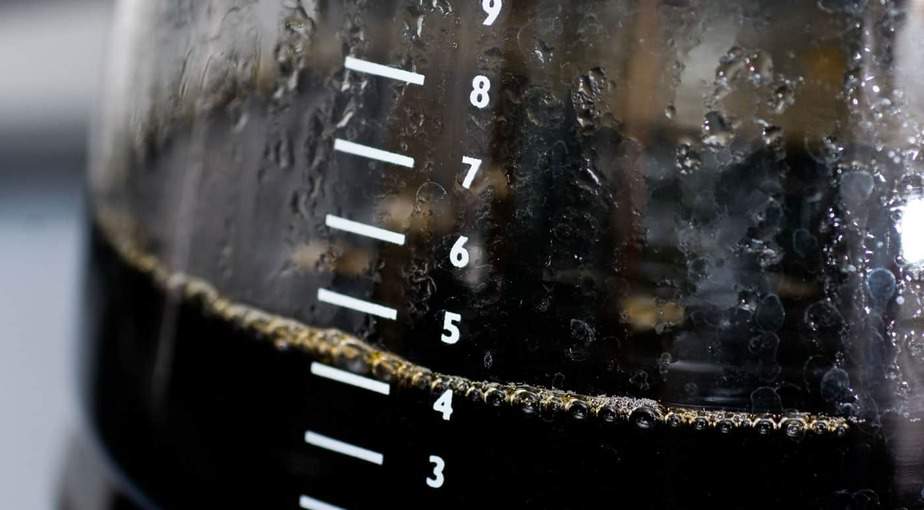 Ah, coffee. The deliciously bitter nectar that has been helping us get into gear since the 16th century. Over the past 500 years, it has no doubt been responsible for inspiring brilliant ideas, stimulating interesting conversations, and getting god-only-knows how many of us through school.
It seems like only yesterday that making a cup of coffee was as easy as putting some water on the stove. But in recent years there has been an explosion in all things coffee-related, and coffee lovers have started taking a real interest in where their beans come from, how they are roasted, and how to best brew them.
In short, a 'black coffee, two sugars' just doesn't cut it anymore. This recent coffee trend has resulted not only in more (and better) coffee shops, but in a higher demand for home-brewing devices. In some countries this has always been the case — take the French press in France (duh) or a Moka in Italy for example.
But the rest of the world has been quick to catch up, and the market is now full of percolators, drip coffee makers, cold brew makers, aereo-presses and many, many more.
A Short Guide to the Types of Coffee Makers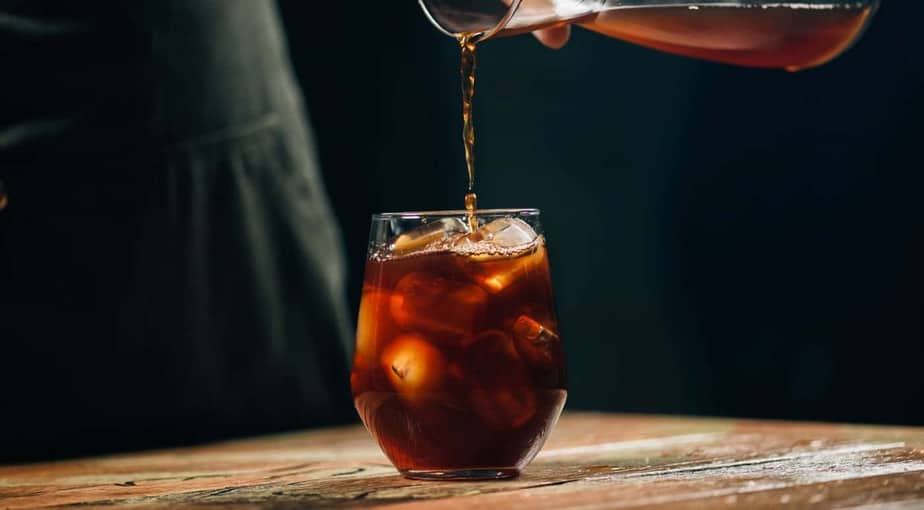 Drip Coffee Makers
Drip coffee makers are probably the first thing to come to mind when you think of coffee makers. Ubiquitous in homes and offices all over the country, their popularity is due to their affordability, ease of use, and speed. That's not to say that they don't make a mean cup of coffee!
Single Cup Coffee Makers
Single-serving coffee makers reduce and simplify the coffee-making process, especially if you're just making it for yourself. The coffee usually comes in individual pods, which keep the grounds nice and fresh.
French Press Coffee Makers
Also known as a "press pot", this coffee maker is one of the most simple and easy to use (and clean) as it doesn't require electricity. In fact, you can even take it with you on your travels!
Moka
The Moka pot is a simple and budget-friendly alternative to a full-blown home espresso machine. If used correctly, it produces a thick, dark, and aromatic espresso that you're bound to love. No wonder the Italians love it!
Cold Brew Makers
Nope, Cold-brew isn't just iced coffee (which is brewed hot and served cold). Cold-brew is made by steeping coarsely ground coffee in room-temperature water for several hours, and the result is a deliciously thick, fresh, and tasty cold coffee.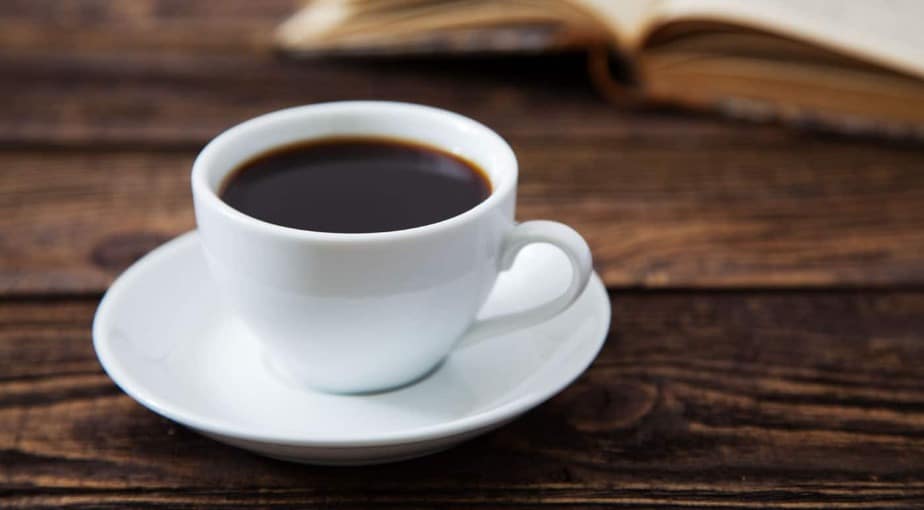 Pour-Over Coffee Makers
Pour-over is a method of brewing small quantities of coffee by pouring hot water over fresh coffee bean grounds. The slow rate at which the water flows through the coffee extracts the aromas, producing a fresh and tasty cup of coffee.
Espresso Machines
These machines work by forcing a small amount of almost-boiling water under at least 9 bar of pressure through finely-ground coffee to make true espresso. They can be costly and labor-intensive, but if you're a true espresso lover, the investment is well worth it.
AeroPress
The AeroPress is a simple yet very ingenious device made of durable, heat-resistant plastic, and it works by using air pressure to push water down through the coffee grinds. This is a manual, but super-easy, process, so it's perfect for those of us who don't love techy features.
Percolators
Percolators used to be America's brewing method of choice before the drip coffee makers came along. They work by sending boiling water through a tube to the top of a perforated basket, where it falls over and soaks the coffee grounds, falling back down and repeating the cycle all over again.
How to Choose the Best Coffee Maker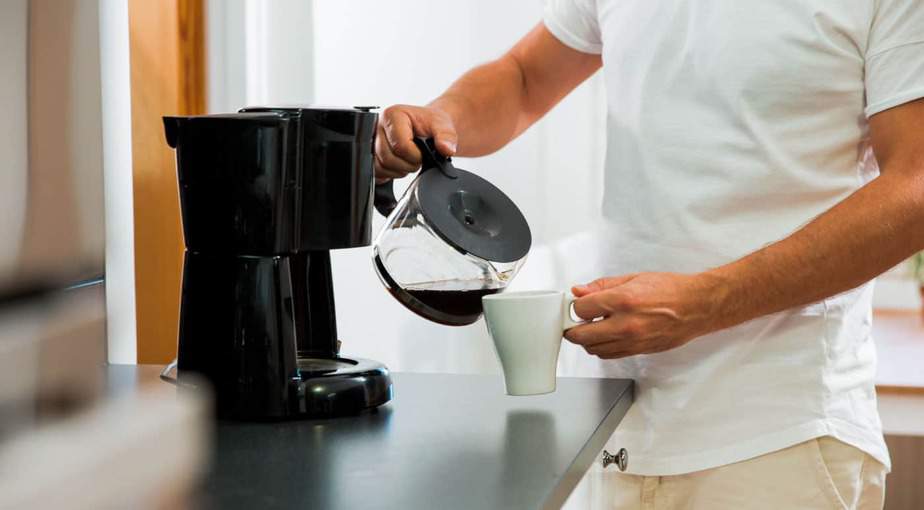 With so many different styles of coffee makes, choosing one for you is a pretty difficult task. The first thing to understand is what kind of coffee you like the most. Do you like the strong, short kick of an espresso? Or do you like to slowly sip a warm cup of joe as you read the morning papers?
If you know what kind of coffee you prefer, think about your lifestyle and how a coffee maker can fit into it. Do you like to take your time brewing the perfect cup, or do you like to find your coffee hot and ready the minute you wake up?
After extensively researching coffee makers here at RAVE, we understand that these are the two most basic questions to ask yourself before hitting the online stores. Once you've figured these two out, you can focus on the details. And as always, we're here to help!
Methodology
As usual, to find the very best coffee makers out there, our methodology is based on a weighted score of a variety of factors that include:
Brewing method
Speed
Usability
Features
Durability
Value
To make our ranking, we collected data relating to over 50 different coffee makers by scrolling through specialized coffee websites, collating user reviews, and reading the opinions of dedicated consumer journalists. We then analyzed this data and assigned a score on a scale between 0-100 to each product.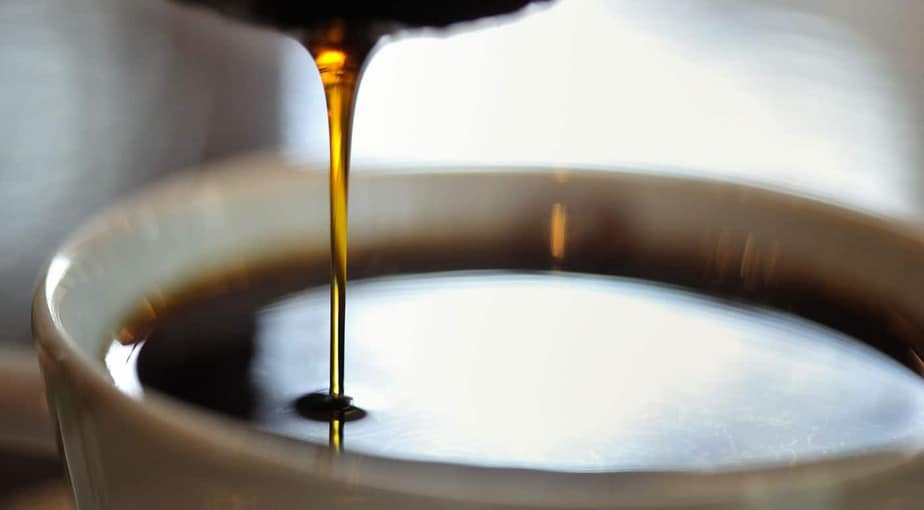 We chose to organize the coffeemakers by type so you can make an informed choice based on what you like.
Best Coffee Maker Overall
Barsetto Grind and Brew Automatic Coffee Maker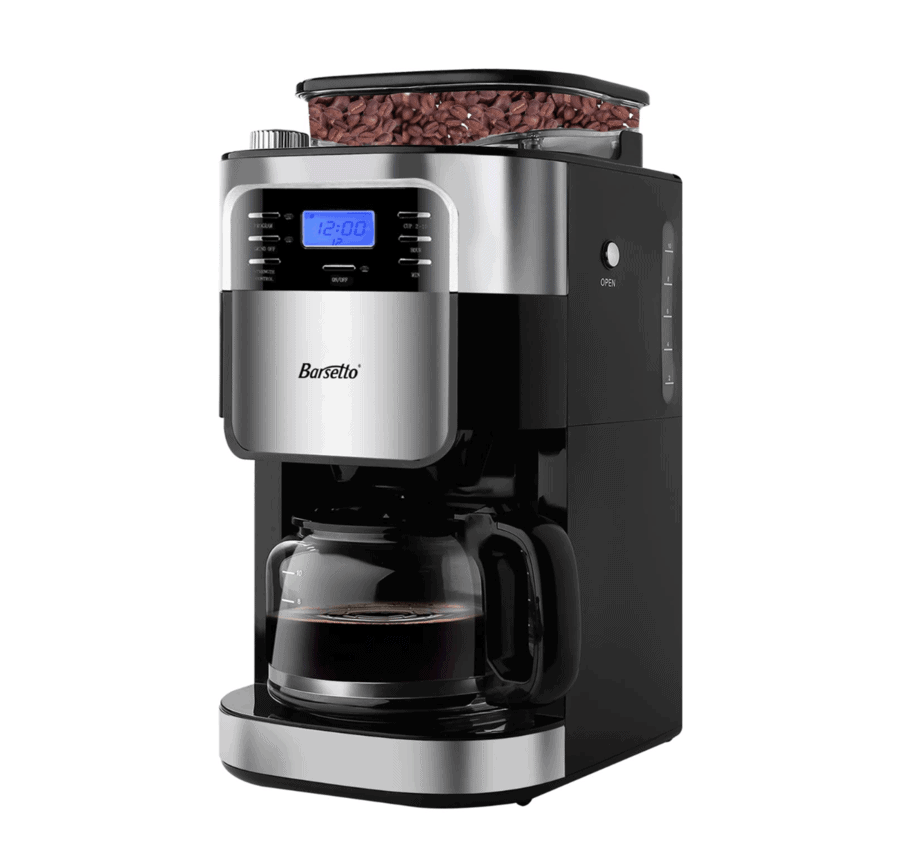 First in our ranking of the 30 best coffee makers is the Barsetto Grind and Brew Automatic Coffee Maker. Setting this 5-setting conical burr grinder apart is its large capacity, making up to 10 cups with settings ranging from coarse to fine.
We also love the easy-to-use controls, featuring an easy-to-see LCD screen and programmable timer. This function allows you to get a head-start on your morning, conveniently programmable up to 24 hours in advance.
There's also a 2-hour keep warm function with adjustable temperature settings to keep your brew warm as long as possible, as well as a removable gold-tone filter for easy maintenance.
And perhaps best of all, you can buy with confidence from Barsetto due to the one-year product service warranty.
Best Drip Coffee Makers
OXO 9-Cup Coffee Maker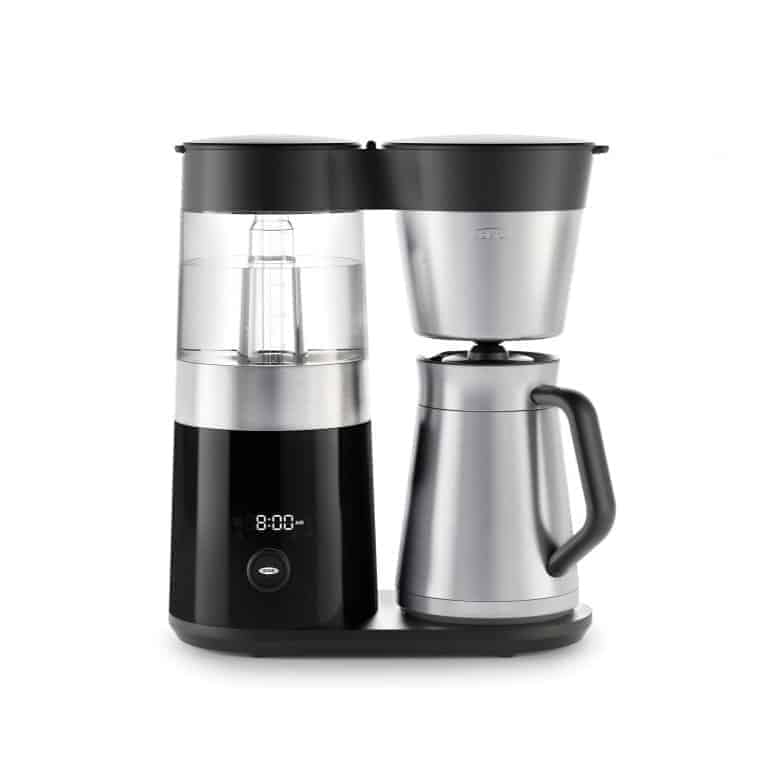 From one of the most trusted kitchen appliance brands out there comes this gem of a coffee maker. The Oxo 9-Cup Coffee Maker is a stylish drip coffee maker that consistently brews great coffee and keeps it the perfect temperature thanks to its high-quality thermals carafe. All you have to do is choose how many cups you want, and OXO will do the rest.
The intelligent microprocessor monitors the time, temperature and volume, ensuring the quality and care of a classic hand-crafted coffee, but without the hassle. You can also program the maker to brew and have your coffee ready for when you wake up. Does it get any better than that?
Cuisinart DCC-3200 14-Cup Glass Carafe Coffee Maker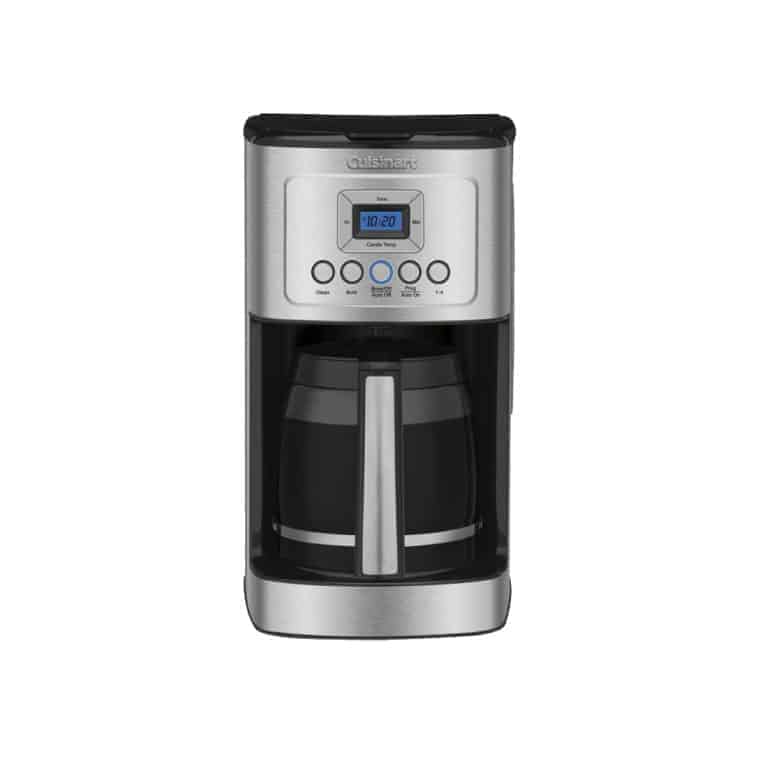 The Cuisinart DCC-3200 will make you a cup of coffee how and when you like it. You can adjust the strength of your brew with the touch of a button, and program the machine up to 24 hours in advance so that you'll have your coffee ready exactly when you want it.
This coffee maker is a popular one for offices and big households because it can brew up to 14 cups, but can be adjusted to brew as few as one or two. You'll also love the shut-off and self-cleaning features this coffee maker boasts. Anything to make life easier!
Hamilton Beach BrewStation Summit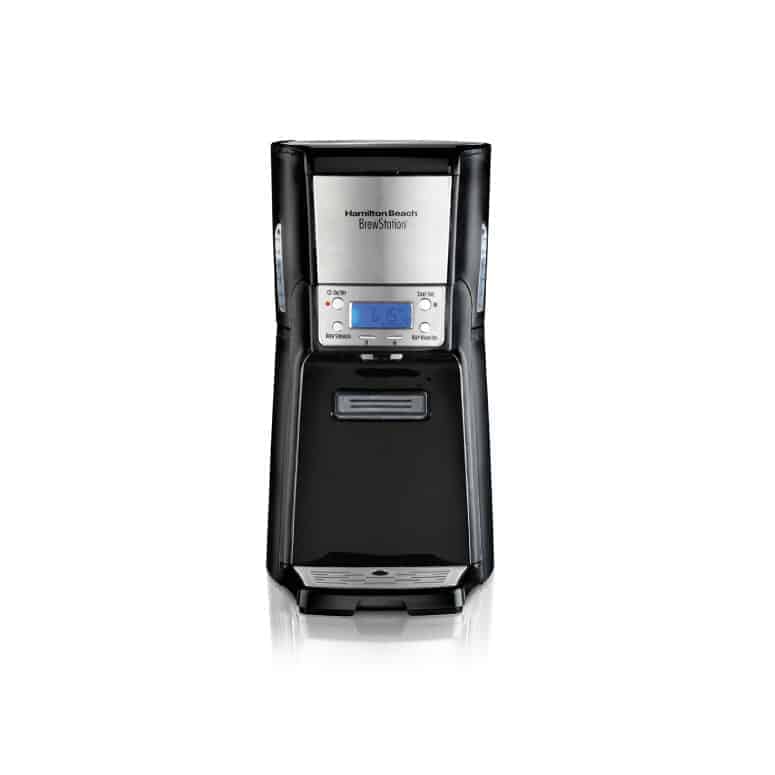 If you love fresh coffee, but you're not sure about coffee that has been sitting in a carafe for hours on end, you should take a look at Hamilton Beach BrewStation Summit, which brews 12 cups worth of coffee directly into an internal thermal insulated tank.
This means that coffee stays warm for longer, but without acquiring that slightly burned or stale taste that curses many old-school coffee makers. Plus, no more spilling, breaking, dripping, or sloshing! We also love that you can pre-program the machine to brew your coffee when you want it, and you can customize its auto shut off feature.
Ninja Bar Brewer System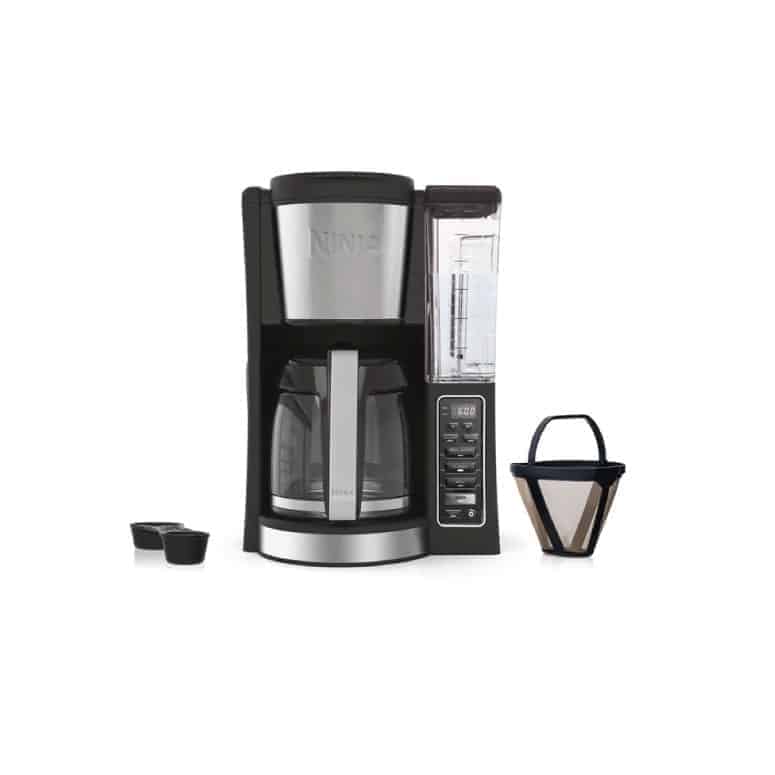 If you're looking for a versatile coffee maker, look no further: the Ninja Bar Brewer System will do anything your local barista can (and maybe even more). One machine will craft cold-brew coffee, tea, matcha, lattes, espressos and much more, but won't leave you with a whole mess to clean up afterward thanks to the easily removable and washable parts.
The Ninja lets you choose between four different ways of brewing your coffee, and lets you brew one single cup without using pods (the environment will thank you for this!). The cold and hot frother will take your drink to the next level.
Best Cold Brew Coffee Makers
Best French Press Coffee Makers
Best Single Cup Coffee Makers
Best Pour Over Coffee Maker
Best Cheap Coffee Maker
Mr. Coffee 12 Cup Programmable Coffeemaker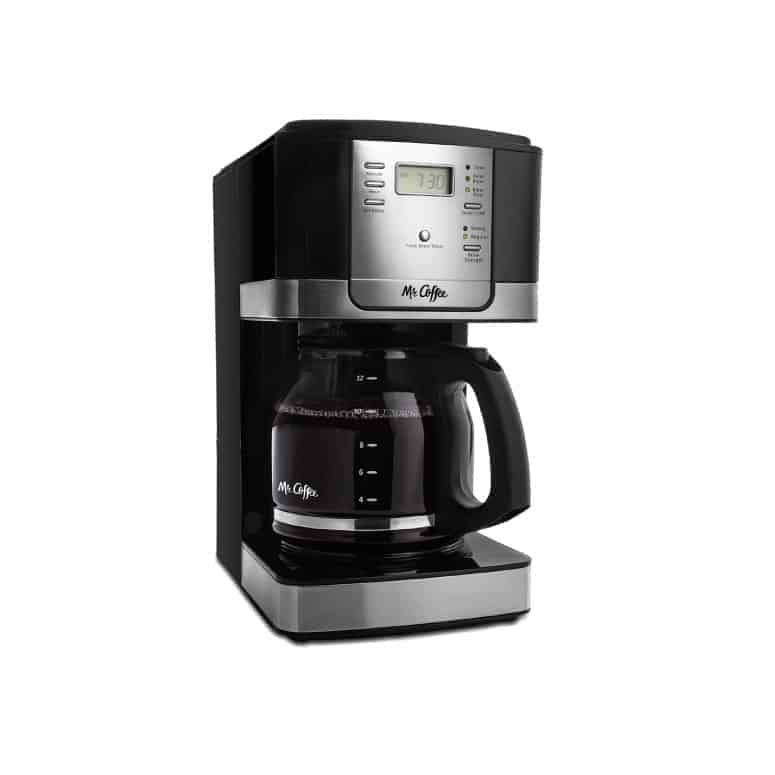 Since 1970, Mr. Coffee has been offering high-quality coffee makers for those of us who don't have a fortune to spend, but still want to enjoy the small pleasure of freshly brewed coffee in the morning.
Available for around $30, the Mr. Coffee 12 Cup Programmable Coffee maker may well be inexpensive, but it looks anything but: with a sleek design and chrome components, this coffee machine looks as good as any other.
It also boasts a surprisingly diverse range of features: the brew strength selector lets you choose how strong you want your coffee, while a built-in timer and a delay option gives you the flexibility to choose exactly when you drink it. And if you just can't wait, the "grab-a-cup" auto-pause option allows you to pour yourself a sneaky cup before the brewing cycle is over.
This Mr. Coffee gadget also boasts the ever-handy auto-shutoff feature, which ensures the coffee won't stay heated for too long (and lose it's delicious, freshly brewed flavors). Other features include a convenient cleaning cycle option, and a filter basket which is easily removable and washable, making this a very easy coffee maker to take care of.
Capresso 465.5 CoffeeTEAM TS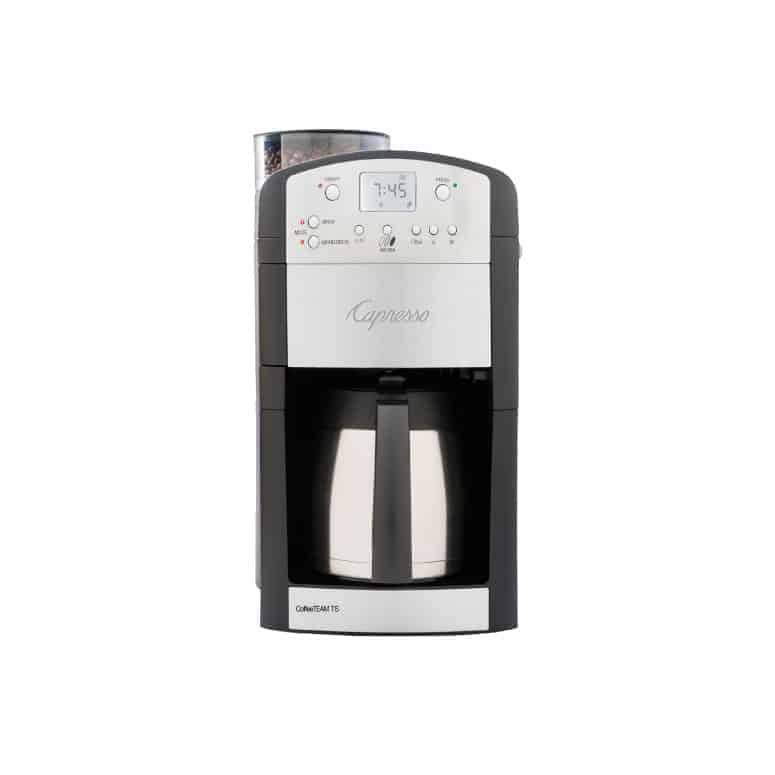 You want a coffee machine with all the bells and whistles on it, but don't have a budget to match? We have a great option for you: the Capresso 465.5 CoffeeTEAM TS is a 10 cup coffee maker that takes all the fancy features and delivers them at a reasonable price point.
For under $200, the Capresso 465.5 doesn't just provide you with a state of the art coffee maker, but it comes with an in-built burr grinder too, which will save you from buying a separate one. And once you've ground your favorite beans up, you can choose between Mild, Regular, or Strong, giving you a cup of coffee that is just the way you like it.
Hamilton Beach BrewStation Summit Ultra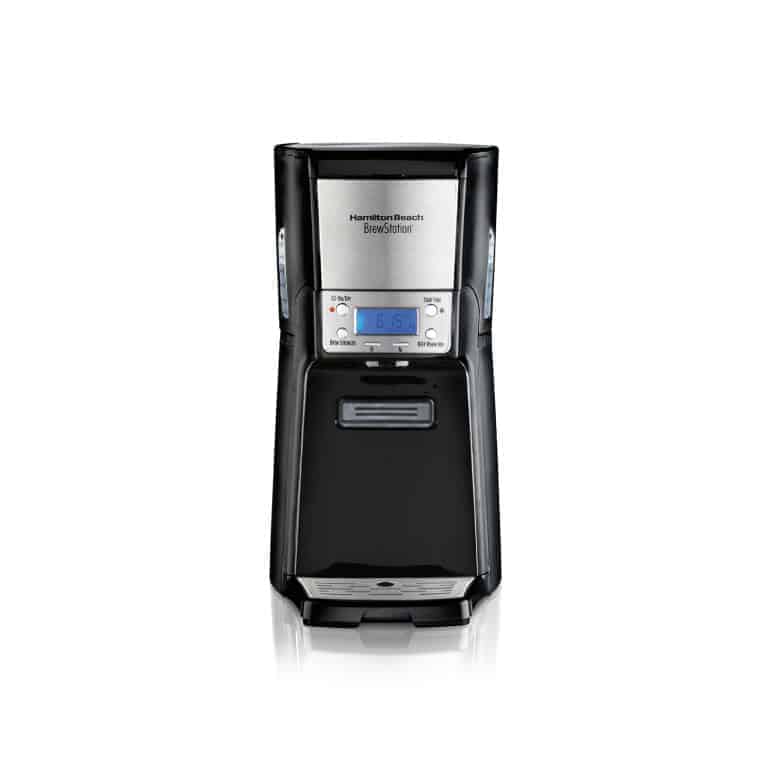 Looking for a high quality, but inexpensive coffee maker? The Hamilton Beach BrewStation Summit is a fully automatic machine that comes with an array of features and options, but at a fraction of the price of most coffee makers. At around $80, this coffee machine consistently makes fresh, bold, and great tasting coffee.
A notable feature is that this machine brews into an internal tank, rather than a carafe, and is dispensed directly into your cup. This eliminates the always present 'breakage' risk (I know I've had to replace a fair few carafes in my time), but also keeps coffee hot and fresh-tasting for longer.
BUNN BXB Velocity Brew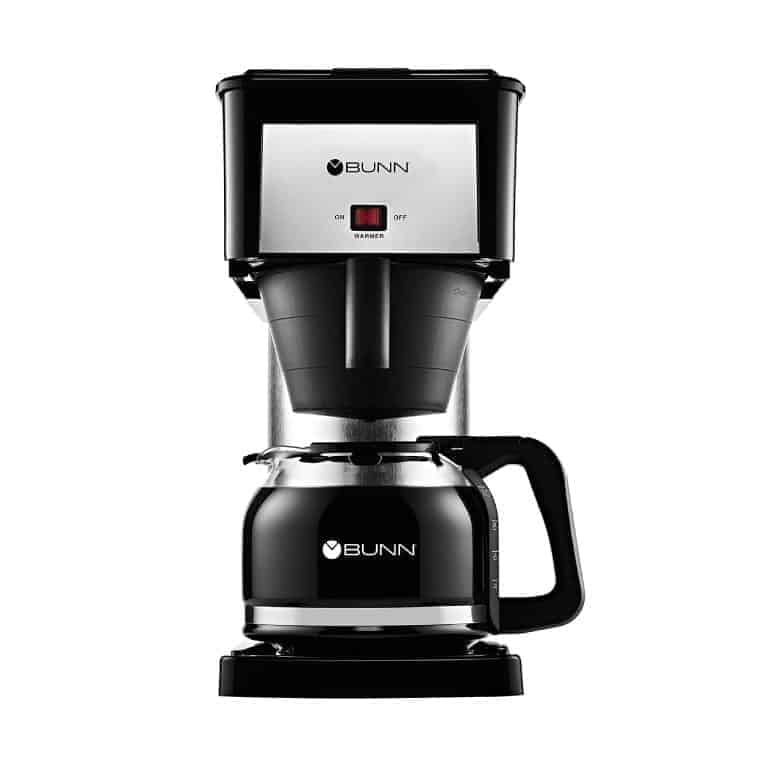 The BUNN BXB Velocity Brew has a fantastic reputation for its high quality, efficiency, and great tasting coffee.  At a price point of under $200, it is a small investment for true coffee lovers, one that won't break the bank and that will last the test of time. Slimmer and sleeker than most models, this coffee maker is a great addition to a kitchen or workspace.
Thanks to its signature Pour-O-Matic decanter, the BUNN BXB Velocity Brew is mess-free (a big plus for the clumsy ones among us), and is easy to use and keep clean.  We love how fast this brewer is: ten cups in three minutes. Perfect for those caffeine-slump emergencies!
Black & Decker 12 Cup Programmable Coffeemaker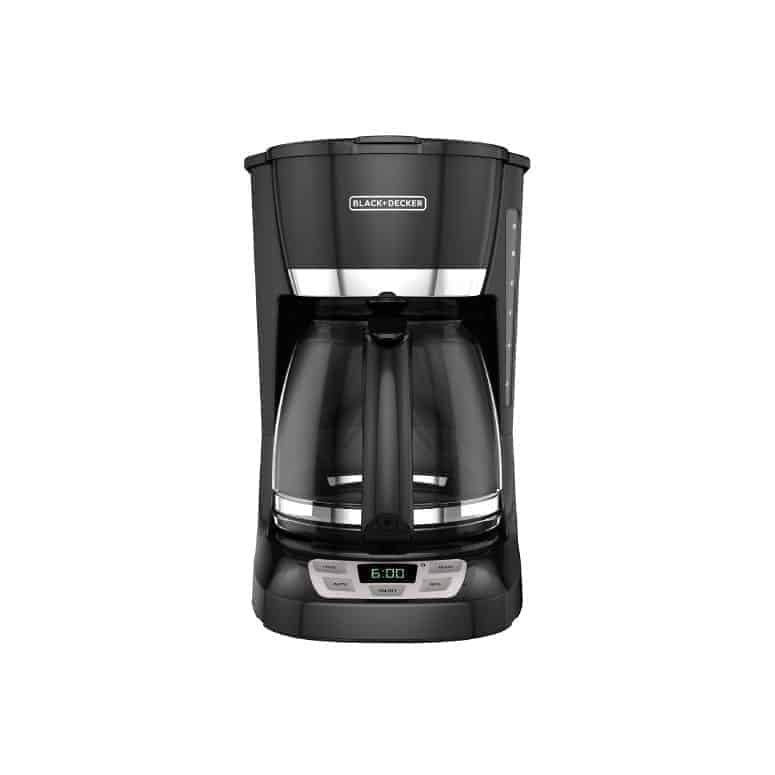 The Black & Decker 12 Cup Programmable Coffeemaker is a good buy for those looking for a no-frills coffee maker that keeps things simple but effective. At a price point of under $30, this is a great value option that delivers a fresh cup of coffee at a low price, but still comes with a surprising range of features.
The QuickTouch Programming buttons, for example, make it easy to set the 24-hour auto brew feature that shaves off precious minutes off your morning routine. Other useful features include Sneak-A-Cup Technology, meaning you can sneak a cup of coffee before the whole brewing cycle is over, the sturdy Duralife glass carafe, and washable brew basket.
How do I know what kind of coffee maker to buy?
Easy answer: read our ultimate 30 Best Coffee Makers ranking! As usual, our rankings are a great more to learn about the best products on the market, what consumers think about them, and what their pros and cons are.
But even before you read about every product in detail, it's good to have an idea of what you're looking for. When it comes to coffee makers, there are so many wildly different options out there that the search can be daunting, so how do you know where to start?
Before you decide which type of coffee machine to buy, you need to know what kind of coffee you like. Do you like the short, strong kick of an espresso? Or do you like to take your time and sip on a big mug of hot Americano? Or perhaps you're a fan of thick, frothy cappuccinos. While some machines can offer almost all of those, some are specifically made for a specific style of coffee.
Secondly, ask yourself what you like about brewing your own coffee. Do you enjoy the whole process, from grinding the beans, to soaking the grinds, and taking your time brewing the perfect pot of coffee? Or do you like the convenience of pushing a button and having your coffee ready within minutes? All of this will determine the type of coffee maker you should be looking at.
Finally, you need to know how many people you'll usually be brewing for, and, last but not least, don't forget your budget. While a higher budget will obviously get you all the bells and whistles, you can also get some great coffee makers at a low price (check out our whole Best Budget Coffee Maker section).
How do I keep my coffee maker clean?
As clean as you think you are, chances are you're not cleaning your coffee machine as often as you should. Research suggests that up to 50% of us don't clean our coffee maker enough (yikes), and that this can cause our coffee machine to become a breeding place for all kinds of nasty little things.
But don't fret, there are some easy ways to remedy this! Every type of machine is different, but here are some general rules you can follow.
The first step is to wash the removable parts with dish soap after you use them. Check the machine specifications, as some are washing machine-safe.
The second step is to decalcify your machine with vinegar. How often you do this depends on the quality and chemical composition of your water, but as once a month is about the standard.
Another trick is to wash your carafe with rice by filling it with warm water and a handful of rice. Then swirl the mixture to loosen any residues, then lightly rub them away with a sponge before rinsing with clean water
For single-use machines the principles are the same, but the method is slightly different. First of all, empty the machine and ensure there is no pod inside, then pour a mixture of white vinegar and water into the reservoir and don't put anything in the pod area. Turn on the machine and brew a cup (or a pot) of coffee.
Let this sit for around 20 minutes, then empty and repeat but with clean water only. Brew water-only for two or three cycles to ensure that all the vinegary taste has been rinsed away, and voila! Your coffee machine is as good as new.
What's the best coffee maker?
We've divided our coffee maker ranking into different categories because there are so many different ways to enjoy coffee. The fact that coffee makers are all so different also makes it hard to choose one overall best machine. However, after collecting data from websites and studies across the internet (you can read about our methodology in more detail in a dedicated section above), we've determined that the Barsetto Grind and Brew Automatic Coffee Maker comes out on top.
People love the combo design, which brings together a burr-grinder and state of the art coffee machine and lets them brew a very personalized cup of coffee.
As we've mentioned, though, this style of coffee maker might not be the one for you. If you prefer pour over methods, espresso machines, or a simple French press, scroll back up and look through our 30 Best Coffee Makers, and you'll find what you're looking for!
RAVE Recommends
Coffee addiction isn't something that can be easily cured, but then again, why would you want to eliminate this little pleasure from your life? Indulge wholeheartedly we say. Here are some more products to satisfy your cravings.