The Yogibo Max takes your average bean bag chair to the next level.
It's the only furniture on the market that can totally conform to your body. It's also extremely versatile: Use it as a chair, recliner, couch, or bed. In short, the Yogibo Max is a total game-changer.
Here at RAVE, we believe that we're all entitled to a little relaxation — even if it's just a few minutes a day. We all deserve to take a few minutes out of our day to do absolutely nothing.
That's right. Hair tied, sweatpants on, lounging around with no makeup on. And of course, when we're enjoying the few moments of relaxation we get, we want to be comfortable.
And how do we get comfortable enough to forget the stress of our daily lives? Easy: bean bag chairs. The RAVE team has gathered together some of the best bean bag chairs you can get your hands on. 
The Bean Bag Chairs We RAVE About
When life calls for lounging, get yourself in one of these bean bag chairs.
The Yogibo Max is living in the future of bean bag chair design. It's super versatile, completely conforms to your body with zero pressure points, and, quite frankly, puts your average bean bag chair to shame.
Read Full Review
Shop the Yogibo Max
You don't have to dish out wads of cash for a great bean bag chair — just look at the Microsuede Bean Bag Chair. Coming in at just under $40, this chair is super affordable, and it also happens to be the ultimate spot for relaxation and lounging.
Read Full Review
Shop the Large Microsuede Bean Bag Chair
Let's set the scene. You're back in your college days. You just finished your last class of the day and are now sitting in your dorm with your friends doing (or, well, attempting to do) your homework. If you're familiar with the college dorm scene you know that there's one item that is a dorm room staple, and that's a bean bag chair.
If you've never had the pleasure of lounging out in a big fluffy bean bag chair, you're really missing out. Never fear — we're here to change that.
Aren't bean bag chairs just for college kids?
Short answer: nope. Bean bag chairs are for everyone!
Bean bag chairs belong in way more places than just a college dorm. A bean bag chair can just the right sense of comfort and homey-ness to almost any space. They're perfect for living rooms, kid's rooms, dens, rec rooms, and anywhere else people go to spend time and relax. Even office spaces often have room for a comfy bean bag chair.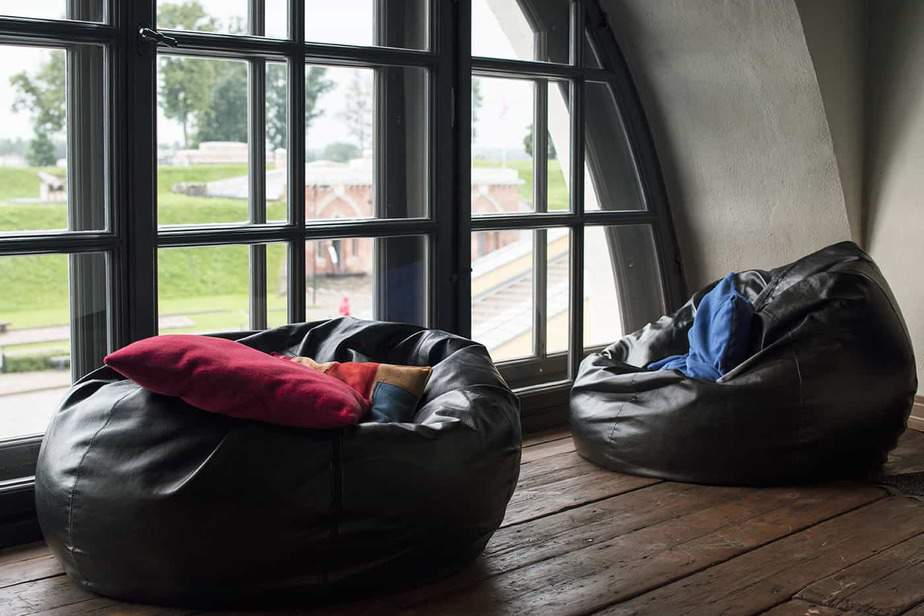 Here's the thing about bean bag chairs: They're essentially just a big ball of fluffy material packed together. How could that not be comfortable?
These chairs can be converted for different uses, too. They come in all different shapes and sizes, and some can be used as day beds, sofas, and even full beds. Not to mention they're much lighter, cheaper, and more compact than your average sofa or bed.
What to look for in a bean bag chair
Not every bean bag chair is the same. From different sizes to different fills and cover materials, even the smallest detail can change your experience.
That's why it's important to really sit down and think about what sort of use you'll want to get from your bean bag chair before purchasing one. You want to make sure you're finding one that fits your needs so you don't end up disappointed.
Some things you may consider include:
How big is the space you want to put it in?

How many people do you want to fit on it?

What do you intend to use it as (chair, bed, etc.)?

What color do you want it to be?

How much are you willing to spend?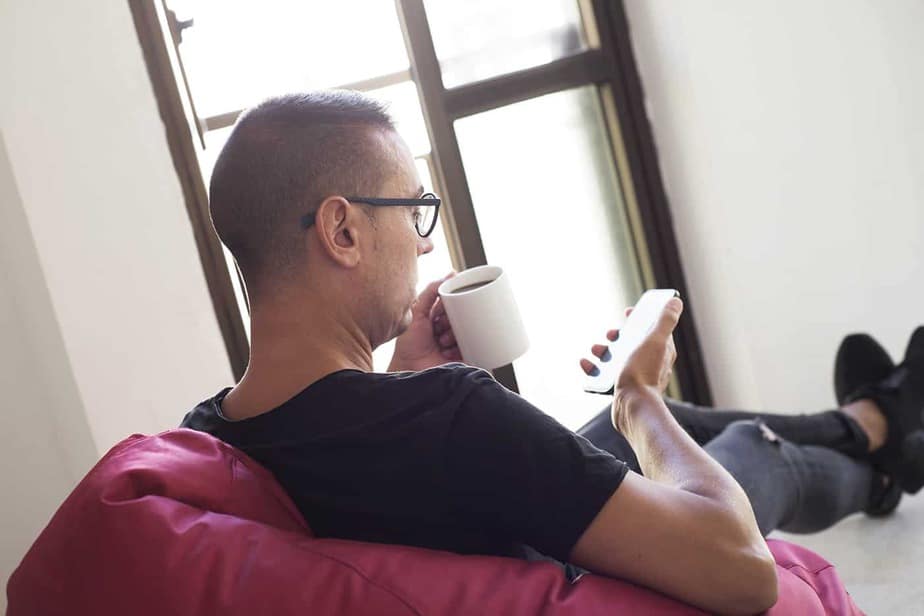 There are definitely some pricey bean bag chairs out there, and you don't want to spend all your money on a chair only to realize it's not what you want. But on the flip side, there are some super affordable ones that don't compromise on comfort or style.  
Once you take the time to ponder the questions above, we know you'll end up choosing the bean bag that works best for you.
Choosing the best bean bag chair
We presented you with the best bean bag chair overall, the best bean bag chair for a tight budget, and the best memory foam bean bag chair, along with 7 other amazing products, because we wanted to give you more than enough options.
We wanted to leave you with the fun of picking out the perfect bean bag chair rather than the stress of it. All the products we suggest are products we love and trust, and we know you'll love 'em too.
It's time to shop!
Without further ado, we present to you the best bean bag chairs on the market. You'll learn them, you'll love them, and you'll never want to leave them. Trust us, the hardest thing about sitting on these bean bag chairs is getting up.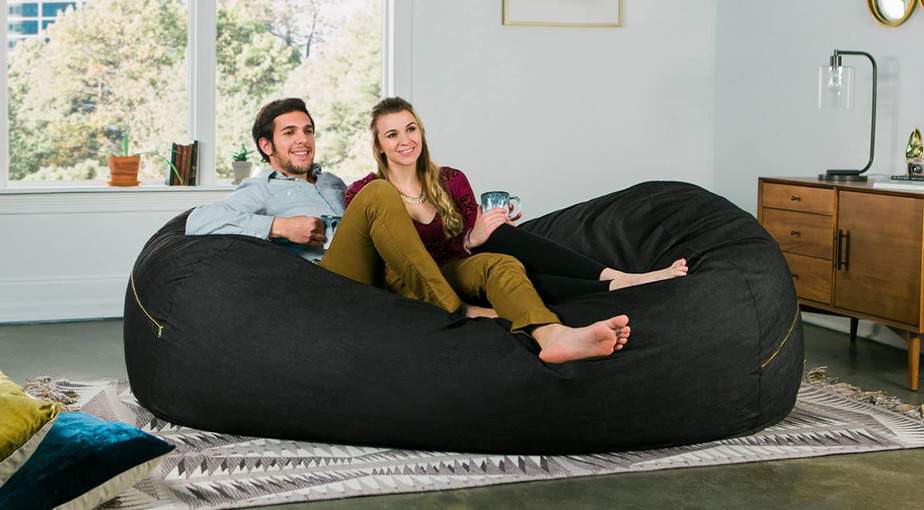 Methodology
It may be hard to tell at first glance, but if you look closely (and sit on a few different ones), you'll find that not every bean bag chair is exactly alike. From the material to the size, no 2 chairs are quite the same.
Through our research process, we looked at a number of key factors and features for each bean bag chair. These are the criteria we deemed most important in our search:
Size

Shape

Manufacturer/brand

Fill material

Cover material

Price

Customer ratings/reviews

Comfort
As you can see, we take these things very seriously. Basically, if you don't feel like you're sitting your butt on a cloud when you sit in a bean bag chair, we don't want anything to do with it.
These are the best bean bag chairs out there, and we promise you won't be disappointed no matter which one you choose.
Are bean bag chairs washable?
When it comes to whether or not bean bag chairs are washable, our answer for you is that it depends. 
Some bean bag chairs come with a cover that can be zippered on and off and thrown in the washing machine. In this case, it's often suggested you machine wash the cover in cold water and tumble dry on a low setting. 9 times out of 10, if it has a removable cover, it's okay to machine wash it.
Other bean bag chairs don't have a removable cover and require spot cleaning only. In this case, you'd simply wipe away any marks and stains with something like a wet washcloth. It's not as efficient as machine washing, which is something you'll want to keep in mind when you're shopping. 
The best way to find out how to clean your bean bag chair is to read the product description or visit the manufacturer's website. 
What's the best material for a bean bag chair?
From suede to faux fur to cotton to denim, there's no shortage of possible cover materials for a bean bag chair. The possibilities truly are endless!
So how do you choose?
One important thing to remember is that not every material will wear the same way. For example, if you'll be using your bean bag chair everyday, you may want to choose one made from a more durable fabric like a cotton or a denim, rather than something like suede.
In addition, not every material washes the same. If you spill a drink on leather, it may slide right off, while a drink spilled on velvet may completely ruin it. Some materials are okay to machine wash, while others aren't. And, of course, some materials are simply more comfortable than others.
It's important to think about what you want to use the bean bag chair for. If it'll mostly be used by kids, it's probably a wise choice to buy a chair made from a more durable fabric. Faux fur or suede may not be your best bet.
Do bean bag chairs have different fillings?
Just like bean bag chairs use different materials in their slipcovers, they also have different materials used to fill them up.
Just take the bean bags on this list, for example. Some are filled with microbeads, some with memory foam, some with polyurethane foam. 
Much of this choice comes down to preference. Some people absolutely love the feel of sinking into shredded memory foam, while others may prefer something a little bit firmer with more structure. 
Many bean bag chairs are filled with eco-friendly foam. This type of foam is often made from recycled materials, and it can be a lot better both for the environment and for you (especially if you have allergies!).
What are the best bean bag chairs?
There are tons of great bean bag chairs out there. To prove it, we've compiled this list of 10 of our favorites!
To create our list, we paid particular attention to these data points:
Size

Shape

Manufacturer/brand

Fill material

Cover material

Price

Customer ratings/reviews

Comfort
If we had to choose the best bean bag chair, we'd definitely pick the Yogibo Max. Its microbead filling and unique, zero-pressure-point design is setting the standard for bean bag chairs everywhere.
But it was a close race — if you haven't already hit the "Buy" button on the Yogibo, make sure you take a look at all 10 of our winners. Whatever you need out of a bean bag chair, you're sure to find it in one of these options.
RAVE Recommends
While you're lounging in your new favorite bean bag, check out some of these other products that will totally pull your day of relaxation together.
Kindle Paperwhite: 

Get access to any book you'd like with the Kindle Paperwhite. Gone are your worries of losing your page, or having to lug around heavy books.

Snuggie: A day of relaxation wouldn't be complete without a cozy blanket, and the Snuggie, of infomercial fame, takes cozy to the next level.
Globe Electric Floor Lamp: Allow this stylishly vintage, exposed bulb floor lamp to light up your space. It'll look amazing next to your comfy new bean bag.
.