In what may be the greatest underdog story of furniture history, we're here to say that the bean bag chair is making a comeback.
The product of the Italian modernist movement of the late 1960s, the bean bag chair has been an icon of modern design for more than 50 years. But, in a sad turn of events for a gloriously practical and comfortable piece of furniture, it's gone from a design worthy of an exhibit at the MoMA to a sloppy staple of a college dorm room.
After being co-opted by teenagers and struggling in the bad reputation deep end for the past handful of decades, we believe the bean bag chair's second wave has finally arrived. It's ready to resurface as the comfortable, functional, inexpensive, and—dare we say—attractive household staple that it was always intended to be.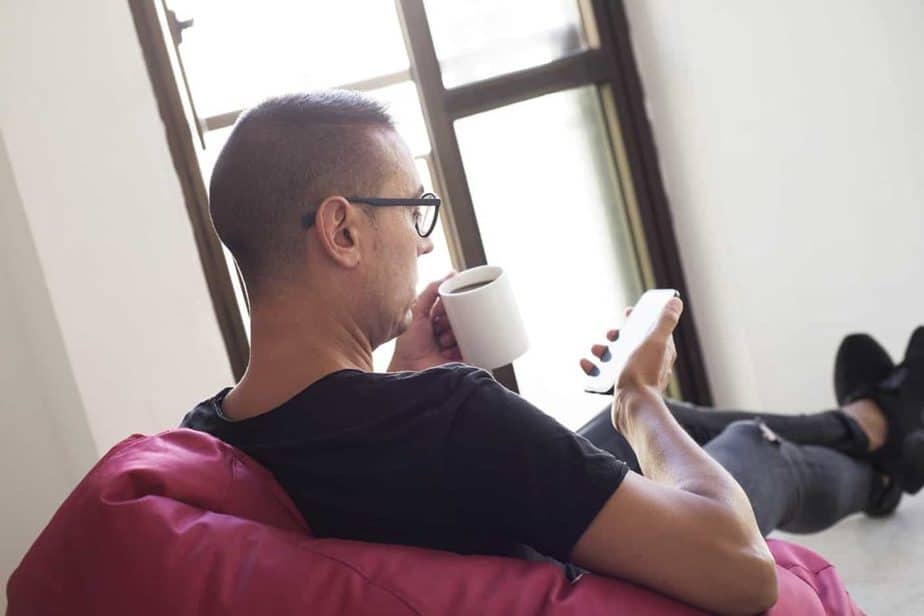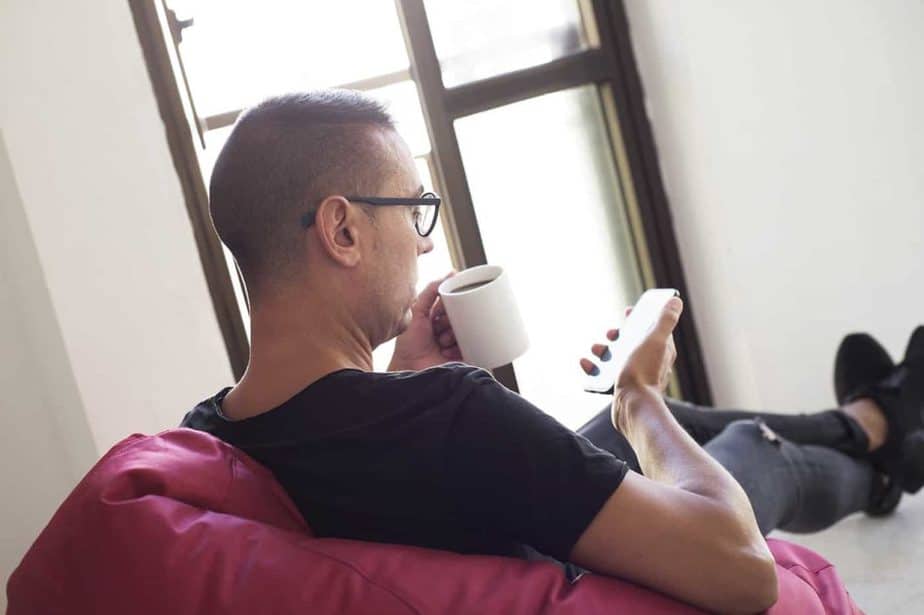 In our search for the best bean bag chairs, we found the chairs to match every budget, size, shape, and style. At a bare minimum, they had to be cozy, comfortable, attractive, and long lasting.
With so many solid options on the market, we had no problem finding our 10 favorites that check these boxes and then some.
But, if we had to pick our best overall bean bag chair of 2021, it would have to be the Big Joe Lux Imperial Lounger. It's not only built to last and super cozy, it's pretty darn good lookin' too. It's truly a bean bag chair anyone would be proud—and grateful—to have in their space, especially after (or during) a long day of work.  
The Bean Bag Chairs We RAVE About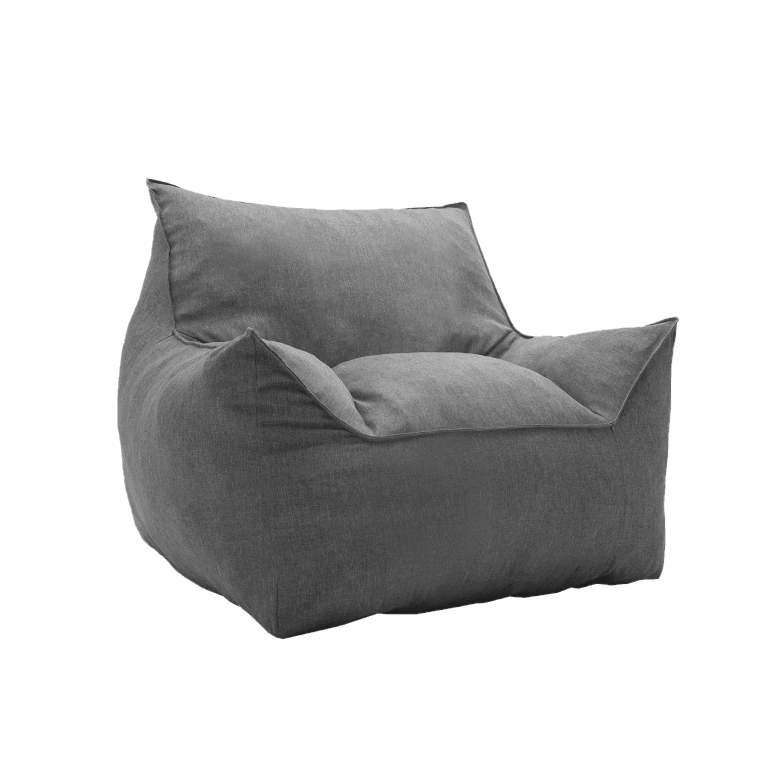 Best Overall
Big Joe Lux Imperial Lounger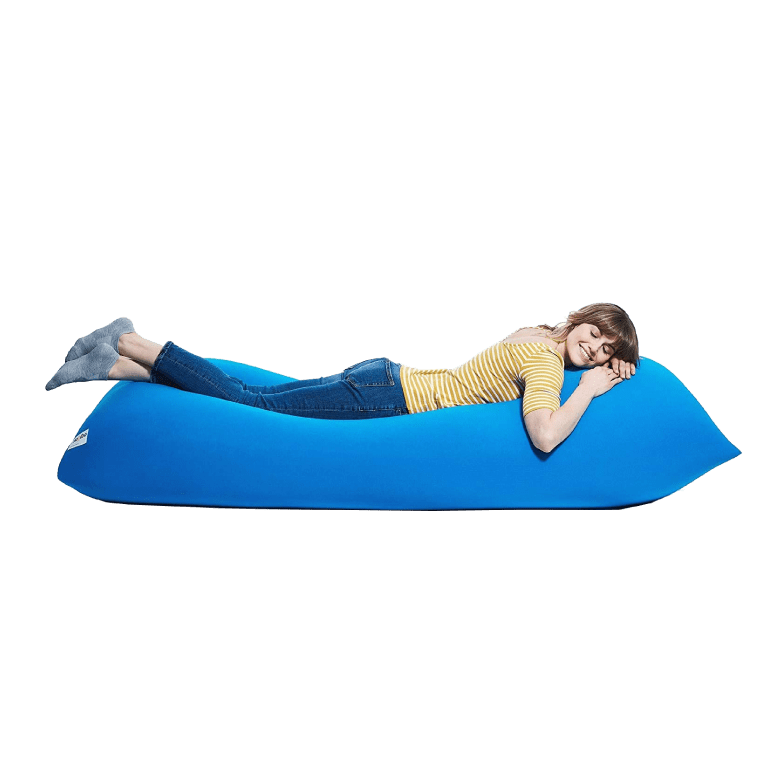 Most Comfortable
Yogibo Max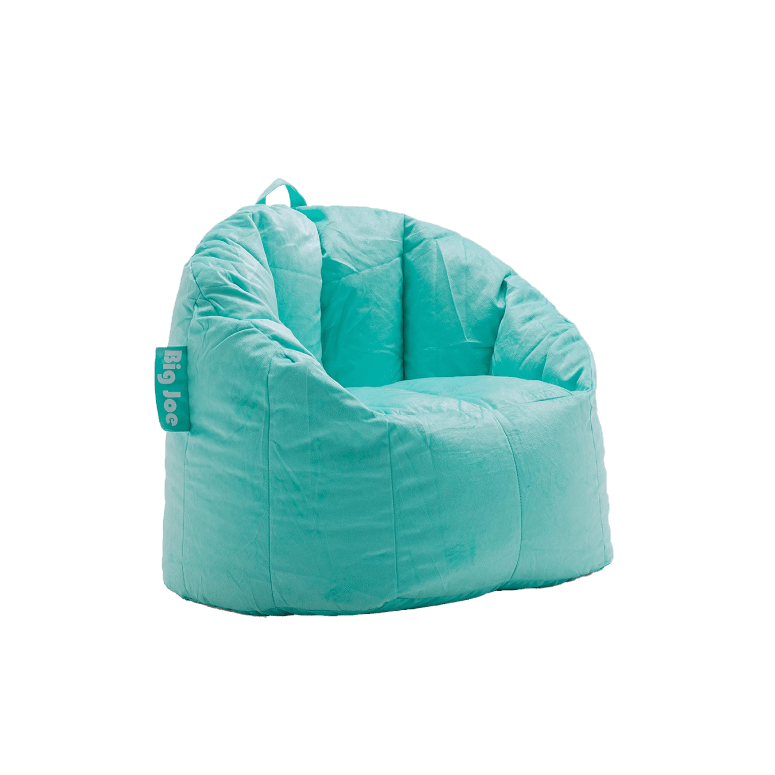 Best on a Budget
Big Joe Milano Bean Bag Chair
Styles to Consider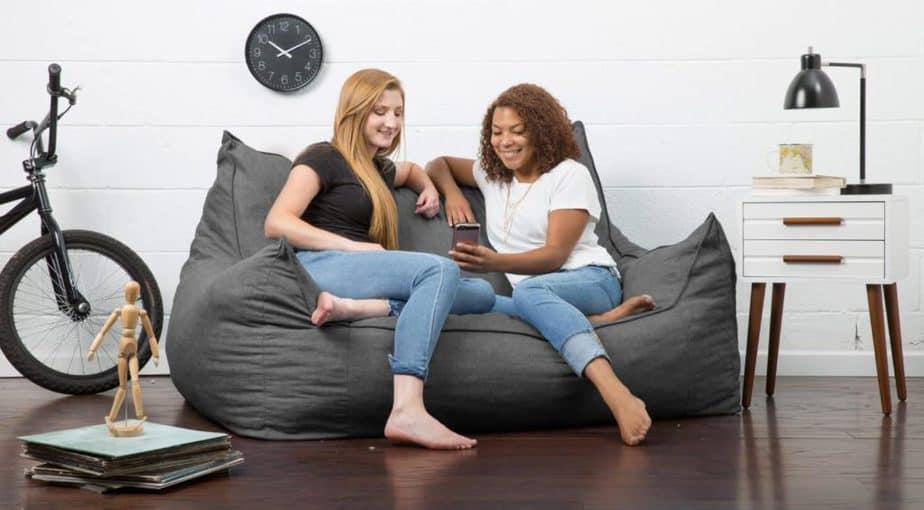 You have three main things to consider when deciding on a bean bag chair: filling, cover, and style. To start, let's dig into what's on the inside (or what counts the most, as they say!).
Filling
Your choice of filling depends on your personal preferences and how much you value longevity. There are two main types of filling:
Beads: offering that classic bean bag feeling, beads are the most common filling—and the most budget friendly—on the market. Beans are tiny orbs that shift to support and enclose your body, giving the sensation of floating. Because beads break down over time, they have the added hassle and cost of needing to be replaced. But, if the comfort of a traditional bean bag is your main goal, a bead-filled chair is what you're after. Bead-filled bean bag chairs come in two forms.
Polystyrene & Expanded Polystyrene (EPS): More commonly referred to as Styrofoam, this is the most common type of bead. They're more resistant to breakdown, which makes for a longer-lasting chair but comes at an environmental cost. For this reason, it's important to properly recycle these chairs when you're ready to move on.
Expanded Polypropylene (EPP): A slight upgrade from EPS, these beads expand and contract when you sit on them, making them supremely comfortable.
With both EPS and EPP beads, you'll want to consider virgin versus recycled. Virgin beads are newly manufactured and therefore more durable, whereas recycled beads are more eco-friendly.
Foam: If the durability of your bean bag is a main concern, foam filling is your answer. The shredded foam pieces last significantly longer than their beaded cousins, but the relative firmness of foam doesn't necessarily give the sunken cloudlike feeling that you might expect from a bean bag chair.
If you like the body contouring feeling that beads offer but don't want to sacrifice durability, keep an eye out for memory foam, though for what you gain in comfort you also gain in weight. Or, for an eco-friendly alternative, opt for recycled polystyrene foam.
Cover
Though the cover may seem like a stylistic choice, it's also a big decision in terms of function. The bag's cover dictates how cozy your chair will be as well as its durability and how easy it will be to wash. Common materials include: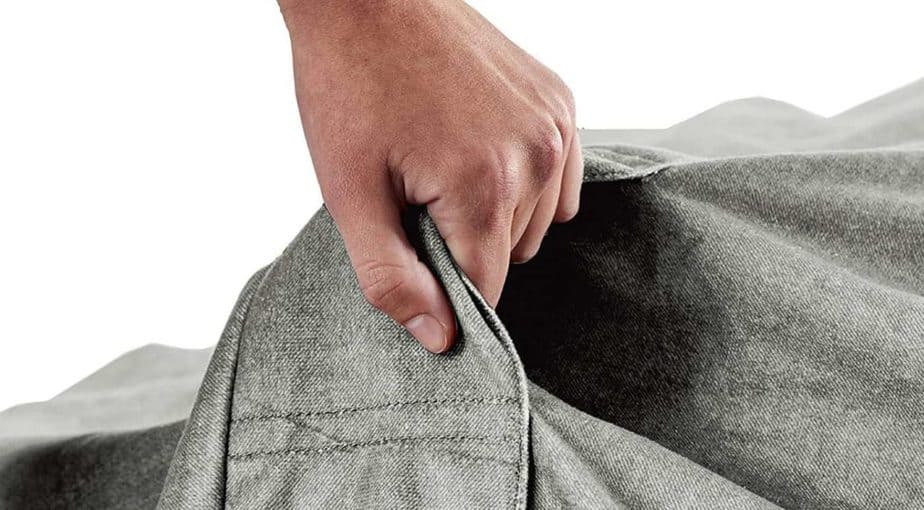 Cotton: not the most durable, but easy to clean, comfortable, and attractive.
Vinyl: super durable (even for outdoor use and rowdy pets or children) but not as comfortable or cozy. Plus, stains are tricky to remove.
Suede: comfortable, durable, attractive, but tricky to clean.
Plush: like being wrapped in a fuzzy fur coat, these bags are ultra comfortable but can be difficult to clean.
Velvet: a more formal look while still being super comfortable; there are two types of velvet: cotton and synthetic, the latter being easier to maintain.
Leather: durable and attractive, though not the coziest for most. Leather is also notoriously difficult to clean.
Style
The style of bean bag you chose comes down to its appearance, how it will fit in your space, and how it will function. Some chairs are designed with a stitched frame to offer more structure—ideal if you plan to use your bean bag chair to work or play video games. Others are large and plush, which are best for reading, meditation, or simple relaxation.
Because bean bag chairs come in so many different sizes, it's important to measure your space to ensure your top choice will fit (see FAQs below for tips). Aesthetically, bean bag chairs range from elegant to informal, depending mostly on their structure and the material used in their covers. We chose the best bean bag chairs in a variety of styles, so you can find the one that fits your needs, your room, and your taste.
Methodology:
With so many bean bag chairs on the market, it's easy to get lost in a sea of contradictory Amazon reviews and confusing technical specifications. We did all the research for you, scouring the internet for the best bean bag chairs whose materials were of the highest quality. From there, we narrowed down our top 10 list keeping the following priorities in mind.
Weight: One of the major benefits of bean bag chairs is their mobility; they're essentially a couch that you can move on a whim. We looked for models that don't weigh a ton.
Cost: We found the best bean bag chairs of all price points for the budget conscious and splurgers alike.
Durability: No one likes a flat bean bag chair. We looked for chairs with covers and filling that are built to last.
Washability: We prioritized models with an easy-to-wash cover.
Look: Though style is a highly personal matter, we thought it was safe to avoid bean bag chairs that scream, "Want to come back to my place to see my Bob Marley poster?" Instead, we looked for timeless designs that pay homage to the original bean bag chair's modern sensibility.
The Best Bean Bag Chairs
1
Big Joe Lux Imperial Lounger
Big Joe is one of the bean bag industry's leaders for good reason: They're affordable, durable, and feature simple, timeless designs. Of all of the brand's many options, however, this bean bag chair is our favorite. It's filled with long-lasting Fuf foam, meaning you won't have to replace the beads every year or two. The polyester fabric is both durable and soft, and its structure provides just the right amount of support while maintaining the cozy feeling we all love. And, at under $150, it's a very reasonable price for a super high-quality chair. 
Because this is a structured chair, it's not designed for fully lying flat. And, at around 30 pounds, it's not the easiest to move of all the chairs on this list. But its supportive design is perfect for both lounging and working, and it's good-looking enough to be a staple of any space. 
If you're looking for a bean bag chair that is super comfortable without looking sloppy and will last for years, Big Joe's Lux Imperial Lounger is our top choice. 
Pros
Affordable
Attractive
Durable
The Yogibo Max is a classic bean bag chair but with a much-needed makeover. It's extra large size and micro-bead filling yield the traditional feeling of floating in a giant cloud, but its updated colors and style make it fit for any modern adult home.

At 6 feet long, this chair isn't ideal for small spaces, and at around $260, it's certainly not the cheapest bean bag chair available, but at under 20 pounds, it's surprisingly light for its size. And its washable cotton and spandex cover is made to last and stay comfortable and clean for years.

So, if you're looking for that classic, ultra comfortable bean bag chair with a 2021 upgrade, the Yogibo Max is worth the investment. 

Pros
Comfortable
Washable cover
Lightweight
Cons
Expensive
Will require bead replacement
3
CordaRoy's Chenille Bean Bag Chair
We would like to thank the good people of Shark Tank for this bean-bag-meets-guest-bed hybrid work of what can only be described as genius. It's shaped like a traditional bean bag chair but features an easy to remove washable cover. Once removed, the inner cushion folds out into a full, queen, or king sized bed.

This chair has a bit of a classic slouchy design, so it's not ideal for those looking for a more elegant look. And, at around $240 for the smallest size, there are certainly cheaper options on the market

With that said, with the king size measuring at 5 feet by 5 feet, this bean bag chair is perfect for small spaces that can't accommodate a traditional sofa bed. It's also made using highly durable foam that won't need replacement. So, if you're looking for a highly functional piece of furniture, consider investing in the Chenille.

Pros
Functional
Durable
Convertible
Comfortable
4
Fatboy The Original Stonewashed Bean Bag Chair
We're not huge fans of this bean bag chair's name, nor the fact that it's emblazoned in big white letters on a huge red tag on its side. With that said, tags are removable and we love just about everything else about this chair's design. It maintains the sensation of a traditional unstructured bean bag chair, but because it looks like a giant pillow it conjures none of the same college dorm room associations. It can be folded and puffed up like a seat or lied out like a bed, so it's incredibly versatile and can be changed according to your mood.   
What's more, the cotton cover is machine-washable and soft, and it's filled with long-lasting virgin polystyrene beads so it's built to last. At around $580, this is certainly not the cheapest bean bag chair on the market. But, if you're looking for an oversized bean bag chair that's still stylish, this one is our favorite. 
Pros
Machine washable cover
Minimalist design
Malleable
Cons
Expensive
Large branding tag
Will require bead replacement
5
Sofa Sack Bean Bag Chair
The Sofa Sack is perfect for those seeking a traditional bean bag without the hassle of bead replacement. Made using high-quality memory foam, this chair contours to your body but lasts much longer than the classic beaded filling. Though it's not what you might expect from a bean bag chair, many prefer memory foam as it gives more feedback and support for your back and neck

What's more, it's encased in velvet and super soft suede. It's then double-stitched for durability, so it's both high performance and luxuriously cozy. 
At 7½ feet in length, this bean bag is not messing around. While you can comfortably lie out or share it with a partner or friend, it's not suitable for small spaces. And, to be frank, the design has an unfortunate dorm room vibe. At 92 pounds and over $300, it's also the heaviest and one of the more expensive bean bag chairs on this list. 
So why did it make the top 10, you may ask? It's the most functional, long lasting, and arguably coziest bean bag on the market — well worth the investment if you're willing to overlook its style and weight. If you're looking for the best of both bean bag worlds, this is the classic bean bag feel without the bead replacement headache.

Pros
Durable
Comfortable
Supportive
Cons
Expensive
Not as attractive
Heavy
6
Chill Sack Bean Bag Chair
As the number one best-selling bean bag chair on Amazon, this model creates some big shoes to fill. But with its durable, comfortable, and supportively soft memory foam and a double-stitched top cover, its quality certainly lives up to its hype.

What we love most about this bean bag chair, though, is that it comes with so many customizable options. From olive microsuede to white faux fur, you can tailor the cover to match your existing furniture and decor

At 47 pounds, it's not as mobile as other bean bag chairs on this list. The mid-level price, though reasonable considering the quality, also doesn't make it the cheapest. But, if you're looking for a durable, comfortable bean bag chair that doesn't take up massive amounts of space, this one is popular for a reason.

Pros
Durable
Not too bulky
Customizable
7
Christopher Knight Home Laraine Bean Bag Chair
This bean bag chair is not only super comfortable, it's also the perfect addition to any glamorous interior. Made of ultra cozy faux fur and filled with durable foam, it's designed to feel comfortable—and look good—for lor the long haul.

Because faux fur can easily trap dirt, dust, and grime, and is a bit trickier to wash, this bean bag chair isn't ideal for homes with pets or children. Some have also found the foam filling to be a touch on the firm side, which can either translate to supportive or uncomfortable depending on your personal preference.

At around $150, though, this bean bag chair gives the appearance of luxury without an exorbitant price tag. So, if you're looking for the best bean bag chair to match your super stylish home without breaking the bank, this chair was made for you. 
Pros
Affordable
Attractive
Supportive
Cons
Hard to wash
Too firm for some
Can't lie out
8
Laguna Lounger Captain's Chair
We love the look of the original Sacco chair and its more modern iterations, like the sail pouf ottoman from GAN Rugs. But, at over $1500 we just couldn't stomach giving it a spot on our top ten list. This brings us to the Laguna Lounger Captain's Chair. Boasting a similar minimalist design at a fraction of the price—and with a super durable cover to boot—this one quickly became one of our favorites.  
Filled with virgin polystyrene beads, this bean bag is built to last. Plus, its cotton canvas cover is water resistant, comfortable, and super durable, even for outdoor use. 
With a sail-shaped construction, this chair adds some structure and support but doesn't accommodate a fully supine position. The durable materials mean that it won't be quite as cozy as a plush or velvet bean bag chair. But, if you're looking for a stylish, sturdy bean bag chair that doesn't cost a fortune, this is one of our favorites. 
Pros
Stylish
Affordable
Durable
Cons
Can't lie out
Cover not as cozy
Will require bead replacement
If you're looking for a bean bag chair you can sit in for hours on end, look no further than the Warp Bean Bag from Big Joe. Made for gamers, it's built as an "armchair with a twist," with just enough support for your back to keep you upright. At under 9 pounds, it's super easy to move from room to room. Plus, its spandex material is comfortable and, as with all of Big Joe's products, it's built with safety locked zippers so it's suitable for kids. 
When it comes to looks, we'd categorize this chair as more function over form. Plus, this chair is on the small side, so it's not ideal for larger adults. But if you're looking for a gaming chair that will support you or your teenager's back, this is a solid option.

Pros
Safety lock zippers
Supportive
Affordable
Durable
Lightweight
Cons
Not as attractive
Will require bead replacement
Cover not washable
10
Big Joe Milano Bean Bag Chair
This super lightweight bean bag chair is ideal for those seeking a less expensive chair that still delivers in luxury features. With a simple design, stitching for support, and plush cozy fabric, this chair is attractive and comfortable. And, at under $50, it's no wonder more than 3,000 people have given it a perfect five-star review. 
As is expected with a more budget-friendly piece of furniture, the durability of this chair could be better. The beads often need to be replaced sooner than with similar models, and the small size means it's not suitable for larger-sized people. But, if you're looking for a bean bag chair that's supportive, affordable, and super easy to move, Big Joe Milano is our favorite. 

Pros
Affordable
Lightweight
Mobile
Cons
Will require bead replacement
Not as durable
Can't lie out
How do I measure a bean bag chair?
A bean bag chair's measurement is typically given as the flat, unstuffed bag. This can be confusing, because it's hard to estimate how large it will look in your space once it's stuffed. Some standard widths and how they're used include:
60 centimeters: for children up to 3
80 centimeters: small size for suitable for adults with space concerns
96 centimeters: the standard medium size
120 centimeters: extra-large, best for lying down or seating more than one person
How should I clean my bean bag chair?
Bean bag chairs are cleaned according to the material they're made of. If your chair comes with a machine-washable slipcover, simply remove the cover and follow the instructions on the care label to clean. Keep a large bag nearby just in case—this can prevent a huge mess if the filling has come out.
Generally speaking, though, spot cleaning is the name of the game. Remove small spots and stains as soon as you notice them, being especially gentle if your bean bag chair is made of a more delicate material (dampen don't soak). Use a vacuum to remove any dirt or dust. From there, follow the guide below to spot clean stubborn stains on difficult materials.
Suede: Dab the stain using a gentle towel dampened with two parts water, one part vinegar. If the stain persists, try using a suede brush in a circular motion. 
Vinyl: Add a few drops of water to one teaspoon of baking soda. Continue adding water and stirring until a thick paste forms. Spread the paste onto the stain and use a soft toothbrush to scrub. Wipe away the paste with a damp cloth and set aside to air dry. 
Plush: Brush away stains using a soft hairbrush, lukewarm water, and gentle soap if necessary.
Faux Fur: Clean stains using upholstery cleaner, making sure to test the cleaner on a small, hidden spot first. 
Are bean bag chairs safe for pets and children?
The American Academy of Pediatrics recommends children under the age of 1 be placed on their back on a firm surface covered only with a fitted sheet when sleeping.
After the age of 1, the main safety concern for children and pets is bean bag chair's filling, which can be toxic if ingested. With this in mind, always supervise your children around your bean bag chair and secure the chair's zipper for added protection. This will save the inner lining from tearing and exposing the filling.
If you have pets, opt for a bean bag chair with an extra durable cover to ensure they aren't able to chew through to the filling. And, if you ever notice holes or tears in your bean bag chair, replace or repair it immediately.
What is the best bean bag chair?
Though we love each and every chair on our highly competitive "Top 10 Best Bean Bag Chairs" list, our favorite has to be Big Joe Lux's Imperial Lounger. It's a dream to sit in, doesn't cost a fortune, and looks great in just about any space. But don't sleep on it just yet! Our list is stacked with options that may better fit your space or lifestyle. Make sure to check out all of our top 10 to find your match made in bean bag heaven.
RAVE Recommends:
Now that you've picked out your best bean bag chair, it's time to architect the ultimate cozy experience. We love the following products for bringing your little ball of heaven to the next level.
Glocusent LED Neck Reading Light: An extra special evening is turning off the all lights, lighting all your candles, turning on some Marvin Gaye slow jams, maybe pouring yourself a glass of wine … and sinking into your new bean bag chair with a captivating book. This reading light sits comfortably around your neck so you can enjoy the relaxing ambiance and still see the pages. 

Baloo Weighted Blanket: Nothing says cozy like a weighted blanket—it's basically a hug in the form of a comforter. Baloo's model is our favorite, but check out our full breakdown of options here.  

MZOO Eye Mask: Use this eye mask with your bean bag chair for the ultimate napping experience.
 
Glerups Slippers: We wear these eco-friendly slippers year round (all day long in 2020, if we're being honest) and they have never once smelled. Walk to your new bean bag chair and kick them off—or leave them on. They're just that comfortable. 

Devin Fuller
Devin Fuller formerly traveled the world as a fashion model, and now resides in San Francisco, CA. She loves being active outside, mostly climbing, sometimes surfing, and always eating and drinking well.