We recommend products based on unbiased research from our editorial team. We may receive compensation if you click on a link.
Read More.
Mold is a common household nuisance that is tough to combat and hazardous to your health.
A great way to keep mold spores out of your home is by using a quality air purifier. Our choice for the best air purifier for mold is the Holmes Desktop Air Purifier. This compact air purifier packs a powerful punch when it comes to removing allergens and mold from the air. With its inconspicuous design, it's easy to place anywhere in your home, and the optional ionizer deals with the musty smell that often comes with mold issues.
Mold is a microscopic type of fungi found in every environment ever encountered by humans. Generally speaking, molds and other fungi play a beneficial role in the environment, breaking down organic materials so nutrients can be transferred to plants and trees, enabling them to thrive and grow.
Through their contribution to this biological process, mold benefits us humans, since plants and trees are central to the production of the oxygen we breathe. Mold or fungi also produce or contribute to certain foods we eat, like mushrooms and cheese. Many of the antibiotics we now depend on to fight bacteria are derived from mold.
Though common and in some cases beneficial, some mold spores can produce an allergic or even toxic response in humans. There are many strategies that can and should be used to deal with mold, such as a reliable air purifier. With so many different air purifiers on the market, we have created a ranking to help you decide which one is the best for you.
The Air Purifiers for Mold We RAVE About
If you want to eliminate the moldy smell emanating from your basement, check out these great air purifiers:
If you are on a budget but still want a quality efficient machine you can count on to remove unwanted materials from the air, you should definitely consider the GermGuardian 3-in-1 True HEPA Air Purifier. This device uses activated carbon, a HEPA filter, and ultraviolet germicidal irradiation to deliver excellent air quality, all for under $100!
Read Full Review
Shop the GermGuardian AC4825 3-in-1 Air Purifier
In the natural environment, most molds are beneficial because they assist in the decomposition process by breaking down organic materials, then recycling key nutrients for the use of new growth.
The way mold reproduces is by discharging spores which float through the air, looking for new places to grow. Moisture is a key ingredient for the growth of mold.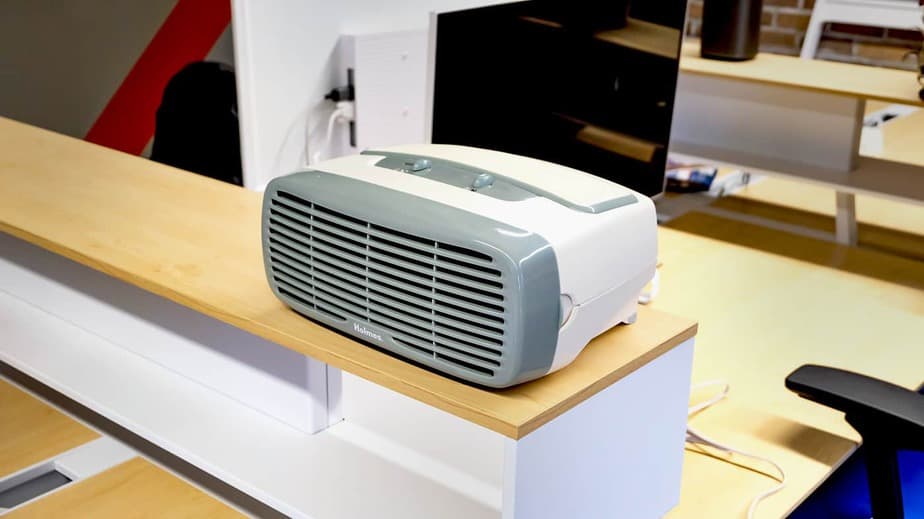 The Good
There are some molds that are especially beneficial to humans. These are molds that tend to produce antibacterial microbes. The most famous of these is penicillium, which naturally produces penicillin.
Though humans have long known that some molds are useful for fighting bacteria — the Egyptians used to apply moldy bread to diseased wounds — Alexander Fleming was first able to isolate penicillin as an antibacterial substance in 1928.
Later, in the 1930s and 40s, Fleming's initial discovery was finally developed into what we now know as antibiotics.  By 1944, large-scale industrial penicillin production was well underway.
Humans also use mold in the production of some cheeses. Blue cheese, for instance, uses the same mold that produces penicillin to create a sharp and delicious taste.
Other cheeses like Stilton, Gorgonzola, and Roquefort are all produced using specialized mold cultures which are added at different points in production.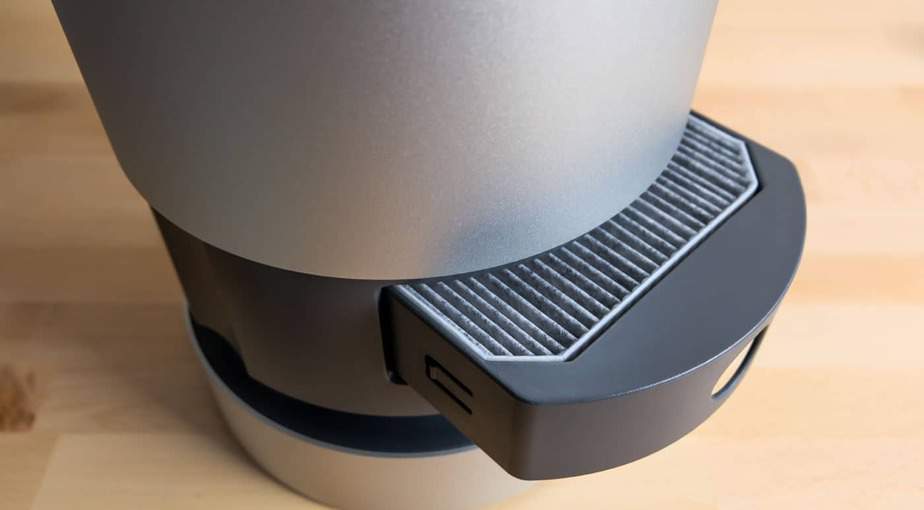 The Bad
Though mold has serious benefits in the natural environment and directly enhances human life, some molds can definitely pose serious health problems. For example, most molds that can appear on food have been linked to liver cancer.
Spores produced by mold in your home are even more problematic. You can avoid eating moldy food, but it's not always possible to avoid breathing in mold spores. When breathed in at high levels, these spores can often lead to serious reactions, such as bronchitis and other respiratory infections, or a fungal infection.
A fungal infection or mycosis happens when either the lungs or skin come into contact with high levels of airborne mold spores.
The Ugly
One of the worst kinds of mold is black mold, or Stachybotrys chartarum. Try saying that five times fast!  Seriously though, this stuff is no joke. Though a rarity, this type of mold is associated with serious respiratory symptoms, including bleeding in the lungs.
If you suspect a section of your house has this type of mold, be sure to get it tested and seek remediation as soon as possible.
Protection and Removal
Since molds in the home are often less benign than those found in the environment — or in your cheese — it may be worthwhile to consider how to best defend against mold growth and what the best mold removal methods are.
By and large, the most important factor leading to mold growth in the home is moisture. Becoming familiar with which areas in your home are susceptible to moisture is important. Keeping them dry is also key.
Also make sure your home is properly ventilated, and definitely consider using a dehumidifier in places where you suspect moisture accumulates in your home.
Another tip is to keep your gutters in good repair since overflowing water can often compromise your roof and other areas that you cannot see easily. Be sure your home has adequate airflow, and remove any mold from your household plants, eliminating any obvious sources of spore production.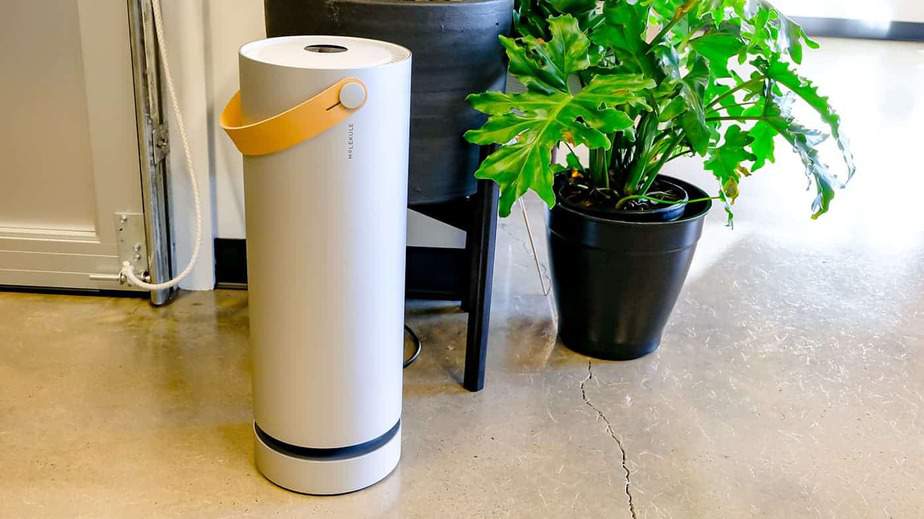 Since a quality air purifier also captures dust and other allergens, it is a great investment.
If you discover mold, clean it immediately using a mold-killing solution, white vinegar, or bleach. All of these work well when diluted with water. After you clean the surface, let the vinegar or bleach solution work its magic to totally eradicate the mold for about two hours, then rinse it with water.
For more serious mold infestations, we suggest contacting a professional who can help with mold remediation.
Methodology
We developed the current ranking using a rigorous research methodology including extensive meta-data analysis from multiple trusted review sites; listening to and reading reviews from cleaning experts, doctors, and consumers concerned with keeping their homes mold-free; and of course, we also used several of these products ourselves!
Through this research, we found the below criteria to be most important when choosing an air purifier for mold:
Noise: There is no doubt that air purifiers can be noisy, but some are much quieter than others.
Filtration effectiveness: The only reason you buy an air purifier is to filter out unwanted particles and smells, so make sure your purifier does the job!
Price: There is no doubt that air purifiers can be pricey — some are worth it, and some aren't.
Area coverage: Most air purifiers have a limited range that they can cover, so make sure you know how much your purifier can handle.
Ease of use: Is it easy to operate, clean, and change your purifier's filter? It matters!
Manufacturer and warranty: Since you are investing in an air purifier, it makes sense to make sure it comes from a trusted company with a good warranty.
Filtration method: Today's air purifiers often have more than one method for removing particulates from the air.
If you are battling mold, or just want to prevent it from taking root in your home, be sure to check out our list before you choose your next air purifier!
Related rankings
Are air purifiers really good for mold?
Indoor mold can pose a serious health risk and is particularly problematic for people with allergies, asthma, or other COPD-related illnesses, so keeping it under control is important.
The problem is that by the time you can actually see mold, it has more than likely already spread through the air around your house. Mold spores are microscopic, and if you come across mold in your home, you are actually seeing clusters of thousands upon thousands of mold spores.
That means there is more than likely a lot of mold floating through the air in your home.
Aside from cleaning moldy areas with bleach or other detergents, another great way to deal with mold is with a good air purifier.
Most of the air purifiers on the market today use HEPA or High-Efficiency Particulate Air filters. These filters are really the best defense against mold spores because they can capture up to 99.97% of all fine air particulates 0.3 microns or larger. The average size of a mold spore is from 3 to 40 microns.
There are also specially designed HEPA filters woven with silver threads, making them particularly effective at eliminating mold.
But remember, that an air purifier alone won't defeat your mold problem, so be sure to check out other recommendations for dealing with mold. If you have a serious mold problem, it may be worthwhile to contact a professional.
Does an ionizer kill mold?
If you are using an air purifier in your battle against mold in the home, the best way to deal with your problem is to make sure your machine is equipped with a HEPA filter. These filters are extremely effective at removing mold from the air.
You should also be sure that you are changing out the filters within the recommended time frame, as mold can actually still grow inside of your filter if left too long.
Another useful tool can be an ionizer. Ionizers cannot kill mold, but they can reduce the amount of mold that is in the air you breathe.
Ionizers work by charging the air with negative ions that attach to particles, which become too heavy to float through the air and fall to the ground.
The same process happens to mold spores, but you have to keep in mind that they are still there; the spores are just not in the air any longer. You need to be sure to vacuum the area around your purifier and keep it clean.
One more note about ionizers is that they generally emit trace levels of ozone, which is very toxic when breathed in at high levels. If you have an ionizer on your air purifier, be sure to use it intermittently to keep ozone from building up in your home.
What is the best air purifier for mold?
Getting rid of mold can be a tough task. Along with cleaning surfaces where mold has formed, it is a good idea to use an air purifier to remove microscopic mold spores. But with so many different air purifiers on the market, deciding which one is right for you is no easy task. Our rankings list is here to help!
During our thorough research, we found the following questions to be especially important when looking for a good air purifier to combat mold:
What kind of filtration system does the device use?
How expensive is the machine?
How much do replacement filters cost?
How loud can the device get?
What sized room can it handle?
Is the manufacturer trustworthy?
What does the warranty cover?
Is it easy to use?
These questions helped us hone in on some of the key qualities of a good air purifier to help deal with mold.
Our research led us to choose the Holmes Desktop Air Purifier as the best choice for mold.
Check out our list before your choose which air purifier to enlist in your anti-mold army!
RAVE Recommends
Check out these other great products to help get mold under control:
Chris Winn
Chris Winn is a freelance writer who works in the Minneapolis area, where he and his family are beholden to two cats and a dog.