When you're contorting your body into ambitious yoga poses, you'll definitely want a mat that can keep up.
Just like how our bodies can vary greatly from yoga pose to yoga pose, yoga mats can do the same exact thing. There are tons of different yoga mats on the market, each targeted for a specific purpose, and to perform the best downward dog you've ever done, you're going to want to make sure your mat fits your specific needs.
When searching for the perfect yoga mat, we all like to look for a design we love, but what's the good in that if it's not performing at the level we need it to? A few key things you'll want to consider are the length, thickness, and materials. Knowing your preferences about these will help you find a mat that allows you to flow seamlessly through each sequence.
We think the best yoga mat on the market is the Manduka PROlite Yoga Mat. Offering you all the cushioning your body needs minus the bulkiness, this mat seamlessly fits into any yoga sequence you find your body flowing through.
The Yoga Mats We RAVE About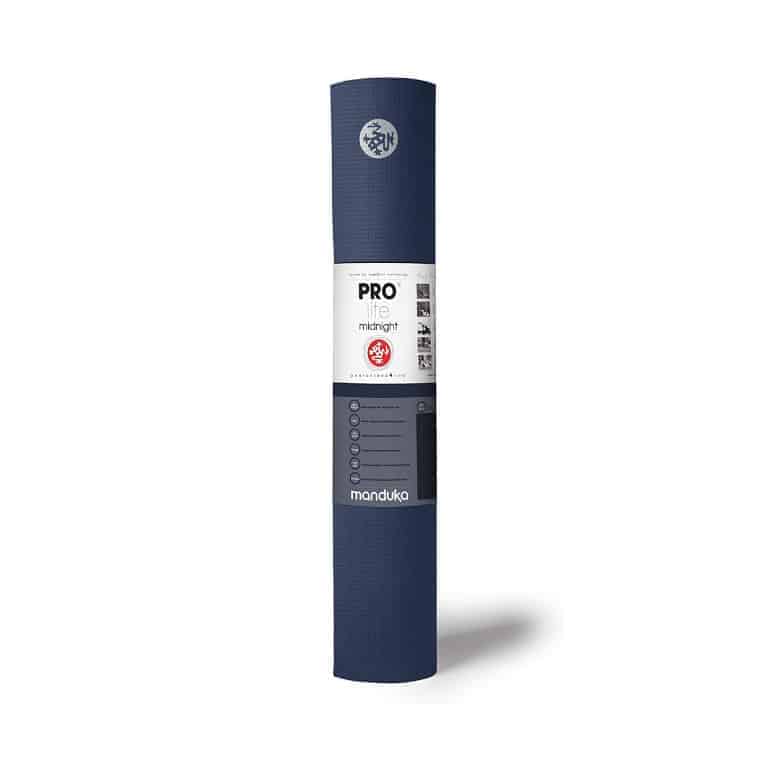 Best Overall Yoga Mat
Manduka PROlite Yoga Mat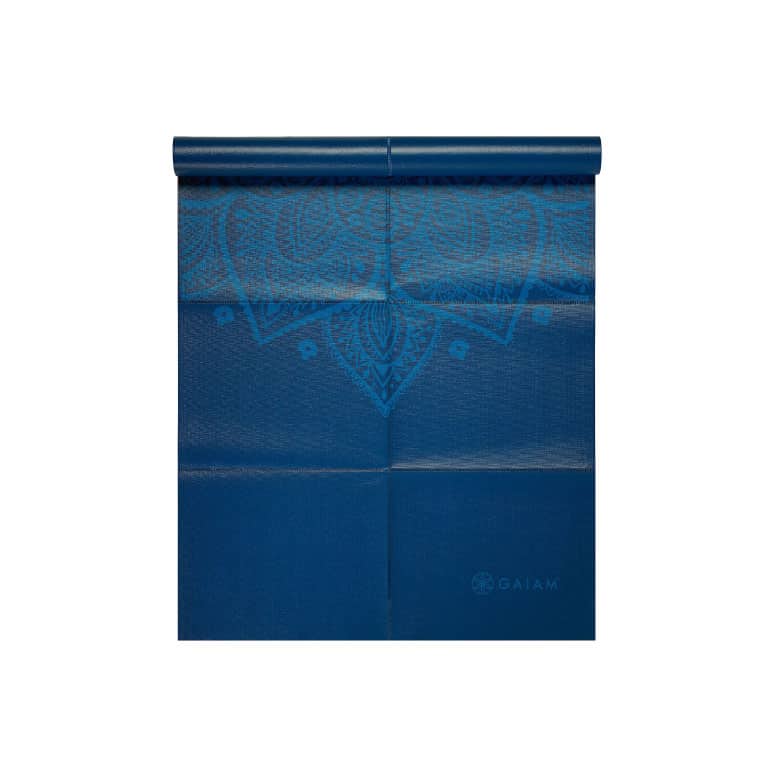 Best Travel Yoga Mat
Gaiam Foldable Yoga Mat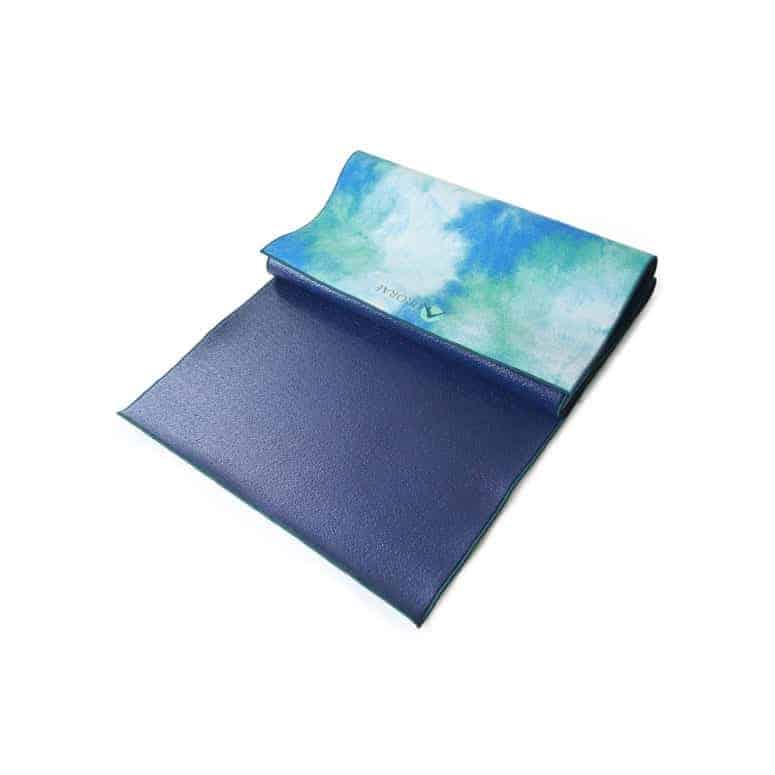 Best Yoga Mat for Hot Yoga
Aurorae Synergy Hot Yoga Mat
Finding the perfect yoga mat is much easier than you may think, and we're here to help you out along the way. By the time you finish reading this ranking, you'll have paired yourself with a mat that best fits your needs and you'll be ready to get back to your practice.
Finding the Best Yoga Mats
To find the best yoga mat, it's important to know both what you're looking to get out of a yoga mat as well as what a yoga mat actually does for your exercise routine. A yoga mat plays a vital role in your yoga practice, and provides more benefits and serves more functions than you might realize.
First, let's look at the history of yoga itself before diving into the best yoga mats.
The Popularity of Yoga
Yoga and its practice have become increasingly popular, even though it's a practice that is rooted in over 5,000 years of ancient texts, and traditions. A survey conducted by Yoga Alliance and Yoga Journal reported that the number of Americans doing yoga grew to over 36 million as of 2016.
In addition, nine out of 10 Americans have heard of yoga, one in three Americans has tried yoga at least once, and more than 15% of Americans have done yoga in the last six months. Plus, more than a third of Americans say they are very likely to try yoga in the next year.
Judging by these numbers, it's obvious that yoga's popularity has exploded around the country, and it has become a staple in the idea of self care.
The Benefits of Yoga
It's no secret that yoga feels good. Many of us are flocking to our local studio to take classes from vinyasa to restorative yoga because of how amazing we feel when we're done. From relaxing in poses where you're practically falling asleep, to constantly flowing up and down in movement, yoga is an amazing way to loosen your body and work out kinks.
Yoga has many other benefits, though, that we may not initially realize. Some of yoga's many, many benefits include:
Improved cardiovascular fitness
Increased flexibility
Increased blood flow
Increased balance
Improved overall quality of life
Increased muscle strength and tone
Reduced stress
Reduced anxiety
Reduced pain
Healthier lifestyle overall
Prevents cartilage and joint breakdown
Surprisingly, the benefits continue. Yoga is not only amazing for our physical bodies, but it's also amazing for our mental health. Even though you can't see the changes, they're happening.
Yoga Is for Everyone
The sad thing is that many people don't think they're meant for yoga. Many people have this idea that yoga is only for women, or that if you're not flexible, you won't be good at yoga.
What's cool is that there's no such thing as being good at yoga. It's true! There's really no right or wrong way to do yoga, as long as you're benefiting from it. If your yoga practice makes you feel good and you're not getting hurt, then you're doing yoga right.
You don't have to start off as a flexible person, especially because yoga itself is what can make you flexible. So, once you get the narrative that yoga isn't for everyone out of your head, it's time to start purchasing some yoga gear.
What Gear Do You Need for Yoga?
It's pretty obvious that the most important tool in yoga is our body. Yoga is a super physical practice and without our bodies we wouldn't be able to participate in it. However, there are some other important items you'll need to take your yoga practice to the next level.
Some items that aren't required but may help improve your practice include yoga blocks, a blanket, a bolster, and a strap. These items all can help keep you balanced, stretch you a bit further, and keep you cozy and comfy in savasana.
Arguably the most important item that you'll need when it comes to yoga is a yoga mat. A yoga mat will greatly improve your practice. From keeping you comfortable to helping you maintain your balance, a yoga mat is your saving grace when it comes to your yoga practice.
What to Consider Before Buying a Yoga Mat
The truth that some of us may not want to face is that finding the perfect yoga mat for your practice can be hard. There are tons of different brands, styles, sizes, and materials that can completely change not only the look but the feel of your mat. There are even some mats that are better for certain types of yoga than others.
Some of the many factors you'll want to take into consideration when purchasing a yoga mat are:
Thickness
Length
Brand
Weight
Material
Grip level
Texture
And that's not all. There's a different yoga mat for almost every different type of yoga, so it would be close to impossible not to get overwhelmed on your search for the best yoga mat for you.
The Best Yoga Mats
The good news is that we've got you covered. We gathered together the best of the best yoga mats on the market, so that you wouldn't have to do any of the work.
Take a look at the mats in this list, pick your favorite, and get your yoga on.
Methodology
Over here we take self care very seriously, and yoga is now trendier than ever and a hot topic when it comes to taking care of ourselves. We all know though that besides our bodies, our yoga mat is the most important tool for getting our downward dog on, and we obviously want you to have the best mat out there.
That's why when searching for the best yoga mats on the market, we don't just search the words "yoga mat" and write down the first 10 results we see. Our search goes much deeper than that. Every yoga mat on our list is judged on a number of factors, including:
Price
Brand
Weight
Thickness
Material
Comfort
Grip level
Pros and cons
Customer ratings and reviews
Popularity
Overall quality
We want to make sure that when it comes to suggesting mats, we're giving you only the best of the best. The last thing we would want to do is suggest to you a product that we wouldn't personally use ourselves, so rest assured that our reviews of these yoga mats are the real deal—you can enjoy your savasana with confidence.
The Top 10 Best Yoga Mats
1
Manduka Prolite Yoga Mat
The Manduka PROlite Yoga Mat is our favorite mat on the market for some very obvious reasons. This yoga mat seamlessly pairs superior quality and comfort all while still being lightweight and super easy to travel with. No matter what surface you lay this baby out on, it'll support you through your entire sequence.
Unlike some mats that seem to get worse with wear and tear, this mat actually improves over time. After a few sun salutations you'll start to break it in, and you'll notice your foot grip improving with each yoga class. Plus, the high-quality material this mat is made from is guaranteed to not peel, flake, or fade.
This mat offers amazing cushioning, ensuring that you'll get the most out of your yoga poses without any of the bone or joint pain you'd experience from a cheaper mat. This mat also offers a lifetime guarantee, so on the rare chance that you're not getting what you'd expect from this mat, you can always easily return it.
Pros
Improves over time
Fully cushioned
Lifetime guarantee
2
Gaiam Foldable Yoga Mat
For a super compact, lightweight travel yoga mat you can bring anywhere, the Gaiam Foldable Yoga Mat is the best one you can get your hands on. Unlike typical yoga mats that you'd roll up when not in use, this mat folds into a compact 10-inch-by-12-inch square, making it super easy to stick in your tote bag and take on the go.
This yoga mat is only 2 mm thick and weighs only one pound, but the good thing is that none of its comfort is compromised in the process of making this mat so easy to travel with. It's even made with a sticky surface texture in order to keep you grounded in place whether you're in an expert-level vinyasa class or simply downward dog. 
With a variety of colors and designs to choose from, you're guaranteed to find a design that you absolutely love. Plus, like the Manduka mat, this mat comes with a lifetime guarantee. So if at any point you find this mat isn't supporting you the way it should, you can experience an easy, hassle-free return. 
Pros
Super lightweight
Foldable
Easy to travel with
Cons
Can feel too thin
A bit slippery
3
Aurorae Synergy Hot Yoga Mat
For those brave souls who challenge themselves to take on a hot yoga class, the Aurorae Synergy Hot Yoga Mat is the perfect yoga mat to take along on the journey. This yoga mat is topped with a lush, non-slip microfiber towel as the top surface, so no matter how sweaty your feet and palms get, you won't risk slipping and falling out of poses.
This mat has a 5 mm thickness which provides comfort and stability to protect your joints and muscles, allowing you to sail smoothly through even the most intense yoga sequences. And it's free from all latex, silicone, rubber, and phthalates, so you can enjoy an eco-friendly practice and not have to worry about experiencing any harsh odors.
Most yoga mats make it close to impossible to practice when you're really sweating, as moisture on your hands and feet leaves you slipping all over the place. However, with this yoga mat, the more you sweat, the better grip you get. That's why this yoga mat is definitely our pick for the best hot yoga mat.
Pros
Good grip
Made with hot yoga in mind
Eco-friendly
Cons
Not the best material
Slight odor
A bit thin
Ready to level up your yoga practice with a mat that will help you focus on alignment? If so, the Liforme Yoga Mat is the yoga mat for you. This brand upped the potential of yoga mats by creating a mat that features alignment lines. So, if you're a stickler for alignment, then this mat is definitely one you'll want to get your hands on. 
While most users absolutely love the stickiness of this mat, some yogis have mentioned that it may be a little too sticky for them, sometimes making it a bit hard to flow from one pose to another. Others have also mentioned that the price is a bit high, but if you're not shopping on a budget, this is a great pick.
A bonus is that Liforme uses sustainably sourced materials and recyclable packaging, and ensures their mats last a lifetime. But if for some reason your yoga mat finds its way to the dump, it's completely biodegradable and there will be no trace of it left in one to five years. When the company says their mission is to be completely planet-friendly, they aren't kidding.
Pros
Planet-friendly
Alignment lines
Comfortable
Cons
Pricey
Too sticky
Not worth the price for some
The Prana E.C.O. Yoga Mat is definitely a favorite among yogis. From its amazing grip to its superior stability and comfort, this yoga mat offers your body everything it needs to successfully carry itself through even the toughest yoga sequence, all without breaking the bank.
A favorite feature of this yoga mat is how incredibly lightweight it is, making it super easy to travel with and bring to and from your yoga studio. However, even though it's lightweight, it still offers the perfect amount of thickness to cushion your body from the hard floor. Its two-sided texture even offers unparalleled grip.
On the flip side, some users have complained that it's not exactly built to last. It can lose its cushioning a bit and pieces may even begin to flake off. In addition to this, some users added that while it does grip, there isn't as much grip as they'd like it to offer, so if you're looking for a 100% slip-free mat, this one may not be a top contender for you.
Pros
Lightweight
Good cushioning
Affordable
Cons
Not built to last
Needs more grip
Loses cushioning over time
6
Manduka GRP Hot Yoga Mat
Another amazing mat when it comes to getting your sweat on in a hot yoga class is the Manduka GRP Hot Yoga Mat. Just like the Aurorae Synergy Hot Yoga Mat, your grip actually increases the sweatier you get, so there's no need to worry about slipping when your instructor cranks up the heat.
Compared to the Aurorae Synergy Hot Yoga Mat, this mat is a bit heavier, so it may not be someone's first choice when it comes to finding a mat to bring back and forth to yoga class. Don't let the weight scare you, though. This mat delivers all the comfort and cushioning you need to comfortably contort your body into even the hardest yoga poses.
Made with 100% open airflow filters, the mat wicks moisture right out from under you, so you never need to worry about any bacteria hanging around after a hot yoga class. Plus, a charcoal-infused natural rubber core keeps this baby environmentally friendly, so no need to worry about nasty chemicals.
Pros
Good grip
Comfortable
Eco-friendly
Cons
A bit heavy
Takes a long time to dry
Sticks to floor
7
Lululemon Reversible Yoga Mat
The Lululemon Reversible Yoga Mat keeps up with our constantly changing desires and gives us not one, but two yoga mats for the price of one. While yogis mention that you will definitely see some sweat on the material, it's super easy to clean, hang up to dry, and then take right back out to yoga the next day.
This mat is made from a natural rubber base that gives you just the right amount of cushion without being too thick, bulky, and annoying to travel with. And while it offers good grip for low-sweat classes, many users have mentioned that it performs beautifully in their hot yoga classes.
Since this mat is made from natural rubber, there is a slight smell when you first receive it. However, the more you use it and wash it and the longer you have it, you'll notice the smell start to fade. This mat is definitely a bit on the pricier side, but we think it's well worth spending the few extra bucks.
Pros
Good comfort level
Reversible
Good grip
Cons
Initial smell
Shows sweat stains
Takes a while to dry
Another yoga mat on the pricier side is the Alo Warrior Yoga Mat. This yoga mat features a matte-black top, which is super chic and stylish. Not only does it look good, it feels good, too. This mat gives you amazing grip, even when wet, and helps to keep you sturdy and stable all class long.
Many yogis mentioned that they were super impressed with this mat's grip upon first receiving it. However, as time goes on this mat seems to lose its grip a bit, not only with your body but also with the floor. One user mentioned that at the end of a class their mat had moved about a foot forward from where it started out.
However, other users mention that for a mat that isn't major name brand, the Alo Warrior Yoga Mat definitely delivers some amazing features. They love how comfortable and supportive it is even when in the most intense poses, and its light weight makes for easy, stress-free travel.
Pros
Comfortable
Sleek
Lightweight
Cons
Slips
Doesn't last long
Wears and tears
9
Hugger Mugger Para Rubber Yoga Mat
The Hugger Mugger Para Rubber Yoga Mat is an amazing choice when you're looking for something that's not only easy on your body, but easy on the environment as well. This mat is made with sustainable rubber, which comes from renewable, non-Amazon sources. What you're left with is a durable yoga mat that's built to last.
The natural rubber this mat is made from is also super grippy. The mat features two sides with different textures: one side is covered in tiny bumps that help hold you perfectly in place, and the other side features a woven-like, rubbery, super grippy surface perfect for hot yoga and sweatier yogis. Users absolutely love the versatility this mat offers.
This mat also features a ¼-inch thickness that perfectly cushions your knees and wrists, keeping you safe and comfortable all practice long. However, it also maintains its stability and sturdiness, giving you all the support you need in even the most difficult yoga poses. While it honestly can't compare to some of the other mats on this list, it's still a great pick.
Pros
Double-sided
Environmentally friendly
Natural materials
Cons
Not the best grip
Not super durable
Can be more comfortable
10
YoGo Ultralight Folding Travel Yoga Mat
For all you yogis constantly on the go, the YoGo Ultralight Folding Travel Yoga Mat is another great purchase. Just like the Gaiam Foldable Yoga Mat, this yoga mat folds up origami-style, making it super easy and compact to travel with, and you can even secure it with an attached strap to make a handle.
Yogis absolutely love how you can easily fit this mat in a tote bag or backpack, especially when they have other yoga gear to pack such as blocks and straps (which you can also find at the end of this ranking). It folds down to about the size of a newspaper and, at only 2 pounds, is super easy to travel with.
One issue customers have complained about is the time it takes to receive this mat in the mail. Also, it seems as if there are some pretty high fees when ordering this mat online, so if you'd like to purchase this mat, your best bet may be to buy it in a store rather than online.
Pros
Foldable
Super compact
Easy to travel with
Cons
Delivery takes time
Fees when ordering online
Poor customer service
Are there different types of yoga mats for different types of yoga?
With yoga becoming hugely popular in recent years, we're sure most of you know that there are tons of different types of yoga. Some types of yoga have been around for years, like ashtanga, vinyasa, and restorative, and then there are some types of yoga with a twist, like goat yoga.
That being said, some mats are definitely better for certain types of yoga than others. For example, you should expect that when you take a hot yoga class, you're going to sweat a little bit. Because of this, we suggest looking for a yoga mat that is meant for sweating so that you won't slip and lose your balance.
For restorative yoga and other similar types, you may want to find a yoga mat that has a lot of support and cushioning, since these types of yoga classes involve many poses where you lie on the floor. You'll want a mat that will support your joints and bones and protect them from the hard floor.
When it really comes down to it, you'll want to find a yoga mat that works best for you. With the exception of buying a yoga mat that has a good grip for hot yoga, the perfect yoga mat really will be the one that works best for you and your body.
Do you need a yoga mat to do yoga?
While there isn't a rule that requires you to buy a yoga mat before walking into your first yoga class (unless the yoga studio you're attending actually doesn't lend or rent mats), we highly suggest you buy a yoga mat. At the very least, you should check before your class to see if the studio has extra mats you can borrow.
Practicing yoga without a mat can be a bit challenging. Not only can it be rough on your body as you have no cushioning between your body and the hard floor, but can be tough to move through the poses without support. A yoga mat helps your body move a lot more smoothly in between poses.
Yoga mats, if you purchase the right one, also help your feet grip on the ground, which can help prevent any injuries as you attempt the many balancing yoga poses. They're also more sanitary than just practicing yoga right on the floor that many other people have walked on.
As we said, you may not need to purchase a yoga mat before attending a class, but we definitely suggest it. Having your own yoga mat will make your life much easier, it's more sanitary than borrowing one from your studio, and it allows your body to flow comfortably and smoothly throughout your practice.
What's the best yoga mat?
There are tons of amazing yoga mats on the market, it's almost hard for us to choose which one is our favorite. But since we had to pick, we gave our first-place prize to the Manduka PROlite Yoga Mat. Combining superior quality with comfort, this mat gives your body everything it needs to practice a safe yoga sequence.
A really cool feature of this mat is that, unlike many mats out there, it improves over time, rather than falling apart and wearing down. Once you break this mat in and it gets used to your body, you'll notice your grip improving with each sequence you flow through. And you won't experience any peeling, flaking, or fading.
This mat effortlessly cushions your body throughout your entire practice, ensuring you don't leave class with any aches or pains, even if you just stretched your body to its limit in some intense restorative poses. And, with a lifetime guarantee, you can rest assured your mat is always protected from any damage.
Like we mentioned earlier, when it really comes down to it, the best yoga mat is simply the yoga mat that feels the best for your body. As long as your yoga mat offers your body the support and cushioning it needs to safely and successfully make it through your yoga practice, then it's the mat for you.
RAVE Recommends
Sure, having the right yoga mat is super important when it comes to enjoying a yoga class, but why stop there? Here are some other products that will make your yoga practice even better.
Dr. Kasey Nichols, N.M.D.
Dr. Kasey Nichols, N.M.D. focuses on sleep disorders and drug-free pain management utilizing both conventional and alternative medicine at his private practice,
Onyx Integrative Medicine and Aesthetics
, located in Gilbert, AZ. He served as the Director of Medical Operation and Administration at a national substance abuse disorder corporation with 16 facilities across seven states. He graduated from Cleveland University-Kansas City with a Bachelor's of Science in Human Biology, graduating with honors, and holds a Doctorate from The Southwest College of Naturopathic Medicine. He holds licenses in both Arizona and Kansas. Dr. Nichols has given numerous talks to professional organizations, given interviews for newspapers across the United States, and numerous television news interviews with ABC 15/CW 61 in Arizona, Channel 3 in Arizona, and others. Dr. Nichols has appeared in
Cosmopolitan
,
Reader's Digest
,
WebMD
,
Healthline
, and many other health and lifestyle publications.