In a world forever changed by the pandemic, businesses may wish to evolve with these changes by incorporating some of the best telehealth doctor services to offer to their employees.
More and more businesses realize that hiring employees to work from home not only saves on the overhead of running a business, but it's also a way to attract some of the top talent for jobs. When not limited by the constraints of a physical location of work, employers access employees not only from different states but sometimes different countries altogether.
This enhances a business' prospects in two ways. One, a business with such an expanded pool of potential employees will have a higher probability of finding applicants with their desired traits and backgrounds. Two, an expanded cultural dynamic within a workforce helps to increase the range and variability in perspectives, reducing the risk of cognitive bias.
But how does a business retain top tier talent from all over the country, or the world?
Businesses must attract and retain employees. One of the ways they do this is by offering perks like telehealth services. Telehealth services are beneficial to both the employee and the business since the employee doesn't have to leave the comfort of their home to get the help they need and businesses save on productivity as employees are able to get back to work more quickly.
The Telehealth Services for Business We Rave About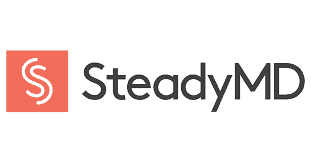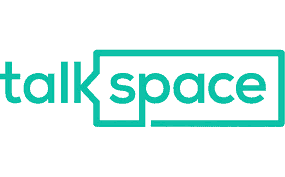 Best Telehealth Service for Mental health
talkspace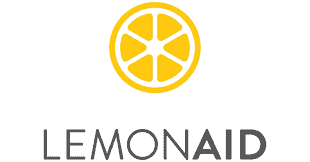 Cheapest Telehealth Service
LemondAID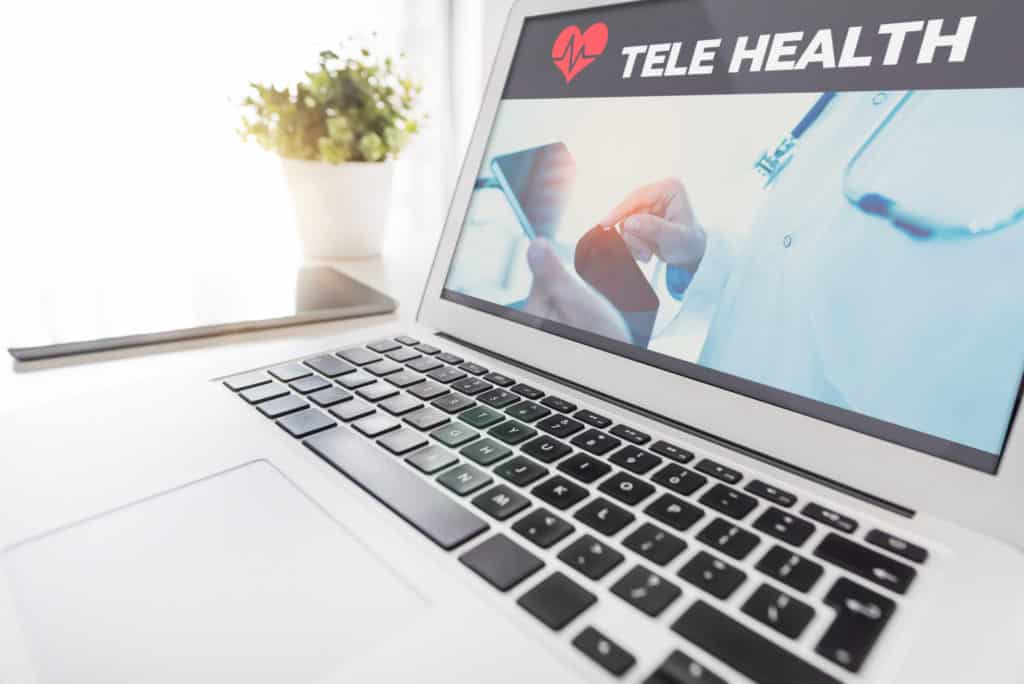 Should I Offer Telehealth Services To My Employees?
Telehealth services come in many different forms and telehealth companies often choose to focus their services on a specific patient population. Businesses should consider and take into account what telehealth service best serves their employees and the budget the business can allocate to this benefit.
For instance, a company with a significant number of women employees may want to consider a telehealth company that provides family planning, prenatal, and postnatal care.
Companies should also keep in mind that although telehealth/telemedicine companies are a great benefit to offer employees, there are some health and medical conditions that are best treated by an in-person health provider. While not always possible to fully anticipate, be sure to explore the available treatment capacities of a telehealth doctor before pursuing an account with them.
Telehealth Services Head Towards the Mainstream
With all that being said, there's no doubt that telehealth becomes increasingly mainstream, particularly in sectors hit hardest by the pandemic. Companies that are already offer telehealth services receive positive responses from their employees.
The real question businesses need to be asking themselves is, if I don't add telehealth services to my employee benefit packages now, when will I?
But before we get ahead of ourselves, let's talk a little about telehealth services, what can be done through these visits, and what are its limitations.
What are Telehealth Services?
As you may have guessed, a telehealth service is a healthcare experience in which the patient and the doctor are not in the same physical location and which often occurs through video or a phone call, or a combination of the two. With life becoming increasingly busy, more and more people turn to telehealth services for their health and wellbeing needs.
The days of having to wait in a crowded doctor's waiting room for hours at a time becomes more and more a thing of the past. Telehealth services can encompass more than just primary care medicine though, as there are companies that can connect you to medical specialists, preventative medicine doctors, therapists, and other healthcare practitioners.
In other words, when answering the question, "what is telehealth?" you will first need to clarify which sort of provider you're interested in. Primarily telehealth service providers lean more towards generalized care or specialist treatment.
Large business owners will likely want to find telehealth providers that land somewhere in the middle–though as we have discussed the most appropriate approach will depend on your unique employee demographic.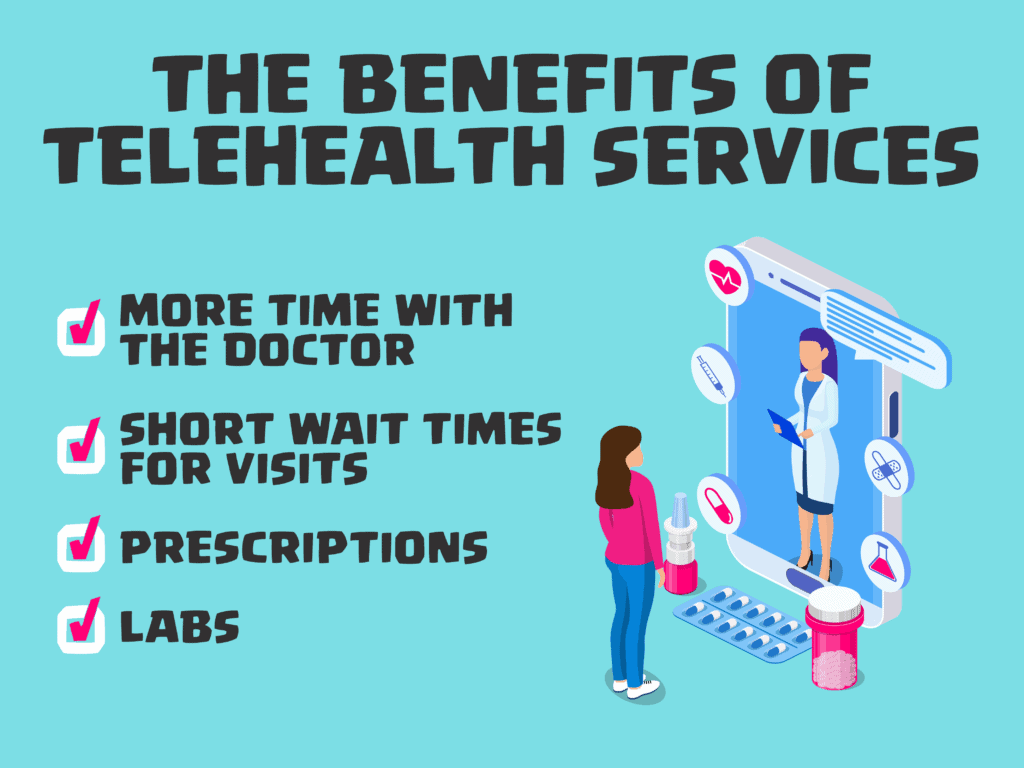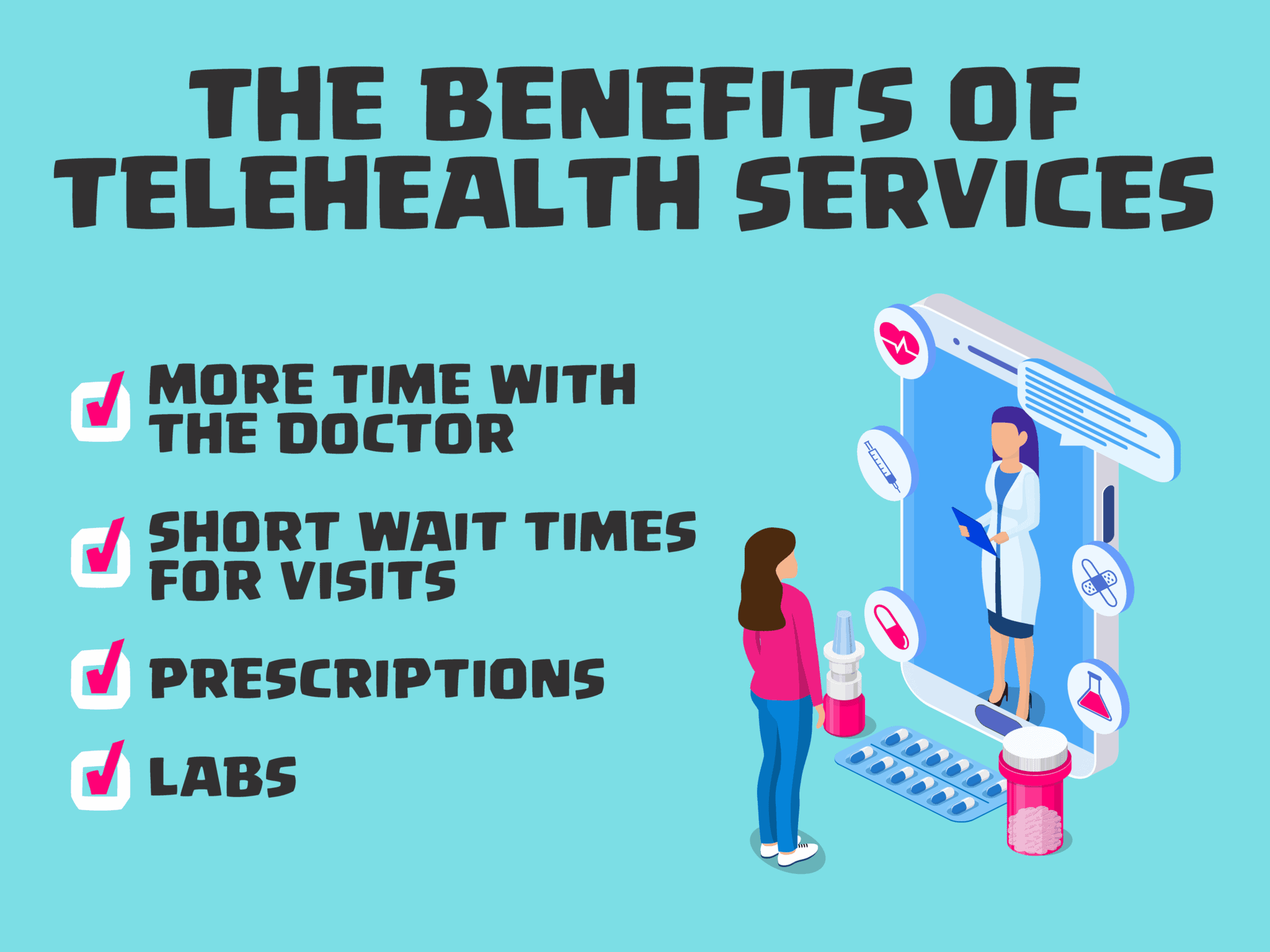 The Benefits of Telehealth Services
Telehealth services have some major advantages for both businesses and employees that you're unlikely to find elsewhere. So when evaluating the cost-benefit analysis of telehealth services for your business, consider the advantages.
We've listed a few of the advantages below.
1. Short wait times for visits
One of the top advantages for using a telehealth service are the short wait times that these services offer. Most telehealth services allow patients the ability to see a doctor the same day because they either have a large pool of available doctors to see patients or limit the number of patients that each doctor manages. This is excellent for keeping employees happy and healthy, whereas they might otherwise wait days or even weeks for a proper visit to a physical location.
2. Labs
Like seeing your doctor in his office, your telehealth doctor will be able to order labs wherever you may reside. Labs are essential for assessing baseline health, uncovering the cause of illness, and monitoring disease states. Telehealth providers have fine tuned this process, and often deliver lab results faster than their brick and mortar counterparts.
3. Prescriptions
Many illnesses can be treated with non-controlled prescription medication, which your telehealth doctor can call into your local pharmacy. Telehealth does have restrictions on the prescribing of controlled medications through only a telehealth visit, but if your telehealth provider determines that these medications are necessary they will refer you to a local specialist able to prescribe these medications.
4. More time with the doctor
You're likely familiar with the short encounters you have with primary care physicians in your past where you're lucky to spend 15 minutes with the doctor before they rush out to the next patient. Many telehealth services build more time between you and the telehealth provider in their programs by cutting out the wasted time and inefficiencies of a physical office. This means the doctor will really get to know you, your health, and how to get you feeling better.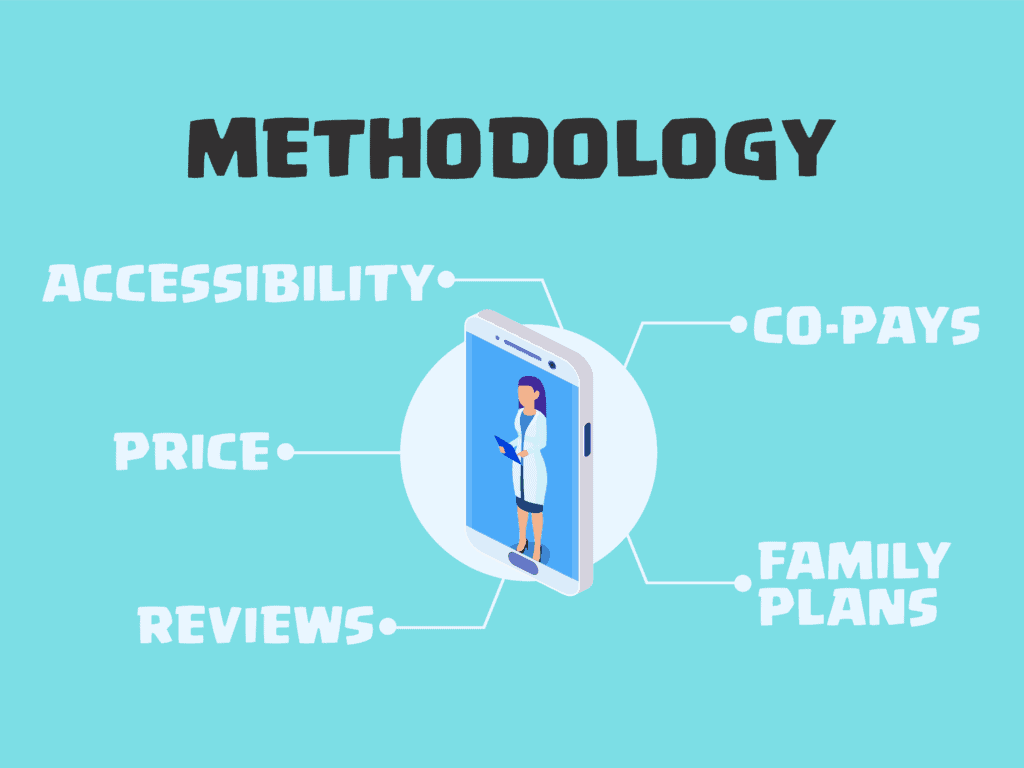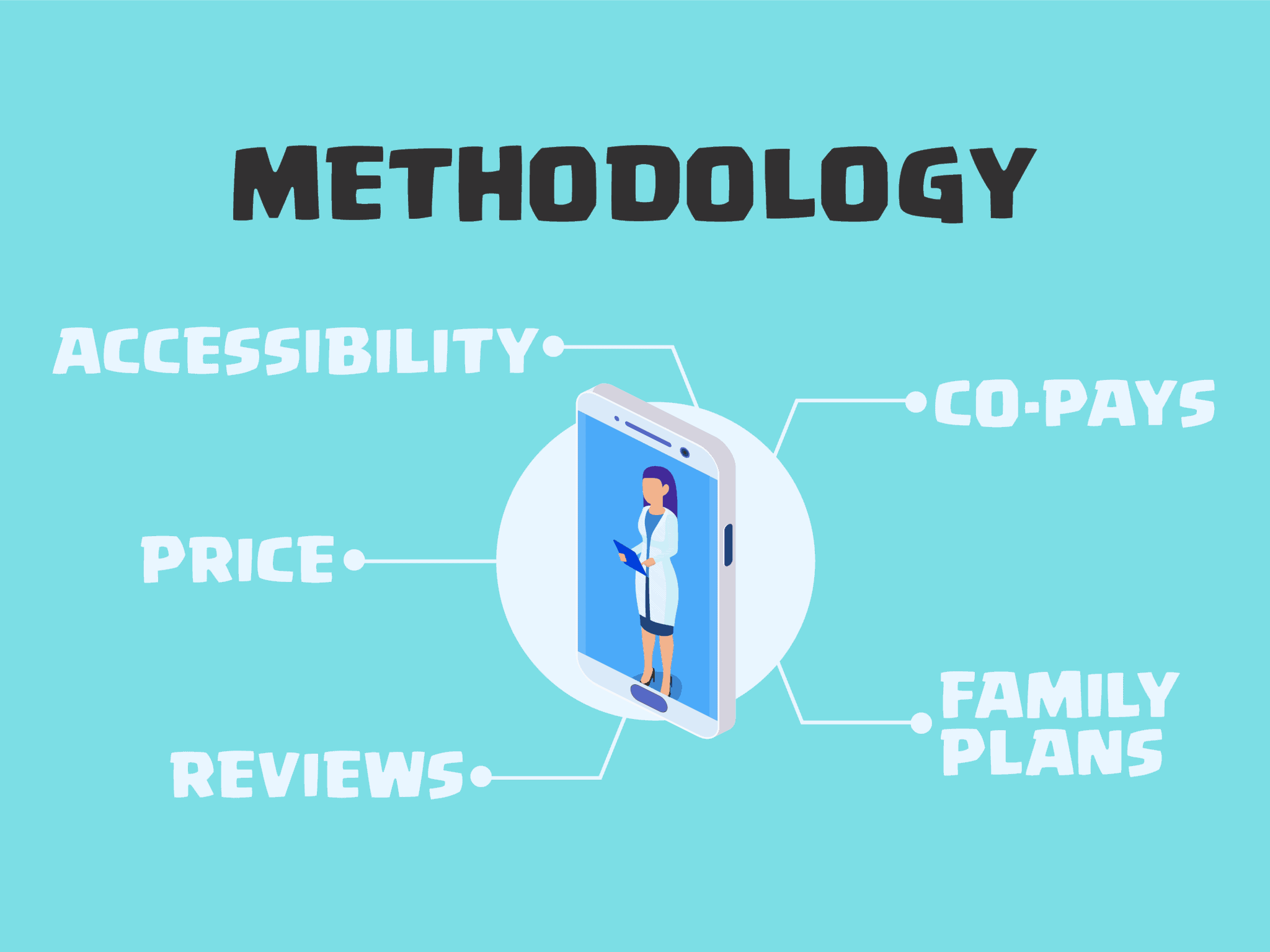 Methodology of Ranking the Best Telehealth Services for Businesses
Telehealth companies come in all shapes and sizes, which can make comparing the different companies difficult. RAVE did the legwork here though, and presents you with our top picks.
With transparency in mind, we objectified our evaluation through measuring important factors that we believe matter most to business owners looking to empower their employees with solid health services. Here is a breakdown of the factors used to identify and rank the best telehealth services framed as questions.
Co-pays: Are there co-pays above and beyond a telehealth service plan?

Accessibility: How long does it take to get in front of a telehealth doctor?

Price: Is the telehealth service priced reasonably? (We used fair market comparisons to judge this.)

Family Plans: Does the telehealth service company provide discounts for families?

Reviews: How satisfied are the patients that are using the telehealth services?

Scope of Treatment: Is this telehealth provider capable of treating severe health issues?
The Best Telehealth Services for Businesses to Offer to Employees
SteadyMD is a company designed to make the telehealth visit simple and straightforward for both the user and for businesses. This company focuses on primary and preventative care. The doctors here know that preventing illness and educating their patients about how to live healthily is essential in getting individuals feeling optimal.
Businesses will want to take note as the company offers a variety of ways that employers can set up health insurance for their employees whether that be through ACA compliant, self-funded Minimum Essential Coverage (MEC) plans or customizable major medical health plans. SteadyMD will work with you to set up the perfect health plan that meets your company's needs.
SteadyMD is further set apart from its competition in that the company is built upon a premise that they want each doctor to form a personal connection to each patient. You'll be able to text, call, video chat with your doctor the same day.
Pros
$99/month individual membership fee
No co-pays
Unlimited texting
Cons
A cancellation fee in the first month for the functional medicine plan
One of the best priced telehealth services for businesses to offer to their employees is LEMONAID, which only charges a consultation fee of $25 for many common concerns. This fee has its limitations, as you may expect. Medications are not included in this price and certain conditions such as depression and anxiety use a flat monthly fee that covers the consultation and the medication. The medications that are prescribed for the treatment of depression and anxiety are shipped to your door, so you don't even have to leave your house.
LEMONAID can be used by anyone living in all 50 states and those living in Washington DC. The process works by first having you fill out an online questionnaire detailing your health history, then one of the medical practitioners will review the questionnaire and ask any additional questions that may be necessary. After that, your medication will be sent from one of the company's partnering pharmacies or the prescription will be called into your local pharmacy.
Individuals looking for primary care treatment or to get help with a condition that is not listed on the website can get on a video chat with one of the providers for $75.
Pros
Cheap treatment of specific listed concerns
Affordable primary care visits
Prescriptions sent to your door
PlushCare is a telehealth service that provides individuals access to providers who specialize in physical health as well as mental health. One of the major benefits for both individuals and businesses is that this telehealth company is in-network with most major health plans. What this means is if you already have insurance and you subscribe to the low monthly or yearly membership plan then you only have to pay your copay at the first visit.
Monthly members will only set individuals back around $15 per month or you can choose to pay $99 per year. If you don't have insurance, your first visit will cost you $99 and you'll gain access to same day appointment bookings and unlimited in-app messaging.
PlushCare is a one-shop stop for most of your health care needs. Whether you're suffering from anxiety, a cold, or need chronic care, this company can help.
Pros
Mental and physical telehealth
Cheap monthly membership plans
Cons
No plans specific to bigger businesses
98point6 is a telehealth company that strives to offer affordable healthcare to both patients and employers. The company was founded in 2015 and it utilizes text-based evaluations and treatment guidance. The company utilizes an app that allows you or your employees access to healthcare guidance 24/7. This platform may be particularly suited for those who hate getting onto video chats as many conditions can be treated via in-app text messaging.
You may be asking yourself, how do you get prescriptions? The app will guide you through setting up a profile that will include your health history and the pharmacy you typically get your prescriptions from. When the treatment is determined your medical provider will send the prescriptions to the pharmacy you listed on your profile.
This company also has health plans for both individuals and for companies. The individual plans only cost $30 for the first 90 days plus a $1 fee per visit. After the 90-day introductory rate you'll be charged $120 per year plus a $1 fee per visit.
Pros
Specific health plans for companies
Text-based communication
Cons
Customer support hours Monday through Friday 8 am to 4 pm PT
Geared toward companies with 2,500 employees or less
When talking about telehealth we would be remiss not to include a company that focuses on mental health. Talkspace is a telehealth company built around therapists and psychiatrists that provide talk therapy as well as psychiatric medication management services. Like other companies on this list, the process starts with a brief online assessment in which you answer a few mental health-related questions. Next, you'll select a therapist that you feel best fits what you're looking to address. Then you'll get online with your selected therapist.
The company offers a variety of different types of counseling services including online individual therapy, couples therapy, and teen therapy. Teen therapy focuses on individuals aged 13 years to 17 years of age.
The psychiatric medication management works slightly differently than the counseling in that based on your answers to the online assessment, the company matches you to an online prescriber licensed in your state.
Pros
Specialization in mental health
Multiple types of counseling available
Cons
Unable to select psychiatrist for medication management
Pricey
FAQ Section
If you find yourself interested in telehealth services for your business, but have some persisting questions, let's cover a few more questions and points. Covering these might help you decide whether the telehealth provers ranked above offer enough value to your business.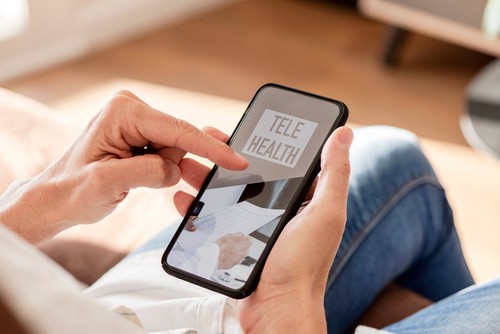 Will Telehealth Services Help My Business?
If you're a business owner then you know how important it is to attract and maintain dedicated employees. Telehealth services are a convenient perk that employees will appreciate, especially if it saves them the time and added hassle it takes to go to a doctor's office in person. Many telehealth options, especially the ones on this list, are reasonably priced and relatively easily added to your existing employee health benefit plans.
Businesses should also take note that when employees take care of their health, they are going to have the energy and longevity to be assets to the company in the future. Plus, with telehealth services, employees can get help with a concern or a quick checkup anywhere they may be physically located. For employees that still travel for their work, this eliminates the hassle of trying to find a doctor or healthcare provider while on the road.
Why is Telehealth so Reasonably Priced?
The fact is that traditional healthcare has been exorbitantly expensive for years. There are many factors that contribute to the rising healthcare costs that the US is experiencing. One factor is that the costs associated with running a practice or healthcare facility are passed along to the patients.
Telehealth services eliminate the need for medical facility overhead. Of course there will be costs associated with the telemedicine platform, but these tend to be minimal when compared to operating a physical health facility location.
Telehealth companies also manage costs by utilizing membership programs, which typically require that patients pay a monthly flat fee along with a fee for each telehealth visit. This removes the need for a doctor's office to hedge their financial model against patient inactivity.
In essence, telehealth provides a more efficient method of care and passes on savings to their patients and client businesses. But if its so superior, why do physical doctor's offices still exist? Well, the truth is they are both necessary–particularly since some employees will simply prefer a physical meeting with a doctor. But in this case, your telehealth doctor may provide the referral to get the ball rolling in the right direction.
And because, telehealth is the 'new kid on the block,' its providers work to grow the industry and secure a patient population through competitive pricing models.
Is Telehealth Safe and Effective?
There are medical and health conditions that can be treated safely and effectively through a telemedicine platform, but others require treatment in-person. One of the jobs of the telehealth healthcare provider is assessing whether or not the particular health concern of the patient can be treated virtually without an in-person visit.
If an in-person workup and assessment is deemed necessary by the telehealth provider they will make the necessary referrals to ensure you get your problems addressed and you receive the best possible care.
With the above said, there are many common concerns that are relatively straightforward to treat. The telehealth provider will still conduct a thorough history and go through the differential diagnosis they go to school to learn. Telehealth providers can also order labs and imaging in your community if they need to. Like an in-person doctor, a telehealth doctor will make referrals to specialists if this is in the best interests of the patient.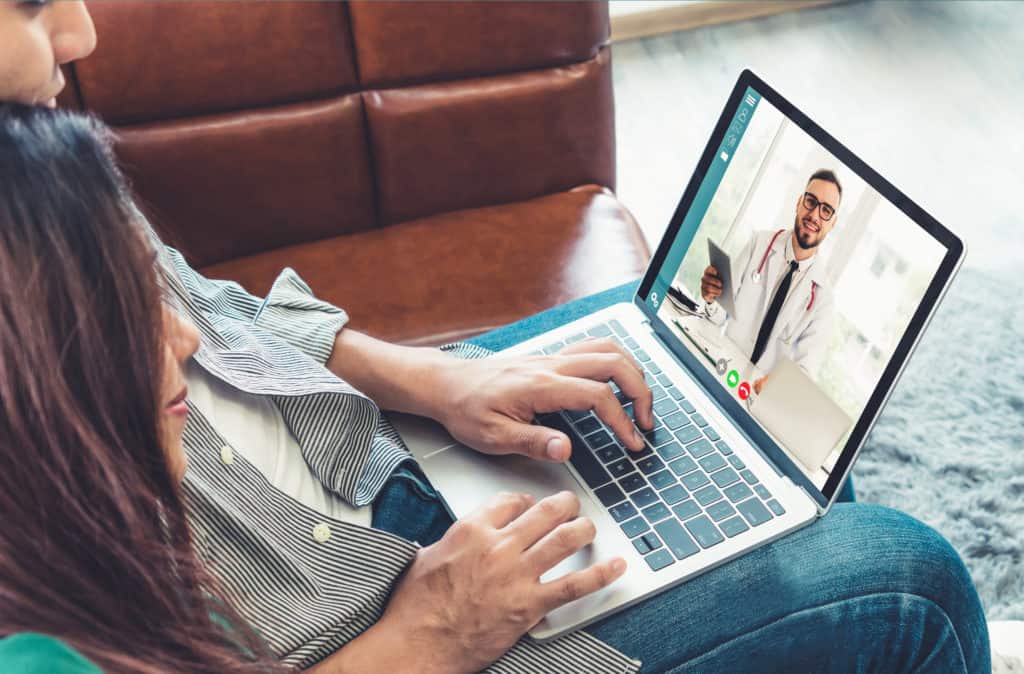 What Kind of Health Provider Will I See?
The kind of healthcare provider you will see when using telehealth services may depend on a few factors such as the specific telehealth service you use, the availability of healthcare providers, and the treatments needed. This information will be clearly presented on the site and/or brochure of such a provider.
There are many kinds of healthcare providers that are using telehealth to treat patients. They range from counselors to medical doctors to nutritionists. If you're looking to have a visit with a specific type of healthcare provider then you'll need to either choose a telehealth service that allows you to pick your healthcare provider or make a specific request through the telehealth company.

Dr. Kasey Nichols, N.M.D.
Dr. Kasey Nichols, N.M.D. focuses on sleep disorders and drug-free pain management utilizing both conventional and alternative medicine at his private practice,
Onyx Integrative Medicine and Aesthetics
, located in Gilbert, AZ. He served as the Director of Medical Operation and Administration at a national substance abuse disorder corporation with 16 facilities across seven states. He graduated from Cleveland University-Kansas City with a Bachelor's of Science in Human Biology, graduating with honors, and holds a Doctorate from The Southwest College of Naturopathic Medicine. He holds licenses in both Arizona and Kansas. Dr. Nichols has given numerous talks to professional organizations, given interviews for newspapers across the United States, and numerous television news interviews with ABC 15/CW 61 in Arizona, Channel 3 in Arizona, and others. Dr. Nichols has appeared in
Cosmopolitan
,
Reader's Digest
,
WebMD
,
Healthline
, and many other health and lifestyle publications.