Are you feeling so overwhelmed you're having trouble getting out of bed in the morning? Perhaps, online talk therapy or a counseling website will help.
Have you lost interest in things that formerly brought you joy? These are just a few signs you could be suffering from depression.
Or perhaps you're a storm of negative self-talk, worry and anxiety. While getting those endorphins up and eating healthy are good, natural first steps, it may be that you just need someone to talk to about whatever you have going on in your life. 
Regardless of what's going on inside, online counseling can help. What's important is that you don't ignore your feelings. Talking about them really can make a difference.
In our ranking, RAVE tells you what you need to know about the best online therapy services.
Do I Really Need an Online Therapy Service?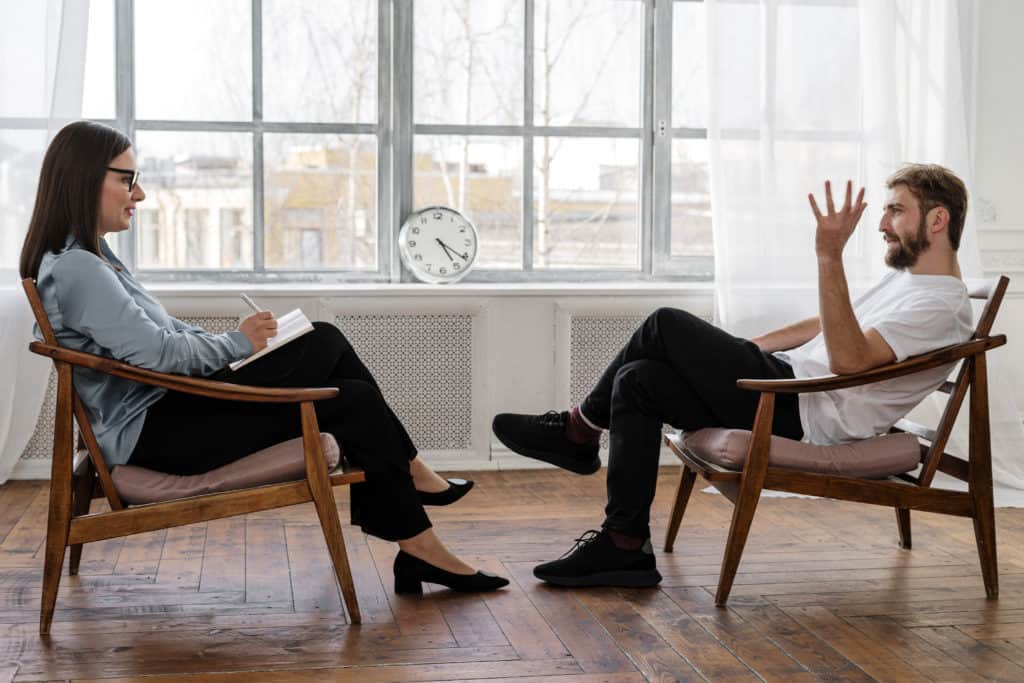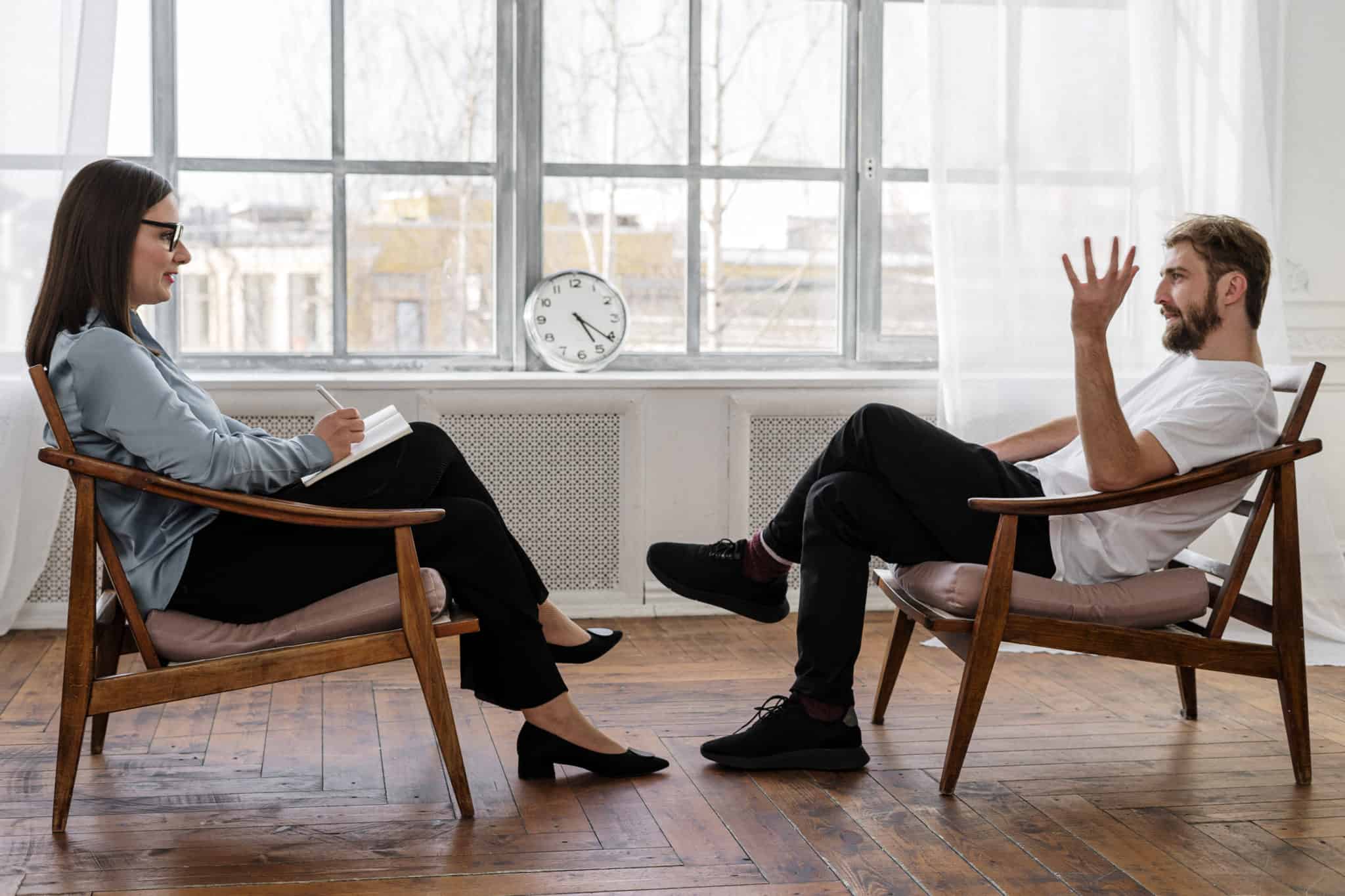 Have you tried face-to-face traditional talk therapy in the past? Is this your first time seeking counseling? Either way, congratulations. Getting help is an important first step. Important, but also scary.
Take comfort, though, because these days help is more available than ever. That's because scores of mental health professionals, licensed professional therapists, and licensed marriage and family counselors now provide their services entirely online. (And they're not the only ones: primary care physicians and veterinarians are taking their services online as well.)
Their goal is to help you regain a sense of well-being in your life — on your terms, on your own schedule, and from the comfort of your own home.
But is therapy administered via video conference, phone sessions, or even conducted by texting really as effective as traditional therapy?
Can quality mental health care really be administered on your smartphone?
Daniel Dashnaw M.S. M.A. MFT, of Couples Therapy Inc. says yes, telling RAVE Reviews, "Research clearly shows that online therapy is as effective as in-person therapy."
"Online therapy is a great alternative to face-to-face sessions," agrees Richelle Whittaker, an educational psychologist and licensed professional counselor for Providential Counseling.
It's a great alternative because many services in our ranking, like Lincoln Park Therapy Group, help clients address difficulties related to isolation, loneliness, or a sense of concern about the future, all from home.
That's while also developing "helpful coping skills to manage anxiety, stress, or depression," says Nicolle Osequeda, licensed marriage and family therapist for Lincoln Park Therapy.
Keep reading to find out more about all these services.
Besides being available in a virtual environment, what exactly is online therapy and what else do you need to know before getting started?
Let's begin with a brief discussion about what to expect from your first online therapy session.
What is Online Therapy?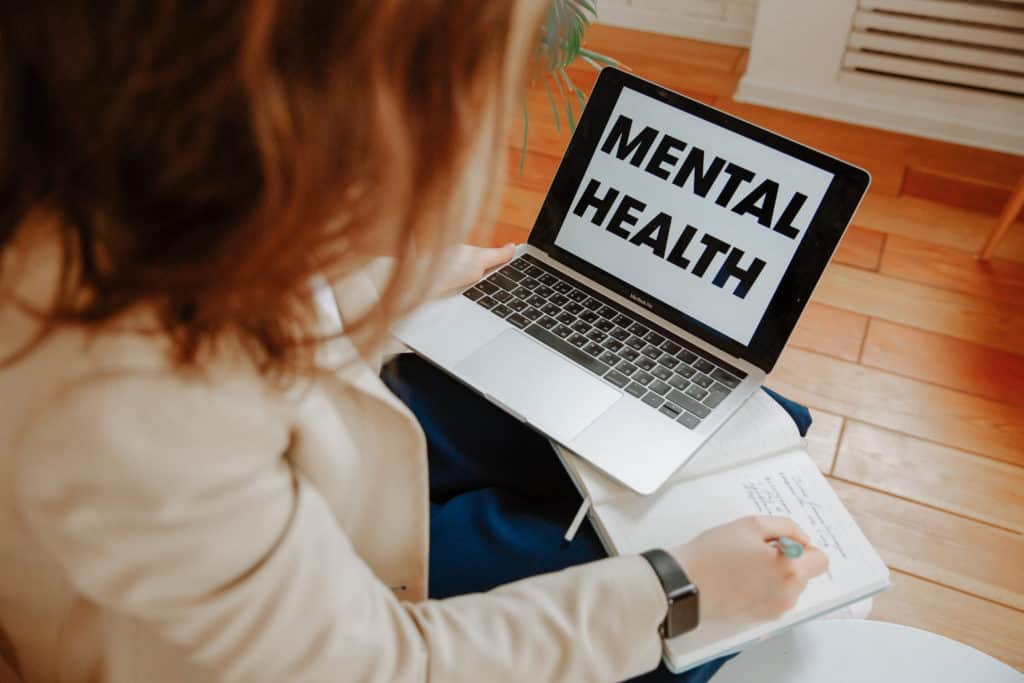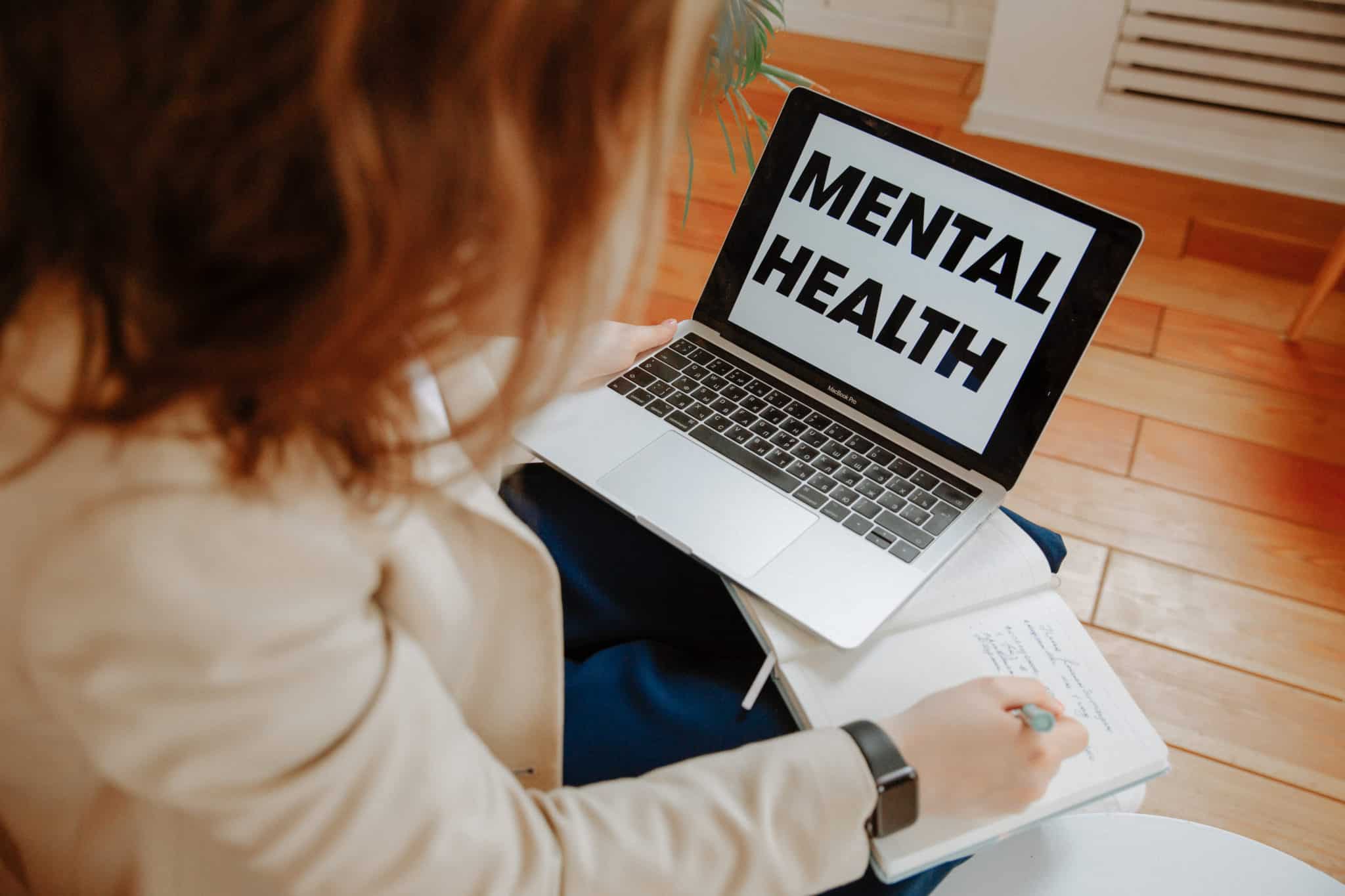 In many ways, online therapy is just like traditional talk therapy, the sort you've seen a thousand times in movies and on TV or maybe even experienced in real life.
Therapy of any sort is useful to address whatever challenges or mental health issues you may be facing in your life. Here are just a few examples:
LGBTQ issues
couples therapy
teen counseling
substance abuse issues
In addition, online therapy is a great choice to address self-esteem issues and for cognitive behavioral therapy.
Here's the biggest difference between online therapy and traditional therapy: how, where, and when your session will take place.
Online therapy sessions can be conducted via internet phone calls, in online chat sessions and chat rooms, over video conferencing, or even through text messaging.
Furthermore, online therapy can occur in real-time or it can be time delayed, like through an email exchange.
And if your session is conducted via online therapy platforms like TheraNest, you can feel secure your service is 100 percent HIPAA-compliant.
You can also feel confident choosing one of the online therapy sites from our article, because you'll work with a licensed counselor — whether that's a licensed clinical social worker (LCSW), a licensed marriage and family therapist (LMFT), or a licensed professional counselor (LPC).
You can even work with a PsyD, or a doctor of psychology, a person who has earned a professional doctoral degree that prepares them for clinical practice and leadership roles in mental health.
But we all know health care isn't cheap. So, how much is online therapy? RAVE Reviews has answers for you here as well.
How Much Does Online Therapy Cost?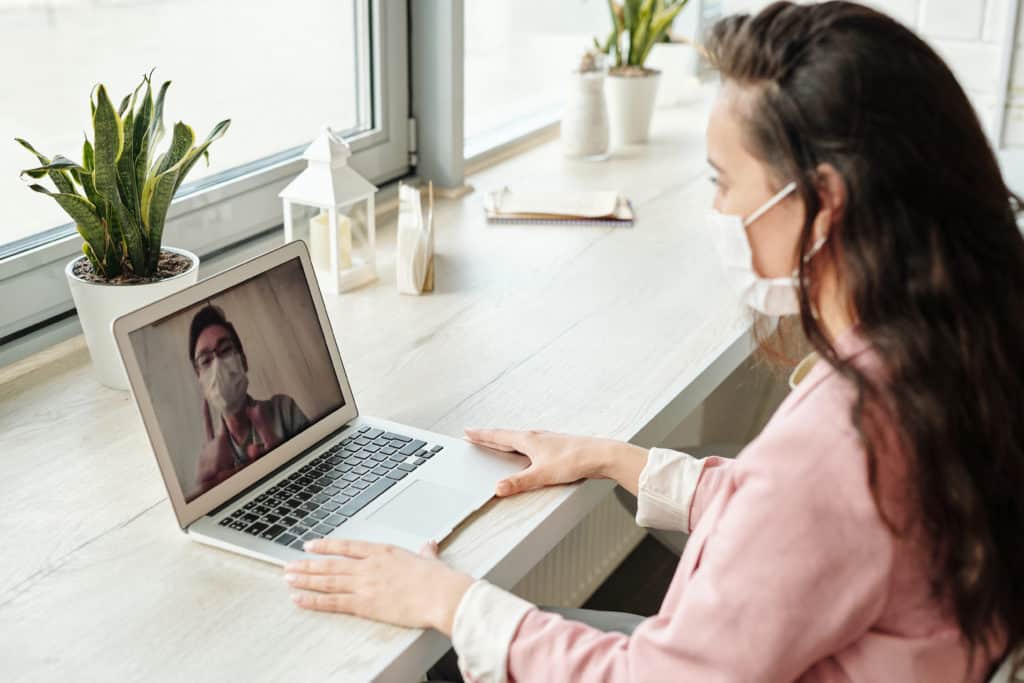 We'll start with the bad news.
While your health insurance may cover traditional mental health and substance abuse treatment such as face-to-face psychotherapy or counseling, online therapy or web therapy services are most often not covered.
Now for the good news.
While fees for online therapy vary depending on the online therapist and type of communication you prefer, you can expect costs for online therapy to fall in the following range:
$40 per week
For as low as $40 per week, many services offer unlimited messaging with a counselor.
$59 – $99
And for less than $100, you most often can get a live video chat with a therapist.
What's important to remember is face-to-face meetings with a therapist can cost you between $75 and $150 for a one-hour session. So even though your insurance probably won't cover online therapy, you can still save some money.
You should, of course, first check the fee structure of any online therapy service you choose.
The next step is finding the right therapist for you. So, let's get started. Here are the 10 best online counselors.
Methodology
When researching this list, RAVE Reviews surveyed online therapy services from across the country. We also considered the opinion of other similar rankings from every corner of the internet.
We evaluated each online therapist on the following factors:
Convenience of scheduling
Areas of speciality
Cost
Licensing and certification
HIPAA-compliant platforms
Ease and style of communication
We feel all this combined provides a thorough, informative, and diverse ranking of the nation's best online therapists. Keep reading, because help is just around the corner.
The Best Online Talk Therapy / Counseling
Taking first place in our ranking of the best online therapy is Talkspace. 
What we liked most about Talkspace was the streamlined intake process and the flexible payment plans. 
Patients begin with an assessment, which happens when a real-life matching therapist accurately identifies the therapy needs of an incoming patient. Talkspace edged out the competition with an actual matching therapist as opposed to an automated system.
Next comes matching a patient with a fee structure that will work for them. Most Talkspace plans start at a very reasonable $65. 
Then, patients are matched with the right therapist for their needs. All Talkspace therapists are licensed, verified, and background-checked. The only thing left to do at that point is to begin your therapy. 
Other benefits of Talkspace include working with the same therapist every time. In addition, clients can contact their therapist anytime they want, and a therapist will usually respond the very same day.
As the service says, with Talkspace, your "room is always open."
Talkspace also scored big points with RAVE Reviews for its exemplary customer support. In addition, Talkspace also offers Talkspace for teens as well as couples therapy. 
Second place in our ranking goes to Better Help. What sets Better Help apart among online therapy platforms is the sheer number of counselors available in the network, making Better Help the web's largest network of licensed, accredited, and experienced counselors.
When getting started with Better Help, patients first answer a few simple questions to match them with the counselor that's right for their therapy needs. Once matched with a counselor, the next step is to begin communicating with your therapist. 
Therapists at Better Help specialize in a broad range of issues, including depression, anxiety, relationships, trauma, and grief — to name only a few. The service also offers counseling options for individuals, couples, and teens. 
Better Help also earns high marks with RAVE Reviews for its flexible communication options, including messaging, text, phone, and video.
And therapy is there when you need it, with therapists available for messaging — no appointment necessary — or instead, a live session can be scheduled at any time directly from a phone, tablet, or computer. 
Better Help plans range from $40 to $70 per week, billed monthly.
The third site in our ranking, MDLive, helps patients address a broad range of health care issues entirely online, including counseling and psychiatry. 
As opposed to psychologists, psychiatrists are trained medical doctors, able to prescribe medications. For this reason, psychiatrists command higher fees, both online and in traditional face-to-face office visits.
Mental health services from MDLive range from $99 to $249 for psychiatry, though with the psychiatry option, follow-up appointments are only $99.
It's very easy to get started with MDLive. The first step is registering for free, which usually takes about 15 minutes. Then, it's time to find a doctor. Unlike other online therapy platforms, though, there is no matching service. 
Next, it's time to meet with your doctor either on the phone or online. And since MDLive offers psychiatry services, prescriptions can be written through the site. A definite plus. 
Something else helping MDLive stand out from the pack is the mobile app. With the free app, clients can access care anytime directly from their smartphone. 
Fourth in our ranking is 7Cups.com. With 7 Cups, you'll be matched with an experienced licensed therapist. All of 7 cups services are confidential and HIPAA-compliant. 
The site also earns high marks for affordability, with unlimited messaging at only $150 a month. The service is also convenient: It features unlimited messaging in a private chat room, therapists responding up to twice a day, Monday through Friday. 
Areas of specialty for 7 Cups include resolving unhealthy behaviors, recovering from grief and loss, addressing difficult family or work relationships, and overcoming trauma and abuse. 
The site is also well-suited to help address a broad range of mental health conditions, such as depression, anxiety, obsessive-compulsive disorder (OCD), and post-traumatic stress syndrome (PTSD). In total, 7 Cups works with 180 fully licensed counselors and more than 300,000 trained listeners. 
7 Cups also provides services for teens as well as the ability to chat with a "trained listener" for emotional support 24/7. You can also network through 7 Cups in chat rooms and forums for many issues including depression, anxiety, relationships, and LGBTQ+.
Rounding out the top five in our ranking is Online-Therapy.com. The site uses cognitive behavioral therapy, or CBT, a common psychotherapeutic approach to treat a broad range of mental health issues, including dysfunctional thoughts, behaviors, and emotions.
Clients of Online-Therapy.com are assigned a therapist that stays with the client throughout the process, and therapists work Monday through Friday. Otherwise, Online-Therapy.com has a different approach from other sites. 
Sign up for our service, and clients get access to the entirety of the online therapy program. Divided into eight sections, this program includes information and hands-on tools that you need to identify, challenge, and overcome a broad range of issues. 
These sections come as videos, guided by Elizabeth Lombardo, PhD, and there are audio and/or text options as well. You'll also get daily access with your therapist during the business week, a daily journal and activity plan, plus yoga and meditation videos, and tests to evaluate progress plus a whole lot more.
Subscriptions start at $31.96 a week, including a 20% discount for the first month. There are also three subscription alternatives to fit your budget and specific needs. 
Up next in RAVE's ranking of the best online therapy platforms is Couples Therapy Inc. What caught our attention about the website is its focus on couples counseling. 
Couples seeking help through the site begin with an assessment, leading to a tailor-made science-based treatment plan, targeted to the specific needs of the individuals seeking therapy. Sessions can be weekly or a two-day intensive workshop instead.
Something else notable about Couples Therapy Inc. is that its weekly sessions last 80 minutes as opposed to the usual "50-minute hour" of many other therapists, and all online sessions are conducted through a HIPAA-compliant version of Zoom.
Couples Therapy Inc. also offers a variety of flexible payment plans, 
In addition to couples counseling, the site offers help with improved marital communication, premarital coaching, life coaching, divorce decision-making, a "hopeful spouse" (working with one person in the relationship).
Coaching services costs range between $119 and $199. 
7
Through the Woods Therapy
For those seeking a social justice–informed online therapy service, consider Through the Woods Therapy, the seventh online counseling service in our ranking. 
Through the Woods Therapy uses a telehealth service called SimplePractice for online therapy sessions. Fully confidential and HIPAA compliant, SimplePractice is fully integrated with Through the Wood's calendar, helping to avoid scheduling miscommunications.  
Before a session, clients receive a reminder email from the Through the Woods client portal. Clients then simply click a link to enter a virtual "waiting room" until a therapist "arrives" for the session. All therapists at Through the Woods are fully licensed.
Other things RAVE Reviews appreciated about Through the Wood Therapy is that its approach is strength-based as opposed to deficit- or label-based therapy, and the service is social justice informed and culturally competent, offering a feminist perspective as well.
What's more, Through the Woods Therapy is never "booked up." If all its therapists are busy, they will simply bring in additional therapists to meet the needs of its online clientele. 
Through the Woods always works hard to match a client with the right therapist and the service costs $190 for a 50-minute session.
8
Lincoln Park Therapy Group
Eighth place in our ranking of the best online therapy platforms is Lincoln Park Therapy Group, a great choice for anyone struggling with anxiety and depression. 
Using a strength-based approach, the service also offers couples counseling, and Lincoln Park is also a great choice for anyone seeking better work-life balance or to help navigate a job loss or other major life transition. 
Intake appointments at Lincoln Park are 55 to 60 minutes long with fees ranging from $150 to $175 per appointment based on the experience level of the fully licensed therapist.  
Individual and couples sessions at LIncoln Park are 45 to 55 minutes long, with costs ranging from $130 to $150 per session. This is also based on the experience level of the therapist. 
For online therapy sessions, Lincoln Park Therapy uses the HIPAA-compliant and user-friendly Doxyme and Regroup. 
9
Providential Counseling
Women seeking support might want to consider the next online counseling service in our ranking, Providential Counseling. 
Providential's specialities include pregnancy, postpartum issues, and the challenges of parenthood as well as maternal mental health, particularly for women of color.
All online therapy sessions at Providential are conducted with Providential through HIPAA-compliant TheraNest. For individual therapy, the service specializes in postpartum depression and other challenges faced by new mothers. 
But Providential is not limited to just new and expectant mothers. It also offers services to couples counseling.
Providential is also unique among the other services and platforms in our ranking for its virtual group therapy, in which mothers find a supportive space with other women to process emotions and to help address feelings of isolation. 
These groups are six weeks in length and limited to six women per group.
If anxiety is something you struggle with in particular, consider the 10th online counseling service in our ranking, Haley Neidich.com. 
Neidich, a licensed mental health professional, has been offering her services entirely online since 2014, "before it was super popular," she tells RAVE Reviews.
Unlike some other counselors, Neidich uses the doxy.me server to virtually meet with clients for improved continuity of care, as opposed to some other online therapy apps commonly used by other counselors.
Neidich's areas of specialty include perinatal mood and anxiety disorders, but Neidich also offers a broad range of psychotherapy services. Appointments can be quickly and conveniently scheduled directly from her website.
Working with Neidich, clients receive a detailed clinical treatment plan as well as customized goals to measure success. And something else that set HaleyNeidich.com apart for us was the ease with which her license can be verified — directly from her website.