Are you considering one of the best online doctors or primary care physicians but wondering how well the process works? Can telemedicine work for you and your family? And how would you find the best online doctor to entrust with your health?
There are a lot of contenders for the title of best online doctor, but we've found a clear winner: SteadyMD.
Whether you need comprehensive care for a long-term condition or urgent care for a sudden illness, SteadyMD can easily connect you with a board-certified physician. This subscription-based program is setting the standard for online physician services.
In far simpler times, patients frequently relied on their doctor to make house calls. The image of the kindly general practitioner sitting bedside treating a sick patient is now considered a quaint artifact of medical history not to be seen again. But, is it?
Patients have become more informed and discerning about diseases, conditions, and general illnesses, thanks to access to websites such as WebMD and the Centers for Disease Control. People even look to their network of friends for health advice, often by asking for insight on nonmedical platforms such as online forums or social networks like Facebook and Twitter.
While not all conditions require a face-to-face consultation with a health-care professional, some do. However, logistics may be a big reason people are turning to internet sites for medical opinions and avoiding the doctor's office.
Online Doctors We RAVE About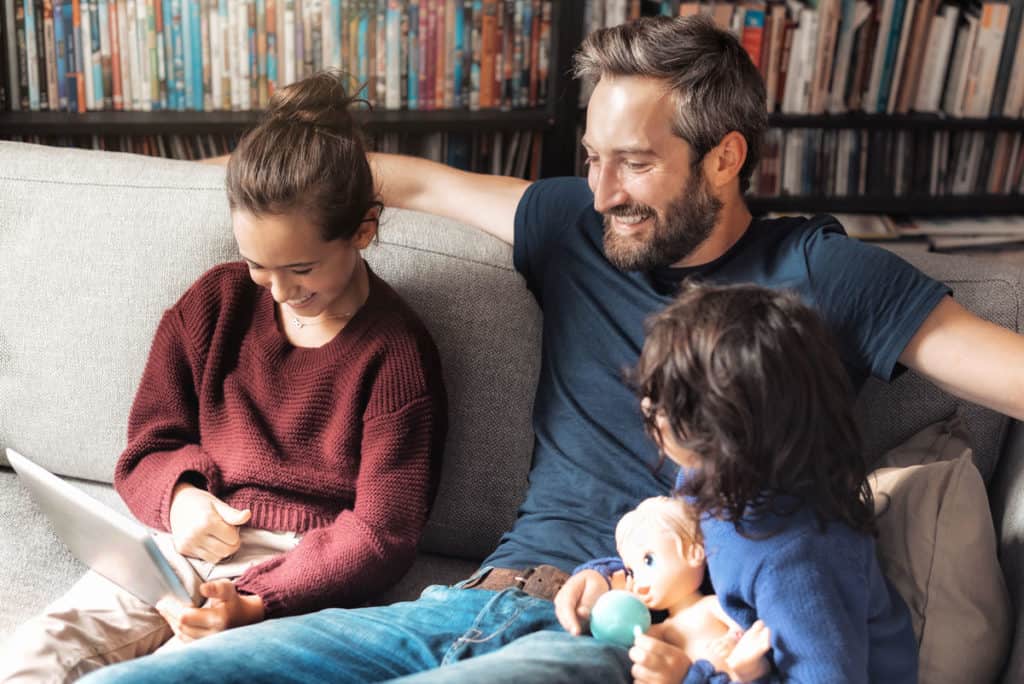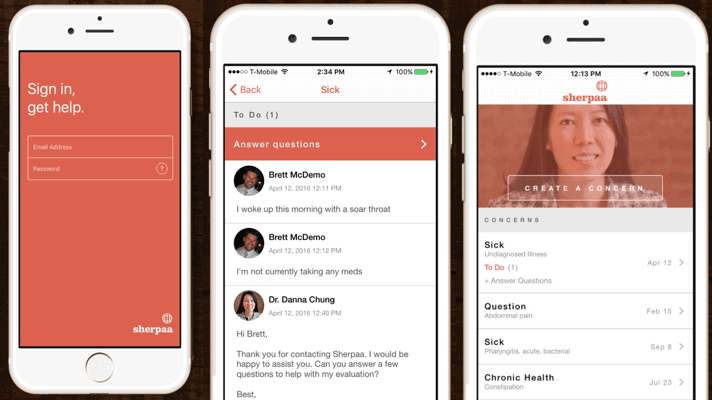 Best Response Time
Sherpaa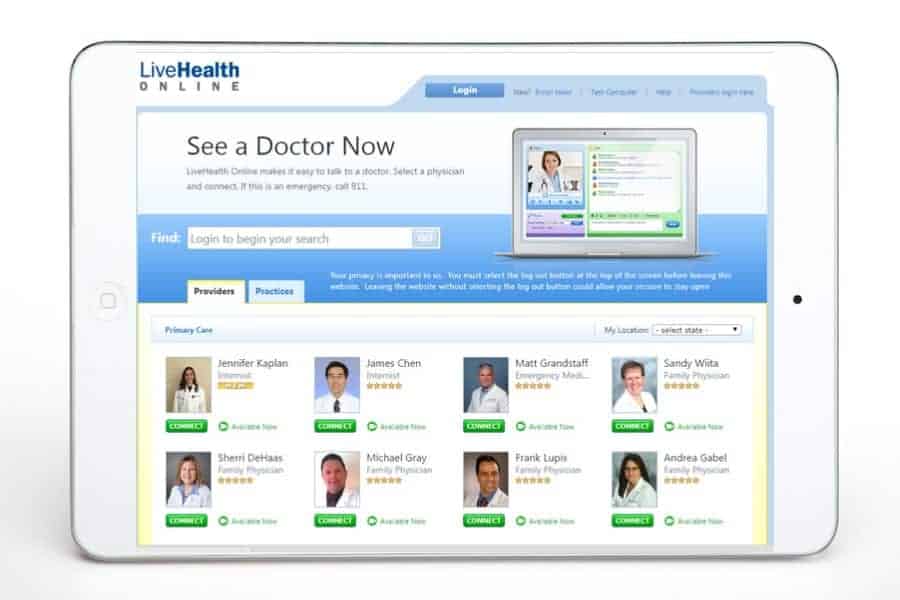 Best Cost
LiveHealth Online
The prevailing traditional health-care model doesn't quite meet the quick response health-care consumers need and demand. The model requires patients to schedule an appointment (often two to three weeks in advance), travel to the doctor's clinic, sit in a waiting room (sometimes up to an hour or more with other, sometimes contagious, sick people), see the physician for maybe 10 to 15 minutes, and hopefully leave with a diagnosis and prescription in hand.
That experience may be necessary for serious complex issues needing specialized care, but is it effective for nonemergency care?
Enter a new patient-physician model that is bringing health-care services into the 21st century and growing exponentially. Health-care professionals, through internet virtual visits using mobile apps, webcams, and other video technologies, are now available 24/7 to provide consultations for nonemergency medical conditions in primary care, pediatric care, and behavioral therapy.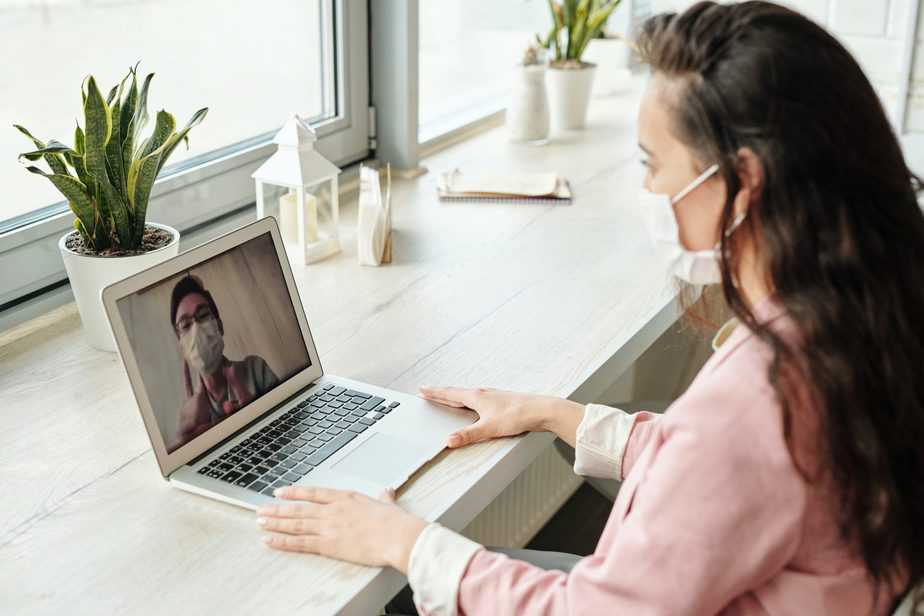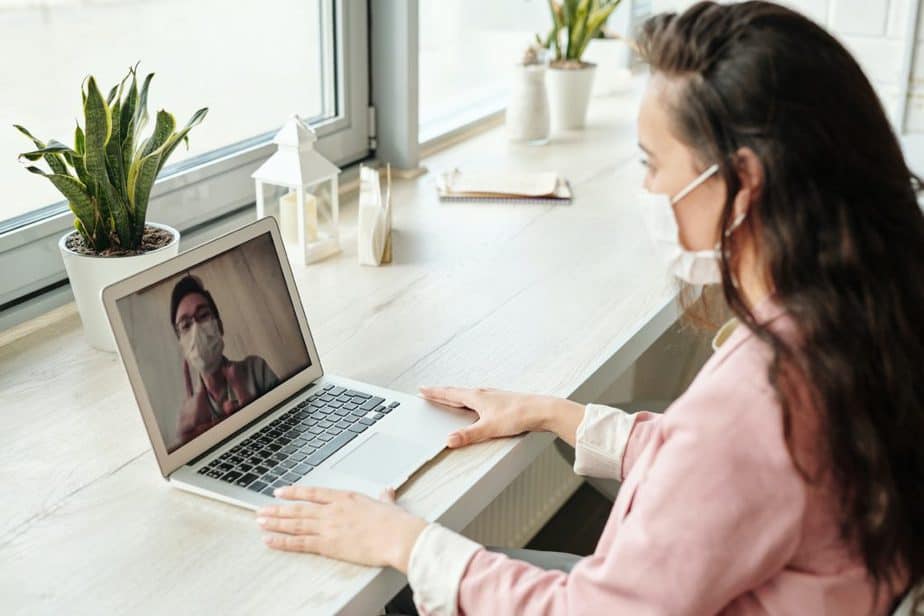 According to a recent report, this new patient-oriented online model to health care is growing as an industry each year due to its attractiveness to both patients and doctors.
Sounds great, right? But how do you choose a telemedicine physician for your care, and what can you expect?
We've considered all of the online doctor services that are currently available offering patients a time-effective and cost-effective way to consult a physician. We've ranked ten of these services according to the technology used, typical response times, and overall cost. We've rewarded services that deliver the best overall options for basic medical care.
In emergency situations, always call 911 or go to the nearest emergency room.
The 10 Best Online Doctor & Primary Care Services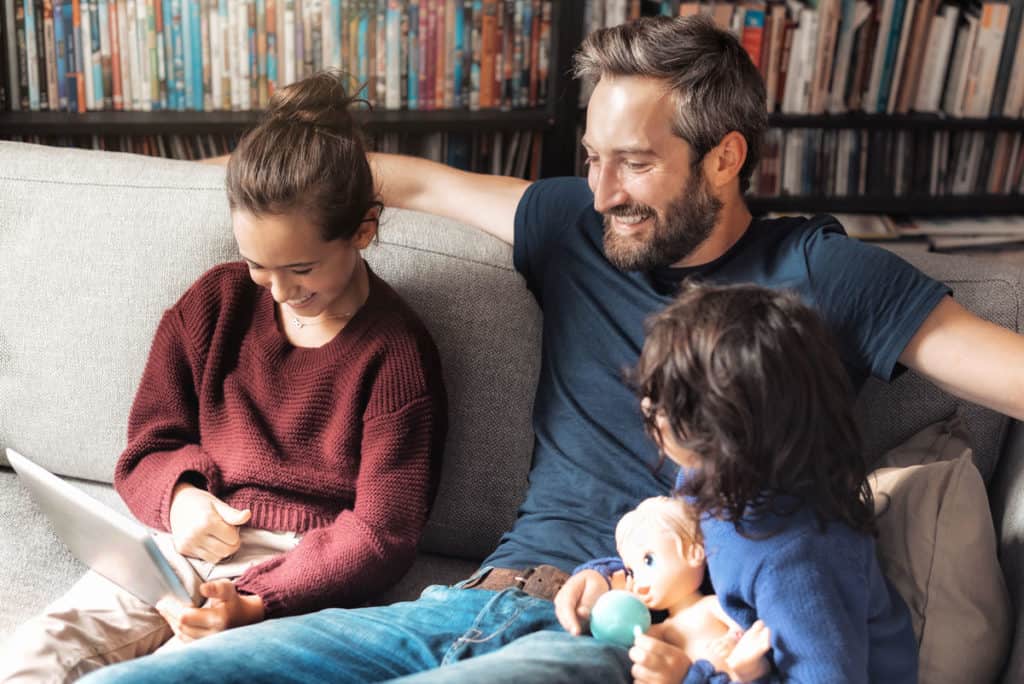 SteadyMD is very possibly the Rolls-Royce of current online physician services providing personalized long-term primary care with a board-certified physician. This service is not the standard telehealth model that focuses on urgent care that treats a limited number of health conditions. SteadyMD provides comprehensive care for chronic conditions (diabetes, heart disease, hypothyroidism or hyperthyroidism, high blood pressure, high cholesterol, etc.) as well as urgent care issues (cold/flu, skin conditions, rashes, allergies, etc.).
SteadyMD also conducts labs and screenings for cancer, anemia, cardiovascular issues, hormones, erectile dysfunction, etc. SteadyMD doctors can also submit prescriptions to your local pharmacy (with the exemption of narcotics and/or other controlled pharmaceuticals). SteadyMD can also refer you to specialists when needed.
Sounds a lot like having a personal physician, doesn't it? That's because it is but with far greater access.
When you join SteadyMD (the monthly individual plan is $99 and family plan is $169), you're assigned a physician who best suits your individual needs and personal lifestyle.  Because your SteadyMD physician has less than 600 or so patients, you're guaranteed more time in consultation with your physician (up to an hour per visit and as frequently as you need) and who is available to you through unlimited calls, video chats, and text messages. Appointments are required, but you can see your doctor the same day (except for the initial appointment, which may take one to two days).
Your doctor can also keep track of your health through health-monitoring devices such as Fitbit, MyFitnessPal, or another health app. Information from the devices that measure heart rate, blood sugar, blood pressure, etc., can also be transmitted to your SteadyMD physician. Should you require emergency care or hospitalization, your SteadyMD physician is available to oversee your care, consult with specialists, and monitor your condition.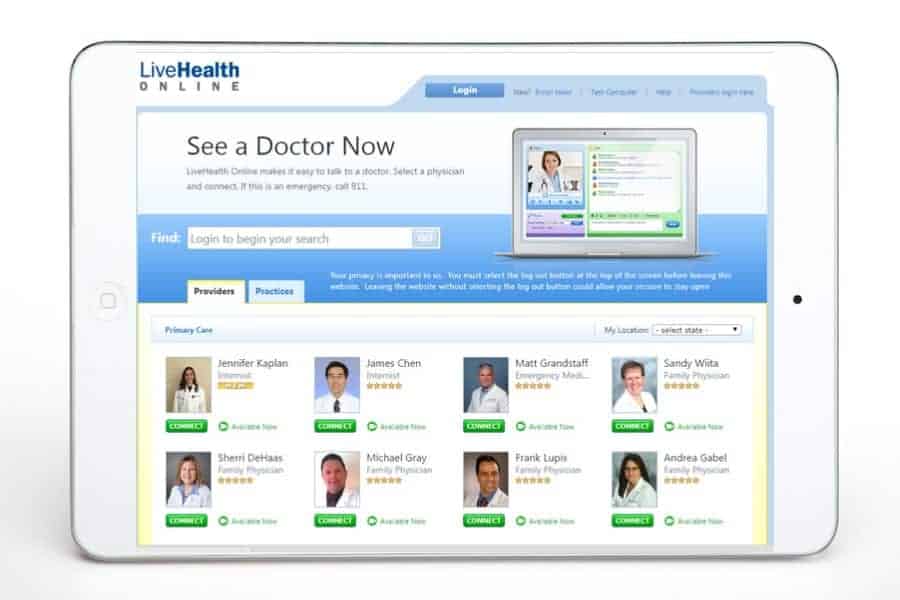 LiveHealth Online is one of the more affordable on-demand virtual doctor sites and offers medical services at a flat $49 per general medical visits, which typically last 10 to 15 minutes. Patients are able to select their physician by their online profile. Insurance is not required, but some health plans cover virtual doctor visits, so you should check your plan.
Services may be accessed using a computer or tablet as well as the LiveHealth Online app that is available for free for iPhones and Androids. Computer or tablet access requires high-speed internet service, a webcam, and audio capabilities.
LiveHealth Online also provides psychological services from $80-$95 per 45-minute visit (depending on whether you speak with a therapist or a psychologist). Psychiatrist consultations cost $175 for an initial visit and $75 for a follow-up visit (length of sessions not determined). While not available on demand, behavioral health appointments usually may be made within four days. Children under the age of 18 are able to see a LiveHealth Online for certain conditions.
Additionally, the site offers allergy-specific medical services, treating nasal congestion, sneezing, coughing, runny nose, etc.
Spanish-speaking physicians may be requested by appointment daily from 7 a.m. to 11 p.m.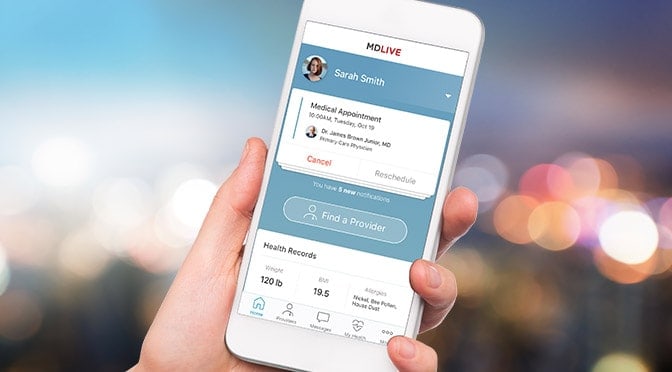 MDLive provides 24/7 physician access via smartphone, computer, or tablet with webcam or video chat capability. Patients can also use the MDLive app (available through Apple Store and Google Play) to contact a physician. Certain technical requirements are required for video exam consultations.
The service provides patients with consultations in primary care, dermatology, behavioral therapy, and psychiatry. All MDLive physicians and therapists are board certified and licensed.
MDLive physicians treat urgent care patients for more than 50 general medical conditions including flu/colds, respiratory infections, fever, headache, ear problems, nausea, eye infections, and more. The MDLive dermatologists can treat rashes, cold sores, alopecia, moles, acne, and rashes. Additionally, MDLive provides behavioral health services.
Therapists are qualified to treat addiction, depression, panic disorders, stress, grief counseling, among other disorders. MDLive psychiatrists can provide consultation and treatment for a wide range of psychiatric conditions such as bipolar disorder, eating disorders, trauma and PTSD, addictions, LBGQ support, grieving.
Membership is required (and free), but consultations are charged at a flat fee (unless your health insurance plan pays for telemedicine services). The charge for urgent care by a primary care physician is $75, $69 for a dermatology consultation, $99 for behavioral counseling, and $259 for initial psychiatric care plus $99 for subsequent sessions.
MDLive also partners with employers, health plans, and health systems to provide patient services to reduce the overall cost of health care, and it provides 24/7 access for employees to see a physician, cutting down on expensive emergency room visits.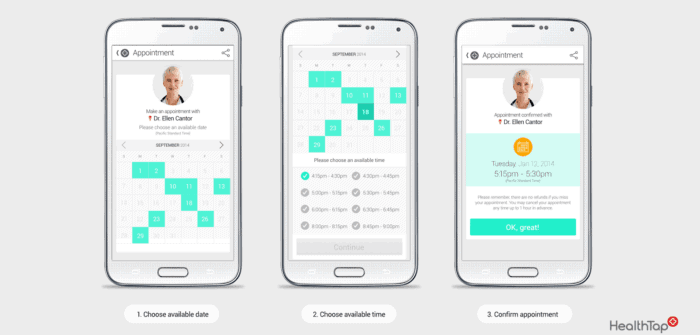 HealthTap supports a network of more than 100,000 physicians of various specialties. Primary care physicians are available 24/7 to provide medical assessments. Patients using tablets, computers, or smartphones can access a physician within minutes for a 15-minute consult (or longer). General but urgent medical conditions can be treated via HealthTap—anything from heartburn, hay fever, colds/flu, strep throat, urinary tract infection, cough, etc.
Doctors may also write prescriptions and send them electronically to your local pharmacy, and lab tests can be ordered through Quest Diagnostics lab locations in your area.
HealthTap offers two plans: Virtual consults, which includes video chats, text chats, or an appointment (which is live at the time of the consultation), has a starting price of $49 (although, that may vary depending on doctor's area of expertise). The HealthTap Prime membership, which starts at a monthly fee of $99, is an on-demand service.
When you log in, you'll be able to not only select a primary care physician but use a search bar to select a doctor by specialty or medical topic.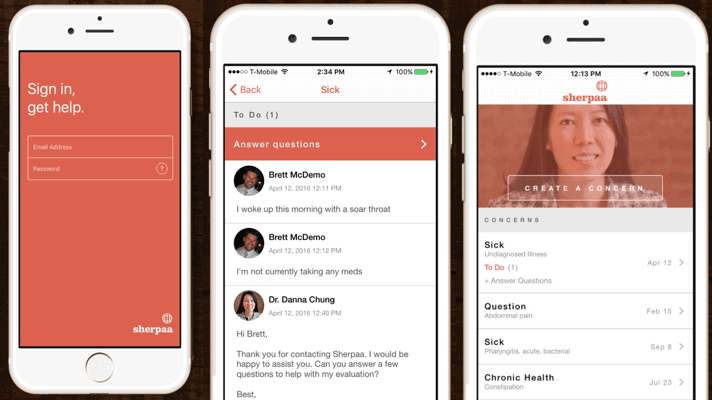 Open 24/7, 365 days a year, Sherpaa provides an unlimited care plan for online medical services with annual memberships ranging in price from the Basic Plan at $270, Plus Care at $400 and Extra Care at $900. The annual membership fee includes unlimited, primary care. If you need immediate or short-term care, you can receive unlimited care (Sherpaa refers to consultations as "Episodes of Care") for a month for $99.
The Extra Plan includes the added benefit of first meeting and annual preventive exams offered as video consultations. Sherpaa physicians are able to make specialist referrals for patients with the Plus Care and Extra Care plans.
Sherpaa maintains that their physicians diagnose and treat 70% of online patient complaints and refer only 30% of its patient base to specialists or facilities—all accessed via the Sherpaa app that includes text messaging, video, phone, photos, and health data.
Sherpaa online doctors are able to prescribe medication, send prescriptions to your local pharmacy, and order lab tests and screenings. Sherpaa's physicians are employed full time, and you can have direct access to a doctor within 20 minutes or less.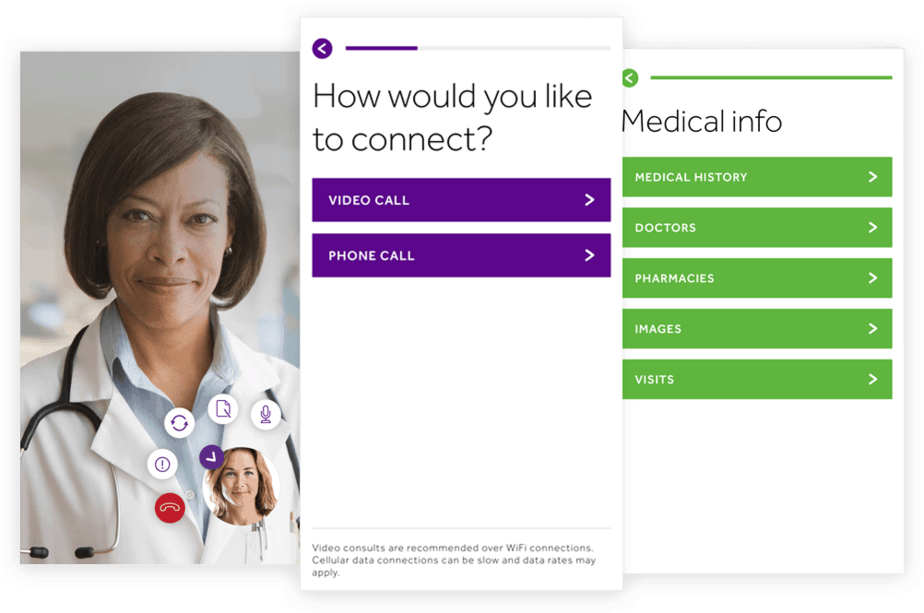 Boasting 20 million members nationwide, and with more than 3,100 health-care providers, Teladoc is an on-demand service accessible 24/7, 365 days a year. Patients are able to contact physicians by phone or video chat (usually within 10 minutes) for help with urgent and general medical conditions without a time limit for the exam. The service also offers physician consultations with dermatology and behavioral health issues.
Common complaints that may be treated by a Teladoc physician include upper respiratory infections, eye infections, colds and flu, allergies, or bronchitis. Prescriptions can be sent electronically to your local pharmacy, and confidential reports of your virtual visit can be sent to your primary care physician upon request.
Prices for general medical consultations are set at a flat $45 rate for nonmembers, but patients are able to join individual or family plans that range from $29.99 to $49.99 a year, respectively.
Consultations, even with one of the membership plans, cost $39 per visit. All Teladoc physicians and health-care professionals are board certified in their respective specialties. Teladoc also partners with health systems (to provide after-hours nonemergency care) and businesses that offer health plans to their employees.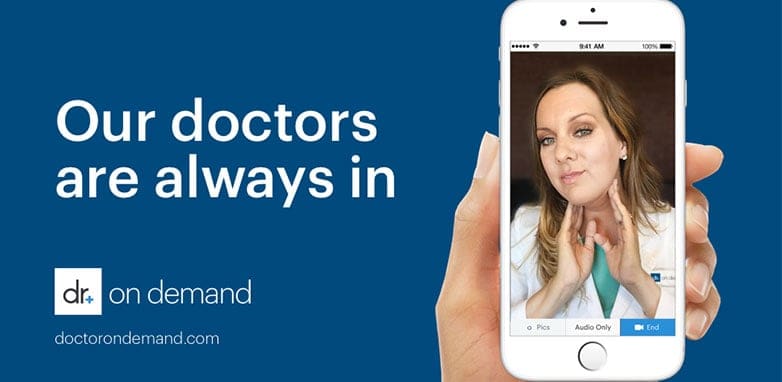 DoctorOnDemand is a virtual medical service available 24/7 that allows you to schedule appointments though its app for primary care as well as mental health care. Patients are required to use the DoctorOnDemand app on a smartphone or a webcam, or by using a specific web browser (Google Chrome).
DoctorOnDemand accepts several health care plans, but consultations can be made without insurance at flat rates of $75 for primary care, $79 for behavioral therapy, and $229 for an initial psychiatric visit.
General medical consultations are limited to 15 minutes, but physicians are capable of treating urgent care needs such as back pain, flu/cold, rashes, and skin conditions, urinary tract infections, sinus infections. Chronic conditions can also be treated, such as obesity, diabetes, allergies and/or asthma, thyroid, stress management. If lab work or screenings are needed, your DoctorOnDemand can order tests done in your area. Doctors are also able to prescribe medications and send them electronically to your local pharmacist.
This online medical service provides preventive medical care as well. Counseling and screenings are available for smoking cessation, weight loss, mood disorders, and metabolic syndromes.
You may also consult with a physician on specific men's and women's health issues, such as sexual dysfunction, family planning, menopause, etc.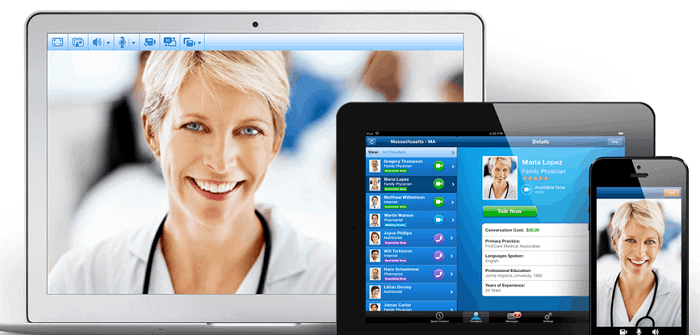 Amwell may be the right service for you should you need to see a physician on demand. Patients are required to establish an account, and the site can be accessed via a computer, tablet, or smartphone. Although video chat is optimal, the service is also available for patients without internet access through Amwell's toll-free number, 1-844-SEE-DOCS.
There are no appointments necessary. Patients simply log in to their account, review, and select an available physician. If the physician you choose is not immediately available, you'll be put in a virtual waiting room and notified by text when the doctor is available to see you. Consultations last approximately 10 minutes, but additional time may be added if you want.
The Amwell service has physicians who specialize in primary care, pediatrics, cardiology, psychiatry, behavioral therapy, and it also offers consultations in physical therapy, women's health, and nutrition counseling. 
Amwell partners with health insurance companies to offer lower costs for virtual doctor visits. However, if you don't have health insurance, in general, flat rates are charged per visit: medical visits at $69, $199 for an initial psychiatry visit ($95 for 15-minute subsequent visits), cardiology from $69-$129, dermatology from $49-$139, and pediatrics from $69-$99. There is no additional charge to access an Amwell physician on holidays or weekends.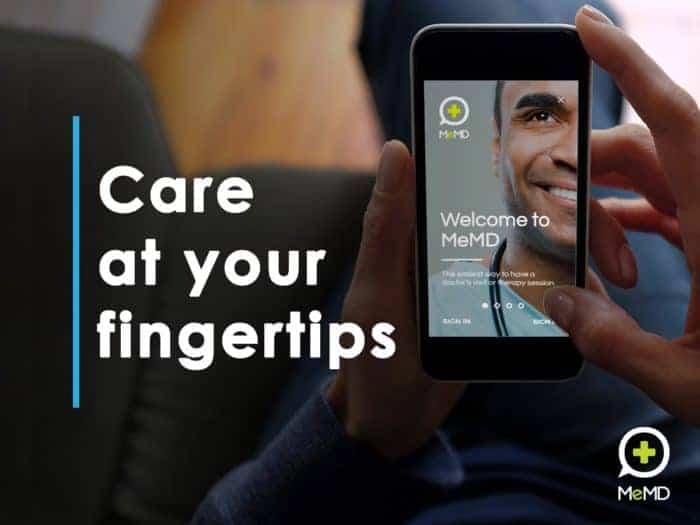 MeMD offers medical services through a smartphone, computer, or landline phone, 24/7/365. After establishing a free account and providing basic medical information, patients are given the option of having either a video or audio consultation.
A MeMD medical professional reviews your information and will begin the consultation after patients discuss their symptoms and treatment plans with the doctor. General medical conditions that can be treated include (and more): headaches, skin infections, fever, sprains and strains, dehydration, pink eye, migraines, bronchitis, flu/colds. When required, prescriptions may be sent to your local pharmacy.
MeMD recently began offering behavioral health treatments for anxiety, depression, abuse, cognitive behavioral therapy, PTSD, panic attacks, and other disorders. The website indicates that less than 5% of MeMD patients are referred to in-person care.
Medical services are provided by licensed, board-certified physicians, nurse practitioners, or physician assistants. Behavioral conditions are treated by licensed therapists and counselors.
Although MeMD does not accept health insurance, FSA, HSA, and HRA accounts are accepted. The cost per virtual visit is set at a reasonable rate of $57.95 for urgent medical care and $80 per therapy session by licensed therapists. Medical records are accessible via MeMD's patient portal.
There are specific technology requirements to access MeMD. A high-speed internet connection and access to Google Chrome, Firefox, Nightly, Opera, and Canary browsers (currently, Safari is not compatible).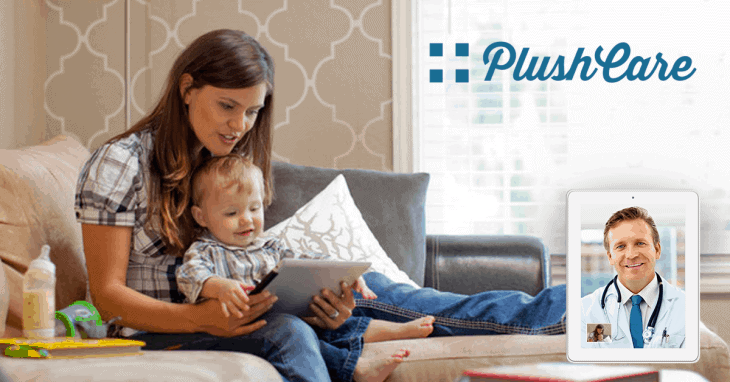 PlushCare is a nationwide HIPAA-compliant internet physician service offering primary care consultations in bronchitis, sinus infection, rashes, ear and eye infections, high blood pressure, PrEP (pre-exposure prophylaxis), and STD screening, and is able to provide prescriptions to your local pharmacy. PlushCare is affiliated with LabCorp and Quest Diagnostics, and its physicians can order laboratory tests as needed.
While the service does accept health insurance, it isn't required. PlushCare charges a flat $99 fee (there is no membership or subscription requirement) for consultation with one of its 60-plus board-certified physicians. PlushCare provides a discount of $49 for veterans and active military. The service even offers a money-back guarantee.
This is not an "on-demand" service, so the site requires you to schedule an appointment. Appointments may be scheduled within a day or two. Exams can be conducted using a PC or smartphone, as long as it provides webcam access. As of July 2018, over 100,000 patients have used this service and their numbers continue to grow.
What are the benefits of an online doctor?
With a good online doctor, you get same-day service without leaving your home. Convenience is the main benefit. There's no commute. There's no waiting in a germ-infested waiting room. There's no waiting days or weeks to get seen. Plus your doctor usually has fewer patients and so can give you more attention.
Having an online primary care physician also allows you to keep your doctor even when you travel or move to a new location. You could potentially develop a lifetime personal relationship with a doctor who cares about you.
What if I need to be seen in person?
A good online doctor will be able to refer you to specialists or another local doctor if you absolutely must be seen in person. Many common concerns can be effectively diagnosed and treated over the phone, text, or internet. But, obviously, there are emergencies or sometimes the doctor needs to take a closer view (X-rays, etc).
Can my online doctor write prescriptions?
Yes, online primary care physicians will be able to diagnose and write prescriptions that can be filled at your local pharmacy. So, the next time you know you have strep throat, you can get started on those antibiotics days to even a few hours sooner.
What is the best online doctor?
Whether you need comprehensive care for a long-term condition or urgent care for a sudden illness, SteadyMD can easily connect you with a board-certified physician. This subscription-based program is setting the standard for online physician services.
Looking for a slightly different spin on telemedicine? Rave Reviews has also taken a comprehensive look at the best online counseling and talk therapy services as well as the best online veterinarians.
Dr. Kasey Nichols, N.M.D.
Dr. Kasey Nichols, N.M.D. focuses on sleep disorders and drug-free pain management utilizing both conventional and alternative medicine at his private practice,
Onyx Integrative Medicine and Aesthetics
, located in Gilbert, AZ. He served as the Director of Medical Operation and Administration at a national substance abuse disorder corporation with 16 facilities across seven states. He graduated from Cleveland University-Kansas City with a Bachelor's of Science in Human Biology, graduating with honors, and holds a Doctorate from The Southwest College of Naturopathic Medicine. He holds licenses in both Arizona and Kansas. Dr. Nichols has given numerous talks to professional organizations, given interviews for newspapers across the United States, and numerous television news interviews with ABC 15/CW 61 in Arizona, Channel 3 in Arizona, and others. Dr. Nichols has appeared in
Cosmopolitan
,
Reader's Digest
,
WebMD
,
Healthline
, and many other health and lifestyle publications.