Nootropics, or cognitive enhancing supplements, have exploded on the market in the past few years.
With so many supplements out there, we made it easy to find the best: Alpha BRAIN® by ONNIT. Alpha BRAIN® has everything you could want in a nootropic supplement. It contains potent herbal extracts known to enhance cognitive function, neurotransmitter precursors, and phospholipids. And, you know exactly what you are getting in each bottle because this supplement laboratory-tested.
Taking care of your brain should be a priority in your life — this organ controls everything you experience in day to day life. A healthy diet, regular exercise, and a restful night's sleep are a few things that promote healthy brain function. But what about taking your brain function to new heights and getting that extra competitive advantage over your friends, family, and colleagues? This is where nootropics, or cognitive enhancing supplements come into the picture.
Nootropics have exploded on the market in the past few years, and you can find them everywhere from your local Walmart, Vitamin Shoppe, or Walgreens. Reading the label may just confuse you even more, because many of the supplements contain different ingredients. Not to mention the various forms in which these supplements are available for consumption, including powders, capsules, alcohol extracts, glycerine extracts, and more.
Don't get me started on the purity of the supplements you may be purchasing. Who wants filler ingredients, artificial colors, and artificial preservatives in the things they ingest? We made the process easier for you because we think picking a nootropic supplement shouldn't be rocket science. There are great nootropic supplements that have been proven to enhance cognitive performance, and we listed them out for you so you can choose one and start changing the world.
Also check out our overall best supplements ranking.
The Nootropics We RAVE About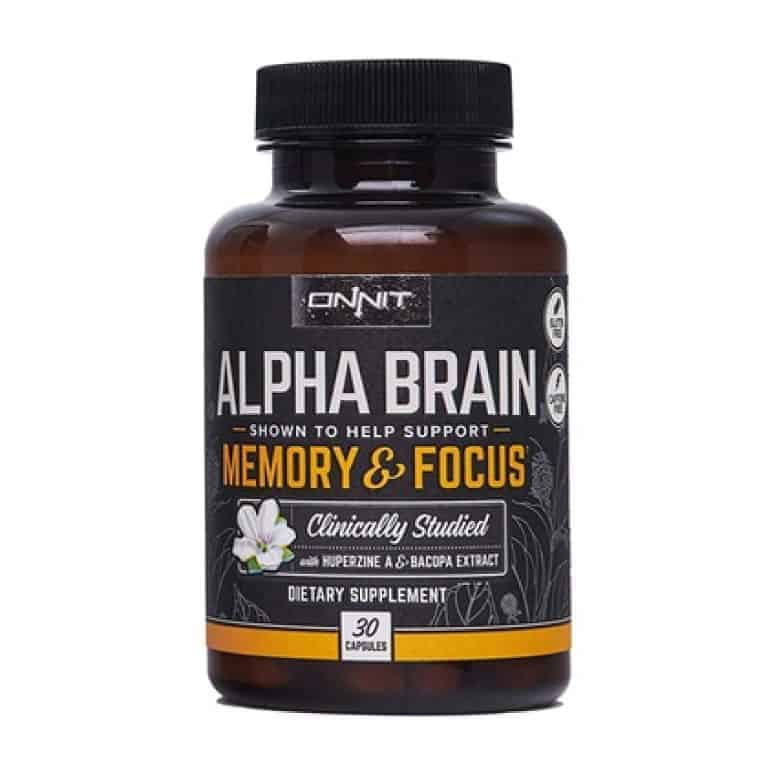 Best Overall Nootropic
Alpha BRAIN® by ONNIT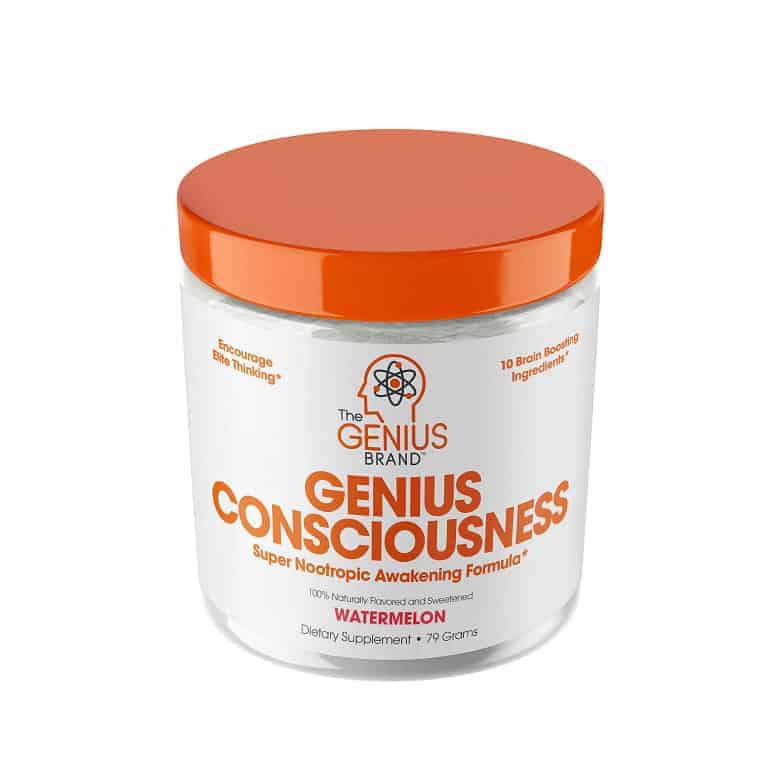 Best Nootropic Powder
Genius Consciousness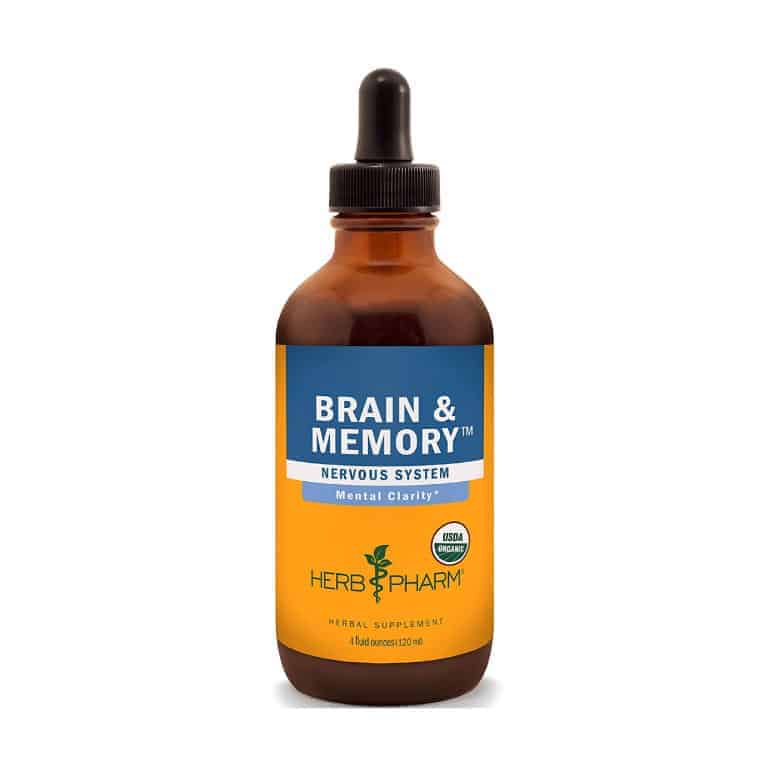 Best Nootropic Tincture
Herb Pharm Brain and Memory Liquid Herbal Formula
Nootropics and Brain Health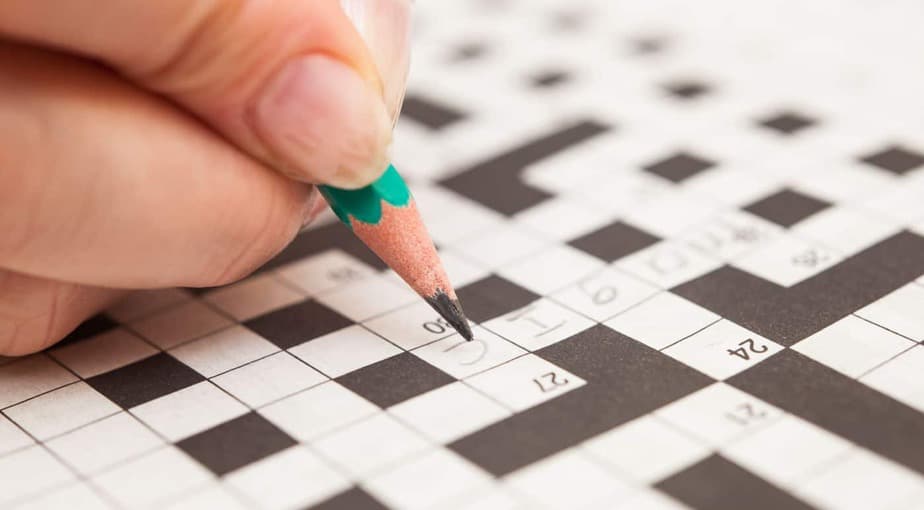 Preventing Alzheimer's, dementia, Parkinson's, and other cognitive diseases has increasingly become a concern as medical advances have extended the average total life span. What has become increasingly clear is that a healthy diet, regular exercise, and adequate sleep are keys to keeping your mind sharp.
Diet, exercise, and sleep are the foundations on which you build a healthy brain, and cognitive supplements fine tune your lean, mean, thinking machine. Many nootropic supplements contain amino acids, phospholipids, and antioxidants. Certain amino acids are added because they are the building blocks of the chemicals in your brain that are responsible for learning and memory.
Phospholipids and other types of fats surround your neurons, allowing for quicker transmission of signals and thinking. Finally, antioxidants are added because your brain uses a large amount of energy (30% of total energy) of the body, which translates to a lot of chemical reactions and oxidative stress. This oxidative stress has been implicated in neurodegenerative disorders such as Alzheimer's disease and dementia.
While amino acids, phospholipids, and antioxidants are a foundation of many nootropic supplements, certain botanicals contain key constituents that have been shown to improve cognitive functioning. If you want a supplement that makes your brain run optimally, look for one that includes specific botanicals, which we will point out during our reviews. The purity of the ingredients is just as important as which ingredients are in your nootropic supplement.
How to Tell a Quality Supplement from Other Supplements
Not all supplements are created equal. In fact, most supplements contain extra filler ingredients, use artificial colors, and artificial preservatives. You may wonder to yourself why companies do that and why there is no direct oversight of these organizations. The fact is that supplement companies are not regulated by federal organizations like the pharmaceutical field with DEA oversight. Supplements are not regulated like drugs because they are considered a category of food by the government.
The Dietary Supplement Health and Education Act (DSHEA), which was passed in the early '90s, established supplements as a food category and only allowed the FDA to pull supplements from the market that were proven to be unsafe to the public. The FDA considers supplements to be safe until proven harmful, unlike pharmaceutical drugs, which are dangerous until proven safe. Be careful when you are picking supplements, because there is no oversight looking out for your best interests.
Supplements can be an extremely safe and effective means of optimizing your health and brain functioning, but picking a high-quality supplement is imperative.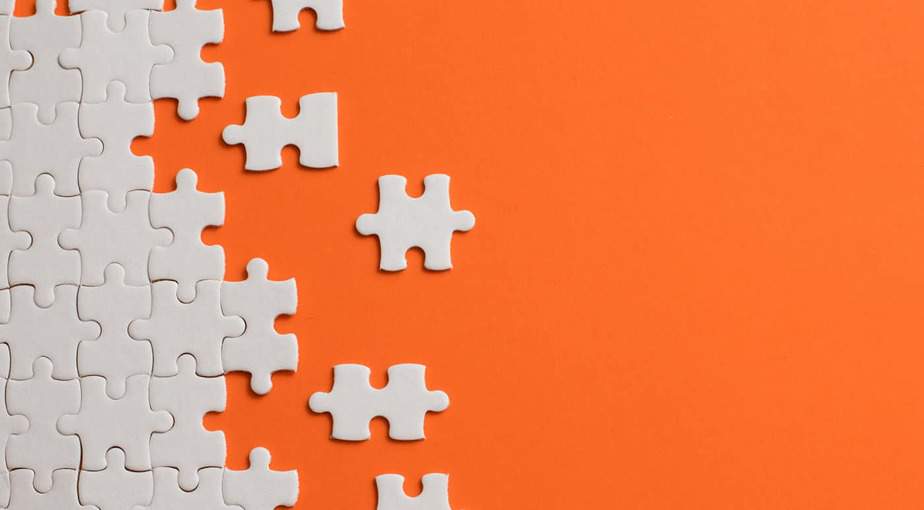 Added fillers and preservatives
Some manufacturers add unnecessary fillers and preservatives to their supplements primarily because it may be cheaper to combine these substances than other high-quality ingredients. This is a big red flag, as it shows that the company is cutting corners, which may result in a cost reduction of the final product to you, the consumer. While it may sound fine and dandy to you, do you really want companies cutting corners when they produce something that will go into the most important thing you own: your body?
Supplement companies have the option to get unaffiliated laboratories to test the purity of the ingredients they use in their supplements. While this option is available, it costs money, and many supplement companies opt not to test their products. There is no way to tell exactly how much of a substance or ingredient you are ingesting without third-party testing, which may drive up the end price of the product. But peace of mind is worth something, right?
When supplements contain botanicals, the part of the plant that is used in the supplement matters. Different parts of plants often contain different chemicals and amounts of chemicals. Supplements that do not explicitly state which part of the plant is used likely utilize the whole plant indiscriminately, which means you may or may not be getting the active chemicals you want in your supplement.
If you take a supplement with botanicals sprayed with pesticides and other chemicals, these chemicals will likely be transferred into your body. That is why it is crucial to take supplements that are grown organically, free from pesticides, GMOs, and other human-made substances. Some experts argue that these chemicals cause no harm to the human body, while others point to evidence that they do — when it comes down to it, why take a chance? Buy organic.
Methodology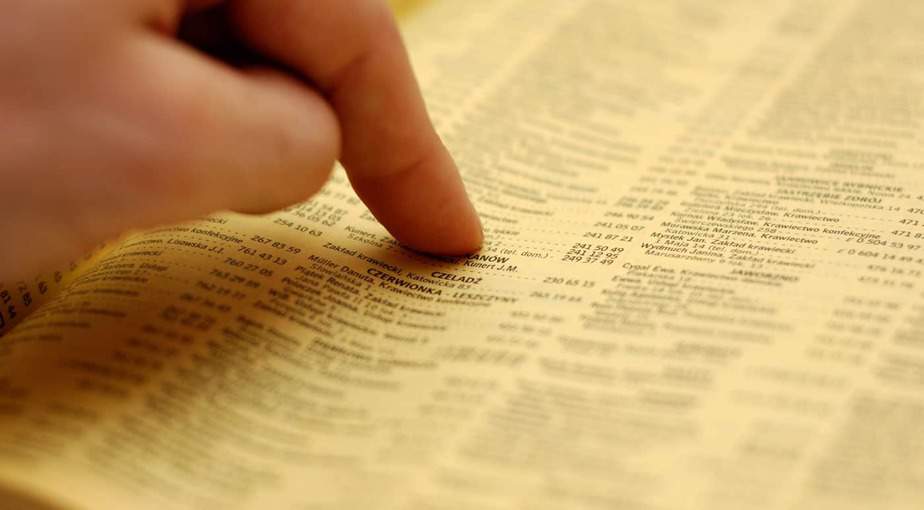 Here at RAVE, we take our job as experts that provide you with reliable quality information very seriously. We combed through research for individual ingredients that have been shown to improve cognitive function, found supplements that contain these ingredients, researched the manufacturing process of these ingredients, and picked the top 10 nootropic supplements that will get your brain functioning better than it ever has in the past. We placed particular emphasis on specific criteria, listed below:
Researched ingredients: Does the supplement contain ingredients with research supporting its cognitive effects?
Part of the plant used: Is the supplement using the correct part of the plant to contain the key active ingredients?
Added fillers or preservatives: Are there added fillers or preservatives?
Third-party testing: Does the company use third-party testing to ensure purity standards?
Organic/non-GMO: Are the plants used in the supplement organic and non-GMO?
Price: Is the supplement reasonably priced for the ingredients it contains?
The Best Nootropic Brain Supplements
Cruising into our number one spot for the best nootropic supplement is Alpha BRAIN® by ONNIT. Raved about by fitness enthusiasts and celebrities alike like Joe Rogan, ONNIT is a brand producing high-quality supplements that work. Isn't that all that really matters anyway? Well, how about a supplement that doesn't contain drugs or potentially harmful ingredients, which is what you get with Alpha BRAIN®.
If you're sensitive to caffeine or gluten, you will love this supplement as its founder chose to skip these ingredients, opting for only naturally stimulating ingredients that will get your brain ticking and clicking faster.
So now that you heard about the company, you may be wondering to yourself what is so great about this specific supplement. The supplement is composed of three registered trademarked blends along with 10 mg per servings of vitamin B6. The Onnit® Flow Blend consists of five ingredients that will help get you into that mental state of 'flow' that we all strive to reach.
The ingredients include L-Tyrosine, L-Theanine, Oat extract, Phosphatidylserine, and Cat's Claw extract. The Onnit® Focus Blend consists of L-Alpha glycerylphosphorylcholine (a precursor to acetylcholine), Bacopa extract, and Huperzia Serrata extract.
The Onnit® Fuel Blend is a combination of three energizing ingredients, which include L-Leucine, Vinpocetine, and Pterostilbene. This formula has been tested in two double-blind clinical studies, which were conducted by the Boston Center for Memory. What were the findings? Alpha BRAIN® dramatically improved memory, optimized brainwaves, and enhanced focus by regulating the theta/beta ratio of brain waves.
One of the only downsides to this supplement is the price that will run you around $68 for anywhere from half a month to a month and a half supply, depending on how you dose the supplement.
Pros
Increases energy
Increases blood flow and focus
Laboratory tested for purity
Skip the pills and fix yourself a delicious glass of Genius Consciousness. Release the confinement of the ingredients in a capsule and take your daily dose of this supplement to kickstart your brain. This supplement contains compounds not found in its competitors, and all the ingredients are backed by research. Don't worry about the often unpleasant taste of chemicals, because this supplement is naturally sweetened to taste like watermelon.
Dynamine sounds a lot like dynamite, and like dynamite, this compound packs a powerful punch to get you focused and uplift your energy and mood. Dynamine is a purine alkaloid that is believed to increase dopamine and inhibit adenosine. Dopamine is your feel-good and motivation neurotransmitter, and adenosine buildup in the brain is one of the main signals that make you fall asleep. Couple Dynamine with Alpha-Glyceryl Phosphoryl Choline (A-GPC) — a compound shown to increase acetylcholine (a memory neurotransmitter) — and you have a potent nootropic supplement.
But there's more! This supplement contains acetyl-L-carnitine, an amino acid derivative found in our number one best nootropic supplement. Every scoop of this watermelon treat contains 100 milligrams of caffeine to keep you awake and focused on whatever you're doing. Lions Mane, huperzine, and panax notoginseng are cognition-enhancing botanicals also included in this powder. Finally, Tyrosine, an amino acid precursor to dopamine (focus, motivation, feeling good) helps kick-start brainstorming.
Pros
Dynamine and A-GPC
Laboratory-tested for purity
Cell membrane support
Cons
$36.09 for 15 servings
No antioxidants
This well-rounded nootropic contains 21 ingredients that have been researched for their effect on increasing energy, focus, and mental stamina. What we like best is the blend of herbal ingredients that are stimulating and calming to the brain. Unlike other nootropic formulas that are loaded with stimulants and can lead to nervousness, anxiety, and jitters, this formula is designed to give a sense of calm focus.
The L-theanine and ashwagandha are ingredients designed to help you manage stress levels, while huperzine and CDP-choline are geared toward memory. Phosphatidyl-serine, ginkgo, and Rhodiola are also in this formula to support brain structure, blood flow, and function. In short, this product has it all.
Other highlights of Body-Brain Energy are its third-party testing and plethora of research studies available that demonstrate the product's effect. In fact, the website offers almost 80 scientific studies on their ingredients. Their products are non-GMO, organic, and free from fillers. It's apparent that Body-Brain believes in their product: They also provide a full year guarantee. If for any reason you are not satisfied, they will happily process a full refund.
The downside to this product is the price tag. At $69.97 per bottle, be prepared to pay more than you would for other products. However, of over 250 reviews, they average a 4.5-star rating. Although this number of reviews is not large, it is evident that so far, people are satisfied with their results. A few of the negative reviews note some nausea after taking the capsules. All in all, Body-Brain is a well-rounded nootropic with a relatively high price tag.
Pros
Benefits memory and stress
Supports brain blood flow
No fillers, non-GMO, organic
Cons
The high price tag at $69.97
Relatively few reviews
4
Herb Pharm Brain and Memory Liquid Herbal Formula
So you're telling me you hate taking pills, and you can't stand the thought of taking a powdered supplement. What are the other options? Ever hear of an alcohol extract sometimes called a tincture? The Herb Pharm Brain and Memory Liquid Herbal Formula has effective, powerful brain and memory botanical chemicals located in an alcohol base. Consult your healthcare professional before starting this supplement if you are pregnant or have a history with alcohol addiction.
You may be asking yourself how much Herb Pharm could pack into this 120-milliliter dropper bottle. It turns out, a lot: 646 milligrams for every 0.7 milliliters. One dropper contains 1 milliliter, so every dropperful contains about 923 milligrams of brain magic. With a recommended dosage of 1 dropperful two or three times per day, this supplement will last you a minimum of one month and costs a reasonable $34.96. Okay, you say, but what's actually in the bottle?
Five botanicals designed to improve memory and brain function combine to form this supplement. Ginkgo biloba, a botanical that increases brain blood flow is added along with Gotu kola (Centella Asiatica), a plant indigenous to Asia that has been used for hundreds of years to improve memory.
Skullcap (Scutellaria lateriflora) is used for its relaxing properties on the nervous system, because who can think, remember, and learn when you're anxious? Sage and rosemary are also incorporated into this formulation, because these plants are known to increase blood flow and aid learning.
Pros
Price: $34.96
Laboratory-tested for purity
Potent memory and brain herbs
Cons
Alcohol extract
Might be too potent for some
5
Ayush Herbs Bacopa Plus Herbal Supplement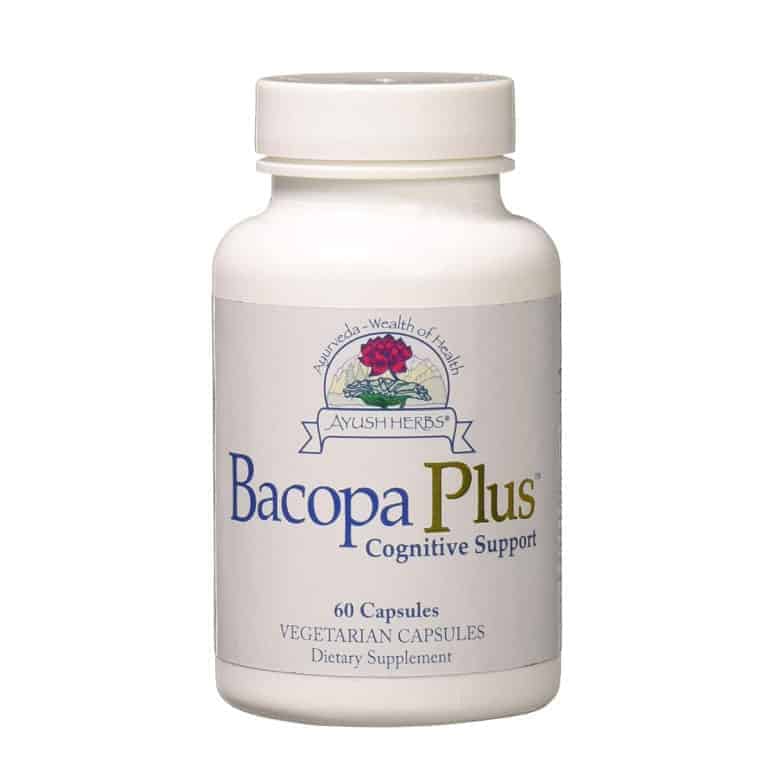 Have you ever heard of bacopa? If you haven't, you are in for a treat because this botanical has been used to treat mind and memory disorders for thousands of years. Bacopa, sometimes called brahmi, is a traditional Ayurvedic herb. Originating in India, Ayurvedic philosophy aims to balance your mind, body, and spirit. Interesting, right?
Mind-body medicine is not a new philosophy that popped up in the past decade, it has been around for thousands of years. If a form of medicine has survived thousands of years, it must be effective!
The name of the supplement is called Bacopa Plus, which means there have to be other ingredients — or does the plus represent the supplement being extra potent? Well, both! We see our old friends ginkgo biloba, and Gotu kola come up again in this supplement — there must be something to these herbs since they are in so many supplements. We also come across two other excellent herbs we haven't seen yet, namely, convolvulus pluricaulis and ashwagandha (Withania somnifera).
What's so great about Convolvulus pluricaulis and ashwagandha? Both of these herbs are traditionally used to ease anxiety and calm the nervous system. Anxiety and stress inhibit learning and the formation of new memories. Few herbs are better at helping you adapt to stressful situations than ashwagandha. These ingredients are packed inside a vegetarian capsule, and the supplements are free from egg, soy, milk, and wheat.
Pros
Price: $16.64
Laboratory-tested for purity
Vegan and soy-free
Cons
No amino acids
No fatty acids
6
Mind Lab Pro: Universal Nootropic
Mind Lab Pro's Universal Nootropic is a mix of herbal ingredients to aid in memory and overall brain health. Their website states that all of their ingredients were selected based on research, and they focus on several pathways of brain function. Our favorite element in this formula is the lion's mane.
This "magic" mushroom is the king of memory and has been used for thousands of years in China for its ability to stimulate nerve-derived growth factors in the brain. This is similar to a light switch that turns on nerve growth and turns off nerve cell death. Clinical trials have also shown that it is effective in age-related memory decline.
Other stars of this product are bacopa, the Ayurvedic herb used for memory, and pine bark, a super antioxidant than quenches inflammation. The majority of the ingredients in this product work best when taken over time, so if you are looking for an immediate boost, you may not get a robust and rapid change in your stamina and focus with this product. It may take six to 24 weeks to see drastic changes in your memory and cognition.
We did notice that the amount of Rhodiola is quite low in this product. As one of the more stimulating herbs in this formula, we would hope to see levels a bit higher than 50 milligrams to provide energy and mental stamina. Another downside is the price: At $94 per 30-day supply, prepare to shell out a bit more cash for this nootropic. They do offer a 30-day money back guarantee if you are not satisfied.
Pros
Ingredients for brain structure
Supports memory formation
Herb saturated
Cons
$65 per 30-day supply
May take 6-24 weeks to work
Low amount of Rhodiola
7
RuVeda Naturals – Brain Support
RuVeda is a well-rounded blend of traditional herbs for brain function, focus, and memory. It includes all non-GMO ingredients, and a 30-day supply sells for an affordable price of $17.78. The stars of this show are bacopa and lion's mane. We have seen both of these ingredients before in other formulas. These traditional ingredients are from India and China, respectively. These herbs have stood the test of time, and continue to be used in brain-enhancing products today.
The downside to this formula is the actual level of each ingredient. Unfortunately, the levels of ashwagandha, turmeric, Rhodiola, and Gotu kola are lower than we would like to see. Although they work synergistically, it does not seem to quite add up to what we would expect. However, when you compare the price point to other higher dose formulas, it does make a bit more sense.
The upside is that RuVeda offers a money-back guarantee if you do not love their product.
Pros
$14.99 for 30 days
Includes traditional herbs
Great for memory enhancement
Cons
Low ingredient amounts
Very few reviews so far
Lower strength
8
Dr. Emil Organic Lion's Mane Mushroom Capsules
Dr. Emil is a licensed medical doctor and bodybuilder. He has several products on the market, including this lion's mane nootropic formula. This formula is simple, with only two ingredients: lion's mane and biopterin.
What we like is the commitment and confidence in the formula's sole ingredient. The lion's mane in Dr. Emil's recipe is "100% pure lion's mane extract powder from hand-picked, USA-grown mushrooms. The powder is extracted using a state-of-the-art hot water method." The biopterin aids in maximum absorption.
Studies show that lion's mane is effective in age-related memory decline. However, this mushroom needs to be taken for an extended period before you see results. In other words, if you are looking for a quick boost in focus and mental stamina, you will not likely get that with lion's mane alone. This product has over 800 reviews and a near-perfect five-star rating. With a price of $22.95, it's worth a try!
Pros
High-quality lion's mane
Low price of $22.95
Many positive reviews
Cons
No quick-acting ingredients
Only one ingredient
Less versatility
Vital Brain Booster claims to help with mental clarity, cognitive ability, memory, and physical energy. The primary ingredient, bacopa, is one we have seen time and time again. Bacopa is paired with its old friend ginkgo, which we often see blended together.
We like the addition of phosphatidylserine and DMAE to support neuron growth and function. Rhodiola also stands out for its stimulating and mood-elevating properties. However, the 50 milligrams included in each serving may not be enough to provide the stimulation you may desire. A higher dose is likely necessary to get a truly effective result.
Priced at only $20.87 per 30-day supply, this product is very affordable. However, if you are a vegetarian or vegan, look closely, as this product contains gelatin, an animal product. Also, if you love the product, great! But if you don't, unfortunately, there is no money-back guarantee.
Pros
High amounts of bacopa
High amounts of ginkgo
Reasonably priced
Cons
Low amounts of Rhodiola
Not vegetarian
No money back guarantee
Are nootropic supplements alone enough to optimize brain function?
The answer to this question is a resounding no! You need at least three more ingredients for optimal brain performance: diet, exercise, and practice. You should think of a nootropic supplement as the icing on the cake. But before you put icing on the cake, you have to build the foundation.
Exercise is an essential component of any brain health program, because your brain needs blood flow. Physical activity is associated with a reduced risk of cardiovascular disease, diabetes, dementia, and other cognitive disorders. Skipping daily exercise is like leaving out the flour in your cake. It's that important to your brain health.
One of the best things you can do to improve cognitive health and reduce potential cognitive decline is to eat a diet full of leafy green vegetables. Also, eating antioxidant-rich foods, such as berries, can help fight the free radical damage associated with some neurodegenerative disorders. Diets high in red meats and processed foods clog up arteries and reduce healthy blood flow.
Exercising and challenging your brain is also a crucial component to get you thinking like a memory champion. This can take the form of mentally stimulating new and difficult activities, which allow your brain to make new neural connections. There are many books that can show you tips and tricks for a better memory.
Does brain training, such as with programs found on the internet, really work?
It is incredibly tempting to pay for a monthly subscription for games that promise to improve your memory, processing speed, and other cognitive functions. Who wouldn't want to improve their memory while having fun? But what does research say about this seemingly simple shortcut?
There have been a few studies that show how brain training games provide some beneficial improvements in certain cognitive parameters, which has only increased public demand for companies that provide this service. However, these studies are complicated by the fact that individuals who participate in brain training games also tend to be conscious of promoting and performing brain health activities.
Other studies show minimal to no improvement in transferable cognitive parameters. The likely reality of commercial brain training games is that they are beneficial for improving cognitive parameters for that specific game. There is no strong evidence that cognitive skills trained in these games are transferable in any significant degree to other everyday tasks (even if they are similar to the game). 
What are the best nootropics?
The best overall nootropic supplement in our ranking is ALPHA BRAIN® by ONNIT. This supplement includes most everything you could ask from a nootropic supplement, including botanicals that enhance cognitive function, neurotransmitter precursors that will boost memory, and healthy fats to help with the speed of your thoughts. This supplement is pure and free from adulterants because it is third-party tested and certified by the banned substance control group. You can sleep easy knowing that you're taking exactly what the bottle says.
If you're only interested in taking a powdered nootropic supplement, we recommend Genius Conscious. The supplement includes botanicals to improve cognitive performance and other essential ingredients to get your brain cells firing quickly. Plus it's naturally sweetened!
We chose Herb Pharm Brain and Memory Liquid Herbal Formula as the best nootropic tincture because the formula includes five heavy-hitting cognitive enhancing supplements in an alcohol base. However, if you are suffering from alcohol addiction or have in the past, you may want to choose Memory Pro by Pure Encapsulations or Genius Conscious instead.

Dr. Kasey Nichols, N.M.D.
Dr. Kasey Nichols, N.M.D. focuses on sleep disorders and drug-free pain management utilizing both conventional and alternative medicine at his private practice,
Onyx Integrative Medicine and Aesthetics
, located in Gilbert, AZ. He served as the Director of Medical Operation and Administration at a national substance abuse disorder corporation with 16 facilities across seven states. He graduated from Cleveland University-Kansas City with a Bachelor's of Science in Human Biology, graduating with honors, and holds a Doctorate from The Southwest College of Naturopathic Medicine. He holds licenses in both Arizona and Kansas. Dr. Nichols has given numerous talks to professional organizations, given interviews for newspapers across the United States, and numerous television news interviews with ABC 15/CW 61 in Arizona, Channel 3 in Arizona, and others. Dr. Nichols has appeared in
Cosmopolitan
,
Reader's Digest
,
WebMD
,
Healthline
, and many other health and lifestyle publications.