Cereal is a popular breakfast option among children and adults alike.
Not all cereals promote health equally, so if a healthy cereal is a priority for you, choose Magic Spoon's cereal, available in four flavors. Magic Spoons gives you everything you could want in healthy cereal: low net carbohydrates, high protein, no grains, and best of all, it's tasty!
Mornings can be hectic when you have to take a shower, get dressed, make sure your children are awake and dressed, make your coffee, and hopefully have time to fix yourself breakfast. You may be tempted to just grab a Pop-Tart or skip breakfast altogether, which is a mistake. Breakfast very well may be the most important meal of the day, and skipping breakfast can have significant health implications, which is why we compiled the 10 best healthy cereals. 
You can think of breakfast as the key that starts your metabolism engine. Breakfast tells your body it's time to start the day after hours of fasting during sleep. It also signals to your body that it has enough food and does not have to conserve as much energy as possible — mostly through fat. Breakfast also provides energy to get your brain moving for the first half of your workday, which also happens to be the most productive part of the day for many people. 
Breakfast cereals are notoriously sugary, which can be just as detrimental to your day as not eating breakfast. Sugary foods spike your blood sugar, leading to spikes in insulin, both of which your body struggles to balance. This is why it's crucial to choose a healthy breakfast cereal that contains protein and lacks other potentially harmful ingredients, such as artificial colors and sweeteners. 
The Healthy Cereals We RAVE About
Keto-friendly, high protein, and low carb, with no artificial sweeteners or coloring, this cereal is one you could give to the people you cherish most in the world. Best of all, it's delicious and available in four popular flavors. 
Read Full Review
Shop Magic Spoon Cereal
Containing only 90 calories per serving and 5 grams of dietary fiber, this breakfast cereal won't ruin your day if you're calorie counting. The cinnamon flavor combined and crunchiness keep you coming back, sometimes for a second bowl. 
Read Full Review
Shop BARBARA'S Puffins Cereal, Cinnamon
Packed with 12 grams of protein per serving and only 120 calories, this cereal is sure to keep you slim and satisfied. Don't worry about choosing between the three flavors, they're all great. And, the 4 grams of fiber will help you feel as excellent as this cereal tastes. 
Read Full Review
Shop Kay's Naturals Protein Breakfast Cereal
What are healthy cereals?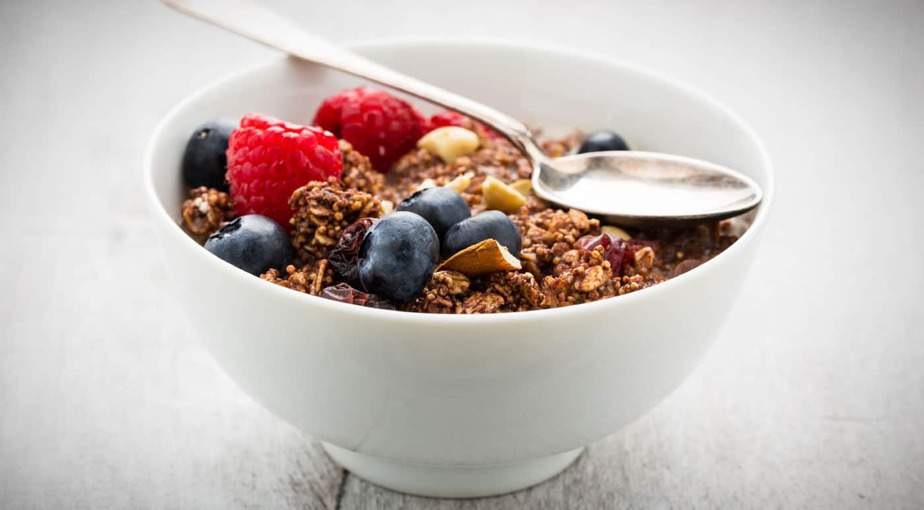 Many breakfast cereal manufacturers target children and pack their cereals with tons of processed sugar. Kids eat it up because, well…it tastes good. Sometimes it feels as if we have to choose between a cereal that promotes health and one that genuinely tastes good. The good news is that cereals that have both are available. The bad news is they frequently cost slightly more than the unhealthy ones. 
As you choose a cereal, there are three main signposts to pay attention to while you browse the grocery aisles or surf the web:
Protein is what makes you feel full and satiated because it reduces the levels of hormones that stimulate hunger in your body. Feeling full means you are less likely to eat, making it easier to lose those last five pounds. While carbohydrates and protein theoretically provide the same amount of energy to the body, it's not the complete story. Protein requires energy to be broken down and converted into what your body wants, so protein provides less energy to your body than carbohydrates. 
Simple and refined sugars are the heroine of the food world. Ever wonder why all the foods you crave are high in simple sugars? It's because your body and brain are programmed to seek out and reward the intake of these sugars. This process made good sense for your hunter-gatherer ancestors who didn't know when their next meal would be, but is detrimental to our modern sugar-abundant lives. 
The modern diets loaded with processed food and refined sugars have wreaked havoc on the health of westerners. Medical concerns such as dental issues, diabetes, and heart disease stem from, at least in part, the modern diet rich in simple and refined carbohydrates. 
Fiber! The savior of your colon and the ingredient that keeps you regular. High fiber has become a significant advertising buzzword for good reason, because low-fiber diets can contribute to serious medical concerns, such as colon cancer. Getting enough fiber in our food was not a concern for our hunter-gatherer ancestors because they were eating tons of plants high in fiber. In the modern western diet, which is rich in simple sugars and deficient in vegetables and plant materials, we have to be particularly careful that we receive enough fiber in our diets. 
Other considerations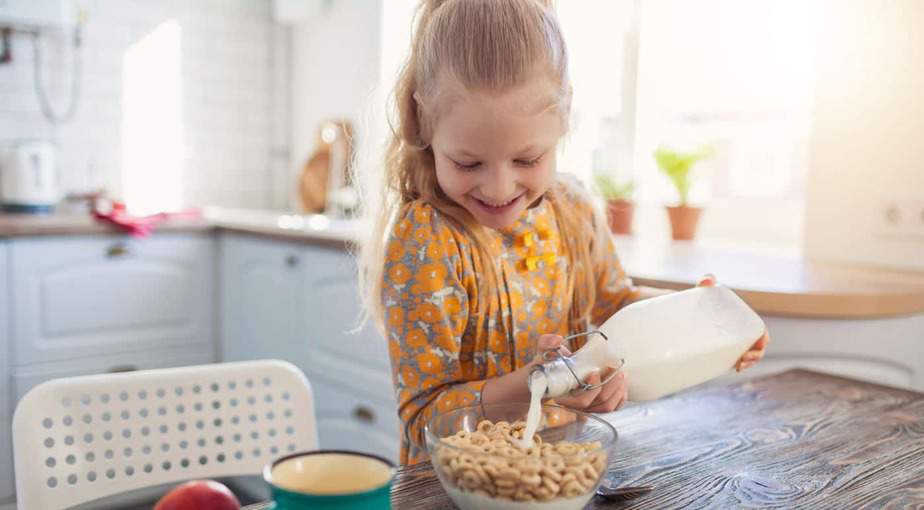 The potential dangers of artificial sweeteners has been debated for decades with very little progress made to get these sweeteners removed. Artificial sweeteners became popular because people wanted a way to sweeten food while maintaining a trim waistline. With all the controversy surrounding artificial sweeteners, why even take a chance? Choose foods without artificial sweeteners when possible. 
Artificial colors have received a lot of media attention in the past few years, linking them to child developmental disorders, metabolic disorders, and cognitive disorders. Most savvy health cereal shoppers look for products that are free from artificial colors. Better safe than sorry!
Genetically Modified Organisms (GMOs) are another controversial issue that divides the American public. Some studies indicate that GMOs cause cancer, while others dispute these claims. Non-GMO products are only slightly more expensive, but it's money well spent. 
Methodology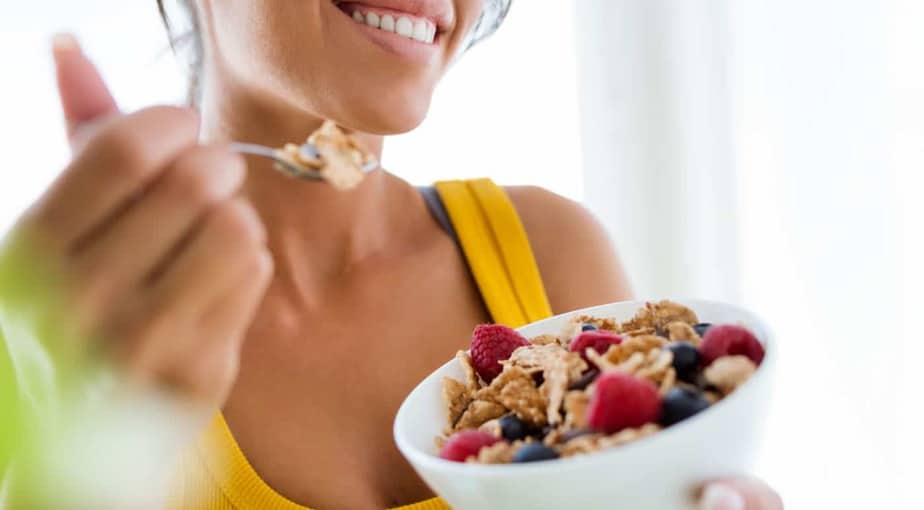 We spent many hours finding and comparing many cereal brands so we could compile the 10 best healthy breakfast cereals. Here at RAVE, we take our responsibility seriously, which is why we considered everything from calories to artificial sweeteners to whether or not a grain-free product was made in a facility that manufactures other grain products. Here are some criteria we looked at, with some questions having more weight than others: 
Calories:

Is one serving of cereal under 300 calories? 

Total fat:

Is a serving under 5 grams of fat?

 
Saturated fat:

Is a serving under 2 grams of saturated fat? 

Protein:

Does a serving of cereal have any protein? 

Dietary fiber:

Does a serving of cereal have any fiber? 

Sugars:

How much sugar (including added) does a serving of cereal contain?

 
Artificial coloring and sweeteners:

Are there any artificial colors or sweeteners? 

Price:

How much does a box of cereal cost? 

Reviews:

What do cereal eaters say about it?

 
The Best Healthy Cereals
Related Articles
What kind of milk should I have with my cereal? 
It depends. There are many milk and milk substitute options on the market, including almond, hemp, soy, and more. Many people are lactose intolerant, meaning they have gas, bloating, and other symptoms when they eat or drink dairy products. 
Children may not have problems drinking milk because as we age, the enzyme that breaks down dairy (lactase) in our intestines typically declines. Your doctor can order a food allergy test to identify to which foods, including dairy, you may have sensitivities, intolerances, and allergies. A cheaper way to check your reaction to dairy is to try switching to almond, hemp, or soy milk and see if you feel differently.  
Often adults tend to feel better drinking dairy substitutes, and many dairy substitutes are healthy for you. Unsweetened almond milk has fewer calories, total carbohydrates, and sugars than even skim milk. The downside is that almond milk contains significantly less protein than dairy, but if you eat a high protein cereal, it becomes irrelevant. 
Are healthy cereals more expensive than other types of cereals? 
Yes, generally healthy breakfast cereals are more expensive than other cereals, for two reasons: One, it costs more to produce and sell high-quality ingredients. And two, customers are willing to pay more for healthy breakfast cereals.  
GMOs, artificial sweeteners, and other additives are cheaper to produce and use in cereals than grains and organically grown foods. Nuts and seeds are also more expensive to produce than grains, which are found in many unhealthy cereals. The exception is sprouted grain, which requires a more labor-intensive process to grow. 
Are grains, nuts, or soy better for breakfast? 
It depends. All of these foods have benefits, and one may be better for one person over another. Whether you should eat cereal composed mostly of grains, nuts, or soy comes down to two questions to ask yourself: What are your goals for breakfast? How do you feel after eating each of these foods? 
How you feel after eating each of these foods is a good indicator of if you have sensitivities and intolerances to them. Gluten intolerance is common along with soy and specific nut intolerances and allergies. The only ways to tell if you have one are to get a formal allergy test, or see how you feel when you cut each one of these ingredients from your diet. 
If intolerances are not an issue for you, the next question is, what are your goals? Are you just trying to kick-start your metabolism to meet the challenges of the day? Or are you trying to shed a few extra pounds? Nuts provide a lot of energy that is released steadily throughout the morning, while soy is high in protein and may help you lose weight. 
RAVE Recommends
Kick-starting your day takes more than a bowl of healthy breakfast cereal. It takes a comfortable mattress, pillow, and a steaming cup of coffee. Wake up refreshed and seize the day with these other products we recommend. Carpe Diem!