One of the most important things you can do for your baby is feed them healthy food. This is easier than ever with our number one healthiest baby food pick, Serenity Kids.
This brand takes our number one spot because it combines high fat with low sugar to give the perfect nutritional combination for growing kids. Best of all, there are no added artificial ingredients.
Your job as a parent is to make all the choices for your baby in the first couple of years. What they wear, listen to, watch, eat, and much more. It's a huge responsibility that can give you anxiety. There is no one-size-fits-all handbook on parenting your child, but we wish there was.
It can be difficult to decide when is the right time to start feeding your baby solid foods. Once you introduce solid foods, you take on a whole new batch of responsibilities, including feeding your child the healthiest baby foods. It's no small feat, even if you have some nutrition background. Labels can be complicated with percentages, ingredients, and dosages that most of us give little thought for ourselves.
Here at RAVE, we did the research to try and make your job easier. We emphasized whole nutrition and no additives or artificial coloring. The diet needed for adults is vastly different from the nutrition ratios growing babies need. If you don't have the time to make your own baby food, or you just don't want to deal with the hassle, keep reading to discover the top 10 healthiest baby foods.
The Healthy Baby Foods We RAVE About
Healthiest Baby Food
Serenity Kids Baby Food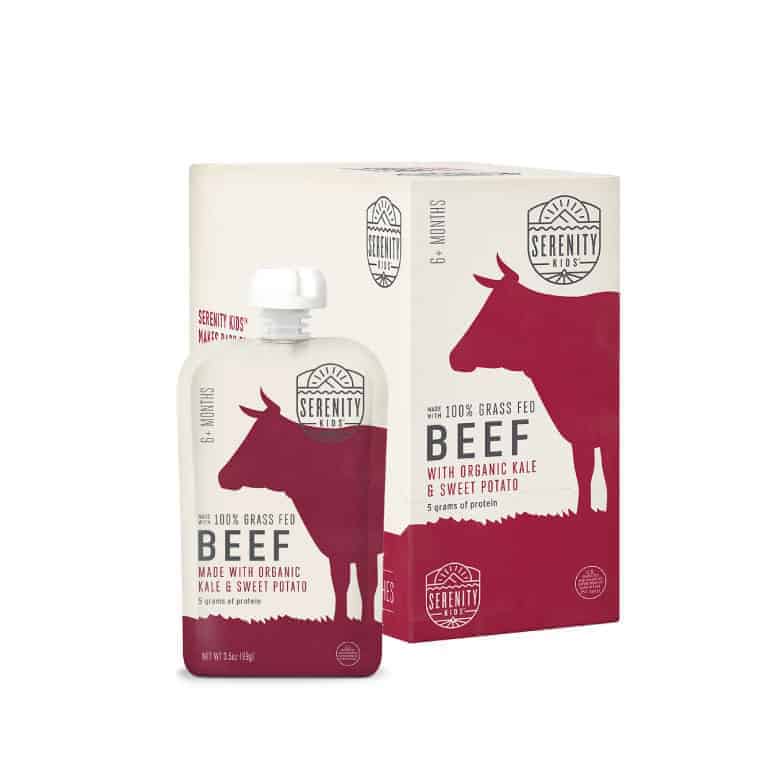 Best USDA-Certified Organic Baby Food
Beech-Nut Organic Baby Food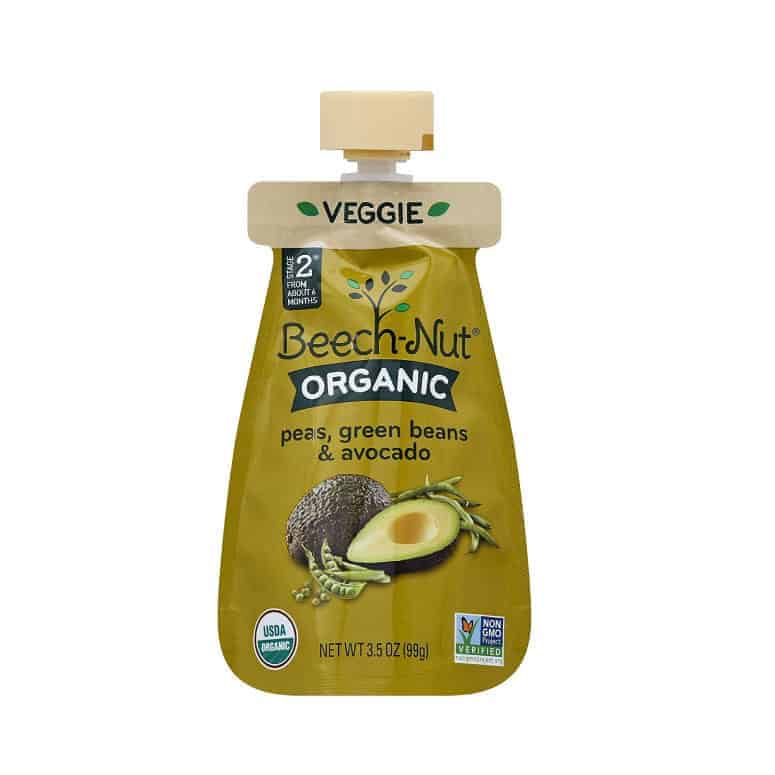 Best Stage 3 Baby Food
Once Upon a Farm Organic Stage 3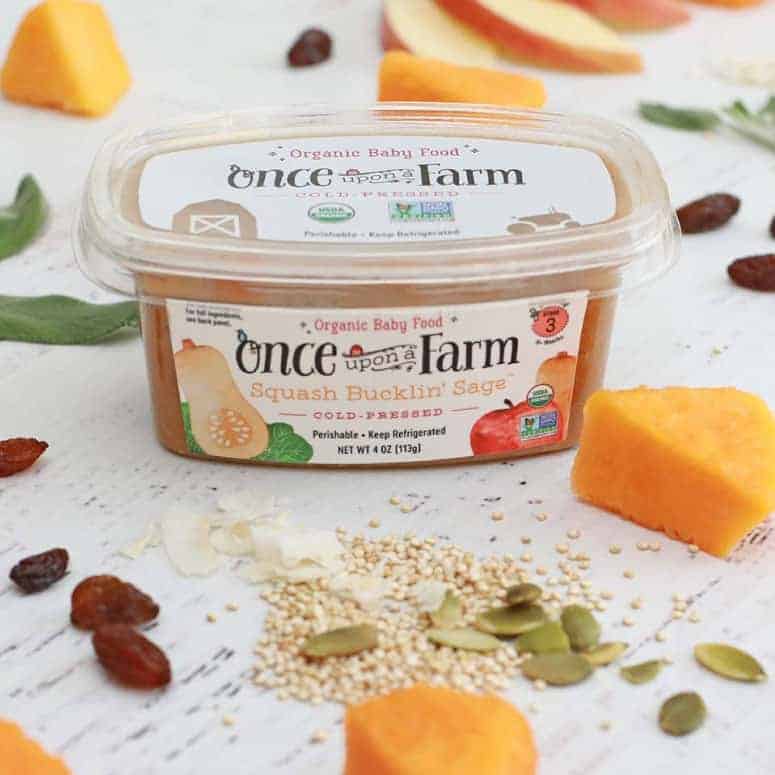 What is a healthy baby food?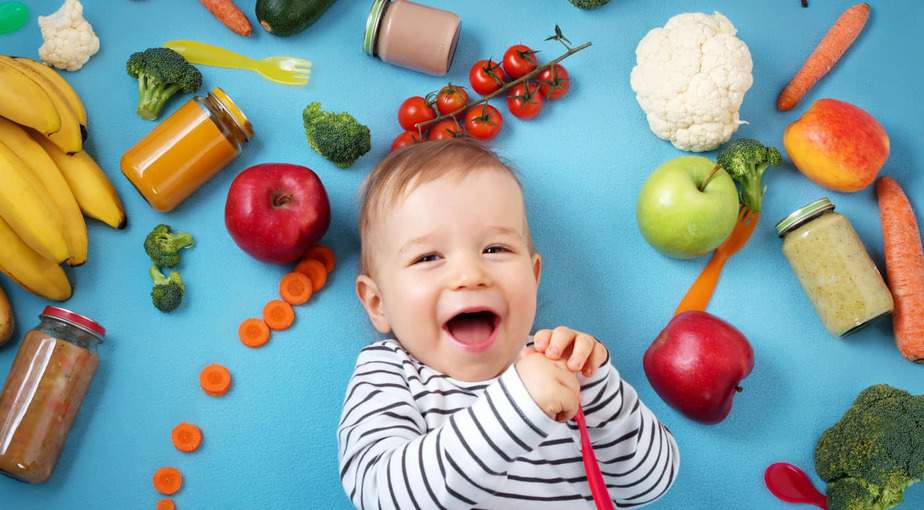 Picking the right healthy baby food can have ramifications that your child can experience for years or even a lifetime. The food choices we make for our babies can set up food preferences, such as the preference for sweet, high-sugar foods. It can also set the stage for food sensitivities. There are critical times to expose your baby to certain foods that are likely to cause an immune response. Avoiding these foods when your baby is very young and introducing them at specific periods has been shown to reduce the incidence of particular food sensitivities. Complicated, right?
With so many baby foods on the market, how are you supposed to decide which brand is right for your child? Here are a few general rules to follow when you select baby food:
You may find that many baby foods are high in sugar. Whether this sugar is derived from fruits or not really doesn't matter. Babies are hardwired to love sweet things, a trait for which we can thank our hunter-gatherer ancestors. They needed to stock up on high-carbohydrate foods for times of food shortages. In westernized countries, refined and simple sugars are ubiquitous, and the hardwiring that was advantageous to our ancestors is now causing death. Teaching your child to enjoy vegetables and protein-rich food, which is less sweet than fruits, will ingrain in them that less sugary foods can be delicious as well.
Besides having less sugar than fruits, vegetables are rich in vitamins and minerals. Your child grows fastest during the first year of life, and they need vitamins and minerals for proper brain and body development.
During the first year of life, your baby's brain more than doubles in size. That is an incredible number of neural connections, which require fat to function properly. Human breast milk has a large amount of fat, so choose baby food with healthy fats to ensure that your baby's brain develops properly.
The baby's brain is not the only thing that grows during their first year: Your baby's body also grows at an accelerated rate. Fats provide more than double the energy of carbohydrates or proteins. Baby food with fat helps provide the energy their tiny bodies need to grow big and strong.
Proteins are the building blocks of muscle and other tissues in our bodies. Baby food that contains protein is vital to help support the growth process. While many baby foods are rich in carbohydrates, they tend to neglect proteins completely. Baby food manufacturers want their products to taste sweet so your child will eat more.
Proteins, whether plant- or animal-derived, are essential parts of your child's diet. If you happen to choose a plant protein, choose a complete source, such as soy. Complete plant proteins contain amino acids (the building blocks of proteins) that can only be obtained from your diet.
Other considerations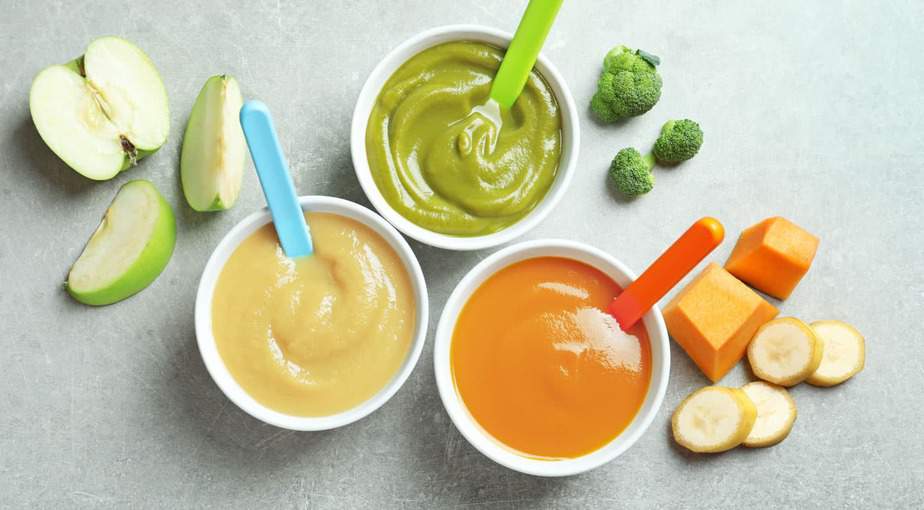 We have all at least heard horror stories of non-organic pesticide-ridden foods and the potential harm they cause. The debate is far more extensive than we can adequately explain here, but leave it to say, buy organic baby food when possible. Avoid the possibility of research concluding a harmful effect of a particular chemical years down the line by only buying organic baby food. If nature didn't put it in food, why put it into your little one, right?
Artificial colors or sweeteners
Artificial colors and sweeteners are exactly like their name suggests, artificial. Why give these additives to a child that is not cognitively developed enough to make this decision for themselves?
Artificial sweeteners are many times sweeter than naturally occurring sugars found in fruits or vegetables. You don't want baby food that reinforces your baby's sugar reward pathway with artificial sweeteners to the extent that vegetables and other healthy food begin to taste bland. Not to mention other potential health concerns reported with artificial colors and sweeteners.
The debate about Genetically Modified Organisms (GMOs) hasn't abated since it first became a public issue in the mid '90s. If you're like us, you avoid GMOs whenever possible, mainly because you don't have time to spend days weighing both sides of the debate. Whether or not to buy GMOs is another one of those just-in-case scenarios where we may discover harmful effects later. It is better to just pick GMO-free products.
Methodology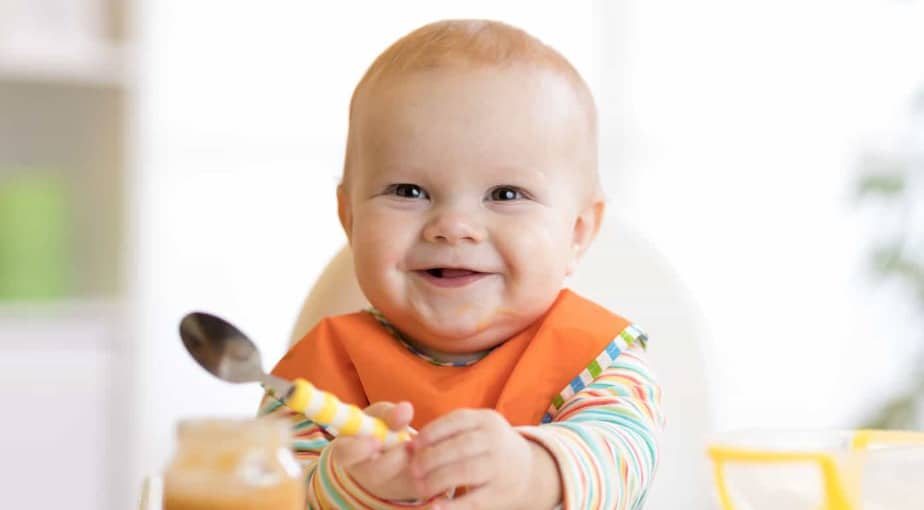 You take your responsibility as a parent seriously, which is likely the reason why you are reading this review. Here at RAVE, we also take our responsibility seriously, when we review products that affect your child. We looked at approximately 100 baby foods, analyzed consumer reports, and researched actual pesticide levels and other contaminants to come up with our list of the 10 best healthy baby foods. Here is the criteria we considered to form our list:
GMO: Is the baby food non-GMO?
Artificial colors and sweeteners: Are there artificial colors or sweeteners?
Organic: Is it certified organic?
Fat content: What is the fat content in the food?
Protein content: Is there protein?
Vegetable content: Does the food contain vegetables?
Pesticides, heavy metals, other contaminants: Do consumer reports indicate pesticides, heavy metals, or other contaminants?
Price: How much does it cost?
The Best Healthy Baby Foods
Related Articles
When should my child start eating baby food (pureed)?
The American Academy of Pediatrics (AAP) recommends that your child should be breastfed for the first six months. You can start using baby food along with breastfeeding at four to six months of age. It is around this time that babies develop coordination of their tongues, which allows them to not choke on foods that are more solid than breast milk (purees).
What is the difference between natural and organic?
Many people confuse the labels "natural" and "organic." Products labeled "natural" are not held to a certain standard by enforcing bodies such as the FDA or other regulatory agencies. If we take the literal definition of natural, meaning something that comes from or that can occur in nature, we have to exclude any products that contain artificial colors, flavors, or preservatives. This is not the case though, because natural products are not regulated.
By contrast, for something to be labeled as organic, it has to contain at least 95% organic ingredients. Something labeled 100% organic has completely organic ingredients. The term organic is regulated by the USDA and other third-party certification organizations.
What are the stages of baby food, and what do they mean?
Baby food manufacturers label their foods with stages or other numbering systems that are sometimes not explained well. Sure, the first stage (purees) may seem relatively obvious: It is food that is appropriate to give to your baby when transitioning from breast milk to solid foods. But what about the other stages?
The second stage is typically recommended for ages seven to eight months, with stage three for nine to twelve months. Stage three baby foods start to incorporate chunks of food and thickened consistencies for a more complex mouthfeel. Stage four, which is the last stage, is for one year and older.
RAVE Recommends
While feeding your baby the healthiest baby food is the best thing you can do for your child, you also have to take care of yourself. Check out these products to help you become healthier for both yourself and your little one.