One of the most important things you can do for your baby is feed them healthy food. This is easier than ever with our number one healthiest baby food pick, Serenity Kids.
This brand takes our number one spot because it combines high fat with low sugar to give the perfect nutritional combination for growing kids. Best of all, there are no added artificial ingredients.
Your job as a parent is to make all the choices for your baby in the first couple of years. What they wear, listen to, watch, eat, and much more. It's a huge responsibility that can give you anxiety. There is no one-size-fits-all handbook on parenting your child, but we wish there was.
It can be difficult to decide when is the right time to start feeding your baby solid foods. Once you introduce solid foods, you take on a whole new batch of responsibilities, including feeding your child the healthiest baby foods. It's no small feat, even if you have some nutrition background. Labels can be complicated with percentages, ingredients, and dosages that most of us give little thought for ourselves.
Here at RAVE, we did the research to try and make your job easier. We emphasized whole nutrition and no additives or artificial coloring. The diet needed for adults is vastly different from the nutrition ratios growing babies need. If you don't have the time to make your own baby food, or you just don't want to deal with the hassle, keep reading to discover the top 10 healthiest baby foods.
The Healthy Baby Foods We RAVE About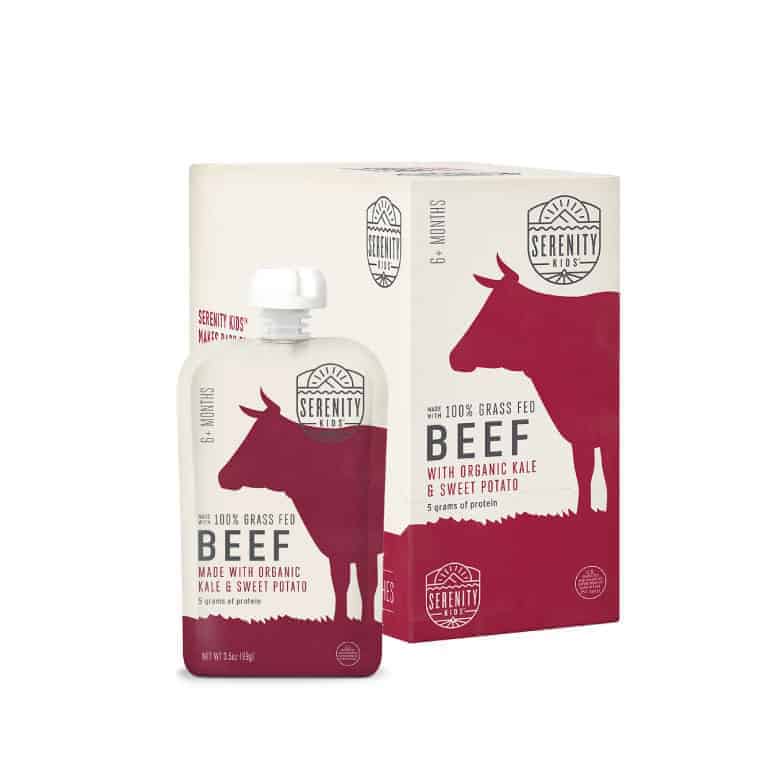 Healthiest Baby Food
Serenity Kids Baby Food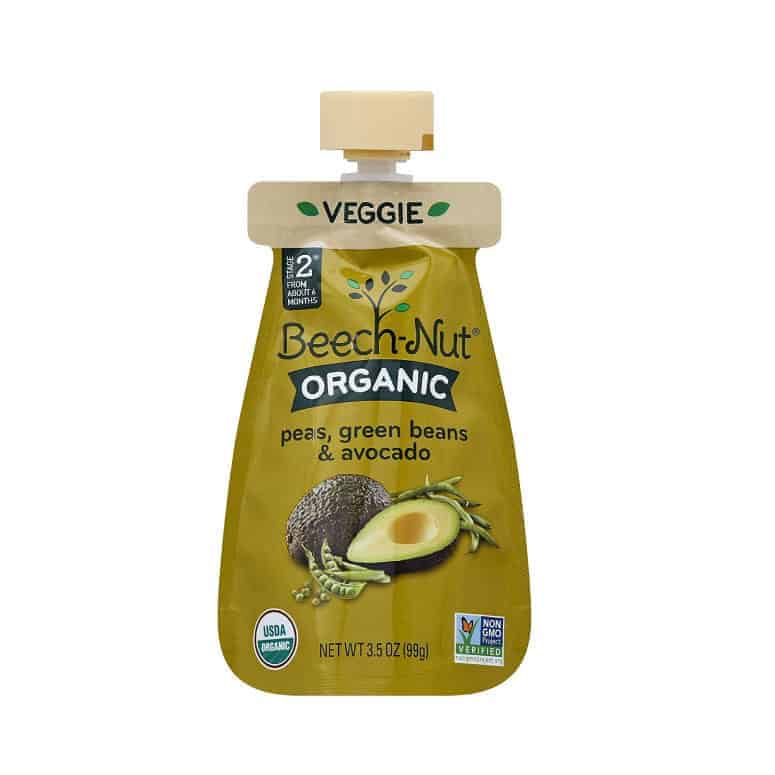 Best USDA-Certified Organic Baby Food
Beech-Nut Organic Baby Food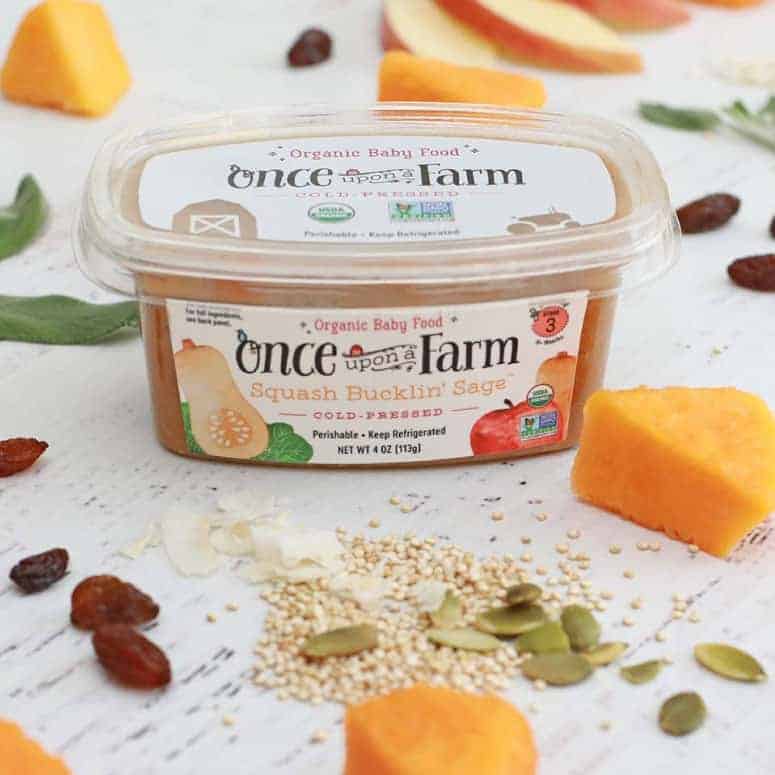 Best Stage 3 Baby Food
Once Upon a Farm Organic Stage 3
What is a healthy baby food?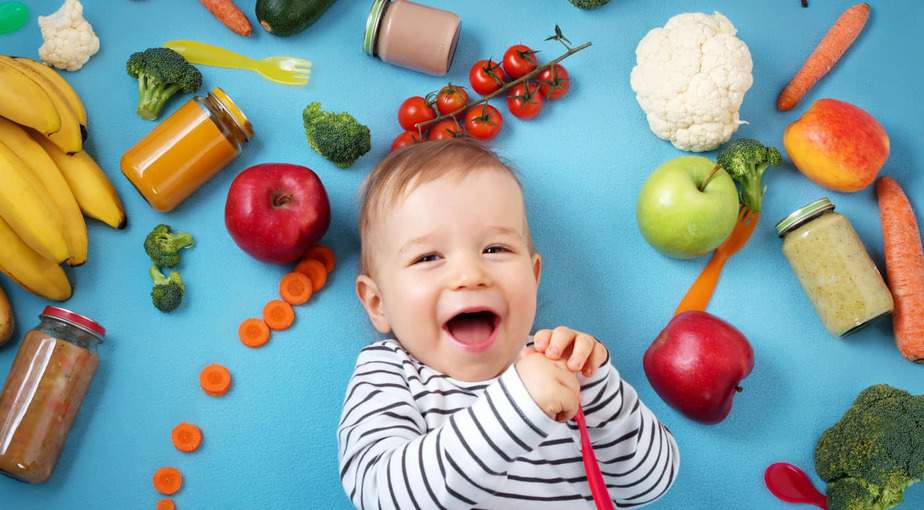 Picking the right healthy baby food can have ramifications that your child can experience for years or even a lifetime. The food choices we make for our babies can set up food preferences, such as the preference for sweet, high-sugar foods. It can also set the stage for food sensitivities. There are critical times to expose your baby to certain foods that are likely to cause an immune response. Avoiding these foods when your baby is very young and introducing them at specific periods has been shown to reduce the incidence of particular food sensitivities. Complicated, right?
With so many baby foods on the market, how are you supposed to decide which brand is right for your child? Here are a few general rules to follow when you select baby food:
You may find that many baby foods are high in sugar. Whether this sugar is derived from fruits or not really doesn't matter. Babies are hardwired to love sweet things, a trait for which we can thank our hunter-gatherer ancestors. They needed to stock up on high-carbohydrate foods for times of food shortages. In westernized countries, refined and simple sugars are ubiquitous, and the hardwiring that was advantageous to our ancestors is now causing death. Teaching your child to enjoy vegetables and protein-rich food, which is less sweet than fruits, will ingrain in them that less sugary foods can be delicious as well.
Besides having less sugar than fruits, vegetables are rich in vitamins and minerals. Your child grows fastest during the first year of life, and they need vitamins and minerals for proper brain and body development.
During the first year of life, your baby's brain more than doubles in size. That is an incredible number of neural connections, which require fat to function properly. Human breast milk has a large amount of fat, so choose baby food with healthy fats to ensure that your baby's brain develops properly.
The baby's brain is not the only thing that grows during their first year: Your baby's body also grows at an accelerated rate. Fats provide more than double the energy of carbohydrates or proteins. Baby food with fat helps provide the energy their tiny bodies need to grow big and strong.
Proteins are the building blocks of muscle and other tissues in our bodies. Baby food that contains protein is vital to help support the growth process. While many baby foods are rich in carbohydrates, they tend to neglect proteins completely. Baby food manufacturers want their products to taste sweet so your child will eat more.
Proteins, whether plant- or animal-derived, are essential parts of your child's diet. If you happen to choose a plant protein, choose a complete source, such as soy. Complete plant proteins contain amino acids (the building blocks of proteins) that can only be obtained from your diet.
Other considerations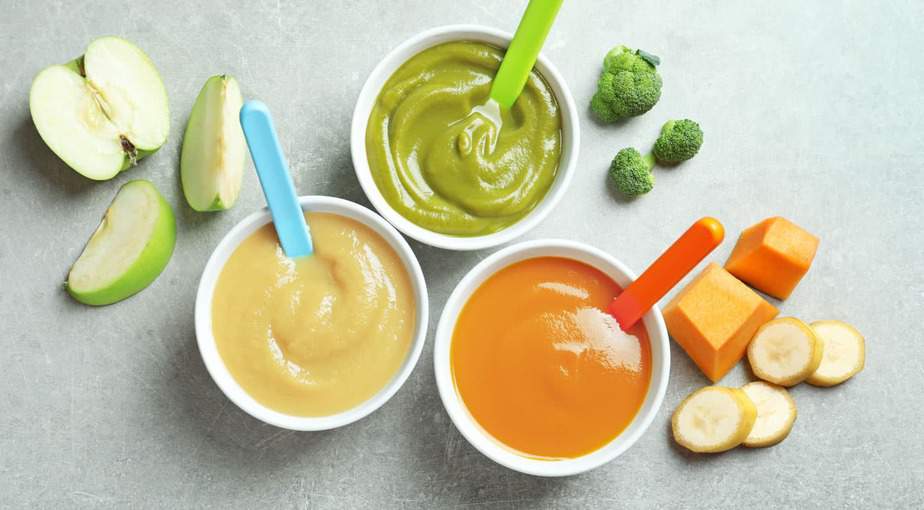 We have all at least heard horror stories of non-organic pesticide-ridden foods and the potential harm they cause. The debate is far more extensive than we can adequately explain here, but leave it to say, buy organic baby food when possible. Avoid the possibility of research concluding a harmful effect of a particular chemical years down the line by only buying organic baby food. If nature didn't put it in food, why put it into your little one, right?
Artificial colors or sweeteners
Artificial colors and sweeteners are exactly like their name suggests, artificial. Why give these additives to a child that is not cognitively developed enough to make this decision for themselves?
Artificial sweeteners are many times sweeter than naturally occurring sugars found in fruits or vegetables. You don't want baby food that reinforces your baby's sugar reward pathway with artificial sweeteners to the extent that vegetables and other healthy food begin to taste bland. Not to mention other potential health concerns reported with artificial colors and sweeteners.
The debate about Genetically Modified Organisms (GMOs) hasn't abated since it first became a public issue in the mid '90s. If you're like us, you avoid GMOs whenever possible, mainly because you don't have time to spend days weighing both sides of the debate. Whether or not to buy GMOs is another one of those just-in-case scenarios where we may discover harmful effects later. It is better to just pick GMO-free products.
Methodology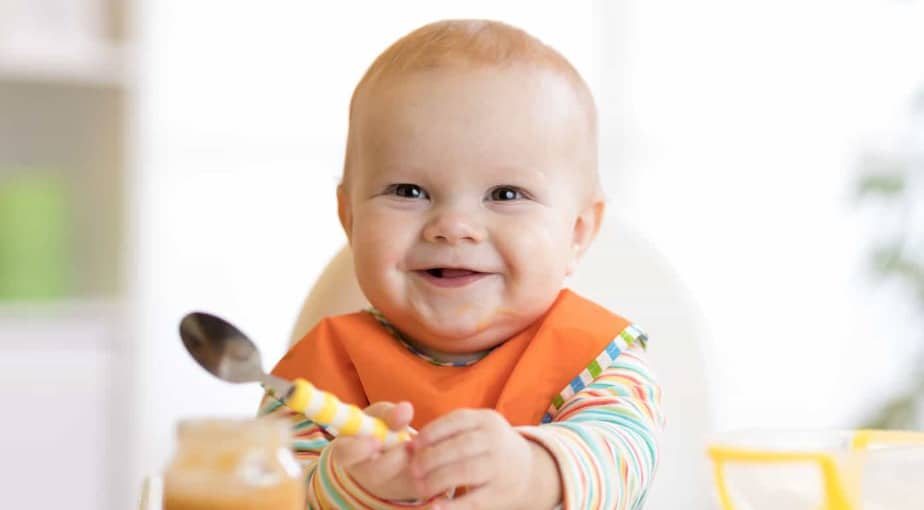 You take your responsibility as a parent seriously, which is likely the reason why you are reading this review. Here at RAVE, we also take our responsibility seriously, when we review products that affect your child. We looked at approximately 100 baby foods, analyzed consumer reports, and researched actual pesticide levels and other contaminants to come up with our list of the 10 best healthy baby foods. Here is the criteria we considered to form our list:
GMO: Is the baby food non-GMO?
Artificial colors and sweeteners: Are there artificial colors or sweeteners?
Organic: Is it certified organic?
Fat content: What is the fat content in the food?
Protein content: Is there protein?
Vegetable content: Does the food contain vegetables?
Pesticides, heavy metals, other contaminants: Do consumer reports indicate pesticides, heavy metals, or other contaminants?
Price: How much does it cost?
The Best Healthy Baby Foods
1
Serenity Kids Baby Food
Our pick for the best baby food brand is Serenity Kids. The founders of this company mimicked the paleo diet in their baby foods. The paleo diet is composed of lean meats, vegetables, fruits, nuts (though Serenity Kids doesn't include nuts because they are potential allergens), and seeds. It's called paleo because the diet consists only of foods that our paleolithic hunter-gatherer ancestors would have eaten. No grains or dairy products are included in the paleo diet, which may be beneficial, because some experts believe that food allergies, which are typical for grains and dairy, are developed when these foods are introduced too early.
Vegetables! While most adults have come to accept the necessity of eating vegetables (and some even enjoy it), teach your babies to like them early. Introducing a lot of fruits high in sugar can activate your child's sugar reward pathway, and they will begin to crave sweet foods and refuse to eat vegetables. This is why Serenity Kids baby food is made with lean meats, vegetables, and roots such as beets and sweet potatoes. All the meat used in this product is free-range and grass-fed, so you don't have to worry about added hormones or animal cruelty issues.
Adults may need to stick to eating low-fat foods, but babies need quite a bit of fat for their growing brains. Serenity Kids baby foods help your baby receive adequate healthy fats, including omega-3s. Each $23.95 case of baby food includes six pouches, at about $4 per pouch. This food is a little pricey, but you pay for quality ingredients. Serenity Kids does offer a 100% money-back guarantee to help ease your mind.
Pros
Ethically sourced meats
Minimal fruits and no additives
High fat and protein
2
Beech-Nut Organic Baby Food
Looking for the best organic baby food brands? Start your children out eating vegetables with Beech-Nut's Organic Peas, Green Beans, and Avocado baby food. Some days just feel too hectic to come home and make baby food for your little one's dinner. Beech-Nut takes the hassle and stress out of making your own baby food every night and provides your baby with organic deliciousness. Or, use this baby food as a snack between meals.
A lot of foods claim to be natural or organic, but how do you know if it truly is? Beech-Nut is USDA-certified organic, and it is also non-GMO certified. The debate about GMOs has been raging for years, and the very fact that there is a debate makes us think going GMO-free is better safe than sorry. Beech-Nut also makes other flavors of baby food, but we included the one with minimal sugar and the most vegetables.
One pouch of this baby food contains around 11% of daily carbohydrates and proteins. The 4 grams of dietary fiber help with your baby's digestion and keep them regular. You can take this food on-the-go, since it is stored in a pouch. Just remember to bring a bowl and spoon.
Pros
USDA-certified organic
No added flavors or colors
Good source of carbohydrates
High protein and fiber
3
Once Upon a Farm Organic Stage 3
Like some of our other top picks, Once Upon a Farm Organic baby food features organic fruits and veggies. What makes it stand out from our other healthy baby foods is the commitment to freshness. This baby food is truly the closest thing to homemade. You won't find any added sugar, dairy, preservatives, or juice concentrates –– just real ingredients from the farm!
Once Upon a Farm contains veggie-derived healthy fats to aid in optimal development, and all of their produce is cold-pressed, preserving the vitamins and minerals that can become lost during other forms of processing that use heat. Although you get nothing but the freshest with this brand, you sacrifice some convenience, as all of their baby foods must be refrigerated. Each container is recyclable and BPA-free, so you don't need to worry about passing harmful chemicals to your baby.
Another aspect that makes this healthy baby food genuinely unique is the flavors, including Strawberry Basil, Beauty and the Beet, and Squash Buckling Sage. Each of the flavors includes culinary herbs which are said to help your baby's palate development. Also, textured options in the Stage 3 food aim to assist with oral and motor development. This food is definitely a win if you are looking to satisfy your baby's nutritional needs and pique their culinary interests.
Pros
USDA-certified organic
No added preservatives
No dairy or sugar
BPA-free containers
Cons
Must be refrigerated
Babies may dislike flavors
4
Ella's Organic Kitchen Beef Stew
When most parents think of baby food, they think of a puree of fruit and veggies. Think again! Ella's Kitchen has several types of USDA organic baby food, but one in particular stands out: Beef Stew. This variety stands out because of the hearty, healthy ingredients that provide growing babies the nutrition and protein they need.
Each pouch is made from traditional stew ingredients: veggie broth, vegetables, and beef. Unlike many other baby foods available, it contains meager amounts of sugar, with only 2 grams total. It is also full of protein (4 grams) and includes 2.5 grams of fat and 2 grams of fiber. For parents looking for paleo or low-sugar options, Ella's has you covered.
This delicious beef stew is made for babies six months and older who are developing chewing skills. It does not contain any added fillers, thickeners, colors or other artificial ingredients, just pure, whole foods. All the pouches are BPA-free as well. Ella's Organic Kitchen Beef Stew is a refreshing choice among so many fruit-based options available and helps babies develop a taste for animal protein foods.
Pros
USDA organic
No added preservatives
BPA-free containers
Cons
Babies may not like the spices
5
Amara Organic Baby Food
Amara's mission is to provide fresh baby food that is as close to homemade as possible. While many other of our healthiest baby foods come in pureed form, Amara is different. Their baby food is minimally processed, maintaining optimal nutritional value. Their innovative technique removes the water and leaves all the goodness. To prepare, all you have to do is add water or breast milk to rehydrate.
Amara has several varieties of flavors and textures for the different stages of your baby's development. The flavors we are most excited about are Peas, Corn, and Carrots; Bean and Sweet Corn; and Pumpkin Pear. They all have less than 2 grams of sugar. Their Stage 4 foods have added texture and fiber, which is helpful during mouth and motor development. We also love that there are no added fillers, artificial flavors, colors, or anything else. Simple, pure ingredients only.
For parents who want a minimally processed, high-quality food product, Amara fits the bill. They are committed to bringing unique flavors, many of which are fruit-free. Adding breast milk to rehydrate can help ease the process of introducing new foods to your baby and ensure they are getting optimal nutrition sources. We love Amara's USDA organic seal, ensuring that these products are free from harmful pesticides. At $18 for five pouches, the price point is on the high end, but in our opinion, worth it!
Pros
USDA organic
Minimally processed
Textured varieties available
Cons
Must rehydrate
Somewhat expensive
6
Fresh Bellies Vegan Baby Food
Fresh Bellies has fully embraced the low-sugar, paleo baby food market, and is doing so loud and proud. Fresh Bellies does not mask vegetables with the sweet taste of the fruit; they include bold, grown-up flavors to encourage babies to develop a taste for non-sweet food items. They do, however, also offer all fruit varieties as well. Parents who want to steer clear of high-fruit options may wish to use some of their flavors sparingly.
With Fresh Bellies, we see some of the most exciting flavors out there. For example, Cauliflower Dreamin' contains cauliflower, bell peppers, garlic, and thyme. The best part is the low sugar content, at 2 grams per serving. We also love the flavor Broccoli Ever After, which is chock full of broccoli, swiss chard, yogurt, coconut milk, and garlic with 4.5 grams of fat and 3 grams of protein.
The only downside is the price. For two containers, you are looking at about $7. On the upside, if you are environmentally conscious, all of Fresh Bellies' packaging is both recyclable and reusable. Fresh Bellies can be proud of their commitment to organic, clean food, using all organic, non-GMO produce without any filler, colors, or any other bad stuff. If their mission is to help children decrease their sugar intake and develop a love for veggies, count us in.
Pros
USDA organic
Low sugar, all veggie options
Herbal ingredients to help with picky eaters
Cons
Expensive
May cause digestive upset
If we could use one word to describe Happy Tot Organic baby food, it would be "superfood." The selling point of this line is its focus on providing high-quality vitamins, minerals, and phytonutrients. Giving plants their color, phytonutrients provide many health benefits. Happy Tot's flavors are a mix of fruits and veggies, providing a unique taste with various nutrients. Vegetables like spinach are even the first ingredient in some options.
Happy Tot Organic baby food comes in shelf-stable pouches, so you can easily use them on the go. The ingredients are simple: fruit and vegetables, which are grown organically, free from pesticides and other harmful chemicals. What's more, many of the flavors include superfoods like kale and blueberries for extra antioxidants and vitamins.
The star of this baby food is chia seeds. Each pouch contains one teaspoon of this superfood, which provides 600 milligrams of omega-3 fatty acids and 3 grams of fiber. Most other baby foods on the market do not contain any omega-3 fatty acids. Happy Tot Organic is a well-rounded baby food at a reasonable price of $24 for 16 pouches.
Pros
USDA organic and non-GMO
Whole food ingredients
Source of omega-3 fats
Cons
Moderately high in sugar
Moderate price
Sprout Organic believes that beginning children on healthy food at an early age is key to their development. Their passion shows through in their USDA organic, non-GMO purees. All of Sprout Organic's products are made from organically grown fruits, vegetables, and legumes. You can find unique ingredients such as chickpeas, black beans, and zucchini, which provide extra fiber. Their newest pouches for children six months and up include bone broth, a superfood that offers a significant dose of beneficial minerals and 3 grams of protein.
Babies can explore new flavor profiles through Sprout Organic's many fruit and veggie combinations, which are matched to each stage of development. As we know, the older kids are, the more adventurous they become. Sprout Organic offers a 12-pack sampler so your baby can try all of the varieties. Roughly half of their flavors are primarily vegetables.
For parents who want to feed their baby only clean, pesticide-free baby food, you can trust that Sprout Organic baby food is organic because it is USDA-certified. Also, you won't find any dairy, fillers, preservatives, or additives. This baby food, unusually concentrated with veggie flavors, can help to diversify your baby's taste preferences.
Pros
Whole foods
USDA organic and non-GMO
No concentrates or preservatives
Cons
Some flavors are primarily fruits
Many flavors high in sugar
Some flavors low in protein
9
First Choice Organic Baby Food
One of the essential things health-conscious parents look for in baby food is quality and the choice of the ingredients. If you are looking for whole, certified organic, non-GMO ingredients, First Choice Organic Baby Food checks all the boxes. Another aspect that many other baby foods do not consider is being certified kosher. Families who eat strictly kosher may feel like they have limited options, but luckily, First Choice is a healthy kosher baby food choice.
The easy-to-open BPA-free pouches come in several flavors, including Pear, Peach, Oatmeal; and Pear, Mango, Avocado. These tasty combinations include both fruits and veggies for a spectrum of vitamins and minerals. Compared to other products, the ingredients feel a bit basic, but the oatmeal does make it more unique. However, if you are looking for grain-free, gluten-free, or paleo foods, oatmeal may not be the best option.
On the bright side, each serving provides 11 to 12 grams of sugar, which is just below average for sugar levels in most other healthy baby food purees. Although most contain at least 2 grams of fiber per pouch, none of the options contains more than 1 gram of fat and or more than 1 gram of protein. Price-wise, at $1.19 per pouch, you don't have to choose between quality and saving money. All in all, this baby food is a well-rounded, organic, healthy option that will satisfy both your baby's nutrition and taste.
Pros
Certified kosher whole foods
USDA-organic and non-GMO
No added sugar or dairy
Cons
Low in fat and protein
Somewhat basic flavors
Includes grains
10
Gerber's Purees 2nd Veggie and Fruit
Gerber's Purees keeps things very simple –– they use only whole food fruits and veggies in their purees. They offer several flavors, but often use only one or two ingredients in each. The carrot and sweet potato varieties contain very high amounts of vitamin A at 100% of the RDA. However, the other flavors do not provide very much, if any vitamin A. Luckily, since the purees come in a 16-count variety pack, switching up the flavors can help ensure your baby receives a spectrum of vitamins and minerals.
Each of the purees is relatively low in sugars, with the Green Bean option at only 3 grams. However, if you want a healthy baby food with fat and protein, you may need to keep looking. Most of the purees have less than 1 gram of protein and typically 1 gram of fiber. Since fiber is important for digestion, and protein is needed for growth and development, it is crucial to have adequate sources of these macronutrients.
At $28 per case of 16, Gerber's Purees are very affordable. They contain no added sugars, dairy, starches, colors, or flavors, and the plastic containers are BPA-free. If you only want certified organic ingredients, you may need to pass on Gerber's. Although they tout their products as free of GMOs, they do not contain all organic produce. But all is not lost; if you look at the ingredients label, some of the fruits and veggies are listed as organic.
Pros
Non-GMO whole foods
No additives
BPA-Free packaging
Cons
Not certified organic
Low in fat and protein
Basic flavors
Related Articles
When should my child start eating baby food (pureed)?
The American Academy of Pediatrics (AAP) recommends that your child should be breastfed for the first six months. You can start using baby food along with breastfeeding at four to six months of age. It is around this time that babies develop coordination of their tongues, which allows them to not choke on foods that are more solid than breast milk (purees). 
What is the difference between natural and organic?
Many people confuse the labels "natural" and "organic." Products labeled "natural" are not held to a certain standard by enforcing bodies such as the FDA or other regulatory agencies. If we take the literal definition of natural, meaning something that comes from or that can occur in nature, we have to exclude any products that contain artificial colors, flavors, or preservatives. This is not the case though, because natural products are not regulated.
By contrast, for something to be labeled as organic, it has to contain at least 95% organic ingredients. Something labeled 100% organic has completely organic ingredients. The term organic is regulated by the USDA and other third-party certification organizations.
What are the stages of baby food, and what do they mean?
Baby food manufacturers label their foods with stages or other numbering systems that are sometimes not explained well. Sure, the first stage (purees) may seem relatively obvious: It is food that is appropriate to give to your baby when transitioning from breast milk to solid foods. But what about the other stages?
The second stage is typically recommended for ages seven to eight months, with stage three for nine to twelve months. Stage three baby foods start to incorporate chunks of food and thickened consistencies for a more complex mouthfeel. Stage four, which is the last stage, is for one year and older.

Dr. Kasey Nichols, N.M.D.
Dr. Kasey Nichols, N.M.D. focuses on sleep disorders and drug-free pain management utilizing both conventional and alternative medicine at his private practice,
Onyx Integrative Medicine and Aesthetics
, located in Gilbert, AZ. He served as the Director of Medical Operation and Administration at a national substance abuse disorder corporation with 16 facilities across seven states. He graduated from Cleveland University-Kansas City with a Bachelor's of Science in Human Biology, graduating with honors, and holds a Doctorate from The Southwest College of Naturopathic Medicine. He holds licenses in both Arizona and Kansas. Dr. Nichols has given numerous talks to professional organizations, given interviews for newspapers across the United States, and numerous television news interviews with ABC 15/CW 61 in Arizona, Channel 3 in Arizona, and others. Dr. Nichols has appeared in
Cosmopolitan
,
Reader's Digest
,
WebMD
,
Healthline
, and many other health and lifestyle publications.