We recommend products based on unbiased research from our editorial team. We may receive compensation if you click on a link.
Read More.
What should you look for when you're buying your first exercise bike?
Your bike's seat, handlebars, resistance levels, weight limitations, and workout routines are all important considerations.
Exercise bikes don't come cheap, so when it comes to making a purchase, you'll want to be sure you've chosen well. That's why we've consolidated the best of the best, using genuine feedback from across the internet. With our recommendations, you can be sure that you're getting a market-leading product that's been tried and tested by cycling enthusiasts.
Perhaps you're looking for the absolute best exercise bike money can buy, or perhaps you're particularly conscious of the space it'll take up in your home. Or maybe you just want an overall excellent bike that's well-built and highly functional, yet still affordable.
Upright and recumbent exercise bikes offer different benefits, which is why we've picked the best of each. The Exerpeutic 400XL takes the crown as best overall exercise bike, with the Marcy ME-708 leading as best compact exercise bike. Or, if cutting-edge tech is your thing, go for our high-tech winner, the Peloton Bike.
But there's plenty more to choose from, so check out our list of the 11 best exercise bikes below.
The Exercise Bikes We RAVE About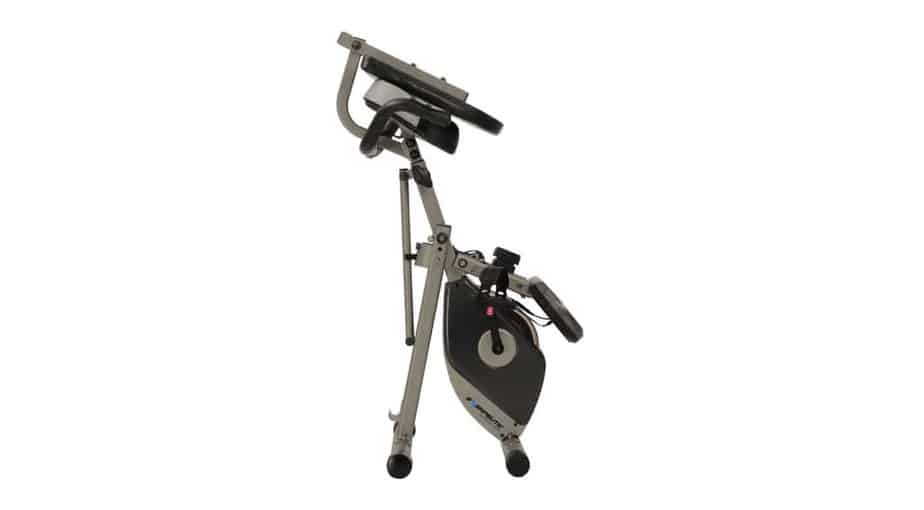 Best Overall
Exerpeutic 400XL Folding Recumbent Bike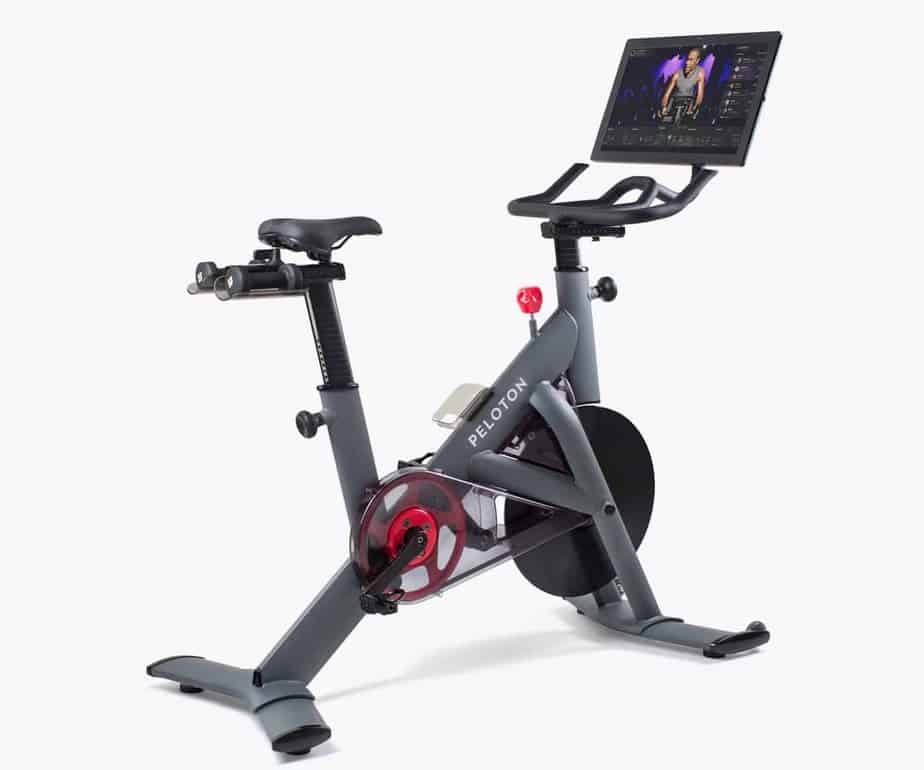 Best High-Tech
Peloton Bike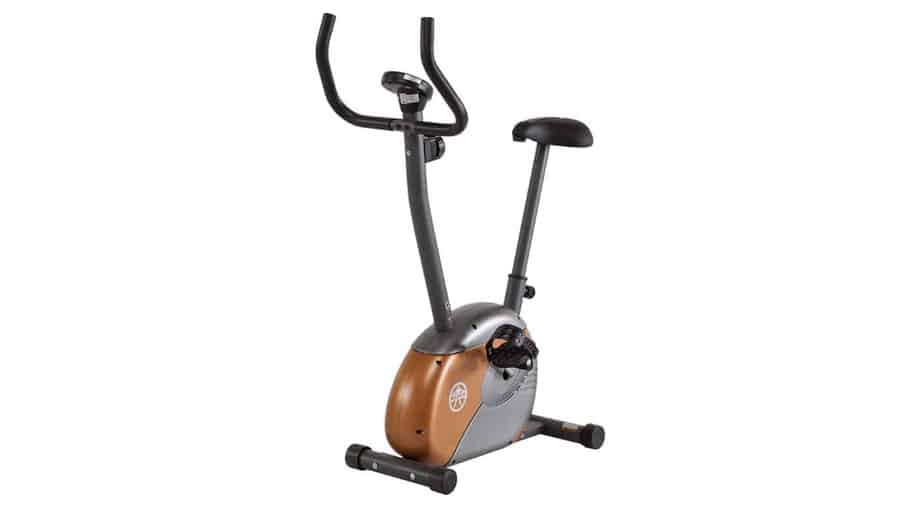 Best Compact
Marcy Upright Exercise Bike ME-708
So you've decided to buy an exercise bike, but you're not exactly sure where to start. Luckily, you're in the right place.
You should know that there are two main types to choose from — upright exercise bikes and recumbent exercise bikes. The key to their differences lies in the name, with each having you exercise in a different position.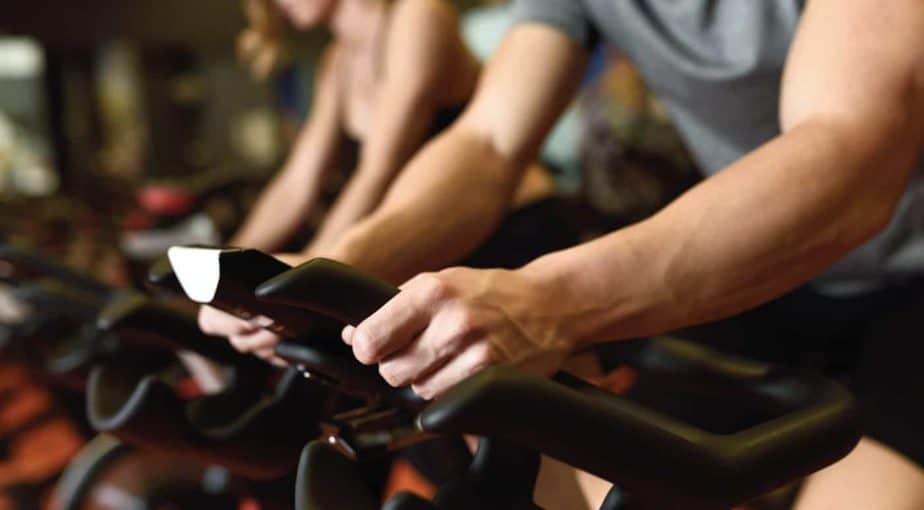 Aside from the position of the bike, there are also other factors that you should take into account. These include the level of padding and suspension built into the bike, as this feeds directly into comfort and posture. And of course, these products have body weight and height restrictions, which are important to take into account.
Recumbent Versus Upright Position
Recumbent exercise bikes are easier on your lower back because you're in a position that facilitates better spinal posture. This type of bike is also more gentle on your joints. Being in a sitting position puts you at less risk of injury than upright bikes, too.
Many cyclists also find the seats on recumbent bikes preferable, as they're larger and more supportive. However, upright bikes take up a smaller footprint overall, in part due to their smaller seats.
That brings us onto the other benefits of upright bikes, including an intensive core workout you don't get with recumbent bikes. In fact, an upright bike works out your whole body, including upper arms, abdominals, and more. Plus, that smaller footprint can really help when space is limited in an indoor home gym.
Choosing Resistance Levels
Resistance levels are a key consideration when you're picking out your new exercise bike. This setting directly determines how hard you're going to sweat it out while you pedal.
Levels typically range from 1 to 20. The lower levels are easier, while the higher levels make you work harder.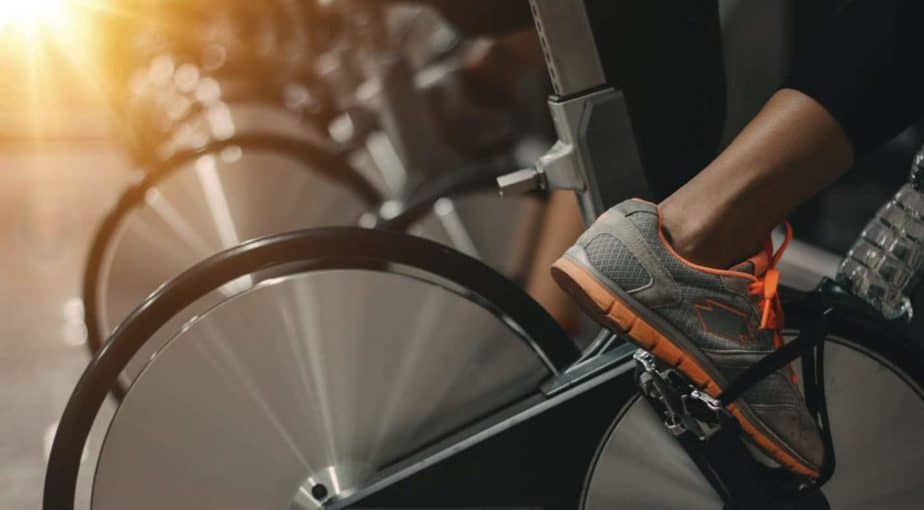 If you're a beginner, then you're probably going to be hitting it at a lower resistance level. But as you progress, you'll need those higher levels to build muscle and get the most out of your workout. So be careful to choose a bike that doesn't skimp on this basic piece of functionality.
There are numerous ways that an exercise bike can achieve varying levels of resistance while you pedal. Most cycles use either a direct-contact mechanism or magnetic resistance, though a select few use air resistance from a fan. The latter two mechanisms are best, as they give you full control over the level of resistance that you choose to apply.
Choosing a Seat Design
Cutting costs on an exercise bike can lead to a poor-quality seat, which can directly impact your enjoyment of the workout. A seat that's too thin or crafted from rigid, unsupportive material will become uncomfortable fast. This can impact your posture, and poor posture during exercise can turn into injury.
Look for a seat that's cushioned enough to sit on for long periods without causing discomfort. Make sure that it's wide enough to support your frame, as cheaper seats tend to be very narrow. Premium seats will also have considerable support in the form of suspension springs.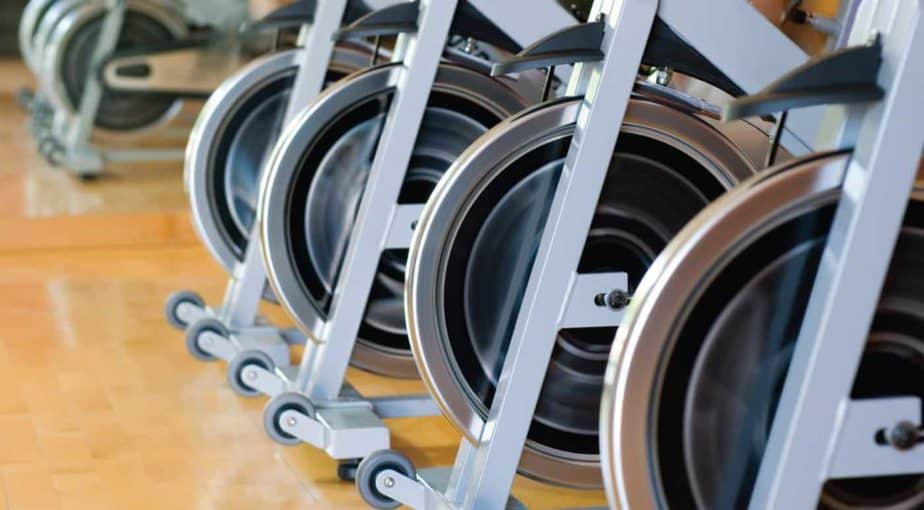 You should also give some thought as to what kind of mechanism the bike has for seat adjustments. If the seat can't be adjusted, then you'll be forced to sit in a position that might be wrong for you. Recumbent seats will typically be mounted on a sliding rail, while upright seats will raise and lower on its pole.
Considering Weight Limitations
Weight limitations on exercise gear can be easy to ignore. After all, they're surely only guidelines — right? Wrong. Using an exercise bike that doesn't support your weight can mean a risk of injury. What's more, low weight limitations are often an indicator of a poor design and build quality, so steer well clear.
You should also look at the height limitations that some bikes have, especially upright bikes. If you're shorter or taller than the average person, at least one of the bikes we've ranked isn't for you. Opting for a bike that isn't designed for your height can lead to poor posture, which we know can cause injury.
Bells and Whistles
Exercise bike prices vary wildly. They can cost as little as $100, or more than $1,000. But broadly speaking, there are two main tiers of bike: those that offer basic tracking, like calories and distance, and those that have additional menus, functions, and more.
As a beginner, you can get away with a bike that has varied resistance levels and little more. But as your fitness improves, you'll want higher levels of resistance and perhaps some other programs. For example, some bikes offer "courses" — preset regimen≠≠s that vary speed, resistance, and climb throughout the activity.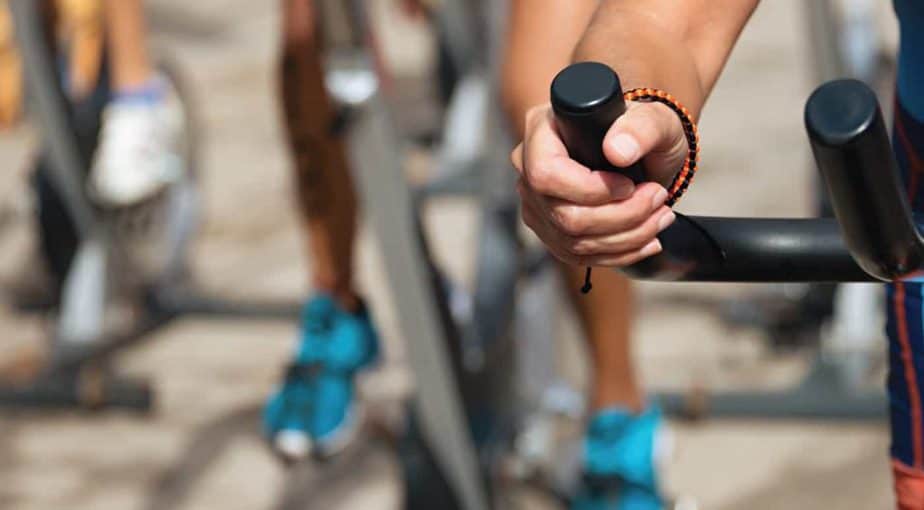 At higher prices, you start to see "nice to have" functionality that is unnecessary but can make life easier. For example, some high-end exercise bikes can generate their own power for their LCD screens and backlights. And some allow you to set goals, which can motivate you to push yourself and break your previous records.
Methodology
We don't use any old criteria for picking the best exercise bikes, nor do we use our own subjective opinions. Our recommendations are based on research from across the internet, taking into account a wide range of sources and consumer opinions. We examined professional fitness authorities along with everyday customer feedback to aggregate a list of the best exercise bikes.
Specifically, we considered a number of factors that affect usability and value. We scored each product based on these variables. As a result, you can be sure that we've found the best exercise bikes available on the market.
To understand how we reached our final ranking, check out the list of factors, below, that we've taken into account to formulate the final score awarded to each product.
The features included, from the basic to advanced workout options
The seat, in terms of position, material, and the comfort offered by both
The handlebars, in terms of comfort, grip, and options to adjust
The suspension mounted beneath the seat, which relates to comfort
The resistance levels offered by the bike
The weight limitations imposed by the manufacturer and design
The warranty offered by the manufacturer and any restrictions imposed
The optional extras, such as built-in television and mobile connectivity
Best Recumbent Exercise Bikes
1
Exerpeutic 400XL Folding Recumbent Bike
The Exerpeutic 400XL is an unimposing, discreet exercise bike with a minimalist design, making it perfect for use in smaller homes. The bike tracks your activity and progress through an LCD monitor mounted low on the machine. We especially like that the resistance is manual, not digital, meaning you can still work out when there's no power.
A common complaint of exercise bikes is their tendency to wobble during vigorous use. Despite its small stature, this bike doesn't suffer from instability, even when you're pedaling at high speeds. Not to mention that it's also super quiet at all speeds, so you won't drown out the television set during your workouts.
As with any product, there are a few negatives to mention, though they're minor enough to make little difference. The lowest base resistance can still be tough for beginners, and the bulky LCD monitor can tend to rub against your calves. But for size, value for money, and benefit to your workouts, this is easily our best overall exercise bike.
Pros
Resistance not set by computer
Stable during vigorous exercise
Quiet even at high speeds
Cons
Legs can rub against monitor
Cannot pedal backwards
Base resistance is still high
The Marcy ME-709 loses out on the top spot because it's larger and heavier and can't be folded for storage. Out of the box, you have some self-assembly to do before you can use the bike, but luckily it's pretty straightforward. The directions could be better, but the majority of the assembly is self-explanatory and doesn't take much time.
If multiple users are sharing the bike, you can make adjustments to tailor the position for the rider — though several customers have reported that this can be a fiddly process that takes some getting used to. A generous-sized foot plate ensures that a wide range of shoe sizes are supported, too.
The ME-709 has been designed with user comfort in mind. Key components are well padded and comfortable. Your seat offers cushioned support, which is crucial for being able to exercise for long periods. And there are padded handles on each side of the bike to help you stay balanced and maintain good posture.
Pros
Assembly is straightforward
Comfortable, well-padded seat
Padded handles provide support
Cons
Requires self-assembly
Difficult to make adjustments
Less stable than the 400XL
This is an exercise bike with a difference. Skip the typical workout programs on TV and instead focus on your own tablet or laptop computer. The built-in desk means you can use your usual social media sites or game apps to keep you motivated, or you can get some work done while exercising.
Of course, this bike isn't designed for hardcore spinning classes. Rather, it's suited for specific needs. If you have a sedentary job or need gentle exercise, this is a perfect choice. But for everyone else, you might find that the backrest and desk encourage lazier, lighter exercise.
Still, for what it's been designed for, the FitDesk is excellent. Anybody who wants to game or work while pedaling will find this bike comfortable. Arm and back support prevents bad posture from leaving you in pain after a lengthy session.
Pros
Arm rests aid support
Folds for compact storage
Adjustable seat back support
Cons
Lacks workout programs
Desk usage obscures LCD monitor
Design could encourage laziness
4
Schwinn 270 Recumbent Bike
Next, there's the Schwinn 270, which has a much larger LCD screen than our previous winners. This increased real estate means far more flexibility for customized workout routines, which can be saved for regular access. However, it also means greater opportunity to get bogged down and distracted by complex menu systems instead of just exercising.
If you're a gadget geek, then you'll love the opportunity for Bluetooth connectivity with your phone and mobile fitness applications. There's also a USB port and 3.5mm audio jack so that you can listen to music as you pedal. But you might want to stay cool with a separate fan, as the built-in unit is pretty lackluster.
The Schwinn 270 bike tries to do a lot more than its competitors, and it mostly succeeds in doing so. If you're looking for more bells and whistles than the previous bikes on this list offer, then this could be the recumbent bike for you. Just be sure to spend some time getting familiar with all the options on offer.
Pros
Bluetooth app synchronization
Huge range of programs
3.5mm and USB port connections
Cons
Built-in fan is relatively weak
Pulse tracking seems intermittent
Schwinn bikes are expensive
5
Nautilus R614 Recumbent Bike
The Nautilus R614 has a lot to keep you busy during your workout, with multiple settings and programs. There's also a 3.5mm jack into which you can plug your phone or tablet to play your favorite workout playlist. One unique selling point that this machine boasts over others is the ability to set and save motivational exercise goals.
On the downside, you'll struggle to interact with the LCD screen in anything but a well-lit room due to lack of backlight. Some customers have also criticized the position of the backrest, finding it set at an uncomfortable angle. And if you've got large feet, you might find that the pedals lack some ground clearance when cycling.
That said, it's worth mentioning that the seat is on a sliding rail system, making it adjustable. And though the pedals are mounted low, you won't find yourself clipping the floor if you position your feet properly. With all its built-in workout functionality, this is still a top-rated bike that doesn't cost quite as much as similar-spec Schwinn models.
Pros
Includes a 3.5mm jack
Complex workout functions
Supports exercise goal setting
Cons
Pedals very close to ground
LCD screen has inadequate backlight
Some users dislike the seat angle
Best Upright Exercise Bikes
1
Exerpeutic Folding Magnetic Upright Bike
Exerpeutic is excellent at producing exercise bikes that take up a tiny amount of space inside of the home. Even when this folding upright bike is fully unpacked, it still commands a tiny footprint — despite a large seat that provides adequate comfort for riders of all shapes and sizes.
For an upright model, the manufacturer's choice of pedal placement is a little odd compared to other bikes. With pedals positioned far forward instead of directly beneath the seat, this bike rides almost like a recumbent model. However, the pedal placement doesn't cause any discomfort, and the bike still works different muscle groups as opposed to a recumbent machine.
There are just a couple of other niggles, too, though they're not enough to change our overall positive opinion. This machine is heavier than most, and the phone holder can get in the way. However, the phone holder isn't a must-have accessory, and the weight of the bike can prove useful for stability.
Pros
Produces little to no noise
Large, padded seat
Compact even when unfolded
Cons
Strange pedal placement
Heavier than its size would suggest
Phone holder can get in the way
The Peloton is a next-generation piece of fitness equipment. It's an exercise bike, but it's also a lot more. When you subscribe to Peloton's "membership," you'll get access to up to 14 daily live rides, led by elite instructors and brought to you via the built-in screen. You'll also be able to tune into an extensive library of pre-recorded rides, with varying styles of music, difficulty levels, and themes.
The full HD 1080p multi-touch screen is 21.5 inches diagonal (20.75 inches wide by 12.5 inches high). It comes with two 10-watt stereo speakers and a 3.5mm headphone and mic jack. The bike itself is solidly made: It features a durable powder-coated carbon steel frame and industrial-grade bearnw bvings.
In terms of drawbacks, this is a seriously expensive product — it's available in a number of packages, the cheapest starting at $2,245. A membership, which is required for access to the classes, is another $39/month. This is a great option if you really value the engagement of participating in live classes — but if not, the Peloton is probably not worth the premium price.
Pros
Live classes
Variety of pre-recorded rides
Sturdy and durable
Cons
Very pricey
Limited return window
Issues reported with the tech
3
Marcy Upright Exercise Bike ME-708
One thing we love about this bike is that it costs less than a few months' worth of gym subscription fees. Despite the inexpensive price tag, the build quality isn't lacking — from sturdiness to aesthetics. It's more stylish than just a simple monotone bike, plus it's crafted from durable, powder-coated 14-gauge steel tubing.
Resistance isn't dependent on the LCD being powered on, so you can exercise without having to search the house for batteries. However, we wouldn't mind seeing some additional levels of resistance, as more advanced users may outpace the bike quickly. You also can't pedal standing up, so there's no way to push yourself harder once you've exceeded the bike's capabilities.
We do have to say that naming these as negatives feels like clutching at straws. There's really not much to dislike about this machine. There's plenty of leeway in height adjustment for those sharing the machine with their partners or families. And in addition to being built well, the seat and other components are comfortable for long periods.
Pros
Excellent build quality
Resistance independent of power
Supports wide variation in height
Cons
Doesn't fold for storage
Could use more resistance levels
Can't pedal standing up
4
SOLE Fitness LCB Exercise Bike
Though it has fewer customer reviews than others on our list, this model is making a serious name for itself on many high-profile fitness websites. SOLE as a brand is well known for producing high-quality exercise equipment, including treadmills and other machines.
This model has a feature rarely seen in other exercise bikes and certainly none we've reviewed here: You can set it up anywhere because the bike generates its own power supply as you exercise. This means that it can power its own backlit LCD screen, which itself has tons of functions and programs to help motivate you.
One final advantage worth mentioning is the extensive warranty, which covers the frame for life and other parts for several years. So for something that provides more than just a place to sit and cycle, SOLE is a top brand. Assembly is difficult and the price tag is high, but if you can look past these issues, you're onto a winner.  
Pros
40 levels of resistance
Generates its own power
LCD is backlight
Cons
Assembly is fairly difficult
Very expensive
Settings have a learning curve
5
ProGear Foldable Magnetic Upright Bike
For an absolute beginner to the world of cycle-based exercise at home, the ProGear is perfect. In addition to being highly affordable, it's also got bare-bones functionality so there are no distractions from just working out. When you're done, the whole thing folds down onto mounted wheels for transport to a compact storage space.
Design-wise, some thought has gone into keeping the bike's footprint small and streamlined from end to end. The handles are tucked tightly into the thin-line cut by the bike's frame, with the LCD mounted in between. Yet the bike still manages to fit calorie tracking, distance monitoring, and pulse monitoring functions into the device.
But for seasoned cyclists, this bike might just not be enough to get the blood pumping. While many bikes feature 20-plus levels of resistance, this bike has just eight. It also has some tight restrictions around user height and weight, so tread carefully when sizing up a purchase.
Pros
Streamlined design
As cheap as they come
Folds for transport and storage
Cons
Fairly low weight limitations
Only eight levels of resistance
Taller cyclists may struggle
6
Schwinn 170 Upright Bike
As with the Schwinn recumbent bike featured earlier on our list, the 170 Upright Bike provides heaps of functionality. Bluetooth connectivity, built-in audio playback, and fitness tracking apps are all options available to you when pedaling away. However, keep in mind that, much like Schwinn's recumbent bike, these features don't come without increased upfront cost.
If you're happy to sink the money into this bike, then you'll find that the base features are excellent, too. Resistance scales well, with 25 levels available, from beginner through to seasoned pro. The bike runs quietly, and there's a cooling fan built into the machine for when you really go for it. 
We've knocked some points off for small drawbacks, such as the brightness of the LCD screen. You'll struggle to ignore the intense glare given off by the monitor. Other minor issues include a vague heart rate monitor that doesn't provide a specific figure.
Pros
25 levels of resistance
Enough space for your own tablet
Bluetooth and audio playback
Cons
Overly bright LCD
Fan is difficult to position
Nonspecific heart rate monitor
Do exercise bikes help you lose weight?
Whenever somebody asks if a specific exercise helps you to lose weight, the answer should always be "yes." Any exercise can help you to lose weight because you're getting the body moving and using up energy. However, weight loss also about the amount of exercise you're doing and what your diet is like outside of the gym, among many other factors.
Weight loss occurs when you have a calorie deficit — that is, when your caloric intake is lower than what your body requires to maintain its current weight. So, as part of an exercise regimen, an exercise bike can certainly help you lose weight.
Many exercise bikes have built-in calorie tracking that shows how much you've burned off during a session. Bear in mind, though, that the accuracy of these counters isn't always perfect.
Are exercise bikes good for your knees?
Compared to many other physical activities, using an exercise bike is much less taxing on your joints. For example, high-impact sports like running can wreak havoc on your knees — and even your spine — over prolonged periods. As long as you pay attention to your posture, you may be less likely to experience the same painful results.
Exercise bikes are even included as part of some rehabilitation programs following an injury. Steady, controlled cycling can help to rebuild and strengthen muscles around the knees and enhance joint stability. It can also increase your natural range of motion, making you more flexible and less susceptible to future injuries.
To summarize, using an exercise bike can, in fact, have positive effects aside from weight loss. But be aware that you could injure your knees if you make sudden increases in your speed or intensity. As with any form of exercise, you should gradually scale up the intensity and resistance as your fitness improves.
Does an exercise bike work your abs?
Both your abdominal and back muscles get a thorough workout when you're pumping away on an exercise bike.
But the key to this is maintaining proper posture. Not doing so can reduce the benefits of your exercise and even cause injury. Ensure your back is straight and your abs are tight, and you'll see the best results from this exercise.
It's worth noting that upright exercise bikes are a better workout for the core and ab muscles. You're required to constantly hold yourself in an upright position, which better engages these muscle groups. Recumbent bikes will help as well but to a lesser extent than an upright bike.
Additionally, the muscle groups in your legs and core are among the biggest muscle groups in your body. And the greater the muscle size, the more energy required to perform exercises, which is why taking something like pre-workout supplements beforehand can help you get through your workout. By building these muscles, you can increase the weight loss benefits you get from exercise bikes and other cardio.
How do exercise bikes calculate calories?
Bikes can track calories more accurately than other types of exercise machines. This is because they use technical data that includes METs (metabolic equivalents) and power output from the bike during usage. In fact, research suggests that bikes are the most accurate at tracking calories of all exercise machines.
However, no matter how accurate the machine is — or isn't — it can't account for your specific technique when pedaling. Nor can it always take into account your weight, body fat percentage, or muscular composition. All these factors can play a part in determining how many calories you burn in a given period of time.
The hard truth is that the actual number of calories you burn may be different from what is shown on your bike's screen. Calorie tracking is a useful function to help you calculate roughly what you're burning but shouldn't be taken as an exact science. This is why some bikes calculate calories burned and heart rate with a rough estimate rather than a specific figure.
What are the best exercise bikes?
We've based our top choices on real customer feedback so that you can be sure you're buying a quality product.
According to our research and countless customers that have come before, the best overall exercise bike is the Exerpeutic 400XL. It does away with common complaints associated with personal exercise bikes, like instability and discomfort. And you'll be able to work out while watching TV or listening to music thanks to its near-silent operation.
Or perhaps you're looking for the best compact exercise bike, in which case you should look to the Marcy ME-708. Inexpensive exercise bikes can be ugly and poorly built, but that isn't the case with the ME-708. As long as you're not an advanced cyclist, this bike will be perfect for upping your fitness levels.
But if you are an advanced cyclist who wants finer control over your workout, we've got just the thing. With its variety of high-tech features and integrated metrics tracking, our favorite high-tech bike, the Peloton, is a top choice for serious cycling aficionados.
RAVE Recommends
Buying an exercise bike is an ideal first step on your journey toward personal improvement. To help you get there more quickly, we've put together a list of other recommendations. Check out these other exercise-enhancing products:
Rep Rubber Hex Dumbbell Set with Racks: Building muscle leads to greater weight loss when you're doing cardio. And free weights can provide you with a huge range of varied exercises for toning your whole body.
Garmin vívofit 2 Activity Tracker: A fitness tracker can be the perfect way to monitor your workout goals. Garmin products may be cheaper than competitors, but they're still a high-quality and reliable brand.
SINLAND Microfiber Fast Drying Gym Towels: Nobody likes to use a workout machine that's drenched in sweat. Keep yourself cool and your equipment dry with these microfiber gym towels.
Under Armour Storm Hustle II Backpack: You need a place to store your workout gear and equipment. Under Armour is one of the best names in the fitness arena for quality and comfort.
Weight Lifting Gloves with Built-In Wrist Wraps: Up your weight-lifting game with a supportive pair of gloves. They'll help you lift stronger without compromising your grip.
Post-Workout Supplements: Check out our review of the best post-workout supplements to see which one is right for you and your fitness journey.
Dr. Kasey Nichols, N.M.D.
Dr. Kasey Nichols, N.M.D. focuses on sleep disorders and drug-free pain management utilizing both conventional and alternative medicine at his private practice,
Onyx Integrative Medicine and Aesthetics
, located in Gilbert, AZ. He served as the Director of Medical Operation and Administration at a national substance abuse disorder corporation with 16 facilities across seven states. He graduated from Cleveland University-Kansas City with a Bachelor's of Science in Human Biology, graduating with honors, and holds a Doctorate from The Southwest College of Naturopathic Medicine. He holds licenses in both Arizona and Kansas. Dr. Nichols has given numerous talks to professional organizations, given interviews for newspapers across the United States, and numerous television news interviews with ABC 15/CW 61 in Arizona, Channel 3 in Arizona, and others. Dr. Nichols has appeared in
Cosmopolitan
,
Reader's Digest
,
WebMD
,
Healthline
, and many other health and lifestyle publications.