What should you look for when you're buying your first exercise bike?
Your bike's seat, handlebars, resistance levels, weight limitations, and workout routines are all important considerations.
Exercise bikes don't come cheap, so when it comes to making a purchase, you'll want to be sure you've chosen well. That's why we've consolidated the best of the best, using genuine feedback from across the internet. With our recommendations, you can be sure that you're getting a market-leading product that's been tried and tested by cycling enthusiasts.
Perhaps you're looking for the absolute best exercise bike money can buy, or perhaps you're particularly conscious of the space it'll take up in your home. Or maybe you just want an overall excellent bike that's well-built and highly functional, yet still affordable.
Upright and recumbent exercise bikes offer different benefits, which is why we've picked the best of each. The Exerpeutic 400XL takes the crown as best overall exercise bike, with the Marcy ME-708 leading as best compact exercise bike. Or, if cutting-edge tech is your thing, go for our high-tech winner, the Peloton Bike.
But there's plenty more to choose from, so check out our list of the 11 best exercise bikes below.
So you've decided to buy an exercise bike, but you're not exactly sure where to start. Luckily, you're in the right place.
You should know that there are two main types to choose from — upright exercise bikes and recumbent exercise bikes. The key to their differences lies in the name, with each having you exercise in a different position.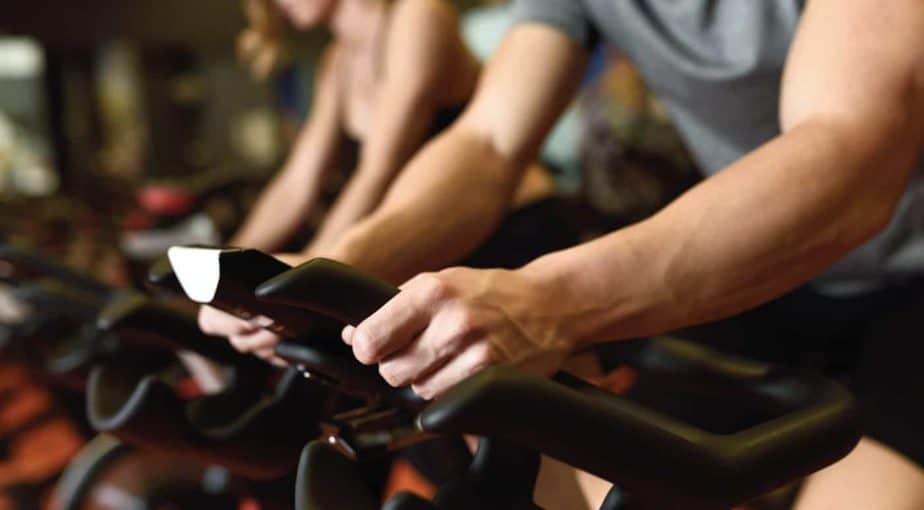 Aside from the position of the bike, there are also other factors that you should take into account. These include the level of padding and suspension built into the bike, as this feeds directly into comfort and posture. And of course, these products have body weight and height restrictions, which are important to take into account.
Recumbent Versus Upright Position
Recumbent exercise bikes are easier on your lower back because you're in a position that facilitates better spinal posture. This type of bike is also more gentle on your joints. Being in a sitting position puts you at less risk of injury than upright bikes, too.
Many cyclists also find the seats on recumbent bikes preferable, as they're larger and more supportive. However, upright bikes take up a smaller footprint overall, in part due to their smaller seats.
That brings us onto the other benefits of upright bikes, including an intensive core workout you don't get with recumbent bikes. In fact, an upright bike works out your whole body, including upper arms, abdominals, and more. Plus, that smaller footprint can really help when space is limited in an indoor home gym.
Choosing Resistance Levels
Resistance levels are a key consideration when you're picking out your new exercise bike. This setting directly determines how hard you're going to sweat it out while you pedal.
Levels typically range from 1 to 20. The lower levels are easier, while the higher levels make you work harder.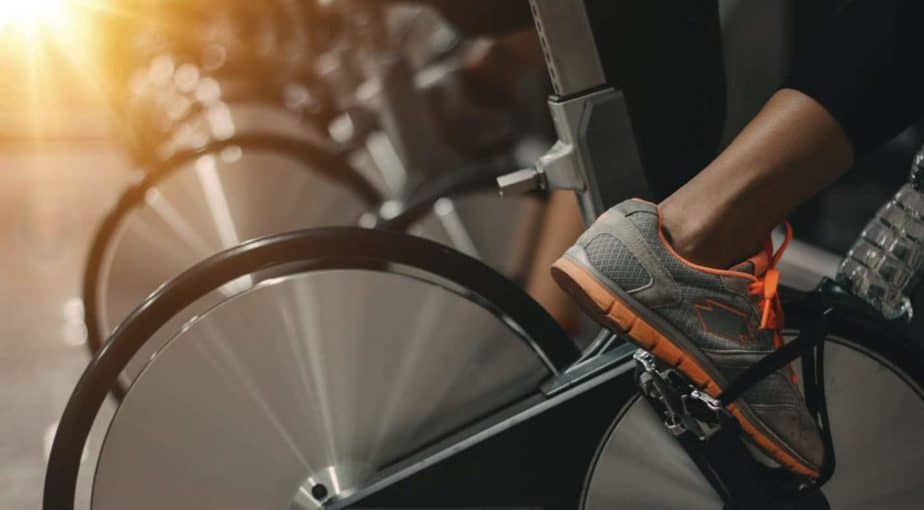 If you're a beginner, then you're probably going to be hitting it at a lower resistance level. But as you progress, you'll need those higher levels to build muscle and get the most out of your workout. So be careful to choose a bike that doesn't skimp on this basic piece of functionality.
There are numerous ways that an exercise bike can achieve varying levels of resistance while you pedal. Most cycles use either a direct-contact mechanism or magnetic resistance, though a select few use air resistance from a fan. The latter two mechanisms are best, as they give you full control over the level of resistance that you choose to apply.
Choosing a Seat Design
Cutting costs on an exercise bike can lead to a poor-quality seat, which can directly impact your enjoyment of the workout. A seat that's too thin or crafted from rigid, unsupportive material will become uncomfortable fast. This can impact your posture, and poor posture during exercise can turn into injury.
Look for a seat that's cushioned enough to sit on for long periods without causing discomfort. Make sure that it's wide enough to support your frame, as cheaper seats tend to be very narrow. Premium seats will also have considerable support in the form of suspension springs.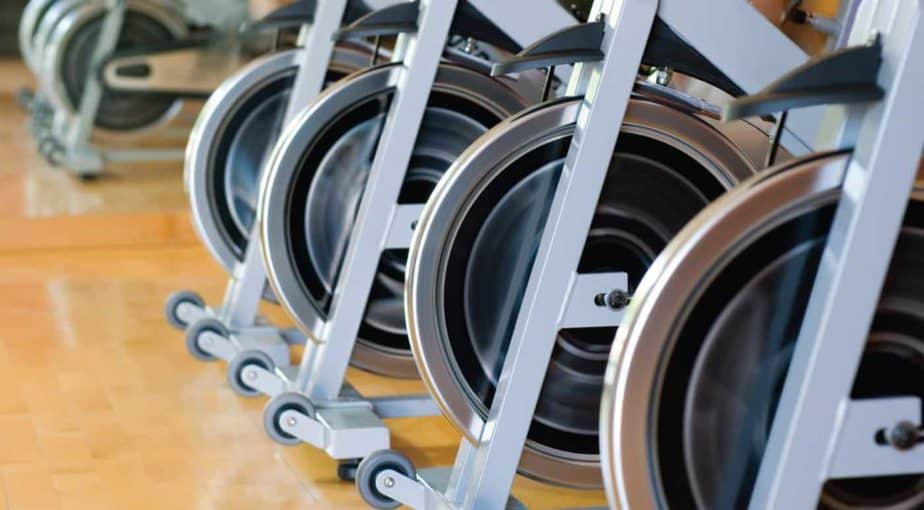 You should also give some thought as to what kind of mechanism the bike has for seat adjustments. If the seat can't be adjusted, then you'll be forced to sit in a position that might be wrong for you. Recumbent seats will typically be mounted on a sliding rail, while upright seats will raise and lower on its pole.
Considering Weight Limitations
Weight limitations on exercise gear can be easy to ignore. After all, they're surely only guidelines — right? Wrong. Using an exercise bike that doesn't support your weight can mean a risk of injury. What's more, low weight limitations are often an indicator of a poor design and build quality, so steer well clear.
You should also look at the height limitations that some bikes have, especially upright bikes. If you're shorter or taller than the average person, at least one of the bikes we've ranked isn't for you. Opting for a bike that isn't designed for your height can lead to poor posture, which we know can cause injury.
Bells and Whistles
Exercise bike prices vary wildly. They can cost as little as $100, or more than $1,000. But broadly speaking, there are two main tiers of bike: those that offer basic tracking, like calories and distance, and those that have additional menus, functions, and more.
As a beginner, you can get away with a bike that has varied resistance levels and little more. But as your fitness improves, you'll want higher levels of resistance and perhaps some other programs. For example, some bikes offer "courses" — preset regimen≠≠s that vary speed, resistance, and climb throughout the activity.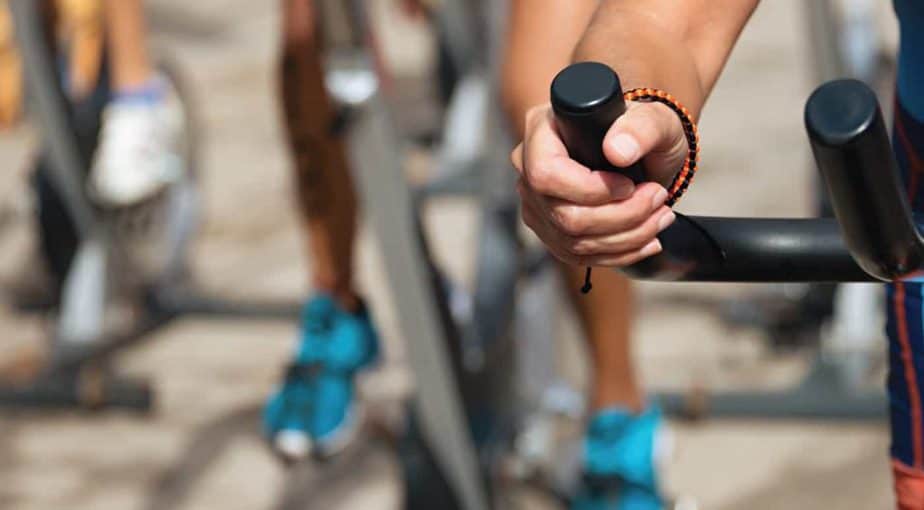 At higher prices, you start to see "nice to have" functionality that is unnecessary but can make life easier. For example, some high-end exercise bikes can generate their own power for their LCD screens and backlights. And some allow you to set goals, which can motivate you to push yourself and break your previous records.
Methodology
We don't use any old criteria for picking the best exercise bikes, nor do we use our own subjective opinions. Our recommendations are based on research from across the internet, taking into account a wide range of sources and consumer opinions. We examined professional fitness authorities along with everyday customer feedback to aggregate a list of the best exercise bikes.
Specifically, we considered a number of factors that affect usability and value. We scored each product based on these variables. As a result, you can be sure that we've found the best exercise bikes available on the market.
To understand how we reached our final ranking, check out the list of factors, below, that we've taken into account to formulate the final score awarded to each product.
The features included, from the basic to advanced workout options
The seat, in terms of position, material, and the comfort offered by both
The handlebars, in terms of comfort, grip, and options to adjust
The suspension mounted beneath the seat, which relates to comfort
The resistance levels offered by the bike
The weight limitations imposed by the manufacturer and design
The warranty offered by the manufacturer and any restrictions imposed
The optional extras, such as built-in television and mobile connectivity
Do exercise bikes help you lose weight?
Whenever somebody asks if a specific exercise helps you to lose weight, the answer should always be "yes." Any exercise can help you to lose weight because you're getting the body moving and using up energy. However, weight loss also about the amount of exercise you're doing and what your diet is like outside of the gym, among many other factors.
Weight loss occurs when you have a calorie deficit — that is, when your caloric intake is lower than what your body requires to maintain its current weight. So, as part of an exercise regimen, an exercise bike can certainly help you lose weight.
Many exercise bikes have built-in calorie tracking that shows how much you've burned off during a session. Bear in mind, though, that the accuracy of these counters isn't always perfect.
Are exercise bikes good for your knees?
Compared to many other physical activities, using an exercise bike is much less taxing on your joints. For example, high-impact sports like running can wreak havoc on your knees — and even your spine — over prolonged periods. As long as you pay attention to your posture, you may be less likely to experience the same painful results.
Exercise bikes are even included as part of some rehabilitation programs following an injury. Steady, controlled cycling can help to rebuild and strengthen muscles around the knees and enhance joint stability. It can also increase your natural range of motion, making you more flexible and less susceptible to future injuries.
To summarize, using an exercise bike can, in fact, have positive effects aside from weight loss. But be aware that you could injure your knees if you make sudden increases in your speed or intensity. As with any form of exercise, you should gradually scale up the intensity and resistance as your fitness improves.
Does an exercise bike work your abs?
Both your abdominal and back muscles get a thorough workout when you're pumping away on an exercise bike.
But the key to this is maintaining proper posture. Not doing so can reduce the benefits of your exercise and even cause injury. Ensure your back is straight and your abs are tight, and you'll see the best results from this exercise.
It's worth noting that upright exercise bikes are a better workout for the core and ab muscles. You're required to constantly hold yourself in an upright position, which better engages these muscle groups. Recumbent bikes will help as well but to a lesser extent than an upright bike.
Additionally, the muscle groups in your legs and core are among the biggest muscle groups in your body. And the greater the muscle size, the more energy required to perform exercises, which is why taking something like pre-workout supplements beforehand can help you get through your workout. By building these muscles, you can increase the weight loss benefits you get from exercise bikes and other cardio.
How do exercise bikes calculate calories?
Bikes can track calories more accurately than other types of exercise machines. This is because they use technical data that includes METs (metabolic equivalents) and power output from the bike during usage. In fact, research suggests that bikes are the most accurate at tracking calories of all exercise machines.
However, no matter how accurate the machine is — or isn't — it can't account for your specific technique when pedaling. Nor can it always take into account your weight, body fat percentage, or muscular composition. All these factors can play a part in determining how many calories you burn in a given period of time.
The hard truth is that the actual number of calories you burn may be different from what is shown on your bike's screen. Calorie tracking is a useful function to help you calculate roughly what you're burning but shouldn't be taken as an exact science. This is why some bikes calculate calories burned and heart rate with a rough estimate rather than a specific figure.
What are the best exercise bikes?
We've based our top choices on real customer feedback so that you can be sure you're buying a quality product.
According to our research and countless customers that have come before, the best overall exercise bike is the Exerpeutic 400XL. It does away with common complaints associated with personal exercise bikes, like instability and discomfort. And you'll be able to work out while watching TV or listening to music thanks to its near-silent operation.
Or perhaps you're looking for the best compact exercise bike, in which case you should look to the Marcy ME-708. Inexpensive exercise bikes can be ugly and poorly built, but that isn't the case with the ME-708. As long as you're not an advanced cyclist, this bike will be perfect for upping your fitness levels.
But if you are an advanced cyclist who wants finer control over your workout, we've got just the thing. With its variety of high-tech features and integrated metrics tracking, our favorite high-tech bike, the Peloton, is a top choice for serious cycling aficionados.