Not all electric toothbrushes are created equal.
Some are stylish, others are powerful, and some are perfect for travelling with. But what if one toothbrush was all of those things? Our pick for the best electric toothbrush is the AquaSonic Black Series Ultra. It's ultra-sleek and features an incredibly powerful 40,000-vibration-per-minute motor. It might not be the techiest toothbrush around, but at just under $40, what's not to love?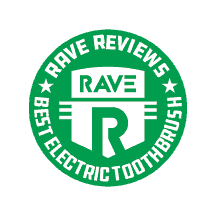 Do you remember when the hardest decision you had to make when buying a toothbrush was whether you wanted soft or hard bristles? With the invention of the electric toothbrush (all the way back in 1954 — would you believe that?), the decisions are never-ending.
Everyone (healthcare professionals included) agrees that electric toothbrushes are better at removing plaque and maintaining overall oral hygiene than their manual counterparts. But should you go for a vibrating electric toothbrush, or a rotating one? Is it important to have loads of different settings? And are the fancy features worth the extra money?
The truth is, there is no one-size-fits-all answer. The perfect electric toothbrush for you depends on your lifestyle, on whether you have sensitive teeth or braces, and on your personal taste (technophobes and techies, we have something for you both).
If you're feeling overwhelmed by all the choices out there, take a look at our top 10 electric toothbrushes to find the one for you.
The Electric Toothbrushes We RAVE About
These electric toothbrushes will put a (super-healthy) smile on your face.
Perfect for those who can't commit, the Oral-B Pro 1000 offers a wide variety of different brush heads — from soft bristles for sensitive gums, to angled bristles that are super tough on plaque.
Read Full Review
Shop the Oral-B Pro 1000
When it comes to oral hygiene, there are some things we can say with absolute confidence: No one wants smelly breath, and nobody likes going to the dentist.
So how can we keep our breath fresh and our dentist visits to an absolute minimum?  
First of all, bad breath and tooth decay happen when for one reason or another we don't take care of ourselves properly. Maybe we're not brushing our teeth often enough, or we're not paying attention when we do it.
This leads to a buildup of plaque, a sticky deposit where bacteria proliferate. In turn, they produce acids which eat away at our tooth enamel, eventually causing bad breath, gum inflammation, and even tooth decay.
Ok, that's it with the icky stuff.
Now onto the good news: All of this is easily avoidable! All you have to do is make sure you remove that wretched plaque through a good brushing and flossing routine.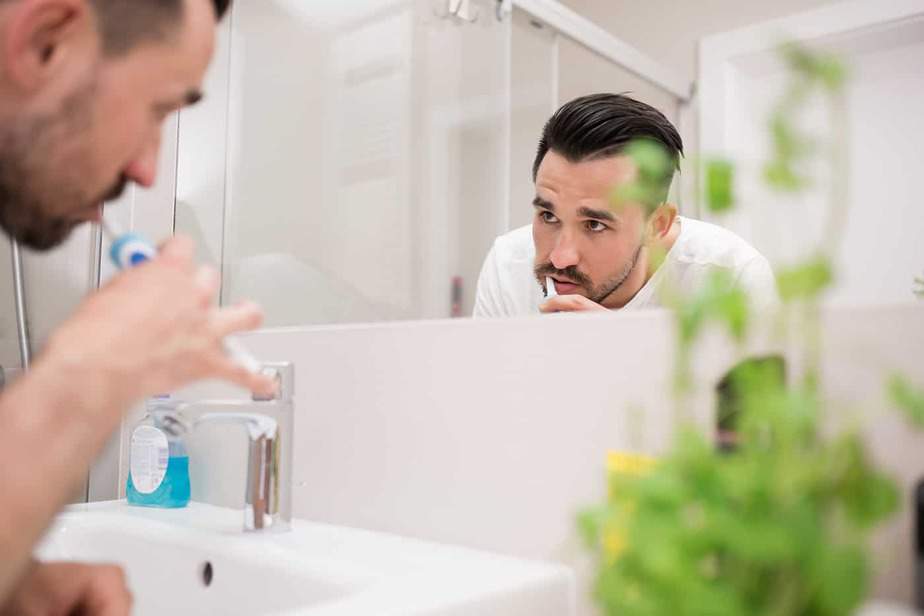 So now you know the importance of good oral hygiene, and you want an electric toothbrush. But with so many different options, how do you know what you're looking for?
The first thing to consider is the type of motion you want.
Oscillating
With oscillating toothbrushes, the head (which is usually circular) oscillates back and forth, spinning a quarter-turn in one direction, then a quarter-turn back, or sometimes completing a whole circular motion in one direction.
Some of the latest models, such as Braun's electric toothbrushes (the Oral-B line), have developed a '3-D' approach which combines oscillating, rotating, and pulsating. This model helps you concentrate on one tooth at a time, removing plaque from all corners of your mouth and reaching hard to get bits.  
Sonic
In the world of electric toothbrushes, "sonic" is basically a fancy way of saying that the head vibrates very, very fast — an estimated 30,000 brushes per minute. Compare this to about 7500 rotations per minute with a standard oscillating toothbrush.
The brush head, which is usually a similar shape to a manual toothbrush, vibrates at a super high speed as the bristles scrub your teeth. But such a high speed also agitates the fluid (saliva and  toothpaste) in your mouth, which produces a non-contact-cleaning-effect. The Philips Sonicare range are, as the name suggests, sonic toothbrushes.
Once you've decided on the type you prefer, these are some features to look out for. 
High quality rechargeable battery 
A dead toothbrush is a useless toothbrush, as the famous saying goes. That's why it's very important to make sure you buy an electric toothbrush with a decent battery, especially if you travel a lot.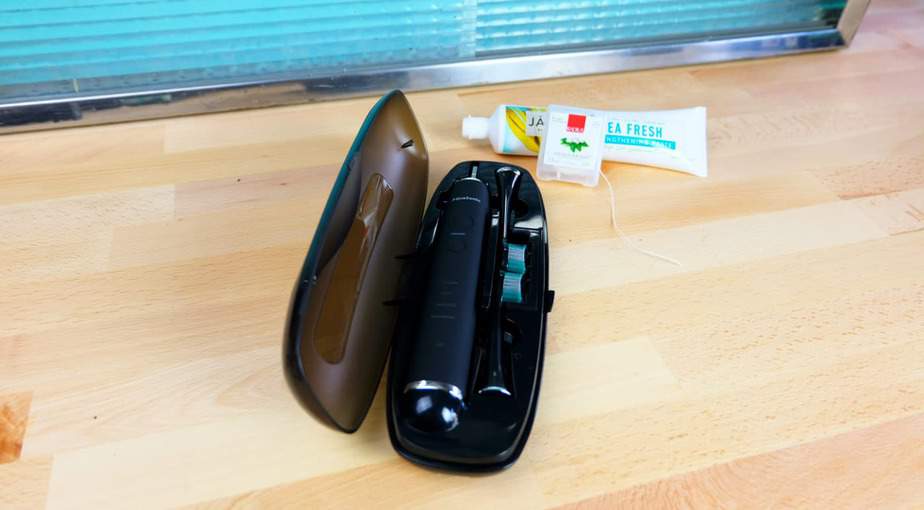 Most good quality toothbrushes will last two weeks per charge, and some even claim to last a month. If you treat your electric toothbrush well and follow the instructions, a good battery can live between 3 and 5 years!
Two-minute timer
The American Dental Association (ADA) recommends 2 minutes of brushing twice a day. Brushing for less than 2 minutes isn't effective at removing plaque, while over-brushing can irritate your gums and, over time, damage your teeth.
While of course it's perfectly possible to just time yourself…how many of us actually do? A timer helps you get it just right, so it's a good feature to have.
While most toothbrushes now offer this as a standard feature and alert you by vibrating or turning on a little light, some actually shut off automatically.
30 second timer
This splits the two-minute brushing timer into four 30-second intervals, so that you know when it's time to move to a different quadrant of your mouth.
Most 30 second timers, also called quad-pacers, will either pause for a second or produce a short series of pulses to let you know when it's time to move on.
Pressure sensor
Just like brushing for too long, brushing too hard can irritate gums and cause soreness or bleeding, so a pressure sensor —  which alerts you with a buzz, pause or light depending on the model — will let you know when you're overdoing it.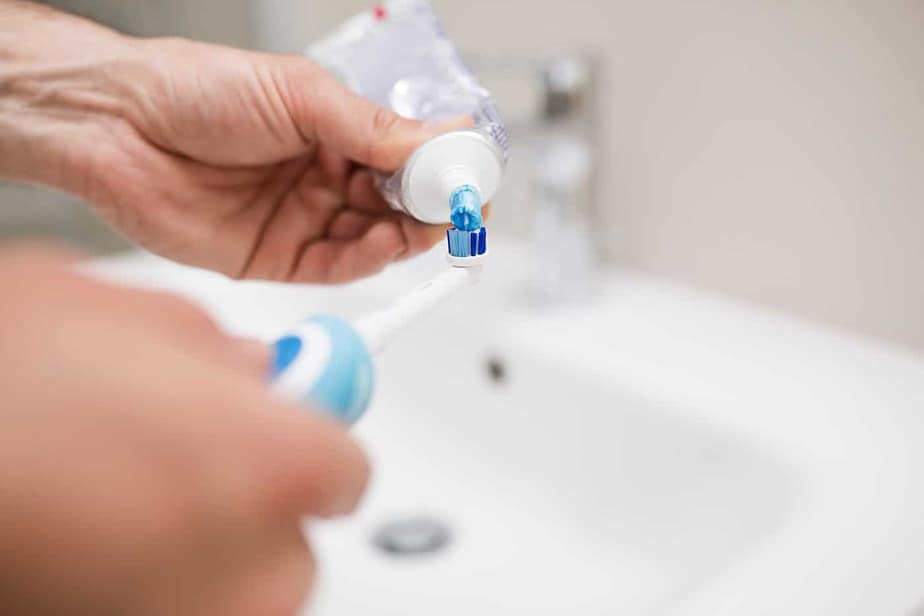 Brush head shape and size
This is mostly up to your personal taste, but also depends on your requirements. If you use braces or other orthodontic appliances, you need to pay special attention to the shape of the brush head and make sure it can reach those little annoying spaces where food tends to get stuck.
Tech features
Some of us love 'em. Some of us absolutely cannot stand 'em. If you want all the latest in dental tech, you can buy an electric toothbrush that comes with Bluetooth and Wi-Fi and connects to a mobile app to tell you if you're doing it right. Futuristic stuff, right?
Methodology
With so many different brands and models, choosing the best electric toothbrush is not an easy task. We researched dozens of different options by looking through specialist websites, examining hundreds of ratings and comments, and paying special attention to the opinion of healthcare professionals.
We then created a robust scoring system based on a scale from 0-100. Our methodology is based on a weighted score of a variety of factors that include:
Value for money
Number and type of features
Usability
Overall quality and design
Then we took an average of those scores for a final metascore and built our ranking from there.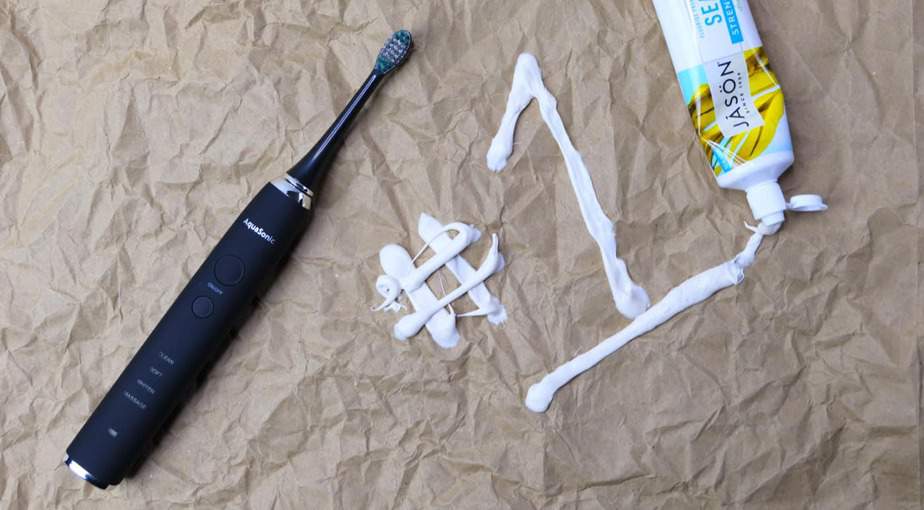 AquaSonic Black Series Ultra Whitening Toothbrush

Price: $37

Company: Pure Daily Care

Never thought an electric toothbrush could look this stylish, did you?

But that's not the only thing we love about the Acqua Sonic Black Series:  They're only a fraction of the price of the big-brand electric toothbrushes, but have all of the quality. The ultrasonic motor vibrates so fast — 40,000 vibrations per minute — that it helps break down plaque, delivering a deep and thorough clean.

You might love this toothbrush so much you won't know when to stop. But don't fret,  Aqua Sonic lets you know when it's time to move to another part of your mouth by pausing every 30 seconds, and stopping automatically after 2 minutes.

Its battery holds charge for a whole month, so you can pack it away in the convenient travel bag and take it with you. What makes this the real winner, though, is that it comes with 8 brush head replacements. That should keep you going for 2 whole years!

Pros

Long-lasting battery
Wireless charging
8 brush replacements

Cons

Charging stand feels flimsy

Shop the AquaSonic Black Series

Oral-B Pro 1000

If a no-nonsense electric toothbrush is what you're looking for, Oral-B Pro 1000 might be the perfect option. It doesn't come with all the trimmings, but it does what an electric toothbrush is meant to do, and it does it well.

It moves in a way that guarantees a 3D clean of each tooth: The head oscillates — rotates in one direction and then the other — around each tooth, but it also moves backwards and forwards, removing plaque. This model doesn't have many different cleaning modes like higher-end options, but it does come with a pressure sensor that stops the pulsation movements if you are brushing too hard.

The reason we love this toothbrush is that you can choose from several different brush heads, making it one of the most versatile models around.

Pros

Oscillating motion
Wide choice of brush heads
Pressure sensor

Cons

No variable speed
Handle is slippy when wet

Shop the Oral-B Pro 1000

Philips Sonicare Diamond Clean Smart 9300 Series

Price: $180

Company: Philips

So you're serious about upping your oral hygiene game? If the best of the best is what you're after, nothing beats Philips' Sonicare Diamond Clean Smart 9300. It's the Ferrari of electric toothbrushes.

Like most high-quality electric toothbrushes, this Sonicare model does a great job at removing plaque — 10 times better than a manual toothbrush, according to Philips. But what truly sets this one apart are its high-tech features. The 3 different brush heads it comes with automatically pair with the appropriate brushing mode (you can choose from 4 different ones). Sensors provide real-time feedback to a smartphone app, which tells you whether you've brushed correctly and alerts you when it's time to move onto a different area of your mouth.

The app sounded gimmicky to us at first, but it's so accurate that you'll find yourself paying attention to its instructions, and your brushing technique will improve in no time.

Pros

Several brushing modes
Smart brush head sensors
Mobile app coaching

Cons

Costly
Not for technophobes
Mo' tech, mo' problems!  Glitchy software

Shop the Philips Sonicare Diamond Clean Smart 9300 Series

Fairywill Sonic FW-917

Price: $20

Company: Fairywill

On the opposite end of the price spectrum is our favorite budget option, the Fairywill Sonic FW-917. This modest little toothbrush has fast become a popular favorite, and it's easy to see why. You just can't beat this price!

The brush head vibrates at 40,000 strokes per minute, which is fast enough to destroy plaque and remove stains. Surprisingly for the price, the Sonic FW-917 offers 3 cleaning modes, which you can choose between depending on what suits you. The 'Massage' option, for example, will be super gentle on your gums, while 'Clean' is strong enough to get out even the hardest-to-reach bits — perfect if you have braces!

The toothbrush doesn't come with a base — which is good if you only have limited space in your bathroom —and is charged via a USB cable. If you're as forgetful as I am, this might come in handy, as you're likely to find a USB charger wherever you go.

Pros

Great value!
3 brushing modes
Great customer service

Cons

Materials feel flimsy
Some issues with battery
Warranty only lasts a year

Shop the Fairywill Sonic FW-917

Complete Care Water Flosser and Sonic Toothbrush

Price: $80

Company: Waterpik

Brushing is great, but does anything compare to that wonderful post-floss feel? Now, imagine something even more satisfying: a powerful, needle thin jet of water that blasts away food, plaque, and bacteria from all of those difficult-to-reach nooks and crannies.

Waterpik has been making excellent water-flossers for years, but they've now cleverly combined their trademark product with an electric toothbrush (you can choose between sonic or oscillating) to ensure all-round oral care. The kit includes 2 brush heads, one with soft bristles that are gentle on your gums and one compact brush for targeted cleaning. It also lets you brush at 2 different speeds, and the usual 2-minute timer lets you know when it's time to stop.

The kit is great for anyone who needs to be extra careful with their oral hygiene. If you have braces, implants, or crowns, this is a great option.

Pros

Water-flosser
2 different speeds
Built-in storage for brush heads

Cons

Bulky set
Waterpik may be uncomfortable
Some have issues with battery

Shop the Complete Care Water Flosser and Sonic Toothbrush

Oral-B Genius Pro 8000

Price: $150

Company: Braun

Like our other winner in the Oral-B range, the Pro 8000 uses a 3D movement cleaning system. It oscillates, rotates, and pulsates rather than vibrating.

A built-in pressure sensor will visibly alert you if you're applying too much pressure, which is a common mistake for most first-time electric toothbrush users. A timer lets you know when the recommended 2 minutes are up. The Genius 8000 also offers 6 cleaning modes, which is especially useful if you're sharing the brush handle with other people.

Something we loved about this toothbrush is that it comes with a really practical travel case, which includes a small charger so that you don't have to take the clunky base with you when you go. As with the other high-end option in our list, the toothbrush connects to a mobile app that helps you get your technique down. This one uses facial recognition!

Pros

6 cleaning modes
Practical travel case
Connects to mobile app

Cons

Expensive
Issues with position detection
The app might be overkill

Shop the Oral-B Genius Pro 8000

Philips Sonicare 2

Price: $61

Company: Philips

The Sonicare 2 is on the lower end of the scale of Philip's electric toothbrushes, and is more about simply getting the job done and less about fancy features. If you're new to electric toothbrushes, this might be a good one to start with: its 31,000 brush-strokes per minute sonic technology is great at removing plaque, and a 2-minute timer lets you know when you've reached optimal brushing time.

If you're not used to the sensation of sonic toothbrushes (we have to admit, it does feel a little weird at first), the Sonicare's Easy-Start feature helps you ease into it by slowly increasing the power of the vibrations over the first 14 uses. However, you'll always have to pay attention to how hard you're brushing, as there is no pressure sensor.

Pros

User-friendly
Easy-Start feature
Durable

Cons

No pressure sensor
Outdated battery technology
Not best value for money

Shop the Philips Sonicare 2

TAO Clean Sonic Electric Toothbrush & Cleaning Station

Price: $80

Company: TAO Clean

We love the way this toothbrush looks. It has a futuristic, curvy design that sets it apart from all the rest, and you can choose to get it in black or white. This is a sonic toothbrush — so great for those of you who prefer vibrating to pulsating — which effectively sweeps away plaque with 40,000 strokes per minutes.

It also ramps up the power over several brushes to ease you into the sonic experience. TAO Toothbrush comes with the usual features, like 2 different cleaning modes and the dentist-recommended two-minute timer.

The curvy base doesn't just look cool: It uses powerful Ultraviolet-C rays which help kill any germs that might be on your toothbrush, and it also dries the brush head while it's resting and charging.

Pros

Stylish base
Sanitizing UV rays
High-end Sonic Technology

Cons

Bulky, requires space
Poor battery life
Not very durable

VIOlife Slim Sonic Toothbrush

Price: $12

Company: VIOlife

If you're often on the go and like to pack light, this little toothbrush might be just what you need. It looks just like a mascara or lipstick. In fact, you could easily slip this into your purse and take it on a date — no one would know! It fits perfectly in your gym bag, cosmetic case, or briefcase, so you can enjoy that squeaky clean feeling all day long.

At only 22,000 strokes per minute, the VIOlife toothbrush is not the most powerful on the market (by far). But it's still superior to a manual toothbrush, and it does a good job at removing bits of unwanted food and plaque.

Unlike the other toothbrushes on our list, this one runs on one AAA battery, so make sure you always carry a spare.

Pros

Small and light
Trendy designs
No need for charging

Cons

Not very powerful
May still require manual brushing
Not rechargeable

Shop the VIOlife Slim Sonic Toothbrush

Xtech XHST-100 Ultrasonic Toothbrush

Love it or hate it, the Xtech XHST-100's bright green body is definitely noticeable. The design might not be for everybody, but this electric toothbrush definitely has some useful features. The base doubles up as a UV sanitizer, which in only 7 minutes kills off bacteria living on the brush head (it's not nice to think about, but they're there!).

Surprisingly for such a budget option, the Xtech is quite powerful at 40,000 strokes per minute. It offers 5 different cleaning modes, including options for teeth whitening and sensitive gums. The 2-minute timer with 30 second intervals also tells you when it's time to move on to the next quadrant of your mouth.

While this is a good enough budget option, don't expect it to last you a lifetime. Some users reported signs of wear, such as delicate bristles that come out after a while.

Pros

UV sanitizer
5 cleaning modes
Powerful Sonic Technology

Cons

Bristles wear out
Difficult to replace brush heads
Short battery life

Shop Xtech XHST-100 Ultrasonic Toothbrush
Below, we'll cover some of the most common questions that you might run into as you shop for the best electric toothbrush.
Should I switch to an electric toothbrush?
According to the American Dental Association (ADA), both electric and manual toothbrushes can be effective if used properly. But electric toothbrushes do have an edge: Studies show that electric toothbrushes are better at fighting plaque and gingivitis than manual toothbrushes. After 3 months of using an electric toothbrush, plaque is reduced by an average of 21% and gingivitis by 11%.
Most users say that switching to an electric toothbrush makes them more conscious about their brushing habits and improves their overall oral hygiene. One study, which found that people were more focused when using an electric toothbrush, supports this theory.
If you wear braces or other orthodontic appliances, an electric toothbrush is definitely the way to go. It'll help you reach all those annoying little nooks and crannies that accumulate bits food.
Of course, simply switching to an electric toothbrush isn't going to work miracles. You'll have to do some of the work by focusing on your brushing technique, buying good toothpaste, and being a disciplined flosser.
Still, it's one giant step in the right direction. And just think of it this way: Sure, an electric toothbrush is more expensive than a standard manual one, but it's much cheaper than a root canal!
How often do I need to replace the electric toothbrush brush head?
Bristles spoil, and no matter how good your brushing technique is, an old toothbrush just isn't going to be as effective as a brand new one.  
The ADA suggests changing your toothbrush (or the head on an electric toothbrush) about every 3 or 4 months. While this is a good general guideline, it really depends on a few different factors.
Firstly, how often do you brush your teeth? If it's less than twice a day, your brush will last longer. This, of course, is an awful brush-saving strategy, and we definitely do not recommend it! 
Quality makes a difference, too. Cheaply made toothbrushes will not last as long.
Generally, if bristles are looking frayed and your teeth are not feeling squeaky clean, it's time to change that head. 
Some healthcare professionals also recommend tossing your brush-head if you or someone in the family (since toothbrushes are usually stored right next to each other) has been sick, because bacterial infections or viruses could be lurking among those bristles.
Of course, no one wants to think about that (sorry!). But don't worry too much: An ADA study shows there are rarely enough bacteria on your toothbrush to really harm you. Just make sure you let it air-dry upright. And if you really can't stand the idea of bacteria living between the bristles, choose a self-cleaning model that uses UV rays to kill germs.
What are the best electric toothbrushes?
While there are dozens of great options out there, some electric toothbrushes are definitely better than others. We spent hours aggregating data and analyzing the results to find the absolute best options on the market (you can read about our methodology above).
We really love the AquaSonic Black Series Ultra Whitening Toothbrush  because of its sleek design, powerful sonic vibrations, and super honest price-tag. But we know it might not be for everyone.
If you love techie features, need something super portable and light, or want an even cheaper option, there is an electric toothbrush out there for you (and chances are, it's in our ranking!).
RAVE Recommends
Now that we've got you thinking about your oral hygiene, go the extra mile with these great  products: