If you own skis, you should learn how to adjust your ski bindings. It's a simple enough task that takes little time and will improve the comfort, safety, and performance of your skis.
Sure, you can have someone at the ski shop adjust your ski bindings, but nobody will be able to find an ideal fit for your body like you will. And why pay money for something that you can do in just ten minutes?
Key Point: In this guide, we will walk you through a step-by-step guide to easily adjust your ski bindings from the comfort of your own home.
Why Should You Adjust Your Ski Bindings?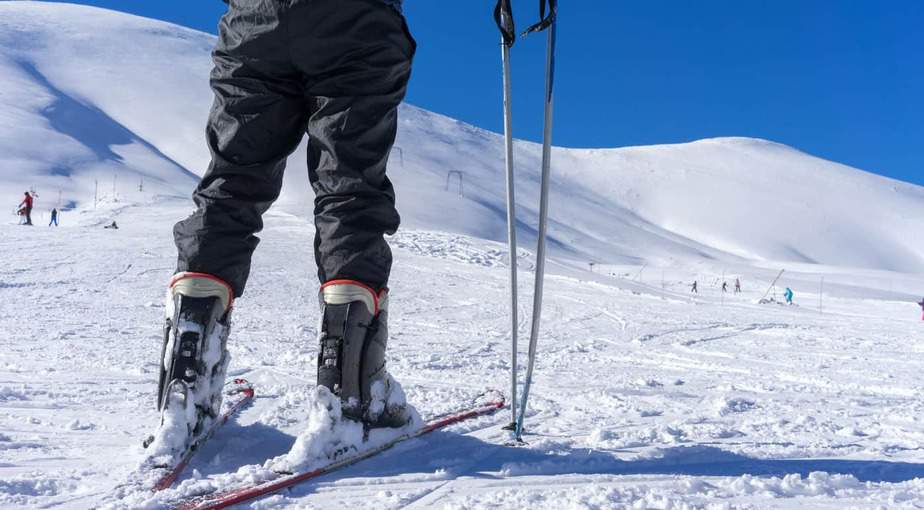 Adjusting your ski bindings is crucial for a few reasons:
Improve Performance
The ski binding connects your boot with the ski and is the mechanism that controls your steering. So it is critical that it is secure and adjusted well.
If you choose to invest in one of the best ski bindings on the market, it's even more important to learn how to get the most out of them by making optimal adjustments (learning how to wax skis is crucial, too!).
But in general, there are key benefits to adjusting your ski bindings:
If it's too loose, the power transfer from your boot to the ski is negatively affected. The higher your speeds, the more important it is to adjust your bindings well.
Improve Safety
Ski bindings revolutionized snow sports. They perfected "release" technology that automatically disconnects the boot from the binding in the event of an impact.
Before ski bindings, when skis were lashed directly to ski boots, even a short tumble at moderate speeds could result in severe injury. Broken limbs were commonplace. Modern ski bindings make the sport safer than ever.
For the release trigger to work properly, your ski bindings need to be adjusted well.
Save Money
Shops and sports centers can charge up to $20 to do a single adjustment of your ski bindings. Over time, that adds up.
You don't need a professional technician for this job, though we recommend you consult one. As we hope to show you, adjusting is a simple task. It takes only a few minutes of manual labor.
Takeaway: Not only is adjusting your own ski bindings a good way to bond with your own equipment, it will save you money and improve both the safety and performance of your skis.
How Often Should You Adjust Your Ski Bindings?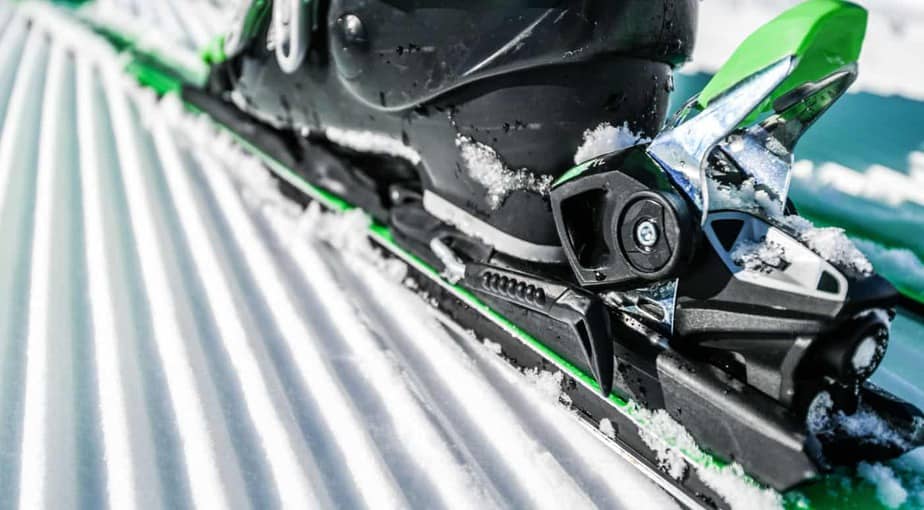 There are at least four occasions for adjusting your ski bindings:
1. Annual maintenance check
Depending on how often you hit the slopes, you may need to check your bindings several times a year. Once a year is a minimum for the average skier.
2. Borrowing or swapping
If you like to loan out ski bindings or swap with friends on the slope, you will need to adjust the ski bindings for every new skier.
3. New ski boots
You should adjust your ski bindings if you purchase a new pair of ski boots. Remember, ski bindings are made to pair with boots, not skis, so this is important. Even if you purchase the exact same boots in the same brand and size, you should still adjust.
4. Random safety check
Excessive checking can't hurt. Bindings exist for one reason: to prevent leg injuries. Not only will they release your boot in the event of a crash, but they also control steering. The higher your speeds, the more important it is to have your bindings safely secured.
Our Recommendation: Play it safe. Check your bindings often—make it part of your preparation ritual before a day on the slopes.
Types of Ski Bindings
How you adjust your ski bindings may depend on what type you own.
Bindings are notoriously difficult to shop for.
First, bindings are made with boots in mind, not skis.
Second, the checklist for selecting a pair of skis is pretty straightforward:
But ski bindings are intimidating inner machinery full of mystery.
Let's make it simple for you: There are three different families of ski binding, but a lot of variety within each type.
1. Alpine
Alpine bindings are the most popular. (In fact, the Marker Griffon 13 ID is our most favorite). They are made for alpine boots and designed for in-resort and downhill skiing.
There are various models that depend on your preferred ski style and DIN. Alpine bindings are designed to release during a downhill fall.
The binding consists of multiple pieces:
A toe piece, which includes an anti-friction device (AFD)
A heel piece with a ski brake
2. Frame AT
Frame AT bindings are the most popular after Alpines, but they are for a more specialized class of skier that shuns the resorts and likes to cut their own trails.
AT boots are versatile, as they fit boots designed for AT bindings as well as Alpine boots. Unlike the Alpine bindings, AT bindings include a base plate and frame that link the toe and heel pieces.
3. Telemark
Telemark bindings are the most specialized of the group.
They only fit Telemark boots. They are also interesting to adjust since they have a fixed toe piece that comes with a simple (but adjustable) heel plate.
Telemark bindings provide little support but are a dream for touring in soft snow. In this how-to, we don't cover Telemark bindings, though similar principles apply.
Takeaway: Shopping for ski bindings is notoriously complicated for beginners. So if you're trying to get the most out of your skis, pay attention to the nuances between design styles.
Before You Start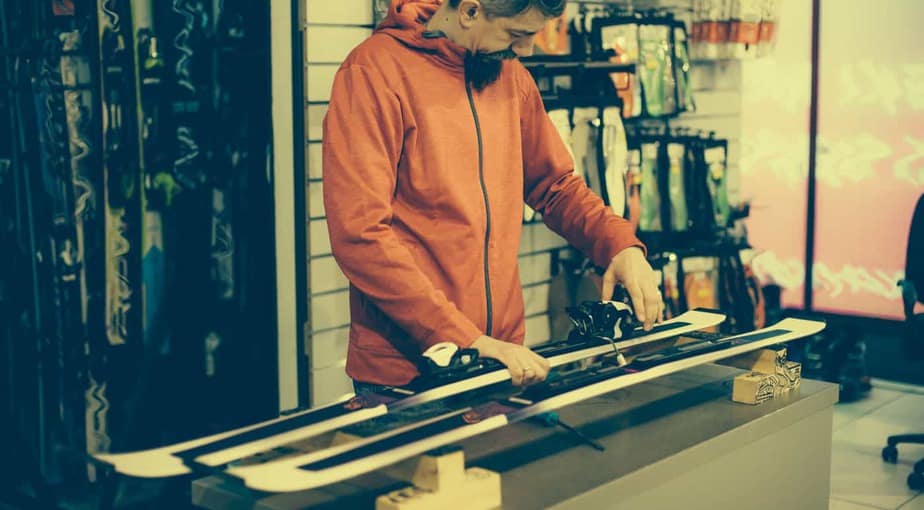 Adjusting your ski bindings is easy to do, but don't let that fool you into thinking it can be done lightly. Your safety is at stake.
A poorly adjusted binding could result in injury or even death. So before you start, make sure you are well-prepared.
1. Set up a workbench
For this job, you will need a broad and level working surface, ideally raising the ski just above your waist. A table will do. Just don't try to adjust ski bindings on the floor. Make sure your work station is well-lit.
If you want to take things to the next level, a ski-vise will feel right at home in your garage or studio. The ski-vise is actually a set of vises that clamp on the edges of your bench or table.
You can then use the vises to secure your ski in a vertical or horizontal position, right-side-up or upside-down. This makes it super easy to wax or tune your skis. But for adjusting ski bindings, the skis need to be in a resting position with the bindings up.
2. Grab a Phillips-head screwdriver
This is the only tool you will need to adjust your ski bindings.
A standard screwdriver will suffice. Make sure it has a long neck. If you are using one of those stubby screwdrivers, you won't be able to reach the screws in the binding. Some newer models feature locking mechanisms that allow you to adjust your ski bindings without a screwdriver, but most models require it.
3. Calculate your DIN
DIN stands for Deutsches Institut für Normung (German Institute for Standardization).
The DIN is the industry-standard scale for measuring the release force settings of a ski binding. That means the DIN is the amount of force required to trigger a mechanism in the binding that releases its hold on the ski boot.
This release mechanism significantly lowers the odds of injury (or even death) in the event of an accident.
Every skier has a personal DIN. This number is calculated by factoring your weight, height, age, boot length, and skier ability. Most adult beginners have a DIN between 2 and 7.
Intermediate and expert skiers are between 3 and 12. Your DIN could differ from brand to brand. (Check out our review of the Best Ski Brands.) Your DIN will also change over the course of your life.
But it's best not to follow a rule of thumb where the DIN is concerned.
Our Recommendation: Many blogs and apps promise methods for calculating an accurate DIN, but we recommend seeking a professional technician at your local sports store. Once you know your DIN, you can adjust it yourself.
How to Adjust a Ski Binding
Adjusting a ski binding is not difficult or complex, but it should be done carefully. Once you get the hang of it, the whole process should take less than 10 minutes. Here's how you do it:
Step 1. Find your sole size and adjust the binding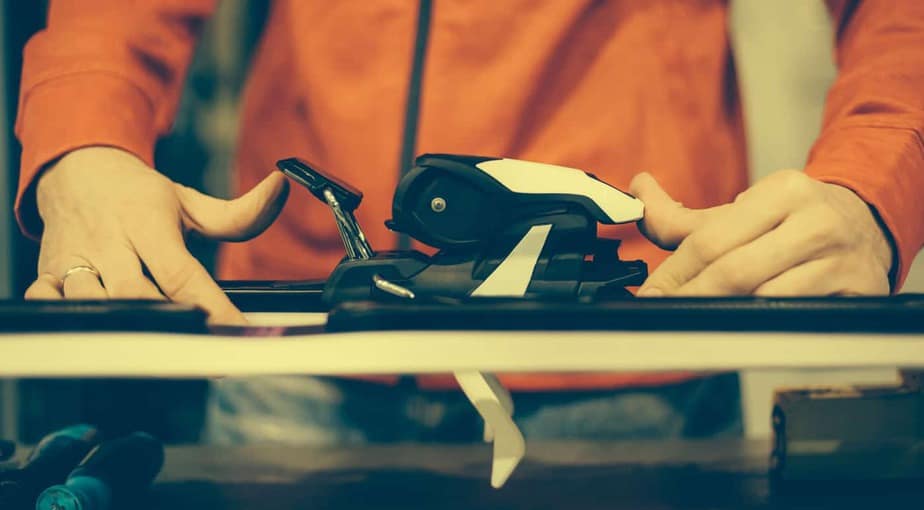 Adjustment begins with some "sole" searching.
Your sole is measured in millimeters and can be found on the outside of your boot, etched on the side of the shell near the heel. To be clear, your boot size (which may also be in millimeters) is not the same as your sole size.
Your boot size measures the inside of your boot, and is the same as the length of your foot. The sole size measures the external sole of your boot (not your foot!).
Once you know your sole size, you can adjust the bindings to fit your boot securely. To do this, you will need to loosen the binding.
Older models may require a screwdriver to loosen the binding. Once loosened, it can slide back and forth along a track. This track will include a "ruler" (in millimeters) that you should match to your sole size.
Newer models can come loose with a lever or button. Once loosened, eye the "ruler" (measured in millimeters) on the track and adjust it to your sole size. Once this is done, secure the binding—again, this may require a screwdriver.
Bindings are complex and made of many pieces. You will need to adjust both the heel piece and toe piece to your sole size. Each will have its own "ruler." Always do the toe piece first and the heel piece last.
Summary: Loosen the toe piece, slide it to your sole size, and then re-secure it. Repeat the same steps for the heel piece.
Step 3. Insert your boot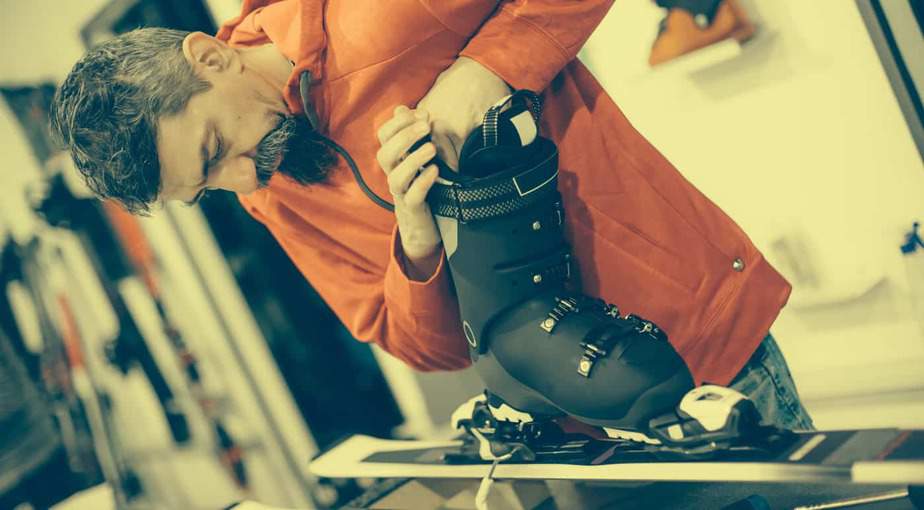 After making all these adjustments, slowly secure your boot into the ski binding as you normally would.
Insert the toe of the boot into the toe "cup" of the binding first and then lock the heel into place.
This is the moment of truth. Give it a shake.
Does it feel loose? If so, take it out and double-check your measurements.
Step 4. Adjust the forward pressure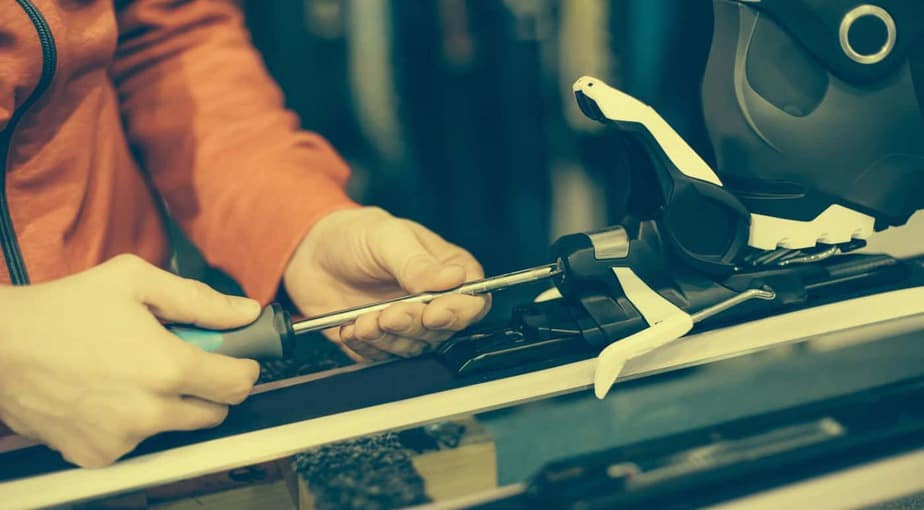 The forward pressure setting determines how close your ski bindings are to your feet. If the forward pressure is too loose, your boot will pop out before you want it to.
To start, find the screw that adjusts forward pressure, located in the heel piece of the binding. Usually, it is below the screw that adjusts the DIN. Once you find it, unscrew it as far as it will go.
Next, you will need your ski boot. Insert the toe of your ski boot into the toe "cup" of the binding, but don't lock in the heel. Just let it rest on the "stirrup" of the heel piece.
Once this is done, slowly start to tighten the forward pressure screw. This will move the heel piece closer to your boot. Keep going until you meet resistance against the heel of the boot.
Next, lock the heel of your boot into the heel piece and tighten that screw a bit more. How much you should tighten the forward pressure screw varies, depending on the brand.
Summary: For most ski bindings, you will need to tighten it at least two more "clicks" (you will hear them). Once this is done, remove the boot and re-seat it again. Repeat the shake test.
Step 5. Adjust the DIN setting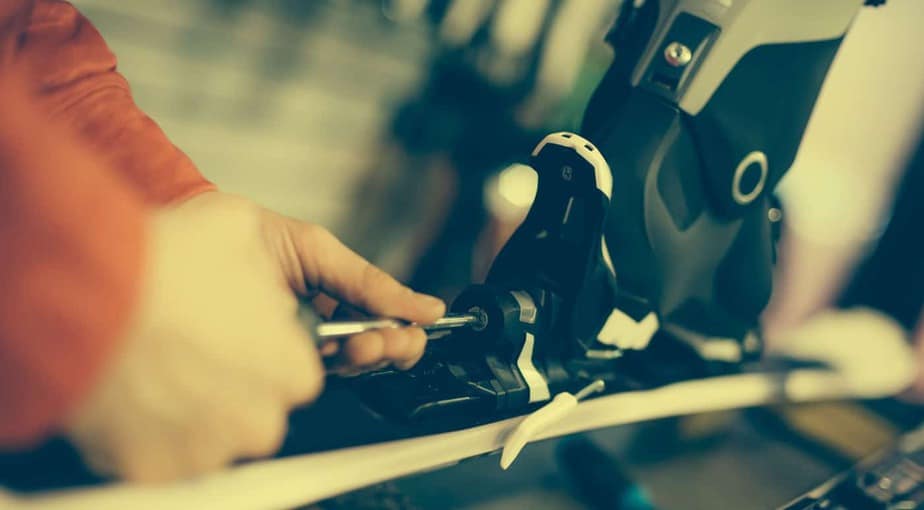 Now is the time to adjust the DIN setting. As we said before, the DIN is the amount of force required to trigger a mechanism in the binding that releases its hold on the ski boot.
Every skier has a personal DIN and it may change over time and from brand to brand. This number is calculated by factoring your weight, height, age, boot length, and skier ability.
We strongly discourage you from attempting to calculate your own DIN.
Consult a technician. To calculate an accurate DIN, your technician will need the following personal information:
Gender
Age
Height
Skill level
Weight
Boot size
Our Recommendation: Bring your ski bindings and ski boot with you to the sports store and have the professionals do your first adjustment.
Ready to Adjust Your Own Ski Bindings?
Skiing is one of the most liberating and thrilling sports on the planet. But it has a reputation for being extremely dangerous.
While this fear was merited in its early years, skiing has become much less prone to injury thanks to recent advances.
While adjusting your bindings might seem like a chore, it's a basic skill for any ski owner. And the more you hit the slopes (or the more you want to do so), the more important it is to learn how to adjust your own ski bindings. You will save money while familiarizing yourself with your equipment.
Conclusion: By optimally adjusting your ski bindings, you will increase its performance, boost speed, and prevent injury. So take it from us: Adjust well and regularly. And who knows? You might even find it fun, eventually.

Blake Adams
Blake Adams is a widely published educator, journalist, and copywriter. He lives with his wife and cat in...*throws dart at a map*...Elburn, IL.