If you're extra anxious to hit the trail, we'll get to the point: RAVE's pick for best overall waterproof hiking boot is Merrell's Moab 2.
You just can't find the same balance of weight, price, and durability in a hiking boot that will also keep your feet dry and comfortable in all sorts of terrain. If you pick the Moab 2 boots for your next hiking trip, your feet will stay dry and comfortable the entire time.
You're an all-terrain junkie. You love it all, and you hike it all—from high desert to wet, forested trails. You'll even ford a stream, just to get to the other side. You won't let a little water stand in your way.
But you don't actually have webbed feet. So you need a reliable pair of waterproof hiking boots to keep your feet dry, comfortable, and operating at peak hiking performance.
Besides being waterproof, what else should you look for in your next pair of hiking boots? RAVE Reviews is here to answer that question—and a whole lot more.
Pick a pair of the best waterproof hiking boots from our list, and you'll be on the trail (with dry feet!) in no time.
The Waterproof Hiking Boots We RAVE About
Best Overall Waterproof Hiking Boot: Merrell Moab 2
RAVE Review's pick for best overall waterproof hiking boot is the Moab 2 from Merrell. From uppers to outsole, the Moab 2 is a lightweight choice for a waterproof hiking boot. Affordable, while sacrificing none of the durability you need on your next wilderness adventure.
Read Full Review
Shop Merrell Moab 2
RAVE Review's pick for best new brand of waterproof hiking boots is the Duck, a sneakerboot from Forsake. The durable boots have "peak-to-pavement" versatility, while remaining rugged enough to keep your feet dry on the trail. They're also very light, and they look great, too!
Read Full Review
Shop Forsake Duck
Best Waterproof Hiking Boot for Women: Keen Targhee III
For women on the trail, RAVE's pick for best waterproof hiking boot for women is the Targhee III from Keen. The Targhee III is durable, lightweight, affordable, and specially contoured to fit women's feet, while also keeping them, warm and dry over whatever terrain you find yourself traversing.
Read Full Review
Shop Keen Targhee III
How Should Waterproof Hiking Boots Fit?
Even if a pair of hiking boots are as watertight as a duck in a swimming pool, they won't do you much good if they don't fit right.
So here are some pointers for getting a good fit from your next pair of waterproof hiking boots.
Know your size
Before buying a new pair of waterproof hiking boots, be sure to know your foot's width and length. In addition, find out your arch length.
Foot volume is also a good thing to know. Some hiking boot retailers even offer the service of assessing your foot volume.
Try your boots on at the end of the day
Your feet swell over the course of the day. Remember, orthotics will impact the fit of the boot, and it's a good idea to try on a boot with the kind of socks you'll be wearing while hiking.
IMPORTANT: Be sure to let a retailer know any special preferences you have in the fit of your shoes, or if you have any issues with your feet.
And if you're buying online, try to stick with a brand you're familiar with and that you've gotten a good fit from in the past.
Break your new boots in
You can't, of course, take your boots outside before you purchase them. So instead, search for some variable terrain within the store. Go up and down stairs, find an incline, vary your pace, do some jumping jacks, try a jog.
After buying a pair of the best waterproof hiking boots, and before taking them out on the trail, be sure to take them for a spin around the block.
After doing so, if you're still having issues with the fit of your hiking boots, consider changing how you tie the laces (it can make a difference!) or look into an aftermarket insole.
Even if your boots fit well, making these minor adjustments can help your boots fit—and feel—even better!
In the end, when trying on hiking boots keep this simple rule in mind: A hiking boot should be snug, but never tight, and still allow you to wiggle your toes.
How Much Should Waterproof Hiking Boots Weigh?
Next to fit, the weight of your hiking boots might be the most important consideration—you don't want to be out there on the trail feeling like your feet are stuck in cement.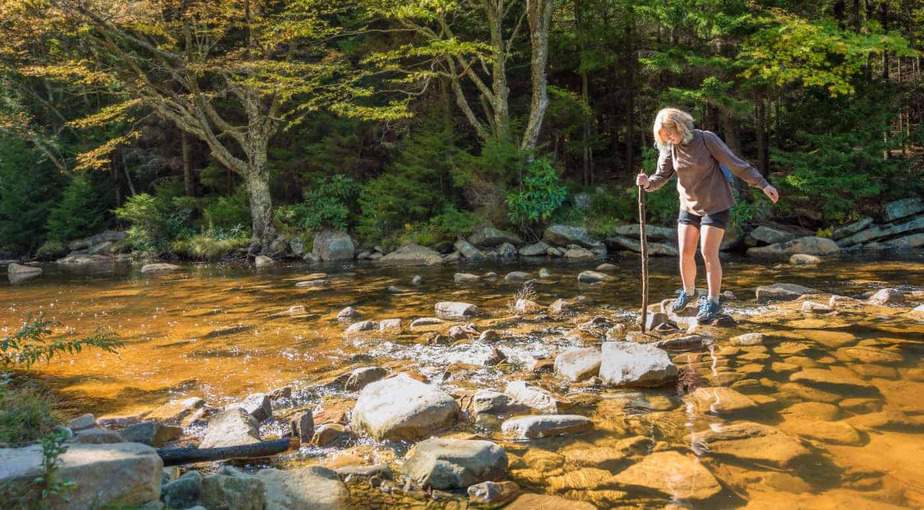 Did you know that weight carried on your feet burns up to six times as much energy as weight carried on your back? Yep, it's true.
Managing the weight on your feet helps prevent stumbles, lessens muscle fatigue, and even helps prevent knee and hip flexor issues.
Don't forget: If you're going to be hiking in wet conditions for multiple days, your boots will get heavier the more they get soaked in water.
So if you're planning to be out in the wet for a while, bring some lightweight trail runners to change out of once you reach camp. And don't forget some camp socks to wear while you dry out and warm up your tootsies by the campfire.
As well as weight, it's also very important to consider traction in your boot-buying decision. Will you be hiking in mud, or on gravel? Will you be traversing well-maintained trails, or will there be a risk of encountering a washed-out section of trail?
Appropriate traction will help you find your way, while also helping prevent slips and even injuries.
In addition to traction, ankle support, durability, and breathability are also important to keep in mind when buying a new pair of waterproof hiking boots.
And on top of all that, there is, of course, price—good waterproof hiking boots aren't cheap!
But perhaps the most important thing to remember when shopping for the best waterproof hiking boots, is that even the best waterproof boots won't stay waterproof forever.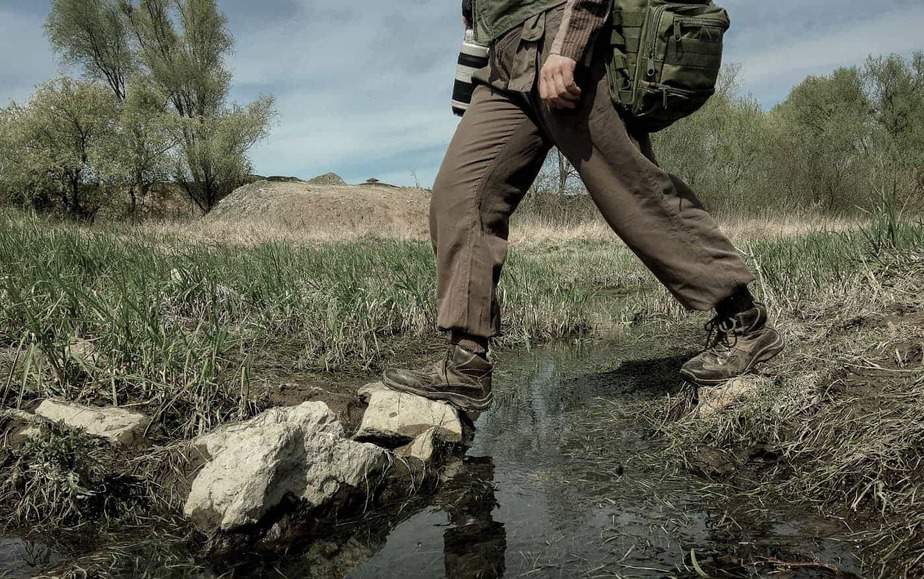 Even the best waterproof hiking boot can't completely prevent rain and sweat from collecting around your feet.
And If you're standing in water all day (we're not sure why you'd do this, but to each their own) your feet are going to get more than a little bit wet, and it will take a while for your boots to dry out.
Nevertheless, a good pair of waterproof hiking boots go a long way to keep your feet warm, dry, and comfortable while out on the trail.
And, like you, we're eager to get out there! So coming up next is RAVE Reviews' ranking of the 10 best waterproof hiking boots.
Methodology
When researching this list, RAVE Reviews took into consideration similar lists from websites like Cleverhiker.com, REI.com, and Switchbacktravel.com, as well consulting the opinion of hiking and footwear industry professionals.
We ranked the books on the following:
Price

Outsole Material

Weight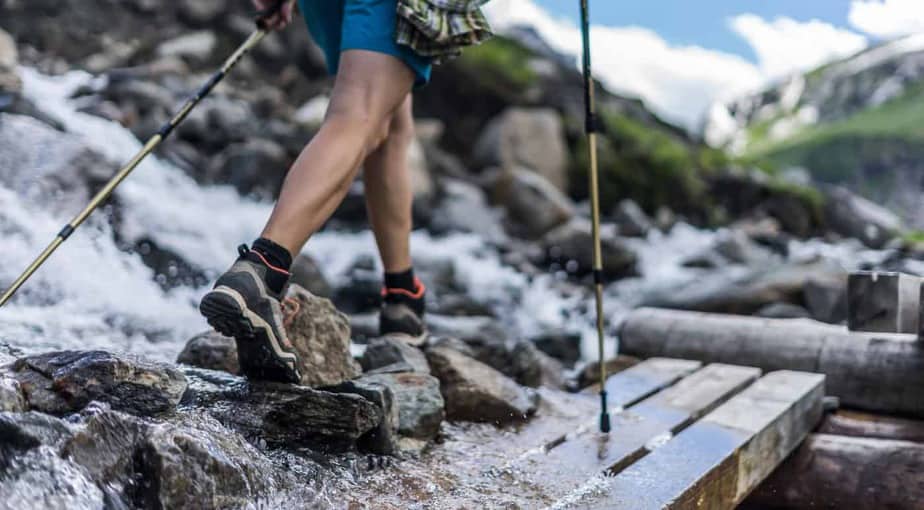 Being located in the Pacific Northwest, we love to get outdoors—and we understand the importance of waterproof footwear. So read on for our ranking of the best waterproof hiking boots.
The Best Waterproof Hiking Boots
Still having trouble choosing the best pair of waterproof hiking boots for you? What else do you need to know? Check out these frequently asked questions from new hiking boot parents.
How Do You Tie Laces on Waterproof Hiking Boots?
If your new waterproof hiking boots feel uncomfortable, try changing up your lacing game. Here are some options worth trying:
Surgeon's Knot
If your heel is slipping, try the surgeon's knot:
Pull on the laces to remove all the slack. Make the boot as tight as possible over the top of your foot.

Find the lace hooks closest to the point where the top of your foot begins to flex forward.

Wrap the laces around each other 2 times. Pull them tight. Lock the knot's tension by running the lace directly up to the next hook.

Find the next set of lace hooks, repeat Step 3.

Finish lacing boots like normal.
Window Lacing
To relieve pressure on the top of your feet, try window lacing:
Identify pressure point, and then unlace the boot down to that point.

Re-lace straight up to the next hook, then cross laces over.

Finish lacing the rest of your boot normally.
Tip: for a snugger hold, tie a surgeon's knot at the lower and upper end of your window lacing.
Toe-relief Lacing
To help with toe-box pressure, try this:
Unlace boot completely.

Lace it back, skipping the first set of hooks, opening up the toe box and relieving some pressure on your toes.
Do I Need Waterproof Hiking Boots?
Hiking boots in general, and waterproof hiking boots in particular, aren't cheap. Even if you're a pretty avid hiker, how do you know a good pair of waterproof hiking boots will be a good investment for you?
The best way to answer this question is to first consider how you like to hike.
If you frequently take multi-day or overnight excursions in cold or damp weather, you could use a good pair of waterproof hiking boots.

Do you typically hike during the day, in warm or dry climates? If so, save some money on waterproof hiking boots.

Do you like to dash through streams or occasionally splash in a puddle—even in otherwise dry terrain?

If so,  consider a quick drying and lightweight hiking shoe instead of a thick hiking boot.
If you you are not hiking at all, but looking to wade or stand in water for a prolonged amount of time, skip hiking boots altogether, and get yourself some rubber boots instead. Be careful though, because while rubber boots will keep your feet dry, they're not very comfortable to walk in for prolonged distances.
When shopping for the best waterproof hiking boot, look for a GORE-TEX membrane. A GORE-TEX membrane helps protect your feet from wetness, while allowing perspiration to pass through.
What Is the Best Type of Hiking Boot?
Backpacking boots, hiking boots, or hiking shoes—what's right for you? The answer depends a lot on how you like to hike.
Hiking shoes are perfectly appropriate for a few hours spent strolling on well-manicured (and flat!) park trails.
If you're going to be hiking all day, up and down hills, or on rough terrain, do your ankles and knees a favor and get yourself some hiking boots.
A good hiking boot will provide solid ankle support, be waterproof, weigh less than about 3 lbs, and have good traction.
Hiking boots are more than enough for day trips.
Backpacking boots are a little like a beefy hiking boot. Heavier and more durable than a hiking boot, with reinforced ankle support, backpacking boots are appropriate for overnight backpacking trips or if you'll be carrying a backpack weighing 50 lbs or more.
Backpacking boots are usually made of leather, with a thicker sole than hiking boots. They can weight up to 6 lbs.
Do you do a mix of overnight backpacking trips and day hikes? Consider a backpacking boot. If you strictly take day trips, a backpacking boot will be overkill for your purposes. So save yourself some money in that case, and stick with a hiking boot.
What Are the Best Waterproof Hiking Boots?
You're in a hurry to hit the trail. So let's not waste any more time and get to the point.
Here's everything you need to know about the best of the best waterproof hiking boots:  
RAVE's pick for the best overall waterproof hiking boot is the Moab 2 Mid Ventilator from Merrell. Durable and versatile, the Moab 2 is a comfortable hiking boot for all sorts of terrain and all sorts of hikers.
If you're looking to support a relatively new brand in the world of waterproof hiking boots, you won't do much better than the Duck, a waterproof "sneakerboot" made by Forsake.
Forsake has only been in the business of making quality footwear since 2012. Waterproof, durable, breathable, and insanely lightweight, the Duck has the best of both worlds—combining the comfort of a sneaker with the strength of a boot.
For a boot customized for the feet of women on the trail, RAVE says go for the Keen Targhee III, which is durable and breathable, with unmatched traction no matter what sort of trail you find yourself on.
RAVE Recommends
Now that you've picked out the best waterproof hiking boots, take your boots to the next level with these great hiking boot accessories.