After testing these shoes in as many situations as our creative minds could think of, the clear winner came from a classic company.
Nostalgic and reminiscent of childhood, the Speedo Surfwalker 3.0 truly shines.
You may not think you need water shoes, but if you plan on being around the deep blue for extended periods of time or like to hike in a region with tumultuous rainfall, you really do. To help you find the best shoes for your location and needs, we strapped (or slipped) on all of the top-level water shoes out there, selecting only ones Aquaman would be proud to wear. Sorry Superman, not your territory.
You can use water shoes for multiple reasons, such as hiking, boating, swimming, or going to the beach. We ranked shoes that we feel are best suited for each of these activities. Here at RAVE Reviews, we got you. Rest assured that the hard work is already done.
We not only came up with the 10 best water shoes out there, we also came up with honorable mentions to cover all the bases. Better to have lots of options than none at all, right?
The Water Shoes We RAVE About
Have you ever wanted to start a new hobby taking on the outdoors? You need a good shoe for it. The Merrell Capra Rapid offers the flexibility, support, and grip you need to navigate various terrains in unpredictable weather.
Read Full Review
Shop Merrell Capra Rapid
Wearing our best overall winner feels like walking on water, with a high level of comfort and breathability. The Speedo Surfwalker 3.0 checks all the boxes for a high-quality water shoe.
Read Full Review
Shop Speedo Surfwalker 3.0
If you are planning a trip to the beach, thinking of going kayaking along the river, or swimming in a lake, water shoes will come in handy. Get your sneakers wet while you try cliff diving, and swimming back up will feel like army training. In an effort to provide you with a lighter, more practical, and comfortable option, we scouted the best water shoes on the market to cover a variety of needs.
But first, what are water shoes? They are footwear designed to provide a safe experience in rough terrains by the water. Cutting your foot on rocks can ruin your trip to the lake, river, or beach. Water shoes are here to provide the traction and support you need to move along such areas safely. 
It doesn't stop there: Anybody who makes the mistake of going in the water with running shoes knows they absorb water like a sponge. Not only that, but wet running shoes take forever to dry and can have a lingering smell that puts skunks to shame. It will be there for weeks, and all your friends will remind you every time they smell it.
So what exactly do water shoes offer?
Quick drying and lightweight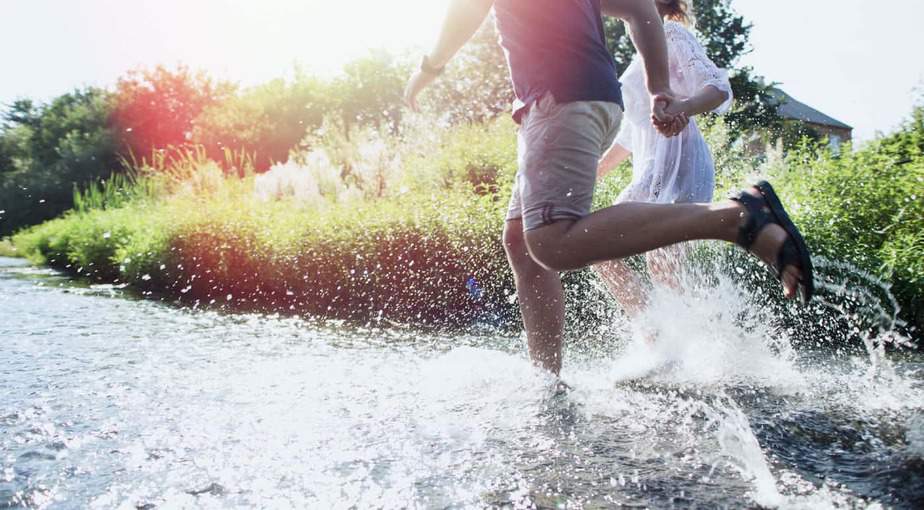 Water shoes are designed to be lightweight and quick drying, so you can swim but also take comfort knowing your car will smell fine on the way home. You can wear water shoes both underwater and on dry land, so they're far better equipped than your standard running shoe.
Water shoes feature siped outsoles to assist moving water out of the shoe, adding traction with the same method you would find on your car tires. A standard shoe just absorbs water, which can give you blisters and create a squishy sound reminiscent of a '70s waterbed.
Warm and comfy
A quality water shoe, rather than a knockoff you buy from a questionable salesperson on the street, has well-ventilated material and many drainage points. Water shoes are also designed to be flexible, made with a mesh material for maximum breathability to keep your feet at an ideal temperature.
With better insulation than standard shoes, water shoes keep your feet warm and cozy in cold waters. Since your feet are key temperature regulators, wearing insulated water shoes help keep the rest of your body warm, improving blood circulation and potentially your safety while you swim.
If you don't plan on swimming the entire time you wear your shoes, search for a pair with better heel cushioning. They work well for other activities such as boating, sailing, and channeling your inner Jack Sparrow.
Protection for your feet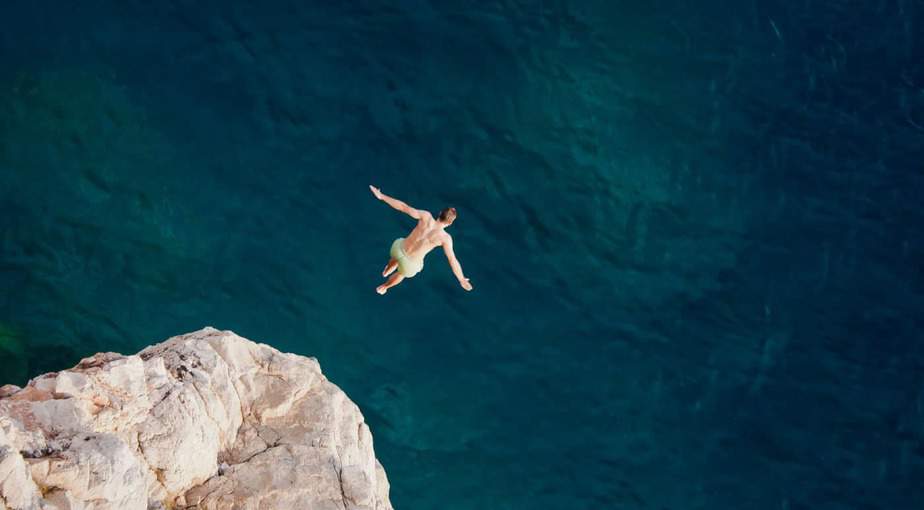 Going to beaches, rock climbing, and cliff jumping can potentially lead to accidents. To spare you a trip to the hospital and avoid endless tears, invest in a good pair of water shoes.
Wearing a pair of closed water shoes protects your feet from any glass, shells, or rocks you or your child may encounter while you swim in the water and enjoy the surrounding areas.
What are they good for?
There is a wide variety of water shoes today, with various designs that allow for just about any situation, such as:
Fishing

Hiking muddy and wet trails

Tubing

Boating

Water sports

Swimming
Designed with enough grip to handle wet and uneven surfaces, durability to stand up to long days on your feet, and lightness to improve performance, a good pair of water shoes can stand up to any activity near water.
Methodology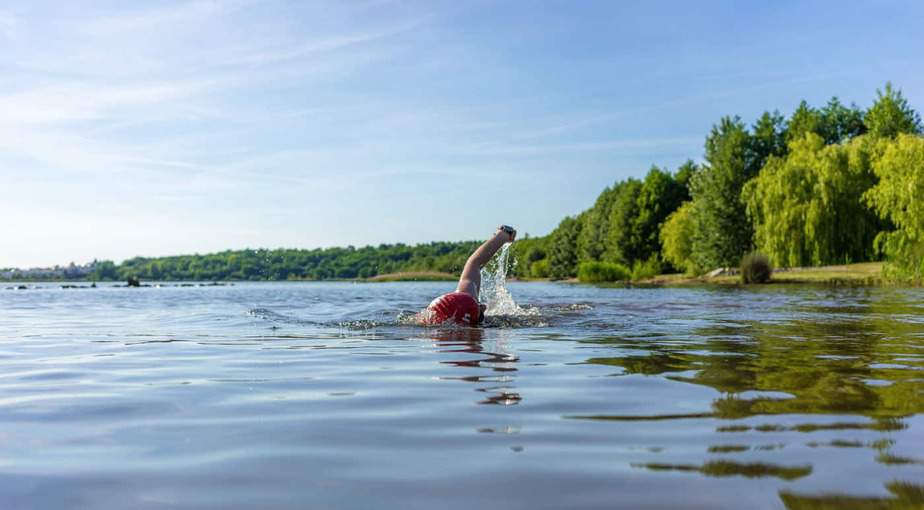 There is more to water shoes than meets the eye, or in this case, the water. They have to keep your feet cozy, provide a nice grip for various terrains, and not soak up water and drown you as you swim. We based our ranking of the 10 best water shoes on the following criteria:
Versatility:

Good water shoes can be used for multiple things, ranging from boating and scuba diving to hiking and surfing. The more versatile, the better.

Outsole:

Even though you might wish for your shoes to fit snugly like a pair of winter socks, you still need a firm outsole. A thicker sole with sufficient grip points and water drainage is priceless if you find yourself hiking through rough and wet areas. But, if you plan to spend most of your time on water, flexibility is more important. We looked for water shoes with both types of soles.

Insole:

Surprisingly, water shoes are not designed to be waterproof. Instead, they are made to allow water in and release the excess. The most effective water shoe insoles are flexible, breathable, and cushioned. We scored shoes with all of these features higher.

Material:

Typically, water shoes are made of neoprene or a synthetic mesh, which is ideal for activities such as hiking, boating, swimming, the beach, and paddle sports. In our ranking, we included water shoes made from a variety of materials to cover a wide range of activities.

Durability:

Water shoes are designed to withstand wipeouts while surfing and slide outs while hiking. We're not quite sure how they handle shark attacks though, and not willing to get that information for you either. We looked for shoes that are durable enough to last you a long time.

Comfort:

You don't want water shoes that feel like you're walking on pins and needles –– they should be comfortable whether they're wet or dry. We considered shoes made of comfortable materials, with features such as rubber outsoles, heel padding, and tabs to pull them on and off easily.

Breathability:

As water shoes are usually made with mesh, your feet will feel great both in and out of the water. The shoes in our ranking will keep your feet cool and dry this summer.

Size:

Keep it snug as a bug. Not only is having the right fit safer, but it helps prevent chafing as well, which is as nasty as it sounds. Most shoe manufacturers produce the standard sizes, but some offer wide and slim sizes as well. The more custom the fit, the better. 
The Best Water Shoes
When do I need water shoes?
Actually, you can wear water shoes on basically any outdoor adventure. With various designs and materials, you can use them both on dry land and in the water. Since they're lightweight and breathable, water shoes can provide you with comfort in just about any activity.
Check and see which shoe best suits the activities you do most often. For example, if you're going to be in the mountains, get a water shoe designed for hiking, rather than one for the beach or surfing. Like anything else, make sure you know what limitations the shoe may have before you buy.
A common misconception is that water shoes are just used for leisurely activity. They are actually quite durable, and many athletes use them for watersports and other activities such as water polo, windsurfing, tubing, and beach running. So, test them to their limit.
However, mesh doesn't work in cold weather, and water shoes don't provide much insulation against the cold wind. Consider wearing regular sneakers instead of water shoes in the winter.
Will my feet get wet wearing water shoes?
Water shoes are designed specifically for wet situations, but your feet won't stay completely dry once they are exposed to water. The shoes are meant to be water-resistant, not completely waterproof. Overall, water shoes are made with mesh, which is light and breathable. Full waterproof clothing is made of dense materials, like rubber.
How wet your feet get depends on what you do and the type of shoe you own. For example, you won't encounter nearly as much water when you're hiking as you would surfing. The shoes designed for those activities have different levels of absorption.
Ultimately, how quickly water shoes dry is what matters most. Your standard shoe requires days to become completely dry again, not to mention there will be a lingering odor that isn't easy to get rid of.
Water shoes dry considerably quicker and smell much fresher, so you won't have to spend hours spraying them with freshener and trying every old school trick your mom recommends. Instead, you'll feel confident wearing them again the next day.
How long do water shoes last?
Like any shoe, there will be wear and tear. How you use them determines how well they hold up over time. A pair of water shoes that's left untreated won't age as well as a pair that receives constant TLC.
To keep your water shoes in good shape, dry them in an area that receives a lot of fresh air, and remove the soles. Never put them in the dryer, but water shoes are typically machine-washable.
If you hike regularly, water shoes typically last about six months, so it is wise to always have a second pair. If you mostly wear your water shoes on the beach, it's slightly more difficult to determine how long they last. 
For example, if you only visit the water on family trips or social gatherings, they can last for years. But, if you use them multiple times a week throughout spring and summer, buy at least one pair per year.
What types of water shoes are there?
There are four main types of water shoes: classic, wet shoes that do well in rain, boat shoes, and water sandals. Each has their own specialty.
Boat shoes are best for boating and not much else. With less traction than other types, they aren't particularly good for walking along a slippery shore. Essentially, they are quick-drying moccasins with traction. If you plan on rafting or kayaking, it's best to leave them at home.
Water sandals are ideal for summer activities that don't require much physical effort. Some people claim they're more comfortable than water shoes, but they sacrifice protection for your feet. Ultimately, whether or not you buy water sandals depends on if you plan on swimming at the beach.
Classic water shoes come in many different styles to suit just about anyone. They are especially beneficial for hikers and canoeists, since classic water shoes provide more protection than other types.
With enough insulation to handle colder weather, wet shoes work well in the winter. Designed to be used on the water, wet shoes are beneficial for sea and lake kayakers, but their thin soles make walking along boats and rough terrains painful.
What are the best water shoes?
The Speedo Surfwalker 3.0 is the best on the market, especially for swimming. Fashionable, lightweight, and versatile with excellent traction and protection, these shoes can be worn all day at the beach. With the no-slip S-TRAC design, you will feel confident walking on slippery rocks along the water. Speedo has been making shoes for decades, and their reputation and quality truly shine with this shoe.