When it comes to defending your electrical equipment (and your wallet) from surges, you want the best surge protector you can find.
That's why we recommend the Tripp Lite 12-Outlet Surge Protector. Not only is the joule rating high enough for standard home or office use (2160 volts), but it boasts 12 AC outlets, four transformer spaces, an auto-shutoff feature, and a lifetime warranty!
A surge protector is a relatively inexpensive thing that could save your electrical equipment — phones, laptops, speakers, theater systems, etc. — from getting fried in the event of a power surge or spike. No matter where you live, surges are common and sudden, and too many homes and offices are unprotected.
Whether you're looking for a surge protector for your home, office, theater system, or traveling band, there's something in this list for you. Different models serve different needs, so be sure to review the entire list and put your money where it counts most.
There are many types of surge protectors. For the sake of brevity and anticipating the needs of our readers, we have eliminated wall-mount or "whole house" surge protectors that need to be installed permanently into your workspace. Each product in this list is a "power strip" surge protector, meaning it has a lengthy power cord and designed to be positioned close to equipment. The only exception is item number 10, because we thought a travel-ready protector deserved to be mentioned.
The Surge Protectors We RAVE About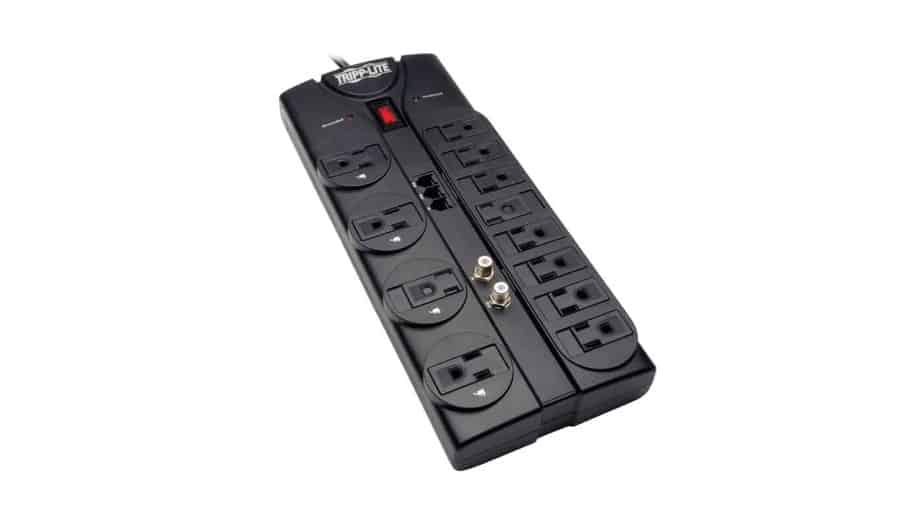 Best Overall
Tripp Lite 12-Outlet Surge Protector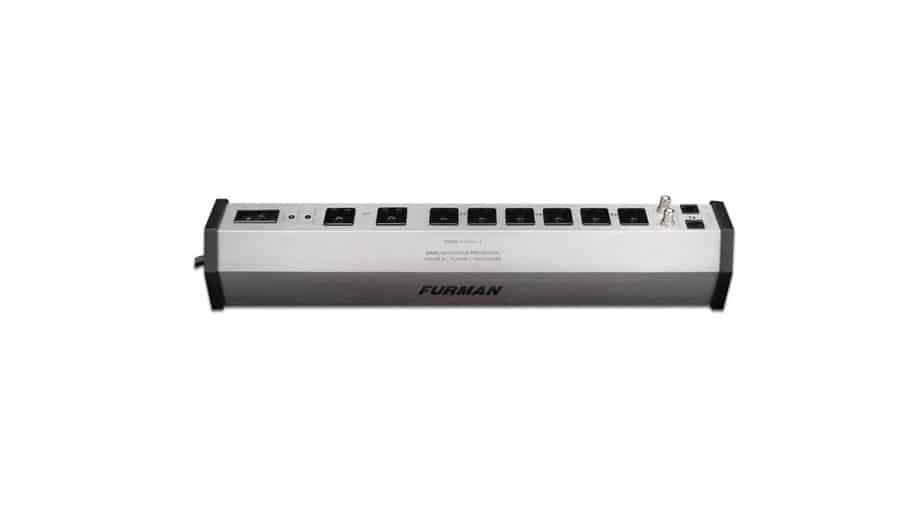 Best Protection
Furman Power Conditioner PST-8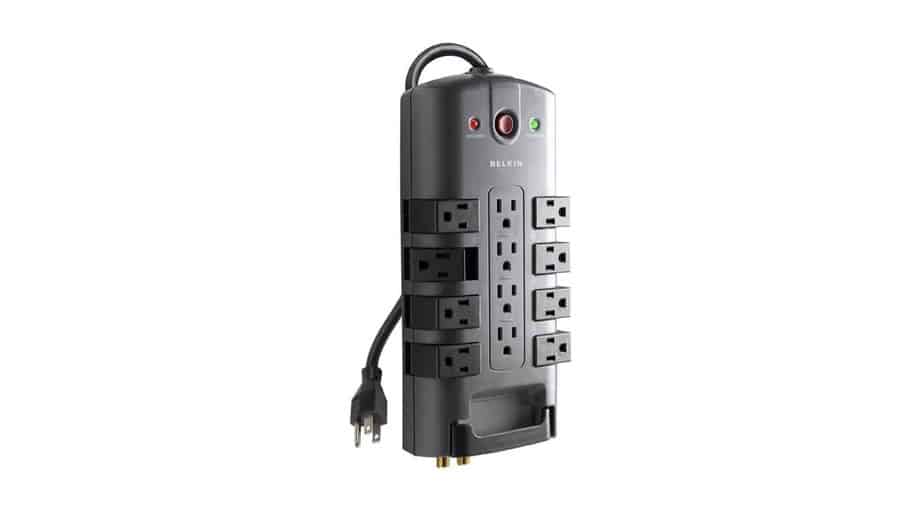 Most Versatile
Belkin PivotPlug 12-Outlet Surge Protector
We all rely on electronic equipment. Your livelihood and social life depend a great deal on a functioning computer and mobile phone — to say nothing of everything else we plug into AC outlets.
In short, these things are too valuable to leave unprotected.
We usually don't worry about plugging in a laptop. However, sudden surges or spikes in regular voltage flow can damage your electrical equipment beyond repair. The causes of surges are various: lightning, damaged power lines, or just shutting off the air-conditioning unit.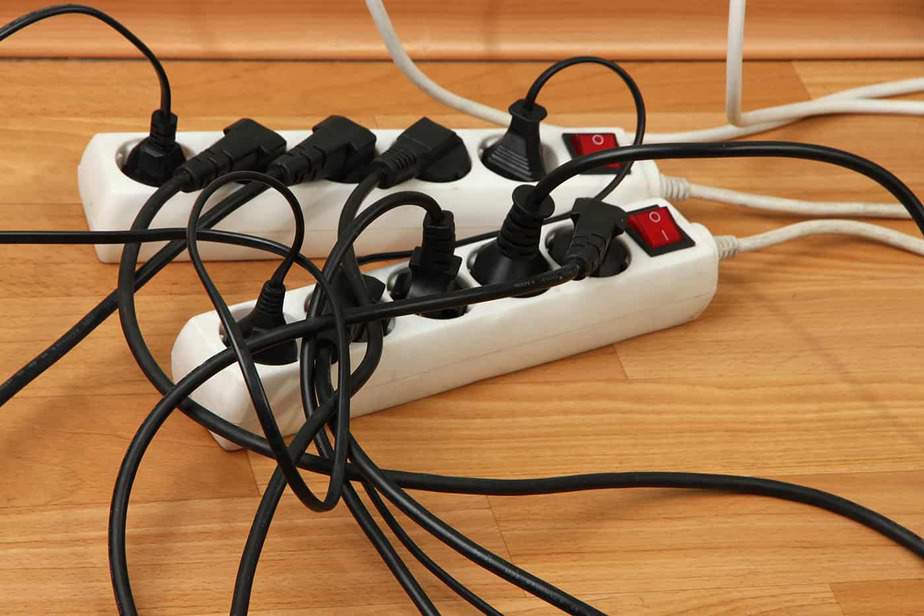 Surges and spikes are more common than you think, and they can happen anywhere, anytime, unannounced.
A surge protector is an inexpensive device that could (potentially) save you thousands of dollars in damages. That's why we put together this ultimate buyer's guide.
How a Surge Protector Protects Your Electrical Equipment
Think of a surge protector as your iPhone's sacrificial friend — it dives into the path of the proverbial lightning bolt-shaped bullet.
The standard wall outlet (in the US) is 110 volts. A surge occurs when the voltage dramatically exceeds that threshold, for whatever reason, potentially frying any hardware or A/V system you have plugged in at the time.
A surge protector absorbs the excess voltage (like a fuse) and redirects it, sacrificing itself for your electronics. Also like a fuse, every surge protector has a limit on how much voltage it can absorb.
Just as there are surge protectors that act like fuses, there are also ones that act like circuit breakers. A built-in circuit breaker, instead of absorbing excess voltage, stops the flow of electricity when a circuit is overloaded. Instead of being replaced, these higher-end surge protectors just need to be reset with the push of a button.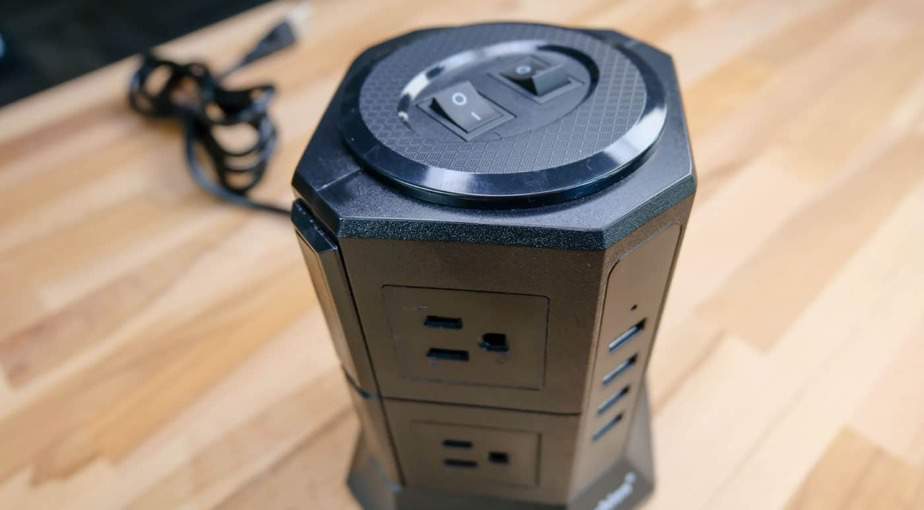 Every surge protector has a period of delay as it responds to a power surge. The response time indicates how quickly your surge protector can detect and then responds to an electrical spike, usually measured in nanoseconds. One nanosecond or less is ideal. Obviously, the faster the response time, the more protected your equipment.
When purchasing a surge protector, follow these guidelines to find the best one for your needs:
1. Take notice of the joule rating
Every surge protector has a limit on how much excess voltage it can absorb from a surge, which is indicated by the joule rating.
Think of the joule rating like a "health bar" for a character in a video game. Every time your surge protector is "hit," the joule rating goes down. Let's say your surge protector has 1,000 joules when you buy it. That means it can take 10 hits of 100 joules, or one big hit from 1,000 joules. The higher the joule rating, the better the protection.
Most surge protectors do not have a method of indicating how many joules remain. However, every surge protector notifies you when the joule rating is down to zero. Sometimes, an alarm sounds, but usually an LED light indicates "Protected." If that light is off, you need a new surge protector, so make sure yours is visible and not hidden behind furniture.
2. Pay attention to the UL VPR (Underwriters Laboratories Voltage Protection Rating)
The UL VPR indicates the "clamping voltage," which is the highest voltage the surge protector will allow through to your devices before it "clamps" down and restricts additional voltage. The lower the rating, the better the protection.
Most surge protectors "clamp" at 400 volts. The lowest available UL rating is 330 volts, and the highest is 900 volts. Any more than that, and the product cannot legally be sold on the market as a "surge protector." At that point, it offers so little protection it's basically just a power strip.
3. Research the warranty
There are two types of warranties: the first applies to the surge protector itself, and the second to what it is protecting.
If your surge protector has a lifetime warranty, that is a strong sign it has a built-in circuit breaker. Put a premium on that.
As for the other kind of warranty, just because a warranty exists doesn't mean you'll ever see a nickel of it. Still, it's a good idea to know the unit's insurance dollar max, how soon a claim needs to be filed, and whether the policy covers replacements for damaged equipment or just repairs.
4. Review the specs and features
You should always buy a surge protector with more outlets than you think you need. Inevitably, you will need them. Since surges can come over any wire, find out if your surge protector includes connectors for phone or cable lines. USB ports are also handy. You want as many devices protected as possible.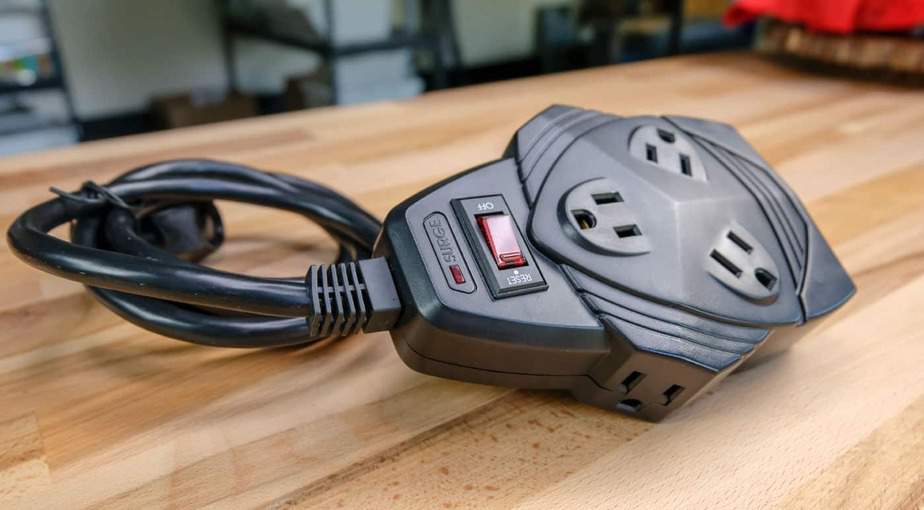 Methodology
Getting the right surge protector could be the difference between thousands of dollars of fried equipment and peace of mind during a lightning storm. Choosing the best one was not a task we took lightly.
Here's the criteria we considered when putting together this list:
Price: Does the quality of the product reflect the price tag?
Auto-shutoff feature: Will the surge protector automatically cut off power to outlets if triggered?
AC outlet count: How many outlets does the protector have?
Additional ports: In addition to outlets, does the surge protector have USB ports, phone ports, etc.?
UL surge rating: How low is the voltage protection rating (VPR)?
Joule rating: How high a voltage can the surge protector absorb?
Warranty: How long is the warranty? Is it automatic? Are there guarantees for losses?
Power cord length: How long is it?
Design: Does the layout allow for full use of ports and outlets? Is it aesthetically pleasing?
Added features: Does the surge protector include a back-up battery?
Best Surge Protectors
1
Tripp Lite 12-Outlet Surge Protector
Whether for home or office, the Tripp Lite is your best option. In tests, it performed as high as any other surge protector on the market. Not only does it prevent voltage from reaching its outlets and frying your devices, but it also has the highly desirable auto-shutoff feature; when it can no longer protect your devices, it simply cuts off all power flow. That way, your devices are not at risk.
At a fair price, the Tripp Lite is a sturdy piece of equipment boasting 12 AC outlets as well as four transformer spaces. There's more than enough room for all of your electronics! A green light indicates whether or not your devices are protected, so you know immediately if your surge protector is broken or needs to be replaced. Finally, with an 8-foot cord, you can access it from anywhere in the room.
Pros
Lifetime limited warranty
2160 joule rating
Auto-shutoff feature
2
Furman Power Conditioner PST-8
While the price tag may seem high, don't be fooled. The Furman Power Station 8 consistently outperforms units costing twice as much. It is the ideal surge protector for individuals with a home theater system or other high-end media equipment — or those who enjoy peace of mind. If you are protecting basic home or office equipment, it's overkill; a less expensive product will do the trick.
That said, the Furman guarantees protection better than anything else on this list. It has been known to shut down a 5,000 volt surge (which is far larger than you are likely to encounter) so that a mere 40 volts get through. That's barely enough to keep your monitor on! While the specs are a bit excessive, this product receives consistently high reviews. Few buy it and regret it. Additionally, it features an 8-foot cord and eight AC outlets.
Pros
Premium auto-shutoff feature
3-year warranty
UL 1449 compliant
3
Belkin PivotPlug 12-Outlet Surge Protector
An Amazon Top 15 bestseller, this heavy duty product by Belkin, a leader in this market, is the picture of power and versatility. Eight of its 12 outlets can rotate (or "pivot") 90 degrees. They can face upward, to the side, or anywhere in between — which is a saving grace for the occasional unwieldy AC adapter. Combine that with an 8-foot heavy duty cord and one in, two out RJ11 telephone/fax ports, and you have a surge protector that can be used at maximum capacity anywhere in the office.
This product lacks a circuit breaker/reset button combo, so it will continue to feed power to your devices even after it can no longer protect them. However, what it lacks in circuitry it makes up for in a towering joule count and a low clamping voltage. Basically, it protects your devices by absorbing the surge like a fuse, rather than cutting off power flow like a circuit breaker. It may be just what you need if you use a computer or other device that could lose data if shut off suddenly.
Pros
4320 joule rating
330V UL rating
Belkin lifetime warranty
4
APC Performance SurgeArrest 12 Outlet
Were it not for its higher price tag, the APC would have been our first choice. It's like the Tripp Lite on steroids with over twice the joule rating. The 12 outlets are laid out in two sets of six along each side of the surge protector. The spacing between these outlets varies, allowing room for chargers with broad faces. Two USB ports are also included, and a 6-foot cord lets you put it anywhere.
Not only that, but in tests, no surge protector performed better at "clamping" when its internal circuitry could no longer protect plugged in devices from surges. Its clamp threshold is perhaps the smallest out there, giving it the best response time. It also alerts you when it is no longer in commission by turning off the "Protected" LED light.
Pros
4320 joule rating
Lifetime warranty
Auto-shutoff feature
5
Fellowes Mighty 8 Surge Protector
With its compact, triangular shape, the Fellowes Mighty 8 is ideal for tight spaces, and it is possible to make full use of all eight AC outlets. The design combined with a 6-foot cord makes this protector particularly versatile. It can discreetly reach the smallest spaces in your home or office, and it is also a top choice for stage equipment and road trips!
The joule rating, while modest (1,300 volts), is adequate for standard home and office use. Other versions of the Fellowes Mighty 8 can be purchased with a higher joule rating. While the initial warranty only lasts a month, a Connected Equipment Warranty covering up to $50,000 of equipment is also available.
Pros
Ideal VPR (400V)
Auto-shutoff feature
Compact and versatile
Cons
Medium joule rating (1300V)
Only 30-day warranty
6
Kasa Smart WiFi Power Strip
That price tag might be a drawback for some, but by incorporating "smart" technology into this surge protector, TP-Link has created the ultimate product. Each of its six AC power outlets can be controlled individually through an app or, by connecting it to Amazon Echo or Google through voice commands. It's easy to set up, and once you do you can schedule when certain outlets are "live." You can even monitor how much energy each device consumes.
It's also an elegantly designed piece of tech. In addition to six outlets, it has three USB ports. The cord is about two feet long, which is a bit short; the wall outlet better be close to your desk. In tests, it performed pretty well, but there is no auto-off feature. It will continue to feed power to your devices even after it can no longer protect them. Also, the 500 volt UL rating is pretty high. While it's easy to find a better rating, with most modern hardware it might be all the protection you need.
Pros
Smart Wi-Fi technology
"Protected" indicator light
2-year warranty
Cons
Expensive
No auto-shutoff feature
7
Lanshion 8-Outlet Surge Protector
This beauty gets points just for design. The elegant tower shape makes it perfect for a center space, like a desk, for multiple devices. While the AC outlet count is only eight (as well as four USB ports), the design lets you make full use of them. The 6.5-foot cord is long enough for any home or office space, and it is available in both black and white. No wonder it ranks as an "Amazon's Choice" product!
The joule rating is 1,000 — not great, but sufficient for an office space. More importantly, it has an automatic shutoff feature, protecting your equipment. A light indicates whether or not the Lanshion is protecting your equipment, but the big selling point for this product is the design. It maximizes usability while taking up little space — plus, it looks great!
Pros
Excellent design
Auto-shutoff feature
Bestseller
Cons
Moderate joule rating (1000V)
Weak 12-month warranty
Small AC outlet count (eight)
This CyberPower product is more than a surge protector. Imagine: lightning has struck your house and all the lights go off. At the time, you were working on some important files. Now any data you didn't save is lost! The CyberPower goes the extra mile. In addition to protecting your devices from surges, it also provides a back-up battery so your devices stay on even after all other power goes out (for up to 120 minutes)!
The joule rating is low (526 Volts), but the UL rating is well within market requirements (400 volts). If you are in an area with frequent blackouts, this may just be the product you need. It features 12 AC outlets, a multi-function LCD panel, a 3-year warranty, a 5-foot power cord, and — get this — an ECO mode. When the product detects a computer is off or in sleep mode, it will automatically cut off power to the computer, reducing energy costs.
Pros
Back-up battery
3-year warranty
Auto power-off feature
Cons
Low Joule rating (526V)
Expensive
Large and bulky
9
BESTEK 6-Outlet Power Strip Surge Protector
The BESTEK is a power strip doing its best to be a surge protector. While it offers minimal protection, the price tag is difficult to ignore. The BESTEK even looks like a power strip: compact and rectangular in design, with six AC outlets and a heavy duty 6-foot power cord, it is available in either black or white.
The joule rating is quite low (200 volts) and the VPR quite high (900 volts). But that 18-month warranty is nothing to scoff at — it's much longer than most warranties. When you get down to it, it is definitely a step up from a power strip, and at nearly the same price!
Pros
Inexpensive
18-month warranty
Compact design
Cons
Low joule rating (200V)
High VPR (900V)
No auto-shutoff mechanism
10
Accell Home or Away Power Station
This list would be incomplete without our recommendation for the frequent traveler. To be clear, travel-sized products are guaranteed to be lower-performing. That's not a flaw so much as a characteristic. So it is with the Accell; this product is useful while traveling, but you should not use it like an everyday surge protector for home or office. The specs simply aren't high enough.
The Accell has a solid make so it can endure being bumped around inside a bag or backpack. Despite its small size and weight, it manages to offer three AC outlets and two USB ports. To be expected, the joule rating is low (612 volts), and while it conforms to UL standards, the VPR is high (900 volts). It has no cord and if you are traveling abroad, you will need to buy a converter to fit it into two-prong sockets. Though minimal, the Accell is inexpensive and offers your devices more protection than a power strip.
Pros
Inexpensive
Travel-ready
Solid
Cons
Low joule rating (612 volts)
High VPR (900 volts)
No auto-shutoff feature
What's the difference between a surge protector and a power strip?
While surge protectors and power strips resemble each other a great deal in appearance, they are wildly different pieces of equipment. They also both supply additional outlets, but the similarities end there.
At its core, the average power strip is an extension cord for a wall outlet. It may supply extra outlets, but it doesn't offer any real protection from power surges. Some power strips have a circuit breaker of some type, but it typically offers no more practical protection for your plugged-in devices than a wall outlet.
Surge protectors offer higher levels of protection against electrical spikes, effectively putting up a shield between your devices and the wall outlet. However, how much protection is guaranteed and how effectively it performs varies considerably.
If you aren't sure whether a product is a surge protector, make sure it says "Surge Suppressor" somewhere on the packaging. Power cords are also generally less expensive than surge protectors.
I own a power conditioner. Do I need a surge protector, too?
The short answer is: Maybe.
A power conditioner claims to clean up noisy interference, moderate voltage fluctuations, and suppress electrical surges. Though marketing claims these features extend the lifespan of your devices, here is a dirty secret: your device already does most of these things.
In the United States, the standard power flow from a wall current is 110 volts. All electronics have a power supply designed to receive that current, filter out noisy interferences, and convert it into whatever the device needs. It might be surprising, but no device is supposed to use all 110 volts.
The only reason you would need a power conditioner is if you had cheap devices or bizarrely inadequate power currents.
However, a power conditioner claims to do some of the same things that a surge protector does. The question then is whether or not it does a better job than a surge protector. A surge protector, at the very least, has one job which it tries to do well: it will offer more protection from electrical surges than your average power conditioner.
What is a joule, anyway?
A joule is a unit for measuring energy. The simpler answer is one watt is a flow of one joule per second. So switching on your average 15 watt light bulb for one second transfers 15 joules of energy, two seconds transfer 30 joules, three seconds, 45 joules, etc. Watts measure the rate energy transfers (power), but joules measure the actual energy.
Surge protectors are measured in joules. The higher the joule rating, the more energy it can absorb over time. There are many differences between surges and spikes, such as cause, voltage, and duration. Joules offer protection from both.
A surge is typically the result of a sudden change in demand for electricity. For example, if you have an air-conditioning unit or furnace that draws a lot of energy, flipping it on or off suddenly can create a surge in a portion of the house or office. A spike is more dramatic, resulting from things like lightning strikes or damaged power lines. As might be expected, a surge carries a low voltage but can last several seconds. A spike carries high voltage but only lasts a moment.
Either a surge or a spike can damage electronic equipment beyond repair. Of the two, surges are far more common and most surge protectors are equipped to handle them. Not all surge protectors offer protection from spikes. Those that do have a high joule rating and include a built-in circuit breaker.
The best way to know if your surge protector offers protection from spikes is to look at the warranty. Surge protectors that come with a lifetime warranty typically feature circuit breakers.
What is a Voltage Protection Rating (VPR)?
The Voltage Protection Rating (VPR) is another key metric for estimating the level of protection the product can offer. However, unlike the joule rating, where higher is better, the VPR is the reverse: the lower the number, the greater the protection.
The VPR measures the "let-through" voltage, which is the maximum voltage the product allows to pass through the surge protector during a spike. When the VPR detects the voltage has exceeded a certain threshold (usually 15 to 25% higher than the standard system voltage) it triggers the MOV to "clamp," cutting off all electrical flow. The Maximum Operating Voltage (MOV) then converts the electrical charge into heat and absorbs it, sacrificing the surge protector but sparing your device from getting fried.
Underwriters Laboratories (UL) is an independent non-profit that tests electronic products for safety. A UL listing does not guarantee a product is the safest or highest quality it can be, of course, but you are at least guaranteed a marginal safety standard.
If a product does not meet the criteria for UL 1449, which is the latest set of requirements approved by the American National Standards Institute (ANSI) in 2018, it cannot legally be sold as a transient voltage surge suppressor.
What are the best surge protectors?
There are many types of surge protectors. A good one has a moderate joule count (around 2,000), a moderate VPR (500 volts), meets basic UL 1449 requirements, and offers some kind of warranty.
The very best surge protectors take things to a new level: They usually have a high joule rating (3,000 or more) and a low VPR (400 volts or fewer). They also typically have a lifetime warranty, indicating a built-in circuit breaker, which only the best surge protectors have.
Our pick for the best surge protector out there is the Tripp Lite 12-Outlet Surge Protector. And if the Tripp Lite's not your style, we've got nine other excellent choices in our full list above.
RAVE Recommends
Surge protectors are an important accessory for your electrical equipment. Check out these other electronic-related products that can help you stay productive and fully charged!
World Travel Adapter Kit: Traveling to Europe? Bringing multiple electrical devices along? This versatile kit ensures you can charge your equipment, no matter where you are.

Bose QuietComfort 35: These bad boys are the absolute best noise-canceling headphones on the market, in our opinion. They're also Bluetooth and NFC compatible!

6-Inch Power Extension Cable: Remember when your power cord was mere inches from reaching the outlet? This pack of extensions helps you cover the distance.

Blake Adams
Blake Adams is a widely published educator, journalist, and copywriter. He lives with his wife and cat in...*throws dart at a map*...Elburn, IL.