When it comes to defending your electrical equipment (and your wallet) from surges, you want the best surge protector you can find.
That's why we recommend the Tripp Lite 12-Outlet Surge Protector. Not only is the joule rating high enough for standard home or office use (2160 volts), but it boasts 12 AC outlets, four transformer spaces, an auto-shutoff feature, and a lifetime warranty!
A surge protector is a relatively inexpensive thing that could save your electrical equipment — phones, laptops, speakers, theater systems, etc. — from getting fried in the event of a power surge or spike. No matter where you live, surges are common and sudden, and too many homes and offices are unprotected.
Whether you're looking for a surge protector for your home, office, theater system, or traveling band, there's something in this list for you. Different models serve different needs, so be sure to review the entire list and put your money where it counts most.
There are many types of surge protectors. For the sake of brevity and anticipating the needs of our readers, we have eliminated wall-mount or "whole house" surge protectors that need to be installed permanently into your workspace. Each product in this list is a "power strip" surge protector, meaning it has a lengthy power cord and designed to be positioned close to equipment. The only exception is item number 10, because we thought a travel-ready protector deserved to be mentioned.
The Surge Protectors We RAVE About
The quality of these products and the level of protection they promise are shocking, to say the least!
We all rely on electronic equipment. Your livelihood and social life depend a great deal on a functioning computer and mobile phone — to say nothing of everything else we plug into AC outlets.
In short, these things are too valuable to leave unprotected.
We usually don't worry about plugging in a laptop. However, sudden surges or spikes in regular voltage flow can damage your electrical equipment beyond repair. The causes of surges are various: lightning, damaged power lines, or just shutting off the air-conditioning unit.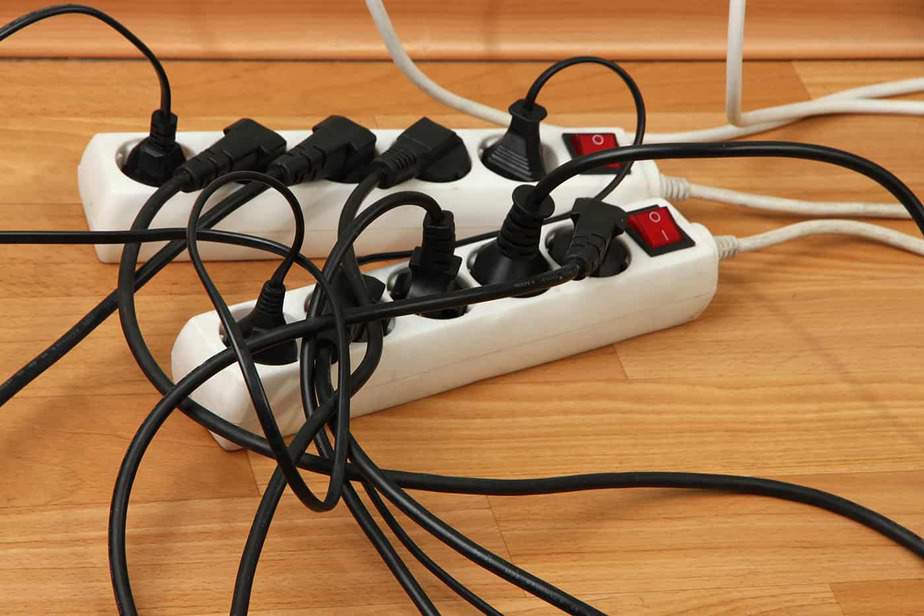 Surges and spikes are more common than you think, and they can happen anywhere, anytime, unannounced.
A surge protector is an inexpensive device that could (potentially) save you thousands of dollars in damages. That's why we put together this ultimate buyer's guide.
How a Surge Protector Protects Your Electrical Equipment
Think of a surge protector as your iPhone's sacrificial friend — it dives into the path of the proverbial lightning bolt-shaped bullet.
The standard wall outlet (in the US) is 110 volts. A surge occurs when the voltage dramatically exceeds that threshold, for whatever reason, potentially frying any hardware or A/V system you have plugged in at the time.
A surge protector absorbs the excess voltage (like a fuse) and redirects it, sacrificing itself for your electronics. Also like a fuse, every surge protector has a limit on how much voltage it can absorb.
Just as there are surge protectors that act like fuses, there are also ones that act like circuit breakers. A built-in circuit breaker, instead of absorbing excess voltage, stops the flow of electricity when a circuit is overloaded. Instead of being replaced, these higher-end surge protectors just need to be reset with the push of a button.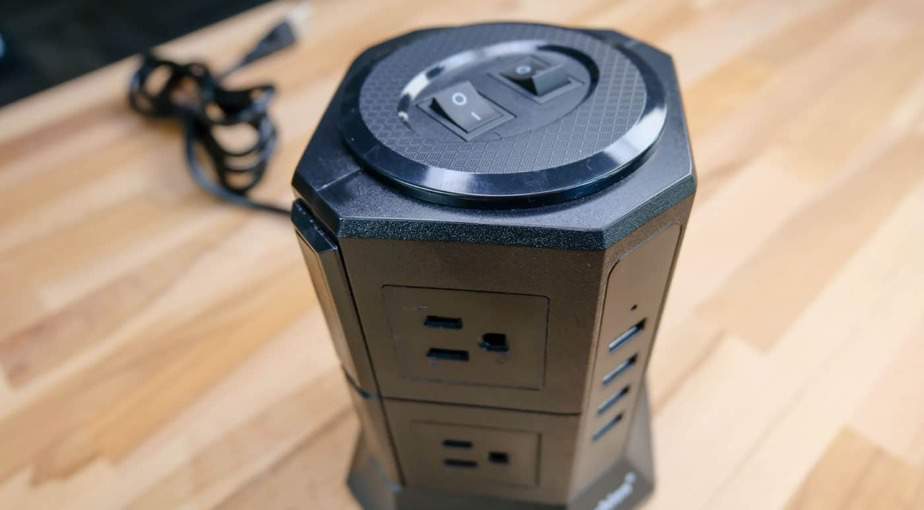 Every surge protector has a period of delay as it responds to a power surge. The response time indicates how quickly your surge protector can detect and then responds to an electrical spike, usually measured in nanoseconds. One nanosecond or less is ideal. Obviously, the faster the response time, the more protected your equipment.
When purchasing a surge protector, follow these guidelines to find the best one for your needs:
1. Take notice of the joule rating
Every surge protector has a limit on how much excess voltage it can absorb from a surge, which is indicated by the joule rating.
Think of the joule rating like a "health bar" for a character in a video game. Every time your surge protector is "hit," the joule rating goes down. Let's say your surge protector has 1,000 joules when you buy it. That means it can take 10 hits of 100 joules, or one big hit from 1,000 joules. The higher the joule rating, the better the protection.
Most surge protectors do not have a method of indicating how many joules remain. However, every surge protector notifies you when the joule rating is down to zero. Sometimes, an alarm sounds, but usually an LED light indicates "Protected." If that light is off, you need a new surge protector, so make sure yours is visible and not hidden behind furniture.
2. Pay attention to the UL VPR (Underwriters Laboratories Voltage Protection Rating)
The UL VPR indicates the "clamping voltage," which is the highest voltage the surge protector will allow through to your devices before it "clamps" down and restricts additional voltage. The lower the rating, the better the protection.
Most surge protectors "clamp" at 400 volts. The lowest available UL rating is 330 volts, and the highest is 900 volts. Any more than that, and the product cannot legally be sold on the market as a "surge protector." At that point, it offers so little protection it's basically just a power strip.
3. Research the warranty
There are two types of warranties: the first applies to the surge protector itself, and the second to what it is protecting.
If your surge protector has a lifetime warranty, that is a strong sign it has a built-in circuit breaker. Put a premium on that.
As for the other kind of warranty, just because a warranty exists doesn't mean you'll ever see a nickel of it. Still, it's a good idea to know the unit's insurance dollar max, how soon a claim needs to be filed, and whether the policy covers replacements for damaged equipment or just repairs.
4. Review the specs and features
You should always buy a surge protector with more outlets than you think you need. Inevitably, you will need them. Since surges can come over any wire, find out if your surge protector includes connectors for phone or cable lines. USB ports are also handy. You want as many devices protected as possible.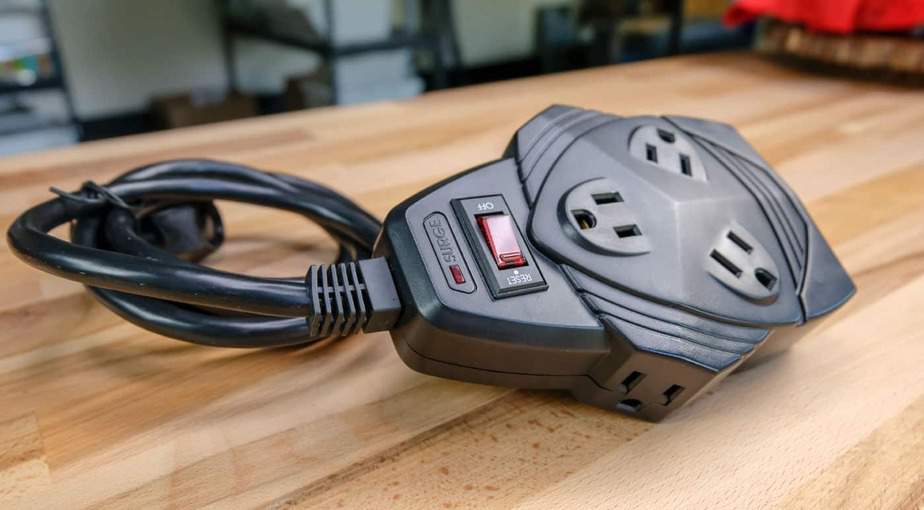 Methodology
Getting the right surge protector could be the difference between thousands of dollars of fried equipment and peace of mind during a lightning storm. Choosing the best one was not a task we took lightly.
Here's the criteria we considered when putting together this list:
Price: Does the quality of the product reflect the price tag?
Auto-shutoff feature: Will the surge protector automatically cut off power to outlets if triggered?
AC outlet count: How many outlets does the protector have?
Additional ports: In addition to outlets, does the surge protector have USB ports, phone ports, etc.?
UL surge rating: How low is the voltage protection rating (VPR)?
Joule rating: How high a voltage can the surge protector absorb?
Warranty: How long is the warranty? Is it automatic? Are there guarantees for losses?
Power cord length: How long is it?
Design: Does the layout allow for full use of ports and outlets? Is it aesthetically pleasing?
Added features: Does the surge protector include a back-up battery?
What's the difference between a surge protector and a power strip?
While surge protectors and power strips resemble each other a great deal in appearance, they are wildly different pieces of equipment. They also both supply additional outlets, but the similarities end there.
At its core, the average power strip is an extension cord for a wall outlet. It may supply extra outlets, but it doesn't offer any real protection from power surges. Some power strips have a circuit breaker of some type, but it typically offers no more practical protection for your plugged-in devices than a wall outlet.
Surge protectors offer higher levels of protection against electrical spikes, effectively putting up a shield between your devices and the wall outlet. However, how much protection is guaranteed and how effectively it performs varies considerably.
If you aren't sure whether a product is a surge protector, make sure it says "Surge Suppressor" somewhere on the packaging. Power cords are also generally less expensive than surge protectors.
I own a power conditioner. Do I need a surge protector, too?
The short answer is: Maybe.
A power conditioner claims to clean up noisy interference, moderate voltage fluctuations, and suppress electrical surges. Though marketing claims these features extend the lifespan of your devices, here is a dirty secret: your device already does most of these things.
In the United States, the standard power flow from a wall current is 110 volts. All electronics have a power supply designed to receive that current, filter out noisy interferences, and convert it into whatever the device needs. It might be surprising, but no device is supposed to use all 110 volts.
The only reason you would need a power conditioner is if you had cheap devices or bizarrely inadequate power currents.
However, a power conditioner claims to do some of the same things that a surge protector does. The question then is whether or not it does a better job than a surge protector. A surge protector, at the very least, has one job which it tries to do well: it will offer more protection from electrical surges than your average power conditioner.
What is a joule, anyway?
A joule is a unit for measuring energy. The simpler answer is one watt is a flow of one joule per second. So switching on your average 15 watt light bulb for one second transfers 15 joules of energy, two seconds transfer 30 joules, three seconds, 45 joules, etc. Watts measure the rate energy transfers (power), but joules measure the actual energy.
Surge protectors are measured in joules. The higher the joule rating, the more energy it can absorb over time. There are many differences between surges and spikes, such as cause, voltage, and duration. Joules offer protection from both.
A surge is typically the result of a sudden change in demand for electricity. For example, if you have an air-conditioning unit or furnace that draws a lot of energy, flipping it on or off suddenly can create a surge in a portion of the house or office. A spike is more dramatic, resulting from things like lightning strikes or damaged power lines. As might be expected, a surge carries a low voltage but can last several seconds. A spike carries high voltage but only lasts a moment.
Either a surge or a spike can damage electronic equipment beyond repair. Of the two, surges are far more common and most surge protectors are equipped to handle them. Not all surge protectors offer protection from spikes. Those that do have a high joule rating and include a built-in circuit breaker.
The best way to know if your surge protector offers protection from spikes is to look at the warranty. Surge protectors that come with a lifetime warranty typically feature circuit breakers.
What is a Voltage Protection Rating (VPR)?
The Voltage Protection Rating (VPR) is another key metric for estimating the level of protection the product can offer. However, unlike the joule rating, where higher is better, the VPR is the reverse: the lower the number, the greater the protection.
The VPR measures the "let-through" voltage, which is the maximum voltage the product allows to pass through the surge protector during a spike. When the VPR detects the voltage has exceeded a certain threshold (usually 15 to 25% higher than the standard system voltage) it triggers the MOV to "clamp," cutting off all electrical flow. The Maximum Operating Voltage (MOV) then converts the electrical charge into heat and absorbs it, sacrificing the surge protector but sparing your device from getting fried.
Underwriters Laboratories (UL) is an independent non-profit that tests electronic products for safety. A UL listing does not guarantee a product is the safest or highest quality it can be, of course, but you are at least guaranteed a marginal safety standard.
If a product does not meet the criteria for UL 1449, which is the latest set of requirements approved by the American National Standards Institute (ANSI) in 2018, it cannot legally be sold as a transient voltage surge suppressor.
What are the best surge protectors?
There are many types of surge protectors. A good one has a moderate joule count (around 2,000), a moderate VPR (500 volts), meets basic UL 1449 requirements, and offers some kind of warranty.
The very best surge protectors take things to a new level: They usually have a high joule rating (3,000 or more) and a low VPR (400 volts or fewer). They also typically have a lifetime warranty, indicating a built-in circuit breaker, which only the best surge protectors have.
Our pick for the best surge protector out there is the Tripp Lite 12-Outlet Surge Protector. And if the Tripp Lite's not your style, we've got nine other excellent choices in our full list above.
RAVE Recommends
Surge protectors are an important accessory for your electrical equipment. Check out these other electronic-related products that can help you stay productive and fully charged!
World Travel Adapter Kit: Traveling to Europe? Bringing multiple electrical devices along? This versatile kit ensures you can charge your equipment, no matter where you are.
Bose QuietComfort 35: These bad boys are the absolute best noise-canceling headphones on the market, in our opinion. They're also Bluetooth and NFC compatible!
6-Inch Power Extension Cable: Remember when your power cord was mere inches from reaching the outlet? This pack of extensions helps you cover the distance.