Leave the bunny slopes behind and take on black diamond slopes with the best snowboard boots out there: thirtytwo Lashed.
RAVE Reviews cultivated a list of the best snowboard boots, but the thirtytwo Lashed boots claim the top spot for their all-purpose versatility, affordable price, and overall badass-ness.
Picture this: You wake up early. You can't wait to get outside. It's a brisk 30 degrees. The sun is shining. Last night brought a huge batch of fresh powder to the slopes. The conditions are perfect for an entire day of snowboarding. But wait! Before you charge up the ski lift, what kind of snowboard boots are you wearing?
You might assume that snowboarding is all about finding the right board. To some extent, that's true. You can do a lot of cool customization upgrades to any snowboard. But as it turns out, your snowboard boots are even more important to your overall boarding abilities.
Snowboard boots serve a very specific purpose. Basically, you're not going to tromp around in these anywhere other than the slopes (or else the fashion police will surely find you). In this ultimate guide to the 10 best snowboard boots, we will fill you in on all the little details to consider before you buy a pair for yourself. Then we'll recommend our top picks and send you on your merry way to shred some powder!
The Snowboard Boots We RAVE About
Whether you're a seasoned snowboarder or totally new to the sport, finding a pair of trusty snowboard boots should be first on your list before you get to the mountain. Maybe this comes as no surprise, but the point at which you decide to forego the crusty rental boots and buy a pair of your own, you'll see a huge difference in your boarding abilities.
We're here to help you make that decision. There's actually quite a bit to consider, so think of this ranking as your ultimate guide to your snowboarding glow-up.
Different Boots for Different Styles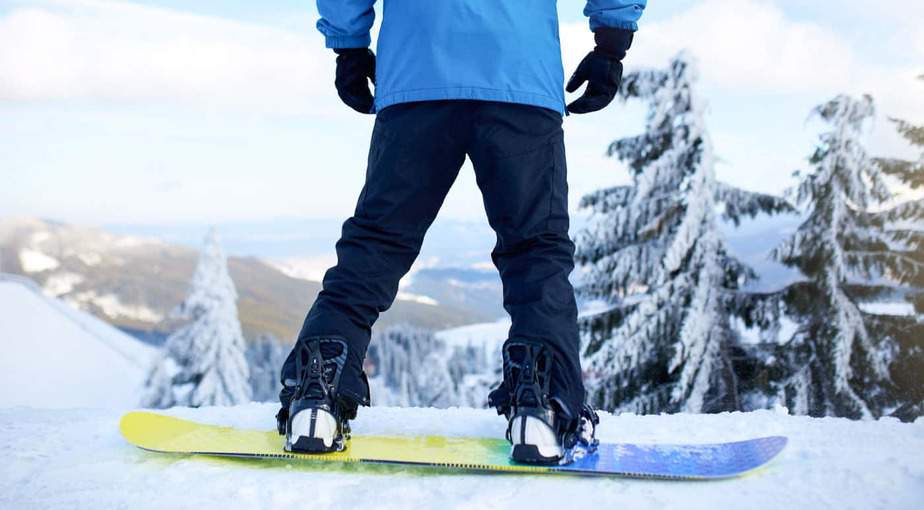 Like any popular sport, snowboarding encompasses a number of different styles. Not everyone rides the same. Some like to traverse deep backcountry powder, while others like to stay in the park and rip tricks all day.
Depending on what kind of snowboarder you are, find boots (and a board) that match your preferred style. Here's a quick overview of some common styles and the type of boots that go with them:
All-mountain: All-mountain snowboarders are the cowboys of this sport. As the name implies, all-mountain riders are up for basically anything — back country, long runs, the park, you name it. All-mountain snowboard boots and boards are the most in-demand because they can perform in virtually any setting. You'll find all-mountain boots to be more generalists than specialists — but nonetheless effective.
Freestyle: Freestyle snowboarding is for the tricksters out there — those of you who love the thrill of the half pipe. This type of riding requires lots of courage and playfulness. Freestyle snowboarders should look for boots that offer lots of flexibility (and therefore less stability).
Freerider: A close cousin to freestyle riding, freerider snowboarding is all about speed. Freeriders are always looking for fresh powder and off-the-beaten-track runs in uncharted territory. Unlike the softer flex of freestyle riding, freerider snowboard boots are often quite stiff to give you ultimate control at top speeds.
Technical Terms
Now, down to the nitty gritty. As you sort through each snowboard boot, you may come across some unfamiliar terms (depending on your snowboarding experience, of course). Here are some common technical terms:
Heel lift: A heel lift is most snowboarders' worst nightmare. If your heel isn't grounded in your boot, you'll end up working much harder to maintain control of your direction and power. Look for boots that perform well in this category.
J-bars: J-bars are one great solution to a heel lift. They are small J-shaped foam inserts that snug right up against your ankle and keep your heel grounded. Look for boots that have J-bars already built into the liner — or have the capacity to add them.
Articulating Cuff: An articulating cuff is a cool feature that allows the upper and lower sections of your foot to flex without any disruption. It's a huge boost to overall boot comfort.
EVA Insoles: A high-tech material, ethylene vinyl acetate (or EVA) is perfect for snowboard insoles for their shock absorbing qualities. This is a sign of a high-quality boot.
Flex: Essentially, the flex on your snowboard boots is how little or how much they bend. More on that in the FAQ section.
Boa System vs. Traditional Laces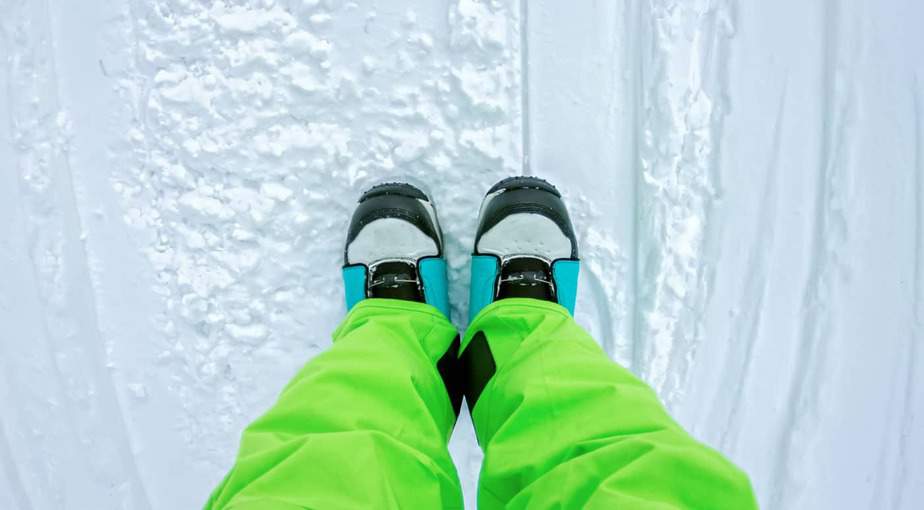 The last technical term has to do with the lacing system of your boots. It comes down to two options: Boa system or traditional laces. You'll see both systems in our list of the 10 best snowboard boots. We're not here to promote one or the other — there are definitely pros and cons to each method.
Boa System
Hugely popular in the last few years, the Boa system ditches laces and instead uses a coil and cable. You can tighten and loosen your boots by turning a small dial (coiler) on the outside of your boot. The coiler automatically winds up any slack cable and tightens up your boot, simplifying the process of getting your boots on and off. On the flip side, Boa systems tend to cost more and are more vulnerable to breaking.
Traditional Laces
Tried and true, the traditional lacing system is still a great option for snowboarders. Sometimes old school is best! Traditional laces ultimately give you more control. You can tighten or loosen them to your liking, which usually decreases the chance of pesky pressure points on your foot. Conversely, traditional laces can be difficult to tie and untie throughout the day.
Methodology
Here at RAVE Reviews, we are the first to acknowledge that buying shoes (no less snowboard boots) is a highly personal process. After all, we don't all like the same things and we don't all have the same feet. So crafting a ranking methodology is somewhat tricky.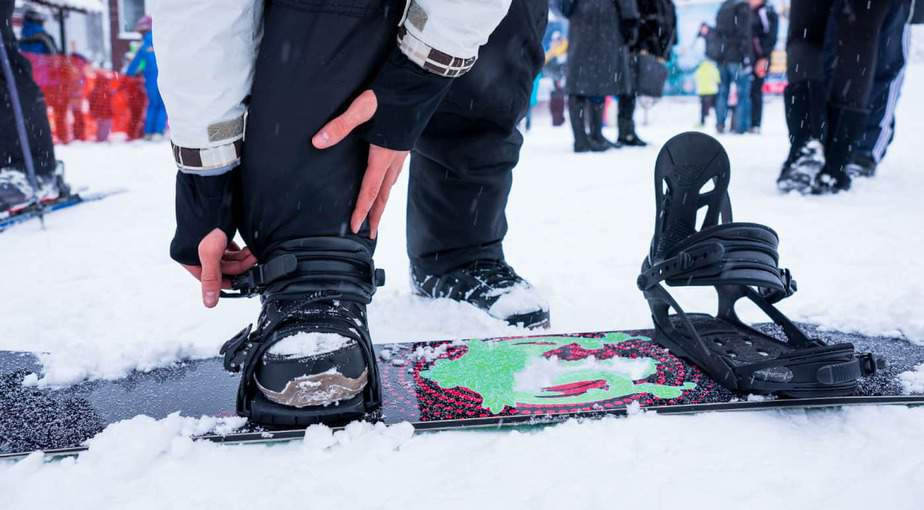 But we figured out a solid approach that is rooted in data but also considers the more subjective elements of market trends. Here are our core methodology criteria:
Consumer reviews
Boot material
Boot flex
Price
The Best Snowboard Boots
The thirtytwo Lashed boot is a tough contender. It didn't make it to the top of our list because of its bells and whistles. Rather, this boot focuses on quality materials and a classic approach. This boot is an all-purpose model, but is most beloved among freeride freaks and all-mountain maniacs.
As a company, thirtytwo prides itself on creating shoes by snowboarders for snowboarders. Since 1995, thirtytwo has been the innovator of some of the coolest new concepts in boot performance and comfort. The 2019 Lashed boot is the ninth model since its 2010 debut.
The current Lashed model shows significant maturity from other renditions, and reviewers rave about the superior shock absorption. Part of that is thanks to the thick heat moldable intuition foam liner. This boot is a medium flex and takes a traditional lacing approach, which allows you to fit your boot exactly to your foot.
Pros
Fantastic shock absorption
Market longevity (2010 debut)
All-mountain and freestyle
Cons
Lace-up system
Falls short in traction
Insole wears down easily
You can't deny that the Vans Infuse snowboard boots soar to the front for style points. These boots scream all that is core to Vans — customization, quality, and sophistication. You'll pay a few extra bucks in the end, but with the extra features, the price tag is totally worth it.
Here are some of the coolest features: This boot utilizes a Vans Hybrid Plus Boa lacing system, which includes both traditional laces and a Boa closure system. You'll find more customization features through the flex control system. The baseline of the Vans Infuse boot is a medium flex, although it includes a removable high-rebound Hytrel tongue stiffener to fine-tune your boot.
Finally, the Infuse snowboard boot brings the classic swagger of Vans footwear. You'll certainly stand out on the mountain. All in all, this boot gives you complete customization, comfort, and the capability to handle any snowboarding situation.
Pros
Hybrid lacing system
Customizable flex control
Stylish design options
Cons
Expensive ($359)
For advanced riders only
Boa system can be fragile
For those of you who are somewhat new to the sport, the thirtytwo Exit snowboard boots are a great place to start. These boots value comfort above all else. In fact, thirtytwo rolled out its Comfort Fit package specifically for the Exit boots.
The Comfort Harness and Liner include a heat moldable foam that adjusts to your specific footbed, and a velcro heel hold that secures your heel in place while you're ripping down the mountain. The flex rating on the thirtytwo Exit is soft.
With all of the extra cushioning, this pair of snowboard boots is a dream for cold days on the slopes. Your feet will stay well-insulated. While you won't see pro snowboarders in this boot, it is one of the most affordable options on the market. It will keep you on your snowboard all winter long.
Pros
Great budget option ($149)
Extra comfort features
Designed for beginner riders
Cons
Soft flex retention
Not good for narrow feet
Not up for all riding styles
Burton is a champion of snowboard gear with slope cred that goes all the way back to 1977. The Burton Moto is one of the company's most notable pairs of snowboard boots, mostly for its longevity. It has been beloved by snowboarders for over 15 years, and the 2019 iteration is Burton's most comfortable, accessible, and lightweight yet.
A standout feature of the Burton Moto is the Shrinkage Footprint Reduction footbed, which somehow manages to be both lightweight and fully shock absorbent. The boot uses a sleeping bag reflective foil material underfoot, which reflects heat back to your feet, even on the coldest days.
The Speed Zone lacing system on the Burton Moto stands out for its speedy design, using special New England Ropes laces. The Burton Moto is a soft boot, which ultimately gives beginner and intermediate riders the optimal flex for a day of snowboarding.
Pros
Speed Zone lacing system
Light and comfortable footbed
Very affordable ($139)
Cons
Bad traction
May be stiff at first
Best for beginners
Another one of Burton's bestsellers, the Ion has been making waves in the last few years for its signature pro features — speed lacing, optimized outsole angling, responsive flex rating, and lots more. You'll pay more for these boots than for a starter pair of boots, but you'll reap the benefits on the slopes.
The Burton Ion is for aggressive riders who like a stiffer flex boot. You'll get the control you love, even at breakneck speeds. The sole engages AutoCANT cushioning, a dual-density EVA that gives your foot more direct contact with your snowboard. All the while, you'll get a super comfy, consistently warm boot.
Like most Burton snowboard boots, the Ion uses the Speed Zone Lacing system, which gives you a custom fit, with adjustable lacing options on both the upper and lower foot. Overall, the Burton Ion stops at nothing to give the seasoned snowboarder a heightened experience.
Pros
Heat moldable liner
Excellent traction
Lots of comfort features
Cons
Expensive ($349)
Not for beginners
Stiff flex is not for everyone
If you're the kind of snowboarder who likes to keep things interesting, the K2 Maysis snowboard boots will take you there — it's for the snowboarding freaks out there who want to make things, well, freakier. The K2 Maysis is a stiff flex boot designed for advanced riders.
The boot is constructed out of Endo 2.0, one of the most durable materials out there. It gives you an extra heel counter to both keep you grounded on quick turns, and to boost you to a quick rebound. The Intuition Control Foam 3D liner features both internal and external J bars, which surround your entire ankle and heel.
The Boa Conda, a lacing system that uses cable and reel technology, is unique to K2 boots. Even on the coldest days when you wouldn't dare take off your gloves, the double Boa system allows you to pop these boots on and off without any struggle.
Pros
Amazing heel hold features
Durable Endo 2.0 construction
Simple to get on and off
Cons
Lacing not very adjustable
Runs a half-size large
Not for beginners
The crowd-pleasing DC Phase snowboarding boot scores big on its price to performance ratio. If you're tired of shelling out the extra bucks on rental boots, the DC Phase is perfect.
The liner on the DC Phase boots stands out for its ultimate comfort capacity. Even though this boot is medium flex, the DC Red Liner, constructed out of multi-layer EVA memory foam, doesn't sacrifice on comfort. Your foot will stay warm in a final layer of fleece lining, and the footbed includes moisture-wicking material to keep you dry all day.
While you won't be able to push this boot to the limits — especially when it comes to traction and recovery on big jumps — the DC Phase will serve you well. And they look classy as hell to boot.
Pros
Affordable price ($149)
Comfortable fit and lining
Classic DC boot design
Cons
Limited traction ability
Not for all-mountain use
Average shock absorption
8
K2 Taro Tamai Snowsurfer
Co-designed by K2 and snowboarder/surfer pro Taro Tamai, the K2 Taro Tamai Snowsurfer is a one-of-a-kind boot. Bucking all trends that claim higher end boots must offer stiffer flex, this boot is actually the softest of all of the K2 options. At the same time, it gives you some of the best boot features out there.
Despite the difference in flex rating, the Taro Tamai Snowsurfer boot shares the same advanced liner as other K2 boots. The Intuition SpaceHeater reflective heat panels keep your feet toasty all session long, and these boots also feature an H3 Boa Focus high tension lacing system.
Ideal for deep powder freeride snow surfing, the Boa lacing system allows for maximum adjustability. Even more, the tongue of the boot is protected by a zippered neoprene cover. This boot might not be for everyone, but freeride junkies will rejoice at the K2 Taro Tamai Snowsurfer.
Pros
Ideal for freestyle
Neoprene tongue cover
Maximum warmth liner
Cons
Expensive ($499)
Niche boot for specific style
Snow cakes in deep outsole
The Adidas Samba may be one of the most iconic shoes — it's up there with Air Jordans. Adidas went ahead and did what we all wanted and applied the classic Samba look to the Samba ADV snowboard boot. This boot is the perfect middle-ground option in all ways — price, aesthetic, comfort, flex, and everything in between.
Let's break that down a bit. The beauty behind this classic boot is simplicity, and the Adidas Samba ADV boot keeps the traditional lacing system. After all, they're going for the indoor soccer shoe look. This boot has a crowd-pleasing medium flex, which is great for most intermediate to advanced riders.
The highest praise for the Adidas Samba ADV is for comfort. It is fitted with a Silver Level Ultralon heat moldable liner and an inner ankle harness that keeps your foot grounded. Overall, this boot has a classic look with a classic fit.
Pros
Iconic Adidas Samba design
Superior comfort and warmth
Outsole gives superb traction
Cons
Average heel hold
Some pressure points
Runs a half-size large
A boot for the masses, the Ride Anthem snowboard boot has been a standby on the Ride inventory for years. It is a favorite among all-mountain riders for its versatility, medium flex, and Boa coiler closure system. The Ride Anthem might not be flashy, but it's a reliable boot that is built to last.
The Ride Anthem's Boa coiler closure system takes lacing to the next level with the Closer Lace Guide, which rests above your forefoot and evens out tension throughout the boot. The overall effect is a snug boot with maximum comfort.
One cool feature on the Ride Anthem liner is an Aegis antimicrobial coating, which keeps moisture (and stinky feet) away. All-mountain riders want a snowboard boot that can handle lots of different terrain. You'll get this and more with the Ride Anthem.
Pros
Boa coiler closure system
Superb all-mountain abilities
Responsive medium flex
Cons
Boa system loosens over time
Few adjustability options
Single Boa system
Related Rankings
How should your snowboard boots fit?
Before you plan a snowboarding weekend at Breckenridge, make sure your new snowboard boots fit correctly — or you'll be in for a painful few days. By design, snowboard boots can initially feel bulky. However, buying boots that are too big is a common mistake. Check out this quick guide on how your snowboard boots should fit:
Toe box: When you slip into your boot, your toes should just slightly graze the toe box. Give them a wiggle. Make sure you can move your toes around a little (they shouldn't curl or push tightly against the toe box), but you don't want too much extra room.
Heel: The heel hold is a very important factor. When you bend your knees and lean forward, do your heels lift at all? If so, the boot is too big, or the heel needs to be adjusted. Your heel should stay comfortably planted onto the sole of the boot.
Pressure points: As you try on snowboard boots, take note of any painful pressure points on your feet.
Socks: Don't forget socks! They are another layer of padding to consider. Choose a synthetic cotton blend that is thin or medium thickness. Your boots should do most of the work to keep your tootsies warm.
Keep in mind that when you first try on your snowboard boots, they will be the tightest they'll ever be. Spend the first few days breaking in your new boots. So if they feel a little snug at first, that's good! Take your time during the sizing process — your feet will be grateful in the end.
What is a flex rating?
The flex on a snowboard boot is basically how much or how little it bends during use — in other words, flexibility. Among snowboarders and manufacturers, there's a system in place called a flex rating, which ranks boots and snowboards by how flexible they are.
The flex rating system is pretty simple. It goes from 1-10, 1 being the softest and 10 being the stiffest. As with most things related to fit, the flex system is highly subjective. Keep that in mind as you try on snowboard boots. In general, a softer flex (1-3 rating) is popular among beginner snowboarders. More advanced riders tend to gravitate toward stiffer flex boots (7-10 rating).
Flex rating trends also follow riding styles. For example, freerider and all-mountain snowboarders favor stiffer flex boots, while softer flex boots are popular among freestyle riders. But ultimately, it's completely up to you what kind of flex you want on your boot. Don't let anyone tell you differently!
How long will my snowboard boots last?
After going through all the trouble of buying new snowboard boots, you want to make sure they'll last for a good long while! So how long will they last? There isn't really a straightforward answer to that question, mostly because… it depends!
But if you insist on a direct answer, most boots last around 100 riding days. But here are the bigger factors concerning the longevity of your snowboard boots:
Flex: Over time, your snowboard boots will naturally become softer. If you first purchased your boot at a 7-10 flex rating, after a full season of riding, you'll probably notice them decrease to about a 5-7 flex. Maybe you don't mind a soft boot! But for folks who need a stiffer boot, you'll probably need to replace your boots sooner.
Lacing: There's nothing worse than getting halfway through a day on the slopes and having your Boa system malfunction. That essentially ends your day. On the other hand, if you have a traditional lacing system, you can just throw on an extra pair of laces.
Wear and tear: Obviously, you'll notice some wear and tear on your snowboard boots over time. If you wear them every day during the winter season, you'll likely be ready for a new pair before the new season. It goes without saying that your number one priority is keeping your feet warm and secure. Don't sacrifice safety!
What are the best snowboard boots?
Who knew that snowboarding involves so much research? That's kind of our specialty at RAVE Reviews. You've got lots of options out there for snowboard boots, but we came up with 10 amazing options that fit the bill for a variety of needs:
Best Overall: thirtytwo Lashed

Best Price: Burton Moto

Best Freestyle: K2 Taro Tamai Snowsurfer

Best All-Mountain: Ride Anthem
Another great way to narrow your search scope is to consider the flex rating on each boot. Here's a quick overview, ranging from soft flex to stiff flex:
Soft:
thirtytwo Exit
Burton Moto
K2 Taro Tamai Snowsurfer
Medium:
thirtytwo Lashed
Vans Infuse
DC Phase
Adidas Samba ADV
Ride Anthem
Stiff:
Ultimately, you can't go wrong with any of these snowboard boots. After all, the end goal is to "shred the gnar pow" — all of these boots succeed in that. Go forth, bro.
RAVE Recommends
You're almost ready to hit the slopes! But we have a few more essential snowboarding products you'll want to grab first — all under 25 bucks!
WEIERYA Snowboard Socks ($19.97): Keep those toesies warm when you're deep in powder all day. These moisture-wicking high cotton socks will do the trick. 

HotHands Insole Foot Warmers ($24.99): To keep your feet extra toasty, try these heated insoles. They slip right into your boot and retain heat for up to nine hours.

OutdoorMaster OTG Snowboard Goggles ($18.99): These over-glasses goggles give you UV protection, are compatible with all helmets, and look cool as hell.

Trevor Reilly
Trevor Reilly is a freestyle skier who competes internationally for the United States. He competes in dual moguls and moguls. He represents the Park City Ski And Snowboard Club.