You gotta catch the lift to the top of the mountain, so let's get to the point.
We have no qualms whatsoever awarding K2 Lien AT Snowboard Bindings the top spot in our ranking of the 10 best snowboard bindings. Like any kind of all-mountain gear, all-mountain bindings need to be versatile, and with precise construction and a highly customizable fit, that's just what K2 is all about.
Like any winter sport, having good snowboarding gear is important, and snowboard bindings are probably the second most important bit of snowboard gear to check off your list — besides the actual snowboard and, well, maybe some long underwear.
But there's a lot to know about snowboard bindings. With this ranking, we'll walk you through the process of choosing bindings, telling you all about the different kinds, and helping you choose the best snowboard bindings for your riding style. We'll also answer your questions about how to install snowboarding bindings, and how to fit and position them.
In other words, you've come to the right spot, a one-click answer for all your snowboard binding needs. Let's get started. Up next is our ranking of the 10 best snowboard bindings.
The Snowboard Bindings We RAVE About
Best Overall Snowboard Bindings
K2 Lien AT Snowboard Bindings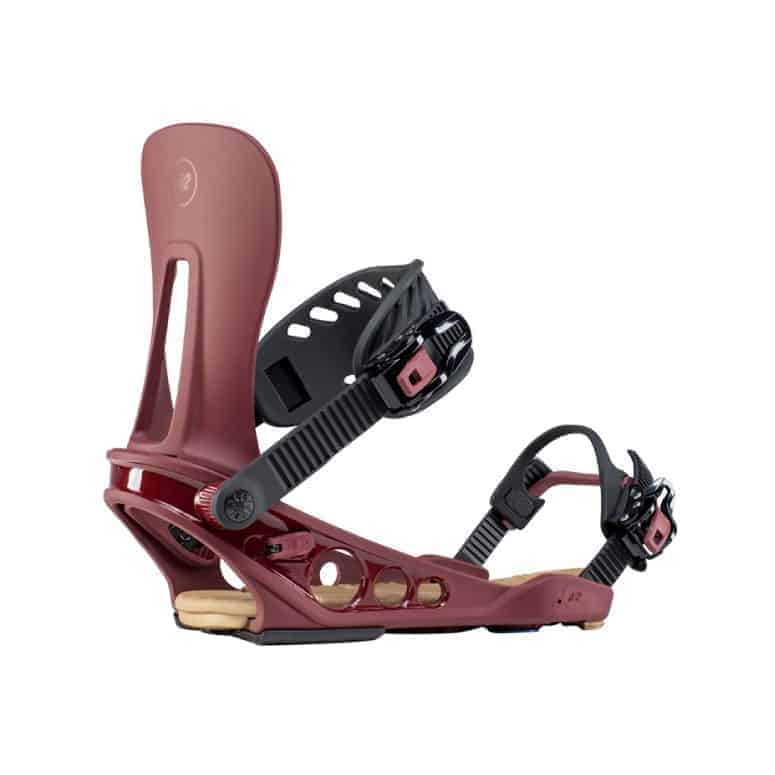 Best Snowboard Bindings for Women
Flux GS Snowboard Bindings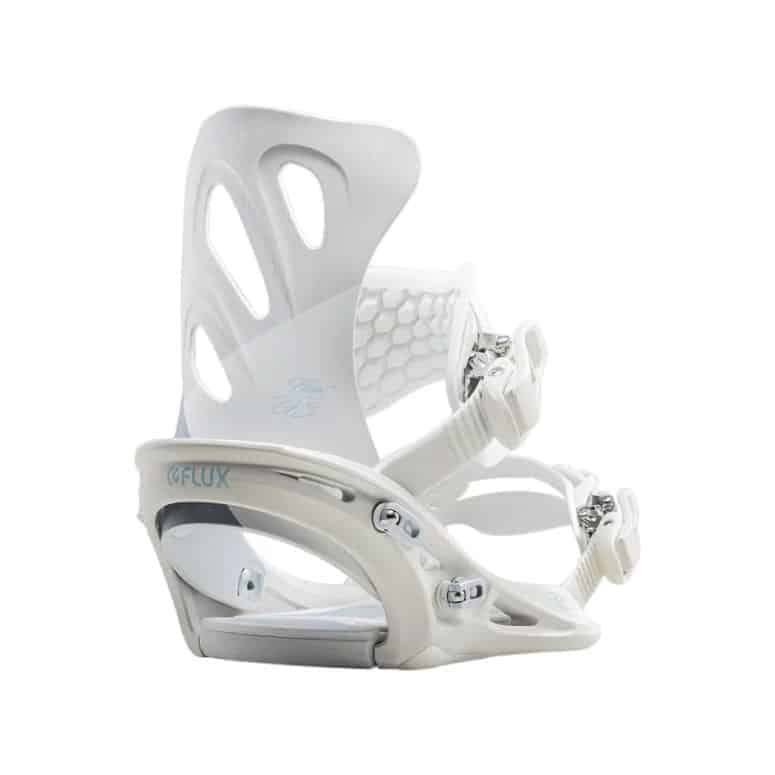 Best Snowboard Bindings for Beginners
Flow Alpha Snowboard Bindings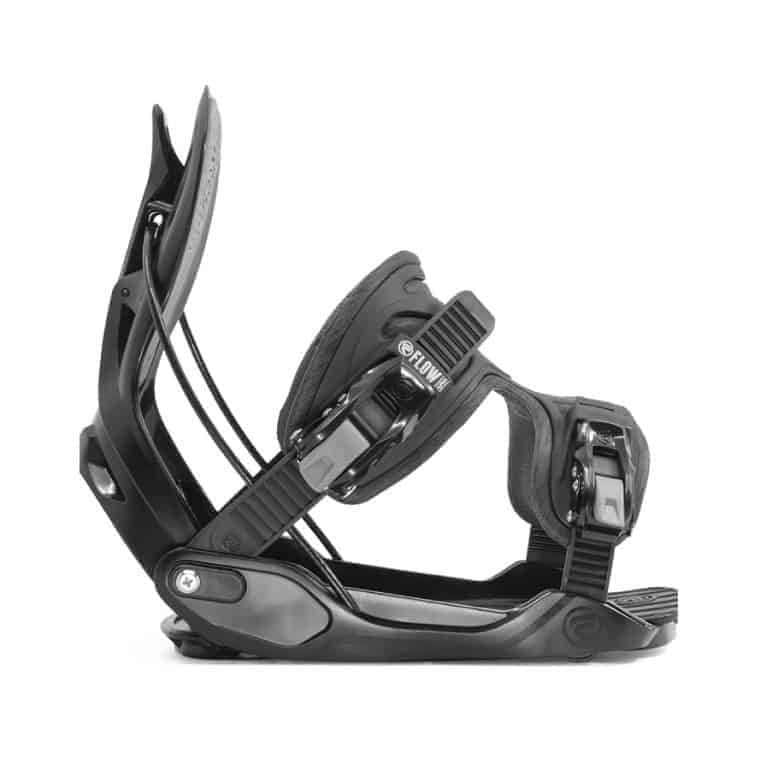 Different Types of Snowboard Bindings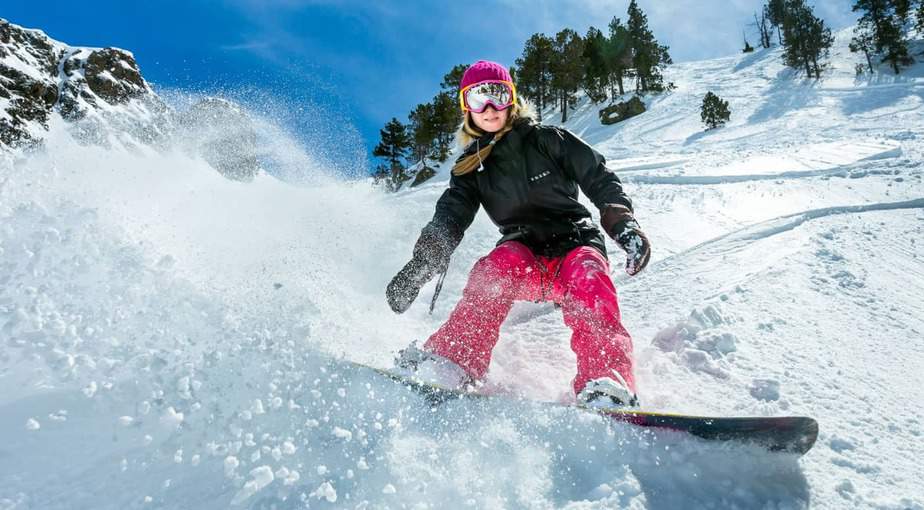 To decide on a pair of snowboard bindings, it's important to understand the two basic kinds, each with their own set of pros and cons. Which one is right for you? Here's what you need to know:
Strap-In Bindings
Strap-in bindings are probably the most common snowboard bindings. With this style, an ankle strap wraps around your ankle, and a toe strap either sits on top of or wraps around the front toe of your boot.
Pros:
Independent toe and heel pressure adjustment
Easy to strap in when you're sitting down
Cons:
Slow to strap in, especially compared to speed-entry bindings
Hard to strap in while standing
Straps need to be adjusted every time you strap in
Speed-Entry Bindings
With speed-entry bindings — sometimes called rear-entry or step in bindings — there's only one strap covering both your ankle and toes. A big difference between strap-in and speed-entry bindings is the highback. You can adjust the highback a little bit, but for the most part, it is fixed in place.
Using speed-entry bindings is pretty easy, though — simply stick your boot in, close the highback, and presto, you're all buckled in and ready to ride.
Pros:
Quick and easy to use
Can strap in while standing
Adjust them once, and you're set for the day
Cons:
Adjustment of pressure on toe and ankle is not independent
Tough to strap in while sitting down
Steeper learning curve to operate
Something else you should know is that there are different bindings for men and for women. If bindings meant for the opposite gender work just fine for you, of course there's nothing stopping you from using them.
But if you're having trouble finding just the right size bindings, check if the bindings are intended for male or female riders.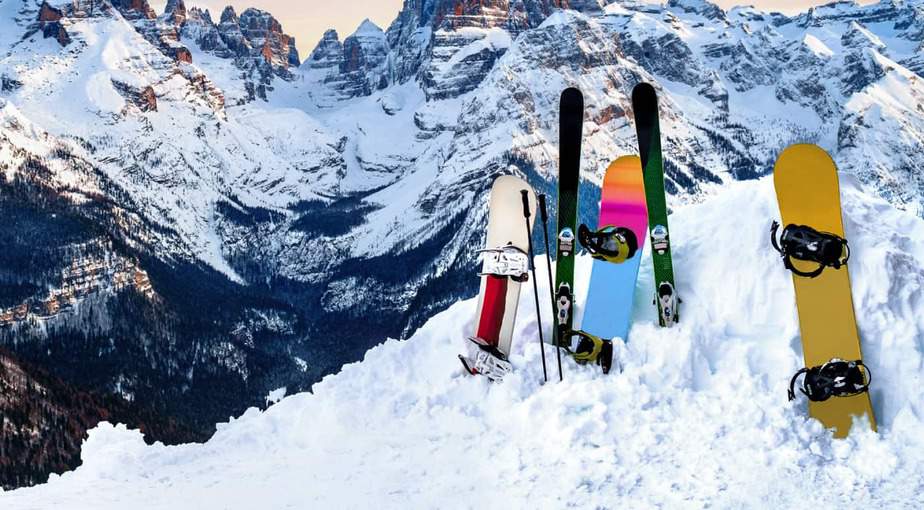 The last thing we need to mention here is binding and board compatibility. Most bindings come with multiple baseplates, so most bindings are compatible with most snowboards — nice and easy.
But some bindings are only compatible with some boards. For example, Burton makes a line of boards that are only compatible with Burton EST bindings.
How to Fit Snowboard Bindings
Okay, you picked out snowboard bindings that are right for you and compatible with your board. Now what? They're going to need to be fit — sometimes called set or mounted — to your snowboard. You might want to pay a professional to take care of this for you, but if DIY is more your style, here's a quick how-to:
Tools You'll Need
Most bindings can be installed with a #3 Phillips screwdriver and a wrench. Keeping a multi-tool on hand for adjustments while you're on the mountain is also a good idea.
Which Foot is Your Lead Foot?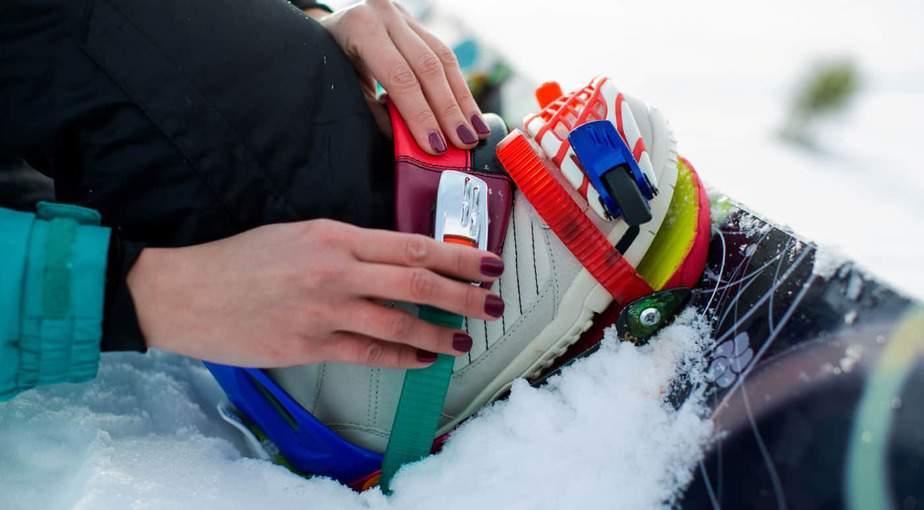 If you're not sure which foot is your lead foot, try this: Stand still and straight. Have a buddy push you — but not too hard! With which foot did you catch yourself? That's your lead foot.
If it's your left foot it means your stance is regular, if it's your right foot your stance is "goofy." Determining which binding is for your left foot and which one's for your right foot is as easy as checking the curve, just like you did when you were learning to put on your shoes.
Stance Width and Offset
Next, you're going to need to know your stance width and offset.
Stance Width: Getting the right stance width takes a little trial and error. Try the center-mount screwhole first, and see how that feels. Then adjust until you feel well-balanced.
Stance Offset: A mounting position that is close to the center of the board more often than not offers the best control and easiest turn initiation. As your skill increases though, and as you develop your own riding style, you might find you prefer what's called an offset stance. Also called setback stance, it improves flotation in deep powder and more aggressive turning.
There's a bit more to know about mounting your snowboard bindings, in our FAQ section. But for now, we feel you know what you need to know to start shopping for the best snowboard bindings.
Methodology
Here at RAVE, we want our ranking process to be as transparent as possible. When we put this article together, we listened to the experts. And by experts, we mean veteran riders, snowboard industry professionals, and manufacturer specifications. We ranked each binding on the following:
Price
Brand
Versatility
Durability
Warranties
In addition, we looked at these characteristics:
Flex
Baseplate
Highback
Straps
Buckles
Additional features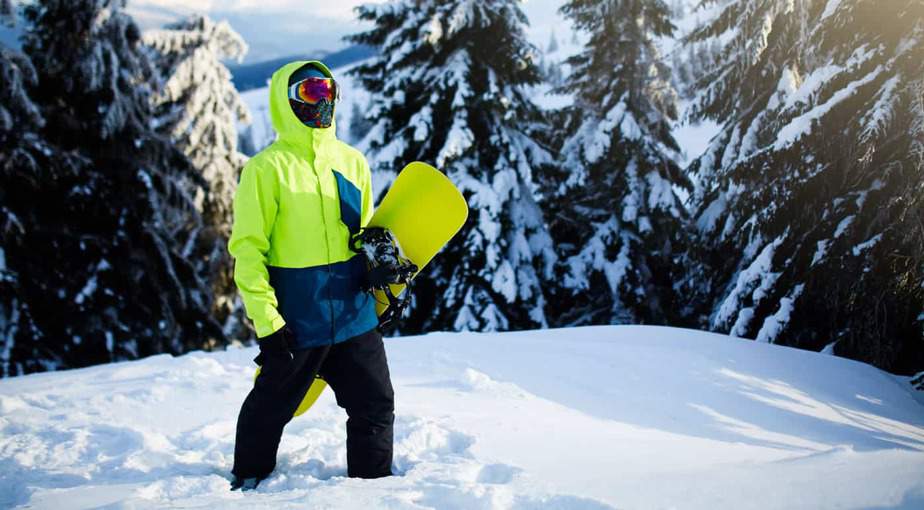 We also paid extra attention to good old consumer reviews for what makes each binding great or maybe not-so-great. We read them so you don't have to. Because after all, it is the end-user that gets beneath all the product specifications and marketing copy.
We're confident in our ranking, and we're sure that you will be, too.
The Best Snowboard Bindings
Now that you've picked out your new bindings, what else do you need to know? Here are answers to some commonly asked questions from both new and experienced snowboarders alike.
How do you install snowboard bindings?
Here's how to install your snowboard bindings all on your own. Note that these instructions are for a duck stance, or where both feet are angled away from each other at a standard stance width and angle. These steps apply to most bindings, but not all, such as the front binding Burton custom EST bindings.
1) If your stance is regular, pick up the left binding and disc. If you ride "goofy," pick up the right. Position the binding at your desired angle. Pro tip: Each tick mark on the board is 3 degrees.
2) Loosely screw the binding together with the disc over the center screw hole at the front of the snowboard. Make sure there's the same amount of board in front of your boot toe as there is behind your boot heel.
Note: To determine which end of the snowboard is the front, look for any writing across the width of the board. Position the board so that you can read the writing. That's the front.
3) Loosely screw in the remaining screws. Check for proper positioning before you tighten all the screws, and don't over tighten. It's also helpful to put a boot in the binding before fine-tuning the positioning.
To mount the back bindings, follow the same steps outlined above. Just make sure to set the angle for mounting the front binding, but set the angle at -6 degrees, or in other words, pointed backwards.
What does snowboard binding flex mean?
Just like the flex of your snowboard, the flex rating of your new set of snowboard bindings is also important, and the right flex rating for you has a lot to do with your riding style. The flex of your binding is rated on a scale of 1-10, 1 being the softest, and 10 the stiffest.
Here's how to pick a good flex rating for you based on how you like to snowboard:
Park or Freestyle
Park or freestyle riders spend most of their time in the terrain park laying down tricks. If that's you, get softer flex freestyle snowboard bindings for easier landings, the ability to tweak grabs, and to leave more room for error.
All-Mountain
All-mountain riders do a little bit of everything, from powder to groomed runs. Mountain riders should look for medium flex bindings that are ready for anything.
Freeride
Freeriders seek the most challenging terrain in the backcountry for high speeds and epic tricks. If freeriding is your style, choose stiff flex freeride bindings for improved response and better energy transfer.
Lastly, the flex of your snowboard bindings should match the flex of your snowboard boots as closely as possible.
What should I bring while snowboarding?
A snowboard, a new pair of bindings, and snowboard boots. What else do you need? Whether you're in the park or the backcountry, you'll be in cold weather and should be prepared. Here's what to pack for your next snowboarding trip:
Snowboard Socks
Synthetic, moisture-wicking socks that are not too thick, not too thin, and tall enough to prevent any rub from your snowboard boots are an important part of your snowboard gear.
Snowboard Helmet
Because your brain is the most important organ in your body, even an advanced rider needs a helmet. Don't have one? Rent one from the resort.
Snowboard Pants and Jacket
A good snowboard jacket is breathable, with a wind- and waterproof outer shell. Your snowboard pants should also be weatherproof and breathable.
Snowboard Gloves and Goggles
You'll also want insulated and waterproof snowboard gloves in your snowboard gear, as well as high-quality goggles to battle glare and protect your eyes from the elements.
Base and Mid Layers
And lastly, bring some good base and mid layers as part of your snowboard gear. For base layers, stay away from cotton and choose synthetic or wool instead. For mid layers on an extra cold day, go with fleeces, sweaters, or sweatshirts — many of which you probably have in your closet already.
What are the best snowboard bindings?
Whether you're an experienced rider, just starting out, or a female snowboarder looking for bindings to fit your smaller feet, you've come to the right place.
After all the head-scratching and careful deliberation, we settled on K2 Lien AT Snowboard Bindings as our number one pick for the best overall snowboard bindings. All-mountain = ready for anything, and with K2 Lien AT bindings, you'll be ready no matter the conditions or whatever your riding style happens to be.
And if you're a beginner, you need bindings that let you make some mistakes. For riders that are just starting out, we present the Flow Alpha Snowboard Bindings as our best snowboard bindings for beginners. Why? They're designed to be versatile, forgiving, and durable.
Are you a female rider tired of gear made for men? We can help you here as well. With special features specifically designed for female snowboarders, the Flux GS Snowboard Bindings are our choice for best snowboard bindings for women. Besides being a killer product from a solid brand, these bindings have a tapered fit for the smaller feet and stature common in many women.
RAVE Recommends
With these five items, you'll have everything you need for this snowboard season. Don't get caught at the park without them.