If you're looking for the best ski socks that will take your performance to the next level, our top pick is undoubtedly the Smartwool PhD Ski Light Socks.
This sock, made from merino wool, seamlessly pairs together temperature-regulating breathability and moisture-wicking comfort, leaving you with a durable sock that won't break the bank whether skiing, snowboarding, or anything in between.
When it comes down to it, many of us must admit that we hate nothing more than having to kiss the summer goodbye and say hello to the colder, darker, more dreary months of winter. The truth is though, not everything about the winter sucks, and that especially goes for those of us who are self-proclaimed adrenaline junkies.
With the colder months comes snow, and with the snow comes–you guessed it–tons of winter sports! From skiing, to snowboarding, to even snowmobiling, the snow is good for more than just freezing us from the inside out, even if we may not always admit it! However, with these winter sports welcoming us back, we have to make sure we're prepared!
There are a few obvious things that come to mind when it comes to skiing gear. We may immediately think of skis, a ski mask, ski boots, and heavy clothing. One thing we may not always focus on though is our socks, and this ranking of the best ski socks will show you just how important the right pair of socks really are when it comes to skiing!
The Ski Socks We RAVE About
Best Ski Socks Overall
Smartwool PhD Ski Light Socks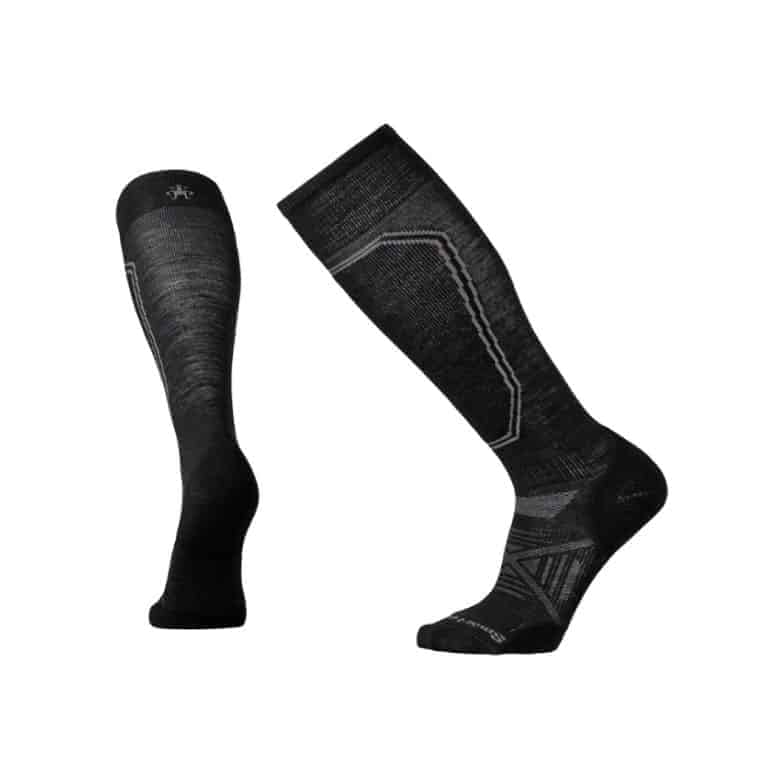 Best Compression Ski Socks
Dissent Ski GFX Compression Hybrid Protect Sock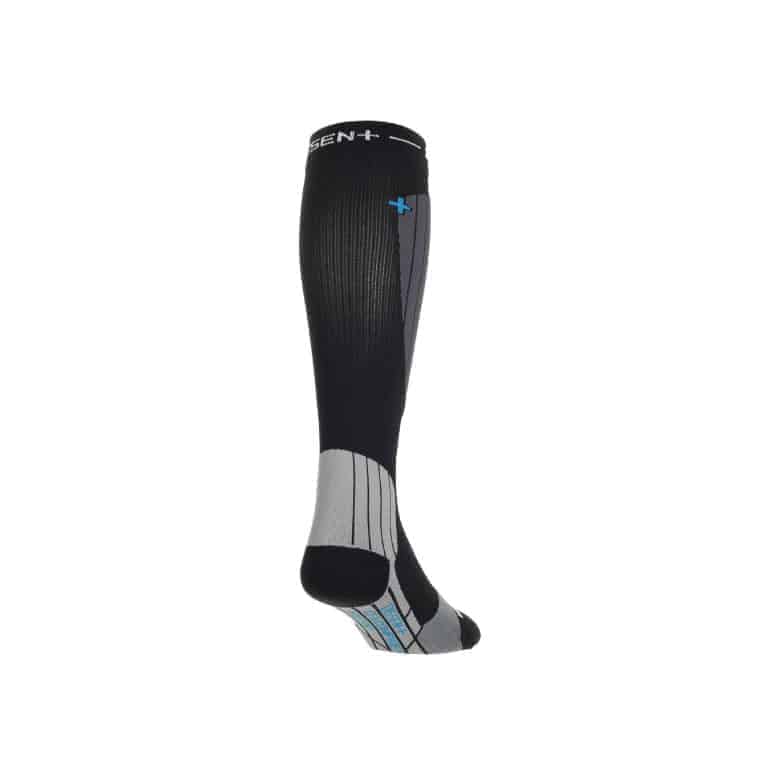 Best Budget Ski Socks
Fox River Over-the-Calf Merino Wool Blend Ski Socks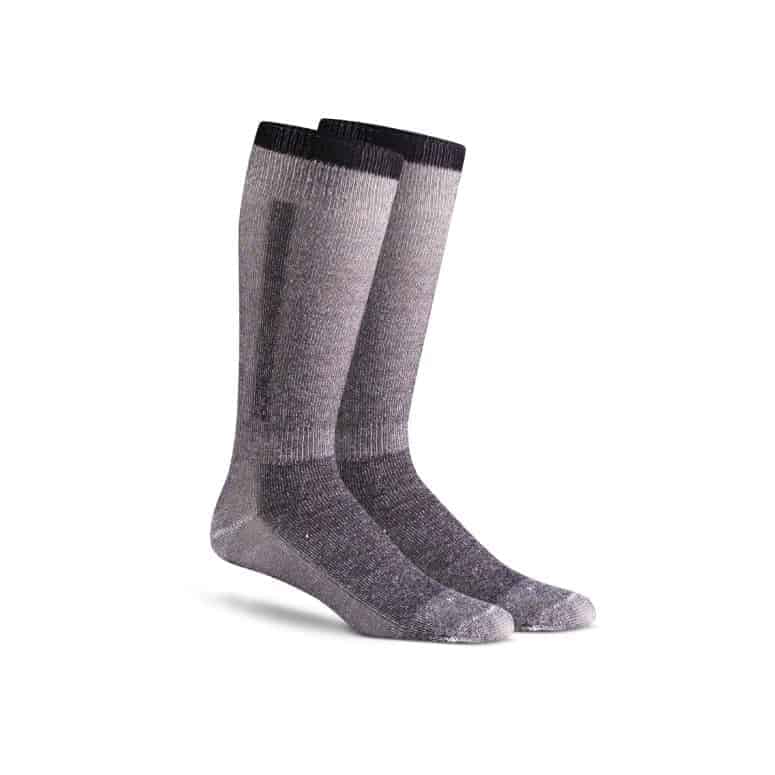 Finding the Right Ski Socks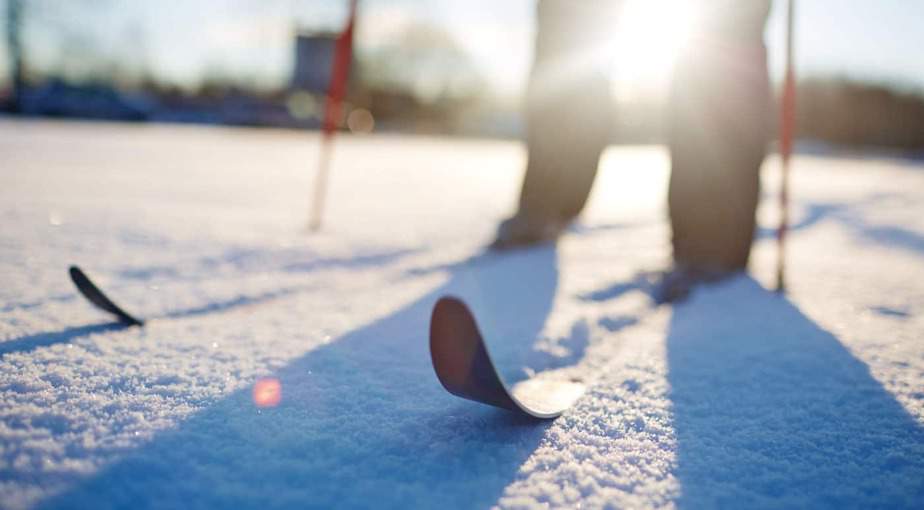 While many of us completely dread having to kiss summer goodbye and say hello to the colder, drearier months of winter, some of us, on the other hand, welcome this season with open arms. The winter, of course, brings along snow and ice, and with snow comes one very important thing: skiing!
For some of us, the adrenaline that comes with gliding full speed down a snowy mountain is enough to make us feel on top of the world (literally!), and we spend all those warmer months out of the year counting down the days until we can once again break out our ski gear.
When thinking about what gear we need alongside ourselves on a skiing trip we think of the obvious: snow boots, skis, a ski mask, ski goggles, and a warm jacket and pants. One thing we don't always put the most thought into though is what socks will be on our feet when we're shredding down the mountains!
Ski Socks Are More Important Than We Realize
If something feels off on our feet when we're tearing up the slopes we may automatically assume it's our snow boots causing the issue. However, not having the right ski socks can really make a huge difference, and it can also save you tons of money if you change your socks first before going out and buying a new pair of snow boots.
You shouldn't be ending a long day on the slopes with tons of blisters and discomfort. If this is something you experience, that's a dead giveaway that you're in desperate need of a new pair of ski socks.
The Right Pair of Ski Socks Makes a Difference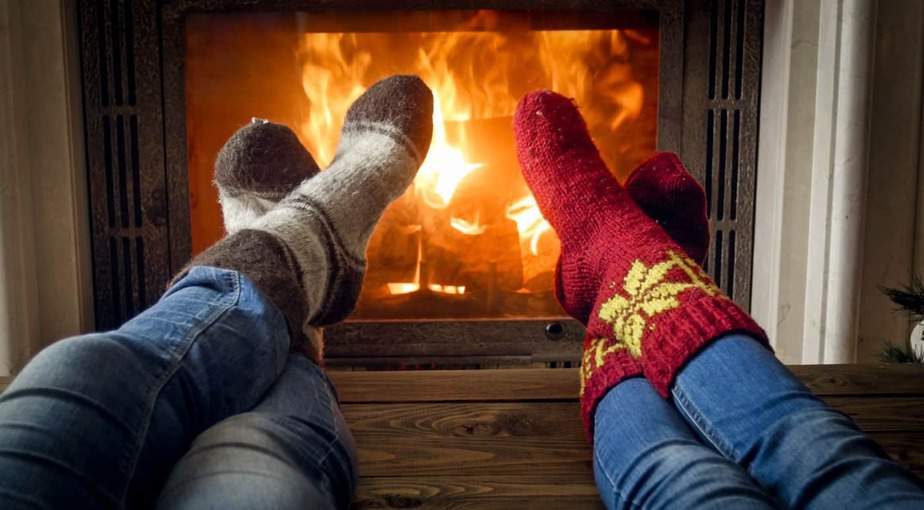 A good, quality ski sock can take you from feeling like a complete amateur to feeling like a professional skier. You'd be amazed at how much your performance can improve on the slopes simply by doing the research and purchasing a well-made pair of socks (plus your feet will totally thank you for treating them right).
Just think: your hands aren't necessarily used in skiing but you always look for a great, high-quality pair of gloves to protect them. So, in a sport that predominantly uses your feet, why wouldn't you use that same amount of care when it comes to finding socks to protect your feet?
What to Look For When Purchasing Ski Socks
You may not realize this, but there's way more to a pair of socks than just the color and the size, and it's no different when it comes to ski socks. Some things you'll want to look for in a good pair of ski socks include:
They hug your feet without being too restricting
Soft materials that don't itch
Don't fall down
Don't bunch or fold
Keep your feet warm
The right amount of cushion
Temperature regulating
Stabilize and support your feet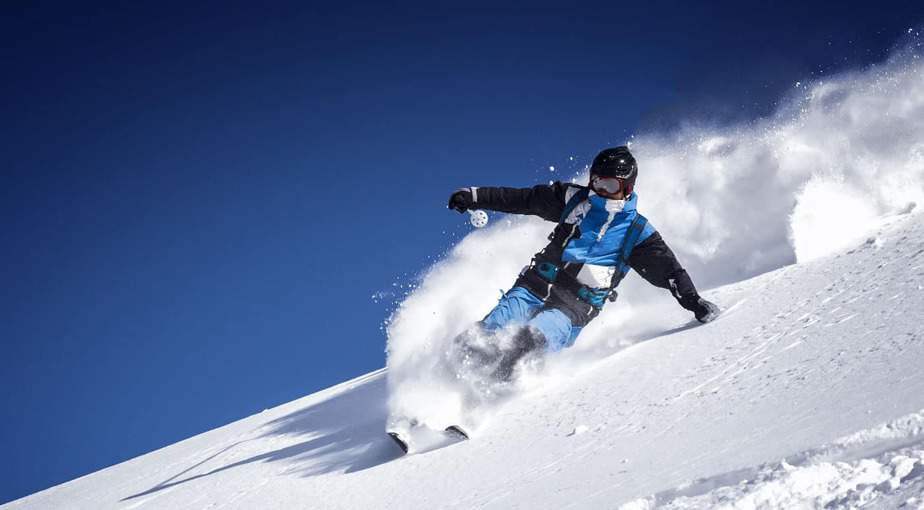 This may seem like a lot to look for, but don't be alarmed! The good thing is you can find most, if not all, of these amazing features in every single pair of socks we've provided you in this list. This means that you don't have to do any of the hard work, because we did it for you!
Let's Make Your Life Easier
Packing for a big skiing trip can be super overwhelming, and we definitely didn't want to add to that stress. We searched high and low for the best ski socks on the market, and provided you with 10 of the best pairs of ski socks. All you have to do is read through this list and take your pick—it's that simple!
Every pair of socks you find on this list have been put to the test on the slopes and have impressed us in all levels of performance.
From our favorite budget-friendly pair, to our favorite compression pair, to even our all-time favorite pair on this list, we offer you tons of different styles and brands to choose from, and we know you're bound to find a pair on this list that works perfectly for you!
From amateurs to veterans, we have the right pair for you. So, whether you're a seasoned skier training to be in the next Olympics, a total beginner who's completely okay with hanging out on the bunny hills, or somewhere right in the middle, this ranking will help you out big time.
Simply take a look through this list, figure out what pair you think works best for you, and enjoy a day out on the slopes without running into blisters, foot pain, or icicles for toes!
Methodology
Finding the best pair of ski socks may actually be a bit harder than you may think! You obviously want a pair of socks that will keep your feet super warm and safe, but on the flip side, you don't want them to be too bulky. It's all about finding a happy medium, and we know exactly what to look for.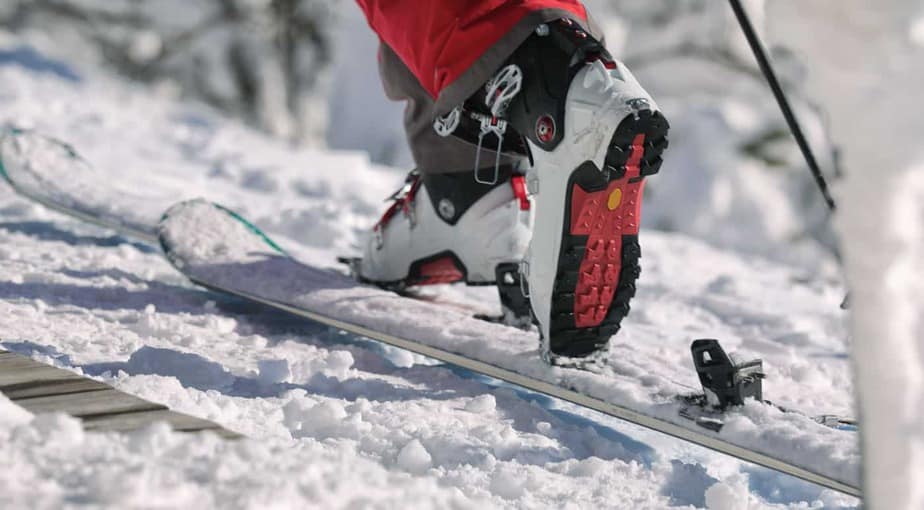 We searched high and low through every pair of ski socks on the market and judged each pair on a number of different factors, including:
Material
Height
Thickness
Softness
Brand
Price
Customer ratings
Customer reviews
Pros and cons
Popularity
Whether you're training to be a future Olympic skier or simply plan on just trying your hardest to now tumble down the bunny hill, we have a pair of ski socks that will work perfectly for you, you just have to take your pick!
The Best Ski Socks
Why are ski socks so important?
Socks are frequently one of the most overlooked pieces of gear on a skier's checklist, and though this is super common, it's also a huge mistake. It's a misconception that looking for a good, quality pair of socks is not that important, and this is especially true when it comes to a good pair of ski socks.

A good pair of ski socks can make a huge difference in your performance on the mountains, and many issues we run into when skiing like cold feet, blisters, or sore feet are often chalked up to having the wrong pair of ski boots, when really it can just be your socks!
The right pair of ski socks will not only keep your feet comfortable, but they'll also be moisture-wicking, temperature regulating, supportive, cushioning, and all-around protective of your feet. Plus, you can save a lot of money by buying a quality pair of ski socks rather than purchasing a new pair of snow boots!
Everything you need to know about what to look for in the ideal pair of ski socks can be found right in this ranking, so don't doubt how important finding the right pair really is! We promise you'll be amazed by how much your performance improves simply by making your feet happy.
Is there a certain material that's better than others for ski socks?
It's true that not everyone has the same preferences and the same foot, and while there's no one-size-fits-all model when it comes to ski socks, we definitely do prefer some materials over others. When it comes to the ultimate comfort and warmth, our favorite material for ski socks is wool, more specifically merino wool.

Wool, in general, is known for its ability to keep your feet warm and maximize the level of comfort your feet experience. Wool is super good at insulating your feet and trapping all your body heat inside, yet at the same time, it's good at wicking away moisture on your feet to prevent odor.

At the same time, wool is known for being a super strong and durable material, and they're really good at holding up and lasting a while. However, you'll see in this ranking that while wool is our favorite material, it's not the only material to consider when purchasing a pair of ski socks. Some synthetic materials are great too.

Basically, it all comes down to personal preference when it comes to materials. Some people may love wool, and others may not. Some may prefer synthetic materials and think they're much more comfortable. In the end, whatever works best for you and is the most comfortable for you is what you should go with.
What's the best pair of ski socks?
As you can see on this list, there are tons of different ski socks out on the market that we think are really amazing, and you'd benefit from any pair you wind up purchasing. However, if we had to pick our favorite, we'd definitely go with the Smartwool PhD Ski Light Socks made from super soft merino wool.

The Smartwool PhD Ski Light Sock is made from super warming and moisture-wicking merino wool, keeping your feet warm, comfy, and at the perfect temperature whether you're in the middle of a blizzard or find yourself on the slopes on one of the warmer days of winter.

These socks also feature 2 different types of elastic to prevent the need to constantly be pulling them up after each run down the slopes, plus a seamless toe eliminates any unnecessary rubbing and friction that may cause blisters or general soreness and irritation in general.

As we said, we stand behind every pair of socks in this ranking and think they're all pretty amazing. But it's close to impossible to not play favorites every now and then, and the Smartwool PhD Ski Light Socks are definitely our favorite pair of ski socks you can get your hands on.
RAVE Recommends
In order to play the part of skier, you need to dress the part, and we all know that being a great skier is about way more than just the socks! Pair your ski socks with any, or all, of these products below and we may even catch you on the next winter Olympics!