Ski poles are one of the most important — and often most overlooked — winter sport accessories out there.
Here at RAVE Reviews, we have one pair in particular that we recommend, hands down: the G3 Carbon Via Adjustable Ski Poles. They are lightweight, collapsible, multi-purpose, and best of all, crazy durable. And we actually recommend nine additional ski poles, too — so hold on, it's going to be a fun ride!
Going skiing? Let's take a quick inventory of your gear. Skis? Check. Gloves? Check. Ski poles? Uhhh… If you have always assumed that ski poles are an accessory reserved for the pros, you're not alone! It's a common misconception. But ski poles are for everyone.
Ski poles provide a crucial boost to your overall performance. They keep you balanced, give you faster turn response, and position your body into active alignment. Trust us, after you find a pair of good ski poles, you'll never hit the slopes again without them.
Here at RAVE, we put in some solid research hours to find the 10 best ski poles for your next ski trip. Some of them are for the hard-core backcountry powder maniacs among you, and others are more utilitarian and multi-purpose in their design. But what they all have in common is a destiny for adventure.
The Ski Poles We RAVE About
Best Overall
G3 Via Carbon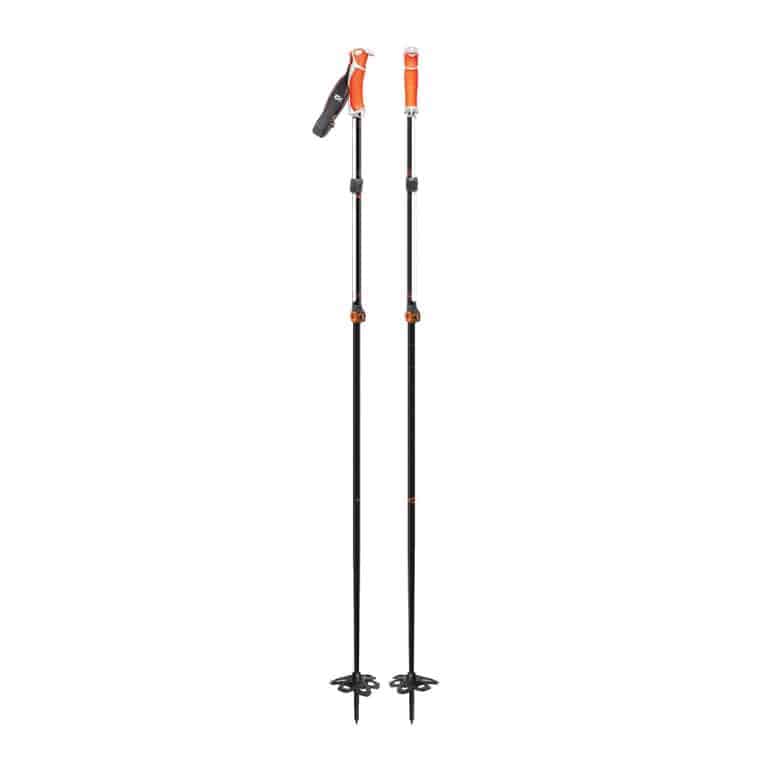 Best Price
Rossignol Stove Pipe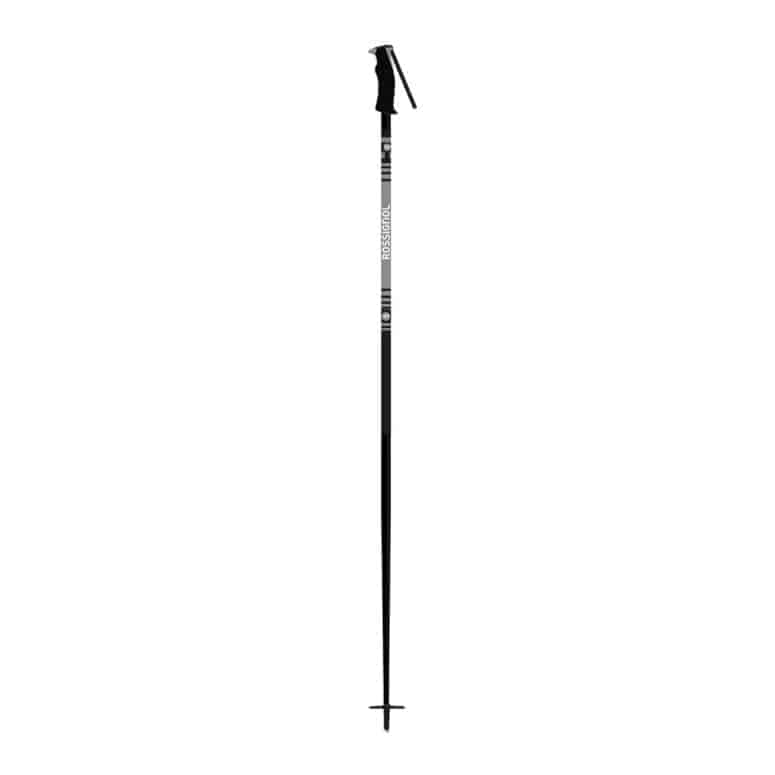 Best Eco-Friendly
Grass Sticks Original Custom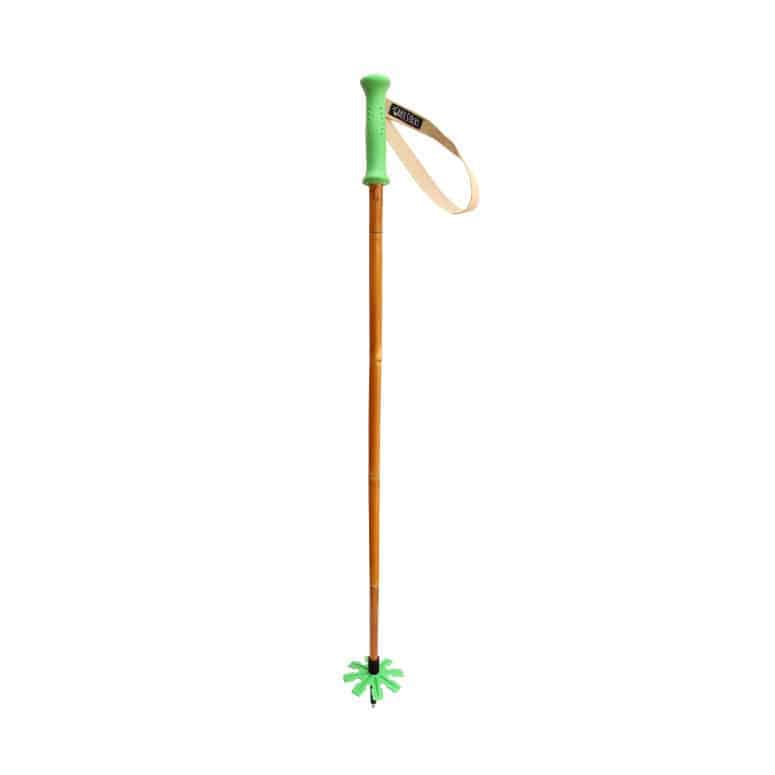 Buying a pair of ski poles can't be that involved, right? To a lot of people, it might seem that way. After all, they are a pretty unassuming accessory in your overall skiing get-up. But once you dive into the uses, features, and ranges of ski poles available out there, you'll quickly realize that you have more to consider in the process besides which ones "look cool."
Of course, aesthetics are important, but there's a lot more to it. Below, we'll walk you through some of the other helpful — and crucial — steps to take to pick out ski poles that will become your new best friends on the mountain.
Components of the Ski Pole
First things first: the basics. What are the key components of a ski pole? The actual structure isn't that complicated, and is composed of four major parts:
Strap
Unbeknownst to many people, the debate over ski pole straps is a hot one! The strap on a ski pole serves a dual purpose. One, straps aid with building momentum. They give extra support and a push-off base for your wrists. Two, they keep your poles from falling or slipping.
This second point, however, is controversial. To some skiers, the strap can actually be dangerous in certain situations. If you are literally leashed to your pole, you run the risk of getting yanked down if your pole gets caught in debris, potentially leading to injury.
It's hard to come down hard and fast on whether or not straps are worth it in the end — that decision is up to you. Most, if not all, modern ski poles come with straps, and many offer at least the option to remove them per your preference.
Grip
At the top of your ski poles, you'll find the grips, most of which are ergonomically designed to fit your hand comfortably. Ski pole grips are typically constructed out of synthetic plastic, rubber, or cork. You'll notice that grips are smaller on freestyle ski poles, mostly to make it easier for skiers to do fancy grabs.
Pole/Shaft
The pole itself is the main event. Ski poles are constructed out of a variety of materials. Here are the three most common:
Aluminum: This trusty material is tough and cheap. You'll typically find aluminum shafts on beginner ski poles. While it is durable, aluminum tends to be heavier than other materials.
Composite: This catch-all category is for ski poles made out of a variety of materials — fiberglass, resin, bamboo, you name it. While composite poles tend to be more flexible (and longer-lasting), they can be even heavier than aluminum.
Carbon fiber: You'll find carbon fiber on higher-end ski poles. This material is lightweight, shock-absorbent, and tough as hell. The only downside is that carbon fiber tends to be more expensive.
Basket
At the bottom of the ski pole, there is a small disc called a basket. The basket is a crucial element that keeps your pole from sinking straight down into the snow. Baskets vary in size and diameter, and you'll find that higher-end baskets are slightly larger, but still lightweight.
Using Ski Poles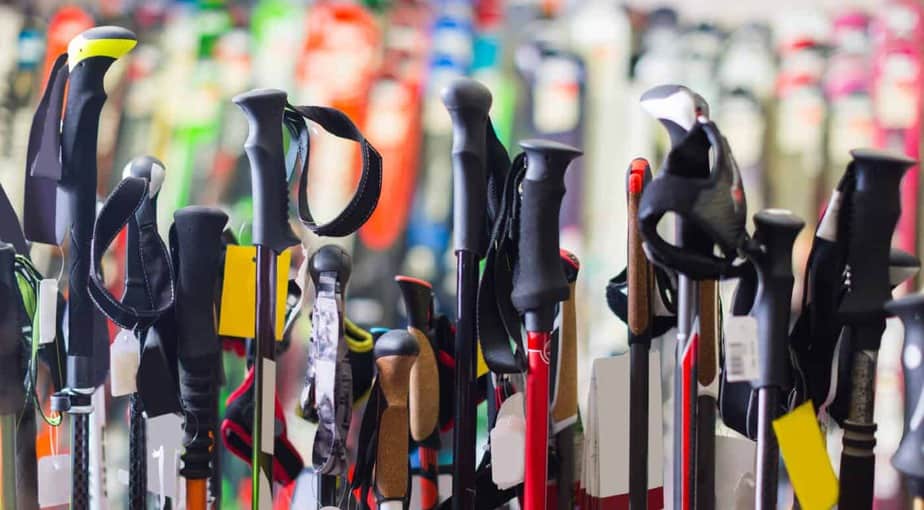 If you're going to bring two extra items with you on your skiing adventure, you should know how to use them! So what are the best ways to use your ski poles?
Gripping the Poles
First of all, you need to know how to hold your poles properly. Some people slide into the strap from above, but that's actually not the best way — it can lead to a wrist or thumb injury if your pole gets caught. Instead, slip your hand into the strap from below, so the strap is against your palm, offsetting some of your weight and preventing injury.
Pushing Off, Balancing, and Turning
Next, you can use one or both of your skis to push off the ground and start moving. Put the skis in front of your body and pull yourself through.
Once you have some momentum, your skis will provide balance overall (think guardrails or bumpers on a bowling alley) and as you make turns. Finding the right rhythm and timing in a pole-assisted turn can be tricky, but you'll get the hang of it.
Basically, lightly plant your ski pole in the snow as you make your turn. It's a way to give you balance and also improve the accuracy of the turn. Think about a rope connecting your belly button to the tip of your ski pole. With every plant, the center of your mass moves with it. As logic implies, use your left pole for a left turn, and your right pole for a right turn.
What to Avoid
Also important: what not to do with your ski poles. Never try to stop yourself using just your poles. Some people try to plant their poles in the ground to slow down, which can easily cause injury.
Methodology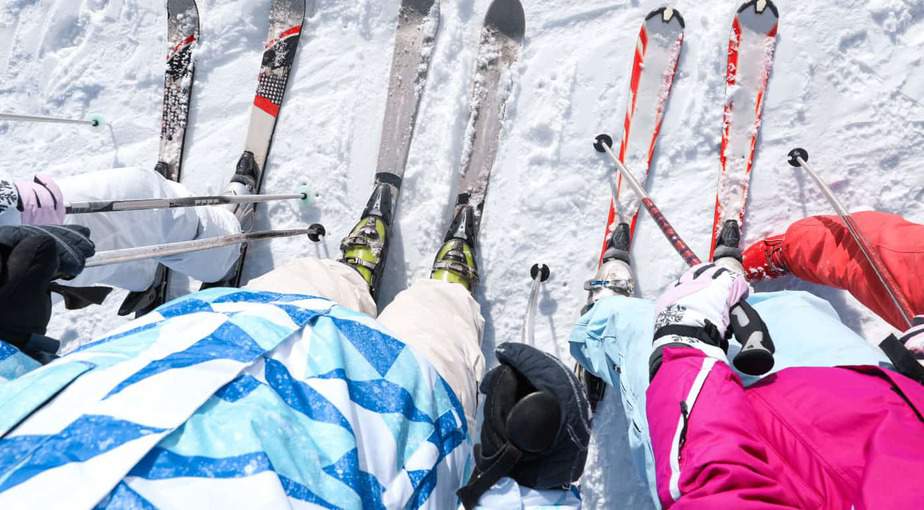 Our methodology to find the best ski poles on the market took a multifaceted approach. After all, there are a lot of options. Our data considered both tangible, objective elements as well as the more elusive, subjective elements. Here's a closer look at how we came up with our top 10 best ski poles:
Reputation: We started by taking inventory of ski poles that are commonly praised and used among the intended community: ski pros and outdoor enthusiasts.
Consumer and Product Reviews: What are consumers saying about these products? How do they perform in the real world?
Durability: We considered the types of materials used for these products. Are they constructed well? How long do they last?
Weight: We favored ski poles that won't weigh you down on the mountain. You want a pair of poles that will help you go faster, not slow you down.
Adjustability: A ski pole is only as good as how well it fits. We placed value on ski poles that are customizable or adjustable.
Price range: While we never penalized a pair of ski poles for costing more than the next pair, we tried to answer a crucial question: Does the price match the product?
The Best Ski Poles
Is there a difference between men's and women's ski poles?
While there are technically ski poles marketed specifically to men and women, most ski poles work just fine for either. Some women's ski poles have smaller grips (for women's dainty little hands? Excuse my eyerolling) but, in general, the sizing is comparable for both men's and women's poles. Ultimately, you should choose a pair that fits you well.
How should you get fitted for ski poles?
Ski poles aren't one-size-fits-all products. Make sure you buy a pair that actually fits you! Adjustable ski poles are easier to fit, since you can do some of the fine-tuning yourself. But for fixed-length poles, here are a few tips on how to size them.
First, put on your ski boots (or at least a pair of shoes). Flip your ski poles upside down. Hold the poles so your hands are just below the basket, with your thumbs coming up against the basket. If the pole is fitted correctly to your height, your elbows should be at a 90-degree angle.
Most ski poles offer a few different size options. Find one that works for you! Your shoulders will thank you after a long day of skiing.
Which type of ski pole is better, fixed length or adjustable?
Ah, the age-old debate of the adjustable ski pole. Just kidding, it's not that controversial. When it comes to deciding between a fixed length or adjustable pole, the short answer is… it's totally up to you. However, there are some pros and cons to each system.
Adjustable ski poles allow you to customize the fit. Even in one skiing session, you might want higher or lower pole settings depending on your terrain. And the fact that they can compact down to a smaller size helps with packing and the overall unwieldy task of carrying around sticks.
Fixed length ski poles, on the other hand, cannot be adjusted. Some say that fixed-length poles are sturdier and more reliable — there's just less potential for the mechanics of the pole to break.
If you're searching specifically for adjustable ski poles, here are six options from our list:
G3 Via Carbon Adjustable
Atomic Backland FR
Salomon MTN Carbon S3
Black Diamond Expedition 3
Line Pollard's Paintbrush
Black Diamond Razor Carbon Pro
What if my ski poles break? Is there a warranty?
One inescapable hazard of skiing is that ski poles break! It just happens sometimes. You take a turn too fast, clip a tree going downhill, or take a tough spill and *crack*! There goes your ski pole.
There's good news and there's bad news. The good news is that most ski poles have at least a 1-year warranty. The bad news, however, is that these warranties don't always cover everything.
For example, if your FlickLock latch pops off your adjustable ski poles, you should be covered for a replacement. However, if you take a tumble and your aluminum pole gets dinged up on a tree, it's unlikely to be covered. Just make sure to read the fine print and know exactly what is covered in your warranty.
What are the best ski poles?
There you have it! We collated 10 of the best ski poles on the market and ultimately chose the G3 Via Carbon Adjustable Ski Poles as the best of the best. The other nine options are still amazing products.
If you want to filter your search to specific materials, here's a breakdown of which ones are constructed out of aluminum alloy versus carbon fiber:
Aluminum Poles:
Leki Spitfire S
Rossignol Stove Pipe
Atomic Backland FR
Volkl Phantastick 2
Black Diamond Expedition 3
Line Pollard's Paintbrush
Carbon Fiber Poles:
G3 Via Carbon Adjustable
Salomon MTN Carbon S3
Black Diamond Razor Carbon Pro
RAVE Recommends
Ski poles aren't the only thing you need for your next backcountry skiing trip. Check out a few more products that we can't stop raving about:
SWIX Biodegradable Ski Wax ($17): This temperature-targeted wax is perfect for alpine, Nordic, and freeride skiing. The best part is that it's super environmentally friendly.
OutdoorMaster OTG Ski Goggles ($19): Protect your eyes and look stylin' doing it with these over-the-glasses ski goggles. You'll be UV protected, and you can fit these goggles on any helmet.
PROBAR Bolt Organic Energy Chews ($21): A great on-the-go energy bump, these chews are dialed in to give you maximum power. They pack away easily in a coat pocket or day bag.