If you spend any time at all on the slopes, you know that Arc'teryx is known for their attention to detail, high-quality materials, and innovative designs.
Their Sabre ski pants incorporate all of that and more: Made with Gore-Tex 3L fabric, these lightweight, softshell pants boast side vents that regulate temperature while you ski, as well as a soft lining and tapered seams to keep you warm and dry. Two large zippered pockets with water-resistant zippers keep your stuff safe on the slopes, while 100-denier Cordura powder cuffs keep the snow out. These are just some of the features that make Arc'teryx Men's Sabre Gore-Tex Ski Pants the best ski pants out there.
Choosing what to wear on the slopes is not an easy feat. There is so much to consider: You need to keep warm, but don't want to be too hot; you need material that keeps the snow out but doesn't make you sweat; your clothes should be roomy but not too baggy, and practical yet stylish.
When it comes to ski pants, the choices out there are almost overwhelming, but thankfully, there is a pair of ski pants for every type of skier and budget size. You can opt for softshell models if you plan to stick to the resort, hardshell designs if you venture into backcountry, or you can even get something in between.
Choosing the perfect pair just got a little easier: We did all the research so you don't have to, and we ranked ski pants with the best insulation, wind protection, waterproofing, and design on the market. Keep reading and take your pick!
The Ski Pants We RAVE About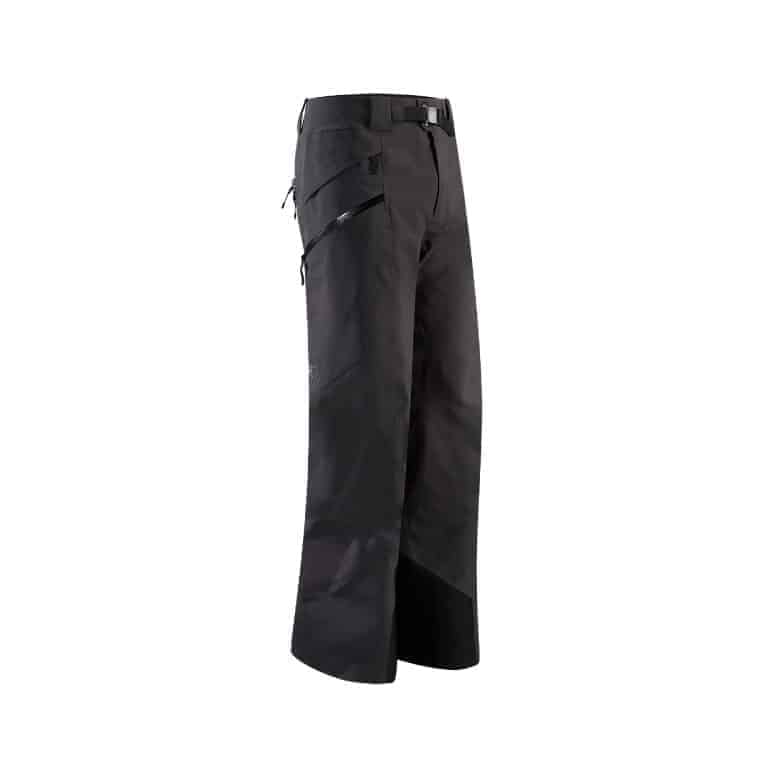 Best Overall
Arc'teryx Men's Sabre Gore-Tex Ski Pants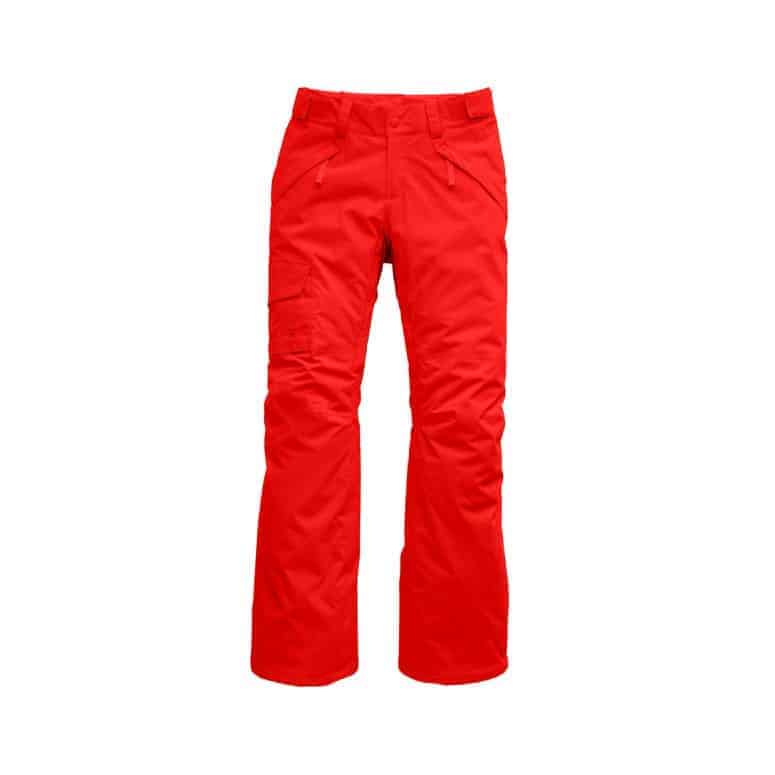 Best Budget
The North Face Freedom Insulated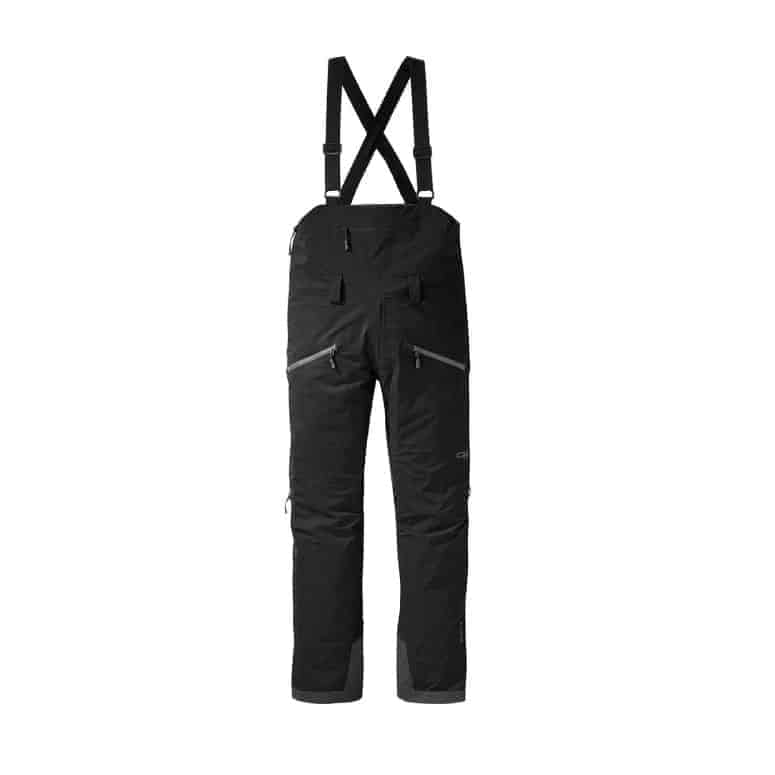 Best Ski Bib
Outdoor Research Hemispheres Bib
How to Choose Your New Ski Pants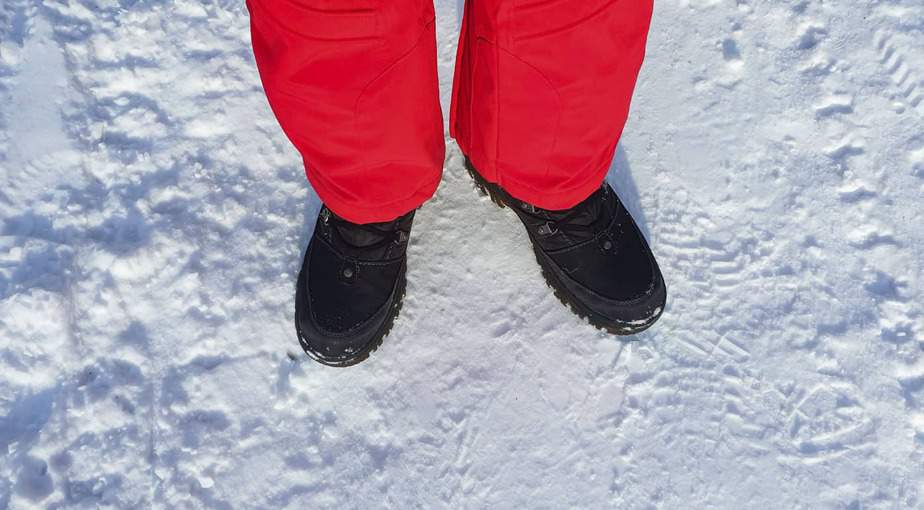 Summer days seem to stretch on forever, but summer flies by. One minute you're at the beach, the next you're digging up your ski gear, ready for the cold weather and snow-filled adventures in the backcountry.
But if your ski gear looks worse for wear, it might be time to treat yourself to a few new items. Snow pants should be your first concern, as they are arguably the most important piece of clothing for casual and professional skiers alike.
Not only should a good pair of ski pants protect you from the cold and wet, they should also allow full range of motion without being too baggy. Consider what kind of conditions you'll be facing, how often you ski, and what your budget is.
Because ski pants come in a range of different styles, designs, and price tags, it's important to know the basics before you make your pick, as your ski pants have the potential to make or break your time on the slopes.
Types of Ski Pants
Hardshell Ski Pants
Hardshell is the most common style of ski pants, and they are the best at keeping snow and water out, offering superior all-around weather protection. They are the most waterproof and windproof model, and are a great choice for long days out skiing both on a resort or in the backcountry.
Softshell Ski Pants
Softshell ski pants have become more popular over the last few years, and despite offering slightly inferior weather protection — they are not usually completely waterproof, and are not as insulated — skiers choose them because they are lightweight, flexible, and breathable.
Insulated Ski Pants
While shell pants allow you to layer up underneath depending on the weather, insulated ski pants will always keep you toasty, thanks to a built-in layer of synthetic, down, or fleece insulation. You can choose between different categories, ranging from slightly warmer to warmest, depending on the conditions you'll be facing.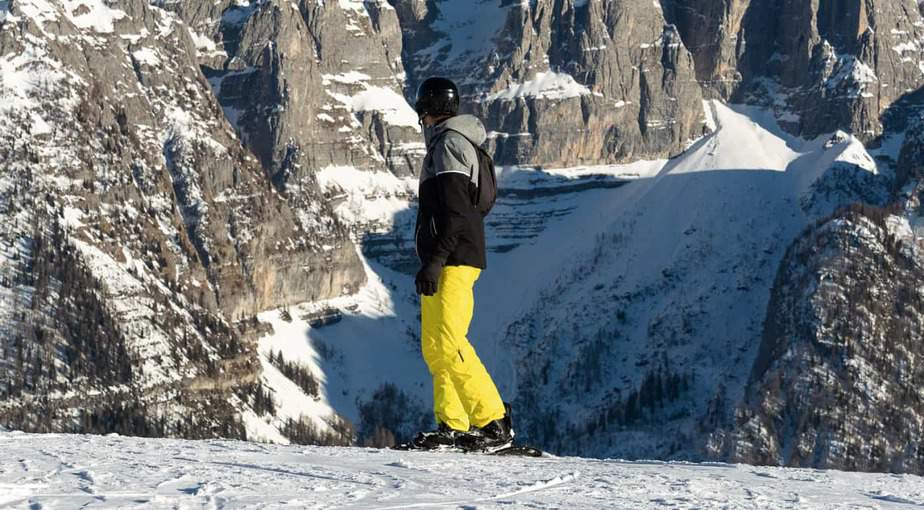 Ski Pants vs. Ski Bibs
If you truly hate the feeling of cold air, snow, or dampness on your back — don't they just have a way of getting into the most unlikely places? — choose a ski bib over traditional ski pants. Bibs cover your whole torso and lower back with waterproof and windproof material, so you stay warmer and drier.
The only downside — especially for women — is that bibs make going to the toilet a little difficult, as you have to remove your jacket and slip off your suspenders to take them off. But it's a small price to pay if your priority is to stay warm while you ski!
Important Features
Gaiters
Snow gaiters, a common feature in ski pants, are a fabric guard fitted at the bottom of your pants that prevent snow and icy water from getting up your leg. They usually use zippers, Velcro, or snaps to seal securely around your snow boots. If your pants don't feature built-in gaiters, you can buy a pair separately.
Cargo Pockets
Pockets are not always a priority for skiers, but it's always useful to have a few places to store a snack or your phone. If you're into backcountry skiing however, you'll need a bit more space to store things, so zippered cargo pockets are an essential feature.
Recco Rescue Reflectors
Recco reflectors are an important safety feature if you often venture off piste and into areas that may experience avalanches. These small, battery-free transponders respond to signals from a Recco detector, meaning that rescue workers will be able to find you in case of an accident. They are not as strong as a rescue beacon, but are nonetheless a good safety measure.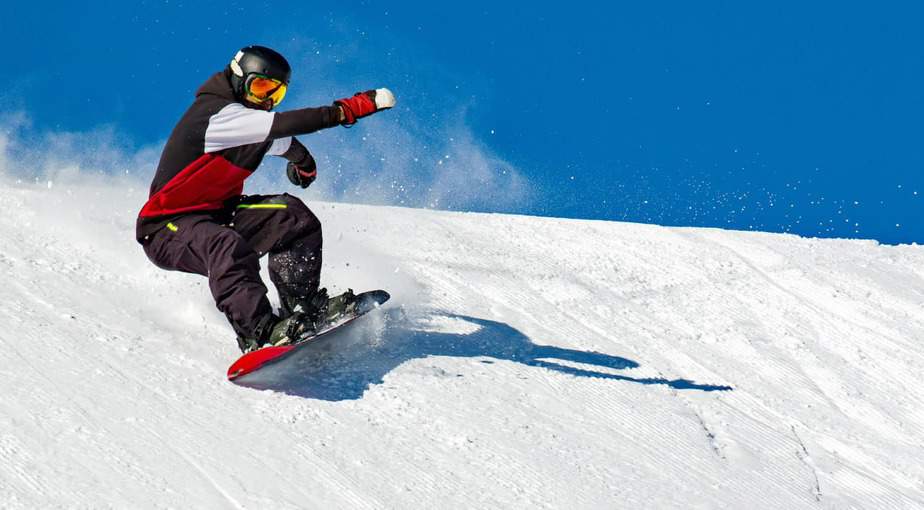 Ventilation
Mesh-lined venting allows for temperature control and ventilation while you ski. Vents are located on different parts of the pants depending on the model, but many ski pants feature leg or thigh vents, which sometimes even run the whole length of the leg.
Waterproofing
The last thing you want while you ski is to get wet and cold, so wearing pants that are waterproof is pretty important. Most ski pants have a waterproof rating of between 5,000 and 20,000 millimeters. High-end fabrics such as Gore-Tex don't use waterproof ratings, but they are still good at keeping out water.
Adjustable Waist
Some pants come with belt loops so you can use your own belt. Other models feature a handy adjustable waistband, so you can adjust them to fit you perfectly.
Methodology
Finding the right pair of ski pants is a science, so we approached it as such. We spent weeks conducting research across dozens of consumer websites, sifting through thousands of consumer reviews, and aggregating data. We analyzed the results and created a scoring system to rank each pair of ski pants accordingly.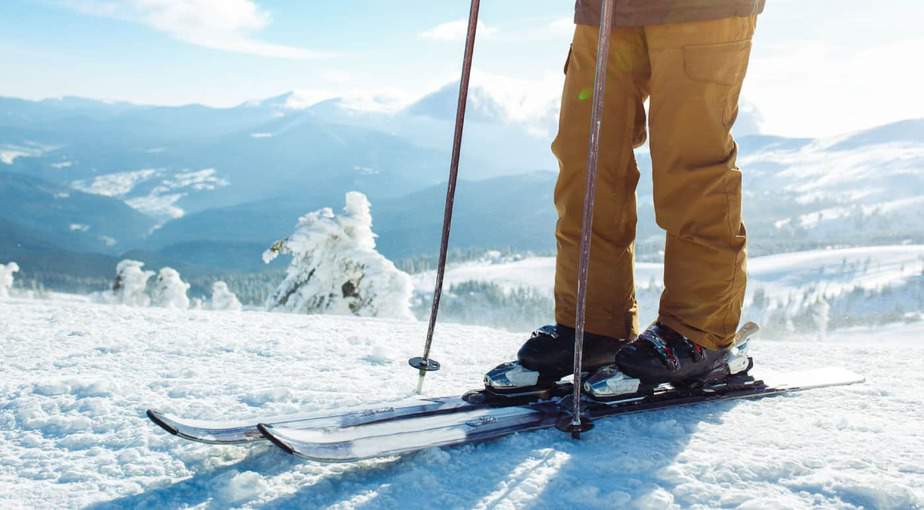 These are the factors we kept in mind during our research:
Value
Breathability of materials
Windproof materials
Waterproofing
Venting
Design and range of motion
The ranking of the best ski pants below is the result of our thorough research, data aggregation, and analysis.
The Best Ski Pants
1
Arc'teryx Men's Sabre Gore-Tex Ski Pants
If you are an active skier who spends time on the resort and in the backcountry, get your hands on a pair of ski pants that is versatile, durable, and lightweight. Arc'teryx Sabre pants use a three-layer Gore-Tex construction to protect you from the wind and snow, while a layer of soft fleece inside keeps you toasty.
Arc'teryx's attention to detail is remarkable, and they added a whole set of features that will make your time on the slopes safer, easier, and more fun: Cordura powder cuffs keep out the snow, water-resistant side zippers can be opened and used as vents, and large zippered pockets and smaller stash pockets ensure you can carry everything you need.
These pants also come with built-in Recco reflectors and belt loops (and a removable belt), and are designed to be comfortable but not baggy.
Pros
Tapered seams
Embedded Recco reflectors
Aerodynamic
2
The North Face Freedom Insulated
If you want a great pair of ski pants but don't have a fortune to spend, North Face should be your first port of call. Their Freedom Insulated ski pants are among the most popular for skiers who hit resort slopes regularly and are looking for a good quality option from a trusted brand that won't break the bank.
At $200, these pants feature a durable two-layer construction with excellent weather protection. They are lightly insulated — enough to keep you warm on cold days — and feature a Hyvent 2L waterproof membrane to keep you dry. And don't worry about getting too hot either, because the Freedom pants also come with an excellent ventilation system.
These pants also feature an adjustable waist so you can customize them to your size, and they look super stylish and sleek. There are dozens of color options, so make sure you head over to the website for a browse.
Pros
Great value
Adjustable waist
Well-insulated
Cons
Unsealed zips
Slightly tight fit
Not very breathable
3
Outdoor Research Hemispheres Bib
If you like a bit of extra warmth on your upper body and don't like the feeling of a waistband constricting your movements, you should get yourself a ski bib. And there is no better bib than the Outdoor Research Hemispheres Bib, which combines hardshell protection with softshell flexibility.
The hardshell design is enhanced with Stretch Technology panels, which give you an excellent range of movement and sense of freedom when you ski — not to mention incredible comfort. But they don't compromise on weather protection, and the sealed seams and reinforced cuff guards will keep you warm and dry.
Outer thigh vents also help keep you cool. Unlike other bibs, this one is built in such a way that makes it easy to slip off — a big pro for female skiers! A full set of features, from a dedicated avalanche beacon pocket to reinforced cuff guards, make this bib one of the all-around best ski pants.
Pros
Great temperature control
Reinforced cuff guards
Great fit
Cons
Very expensive
Not much pocket space
A bit loose in the torso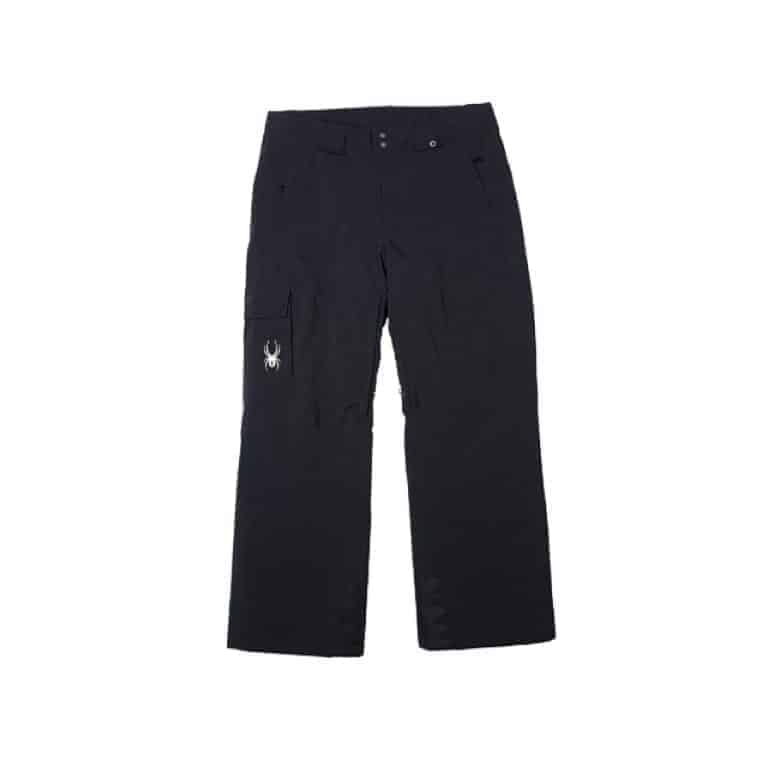 Our fourth best ski pants, the Spyder Troublemaker, is a great entry-level option for casual skiers who spend most of their time on a resort and don't venture too far off piste. This great value option offers moderate weather protection, but more than enough for a good day out skiing in decent conditions, and a good amount of flexibility and comfort.
These pants are made entirely of polyester, and have a 10,000 waterproof rating, which will keep you dry on most days, but it's not enough for wet conditions.
Large zippered pockets, back Velcro-sealed pockets, an adjustable waist (with belt loops, just in case), and cuff guards make these pants very user-friendly. Add to that the well-designed thigh vents and roomy knee box, and you have a very practical and low-budget option for next winter.
Pros
Very affordable
Good ventilation
Cargo pockets
Cons
Sizing is a bit off
Not durable
Moderate insulation
5
Salomon Men's Chill Out Bib Pant
If you're not sure you're ready to switch to a ski bib, but do want some extra protection around your core, try Salomon's Chill Out Bib Pant. This model is a hybrid with removable suspenders, offering some good lower back and belly coverage without restricting movement.
The bib's three-layer construction is enhanced by Salomon's ClimaPRO waterproof fabric and ActiLOFT insulation layer, so you're bound to stay warm in any kind of weather conditions. You can also detach the bib if you feel like using these as standard ski pants, or if the sun is out and you prefer to be cooler.
This bib features two zippered fleece hand warmer pockets, and two smaller, snap-flap pockets on the rear. Skiers love the stretchy design and comfy fit, but the sizing does run a bit small.
Pros
Good insulation
Lots of pockets
Extremely comfy
Cons
Not a real bib
Sizing runs small
Variable pricing
6
Helly Hansen Men's Legendary Ski Pants
These classy, insulated ski pants will keep you warm and comfy on the slopes, thanks to two-layer construction and a 10,000 waterproofing rating, while some added PrimaLoft insulation stops you from getting cold on the ski lifts. They are perfect if you spend most of your time on resorts, with the occasional foray into backcountry skiing.
The Helly Hansen Legendary ski pants have an excellent motion range thanks to the stretchy fabric and articulated knees. They also feature fully sealed seams, boot gaiters, and water-resistant zippers to keep water and ice from seeping through and getting you wet.
The simple design is also very popular among skiers, and you can choose from dozens of colors to combine with an equally high-quality Helly Hansen jacket. No one ever said you can't look good on those slopes!
Pros
Great value
Stylish
Great breathability
Cons
Not very durable
Can run small
Not for extreme cold
7
Flylow Gear Baker Bib – Women's
This excellent three-layer bib will keep you warm and stylish on any terrain and in all weather conditions. The Flylow Foxy Bib's storm-shell intuitive fabric effectively blocks cold wind while maintaining breathability, while an innovative ventilation system keeps you cool no matter how hard you hit the slopes.
This bib boasts a 20,000 waterproof rating, which is the highest, so you're bound to stay dry even in the wettest conditions. Flylow bibs come with a good set of features, such as inner leg ventilation, roomy knee boxes, zippered pockets, and a cool kangaroo pouch.
A common problem with bibs is that they make going to the bathroom a whole ordeal. But this one has a very clever design that allows you to unzip and slip down a whole section of fabric to make things easier. This bib is designed specifically for women, but men can get their hands on the equally good Flylow Gear Baker Bib.
Pros
Temperature control
Great waterproofing
Roomy knee boxes
Cons
Can be baggy
Expensive
No powder gaiters
8
Marmot Refuge Pants Ski Pant
Marmot is known for high-quality mountaineering gear, and their Castle Refuge Pants Pants are a case in point. These versatile pants are made with NeoShell and Polartec Alpha Insulation, which are both very breathable and waterproof fabrics that keep you warm and dry. And in case you get hot, you can use the internal and external vents to cool down.
Water-resistant zippers are used throughout to ensure that snow stays out, even on the practical thigh pockets that are large enough to store snacks and your phone. An adjustable waist, internal gaiters, articulated knees, and scuff guards make these Marmot pants a very user-friendly and practical option.
Recco rescue reflectors are included to help search and rescue teams find you in case of an accident.
Pros
Very breathable
Warm
Great waterproofing
Cons
Expensive
Sizing is off
Limited colors
9
Black Diamond Mission Pant
If backcountry is where you feel most at home, invest in a pair of ski pants that are made specifically for that kind of environment. The Black Diamond Mission Pant is perfect for backcountry adventures, thanks to the innovative and well-designed features, as well as high-quality waterproof Gore-Tex fabric.
These pants include all the safety features you need to head off-piste, from built-in Recco technology to a dedicated transceiver pocket on the right thigh, which is easier to access than standard transceiver pockets on the chest.
Articulated knees give you total freedom of movement, while a removable belt — with belt loops in case you prefer to use your own — allows you to adjust depending on your size and preference. The Mission pants are designed for backcountry skiers, but are just as good for the rest of us, too!
Pros
Very warm
Great range of motion
Gore-Tex waterproof
Cons
May be too baggy for some
Sizing is off
Expensive
The Columbia Bugaboo II is the cheapest pair of ski pants available, but that doesn't translate to poor quality. Of course, you get what you pay for, so these pants can't be compared to the ones at the top of our ranking. But they are more than adequate for casual skiers who spend their time on resorts and don't venture too far off piste in bad conditions.
The Bugaboo's waterproofing is average, but thick and tough enough to keep you protected. The insulation is also adequate: 60 grams of synthetic insulation are sure to keep you warm, even on chilly days.
Despite being such a budget option, the Bugaboo II pants are quite durable, thanks to a nylon outer layer and nylon-reinforced cuffs to prevent fraying. Consumers report that these pants run a little small, but are extremely comfy if you get the size right.
Pros
Great value
Well insulated
Nylon-reinforced cuffs
Cons
Runs small
Unsealed seams
Average waterproofing
Related Rankings
How much should I spend on my new ski pants?
That is entirely up to you, your budget, and your skiing habits. Good ski pants usually cost between $100 and $450, and ski bibs can go over $500. If you are a casual skier who only gets out occasionally and usually sticks to resort skiing, budget ski pants such as the North Face Freedom, Helly Hansen, or Columbia Bugaboo II will work well.
But if you ski often, and usually push into harsher terrain and for longer trips, invest a little more. Pricier pants tend to have a higher waterproof rating, which is essential in backcountry skiing, and are made with breathable fabric. You can get a great pair for around $350, and they are bound to last you several seasons.
Few skiers need to pay $500 or more for new ski pants, but if you are serious about winter sports and spend a lot of time in the mountains, a few hundred dollars will make all the difference. Products in this category are made with the best materials that ensure you stay dry and warm even in the worst conditions, and usually include important safety features.
What should I wear under my ski pants?
What you wear under your ski pants ⁠— known as your base layer ⁠— depends on the type of ski pants you own, and the conditions in which you're skiing. Because some ski pants are well-insulated, you might not need to wear anything at all (okay, you should probably wear underwear!).
Modern base layers are typically made with synthetic fabrics, because they tend to be affordable, breathable, flexible, and moisture-wicking. This is important because keeping you dry also means keeping you warm, which is fundamentally important in the mountains.
Cotton is not commonly used as a base layer, because it is neither insulating nor moisture-wicking. Silk used to be a popular choice, and even though synthetic materials are now used more often, it's good at keeping you dry and warm. Wool is still a popular choice, especially for people who prefer natural materials, because it has great insulating properties and wicks away moisture.
What is the difference between ski pants and snowboarding pants?
While some people use their ski pants for snowboarding and vice versa, there are some important differences between the two. Snowboarders need more freedom of movement than most skiers, so snowboarding pants are baggier, while ski pants are more fitted and have a higher waist. Snowboard pants also have padding on the butt and knee area, while ski pants usually do not.
Ski pants are sometimes a bit more stiff, and have built-in features such as scuff guards, which snowboarding pants do not.
Of course, if you are a skier who wants to try their hand at snowboarding (or vice versa), using the pants you have is just fine. It will only be worth investing in a different pair if you get a taste for it and decide it's something you want to keep doing.
How do I wash my ski pants?
Let's be honest with ourselves: Skiers don't always appreciate the importance of washing their ski gear. Sometimes it's just easier to let it dry out and put it away until the next season. Out of sight, out of mind! But this isn't just gross (and I say this as a guilty party), it is also potentially damaging.
Keeping your gear dry and clean ensures it lives as long as possible, and delays signs of wear and tear.
Start by checking the washing instructions on the label, or consult the brand's website if you're not sure. If your ski pants can be machine washed, set the washing machine to a delicate cycle with cold water and low spin. If you're really serious about taking care of your ski clothes (and considering how much some of them cost, you probably should be), use detergent that is specifically made for washing waterproof clothes.
What are the best ski pants?
To answer this question correctly, we at RAVE Reviews spent weeks trawling the internet, aggregating data, and researching hundreds of different brands and models of ski pants.
Through our research, we narrowed our list down to 10 different pairs of the best ski pants, all of which are excellent for different reasons. The Arc'teryx Sabre Gore-Tex Ski Pants are in first place thanks to their three-layer Gore-Tex construction and wide array of useful features, from Cordura powder cuffs to zippered vents and large cargo pockets.
But the Sabre is a top-of-the-range option, and has a price tag to match. Check out the ski pants in our ranking for other, budget (but still high-quality) options.
RAVE Recommends
Ready for winter? Don't forget to pack these handy essentials for a great day on the slopes.
Powder: The Greatest Ski Runs on the Planet ($26): Need some inspiration before you book your next ski holiday? Look through this stunning book, which features the best and most extreme runs in the world, from classics like Chamonix and Whistler to off-the-beaten-track gems in the Himalayas and the Atlas Mountains.

Tuban Ski Waterproof Gaiters ($20): Not all ski pants come with built-in gaiters, but luckily you can buy them separately. These durable and breathable gaiters are made with Cordura fabric, and are easy to fasten onto your snow (or hiking) boots.

AKASO OTG Ski Goggles ($39): Things can get sunny out on the slopes, so don't forget to pack your sunscreen. And, of course, don't forget a good pair of ski goggles to protect your eyes from harmful rays, as well as snow, ice, and wind. We love this model because of the venting windows at the top and bottom, which stop them from fogging.

HEROBIKER Thermal Underwear Women Set Winter Skiing Warm Top ($20): Ladies, keep warm and toasty with this great thermal underwear set, made of super soft, moisture-wicking polyester. The material is stretchy and smooth, so it feels like a second skin and won't limit your movement.

HEROBIKER Men Thermal Underwear Set Winter ($20): And boys, here is one for you too. Made of breathable and moisture-wicking fabric, this thermal underwear set makes sure you dry fast no matter how much you sweat, and keeps you feeling fresh and clean.

Trevor Reilly
Trevor Reilly is a freestyle skier who competes internationally for the United States. He competes in dual moguls and moguls. He represents the Park City Ski And Snowboard Club.