Whether you prefer snowboarding or skiing, a groomed lane or the alpine, and whether you're a veteran or a novice, we think the Vantage by Smith is the best of the best ski helmet (or brain bucket) on the market.
Praised by avid skiers and sports authorities everywhere, the Vantage offers the perfect blend of protection, comfort, performance, versatility, and style. Visible through the vent openings of the helmet is Smith Optic's distinctive honeycomb aerocore construction, designed to absorb any impact. Other specs include MIPS liner compatibility, superior ventilation, and an adjustable BOA dial for easy fitting — and all weighing in at a mere 18 oz! When it comes to protecting your skull, the Vantage is a no-brainer.
20 years ago, it was commonplace to see skiers and snowboarders ripping slopes without helmets. That has mostly changed. Today, 83% of skiers always wear their helmets on the slope, according to the National Ski Areas Association. It took two decades, but we finally got the message: A helmet is as essential a piece of ski gear as goggles or ski boots.
However, 83% is still lower than ideal. Studies (and common sense) clearly show that even a cheap helmet dramatically reduces the risk of concussion, head lacerations, and skull fractures. Helmets also keep your head warm and dry. Luckily, the embarrassing "brain buckets" of yester-decades are outmoded. Lab-tested and beautifully designed helmets made specifically for snow sports are now available at competitive prices.
All of the helmets in this review are for serious-minded skiers and snowboarders who seriously mind their noggins. Most were selected with regular use in ski resorts in mind, but there are a few more muscular models designed for extreme conditions out in the backcountry. All helmets listed are tested and approved by the American Society for Testing and Materials (ASTM).
The Best Ski Helmets
Best Overall
Vantage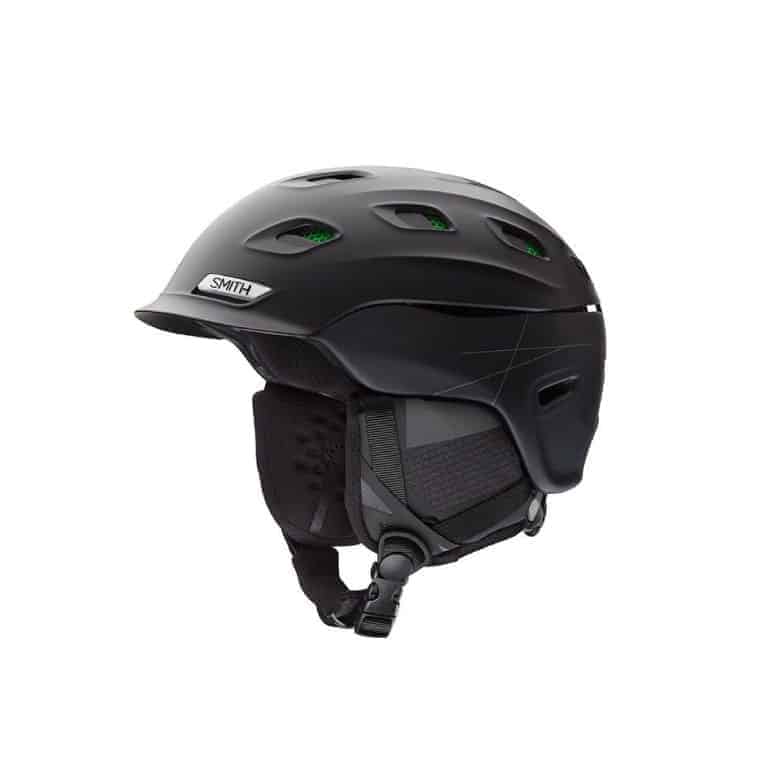 Best Price
Ledge MIPS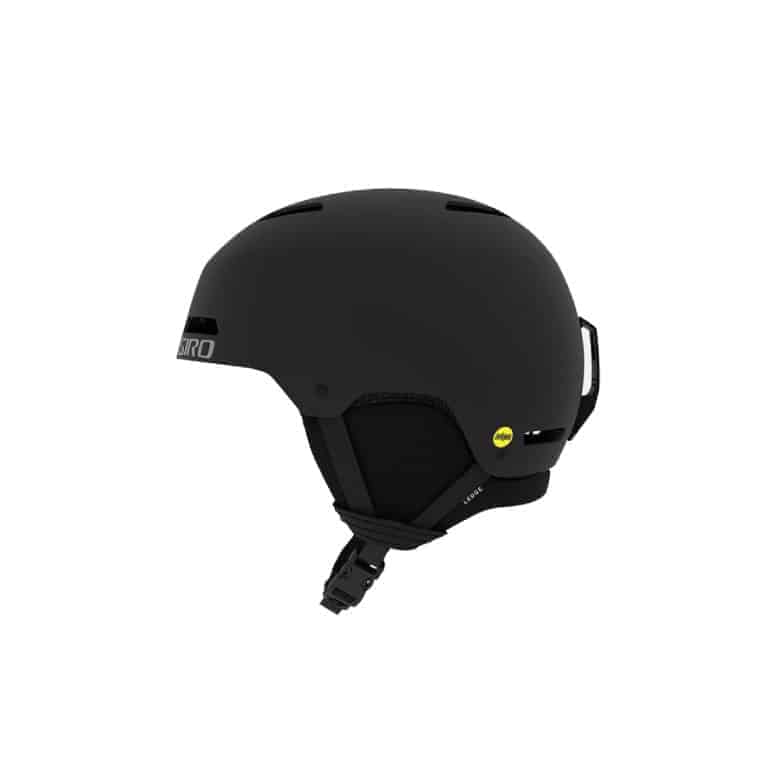 Best for Backcountry Skiing
MTN Lab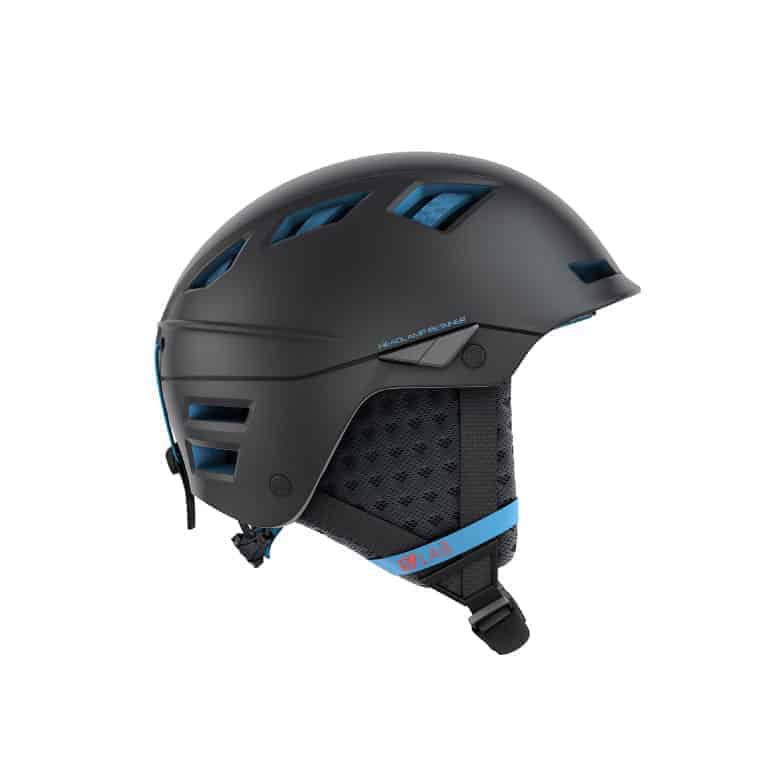 Finding the Best Ski Helmet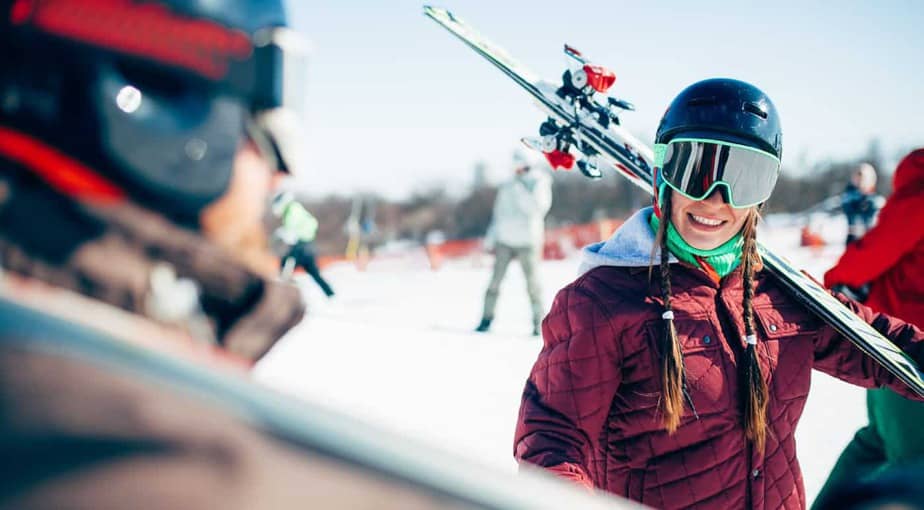 Skiing has become more popular in recent years. This has a way of heightening our awareness of the risks involved. While you are more likely to be struck by lightning than experience a serious snow sports-related accident, the potential risk still exists. The most serious accidents — which are very serious, even life-changing if not life-ending — involve head trauma. So the most significant safety precaution on a slope is to wear a helmet.
But when should you wear a helmet? Many victims of ski accidents are not the crashers, but the "crashees" — that is, not the ones who were gliding down a slope at high velocity, but the pedestrian that happens to cross their path. Oftentimes, the injuries are so severe because the pedestrian was not wearing the appropriate gear. He wasn't on his skis, after all! So it's vital to wear your helmet at all times on the slope — not only when you're ripping it.
For these reasons, it's not enough to purchase a helmet that meets the proper safety standards. You need a helmet you will enjoy wearing and be less inclined to remove. In short, it needs to be comfortable. In this sense, style is also a safety concern. Sure, it's a little vain, but the case remains that you are more likely to keep your noggin encased in ABS plastic if you look good in it.
Helmets are a no-brainer. Here's everything you need to know about buying a ski or snowboard helmet…
Ski/Snowboard Helmet Size
Much like heads, helmets don't come in the same size. Yet this is a vital consideration for safety as well as comfort. A helmet the wrong size won't support the head and absorb impact. If you haven't done so already, measure the circumference of your head. You can do this with a soft-sided measuring tape. If you don't have one, use a string. Wrap it once around your head about an inch above the eyebrows and ears, and then hold the length up to a measuring rod.
Most helmets are sold in sizes of small, medium, or large. However, you should pay close attention to their measuring standards before making a purchase. You also should take into account the shape of your head. Is the done of your skull round-ish or oval-ish? Some brands have a reputation for fitting different head types better than others. Smith Optics is said to fit rounder heads best, whereas Giro fits narrower head shapes. But this is not true for each of their models.
The best practice is to visit a sports store in your area — even if you intend to purchase online later — and try on a few helmets until you find a comfortable fit. If this is not possible, check if an online retailer accepts returns.
There is no such thing as a "perfect fit" for most people. There is also no such thing as a one-size-fits-all. Steer clear of any brands that make such a claim. The best helmets have an adjustable fitting system, like a BOA dial, which helps you find a better fit.
Goggle Compatibility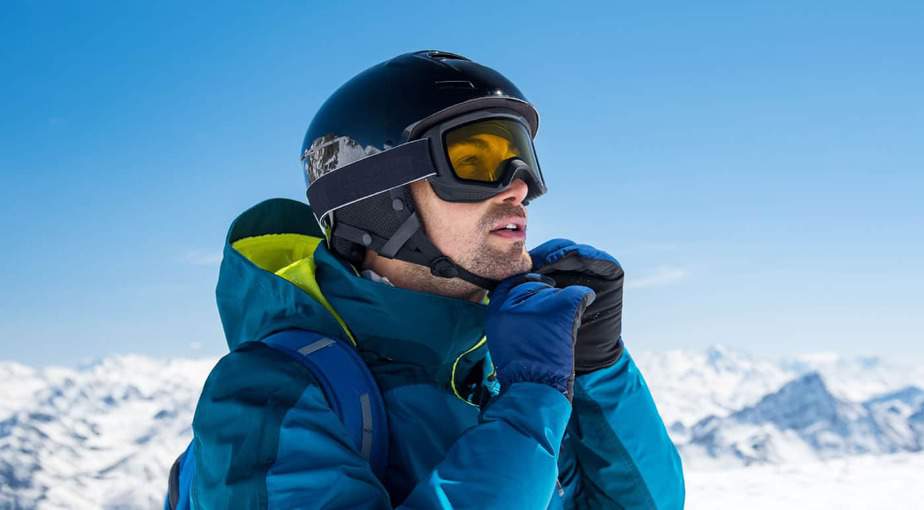 Goggles and helmet are the peanut-butter-and-jelly of head safety. They belong together. In the best cases, they are made for each other.
Goggles and helmet should fit together like two pieces of a puzzle. If the fit is too tight, the helmet will be pushed up and goggles pushed down your nose. Or there's the opposite problem: A gap is formed between the top of the goggles and the brow of the helmet, exposing a portion of your forehead to cold air.
The best way to guarantee a good fit is to keep your gear on-brand. All Smith helmets are designed to fit all Smith goggles, and all Giro helmets to fit Giro goggles, and so on. Many skiers find a brand they like and then commit to it.
However, if you have a favorite pair of goggles you're unwilling to part with, some helmets are very accommodating to a variety of goggle types. Giro, for example, tends to design helmets that fit well with goggles made by other brands. Bern tends not to. Again, the best practice is to try on both at a sports equipment store before making a purchase.
Venting
Venting is a vital part of comfort. There are two types of air-vents on ski helmets: adjustable or fixed. Adjustable vents can be opened and closed, whereas fixed vents are just slits in the shell. Fixed vents are found in less expensive models, but they allow moisture to creep into the helmet on days of heavy snowfall.
The number and placement of vents is also an important consideration. The more vents, the higher the price tag tends to run. It should have at least 8, as a minimum. 11 is moderate. Over 15 is luxuriant.
Construction Type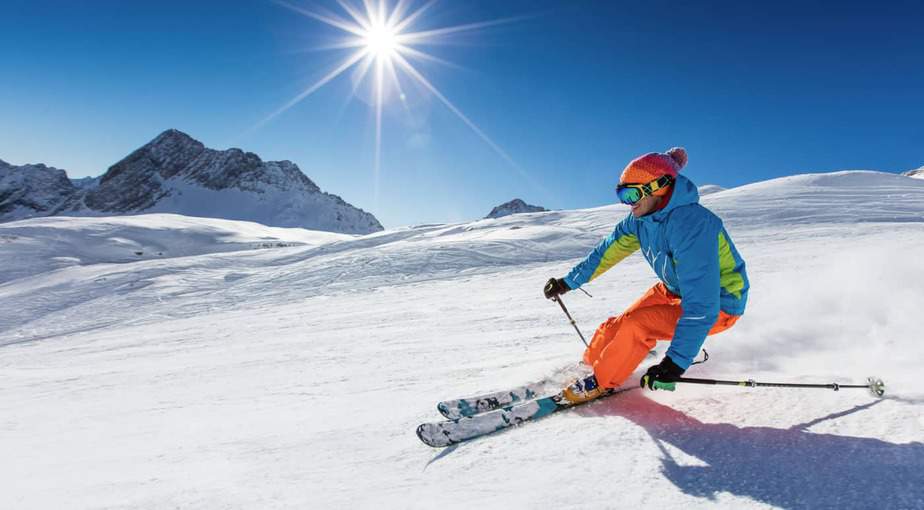 There are 3 general construction types: ABS, in-mold, and hybrid in-mold.
ABS is the most traditional and durable type. They are a tough plastic hardshell with a foam liner glued on the inside to absorb impact. In addition to toughness, it also tends to be heaviest and the least expensive type.
In-mold and hybrid in-mold constructions are becoming more popular. The most high-end helmets are one of these. These constructions take a polycarbonate shell (thinner than the ABS) and an EPS foam liner and integrate them together into a single piece. These constructions tend to be more lightweight and with improved ventilation.
The difference between the in-mold and the hybrid is the latter adds a hardshell layer for extra protection. So hybrids offer the best of both worlds, but they tend to be more expensive.
Methodology
How did we go about determining the best ski helmets, you ask? The results of these reviews came from cross-referencing product tests (both by companies and individuals), applying critical analytics to hundreds of customer experiences, researching the policies, principles, credentials, and methodologies of manufacturers, and also citing sports authorities on particular brands. In short, we have strived to put ourselves in the position of customers. The only difference is that we've done the research for them.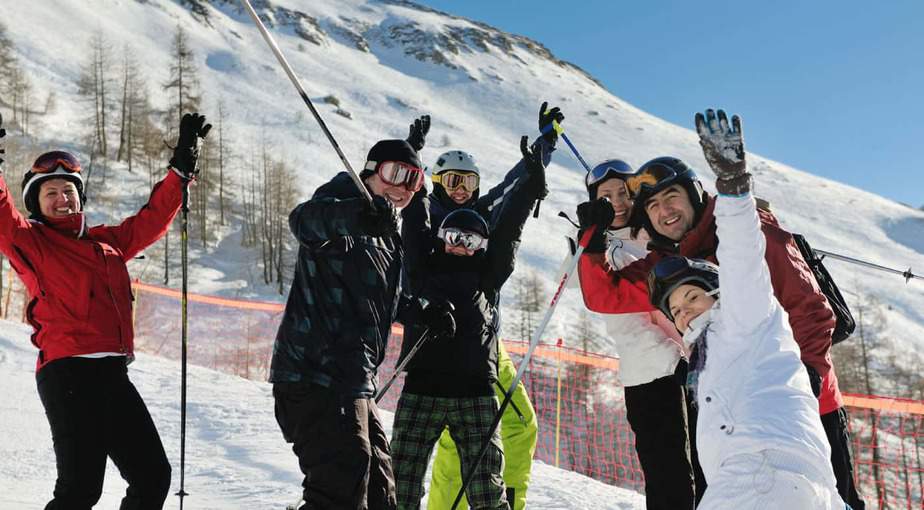 Below are the criteria we looked for when compiling this list:
Branding: We started with established, praised, and popular brands that have a devoted following among avid skiers, and move on from there.
Testing: We give more credibility to products that have been lab-tested for safety. For instance, a helmet may use a carbon fiber hard-shell instead of the standard APS plastic. That may sound tougher, but such materials are often untested.
Fitting System: We value helmets that include an integrated fitting system, like a BOA dial. Adjusting the fit of a helmet is critical for both comfort and safety.
Venting: Ventilation is difficult to quantify. However, we give greater value to helmets with an adjustable ventilation system, while also considering the number, size, and placement of vents.
Weight: After several hours on the slope, a helmet can begin to feel heavy. Lightweight helmets are more likely to be worn at all times, so we consider weight a component of safety.
Construction: How is the helmet built, of what material, and what are the safety features?
Compatibility: We favor helmets that are compatible with more than one type of goggles and includes other compatibility features like a goggle strap, goggle retainer hook, goggle lock, etc.
Versatility: We will favor helmets that are good for daily use and suitable for ski resorts, backcountry, or bike trails.
Style: It's more important to be safe, but why not look your best at the same time?
Audio System: Listening to music is becoming a more popular part of the skiing experience. We value and review ear pads that are compatible with headphones or feature their own integrated audio system.
Warranty: How long is the warranty, and what does this tell us about the product?
Reviews: What are the experiences of buyers? Are they positive?
The Best Ski Helmets
Is a snowboard helmet different from a ski helmet?
Companies often choose to market snow sports helmets either to skiers or snowboarders, but there is no difference between them. A snowboarder is free to use a helmet marketed to skiers, and vice versa. The difference is entirely in name.
For this reason, it is often best to refer to "snow sports" rather than "skiing" or "snowboarding," respectively. However, of the two activities, skiing is by far the more popular. Especially for beginners picking up snow sports for the first time, skiing is a less steep learning curve. Skis are also easier to control and may result in fewer injuries. For this reason, consumers researching snow gear to buy will usually search for "ski helmets" instead of "snowboard helmets."
Both snowboard helmets and ski helmets share the same features, and the same helmet may be marketed as either for skiing or snowboarding. However, there is a difference between a snow sports helmet and a bike helmet. For one thing, a bike helmet offer more protection for the front of the head. Snow sports helmets offer more protection for the back. The reason for these different designs is, in snow sports, the velocity which carries the body is under the body, so it is more likely the body will fall backwards in the event of an accident. Meanwhile, a bike accident is more likely to involve a quick stop which launches the body forward.
Is a helmet necessary?
A helmet is the best way to avoid head-related injuries such as concussions, head lacerations, and skull fractures. Head-related injuries are commonplace on the slope. Whether you are a beginner or a veteran, it is only a matter of time before you spill and give your head a good knock. Most severe head-related injuries on the slope could be minimized or avoided by wearing a helmet.
Beyond matters of safety, a helmet also keeps your head warm and dry. This makes your time on the slope more comfortable and enjoyable. It also keeps you less distracted, so a potential accident might be averted. It's also important to remember that by wearing a helmet, you not only make yourself safer — you make everyone around you safer.
Some skiers may choose not to wear a helmet because they think it is too expensive. If this is so, it can't be much more expensive than a hospital bill. At any rate, helmets these days are competitively priced. You should consider a helmet an article from your snow gear budget that is as critical as your skis, goggles, or gloves.
Some skiers may choose not to wear a helmet because they think it doesn't look cool. This is not a problem these days when so many helmets are beautifully designed and come in a wide array of colors. At any rate, it can't "look cool" to get an injury and be carried out on a stretcher.
Some skiers may choose not to wear a helmet because they find it uncomfortable or heavy. Many helmet designs counteract this problem by emphasizing plushy liners and lightweight construction. At any rate, no helmet is less comfortable than a cracked noggin.
What is MIPS?
Multi-directional Impact Protection System (MIPS) is a form of slip-plane technology designed to minimize rotational impact that results from slow crashes or impacts at oblique angles. MIPS is an additional safety measure which goes beyond those required for helmets to meet CPSC or ASTM standards.
MIPS was developed by biomechanical specialists at the Royal Institute of Technology in Stockholm, Sweden. It works by constructing the helmet in two layers, stacked like the layers of an onion.
These two layers have some "wiggle-room" which allows them to rotate against each other. The first layer is usually an ABS plastic or polycarbonate hardshell. The second layer is usually foam. The inspiration behind this construction is the way the brain rotates its own cerebrospinal fluid, which is how the body naturally defends the brain against rotational impacts.
Helmets are effective at minimizing or avoiding most head injuries. However, they are not immune to all forms of head injury. Concussions, while usually minor, are still commonplace. Rotational force resulting from an oblique impact is the leading cause of concussion. MIPS was designed to help prevent concussions specifically.
Since MIPS burst into the mainstream, it has become wildly popular. Most helmets have the option of being fitted with a MIPS construction. Alternatives to MIPS also exist which seek other ways to absorb rotational impact, such as POC's SPIN technology.
Is skiing dangerous?
Like all sports or strenuous physical activities, particularly those that take place in the outdoors, skiing involves a degree of risk. The potential risk is higher than for some other sports. According to the latest reports by the NSAA, there were 37 fatalities and nearly 40 severe, life-altering injuries reported during the 2017/18 season. Most of these were the result of skiers colliding with other skiers, trees, or man-made objects.
Skiing has become more popular in recent decades, which statistically increases the number of victims. General concern over the risks involved in snow sports is at least partially for better safety practices, such as wearing your helmet at all times.
Skiers and snowboarders have less than a 1 in 1 million chance of dying from snow sports-related trauma. They also have less than 1 in a million chance of receiving a catastrophic, life-changing injury. You are more likely to die from a lightning strike. However, the potential risk is still present. It should incentivize you to wear the appropriate gear.
What are the best ski helmets?
The best helmet is a lab-tested product you will actually wear. All helmets on this list meet CPSC or ASTM standards. This means they are all sufficiently safe. However, this does not make them interchangeable. Some helmets are better than others.
The best ski or snowboard helmets include adjustable venting. You can open them to expel heat and close them to prevent moisture from seeping into your helmet during heavy snowfall. The best helmets have over 8 vents tactfully placed along the top and sides of the helmet.
The best helmets feature an integrated fitting system, like a BOA dial. A snug and comfortable fit is a key point of safety. Not every helmet will fit your head right out of the box, and no helmet will fit you perfectly. So a fitting system is a good measure toward extra safety and comfort.
The best helmets are compatible with multiple types of goggles. They also include other compatibility features like a goggle strap, goggle retainer hook, goggle lock, etc.
The best helmets are lightweight. This makes them easy to carry and more comfortable to wear. You are less likely to remove them after several hours on the slope, which helps keep you safe.
The best helmets are versatile. They are suitable for either the groomed slopes of a ski resort or the rugged slopes of the alpine. They are good for regular use.
RAVE Recommends
Skiing is becoming a popular pastime that keeps people fit and outdoors. It's a workout. It's fun. But not all the dangers involve gravity. To make your next ski trip the best it can be, check out these other products.