With so many high-quality models on the market, it can be hard to narrow down the best pair of ski goggles for you and your specific needs. If we had to choose our overall favorite, though, Smith's I/O Mag snags the top prize. Its luxury features, style, and durability make these goggles a stand-out pair that are well worth the investment. 
If, like me, you grew up skiing or snowboarding every winter, you may also have distinct (admittedly jealousy-laden) memories of the "cool kids" of the mountain. They were the ski bums, the young men and women barreling down double black diamonds with sheer abandon, navigating between trees with ease and taking sharp right turns into the "expert only" (also known as "cool-kids only") terrain park.
The Ski Goggles We RAVE About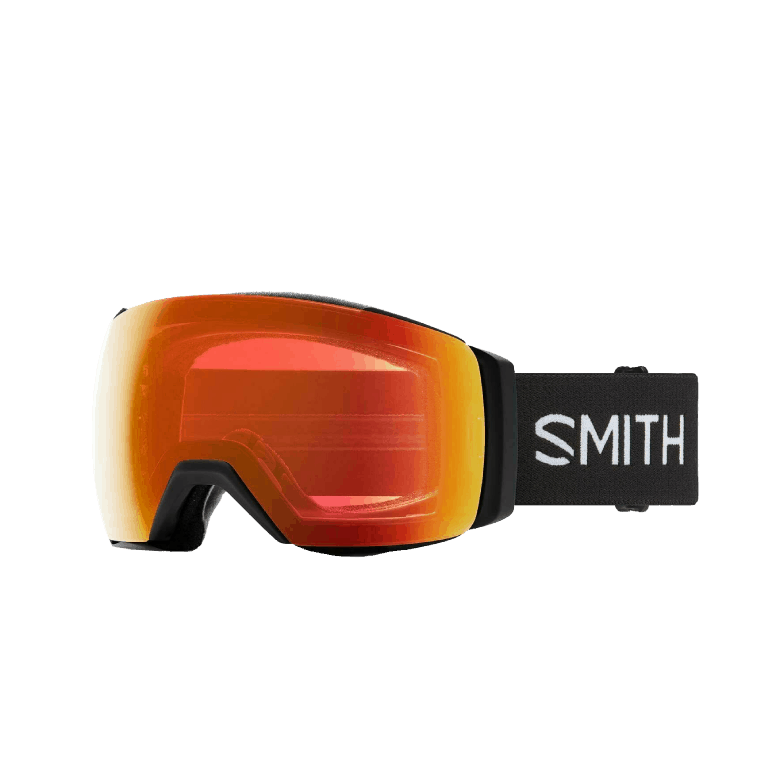 Best overall
Smith I/O Mag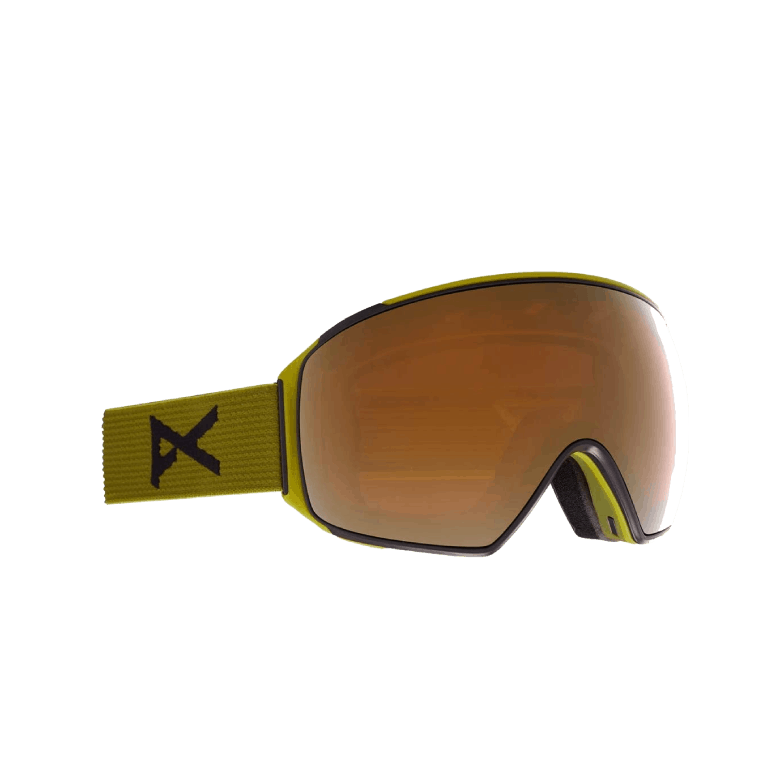 Best luxury
Anon M4 Toric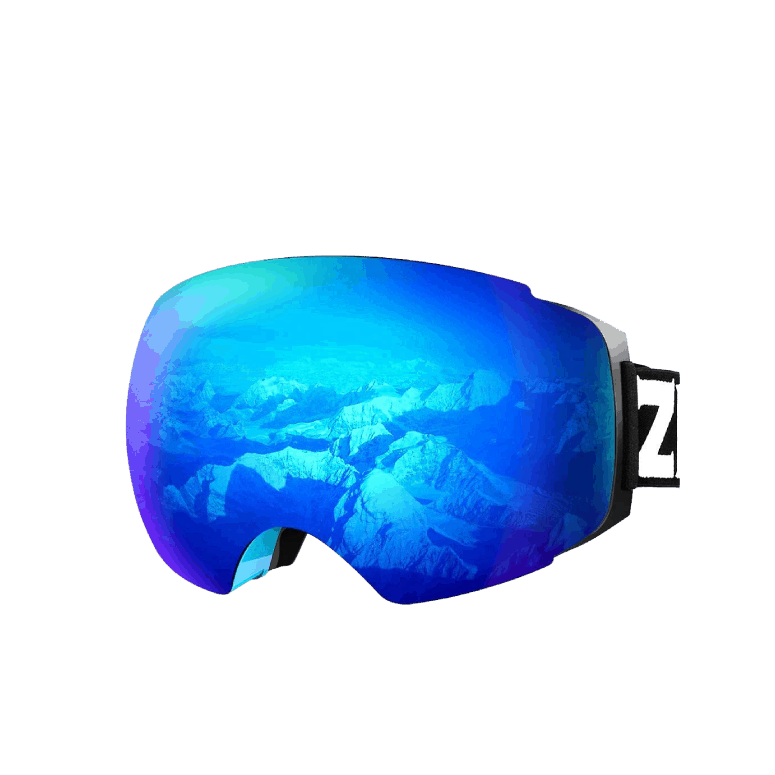 Best on a budget
Zionor X4
What I remember more than their skill, however, is their gear. This has changed in recent years, but for most of ski bum history, the seemingly impossible—even the ultra risky—was done helmetless. On a sunny day, the coolest among them would wear a pair of jeans and no shirt. But the biggest ski maniacs (or minimalists depending on who you ask) never went without goggles. Even the boldest skier knows that goggles are essential; a high-quality pair can be the difference between a long, comfortable day on the slopes and quite literally going home early with tears streaking your (sunburned) face.
If the big orange "terrain park" sign strikes no feelings of teenage envy, you probably were—and still are—one of the cool kids of the mountain. For this, I congratulate you. But whether you're just learning to ski, are perpetually "just OK" but still having a great time, or are the effortlessly cool skier I've long admired (who has since hopefully picked up a helmet habit), everyone deserves the best ski goggles the market has to offer. With this in mind, we picked out the best ski goggles at all price points that will keep you comfortable, fog-free, protected, and—terrain park or bunny slope aside—skiing in style.   
The truth is, not all ski goggles are created equal, and wind, ice, sun, and dirt don't care about your skill level. Whether you're upgrading your ski goggles or shopping for your first pair, your eye health and overall comfort are worth fully researching for the model that best fits your needs. With that in mind, there are a number of factors to consider when weighing your options.
Lens
Of all the specs related to quality ski goggles, experts typically take lens shape the most seriously. Your goggles should feature a double layered lens at a bare minimum as a standard way to prevent fogging. From there, you have three main options for the shape of your lens:
Cylindrical: Also known as "flat lens," these lenses are common in basic ski goggles. Cylindrical lenses curve around the goggle horizontally but stay flat on the vertical plane. They typically cost less, but many still deliver in relative quality for their price. Because they score lower on peripheral visibility and glare reduction, they're better for a newer or infrequent skier who's not ready to invest big money in a fancy pair.
Spherical: These lenses are typically costlier, but they certainly bump the game up a few notches. They curve both horizontally and vertically, increasing peripheral vision and reducing glare. If you're looking for a pair that will give you the absolute clearest visibility, consider spending extra for a spherical lens.
Toric: Potentially the best of both worlds style-wise, toric lenses are similar to a spherical lens but with a lower profile and slightly less bulging shape.
Fog Prevention: Vents & Coating
Adequate ventilation not only increases comfort, it's also an essential tool for combating fog. If you typically ski in warmer climates, opt for a pair of ski goggles with wide vents. They prevent condensation from forming on your goggles by reducing the disparity between the air outside and inside your goggles. That said, the added airflow gives your face less protection from the elements, so they're not ideal in extremely cold climates.
Finally, the majority of quality ski goggles will employ an anti-fog coating to combat condensation. Lookout for goggles that come with anti-fog coating, or give your current pair a boost by applying a store-bought coating yourself.
Shade
Considering that UV rays reflect off of snow, it's a relief that almost all ski goggles include 100% UV protection. The real decision to weigh when selecting your best ski goggles is visible light transmission (VLT). VLT ratings signify the amount of light that passes through your goggles' lens. It's measured in VLT percentages — the higher the VLT percentage, the lighter the tint on your lens and vice versa.
On cloudy days or in low-light conditions, you'll want a lens with a higher VLT percentage to maximize visibility. Retailers will usually specify the VLT percentage, but if you're looking for a pair for a cloudy day, keep an eye out for yellow, green, amber, or pink tints.
If you're lucky enough to ski in the sunshine on a regular basis, consider a darker lens with a low VLT percentage. Or, if you're a night skier, look for a clear lens with no tint whatsoever.
Frame
Frameless designs have become popular not only for their appearance but also because the lack of frame yields a more unobstructed field of vision. Because the frame acts as a protective case, they tend to be slightly more delicate than traditional goggles. The frame can also act as a barrier to the outside air, so they can fog up more easily than traditional goggles if they're not properly ventilated.
Extras
Higher-end models often come with a number of added features to provide the ultimate ski goggle experience. As is expected with luxury add-ons, they often seem superfluous until you own them. (Have you ever tried going from a car with seat warmers to a car without seat warmers? Not an easy transition.) Depending on your budget and priorities, you may want to splurge on the following extra features.
Polarized lenses: These lenses absorb horizontal light while allowing vertical light to pass through. This greatly reduces glare, and is therefore ideal for those who ski in sunnier conditions or those who prioritize visibility.
Photochromic lenses: The chameleon of ski goggles, photochromic lenses change their tint based on conditions and UV rays.
Mirrored lenses: Featuring an outer coating that reflects light, mirrored lenses are ideal for ultrabright conditions.
Interchangeable lenses: Easily customize your lens according to the day and the conditions at hand.
Methodology
With so many models on the market promising virtually the same result, finding the goggles that are truly worth the investment can be overwhelming. With this in mind, we looked for goggles with construction and materials to match their claims. From there, we narrowed down the top 10 ski goggles focusing especially on the following factors.
Comfort: We looked for goggles that use high-quality multilayered foam for better fit, comfort, and longevity.
Cost: We selected the highest-quality goggles of all price points to match every budget.
Look: Though function was a priority, we certainly didn't discount form. Considering goggles are one of the few pieces of gear that sits on your face, we gave extra points for good-looking models.
Visibility: We prioritized goggles designed to increase visibility and prevent fog.
Durability: We looked for goggles that will last season after season.
Extras: Though we factored in cost, we also looked for goggles with extra features, such as interchangeable lenses, that can justify their higher price point.
The Best Ski Googles
Smith's I/O Mag secured our top spot for three very important reasons: comfort, visibility, and durability. 
The goggles' medium size and three layers of top-of-the-line durable DriWix foam fit most faces with the ultimate comfort. The Carbonic-X lens is also packed with features. It's molded individually to ensure impact and scratch resistance.The two included lenses are easy to change and offer unbelievable visibility with insane contrast in almost any conditions. 
Further, they utilize Tapered Lens Technology (TLT) along with a Porex filter to essentially eliminate distortion. The Air Evac ventilation system efficiently combats fogging. Plus, the simple design and wide variety of colorways make them easy on the eyes to say the least. At around $250, they're certainly not the cheapest option on the market but well worth the investment for goggles you'll love for years. 
Pros
Great visibility
Durable
Comfortable
Well ventilated
Using Manga-Tech, the Anon M4 Toric goggles are well known for having the best lens swapping system on the market. Magnets and a simple twist allow both cylindrical and toric lenses to be swapped in seconds and stay securely in place even on heavy impact. 
Using two layers of foam and one layer of moisture-wicking fleece, these goggles are designed with a snug, comfortable fit. The two swappable lenses are super clear, scratch resistant, and provide excellent contrast.  Our favorite feature that makes these goggles a stand-out, though, is the magnetic face mask attachment. The included face mask closes the gap between your face mask and goggles, protecting your face and preventing fog. What's more, they're Over the Glass (OTG) compatible—meaning they're perfect for those with prescription glasses. 
Because they're a larger frame, these goggles aren't ideal for those with small or narrow faces. And, at around $300, they're certainly the biggest splurge on this list. But if you're looking for the best customizable lenses on the market and the fit is right, these goggles are the ones for you. 
Pros
Top lens-swapping system
Compatible with prescription glasses
Magnetic face mask
Great visibility
Durable
Cons
Too large for some
Expensive
3
Oakley Flight Deck Prizm
If visibility and a large field of vision are your top priorities, look no further than Oakley's Flight Deck Prizm. These oversized, frameless ski goggles boast unparalleled peripheral vision and a high-quality Prizm lens for maximum contrast. Plus, two layers of foam and one layer of moisture-wicking fleece along with an anti-fog coating goes a long way to keep you comfortable and fog-free. 
Though the lens is technically changeable, only one is included. Plus, the lens isn't as easy to change as with the Anon or Smith goggles listed above. The oversized style is a look perhaps more for the fashion adventurous (though this is purely a matter of taste, many skiers flock to the bold look and varied colorways!). Further, you inevitably sacrifice some durability with a frameless design. But, for those wanting to focus on better vision, Oakley's Flight Deck Prizm goggles are some of the top of their class. 
Pros
Large field of vision
Great visibility
OTG compatible
Cons
Single lens
Less durability
Distinctive look
Zeal makes a mean pair of goggles, particularly if visibility is your main concern. The two included oversized lenses are polarized and filter light for a vivid, crystal-clear view. The main lens is also photochromic, so it'll hold up in most conditions without needing to be changed. The three layers of foam fit snugly and comfortably on most medium to large faces and the Everclear Anti-Fog and ventilation system effectively combats fog even in difficult conditions. 
Considering the relatively reasonable price point for a ton of high-end features, these goggles would likely rank in the top three if not for their lens swapping system. The hybrid model uses both magnets and rails that take a little more finesse than the Anon, for example. And, their frameless design means they offer a superior field of vision but sacrifice some durability. 
With that said, the quality of the polarized photochromic lens means you won't be swapping out your lens very often. And, for what it's worth, we think these goggles are pretty good-lookin'. Looks aside, if visibility is your main goal these are an exceptionally comfortable pair of polarized, changeable, photochromic ski goggles for under $200. 
Pros
Polarized
Photochromic
Large field of vision
Attractive
Cons
Not as durable
Not the cheapest
Lens difficult to change
In many ways, Smooth's ChromaPop goggles are the best of all worlds. The large design offers a ton of visibility, and the semi-rimless frame increases peripheral vision while maintaining durability. Plus, with Fog-X and TLT optics, the ChromaPop lens uses many of the same technologies as its more luxurious counterparts. 
Because the Smith Squad goggles don't use a magnetized lens-swapping system, changing the lens is a bit of a pain. And, the two layers of foam offer slightly less comfort and fog protection than the costlier options in Smith's line. 
With that said, the durable frame, low-profile look, and top-quality lenses go well beyond their $110 price tag. If you're looking for the best mid-level ski goggles, these are our favorites.   
Pros
Large field of vision
Affordable
Durable
Cons
Lens difficult to change
Less foam
Not OTG compatible
What we love most about these goggles is the brand itself: Wildhorn is committed to not only helping you enjoy the outdoors but preserve them as well by using sustainable packaging and materials. It even founded Coral Restoration Foundation, a nonprofit marine conservation organization working to restore coral reefs. 
Plus, at under $100, these goggles are an insane bang for your buck. The oversized frames offer excellent peripheral vision. With an easy magnetic swapping system and efficient ventilation, you'll have supreme visibility in a wide range of conditions. Boasting over 70 color combinations, Wildhorn Pipelines are completely customizable to fit your style (and match your outfit!). 
As you might expect, the lens clarity ranks slightly lower when compared with their more expensive counterparts (they don't quite filter light like the $200-plus models), but with so many features, an approachable price tag, and a company you can stand behind, these are a pair of goggles you can feel good in and good about.  
Pros
Affordable
Good visibility
Large field of vision
Good ventilation
Cons
Less clarity
Not OTG compatible
There's a reason the Zionor X4 has over 2,000 five-star reviews. The fact that they cost under $50 and still employ an easy-to-use magnetic lens-swapping system speaks for itself. Their oversized design offers a large field of vision and three layers of foam for ultimate comfort. Plus, the lens is backed up by the brand's Zionor Enhanced Durability Tech to ensure impact resistance. 
These lenses don't have many of the light-filtering, anti-distortion perks of the higher-end models. Plus, some skiers have also complained about their less-than-durable construction and tendency to scratch. 
But, if you're looking for an introductory-level ski goggle that can swap lenses on the fly without breaking the bank, these goggles are for you. 
Pros
Super affordable
Magnetic lens system
Cons
Not as durable
Not OTG compatible
If you're looking for Oakley's superior visibility at a more approachable price tag, Oakley's O-Frame 2.0 Pro are the perfect mid-level ski goggles you've been seeking. They come complete with two of Oakley's signature lenses, three layers of foam, and a super durable frame.

These goggles don't come with a lot of bells and whistles of the more luxurious models. They don't have crazy peripheral vision, a flashy look, or fancy filters to minimize distortion. That said, the injection-molded high-impact lenses and impact-resistant Lexan sheet translates to a highly durable frame. And, at around $100, the price is right for a simple, long-lasting pair of high-quality ski goggles.
Pros
OTG compatible
Durable
Affordable
Comfortable
Cons
Fewer features
More distortion
Lens difficult to change
These goggles are built for the serious skiers among us. They offer many of the expected perks, like a comfortable snug frame and quality foam of high-end goggles. But, what's special about the Julbo Aerospace goggles is their patented SuperFlow System. The lens can be pushed forward off the frame during high-output activities, such as backcountry skiing or even a particularly competitive snowball fight. This system virtually eliminates fog and any temptation to remove the goggles when you're on your downtime or waiting for the lift. 
What's more, these goggles boast a single photochromic lens, which can be a pro or a con depending on who you ask. Though some may prefer to change lenses for the ideal match to the day at hand, the ease of one automatically adjusting lens is a positive if you rarely ski in extreme light conditions.
With such an exciting innovation, these would rank higher on the list if it weren't for our durability concerns. At around $260, you want to be beyond confident that they'll last, and unfortunately the new technology raises some longevity issues. But, if fog is your number one enemy, these goggles are the best fog fighters on the market. 
Pros
Superflow system
Large field of vision
Comfortable
Cons
Expensive
Only one lens
Not as durable
10
OutdoorMaster OTG Ski Goggles
If you're looking for a no-frills, sturdy pair of goggles that cost less than gas to get to the mountain, look no further than OutdoorMaster. With a double layered lens, vents, and anti-fog coating, these goggles do surprisingly well at combating fog. Plus, they're designed to fit over glasses and offer three layers of foam for comfortable all day wear. 
When it comes to the lens, these goggles are more along the lines of, "you get what you pay for." They don't change their shade according to the amount of light present. And, with no lens swapping system they aren't built to adapt to varying weather conditions. Finally, because it's a flat lens, the peripheral vision and overall clarity is far lower than some of the more highly ranked models on this list.
That said, it's no secret that skiing is expensive. If you're just trying out the sport, are on a budget, or don't need all the fancy extras, these ski goggles are a super solid choice.  
Pros
OTG compatible
Affordable
Comfortable
Cons
Not the best-looking
Don't adapt to conditions
Low visibility
Are ski goggles one size fits all?
Most models come in three standard sizes, and some companies offer narrower frames that are generally marketed to women. Comfort is a highly important factor, but most quality ski goggles are easily adjustable and can conform to fit almost every head size and shape. Make sure to try them on with your helmet before you fully commit.
What should I do if I wear prescription glasses?
If you're going from four eyes to five, look for goggles advertised as "Over the Glass (OTG)." OTG goggles are made to cover glasses without putting painful pressure on your face, specifically at your nose and ears.
Because glasses also tend to fog easily, you should consider applying an anti-fog treatment on your eyeglasses themselves. This will come in handy not only on the mountain but also in preventing your glasses from fogging when you're wearing a facemask (aka the foreseeable future).
Alternatively, you can consider buying a prescription insert specially made for your goggles to avoid any discomfort or added safety risks of wearing traditional glasses.
Are ski goggles really worth the investment?
At first, ski goggles may seem like a waste of money. You may think to yourself, "What is the point of spending so much money on ski goggles when I can just go out and buy the cheapest pair or wear my sunglasses?" Don't just take it from us, any avid skier—or even someone who just skis here and there—will tell you that ski goggles are one of the most important purchases you can make. Not only do they protect your eyes but they optimize your performance and can make a huge difference in how much you enjoy being on the mountain.
This importance, coupled with the fact that the price tags on these products can easily run upwards of $200, means that you don't want to pick a dud. We did all the research for you so that you can simply look over this list of the 10 best ski goggles for the perfect pair for you.
What are the best ski goggles?
While we stand by any of our top 10 choices, we gave Smith I/O Mag our coveted number one spot for a reason. They're comfortable, durable, easy to adjust to varying conditions, and they stay clean and fog-free.
Although these were our favorite goggles, we know that there may be another option that better suits your individual needs. Take a look at our full list of the best ski goggles and find the pair that's right for you. We'll see you on the slopes!
RAVE Recommends
Ski goggles may be an obvious essential, but they're one of many key pieces of gear for adequate protection from the elements. Here are some of our favorite products for greatly improving the quality—and safety—of days on the mountain.

Brianna Perry
Brianna is a 23-year-old New York native and certified yoga instructor up to the 200 level. You can most often find Brianna tucked away with her nose in a book. She has an affinity for all things floral, dreams of living in the wilderness, and would never, ever turn down a Reese's Peanut Butter Cup.