Believe it or not, keeping your fingers warm on the slopes is no sleight of hand — all it takes is an amazing pair of ski gloves!
Look no further than the Black Diamond Guide. With removable liners, a Gore-Tex insert, and a tough exterior, these gloves are sure to keep your hands and wrists warm year after year.
In a typical road trip game of Would You Rather, questions typically range from lovely (Would you rather create world peace or end world hunger?) to funny (Would you rather have feet for hands or hands for feet?) to downright inappropriate (I'll let your imagination fill in the blank).
In most games, an astute player will eventually pose an interesting dilemma: Would you rather have perpetually cold fingers or no hands at all. While frigid fingers seem like a manageable condition — a minor annoyance, perhaps — imagine yourself trying to enjoy just about anything with stiff, numb digits.
So, whether you're hitting the slopes or just trying to outlast winter, a good pair of ski gloves can be the difference between having a nice time outdoors and seriously considering going without hands all together. Finding the best ski gloves should not be taken lightly, and lucky for you, you've come to the right place. 
The Ski Gloves We RAVE About
Best Overall
Black Diamond Guide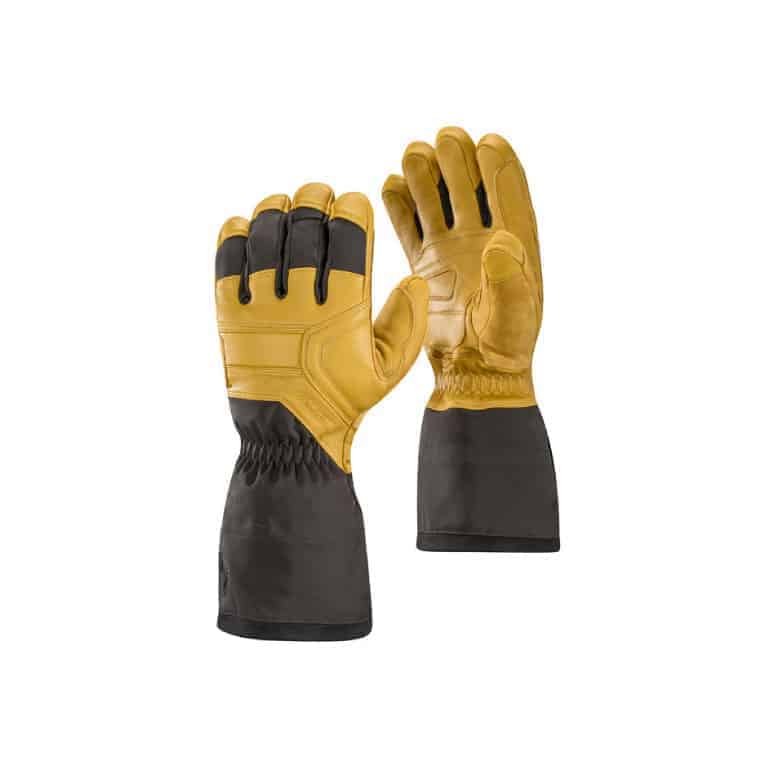 Best Light Activity
Kent Wang Deerskin Gloves Black Touchscreen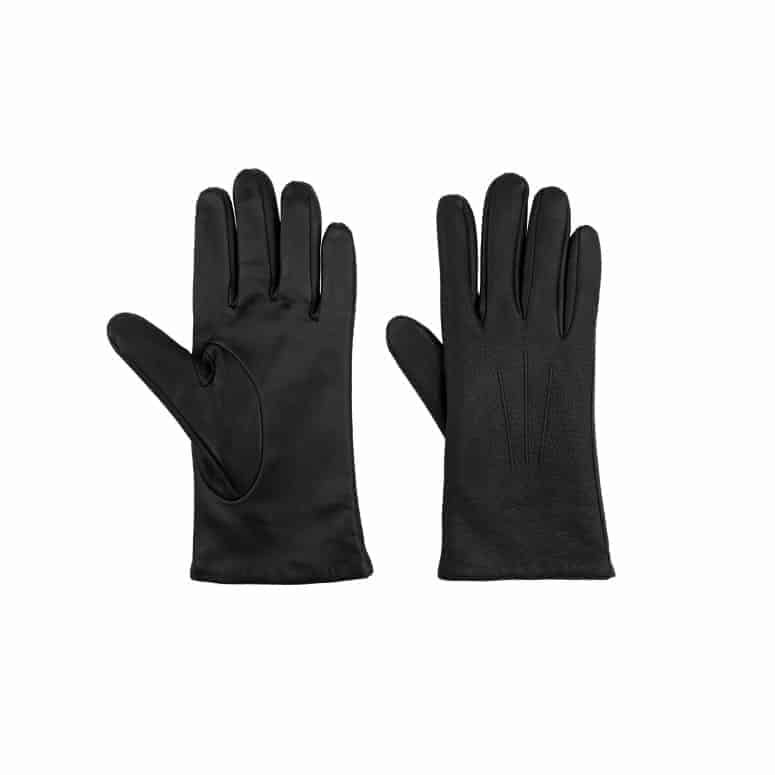 Best Heavy Duty
Arc'Teryx Rush SV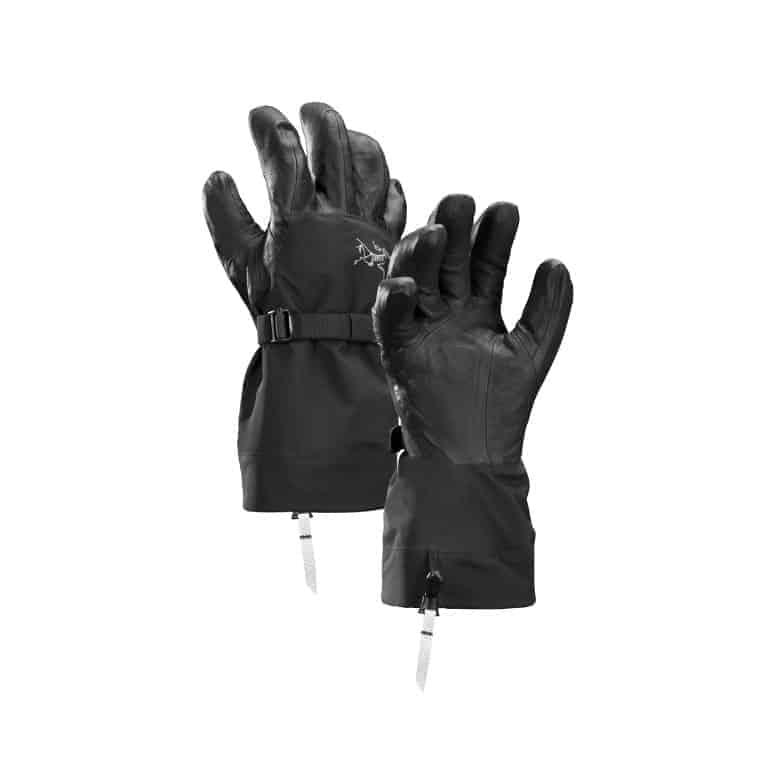 The Best Ski Gloves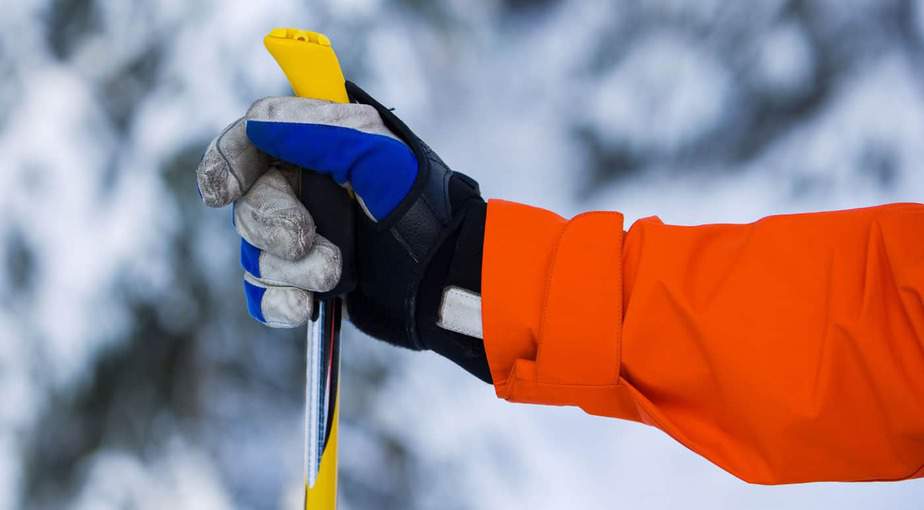 There's so much variation in ski gloves (and ski gear in general), you can find the pair that's perfect for you if you focus on how you'll use them. To start narrowing things down, first consider the type of materials that will work best for your needs.
There are two main types of materials used in a high-quality pair of gloves. One of those materials is person-made. The jury's still out on who made the other one, but that's a topic for another article. That's right — I'm talking about synthetic and leather!
Leather vs. Synthetic
To start, consider what nature has to offer. Leather has been used to keep humans warm for thousands of years. And though it may have been the material of choice for cavemen, it's far from archaic. Leather (generally speaking) is the most durable material on the market. Plus, its flexibility allows the gloves to mold to your hand, giving you that second skin feeling.
The biggest downside to leather is its susceptibility to water. Although water treatment goes a long way in keeping your hands dry, it can only do so much to prevent water from soaking through.
If you live in a particularly wet climate or staying dry is your top priority, consider opting for fully synthetic gloves, or at least gloves that offer good synthetic coverage.
"Synthetic" is an overarching term for gloves that are made using either nylon or polyester. Synthetics are much more commonly used, and provide the best protection against wet conditions. They're also less user-friendly, and generally bulkier and less comfortable than their leather counterparts.
That said, a combination of these materials goes a long way towards high-functioning, comfortable gloves. For the majority of you, gloves that utilize leather for grip and comfort and synthetic materials to keep dry are ideal.
Speaking of Keeping Things Dry…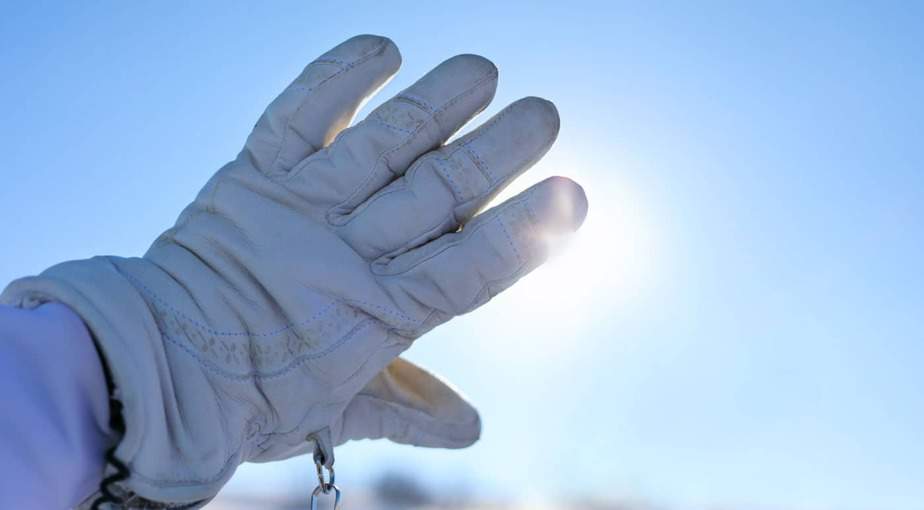 Consider the insert. If your glove was an Oreo, the shell and insulation would be the outer cookies while the insert would be the creamy filling. In other words, it's pretty darn important.
Gore-Tex is the Rolls Royce of liners, and it comes with a high price tag. From there, lower-priced gloves generally come with another cost: sweaty palms. And I'm not talking about sweaty palms caused by the excitement of staring down a line that feels a little risky. Cheaper liners have less breathability, which leads to a clammy pair of paws.
You can save some money with a cheaper liner if you're not exercising in them all day. And, if you're looking for a pair of gloves that will keep you warm in a dry climate, you can ignore liners all together. But, if you're looking for a pair of gloves to keep you dry from the outside and the inside, keep an eye out for Gore-Tex.
Some gloves offer removable liners, which has an added benefit of not only added warmth but also versatility. You can wear just the liner or just the shell, depending on your activity. Since the two pieces are separate, they also dry faster. The only drawback to removable liners is that they tend to be bulky, so they're not ideal if you want lightweight gloves.
Types of Insulation
Next, consider how much protection you need from the cold. Different types of insulation vary in terms of how warm they keep your precious fingers — and how much they cost your precious wallet.
If warmth is your highest priority, it's what's on the inside that counts. Look for gloves lined with PrimaLoft, the Gore-Tex of hand insulation (which is the Rolls Royce of liners — for the slow learners out there). Even better, look for PrimaLoft liners that weigh 160 grams or more.
To Text or Not to Text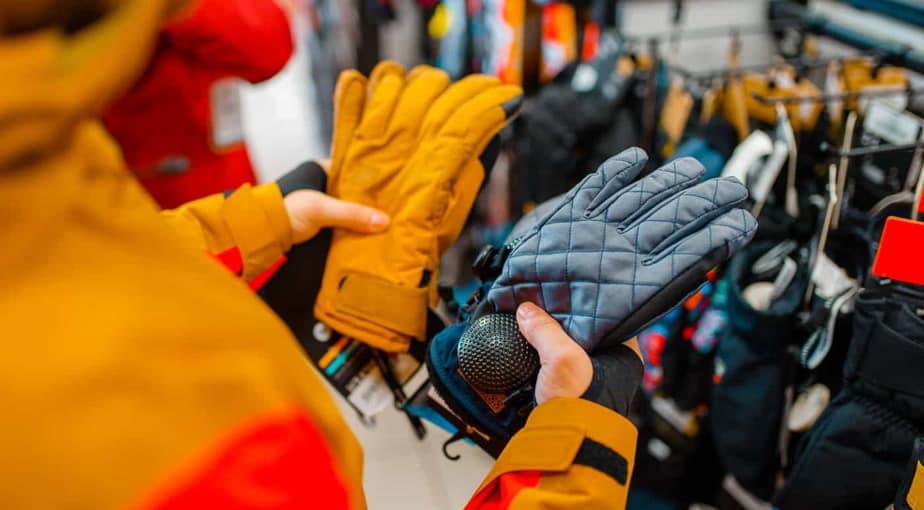 Next, consider whether you need your gloves to be smartphone compatible. If you're looking for a pair of gloves you can wear around town, I don't need to tell you that texting is a high priority.
Because the ability to text requires more sensitivity, gloves that offer smartphone compatibility tend to be a little thin (and thus less warm). So, if you want a reliable pair of ski gloves, you may want to forgo this option and Instagram indoors.
Finally, Consider Style
Long gauntlet-style gloves that fit over your jacket tend to keep your wrists warmer, but they are also less flexible. Shorter undercuff gloves that fit under your jacket offer more flexibility, but are generally more difficult to get on and off, and provide less protection from the cold.
And, if keeping your fingers warm is your biggest struggle, consider opting for mittens. Although they make doing just about anything difficult, they keep your fingers touching — and there's nothing quite like body heat to keep you warm.
So, as you look through the best ski gloves, think about what you've learned in terms of materials, style, features, and protection. Tailor your selection to find the perfect outfit for palms, fingertips, and everything in between!
Methodology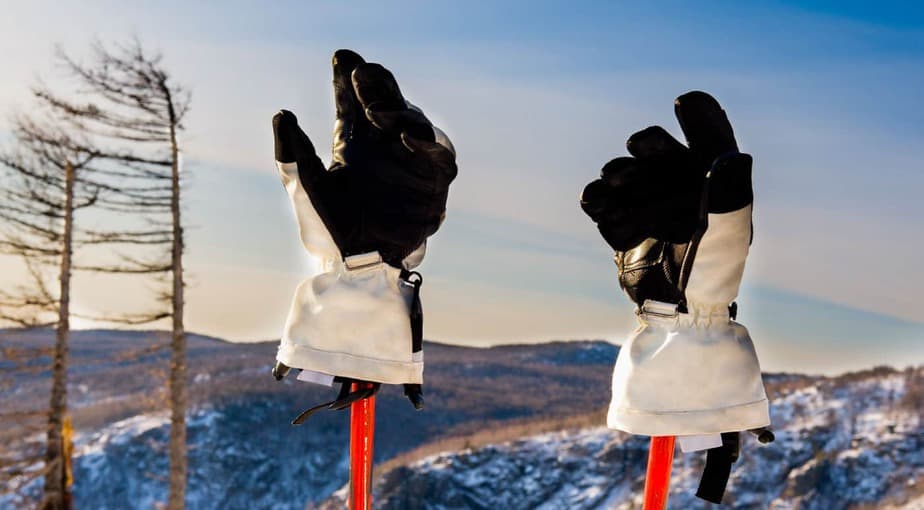 There's unfortunately no short and fast answer for finding the best ski gloves, as it comes down to your climate and activity level. That said, I kept the following overarching themes in mind as I selected my top choices.
Price: Although more expensive gloves generally keep your hands happier, I selected my favorite gloves of all price points so you can keep cozy — regardless of your budget.
Materials: I looked for gloves that use high-quality materials that will last.
Comfort: Like with most things in life, comfort is a compromise. I favored gloves that are warm and comfortable, but not too bulky.
Breathability: Because there's nothing worse than being both cold and sweaty.
Touch screen compatibility: Apologies to the generation Z-ers out there, but I looked at this as an added bonus — not a necessity.
Versatility: If you're looking for something specific (like a pair of gloves to wear skiing all day), feel free to ignore this factor. For everyone else, I looked for gloves that can be worn in a multitude of seasons and scenarios.
Durability: I looked for ski gloves that will ideally outlast your hands themselves. (Too dark? Too dark. Sorry.)
The Best Ski Gloves
Am I a gloves guy/gal or mittens guy/gal?
The short answer: It depends. Gloves provide freedom, while mittens provide warmth. If you don't mind taking off your gloves to unzip a pocket, send a text, pick something up, or generally do just about anything with your hands, opt for mittens. They're also the best choice if your top priority is keeping warm.
That said, if you want dexterity, mittens will likely drive you crazy. In the end, it should come down to what your priorities are. If you want your hands to be the warmest they can possibly be, opt for mittens. If you want to be able to use your fingers like the biped you are, opt for gloves.
How should I care for my leather or combination gloves?
Caring for your gloves is an important part of ensuring they not only last longer but also keep you warm. This is especially true for leather, because although most winter gloves come treated, the treatment eventually wears out.
If your gloves haven't been treated yet, treat them. Be sure to air dry them after each use, and never dry them using heat. Keep an eye out for gloves that start to soak up moisture. This means they need to be retreated, which is recommended two to three times per ski season if you use them frequently. Lastly, try to only wash them when absolutely necessary.
How should I treat my gloves?
Most gloves come treated, but if yours didn't or the treatment is beginning to wear out, use a waterproofing wax to ensure your hands stay dry and your gloves stay good as new.
Speaking of "as new," the only downside to treating your gloves (besides a slight hassle) is that it turns them a darker color. But, I'd take a darker leather over wet leather any day.
First, make sure your gloves are clean. Apply about a tablespoon of wax onto the palm of the glove and rub it into the leather, making sure to get a solid amount on the vulnerable seams. Set aside. After 10 minutes, use a damp cloth to remove any excess wax.
Allow the treatment to air dry completely. Be sure to repeat whenever necessary.
How should I wash my gloves?
If your gloves are especially stinky or visibly dirty, it's time to wash them. First, use a dry rag to spot clean any dried-on dirt if necessary. Use room-temperature water to spot clean any other dirty spots that don't flake off with a dry rag.
If smell is an issue, hand wash them in lukewarm water using a mild soap, making sure to clean out the inside liner. Spray them with a mild deodorizer if they're extra smelly, and rinse thoroughly to remove all the soap.
Gently wring out the gloves and allow them to air dry. If you can remove your glove's liner from its shell, make sure to wash and dry them separately. And remember, never dry your gloves in the dryer.
Why is it called a "pair" of gloves?
Because there are two of them. You're thinking of pants.
RAVE Recommends
Now that you've properly covered your fingers, consider the following products to take coziness to the next level.