Ready to kick some powder? Our top choice for the best ski boots in protection, comfort, and performance is the Lange RX 100.
Whether you are stepping into the intermediate level or are a former racer, if you want the absolute best in protection, comfort, and performance, look no further. Every element of the RX — from the stance to the powerful four buckles — is thoughtfully designed. And substantial. Yet, these boots are not cumbersome. The Dual Core shell technology responds to the slightest inputs, bringing together extreme power and precision. The result? High-performance tactical armor, basically. If you are ready for more aggressive skiing, models of the RX are also available in flexes of 120 and 130.
Skiing has a disproportionate interest in your feet. Most of your ski budget goes below your knees. That's where all the fun happens. Skis, boots, and bindings (purchased in that order, ideally) are the basics of your ski gear kit. Each of these items is absolutely crucial for safety, comfort, and performance. They are the main mechanisms between you, the snow, and a good time. 
All this to say, boots should be taken seriously. They're not as glamorous as a pair of skis or a sleek new helmet, but you should put the same amount of thought and care into purchasing your boots. A poor fit can result in day-long discomfort. The wrong lining can spoil a day on the alpine. A non-complementary construction can hurt performance. Luckily, ski boots are more cutting-edge, high-performing, and foot-friendly than ever before. 
Unfortunately, this means there are a lot more options to work through. But don't worry. In the list below, we offer a varied selection of ski boots that serve a range of skiing types and levels of expertise. Whether you are a novice looking for a budget option, an intermediate skier stepping up your game, or an expert in the market for something more aggressive, we got something for you.
The Ski Boots We RAVE About
Bomb through our top picks for the best ski boots:
Finding the Best Ski Boots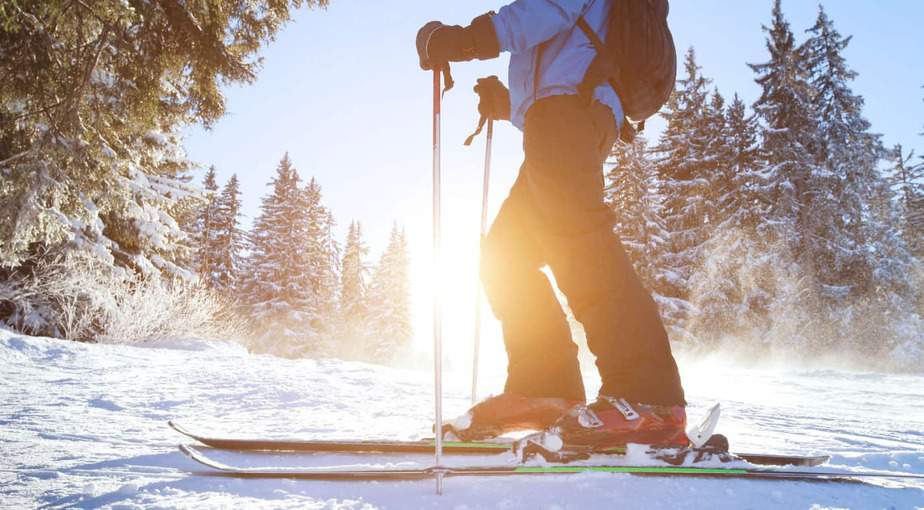 Skiing has boomed in popularity in recent years. More people are heading to the slopes than ever! With that comes renewed market demands. Alongside the boom, ski boots have transformed. Today's ski boots make those from just a few decades ago look like medieval torture devices. 
Technology has come a long way to improve comfort, safety, and performance. However, with today's market, a purchasing process is in order. Today's offering leaves more to consider before making a decision. You need to know exactly what you need and why. This guide is all about making you an informed buyer who knows exactly what to look for and understands all the relevant terms.
Before making a purchasing decision, determine what kind of skiing you want to do (e.g., Groomed resort? Backcountry? Freestyle? Etc.) and then answer each of these questions: What is your Flex? What is your Last? Should you prioritize lining support or comfort? What should your boots weigh? Are these ski boots compatible with my bindings?
What Is Your Flex?
Flex might be the first thing to consider when buying a ski boot. Most downhill boots are given a flex index, with only a few exceptions. When your foot is planted flatly on the ground, the flex measures the tension met by the leg when it bends at the ankle. Most flex indexes range from 60 to 140. The higher the flex, the more "stiff" the boot. The lower the flex, the softer and more "bendable" the boot. 
Why is this important? The higher the flex, the less comfortable the boot, but the more efficiently it transfers power. It makes the boot — and thus the skis — more responsive. The softer your flex, the more exaggerated your motions need to be. For this reason, more advanced skiers will prefer higher flexes. It makes the instruments more sensitive, which saves energy. Beginners should stick with lower levels.
Bodyweight also factors in finding the right flex. Heavier and more aggressive skiers will need higher flexes, even if they are beginners. For this reason, women tend to require lower flexes. Most manufacturers produce the same model boot in multiple flexes. The general guide below will help you get an idea about your flex range:
Men's Flex Ratings:
Beginner 60-80
Intermediate 80-110
Advanced 110+
Women's Flex Ratings:
Beginner 50-60
Intermediate 60-85
Advanced 85+
What Is Your Last?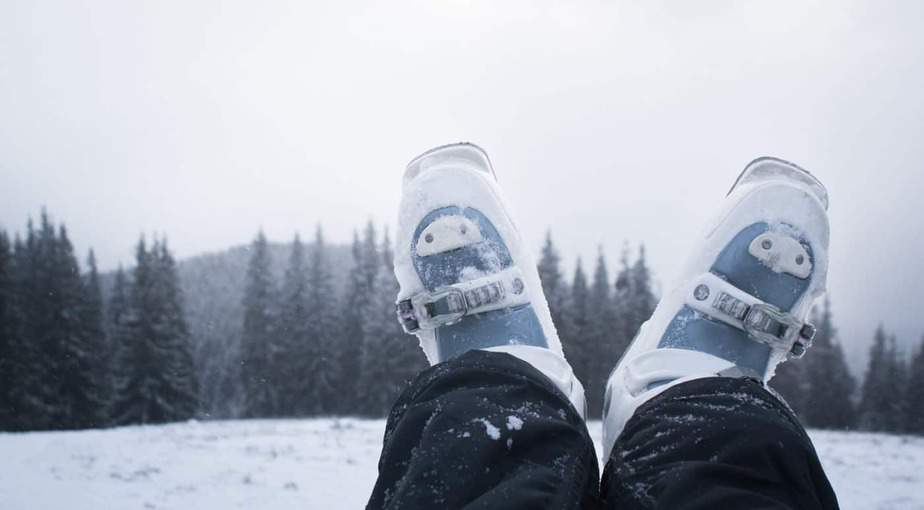 Don't be fooled: Your last is a matter of first importance.
The last refers to the footbed width of your ski boot. Specifically, it measures the width of the forefoot. And since most ski brands serve international markets, it is measured in millimeters. 
In olden times, ski boots were designed for a specific type of athlete — namely, one with narrow feet. With the boom in skiing's popularity, the market has demanded a wider (literally) variety of ski boots to accommodate various foot types. Today, most brands make the same ski boot model in multiple lasts, which meets the demand for a broad range of athletes. Despite these advances, those with wider feet will still have the most difficult time finding a last in their size. 
Naturally, if you purchase a ski boot with a width too narrow or too broad, it won't just be a comfort issue. It will also affect your side-to-side motion. Finding the right last is key to excellent performance. 
Here are the general metrics for narrow, average, and wide feet:
Narrow: 97-98 mm
Average: 100-102 mm
Wide: 103 mm+
Should You Prioritize Lining Support or Comfort?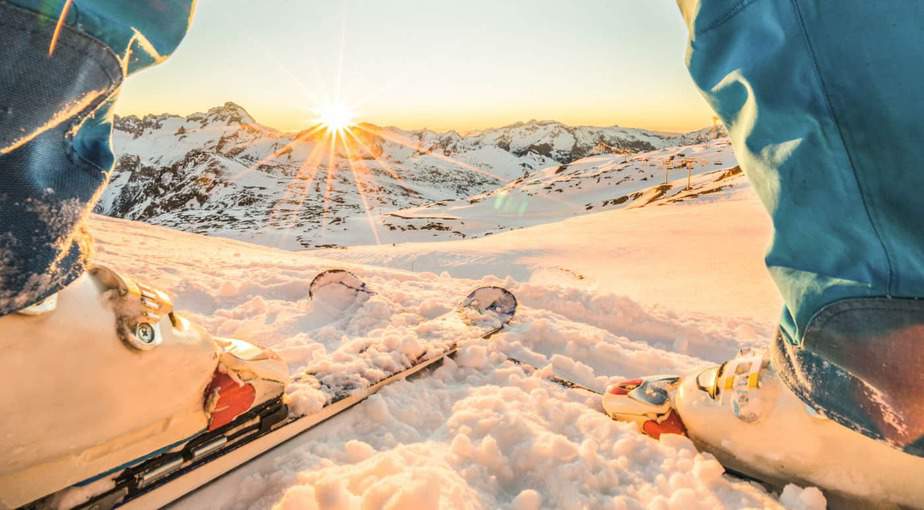 The liner is like a thick, soft, and removable sock inside your ski boot. The job is what you might expect: insulate the foot and leg from the elements and offer some comfort. Liners come in various materials which will differ depending on what kind of skiing the boot is designed for, but foam is the norm.
Thick and plushy liners obviously offer more comfort and warmth. Beginners and casual weekend skiers will prefer this. However, cushy liners offer less support for the leg and joints. Aggressive or advanced skiers will want a firmer material that will brace the foot while carving slopes.
Supportive liners will feel snug and uncomfortable at first, but they will mold to the foot over time. Alternatively, heat-moldable liners are becoming very popular. These quicken the molding process. Instead of breaking in your liners by wearing them around the house for a few days, these can be custom-molded to your foot immediately.
What Should Your Ski Boots Weigh?
For most of skiing history, nobody cared about the weight of ski boots. How it affected performance and comfort wasn't seriously considered. For this reason, most old ski boots ran on the heavier side. But in recent years, efforts have been made to trim up boot weight.
The advantages of a lighter boot should be obvious. They are less cumbersome and (perhaps to only a negligible degree) carry less force. They are also preferred for tricks and freeriding. For those hiking up slopes all day, nothing sounds more appealing than cutting any extra weight, even if it is just a few ounces.
But there is a downside. Lighter boots regularly require more upkeep and are more vulnerable to damage. For the most part, this is only noticed in the long-term. Lighter boots will have shorter lifespans — but that doesn't prevent them from being preferred by backcountry enthusiasts. However, beginner, heavier, and stronger skiers should prioritize other features, like safety, durability, and comfort. Lighter constructions also tend to be less precise.
Are These Ski Boots Compatible with My Skis/Bindings?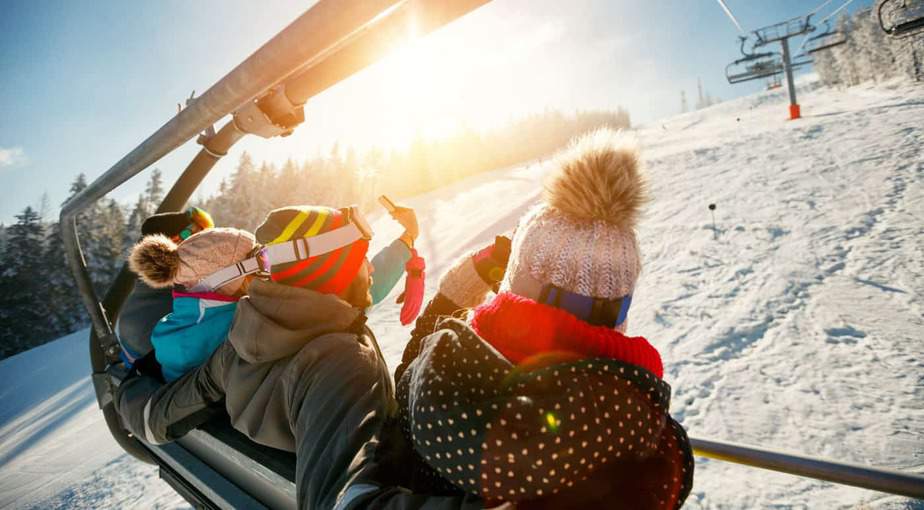 There are two rules to follow here: 
First, put "like with like." If you own aggressive binding and skis, get stiff boots to match. The last thing you want is sets of gear from different performance classes. Each set of gear should bring out the best in the other sets.
Second, pair "like with like." We're serious. Alpine boots should go with alpine ski and binding. Cross-country boots with cross-country ski and binding. Decide what kind of skiing you do, and purchase accordingly. 
Methodology
How did we go about determining the best ski boots, I hear you ask? The results of these reviews came from cross-referencing product tests (both by companies and individuals), applying critical analytics to hundreds of customer experiences, researching the policies, principles, credentials, and methodologies of manufacturers, and, finally, citing sports authorities on particular brands. In short, we have strived to put ourselves in the position of customers. The only difference is that we've done the research for them.
Below are the criteria we looked for when compiling this list:
Branding: We started with established, praised, and popular brands that have a devoted following among avid skiers, and move on from there.
Safety/Testing: We give more credibility to products that have been lab-tested for safety.
Comfort: Comfort directly affects performance. This is a broad category that includes the quality of liners, warmth, the option to replace insoles, etc.
Last: The width of the footbed, measured in millimeters, should be available in the average size of 100-102 mm, as a minimum. We will give greater value to boots available in multiple lasts, accommodating multiple foot types.
Weight: After several hours on the slope, boots can begin to feel heavy. Lightweight constructions are also prized by freestyle and backcountry riders.
Construction: How is the boot built, of what material, and what are the safety features?
Versatility: We will boots that are good for daily use and suitable for ski resorts and occasional excursions into the backcountry.
Innovation: We will favor boots that include unique features.
User-friendly: We like boots that are easy to buckle on and remove.
Style: It's more important to be safe and comfortable, but why not look your best at the same time?
Warranty: How long is the warranty, and what does this tell us about the product?
Price: We prefer products to demonstrate a degree of performance and quality either equal to or below its price tag.
Reviews: What are the experiences of buyers? Are they positive?
The Best Ski Boots
What is a "Mondopoint"?
Mondopoint, or Mondo, is a type of foot measurement. Specifically, a Mondopoint measures the length of your foot — from your heel to the tip of your tallest toe — in centimeters.
Ever noticed how the tongue of your shoes has up to 4 different sizes listed? One is a U.S. standard, one is U.K., one is continental Europe, and the fourth is Mondo. The Mondo is useful because it is an international standard. A size 12 boot in America will not be the same size as a 12 in England or Germany, but the Mondo standard is universal. A size 25 Mondo in the U.S. will be the same size as a 25 Mondo anywhere else.
Every manufacturer includes a Mondopoint size on its shoes and ski boots. But your actual Mondopoint size might be a size or two smaller than what you see on the chart. There is a reason for this. Manufacturers recommend purchasing a tight fit, because the foam in ski boot liners will mold to your feet over time. As the foam depresses, this will widen the volume of boot. So it's best if they're a little snug immediately after purchase.
There are two advantages to the Mondopoint standard. The first is that it is universal, so your online options broaden to include foreign manufacturers. The second is the Mondopoint is more precise than other standards. However, there are downsides. The Mondopoint only measures the length of your foot from its two extremities. There are other foot measurements to consider in order to find the perfect fit: length, width, volume, and arch.
We recommend visiting a local ski shop to get a fitting. Nothing replaces the brick-and-mortar experience. However, if you insist on purchasing online, make sure the retailer is reputable and will offer free returns. Purchase the model of your choice in multiple different sizes. Keep the one that fits best.
I bought my ski boots. Should I replace the insoles/footbeds?
Every ski boot comes with a pair of insoles or footbeds right out of the box. These are not always the best quality, and it is common practice to purchase a pair of aftermarket insoles. 
It is not always possible to replace the insole of your new ski boots. The older models have the insoles sown into the liner. Luckily, more and more downhill ski boot liners feature removable insoles.
Aftermarket insoles can offer better arch support, more or less volume, and greater stability by securing the foot in a heel cup. This increases comfort as well as performance. Insoles are an affordable and expedient way to customize your fit to your particular foot type.
A more expensive option is to visit a boot fitter and get fitted for custom insoles. Since this is so pricey, and usually unnecessary, we only advise it for individuals with unusual foot types who are at their rope's end trying to find a good fit. Call your local ski shop might offer this service. 
Does it matter what material the buckles/straps are made of?
Most buckle and strap systems are the same across all brands. This usually features 4 buckles. There are 2 buckles across the top of the foot, 1 near the ankle, and a third along the shin. A strap, known as the power strap, is located at the top of the boot near the cuff. This secures the top portion without adding the weight of a fifth buckle. Naturally, buckles and straps are principle parts of safety, support, and comfort.
Buckles are made of various materials. Plastic ones are lightweight, inexpensive, and react well to cold temperatures. But they tend to break.  Aluminum is the most popular material. It is rust-proof, lightweight, and extremely durable. The downside is they run a bit pricier.
Is the walk/hike mode on downhill ski boots a gimmick?
In our opinion, yes.
As ski gear manufacturers have enjoyed a larger market, this has resulted in new varieties of ski boots. A quick search will show that many downhill/alpine ski boots feature a so-called walk or hike mode. The walk/hike mode is usually engaged by raising some kind of handle often located on the spine of the boot and flexing forward gently. This releases a mechanism that allows the cuff of the boot to move backward. The goal of the walk/hike mode is to reduce the boot's stiffness and increases mobility for easier walking. 
The range of mobility offered by the walk/hike mode differs with each boot. However, we find it usually is marginal. It might be good for the march from car to resort, but this feature seldom offers the same range of motion for downhill ski boots that would be necessary for long treks in the backcountry.
Downhill ski boots tend to be constructed heavier, which makes them uncomfortable for walking and hiking in the first place. Unless you spend only a few minutes walking uphill on groomed ski resorts, we advise you to pick a boot that is designed for the backcountry. 
What are the best ski boots?
The best ski boots for one skier are not necessarily the best for another skier. In short, there is no such thing as the best ski boot. Only the best ski boot for you.
That said, what makes a ski boot the best depends entirely on what kind of skiing you want to do. However, we do rank Lange RX 100 as the best overall ski boot. Inspired by Lange's World Cup racing boots, the RX offers the best in performance and precision. It's like wearing warm, high-performance tactical armor — plus, it comes in multiple flexes so both intermediate and expert skiers can enjoy! 
But, since we would also recommend this boot as the best for downhill skiers, those who are looking to go more for backcountry skiing should check out the Scarpa Maestrale RS which has a high flex, and excellent performance and functionality. For intermediate Skiers, we recommend the Salomon QST Pro 100 TR.
RAVE Recommends
After you've strapped in your boots, what comes next? How else can you optimize your time at the resort or out in the backcountry? To make your next ski trip the best it can be, check out these other products.