Our suggestions aren't binding, but our top choice for the best ski bindings is the Marker Griffon 13 ID.
No bindings are more versatile. Lightweight, competitively priced, and highly agile, these bindings are the best fit for skiers who are ready to hit the big slopes and need gear that can manage it. Designed for intermediate to expert level skiers, the Griffon gives you maximum control over your skis. They're versatile enough for alpine, backcountry, or resort slopes; powder or hardpack; aggressive slope-rippers, casual weekend warriors, or freestyle skiers looking for spins. With a long track record of excellent performance from avid skiers, the Griffon is safe, reliable, and transfers energy beautifully.
Ski bindings are usually the last pieces of ski gear you add to your arsenal, so you cross a threshold when you purchase a pair: It marks you as a fully realized skier. But their late addition does not suggest they are an afterthought. Ski bindings are the connection between your boots and skis. Their role is essential, and a poor purchase can be all the difference between a gnarly day on the alpine and a grueling one.
A ski binding is the principle piece when it comes to power transfer, control, responsiveness, and safety. But choosing a pair is not like comparing your budget along a scale of the best and worst ski bindings. There is no such thing as a best or worst ski binding — only ones that are best or worst for you. There are multiple factors to consider before you purchase, such as your weight, level of expertise, age, what kind of boots and skis you already own, and even what kind of skiing you tend to do.
Overwhelmed? Stick with us. Here we have a varied sampling of the most popular and celebrated ski bindings on the market. Whether you are old or young, a beginner or an expert, prefer the backcountry or the groomed resort, or whether or not you are on a budget, there is something here for you.
The Ski Bindings We RAVE About
Bomb through our top picks for the best ski bindings:
Lightweight, competitively priced, and highly maneuverable, these ski bindings are for big slopes and powerful skiers. Boasting a long track record of excellent performance from avid skiers, the Griffon 13 ID by Marker is safe, reliable, and transfers energy beautifully.
Read Full Review
Shop Marker Griffon 13 ID
The world's first tech binding to offer full downhill performance, the Salomon T S/Lab Shift MNC are ideal for the backcountry or freestyle. These fellas are game-changers — blurring the line between traditional and tech bindings.
Read Full Review
Shop Salomon T S/Lab Shift MNC
An award-winning bestseller, the Attack2 11 GW by Tyrolia is surprisingly versatile. The enticing price tag makes these bindings the obvious first choice for beginner to intermediate skiers putting together their ski package for the first time.
Read Full Review
Shop Tyrolia Attack2 11 GW
As you build your ski gear kit, bindings tend to come last, which also happens to be good practice. You should have other pieces of gear squared away before you consider bindings. But once you start looking into ski bindings, things can get overwhelming. With a variety of bindings and features in a constantly transforming market, any decision involves an avalanche of matters to consider.
Don't worry. We'll help you find your feet and the main considerations to take when you purchase a new set of bindings.
But before we get into the nitty-gritty, let's make sure you're actually ready to buy some bindings. Hit these three points, and you are good to go.
1. Buy Your Skis First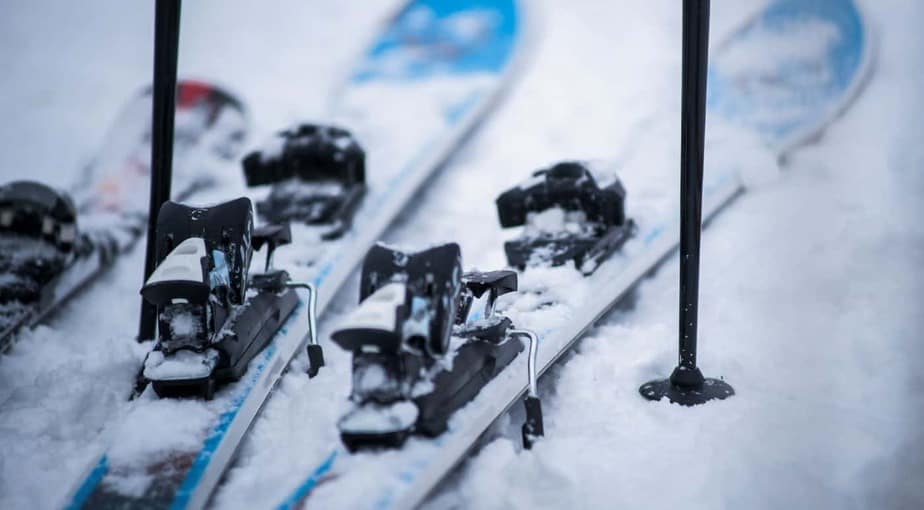 Your skis are the holy grail of your ski gear kit. Ideally, you should have your skis on hand before you look into boots or bindings. This will ensure that your bindings are compatible with your skis. Pair like with like: lightweight bindings with lightweight skis, heavy bindings with heavy skis. For example, don't slap a pair of ultralight tech bindings on skis designed for downhill carving. You will only muddle the best aspects of each.
2. Know Which Type of Ski Binding You Want
There are three main types of bindings, each with a different set of features. Some require specific equipment, so make sure you know which type is best for you.
Alpine (Downhill) Bindings
These bindings are the most traditional, durable, versatile, comfortable, and affordable. They are also user-friendly and accommodate all traditional downhill ski boots. To slip them on, simply slide your toe inside and press your heel down firmly to lock in your boot. To release, press the heel piece and slip out your foot. Alpine bindings are good for all levels of expertise, including beginners. Their construction is solid, which makes them safer but also heavier. They are the best choice for resort days.
Tech Bindings
Relatively new to the market, tech bindings have become extremely popular among avid skiers and freeriders. The main advantage of tech bindings is their lightweight construction, making them ideal for traveling uphill or long-distance ski touring. Instead of a toe piece, tech bindings lock the ski boot with two pins, which require a special type of sole. GripWalk, Walk to Ride, and non-compliant touring boot soles are all compatible with tech bindings. With less weight comes less power transfer, so tech bindings are better suited for intermediate to expert skiers. They are also less suitable for heavy or aggressive skiers.
Alpine Touring (AT) Frame Bindings
These chaps are the latest type to appear on the market. They strive to be a sort of hybrid between alpine and tech bindings, bringing the best of both worlds. They have a distinctive frame construction, making them lighter than alpine bindings and better at transferring power than tech bindings. This makes them better suited for heavier or more powerful skiers who like to bomb downhill. Unlike the tech binding, AT bindings are compatible with a wide range of boot types.
3. Be Careful When Purchasing Ski Bindings Online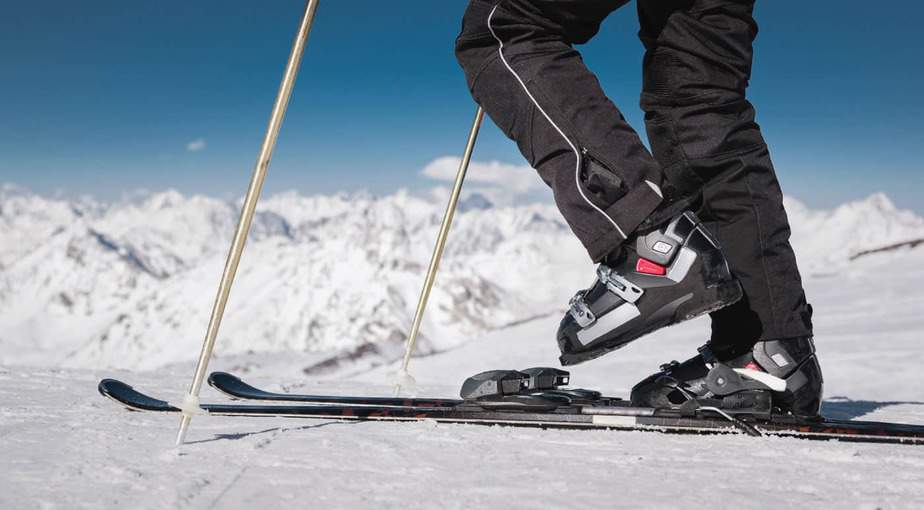 If you purchase online, we strongly recommend visiting a local sports shop. Peruse and sample their gear and ask an expert for advice on what to look for. Then, when you shop online, you'll know exactly what you want. Do the research.
If you are ordering skis along with bindings online, you should know that the bindings don't usually arrive mounted on the skis. We recommend getting your bindings mounted by an expert at a local retailer like REI, rather than having it done at a resort — it's cheaper.
How to Choose the Best Ski Bindings
With the rules of thumb out of the way, let's get into the specs you should always consider before you make a purchase.
DIN 
DIN refers to the amount of force at which a binding releases a locked-in boot. The highest DIN is 18. The higher the DIN, the greater the force required to unlock the boot. Naturally, a low DIN under a powerful skier risks releasing too soon, which could cause injury. A DIN on a young, light, or casual skier might release too late.
To find the right DIN for you, we strongly advise visiting a ski shop. Online charts, while helpful, are no substitute for an expert. It's best to choose bindings with a DIN larger than the one you need.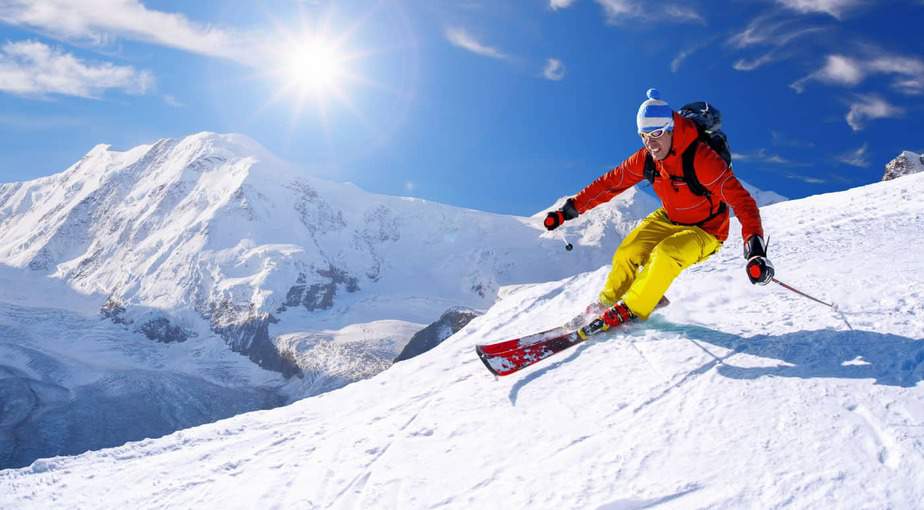 Weight
Weight has less to do with safety and more to do with the type of skiing you do. If all your skiing is done at a resort, weight is not much of a consideration. Five pounds for a pair is common. However, if you like freestyle skiing, doing tricks, or if you spend hours hiking in the backcountry, look for lighter bindings.
Brake Size
Brakes for bindings come in multiple sizes, usually measured in millimeters. To find the brake size you need, measure the waist width of your skis. Get the brake size that most closely approximates this measurement. An approximation will do, but it should not be even 1 millimeter smaller than the width of your ski's waist, and no more than 10-15 millimeters wider.
Methodology
How did we go about determining the best ski bindings? We cross-referenced product tests (both by companies and individuals); applied critical analytics to hundreds of customer experiences; researched the policies, principles, credentials, and methodologies of manufacturers; and finally, consulted sports authorities on particular brands. In short, we strived to put ourselves in your position, only we did the research for you.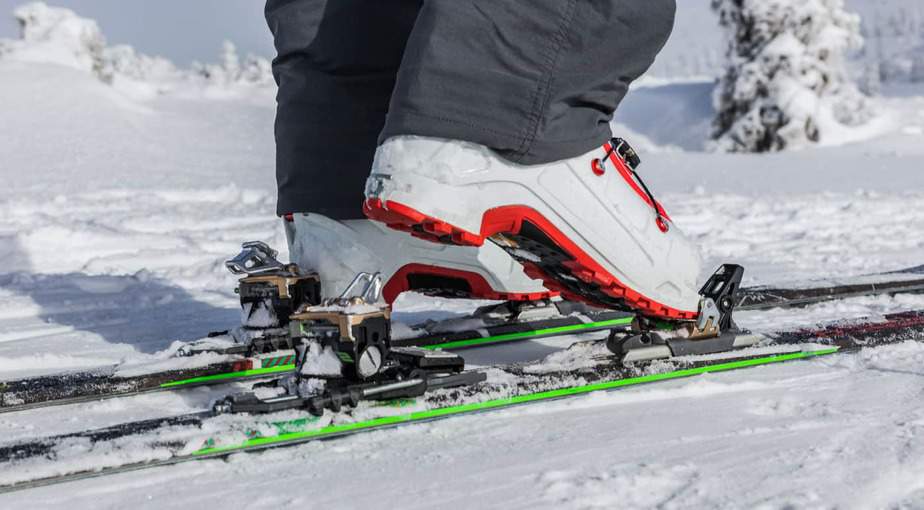 Below are the criteria we considered to compile this list:
Branding: We started with established, praised, and popular brands that have a devoted following among avid skiers.
Safety/Testing: We gave more credibility to products that have been lab-tested for safety. For instance, Dynafit products are often awarded an ISO/TUV certification for safety-of-release in the event of a crash.
Comfort: Your first impression once you step into a fitting is the comfort level.
Fitting System: We valued bindings with an adjustable heel height to accommodate multiple types of boot soles.
Weight: After several hours on the slope, bindings can begin to feel heavy. Freestyle and backcountry riders praise lightweight constructions.
Construction: How is the binding built, of what material, and what are the safety features?
Versatility: We included bindings that are suitable for daily use and for ski resorts, backcountry, or bike trails.
Innovation: We favored bindings that include unique features.
User-Friendly: We looked for bindings that are easy to put on, take off, and that switch smoothly between descending and climbing modes.
Style: It's important to be safe, but why not look your best at the same time?
Warranty: How long is the warranty, and what does it tell us about the product?
Price: We chose products that demonstrate a degree of performance and quality either equal to or below the price tag.
Reviews: What are the experiences of buyers? Are they positive?
The Best Ski Bindings
What does DIN stand for?
DIN stands for the German term Deutsches Institut für Normung, the German Institute for Standardization. Today, it is the standard scale for measuring the release force setting for ski bindings, and refers to the amount of force at which a binding will release a locked-in boot. The highest DIN is 18, and the lowest is 1.
An expert at a ski shop can determine which DIN setting you need by calculating your weight, height, skier type, age, and boot sole length. Many ski shops provide this service free of charge, and they often also adjust your bindings to your preferred DIN. 
Each pair of bindings has a range of DIN values to which it can be set, and the DIN can be adjusted separately for the front and the back of the binding. Each binding can be set to a different value, but they are usually set to the same value.
Determining the correct DIN is the single most important part of buying a pair of bindings. The higher the DIN, the greater the force required to unlock the boot. Naturally, a low DIN under a powerful skier risks releasing too soon, which could cause injury. A high DIN on a young, light, or casual skier might release too late.
Ski bindings release ski boots in two different ways. When your ski boot is subjected to a large twisting force, the toe piece of the binding will release. Your boot then slips out sideways. If there is great forward force on the boot — for example, if you experience a frontal collision — the back of the binding will release the heel of the boot, and you will fall forward.
Should I buy a pre-packaged ski and binding combo?
Most skiers purchase their skis and bindings separately, sometimes months apart. However, as more and more skiers buy their gear online, many manufacturers offer a value package of both skis and bindings.
There are pros and cons to these value packages. Let's look at the pros first.
The principal advantage of these packages is the value: Usually, bindings and skis are several hundred dollars cheaper in a package. If you are a new skier, an infrequent skier, or on a budget, they are worth considering. However, the advantages end there.
There are more cons to buying value packages than pros. First, they give you less power to choose which skis or bindings are best for you. When you purchase them separately, you have room to experiment and find the perfect ski-binding combo. There are many different types of skiers out there. Having room to personalize is essential for safety and comfort.
Second, almost all value packages include low-quality gear. That is not to say they're unsafe or poorly made, only that it's typically uninspired equipment with minimal features and a low DIN range. While that's fine for beginners, anyone at an intermediate level and above should pass on them.
What are the best ski bindings?
The best ski bindings for one skier are not necessarily the best for another skier. In short, there is no such thing as the best ski binding — only the best ski binding for you.
Here are the characteristics of the best ski bindings:
Obviously, safety is the principal concern. Good ski bindings are lab-tested and well-made. The best indicator of safety is determining the correct DIN. The lighter and more casual the skier, the smaller the DIN should be. The heavier and more aggressive, the higher the DIN. The best ski bindings are adjusted by a professional technician at a shop like REI.
The best ski bindings for backcountry skiers are ultralight tech bindings. The lighter weight makes these bindings safer and more comfortable for several hours of uphill hiking. The best ski bindings for resort skiers tend to be traditional alpine bindings. They have a heavier, more solid construction. Freestyle skiers also tend to prefer tech bindings.
The best ski bindings come from established and reputable brands like Marker, Salomon, and G3. These brands have served the skiing community for decades, and their gear is worn by the best skiers on the planet.
RAVE Recommends
Whether you like skiing or snowboarding, hitting resorts or the backcountry, and whether you ski every day or only now and then with friends, you are always looking for ways to make your time more fun and comfortable. To make your next ski trip the best it can be, check out these other products.