The best shoes for nurses must be comfortable, practical, and durable.
The excellent Tokyo Super Grip Clog by German superstar shoe-maker Birkenstock is all of those things and more. The famously comfortable Birkenstock footbed conforms to the shape of your foot, and fits even better over time. The adjustable sling-back ensures that you can slip these shoes on and off easily, but they stay in place when you are running around at work. Perfect for both male and female nurses, the Tokyo Super Grip is versatile and one of the most durable shoes on the market. And, dare we say, it looks kind of cool. No wonder it won the top spot in our ranking.
Wearing comfortable shoes should always be a priority, but when your job keeps you on your feet — whether you're running to deal with an emergency or standing for hours in an operating theatre — it's an absolute must. Being on your feet for so long puts a lot of pressure on your muscles and joints, resulting in aches, pains, and swelling. Thankfully, wearing the right shoes can prevent all of that.
Nursing shoes are simply extremely comfortable shoes with cushioning, support, and good traction for slip-resistance. Some shoes are designed specifically for nurses, but depending on where you work, you can wear sneakers, slip-ons, or clogs, as long as they do the job.
The kind of shoe you need depends on your personal taste, your particular requirements, and the kind of environment in which you work. This list ranks the absolute 10 best shoes for nurses, both male and female. So grab a coffee, put your feet up, and read on: It's time to take care of yourself.
The Shoes for Nurses We RAVE About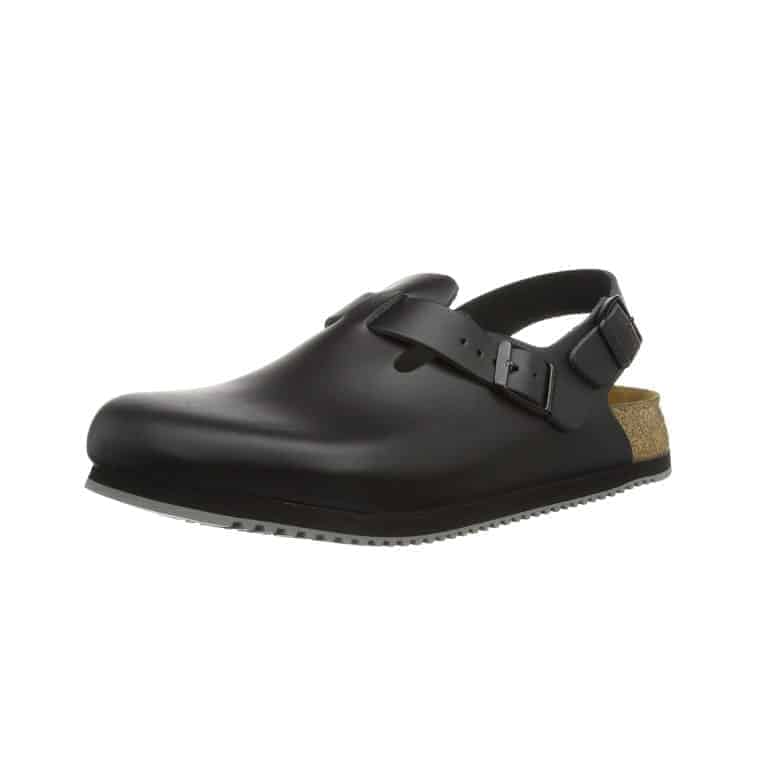 Best Overall
Birkenstock Tokyo Super Grip Clog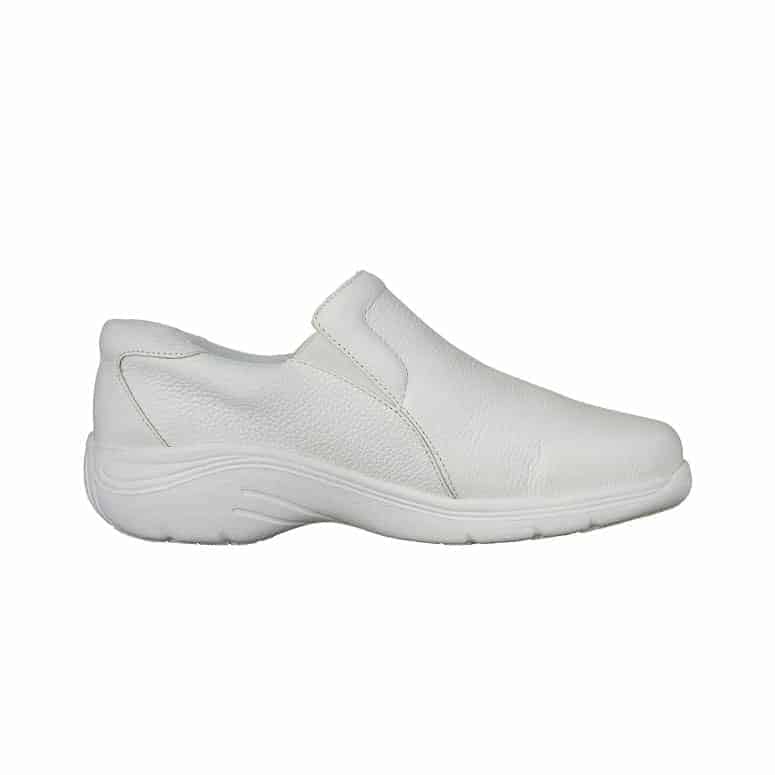 Best Slip-On Shoe for Nurses
Nurse Mates Women's Dove Slip-On Loafer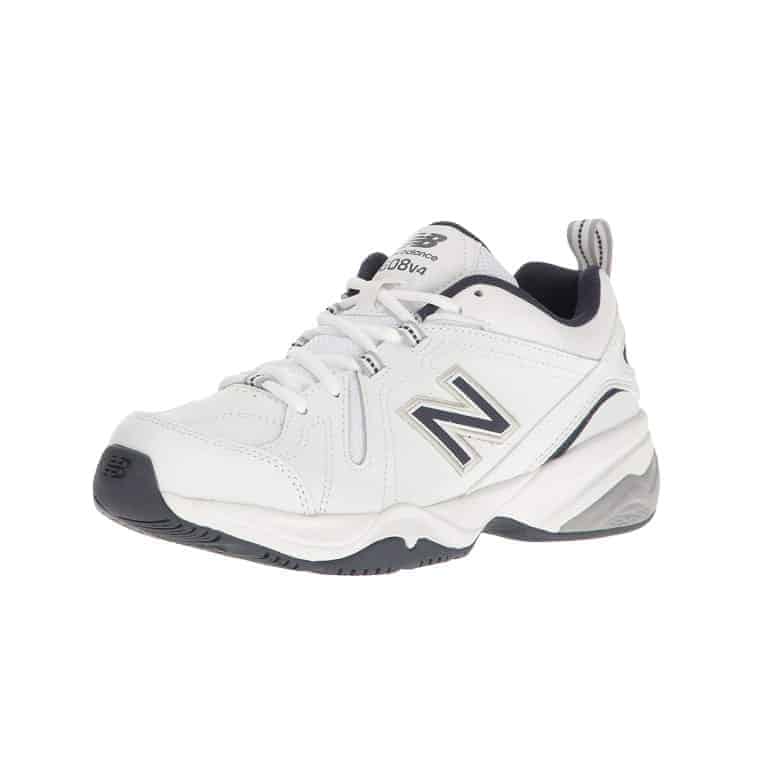 Best Sneaker-Style Shoe for Nurses
New Balance Men's 608v4
Nurses are the backbone of our healthcare system, and without them, everything would grind to a halt. It's a very demanding job: long hours, endless standing and running from patient to patient, and little to no time to rest. It should come as no surprise that foot pain is one of the most common complaints that nurses have.
While nurses are required to take care of others, they are often left to deal with painful feet and achy ankles. And, these aches and pains can develop into something more serious and debilitating.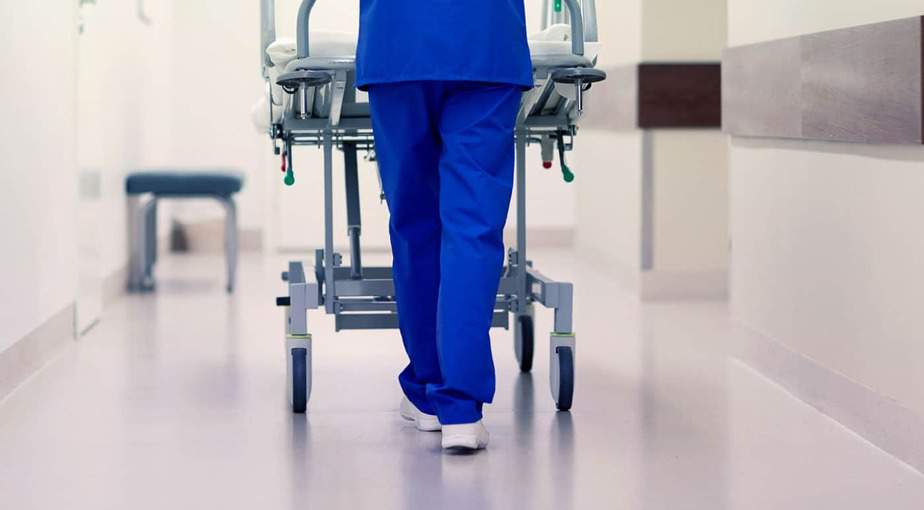 If you spend long hours on your feet, you may suffer from any of the following:
Blisters
Ingrown toenails
Bunions
Plantar fasciitis
Heel pain
Achy ankles
If you suffer from any one of these conditions, or experience general discomfort or pain, invest in a new pair of shoes for work. All of these health issues can arise if you wear ill-fitting shoes, or shoes that do not offer enough support for you.
Plantar fasciitis, for example, is very common among nurses and is one of the most common causes of severe foot pain. Often found in athletes, plantar fasciitis also afflicts people who spend a lot of time on their feet, who are overweight, or who wear shoes without adequate support.
It usually presents as severe, stabbing pain in the sole of the foot, and is classified as an overuse injury, a bit like carpal tunnel — but much more difficult to treat.
The most effective way for nurses to prevent plantar fasciitis (and a whole load of other painful ailments) is to wear supportive, well-fitting, breathable, and comfortable shoes.
Tips for choosing the right shoes if you're a nurse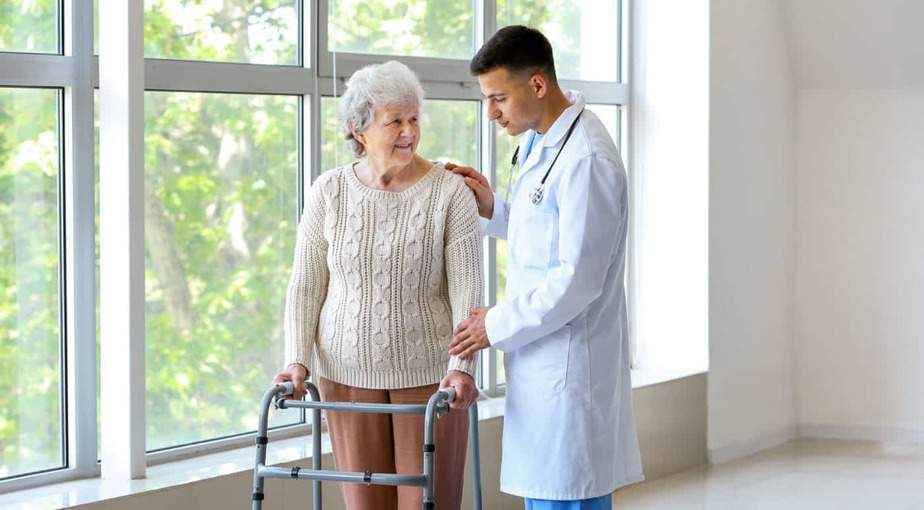 Choosing the right shoe is critical if you're a nurse or spend long hours on your feet. Here are some tips to help you make the right choice:
Look through our ranking
We compiled this ranking of the top 10 best shoes for nurses through extensive research and analysis, so it's a great place to start as you look for new shoes. Then, ask yourself these important questions:
Are the shoes slip-resistant?
Safety at work is vital, so choose shoes that reduce the probability of accidents. It's not uncommon to encounter a wet floor at work, and you could slip and hurt yourself. To determine whether a shoe is slip-resistant, look at the outsole material and design, and the tread pattern.
Are they supportive?
Shoes that properly support your arch reduce pressure on your feet, promote better posture, and positively impact your knees and back.
Are they comfy?
It might seem obvious, but there is comfy, and then there is comfy. Some shoes might be fine for a couple of hours, but only the best shoes will keep your feet happy during 12-hour shifts. Choose shoes that are specially designed to be used for hours on end, like all the ones in our ranking.
What are they made of?
Most of the shoes in our ranking are made of leather, rubber, or high-quality synthetic mesh. Rubber is popular because it is lightweight, comfortable, and easy to clean, while leather is natural and also very comfortable. Synthetic material is also very flexible, but it must be high-quality and used cleverly.
Are they breathable?
Let's face it, being on your feet for 12 hours isn't pretty. With the wrong shoes, your feet will get hot and sweaty, which can lead to infections such as athlete's foot. Breathable material ensures that your feet stay dry, clean, and fresh.
Which design is best for you?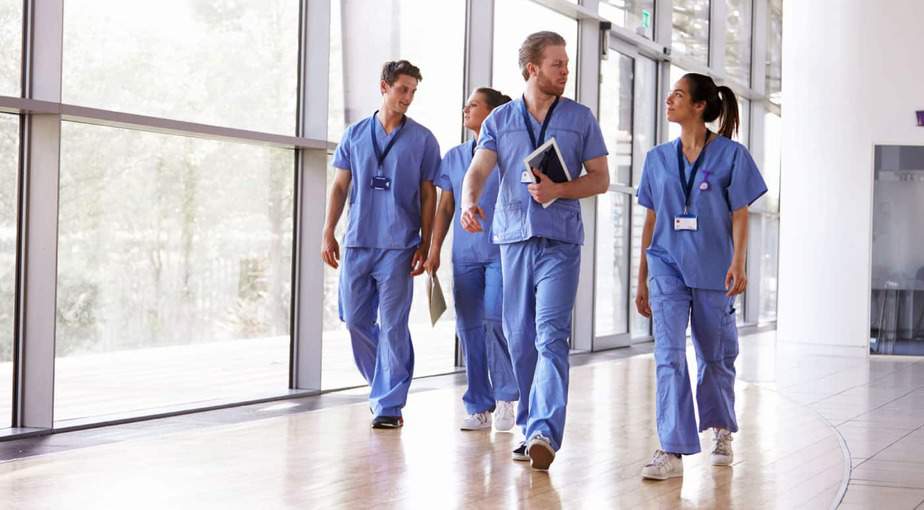 Nursing shoes come in lots of different designs and styles. The most common styles are clogs, slip-ons, and sneakers. Each style of shoe works with different work settings and personal requirements, such as the shape of your feet or whether you have any specific conditions.
Last but not least, are you happy with the way they look on you? It may seem superficial, considering the work you do as a nurse, but there is no reason to wear something you hate. Nursing shoes now come in all kinds of styles and colors, so you can choose something that you enjoy wearing.
Methodology
To determine the best shoes for nurses, we carefully scrolled through dozens of websites, examining hundreds of ratings and comments from users and consumer journalists.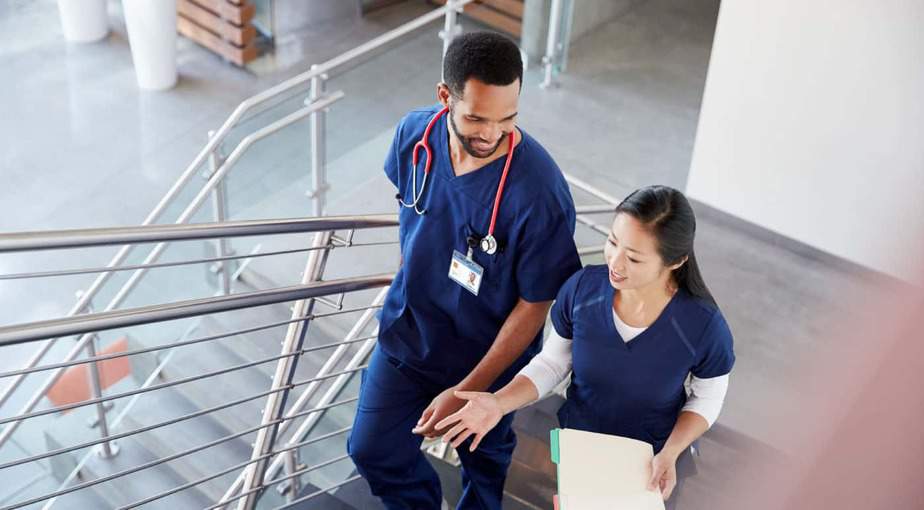 Then we created a robust scoring system by taking an aggregate of those scores across different categories, and came up with our ranking based on a scale of 0-100. Our methodology is based on a weighted score of a variety of factors, including:
Materials
Comfort
Arch support
Durability
Price
Traction and slip resistance
Style
We took an average of those scores for a final metascore and built our best nursing shoes ranking from there.
The Best Shoes for Nurses
1
Birkenstock Tokyo Super Grip Clog
If you thought that Birkenstocks were just for hippies, think again: This fantastic clog is perfect for nurses thanks to its famous cork sole, which offers great arch support. Although this shoe can take some time to break in (so wear them around the house first before embarking on a 12-hour shift) it is one of the comfiest around.
The sole boasts great shock absorption, so you can run up and down those stairs all day and your ankles and knees won't hate you for it. The internal design of these shoes has been perfected over 200 years, so you can be confident that it does what it claims to do.
You can choose between several different colors, and all of them are made with high-quality leather, cork, and rubber, which keeps you from slipping on wet surfaces.
Pros
Meticulous craftsmanship
Well-loved brand
Great support
Cons
Can take a while to break in
2
Dansko Professional Clog
These shoes are among the most loved by nurses across the country, and are a popular choice for many professionals who spend hours on their feet. They have excellent arch support and decent shock absorption. One of the best features is the removable leather-lined footbed, which is made with memory foam and extremely comfortable.
The interior also has an antimicrobial lining, which wards off odors and infections, keeping your feet healthy. While this shoe is a bit on the narrow side, the toe box is pretty roomy and comfortable.
Dansko started out making shoes for women, but luckily for the guys out there, the much-loved brand has expanded to include a whole male range, too. We absolutely love that you can choose from an overwhelming number of designs and colors, from simple white or black all the way to sparkles, or even leopard print.
Pros
Excellent support
Durable
Wide range of colors
Cons
On the narrow side
Heavy
Expensive
3
Nurse Mates Women's Dove Slip-On Loafer
This simple yet stylish shoe is designed specifically for nurses. It is extremely comfortable, lightweight, and made of stain-resistant material that is easy to clean and dry. And, of course, it is 100% waterproof, meaning no liquids will penetrate through to your socks.
Тhis shoe is very cleverly designed, with built-in steel shanks to maintain stability and support throughout a long shift, and slip-resistant rubber soles. The shoe comes with removable soles, which are flexible but supportive. If you have special requirements, you can swap these out for other insoles.
The Nurse Mates Dove Slip-On also features a small 1.5-inch heel, which helps with mobility and posture. We love how easy it is to slip these shoes on and off thanks to their easy, elasticized design. A very classic shoe!
Pros
Designed for nurses
Lightweight
Slip-on
Cons
Few colors to choose from
Not the most durable
Not for very wide feet
4
New Balance Men's 608v4
This excellent running shoe is affordable, well-designed, and a great option for athletes and people who spend a long time on their feet. You'll love it if you prefer to feel laced up and secure (and don't worry ladies, there is a New Balance shoe for you, too).
The New Balance 608 shoe includes an EVA foam footbed for cushioning and comfort, and an internal shank, which provides great stability and support. New Balance shoes are made with a mix of synthetic material and leather, and they are breathable and flexible so your feet won't get sweaty during the day.
These shoes have excellent shock absorption thanks to Abzorb technology, so you can run around and jump up and down stairs and not feel the repercussions on your knees. We also love the sleek, classic design, which matches any nurse uniform.
Pros
Great shock absorption
Breathable
Lace up
Cons
Can be expensive
Requires a break-in period
Internal seams may rub
5
KEEN Utility Men's PTC Slip-On
A great slip-on option for men, the KEEN Utility Men's PTC Slip-On is designed specifically to offer you the utmost comfort during long shifts. It also provides sturdiness and safety, thanks to the well-designed stability shank and super comfy memory foam footbed. The EVA foam midsole also helps support and cradle the foot.
One thing that truly sets the KEEN Slip-On apart is the rubber outsole, which has been specially designed and laboratory tested to meet non-slip testing standards set by the American Society for Testing and Materials. Great grip and traction mean no more slipping and sliding!
The leather looks stylish and sleek, but is also functional and easy to clean. It's also water-resistant, so your feet will stay dry no matter what, and your shoes will last longer.
Pros
Incredible slip resistance
Water-resistant
Very comfortable
Cons
Few color options
Wider fit than expected
Insole is not durable
6
Skechers Sport Women's Loving Life Memory Foam Fashion Sneaker
Over the last few years, Skechers has designed and released several different walking and running shoes specifically for women. The Loving Life Memory Foam sneaker is one of the most comfortable and easy to wear, and is perfect if you prefer a cushioned slip-on sneaker. The faux leather and breathable mesh look sporty and fun, but also help keep your feet dry and cool.
The memory foam insole is incredibly comfortable, but also great for shock absorption, and the whole shoe cradles your foot. The outsole is made of rubber, minimizing the risk of slipping and also improving your posture.
These sneakers are not waterproof, so while they are great to use on a day-to-day basis around the ward, choose a different pair if you are in a high-risk environment.
Pros
Lightweight
Comfortable
Stylish
Cons
Not waterproof
Lack heel support
No laces, just bungee cords
7
SoftWalk Women's Meredith Clog
Made with patent leather and featuring a flexible, slip-resistant rubber outsole, EVA midsole, and cushioned footbed, the SoftWalk Women's Meredith Clogs are loved by nurses all over the country. SoftWalk makes a wide range of functional shoes for women, and the Meredith model is designed specifically for health professionals.
From the much-loved Grey's Anatomy line, the Meredith clog is stylish without compromising on comfort and health. The footbed, designed for people who need extra support, is great if you suffer from plantar fasciitis. The whole shoe is well-padded and incredibly comfortable.
No matter how long your shift is or how many rounds you do, your feet will still feel great at the end of the day. And as time goes on, this shoe molds to your foot, becoming even more comfortable. However, some customers note that the outside of the shoe wears easily.
Pros
Good for plantar fasciitis
Elegant
Good arch support
Cons
Not very durable
Sizes run large
Top of the shoe can rub
8
Alegria Women's Keli Professional
Alegria is known for creating orthotic shoes that are tailored to individual needs, targeting all kinds of conditions. It's no surprise that their shoes are popular among nurses who need to take special care of their feet (which, let's be honest, is all nurses).
The Alegria Women's Keli Professional Clogs provide comfort and support, but still manage to be stylish and elegant. Choose these shoes if you want extra arch support, and if you prefer a roomy toe box ⁠— which is pretty essential if you wear shoes for hours on end.
They have a unique rubber sole with a rocketed design that increases traction on wet surfaces and helps you maintain correct posture. Although the shoe itself is quite durable, some users report that the paint starts to flake on some designs after only a few months.
Pros
Excellent arch support
Slip-resistant
Very comfortable
Cons
Sizing is not consistent
Not very durable
Slightly narrow fit
9
Timberland Men's Barrett Park Slip-On Loafer
You really can't go wrong with Timberland. Whether it's hardy hiking boots or stylish loafers, you'll benefit from Timberland's quality materials and design. These Barrett Park Slip-On Loafers are no different. Typical of Timberland's high standards, these loafers are sleek, extra comfy, and a great choice for nurses.
This loafer is easy to slip on, and thanks to an elastic collar stretching around the base of the ankle, it will stay securely on your foot (so you won't trip if you have to run to deal with an emergency). The outsole is easy to clean and features a lug rubber traction system to prevent accidents.
The best part of these Timberlands is the anti-fatigue footbed, which sits on top of the midsole to provide great support and comfort, even over a 12-hour shift.
Pros
Great traction
Versatile
Good support
Cons
Inconsistent sizing
Expensive
Break-in period
Simple, comfy, and easy to clean, Crocs are a favorite among nurses across the country. Although they look very simple, Crocs are actually leaders of innovative footwear. Not only is the design very unique, but they are made of Croslite, which is incredibly lightweight, soft, odor-resistant, and comfy.
The outsole is slip-resistant, while the footbed is specially designed to support your foot and "massage" it as you walk. Sounds pretty dreamy to us. Although Crocs feel loose, the strap on the back ensures they will stay safely on your feet.
Crocs are a great choice for everyday work, but beware if you work in a high-risk environment, as they won't protect from sharp or heavy objects. Still, they are good for making the rounds, and you can choose from dozens of colors to brighten up your day.
Pros
Lightweight
Good value
Comfortable
Cons
Can get sweaty
Offer little protection
Not great if you have to run
Related Rankings
Do I need specific shoes for nursing?
If you are a nurse, one thing you need is a good pair of shoes. Nurses spend hours on their feet, so wearing any old shoes is not an option. Cheap, poorly designed shoes can lead to all kinds of health issues, from inflamed tendons to nasty fungal infections.
However, that doesn't mean you must wear shoes designed specifically for nurses. While some brands do offer nursing shoes (some of which made it to our ranking), you can also choose shoes that are not designed specifically for your profession.
Most importantly, your shoes must be adequate enough to spend a long time on your feet. They must be comfortable, supportive, and breathable. On top of that, ensure that they are also slip-resistant and easy to clean.
Are there different kinds of shoes for nurses?
Since you can wear any kind of shoes, as long as they are designed for people who spend long hours on their feet, the answer is yes. There are many different styles and designs you can choose from: High-quality sneakers can work, and so can slip-ons, clogs, and croc-style shoes.
All styles of shoes have different benefits: Clogs are easy to slip on and off, and rubber ones are especially lightweight and easy to clean. Sneakers and tennis shoes are cozy and supportive, and slip-ons share the same qualities, but are easy to take off after a long day's work. All of these styles are extremely comfortable if you choose the right brand and model.
Although you may prefer one style over another, it's a great idea to own a pair of each, for several reasons. For one, you might want to wear different style shoes depending on the weather and temperature, but you might also want to give your foot a welcome change from shift to shift.
How much should I pay for my new nursing shoes?
It's a good idea to invest in nursing shoes. Since you will spend so much time wearing these shoes, you can't afford to choose low-budget options.
The best shoes for nurses usually aren't cheap. They are made with high-quality materials, and a lot of work and time goes into developing comfortable, supportive, and stylish designs.
In our ranking, the best budget option is the Classic Croc, which starts as low as $20. Although they are very simple and low-budget shoes, Crocs are great for nursing (though you'll want to switch it up from time to time). But, depending on the model, you could end up spending close to $100 on a pair of Crocs.
Each shoe in our ranking comes in a whole range of styles, colors, and designs, all with different price tags. For example, the Alegria starts at $40, but goes all the way up to $140. Once you choose a brand and a model, the quality should be similar from the low end to the high end of the price scale.
What are the best shoes for nurses?
We spent weeks researching the best shoes for nurses by aggregating data from across the internet's most trustworthy review sites to answer this question. We also trawled through nursing blogs and forums, and read hundreds of reviews by nurses themselves.
Through our detailed research, we determined that the Birkenstock Tokyo Super Grip Clog is the best shoe for nurses. It is unisex, fitting both men and women perfectly, and it is cleverly designed to mold around your foot for personalized support and comfort. Made with high-quality materials, this clog is backed by a well-respected brand.
That being said, this shoe isn't the only great option for nurses. There are so many different models and designs out there that it can be difficult to choose the best. That's why we did it for you, bringing together the ten different models and brands of shoes nurses love most.
RAVE Recommends
The healthcare system would collapse without you nurses, and you deserve all the comfort and support you can get. Here a few gadgets to make work a little more pleasant.
Floral Nurse Clip-On Lapel Watch ($26): This 10-piece set of super cute lapel watches will brighten up any uniform. These medical silicone watches are easy to pin on, so they stay clean while you're working. They're also washable.
Women's Novelty Crazy Crew Socks ($9): Patterned with stethoscopes, pills, prescription bottles, and an electrocardiogram, these socks make a super fun gift for a colleague or friend. Not to mention how comfy and stretchy they are!
Men's Fun Crew Socks ($9): And here's a pair for the guys! Fun and functional, these socks make a great gift –– even if it's to yourself.
Hopkins Medical Products Original Shoulder Bag ($34): This stylish shoulder bag is one of the most popular healthcare bags around. Waterproof and easy to clean, it features multiple compartments to organize everything you need on your daily rounds.
WhiteCoat Clipboard, Nursing Edition ($32): Staying on top of everything can be difficult, but this handy clipboard will help. Keep all your notes safe and organized with this cute and durable clipboard. We love the wine-colored one!
Randy Brangman
Randy Brangman is a Licensed Physical Therapist and Exercise Therapist and a former long distance runner. He is the founder and Lead Exercise Instructor at Trinity of Wellness. Spending more time in running shoes than flip flops, he travels the world while going through pair after pair. He is currently writing a book about joint therapy.