The best shoes for nurses must be comfortable, practical, and durable.
The excellent Tokyo Super Grip Clog by German superstar shoe-maker Birkenstock is all of those things and more. The famously comfortable Birkenstock footbed conforms to the shape of your foot, and fits even better over time. The adjustable sling-back ensures that you can slip these shoes on and off easily, but they stay in place when you are running around at work. Perfect for both male and female nurses, the Tokyo Super Grip is versatile and one of the most durable shoes on the market. And, dare we say, it looks kind of cool. No wonder it won the top spot in our ranking.
Wearing comfortable shoes should always be a priority, but when your job keeps you on your feet — whether you're running to deal with an emergency or standing for hours in an operating theatre — it's an absolute must. Being on your feet for so long puts a lot of pressure on your muscles and joints, resulting in aches, pains, and swelling. Thankfully, wearing the right shoes can prevent all of that.
Nursing shoes are simply extremely comfortable shoes with cushioning, support, and good traction for slip-resistance. Some shoes are designed specifically for nurses, but depending on where you work, you can wear sneakers, slip-ons, or clogs, as long as they do the job.
The kind of shoe you need depends on your personal taste, your particular requirements, and the kind of environment in which you work. This list ranks the absolute 10 best shoes for nurses, both male and female. So grab a coffee, put your feet up, and read on: It's time to take care of yourself. 
The Shoes for Nurses We RAVE About
German craftsmanship meets style in this classic clog. Perfect for a variety of work environments, the Super Grip outsole ensures you won't slip, while the famous cork insoles provide the utmost comfort and arch support for great posture.
Read Full Review
Shop Birkenstock Tokyo Super Grip Clog
These extra lightweight slip-on shoes are designed with nurses in mind. They are made of high-quality leather with a stain-resistant finish (and we all know how important that is), with rubber soles to keep you from slipping on wet floors, and steel shanks down the side to provide extra stability.
Read Full Review
Shop Nurse Mates Women's Dove Slip-On Loafer
One of the most-loved sneaker brands, New Balance is known for making shoes that are comfortable and affordable. Their 608 model is an excellent option for nurses thanks to the innovative foam footbed that cradles the foot, and an adjustable tongue that keeps your foot stable.
Read Full Review
Shop New Balance Men's 608 Training Shoe
Nurses are the backbone of our healthcare system, and without them, everything would grind to a halt. It's a very demanding job: long hours, endless standing and running from patient to patient, and little to no time to rest. It should come as no surprise that foot pain is one of the most common complaints that nurses have.
While nurses are required to take care of others, they are often left to deal with painful feet and achy ankles. And, these aches and pains can develop into something more serious and debilitating.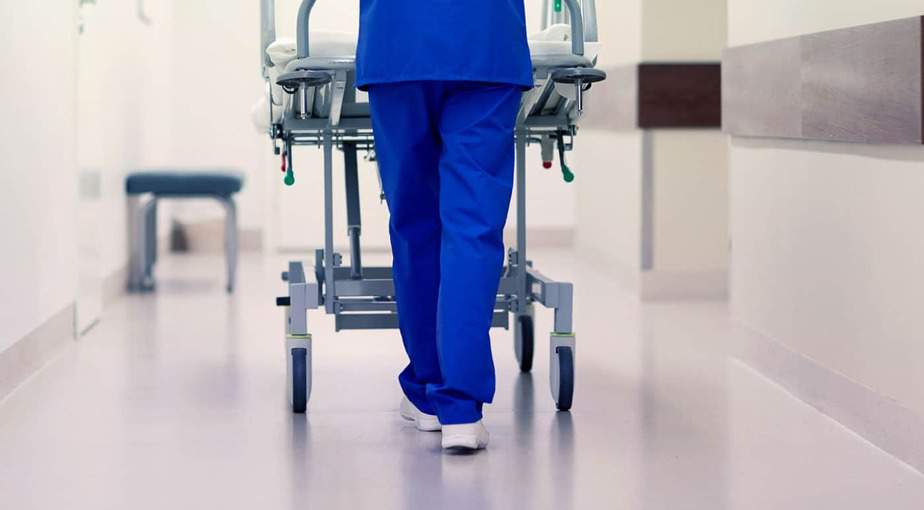 If you spend long hours on your feet, you may suffer from any of the following:
Blisters

Ingrown toenails

Bunions

Plantar fasciitis

Heel pain

Achy ankles
If you suffer from any one of these conditions, or experience general discomfort or pain, invest in a new pair of shoes for work. All of these health issues can arise if you wear ill-fitting shoes, or shoes that do not offer enough support for you.
Plantar fasciitis, for example, is very common among nurses and is one of the most common causes of severe foot pain. Often found in athletes, plantar fasciitis also afflicts people who spend a lot of time on their feet, who are overweight, or who wear shoes without adequate support.
It usually presents as severe, stabbing pain in the sole of the foot, and is classified as an overuse injury, a bit like carpal tunnel — but much more difficult to treat.
The most effective way for nurses to prevent plantar fasciitis (and a whole load of other painful ailments) is to wear supportive, well-fitting, breathable, and comfortable shoes.
Tips for choosing the right shoes if you're a nurse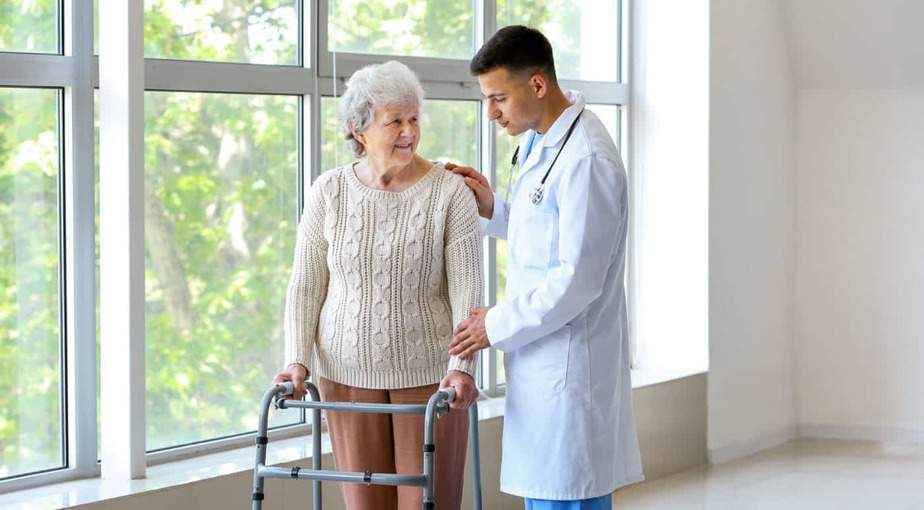 Choosing the right shoe is critical if you're a nurse or spend long hours on your feet. Here are some tips to help you make the right choice:         
Look through our ranking
We compiled this ranking of the top 10 best shoes for nurses through extensive research and analysis, so it's a great place to start as you look for new shoes. Then, ask yourself these important questions:
Are the shoes slip-resistant?
Safety at work is vital, so choose shoes that reduce the probability of accidents. It's not uncommon to encounter a wet floor at work, and you could slip and hurt yourself. To determine whether a shoe is slip-resistant, look at the outsole material and design, and the tread pattern.
Are they supportive?
Shoes that properly support your arch reduce pressure on your feet, promote better posture, and positively impact your knees and back.
Are they comfy?
It might seem obvious, but there is comfy, and then there is comfy. Some shoes might be fine for a couple of hours, but only the best shoes will keep your feet happy during 12-hour shifts. Choose shoes that are specially designed to be used for hours on end, like all the ones in our ranking.
What are they made of?
Most of the shoes in our ranking are made of leather, rubber, or high-quality synthetic mesh. Rubber is popular because it is lightweight, comfortable, and easy to clean, while leather is natural and also very comfortable. Synthetic material is also very flexible, but it must be high-quality and used cleverly.
Are they breathable?
Let's face it, being on your feet for 12 hours isn't pretty. With the wrong shoes, your feet will get hot and sweaty, which can lead to infections such as athlete's foot. Breathable material ensures that your feet stay dry, clean, and fresh.
Which design is best for you?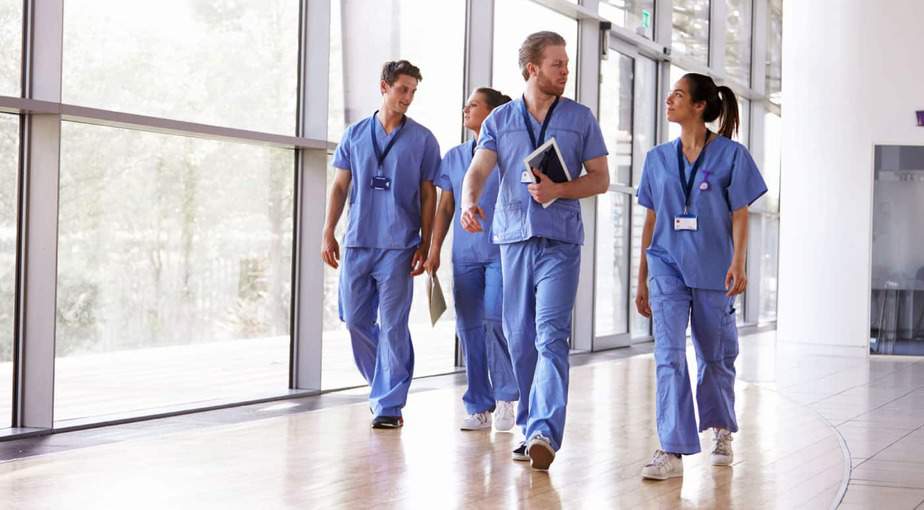 Nursing shoes come in lots of different designs and styles. The most common styles are clogs, slip-ons, and sneakers. Each style of shoe works with different work settings and personal requirements, such as the shape of your feet or whether you have any specific conditions.
Last but not least, are you happy with the way they look on you? It may seem superficial, considering the work you do as a nurse, but there is no reason to wear something you hate. Nursing shoes now come in all kinds of styles and colors, so you can choose something that you enjoy wearing.
Methodology
To determine the best shoes for nurses, we carefully scrolled through dozens of websites, examining hundreds of ratings and comments from users and consumer journalists.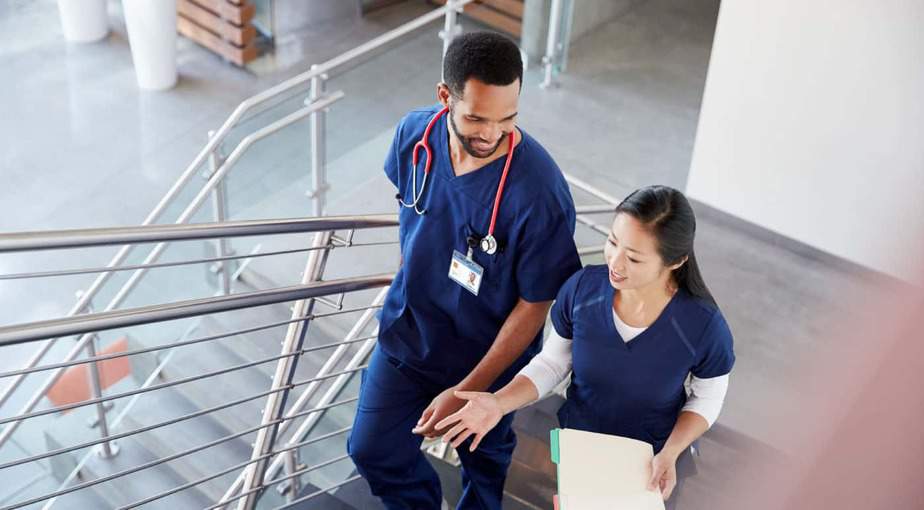 Then we created a robust scoring system by taking an aggregate of those scores across different categories, and came up with our ranking based on a scale of 0-100. Our methodology is based on a weighted score of a variety of factors, including:
Materials

Comfort

Arch support

Durability

Price

Traction and slip resistance

Style
 We took an average of those scores for a final metascore and built our best nursing shoes ranking from there.
The Best Shoes for Nurses
Do I need specific shoes for nursing?
If you are a nurse, one thing you need is a good pair of shoes. Nurses spend hours on their feet, so wearing any old shoes is not an option. Cheap, poorly designed shoes can lead to all kinds of health issues, from inflamed tendons to nasty fungal infections.
However, that doesn't mean you must wear shoes designed specifically for nurses. While some brands do offer nursing shoes (some of which made it to our ranking), you can also choose shoes that are not designed specifically for your profession.
Most importantly, your shoes must be adequate enough to spend a long time on your feet. They must be comfortable, supportive, and breathable. On top of that, ensure that they are also slip-resistant and easy to clean.
Are there different kinds of shoes for nurses?
Since you can wear any kind of shoes, as long as they are designed for people who spend long hours on their feet, the answer is yes. There are many different styles and designs you can choose from: High-quality sneakers can work, and so can slip-ons, clogs, and croc-style shoes.
All styles of shoes have different benefits: Clogs are easy to slip on and off, and rubber ones are especially lightweight and easy to clean. Sneakers and tennis shoes are cozy and supportive, and slip-ons share the same qualities, but are easy to take off after a long day's work. All of these styles are extremely comfortable if you choose the right brand and model.
Although you may prefer one style over another, it's a great idea to own a pair of each, for several reasons. For one, you might want to wear different style shoes depending on the weather and temperature, but you might also want to give your foot a welcome change from shift to shift. 
How much should I pay for my new nursing shoes?
It's a good idea to invest in nursing shoes. Since you will spend so much time wearing these shoes, you can't afford to choose low-budget options.
The best shoes for nurses usually aren't cheap. They are made with high-quality materials, and a lot of work and time goes into developing comfortable, supportive, and stylish designs.
In our ranking, the best budget option is the Classic Croc, which starts as low as $20. Although they are very simple and low-budget shoes, Crocs are great for nursing (though you'll want to switch it up from time to time). But, depending on the model, you could end up spending close to $100 on a pair of Crocs.
Each shoe in our ranking comes in a whole range of styles, colors, and designs, all with different price tags. For example, the Alegria starts at $40, but goes all the way up to $140. Once you choose a brand and a model, the quality should be similar from the low end to the high end of the price scale.
What are the best shoes for nurses?
We spent weeks researching the best shoes for nurses by aggregating data from across the internet's most trustworthy review sites to answer this question. We also trawled through nursing blogs and forums, and read hundreds of reviews by nurses themselves.
Through our detailed research, we determined that the Birkenstock Tokyo Super Grip Clog is the best shoe for nurses. It is unisex, fitting both men and women perfectly, and it is cleverly designed to mold around your foot for personalized support and comfort. Made with high-quality materials, this clog is backed by a well-respected brand.
That being said, this shoe isn't the only great option for nurses. There are so many different models and designs out there that it can be difficult to choose the best. That's why we did it for you, bringing together the ten different models and brands of shoes nurses love most. 
RAVE Recommends
The healthcare system would collapse without you nurses, and you deserve all the comfort and support you can get. Here a few gadgets to make work a little more pleasant.