There are a lot of different types of skis out there, which makes choosing the right pair a pretty daunting task. Not only are there literally hundreds of brands and styles, but skis are built differently depending on the kind of snow they're meant to perform on. Choose one type of skis for the wrong environment, and you risk being slow or losing control.
This ranking focuses on the best powder skis, those "super-fat" models that perform best in deep, fresh snow. Of course, you can also use these on the occasional groomed runs, and you'll definitely have loads of fun in the backcountry. While they'll be okay on any terrain, powder skis are designed in a way that enhances maneuverability and helps you float over deep snow.
Once you know what that feels like, we're pretty sure you'll be in love. Before you run out and buy your new powder skis, though, make sure you grasp the basic differences in their design, such as the difference between camber and rocker, as well as wide and narrow. Read on for a brief explanation, and for our ultimate best powder skis ranking.
Powder Skis vs. All Mountain Skis
Once you've decided to invest in your own skis, the next question will be whether you should choose all-mountain skis or powder skis. What's the main difference, and what are the benefits of each?
Powder skis are the only thing that will keep you afloat on those memorable days of deep powdery snow. They have a wider waist than other types of skis, a design feature which helps you glide over deep snow.
All Mountain Skis are all about versatility, and are the best if you spend most of your time on groomers but love to venture out into fresh powder and crud when you can.
When choosing which one to go for, you should consider a variety of factors, including your experience and skill level, your budget, and the environment you'll mostly be skiing in. You should choose powder skis if you love to ski off-piste, and want the highest possible performance while skiing on powder.
What Makes the Best Powder Skis?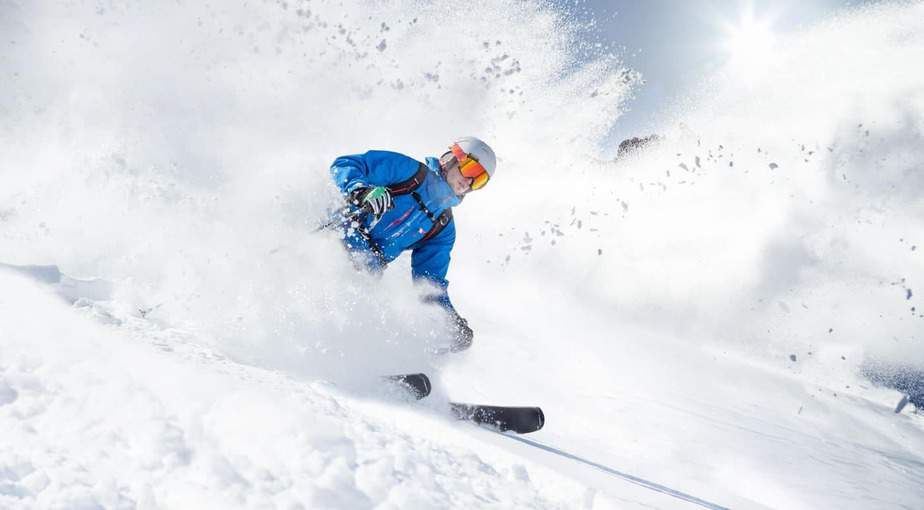 You might think that the hardest decision is whether to go for powder skis are not, but, unfortunately, that's not the case. There is a seemingly unending list of choices that you'll have to make, which can be a little daunting.
We've compiled a list of factors to keep in mind while choosing your new skis, which we think will help you make up your mind. But remember, everyone is different, and what one person loves on the slopes might be someone else's nightmare, so choose based on your style, experience, and taste.
Waist Width: this is the main characteristic of powder skis, and is what prevents them from sinking into deep snow. Usually, the waist is between 100mm and 140mm for powder skis, which is quite a broad range. The wider the waist, the better they'll be in deep snow, so go on the wider end of the scale if you're a dedicated powder rider. But trimmer waists are more versatile, so you can have fun on groomers too.
Stability at Speed: pow skis are made soft and wide so that they can handle deep snow, but this can sometimes mean they are not as good when it comes to being stable at high speeds. Although this is not always a priority for powder skiers, a good pair of pow skis should at least provide a damp and safe ride on different kinds of snow.
Playfulness: you'll see 'playfulness' mentioned a lot in our ranking, and this is because it's a pretty important factor to keep in mind. Playfulness refers to the responsiveness of the ski, how energetic and 'playful' it feels. Of course, this is a highly subjective factor, and depends a lot on your style of skiing, the terrain you like, and the control you want to have.
Small Side Cuts: powder skis generally don't have a prominent sidecuts (where a ski has a larger tip and tail than its waist). Prominent sidecuts make it easier to carve and to turn, so are typical of piste and all-mountain skis. Powder skis, on the other hand, are usually designed to have a small sidecut, or even a reverse one (where the waist is wider than the tip and tail).
Dampness: this is a ski's ability to absorb vibrations and shocks. When a ski is 'damp', it means it doesn't judder as much as a 'lively' ski, and maintains stability at speed.
Versatility: When you buy powder skis, you've already pledged your alliance to pow, and have chosen to sacrifice some all-mountain versatility. But even powder doesn't just come in one form, and includes everything from crud (patches of hard and soft snow that is unpredictable) to corn (coarse and granular snow) and packed powder. A good pair of powder skis should feel safe and stable in all of the above.
Camber and Rocker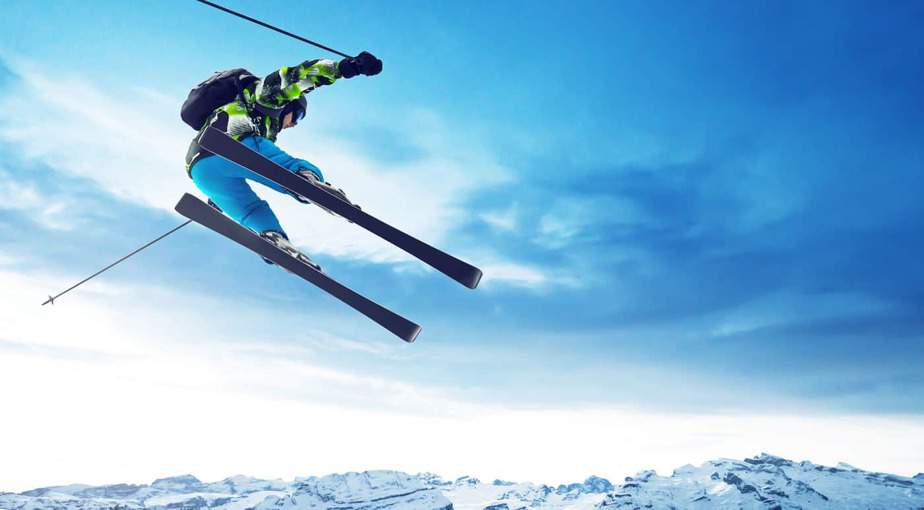 If you lay several pairs of skis flat and look at them from the side, you'll notice they all curve in different ways. Some are arched up in the middle, while are curved like the bottom of a rocking chair, and some flat. Some tails and tips are only raised at the very end, while some stick up much earlier.
These design features are the main distinction between camber and rocker skis.
Camber: This is the most traditional design, and it is basically an upward arc that continues for almost the whole length of the ski, causing the middle to rise off the snow. Cambered skis are perfect for skiers who spend their time speeding on groomers and like a lively feel.
Rocker: Rocker (also called reverse-camber) is basically the opposite of camber, meaning that the mid-section of the ski is flat against the snow while the tip and tail stick up much sooner than in a camber ski. Rocker skis are great for floating over fresh powder, and offer better maneuverability.
Flat: Skis are very rarely completely flat (meaning they lie flat against the snow), and are more often combined with rocker or camber in the tip or tail. Skis that are flat in the midsection tend to have excellent edge grip and maneuverability.
These three different models are often combined (for example many skis have a rocker/camber/rocker, or even a rocker/camber/flat design), and each season brings with it a new, innovative combination.
Methodology
To determine the best powder skis currently on the market, we carefully scrolled through dozens of websites, examining hundreds of ratings and comments from users and sports journalists and winter sports enthusiasts.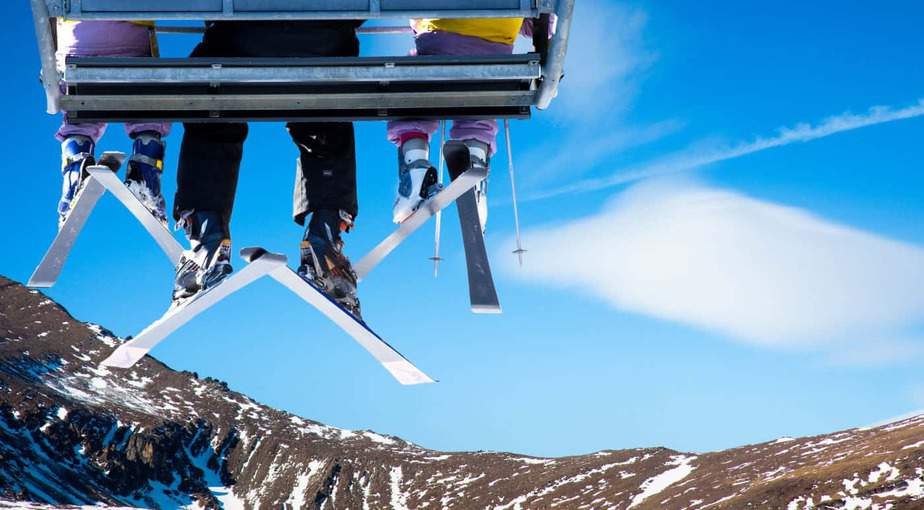 We then created a robust scoring system by taking an aggregate of those scores across different categories to come up with our rankings based on a scale from 0-100. Our methodology is based on a weighted score of a variety of factors that include:
Materials
Value
Design
Versatility
Durability
Brand
Style and look
We then took an average of those scores for a final Metascore and built our best powder skis ranking from there.
The Best Powder Skis
1
DPS Alchemist Lotus 124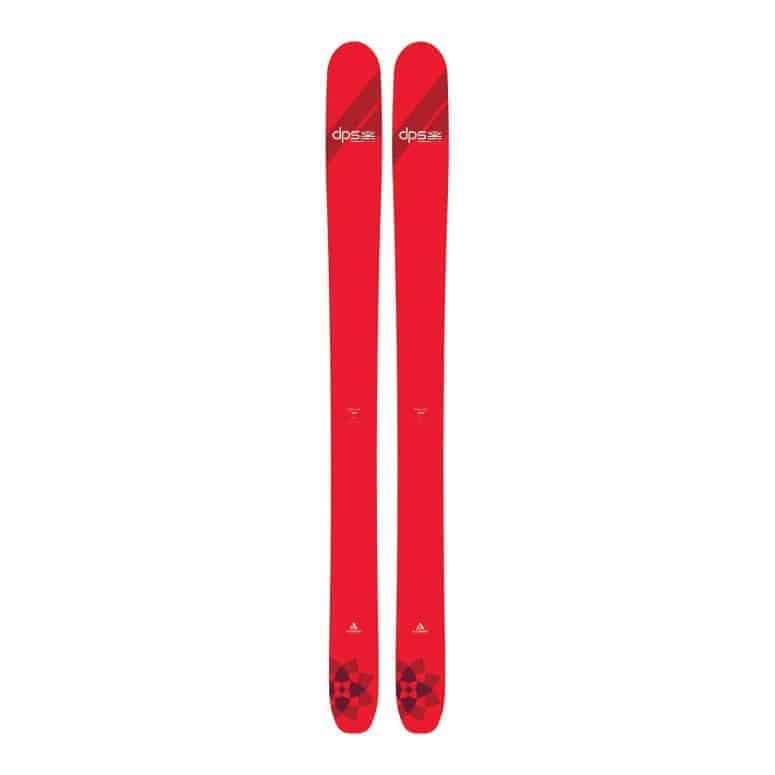 Wider skis aren't the best at high speed, especially when it comes to slaying corduroy or hurtling down groomers. The DPS Alchemist Lotus's waist is almost as wide as it gets, so you'd be forgiven for not giving them much off-powder credit. Despite their fat middle, though, these skis are surprisingly dynamic, and as energetic as a powder ski can get.
While having a wide waist is the basic attribute of a good powder ski, what makes powder skis truly excellent is their ability to stay in control even at higher speeds. The Lotus's rocker/camber/rocker profile, small sidecut, and lightweight construction mean these skis are great all-around solid skis.
But while they might be great on a variety of terrain, these remain powder skis at heart, and we're sure it will only take one day of floating through powder, while pivoting and sliding with ease, for you to fall in love.
Pros
Great float
Sturdy construction
Dynamic
Cons
Expensive
For experienced skiers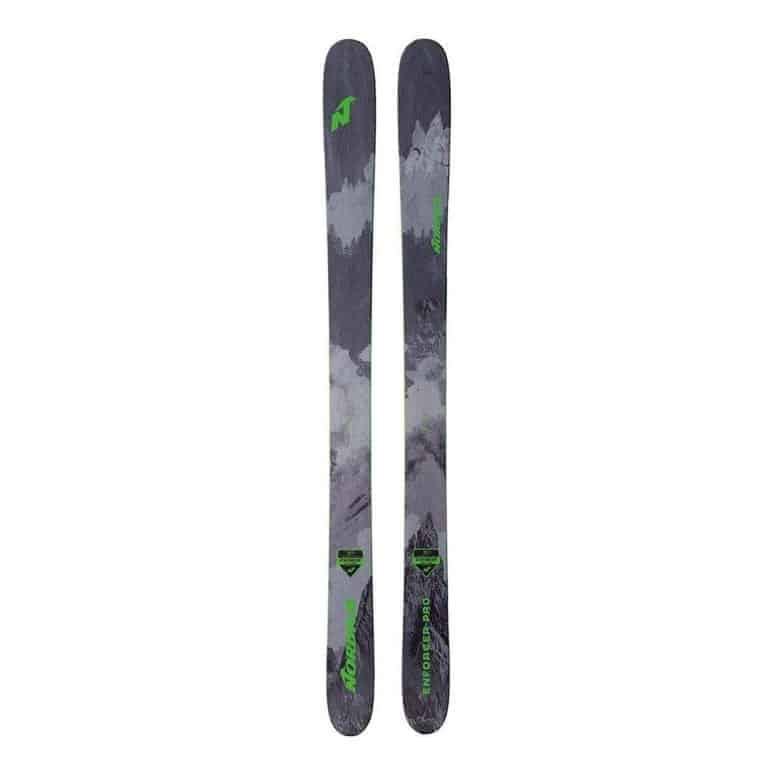 Founded in 1930 in the Italian Alps, the Nordica brand is known for its attention to detail, its quality materials, and its excellent construction. These qualities are visible in their Nordica Enforcer Pro skis, a great choice for big powdery days out.
A favorite with powder lovers all over the world, this is an aggressive, powerful ski that will tear through all kinds of snow at terrifying speed.  Constructed with a layer of ultralight carbon prepreg, two sheets of metal, and a solid wood core, the Enforcer Pro offers good floatation for those memorable powder days, as well as incredible speed and dampness for powering through crud.
With its rocker/camber/rocker profile, its innovative use of different laminates, and stiff sidewalls, the Nordica Enforcer Pro is a durable, stable, and sturdy option. This is one of the most versatile skis you can get, and one that you'll undoubtedly love if you like to go fast and get wild on and off-piste.
Pros
Powerful
Strong
Versatile
Cons
Not easily maneuverable at low speed
Heavy
Not for beginners
3
Rossignol Soul 7 HD W Skis
The Rossignol Soul 7 has become an extremely popular choice for skiers since it was released in the 2013-2014 season, and it's not hard to see why. The Women 7-series, especially, has been a massive hit thanks to its excellent floatation, superior maneuverability, and surprising lightness.
Featuring an Air Tip 2.0 and Carbon Alloy Matrix technologies, and with a 106mm width underfoot, the Soul 7s latest reiteration glides over fresh snow, but is sturdy enough to plow through crud. It's an easy and intuitive ski, but this doesn't mean it can't be pushed hard when need-be.
This means that it's a good option for skiers of different competence and experience levels, as it will easily adapt to your style and skill. Although the Soul 7s are not made with carving in mind, they perform pretty well on groomers too, so you shouldn't worry about being limited to a certain type of terrain.
Pros
Great float
Lightweight
Good for all skiers
Cons
Slow on the edge
Not very damp
Not the best at high speeds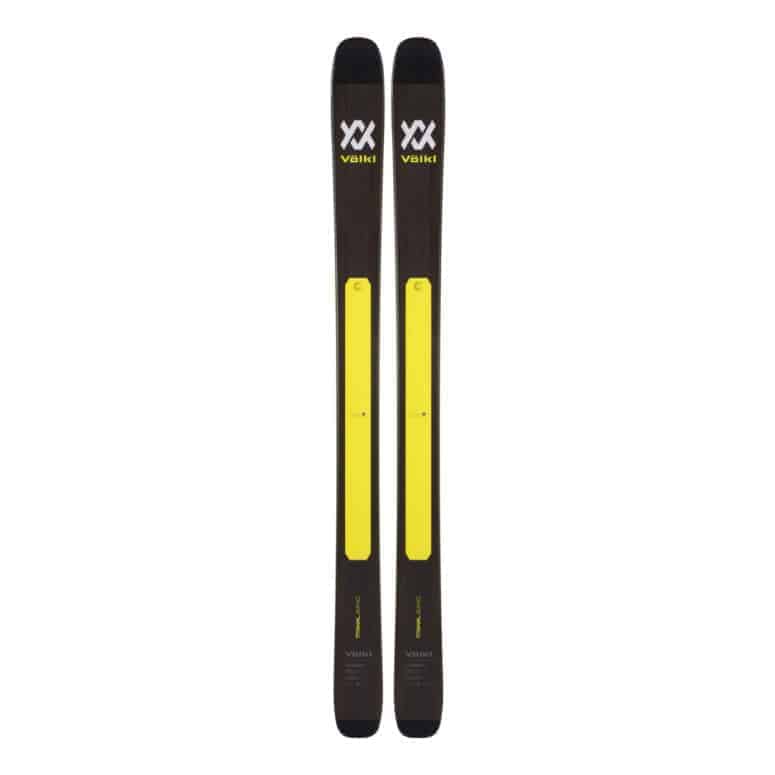 These are true powder skis through and through. If you're looking for something to use on groomers, look elsewhere: the Volkl Confessions were simply made for deep, soft snow. At 117 mm underfoot, these rocker/camber/rocker skis float over powder with ease, while the underfoot camber design will keep you in control even while hurtling downhill.
Construction-wise, the Confession 117s are made with layers of beech and poplar wood, both of which are durable and lightweight. A titanal band runs the length of the ski, making it stiffer and damper. The result is a ski that is great on powder, surprisingly good at high speeds, and pretty decent in rough conditions, too.
With great reviews across the board, you might be surprised to know that these skies can cost as little as $400. A pretty great deal if you ask us, and thousands of skiers across the country!
Pros
Stable
Good value
Great float
Cons
Heavy
Not good on groomers
For experienced skiers
5
Black Diamond Boundary Pro 115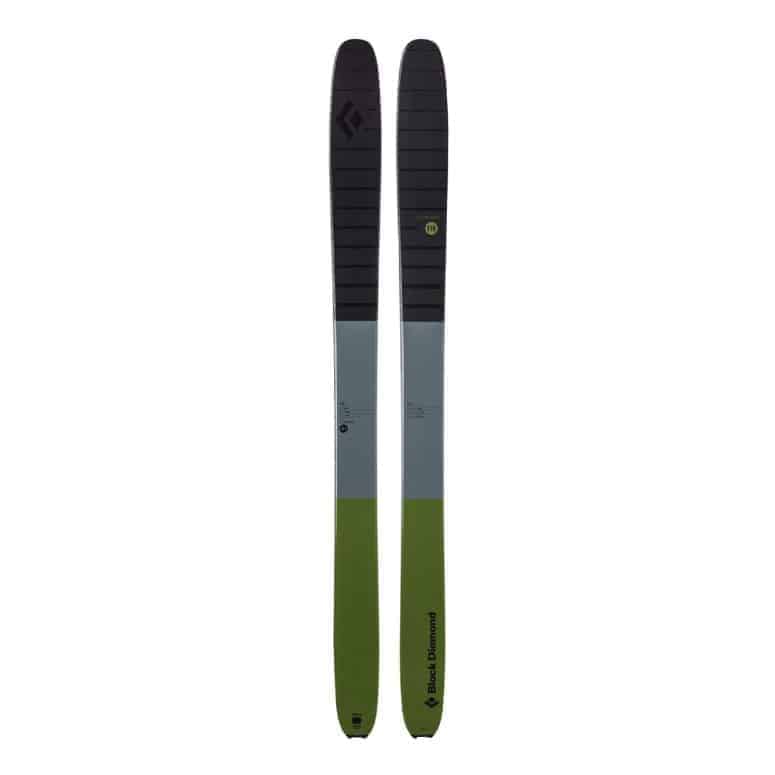 If you love powder, freeriding, and frequent forays off-piste and into the forest, you'll love the playful character of the Black Diamond Boundary Po 115, a limited-edition ski developed in collaboration with Black Diamond's pro team.
With a rocketed tip and tail, and traditional camber underfoot, these skis offer incredible floatation over soft snow, as well as good edge control and reactiveness. Made with pre-keg fiberglass and poplar wood core, these skis are also surprisingly good for freeriding, and will provide the right amount of power and stability for bar jumps.
Black Diamond skis have always been underrated, and the same is true with this model. But these skis are a really fun choice, especially if you like to go fast and change it up.
Cons
Not the best on powder
Heavy
Only one length available
6
Kastle 2019 BMX 105 Skis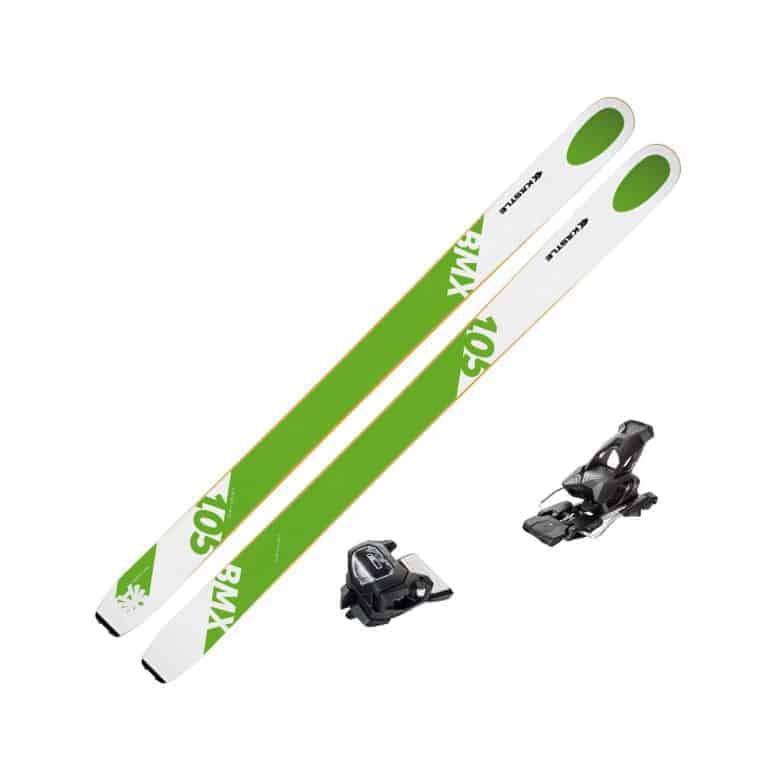 If you're an advanced skier with a serious love for soft snow, you'll love the Kastle BMX 105 series. And if you like to freeride, too, you should look no further, as this is one of this season's favorites. The ski's rocker/camber/rocker profile will have you gliding over deep snow, while its construction is sturdy enough to power through some tough crud.
The Kastle is intuitive, fast, and can be pushed pretty far, making this a great choice for skiers of different competence levels. Made with two titanal sheets and a silver fir and beech wood core, these skis feel like they can take basically anything the mountain will throw at you.
You can also take it out for a spin on your favorite groomers, and you'll definitely have fun thanks to the skis surprisingly tenacious edge grip. Great for strong skiers who value stability and dampness over playfulness.
Pros
Versatile
Good at speed
Great for freeriding
Cons
For strong skiers
Expensive
Not very playful
Made with true powder hounds in mind, the Folsom Powfish's swallowtail design is inspired by surfboards — which makes sense, as these skis will have you truly surfing over the white stuff. Their 116mm waists and 150mm nose make these skis almost unsinkable, and they're sure to give you some memorable days out playing in powder.
The Folsom Powfish has a rocker/camber/rocker design, and is a playful, responsive ski that, as well as being a great little performer, also looks stylish and cool. That's probably because it is the brainchild of TREW, an Oregon-based maker of outdoor apparel, and Denver's Folsom Skis, both well-known and much-loved brands.
Because this is a very powder-oriented ski, only choose it if you know you'll be spending most of your time on this type of snow (lucky you!). You'll still have fun in other conditions, but you'll never get to unlock the Powfish's incredible powder potential.
Pros
Great float
Innovative design
Stylish
Cons
Not very versatile
Expensive
Not as fun on groomers
8
Black Crow Atris Birdie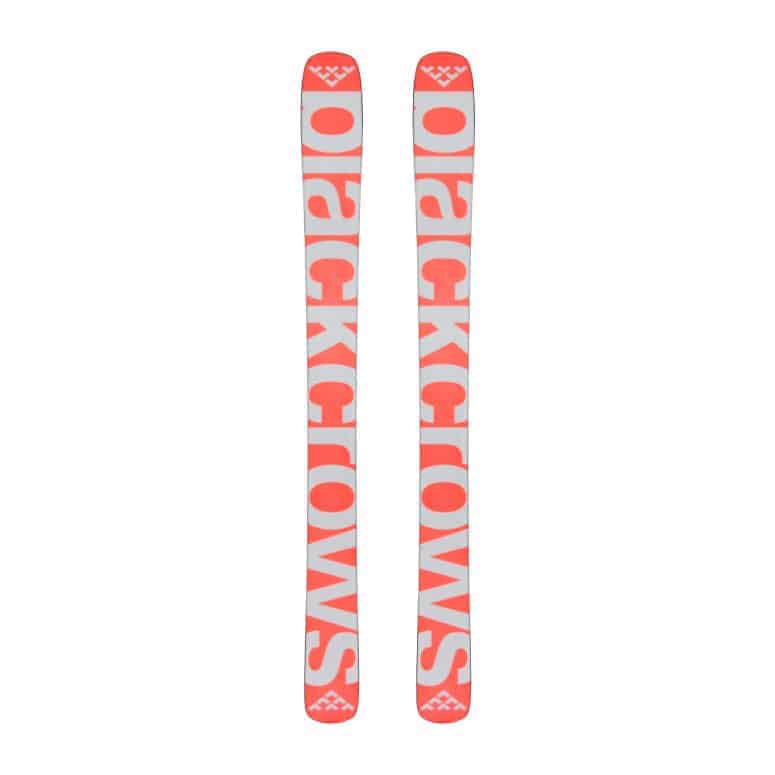 Born in the mountains of Chamonix, Black Crow is a much loved and respected French brand that designs and unveils exciting new skis for each season. The Atris Birdie is a great example of their craftsmanship, and is a great ski for mixed conditions.
Featuring a 108mm waist and a double rocker design, the Atris Birdie gives you great float on powder, but also have good carving ability on piste. Despite their high performance, they are easy to ride, smooth and predictable skis. That's not to say they're boring! You can have great fun with these, and you shouldn't shy away from trying them out in the backcountry.
As with many powder skis, they can feel a little cumbersome on piste, and you have to be a confident skier to know how to handle them on piste. That said, the Black Crow Atris Birdie is a good choice for women freeriders who are into sporty, fun riding.
Pros
Light
Great in deep powder
Stable
Cons
Not very agile turns
Not for speed
A bit cumbersome on piste
If you like to push yourself and love to feel free and explore all kinds of mountains and terrains, you need to get your hands on a pair of skis that are reliable, versatile, and tough. The Armada Tracer 118 is all of those things and more.
With their poplar and ash wood core, a layer of woven fiberglass and two strips of titanal, these skis offer a lightweight yet stable skiing experienced.  They are damp yet easy to maneuver, staying nimble and quick even in difficult conditions. You might be surprised at how powerful they can be when pushed.
The Armada Tracer is designed to have an exaggerated tip rocker and a heavy tail, which helps you glide through the snow. Perfect for memorable days!
Pros
Lightweight
Innovative design
Great on powder
Cons
Lack some dampness
Not great on crud
Reports of them not being durable
Freeriders and powder lovers, look this way! The Salomon QST 106 was made for you. If you love fun and stable skis, you'll like this relatively narrow and lightweight option by legendary mountain gear brand Salomon.  Made with poplar and Titanal underfoot, these skis are unique in the sense that they use basalt under the core, which increases stability and edge grip.
They are not the best on gnarly crud, and of course, aren't as floaty as wider options. But it is a pretty strong ski that is easy to master and fun to ride in a broad range of conditions, and will rarely feel out of control or hard to manage.
These skis are also great if you're undecided between all-mountain and powder skis.
Pros
Lightweight
Stable
Innovative materials
Cons
Not as wide as some powder skis
Not good on crud
Not the most playful
What are powder skis?
Powder skis are skis purposefully designed to be used in those powder days we all dream of. By choosing these, you're choosing high performance in your favorite conditions, but compromising a bit on versatility. That means that what works best on powder might not be as good on piste or other types of conditions.
Powder skis work so well on deep snow because they don't sink. Rather, they glide because they are wide and have a rocker design. A powder ski waist measures between 100mm and 120mm, but can even get to 140mm!
Although powder skis obviously perform best in the snow they were made for, some models — such as many in our ranking — also deal pretty well with crud or groomed runs.
How wide should powder skis be?
Only a few decades ago, powder skis were just a little wider than standard all-mountain skis, but over the last few decades, waists have been wider and wider. Although that trend has plateaued recently, powder skis are now noticeably wider than piste or all-mountain skis.
Powder skis range between 100mm and 140mm, so how do you know which size you should go with? The best waist width depends on where you'll be skiing, and what your priorities are. While the large surface area makes it easier for these skis to glide, it also makes it harder to tip the ski on its edge and maintain that position through a turn.
It also takes longer to switch to the other edge of the ski, making transitions between turns slower than with narrow skis. But while narrow skis may be faster and more nimble, they are also less stable on deep snow.
The good news is that some recent models of powder skis are pretty versatile, so you'll be able to enjoy the occasional groomer run or backcountry adventures.
How should you take care of your new powder skis?
If you've taken care of skis before – any kind of skis – you'll know what to do with your powder skis, too, as there is really no difference between the two. In case you haven't, or need a little refresher, here is a small list of tips to keep your skis in top shape.
Firstly, in-season, remember to simply dry off your skis with an old towel or rag at the end of each day. Smooth our nicks or minor scrapes as soon as you notice them by using a P-Tex candle, and hot wax your skis periodically.
There is no hard and fast rule about how often you should do it, and it depends on the kind of snow you've been skiing on. If you're lucky enough to ski on soft powder most of the time you won't have to wax too often. You also won't have to sharpen your edges as often, although you should still give them a once over if you notice them getting dull.
Once the season is over, make sure you wax them before you put them away in a cool and dry place.
What are the best powder skis?
In order to answer this question, we spent hundreds of hours researching different brands, materials, and models. If you want to read more about our methodology there is a whole dedicated section above, but rest assured that our research is always in-depth and extensive.
Aggregating and analyzing the data we collected led us to what many across the internet believe is the very best pair of powder skis on the market: the DPS Alchemist Lotus 124 is the quintessential powder ski, and will have you surfing over that snow.
And, in the hands of an experienced skier, these gems will perform amazingly well on groomers too. But, like the nine other pairs of skis in our ranking shows, the Alchemist Lotus are not the only excellent powder skis out there, so make sure you check them all out before making your choice.

Trevor Reilly
Trevor Reilly is a freestyle skier who competes internationally for the United States. He competes in dual moguls and moguls. He represents the Park City Ski And Snowboard Club.