Simply put, the scientifically designed 3-month Panda Planner is the best planner you can buy. It comes with some amazing eBooks to help strengthen your organizational skills, such as "How to Crush Your Goals" and "A Billionaire's Guide to Productivity." How cool is that?! You even get access to a video mini-course on how to skyrocket your productivity.
Plus, if for some reason you don't feel more motivated and more productive (which we honestly think is pretty much impossible), feel free to reach out to Panda Planner for a simple, no-hassle refund. You can see why the Panda Planner was an easy choice for our top winner.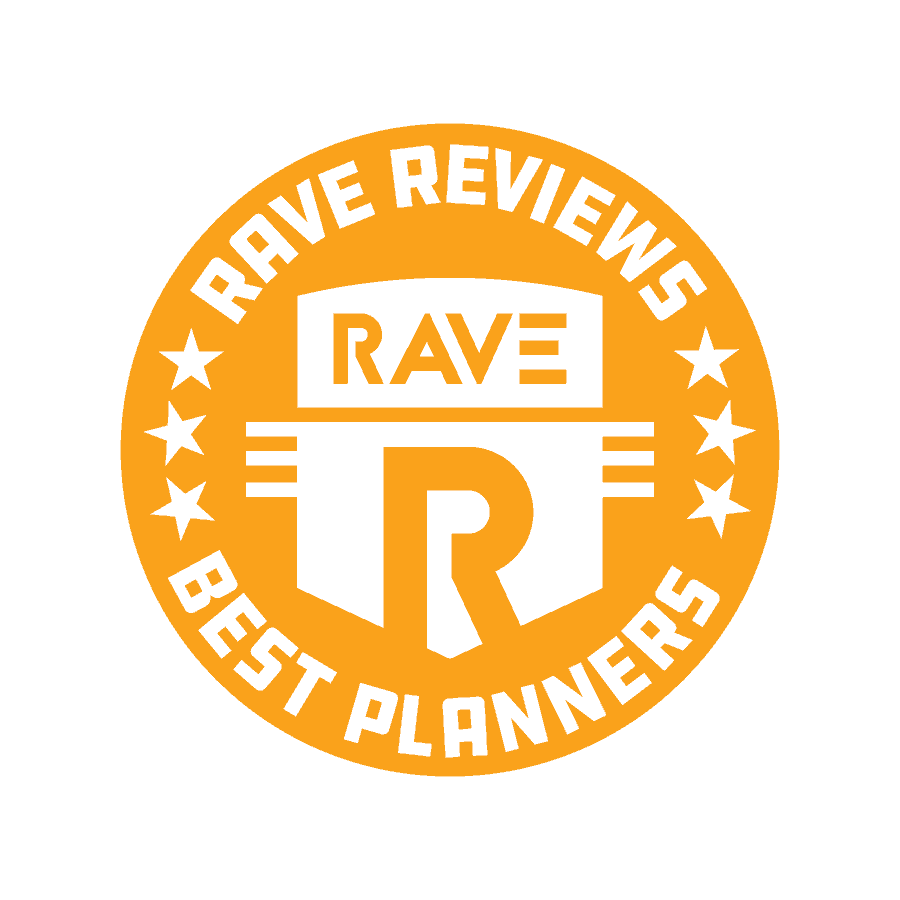 When's the last time you found yourself overwhelmed with a never ending to-do list? Probably not too long ago. Oftentimes, it can seem like we're all moving a mile a minute. Constantly doing, doing, doing with no breaks and no time to rest in between. We're made to feel lazy and useless if we're not always on the go and getting something done.
Honestly, this isn't any way to live our lives!
And even though we may not be able to knock every single one of our tasks off of our to-do lists, we can make sure we at least stay organized with all our responsibilities.  Believe it or not, it is possible to stay organized, even when our to-do list is miles long. With the help of the right planner, you can get yourself organized like never before. You'd be surprised at how helpful the right planner really can be. It's not just some book to write down your plans in and never look at again.
Planners really can help us to be our best, organized selves, so don't underestimate their power!
THE PLANNERS WE RAVE ABOUT
Get organized, get working, and stay on schedule with the help of these amazing planners.
Ever heard the phrase, "You'd forget your head if it wasn't screwed on to your body"? We're going to guess you have. Ever hear someone direct that phrase to you? Yes again? We knew it. We've all been there. It happens.
Let's face it —  we're busy people.
That seems to be the norm in society today. And many people constantly struggle to keep up with the demands of this modern life. We're led to believe that if we're not doing something every minute of every day, we're basically wasting our time. And we constantly feel the need to load more onto our plates.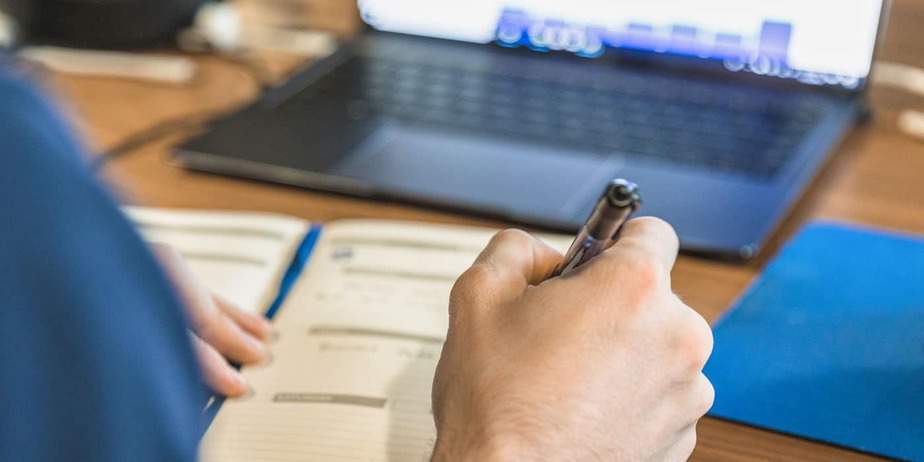 But more often than not, this constant go, go, go can leave us feeling overwhelmed, exhausted, and empty. Like we're spending too much of our time trying to keep up with what's demanded of us rather than spending our time doing what we're truly passionate about.
Think about it: When's the last time you did something because you wanted to, not because you had to?
Too often we allow the demands and stressors of the modern world to rob us from our passions and the lives we were meant to live, and instead feel like we only have the room and the time to focus on what's expected of us. Life isn't meant to be lived this way!
And, when it really comes down to it, most of the time we do still have the time for the things we love and enjoy, we're just not always the best at planning and prioritizing. We load our plates with task after task, poorly schedule time for each task, and are left feeling like we can't even spare a single extra minute.
What we need to do is learn how to plan our days better.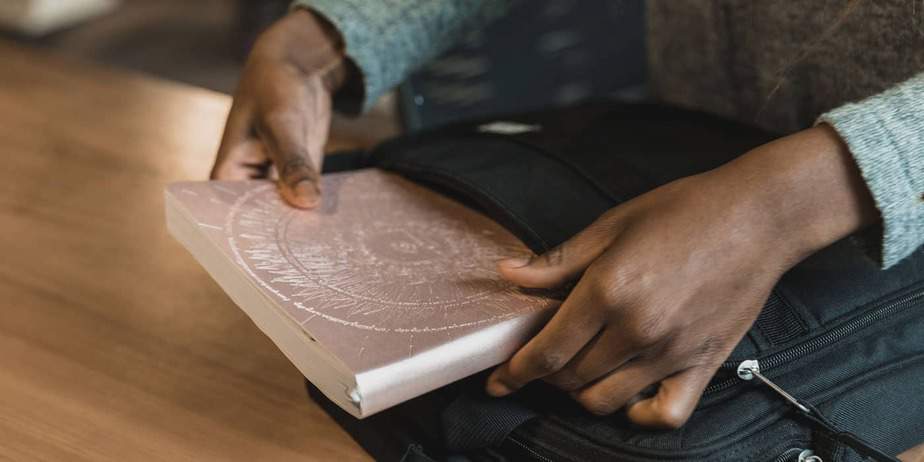 If we took the time to truly create to-do lists, schedule each one of our responsibilities into our week, and paid attention to due dates, we'd be surprised at how much free time we'd have leftover to do the things we love and enjoy. There's no need to throw our passions out the window!
Plus, I can guarantee you that you'd be a lot less stressed if you simply started planning out your days rather than just winging it, finding out it's finally Friday, and realizing you left yourself with a mountain of tasks that need to get done in 2 hours. Hello stress headache and caffeine jitters. What's the method to all the madness? The answer is a lot simpler than you may think. Invest in a planner! It's true.
You can change the momentum of your day, week, even your entire year, simply by getting organized and using a planner.
A planner is a super simple way to get your life in order, get your responsibilities prioritized, and get things done before their due date. And we promise you that all of those things will happen sans stress overload and headache.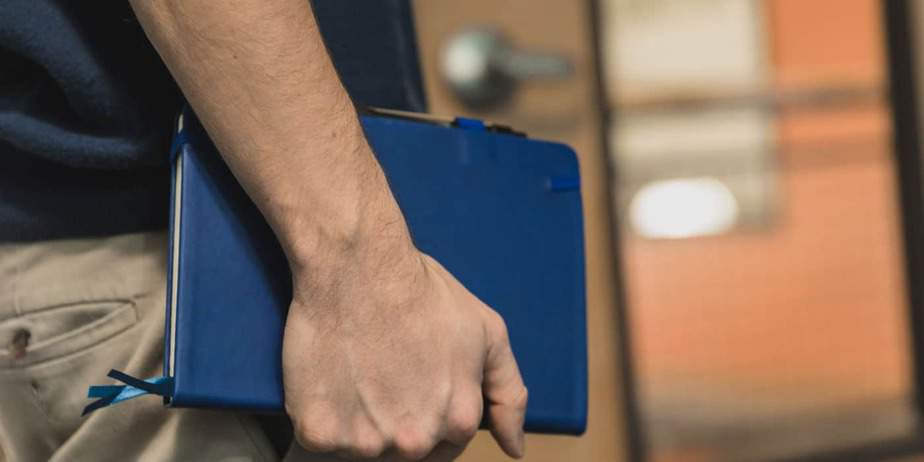 If you're thinking, "It's just a stupid journal, that can't possibly have that much of an impact on my life."
Let us kindly tell you that you're very wrong.
A planner is no ordinary journal, and the planners we have in store for you are the best ones money can buy. And the cool thing is that there's more than one type of planner. You have your:
      

Daily Planner

      

Weekly Planner

      

Monthly Planner

      

Yearly Planner

      

4-in-1 Planner
So whether you'd like to take it day by day or dive right in and start planning your whole year, there's absolutely a planner out there for you. Just let us show you the perfect one! A planner is an absolute game changer.
It sounds crazy, but it's true that simply having the right planner can completely turn your day around and make your life so much simpler. And, most importantly, it helps you organize your life so that you once again will have time to do the things you love, and not the things you have to do.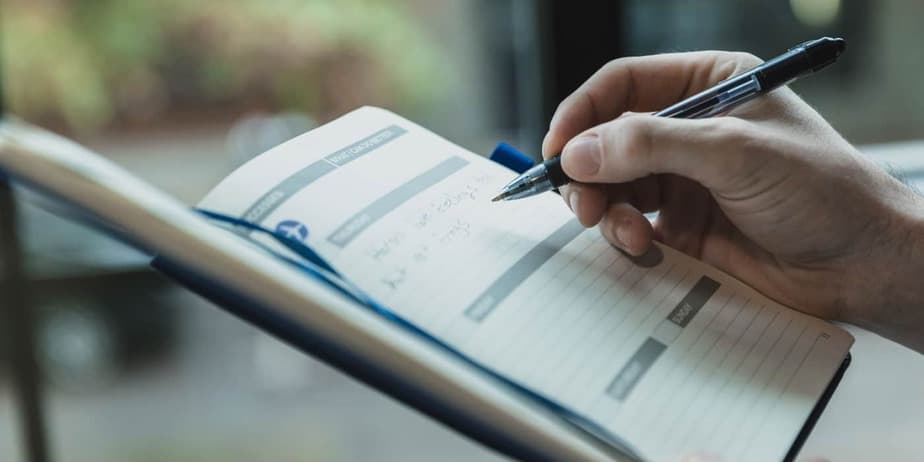 And, if you still need that push, the cool thing is that some planners even come with sections for you to journal a bit and manifest your dreams and desires, so you're killing 2 birds with one stone here!
We can't say it enough: Planners are a game changer!
If you're ready to take your life back and re-introduce yourself to your loves and passions, a planner is a surefire way to make sure that happens. Take a look at the planners we pulled together for you and you'll realize we were right!
Methodology
Believe it or not, finding the perfect planner is a lot harder than it may seem. There are so many different kinds out there, but they're not all worth your time. You'll find that many of them may actually cause more stress than they resolve. Because of this, we truly take the time to search high and low for the best planners out there, saving you the time and stress and allowing you to just look through the best of the best. So sorry in advance — these planners are so great you may have a tough choice picking out a winner. We judge these planners based on a number of factors, including:
      

Type of planner (daily, weekly, monthly, yearly)

      

Already dated or not

      

How many pages

      

How many different sections

      

Any extras (dividers, stickers, etc.)

      

What it's best used for

      

Price

      

Pros and cons

      

Customer ratings and reviews

      

Popularity

      

Organization level

      

Productivity level
Didn't think there were so many different things to look out for when buying a new planner, huh? Well, lucky you — we did all the work so you didn't have to and pulled together the best planners out there. All you'd have to do is pick from the best!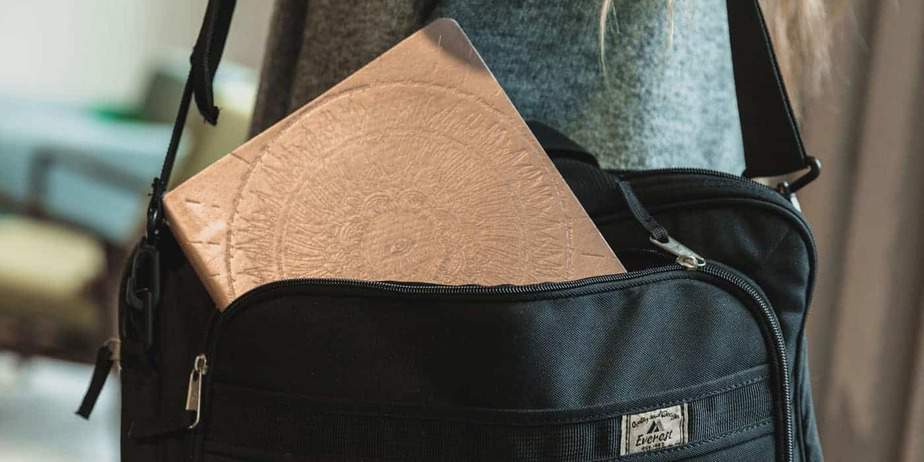 The last thing we want to do is suggest to you a product that we wouldn't use ourselves. You can rest assured that our reviews of each and every one of these planners are completely fair and honest. Seriously, you won't be disappointed!
Best Academic Planner
Planner with Pen Holder by Lemome

Don't judge the planner by its name! The Lemome Planner with Pen Holder is a great choice as an academic planner for one reason — it skyrockets your time productivity and management, featuring 12 months of weekly and monthly pages to help you manage your life efficiently and achieve your goals. That's right, no more excuses for missed assignments!

This planner is chic and stylish ad even comes with free stickers that will leave you with easy browsing and even more organization. This planner truly allows you to come up with a master plan to stay organized, even through the holidays, as a yearly holidays column allows you to easily plan out your traditions!

And since we know you'll love it so much you'll be using it everyday, rest assured that it's built to last. Durable faux leather hard skid resistance material protects the entire book, thick paper is resistant to bleeding, smudging, and ripping, plus it's even environmentally friendly! All while staying closed with the help of an elastic closure. This planner is just as stylish as it is convenient and super productive. It will have you organizing your life in no time and leave you questioning why you didn't think of investing in a planner sooner! Seriously, the Lemome Planner is a surefire way to get your life back on track.

See our full ranking of the Best Academic Planners.
Honorable Mentions

Five Star Student Academic Planner

Guaranteed to last all year, the Five Star Student Academic Planner is definitely something you'll want to keep stashed in your backpack when going to class. Its thick cover is durable enough to withstand the elements and make sure it stays protected on its daily journey to and from school!).

This 12-month planner is dated from August to July to match the school year and also is organized from Monday to Sunday to reflect the school week. With student reference pages in both the front and back, this planner makes it almost impossible to fall behind on your work and fall into the abyss of disorganization.

Passion Planner

The perfect addition to any school bag, the Passion Academic Planner helps you get the job done (on time), and ensures you stay organized in order to have some extra time left over to focus on things other than school. It even is filled with quotes and challenges to give you some motivation and keep you inspired all year long!

This planner allows you to define your short and long-term goals and break them down into smaller, actionable steps, giving you the courage and motivation to achieve these goals instead of pushing them to the side. Plus monthly reflections help to keep you focused on your progress and striving towards the finish line.

LifePlanner by Erin Condren

Erin Condren brings some spark and liveliness to the mundane process of planning your days by creating her LifePlanner with super cute designs and making them customizable to you! Get organized for your most productive way yet in a chic, stylish way! We promise you'll never see a planner cuter than these!

This must-have academic planner features 12 months of customized planning and scheduling, plus inspirational quotes to keep you inspired and motivated during even the most grueling of tasks. With a projects and exams section, monthly calendar spreads, weekly spreads, and even a sticker sheet, you'll stay organized in style.
Best Planners for College
Panda Planner

Since you already know how amazing the Panda Planner is, we're sure it's no surprise that it's our winner as best planner for college! And a big reason is since, as you already know, it's more than just a planner! The eBooks and video series that come with your purchase make it much more than just a way to plan your week.

The Panda Planner is convenient, compact, and understands how easy it is in modern life to feel overwhelmed, exhausted, and robbed of your passions. With its scientific design, however, the Panda Planner puts an end to all those feelings and empowers you to take back control of your life and do what you love as well as what you have to do.

The Panda Planner will be your best friend in college, giving you an easy, convenient, and logical way to organize your days, weeks, and months to make sure you get your work done on time and with ease, rather than pulling an all night the day before an assignment is due because you forgot you had to do it. You won't want to start off college without the Panda Planner by your side! Take our word for it, once you use this planner you won't want to use any other planner ever again.

See our full ranking of the Best Planners for College.
Honorable Mentions

Academic Planner by Lemome

The Lemome Academic Planner is a one year planner featuring 12 months of both monthly and weekly pages for easy and organized year-round planning. Each month contains a month overview and notes section making it super easy to plan in advance and not forget about those plans (which I'm sure we're all guilty of doing every once in a while).

With a weekly spread that leaves space to write your daily schedule, detail appointments, and the ability to see from Monday to Sunday, this planner won't let you down when copying down school assignment due dates and making sure you hand your work in on time! No more excuses.

Productivity Planner

The Productivity Planner was created based on research that is proven to increase your productivity and ensure you get your tasks planned out and scheduled in a way that makes sense and won't let you down. It's even guaranteed to increase your productivity or your money back — not something you hear often!

This planner also allows you to become aware of your own productivity, giving you space to rate your productivity at the end of each day which will in turn cause you to be more productive as the days go on. Stay clear of distractions, stay focused, and crush your school project due dates.

Freedom Planner Pro

The undated Freedom Planner Pro allows you to transform your life by putting an end to procrastination, becoming hyper organized, and manifesting with ease by focusing on time management, goal setting, and the law of attraction to get things done neatly, and on time. No more struggling to reach your goals, it's time to reach them all tenfold!

This undated planner allows you to plan out your daily, weekly, and even hourly goals and tasks to ensure you never miss a due date again — something that we all need to be more aware of when in college. This planner features a gratitude journal section, daily habit creating reminders, a 2-page vision board, a 2-page goal journal, and inspiring quotes.
Best Daily Planners
The Simple Elephant Planner

Goal tracker, day planner, and notebook all in one, the Simple Elephant Planner is one of our favorite daily planners, and even takes home the title of the best daily planner overall. This planner is super simple and easy to use and is designed for those who want more out of life, and isn't that all of us?!

This planner includes the Simple Elephant System. Don't worry, you're not the only one who didn't know what this was! Every few weeks, the Simple Elephant will pop up on your weekly view, urging you to go back to your Focus pages and read over your goals, gratitudes, and affirmations. This is a surefire way to reach your goals.

This calendar also includes 58 pages for journaling and note taking, perfect to use as an extra notebook during your daily tasks, an accordion folder so you don't lose any important notes, and a free sheet of event stickers to keep yourself organized to the max.

The Simple Elephant Planner is anything but simple. It's packed to the brim with surefire ways to get you organized and help you accomplish your goals like never before, all while making sure you never miss a due date again. When it comes to daily planning, the Simple Elephant Planner is a no brainer to help you stay organized and stress-free.

See our full ranking of the Best Daily Planners.
Honorable Mentions

Panda Planner

You know we had to mention the Panda Planner as it will give you an easy, convenient, and logical way to organize not only your daily plans but also your weeks and months to make sure you complete everything you need to get done. No more running around like a chicken without its head because you forgot you had something to do!

The Panda Planner is a no-brainer. It's simple and easy to use, keeps you organized like you've never been organized before, and gives you an easy view of all your upcoming events, appointments, tasks, and responsibilities to make sure nothing gets left behind or falls through the cracks.

Bloom Daily Planner

Say goodbye to the idea that planners are strictly business and no fun. The Bloom Daily Planner will immediately prove otherwise with its super cute and colorful cover design! The Bloom Daily Planner was designed to help inspire and empower women around the world to bloom into the best versions of themselves — and they do a great job!

With calendars that run from August to July, monthly tabs, and weekly views, PLUS inspirational quotes, goal setting areas, and special icons, this planner is the most stylish way to track your daily schedule and feel inspired and empowered while doing so. Step outside the box and plan with power with the Bloom Daily Planner.

Freedom Planner Pro

We believe the Freedom Planner Pro is so great that we had to mention it again, and so that's what we're doing! This planner makes it close to impossible to fall into the habit of being disorganized and missing due dates with how easy this planner makes it to, well, plan your days!

The Freedom Planner Pro allows you to put an end to procrastination by giving you a super organized and well-thought-out system to planning not only your days but your months, weeks, and even hours as well. Trust us, you'll wish you had this planner in your life sooner once you realize how amazing it truly is for productivity.
Best Weekly Planners
Freedom Mastery Deluxe Law of Attraction Life Planner

Increase your productivity tenfold with the Freedom Mastery Deluxe Law of Attraction Life Planner. This planner helps you become much more productive by teaching you how to focus only on your top priorities and then delegating the rest — a perfect plan to successfully get you through a crazy week.

By helping you to work on your organizational and scheduling skills, this planner will help you to not only achieve more goals but also create more free time for yourself to focus on things you love to do which means a happier you! This planner includes to-do lists, feel good lists, and a gratitude journal, making sure you never forget to put yourself first!

This planner also helps you to work on your time management and in turn will teach you how to set big goals and achieve them all through bettering your time management. It lets you in on the secrets and methods used by billionaires around the world on how to set goals and truly follow them.

This planner not only helps you coast through your week with a breeze, but it also helps you to become a better you! Use this journal to make improvements not only in your productivity, organization, and time management, but in your life overall to live a happier, stress-free life.

See our full ranking of the Best Weekly Planners.
Honorable Mentions

Blue Sky Weekly & Monthly Planner

Featuring 12 months of monthly and weekly pages for easy, month-round planning, the Blue Sky Weekly and Monthly Planner (plus 6 bonus monthly pages) helps you to stay up to date with important tasks and appointments while allowing some wiggle room for things you love to do.

This planner helps you to not only stay organized, but also allows you to coast through your days with a breeze, taking all the stress out of your packed schedule. Allow the Blue Sky Weekly and Monthly Planner to do all the work for you — you just worry about the fun parts!

At-a-Glance Weekly Appointment Book

The At-a-Glance Weekly Appointment Book covers 13 months of tasks, appointments, and other to-do items and helps you to plan your days and weeks out in easy, stress-free ways. This planner even splits your days up into hours for more precise logging.

Don't let your appointments pass you by with you forgetting about them! Allow this Weekly Appointment Book to do all the work for you and keep you up to date, organized, and ready to take on whatever task it is you have at hand.

Panda Planner

Allow the Panda Weekly Planner, which is scientifically proven to improve productivity and happiness, to effortlessly plan your weeks out for you in an easy-to-follow way. You'll never have to worry about running out of time, missing appointments and deadlines, or letting things slip through the cracks again with the help of this planner.

The Panda Planner is more than just a planner — it's a system that gets you organized, helps reduce procrastination, and holds you accountable to the things you have to get done. For a stress-free week that you can plan out and follow with a breeze, look no further than the Panda Planner.
How are planners organized?
Planners can be organized in a number of ways, but are most commonly organized into sections that are for daily planning, weekly planning, or yearly planning. Some planners will even break down your planning even further, giving you the ability to plan hourly. And, for your convenience, a lot of planners break it down into all of these sections combined. Really think about what sorts of tasks and appointments you're going to be tracking in your planner before choosing which breakdown works best for you.
Sure, you may not initially think you need to plan out your days down to the hour, but you may discover that this method may actually work out the best for you. The cool thing is, like we mentioned above, many planners (even most, if not all, of the planners we presented you with here), break down your planning into hourly, daily, weekly, AND yearly, so you don't have to choose which one you like best — they're all there for you, waiting eagerly for you to fill them in.
A lot of planners even have a bunch of cool "bonus" sections, such as sections for doodling, journaling, manifesting, and goal setting. Planners are useful for much more than planning — they're a great place to write down your goals and your plans for achieving them, so definitely take advantage of how great these tools really are. 
How do planners work?
The name says it all! A planner works simply by assisting you in planning out your days, weeks, months, even years, to help increase your productivity, help you to better manage your time, and make sure you stay on track with your assignments, due dates, and goals.
The best planner does all the hard work for you! Like we mentioned above, many planners give you an in-depth way to break down your tasks and assignments, giving you hourly, daily, weekly, monthly, and yearly sections to track down everything there is you need to remember, from doctor appointments to holidays to even your upcoming spa day (because you wouldn't want to forget that!). And, if you choose the right planner, you'll even be able to track your goals, come up with a way to achieve them, and track your progress to make sure all your goals, dreams, and desires manifest into your life, making you not only a more organized person but a much happier person as well!
When all is said and done, you can't go wrong with purchasing a planner. Your life will be more organized, you'll be less stressed, and you'll have more time for important things and things you love — like that trip to the spa we mentioned.
Who would benefit the most from using a planner?
The truth is, planners don't discriminate. Just like there's really no right or wrong way to use a planner (unless you're not using one at all, then that's wrong!), there's no right or wrong type of person who would benefit the most from a planner. Anyone would benefit from using a planner!
From your average student who's bombarded with assignment after assignment and needs to make sure their work gets handed in on time so they don't miss a due date, to a business person who has important weekly meetings that they absolutely cannot miss, to someone who just loves being organized — a planner is the perfect solution for all! And, even if you think you and a planner aren't meant to be, think again!
We're not kidding when we say pretty much everyone out there can benefit from a planner because what they do is make our lives easier and make more time for us to do the things we love and enjoy that we feel like we never have time for anymore.
You may not be an organized person, but a planner can make you one! And you may not be someone who feels like it's necessary to plan out your days, but a planner can change your mind on that! We're not kidding! Just give any of these planners a try and we promise, you won't be sorry.
What is the best planner?
We had a hard time choosing what we consider to be the best planner out there, frankly because there are so many amazing planners to choose from. A planner truly is an amazing tool for getting organized, staying up to date, and managing your time wisely so you still have time for the things you love, and we can't stress enough how useful they are.
However, if we had to pick, our favorite planner would absolutely be the Panda Planner simply because of how universal it is and how it even comes with some extras to really get your butt into gear and skyrocket your productivity and time management. Organization may not come so easy to all of us, but the Panda Planner really gives you the TLC you need.
The cool thing is how included with your purchase of the Panda Planner you receive some eBooks as well as a mini video course, all of which are designed to give you tips and tricks on how to properly manage your time and skyrocket your productivity while still having time on the side to do the things you love. We're not going to lie, any one of these planners would be a great choice and will help you along the way to getting organized, but the Panda Planner is, in our opinion, the easiest, most empowering, and most effective way to get on track.
Planners aren't the only things out there that will help you to stay organized, up-to-date, and will help to skyrocket your productivity! Check out these other great products that go hand in hand with your favorite new planner.
RAVE Recommends
Grocery List Pad: Dates and assignments aren't the only things we lost track of, and why should these things be the only things you attempt to organize anyway? A Grocery Pad List is a surefire way to ensure your shopping trip stays organized and you don't forget anything you need for dinner later that night!
Desktop Organizer: Visual clutter is something that gets the best of us, and it's hard to have a stress-free clutter-free mind when you have an actually cluttered desk! Desk organizers are the perfect way to keep your work area neat and organized leaving you more space to worry about more important things.
Echo Dot with Alexa: For the ultimate helping hand, look no further than the Echo Dot with Alexa. From turning on your lights to setting timers to adding items to your grocery list, Alexa literally does it all so you don't have to!