Ready to hit the water? We broke down the finalists in our buying guide into the following three categories, best paddle board, best paddle board for beginners, and best paddle board for kids.
We'll go ahead and tell you a little of what we liked about each board up front — no cheating though, keep reading to find out more.
The BIC Sport ACE-TEC Cross Sup Stand Up Paddleboard took top honors for its all-around design. Expect high-quality construction from the ACE-TEC, with a deck, as well as a reasonable mid-range price and the versatility you need for all sorts of activities, ranging from SUP Yoga to SUP fishing.
Beginners with stand up paddle boarding need extra stability, and the Peak Navigator Rigid Epoxy Stand Up Paddle Board satisfies this without sacrificing any of the fun. The board is lightweight for its length, with high weight capacity, but it's also ultra-durable and built for performance.
Kids just getting into SUP boarding don't have to stick to an inflatable stand up paddle board. Instead, look no further than the Wavestorm 8 ft Stand Up Paddleboard. With Wavestorm you'll get stability, a strong EPS, expanded polystyrene, core and lots of accessories for a fun day on the water.
Finding the Best Paddle Boards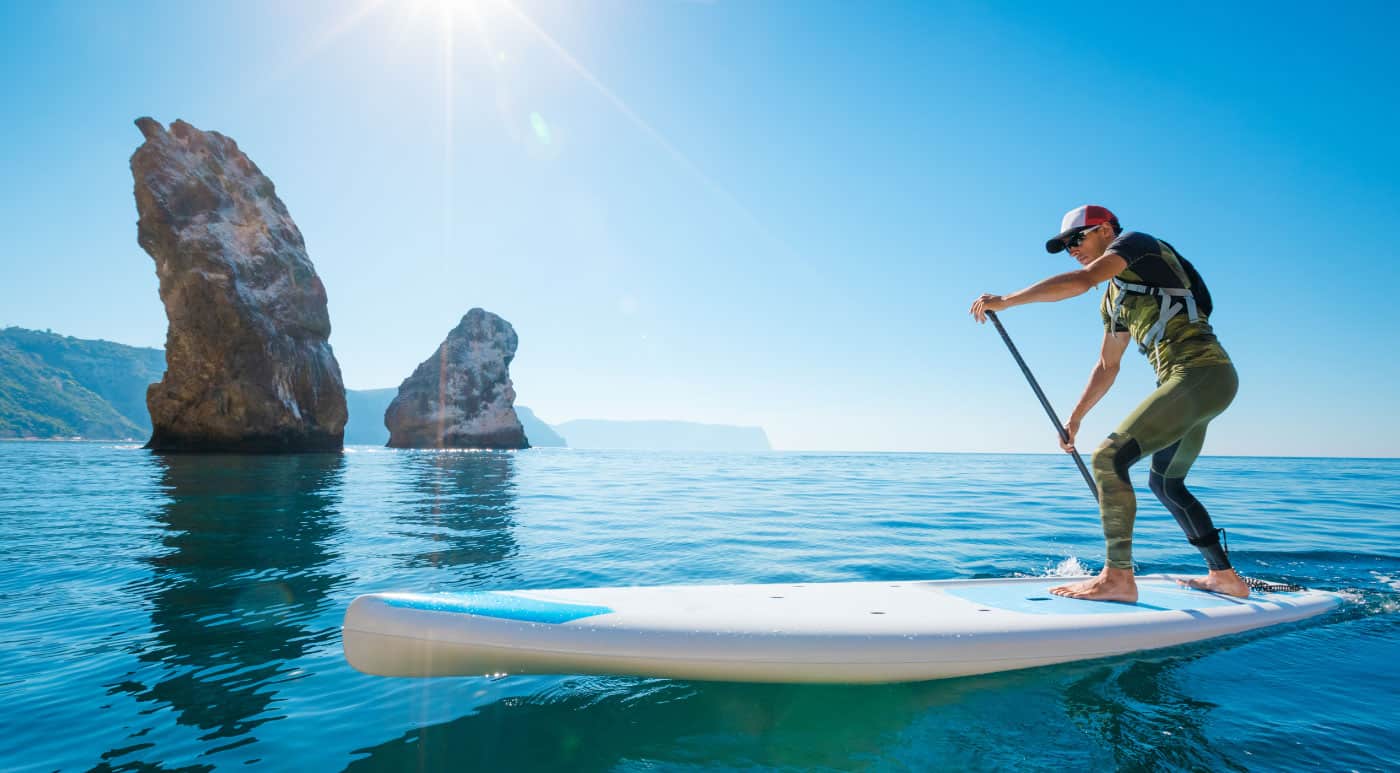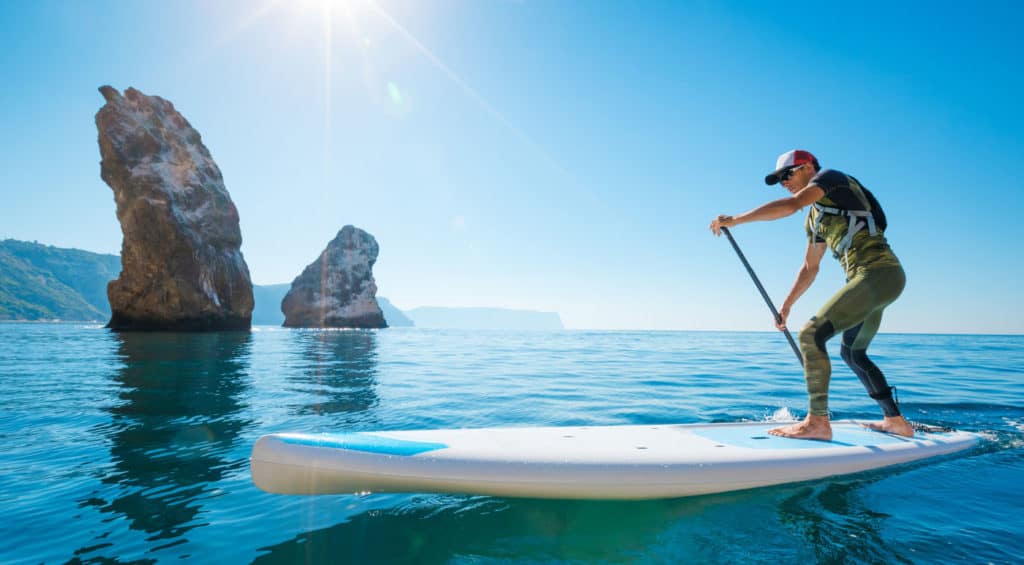 Curious about paddle boarding? This is the year you'll take the plunge — but hopefully not too often. All joking aside, paddle boarding is one of the easiest water sports to get into, mellow if you choose it to be, but also versatile if an adventurous afternoon on the lake is what you seek.
In this article, we'll tell you what you need to know about choosing a paddle board, from the finer points of solid or hard SUPs versus inflatable paddle boards, or iSUPs, to SUP dimensions and even a little bit about SUP accessories. For the purposes of this ranking, we focused on hard SUPs. If inflatable boards are what you're after, we have you covered with our article, "Best Inflatable Paddle Board."
By the time you're finished reading this article, you'll be well informed and ready to choose a SUP that's both sized right for you and well-suited for the kind of SUPing you'd like to try. The sun is out, the water is fine, so let's get started.
The Paddle Boards We RAVE About
Best Overall Paddle Board
BIC Sport ACE-TEC Cross Sup Stand Up Paddleboard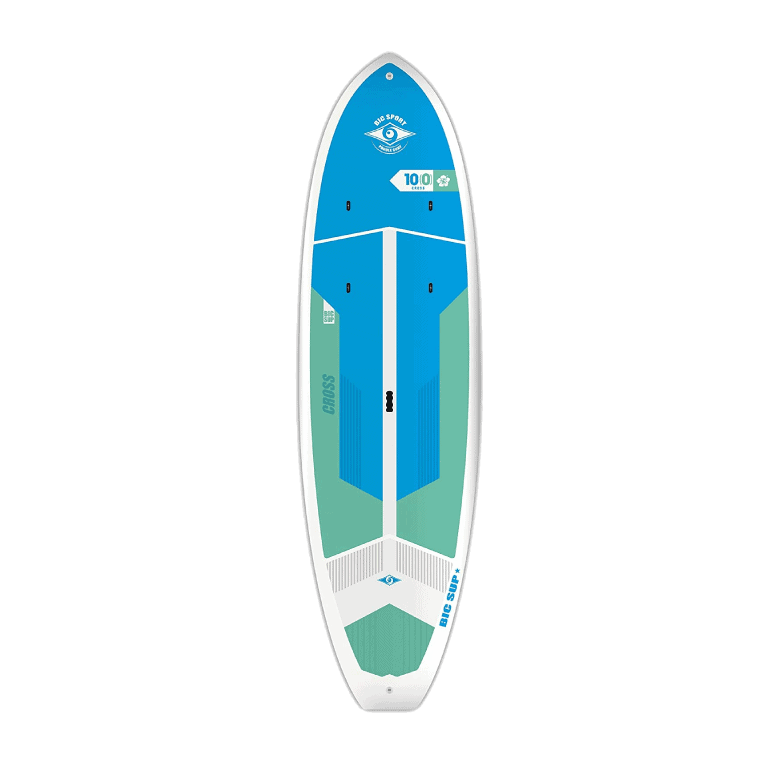 Best Paddle Board for Beginners
Peak Navigator Rigid Epoxy Stand Up Paddle Board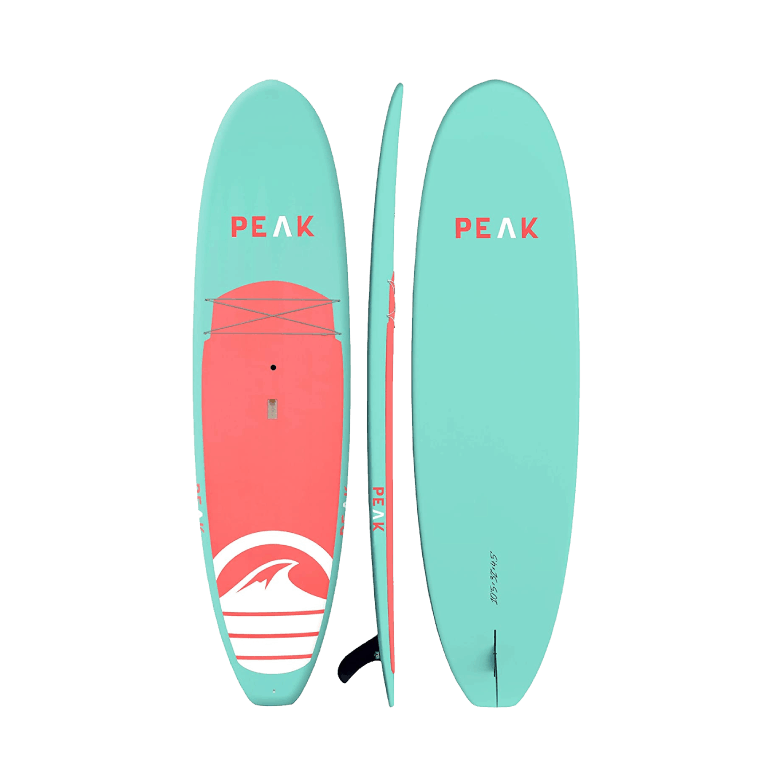 Best Paddle Board for Kids
Wavestorm 8 ft Stand Up Paddleboard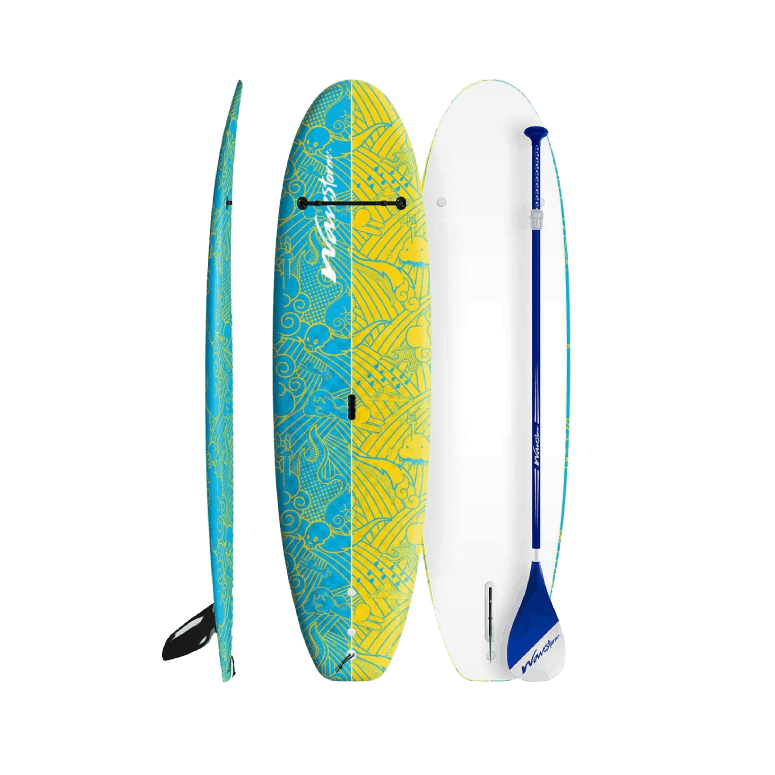 What kind of paddle board do you need? Yes, the answer to this question extends beyond "the floaty" kind. There's a lot to know about paddle boards, in fact, so before telling our picks for the best paddle boards, let's first talk a bit about hard versus inflatable paddle boards, and how to pick the one that's right for you.
What's the Difference Between a Hard and Inflatable Paddle Board?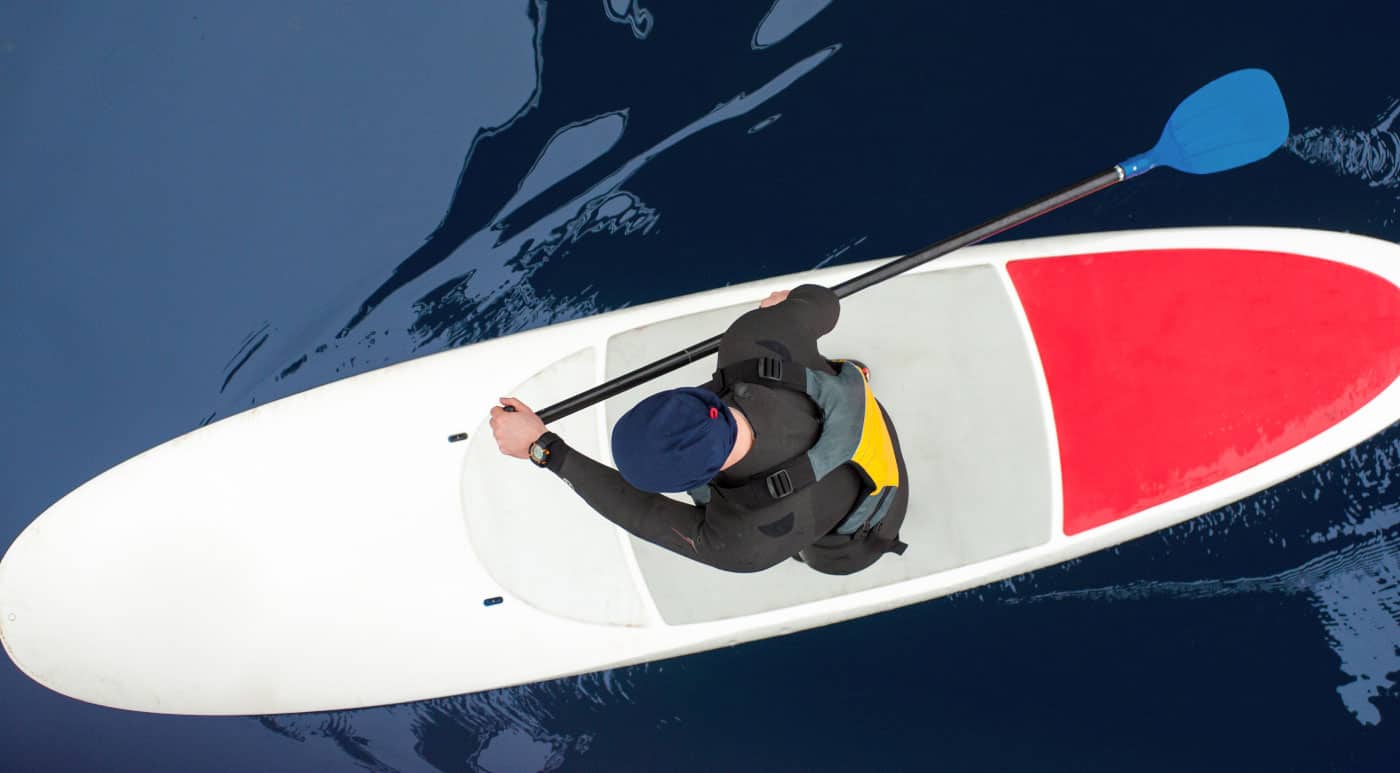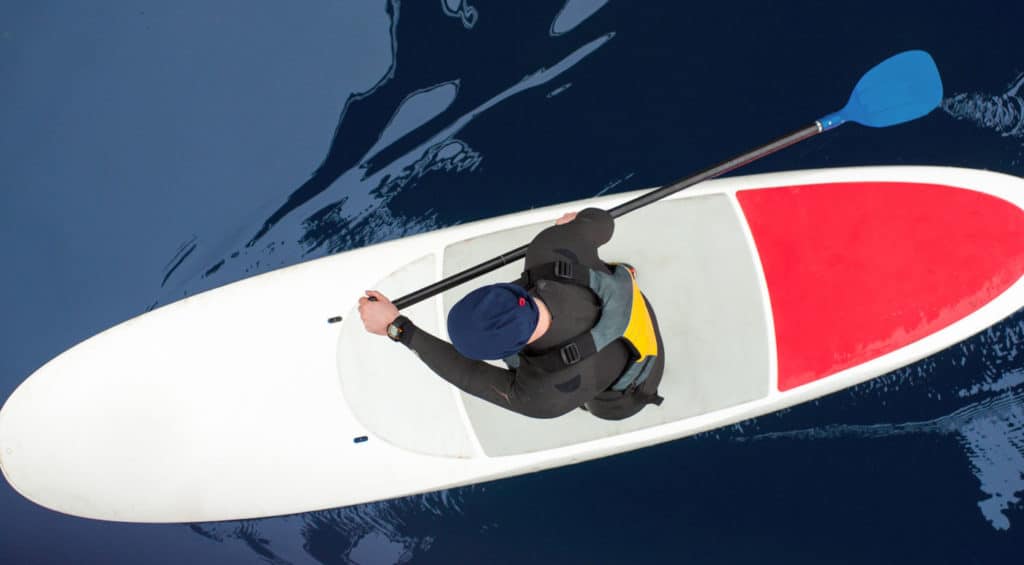 In the article, we rank hard, sometimes called epoxy paddle boards. If you're curious about the best inflatable SUP, check our ranking of the best inflatable paddle boards [here]. But if the jury is still out on which one's right for you, here's what you need to know about hard vs. inflatable SUP boards.
We'll begin with the differences in construction. Most hard, epoxy, or solid SUPs are made from an EPS foam core wrapped with fiberglass and epoxy. These boards are lightweight and durable. You can find hard SUPs made from carbon fiber, making them even lighter and stiffer but also more expensive. There are also solid plastic boards, but those boards tend to be heavy.
Here are the top three reasons a hard SUP might be right for you:
Interested in traveling fast and far on your new paddle board? Hard paddle boards handle better in the water and travel faster, a better choice for touring SUPs.
Hard SUPs come in a wide array of shapes and sizes so chances are you'll find a hard SUP that fits you perfectly, without sacrificing any of the maneuverability you require.
Some say hard boards are more stable for beginners, while others say beginners should stick with inflatable SUPs if for no other reason than their inevitable falls while learning to stand will be better cushioned.
What's for certain is that hard SUPs sit lower in the water, and some find that feels more stable. They also provide more stability in waves and whitewater.
Storage is also an important consideration, as well as a roof rack for your car. You'll simply need more space to store your hard SUP when not on the water while iSUPs can be easily stashed away once deflated.
Next, let's talk a bit about board volume and the weight capacity of your board.
SUP Volume and Weight Capacity: What You Need to Know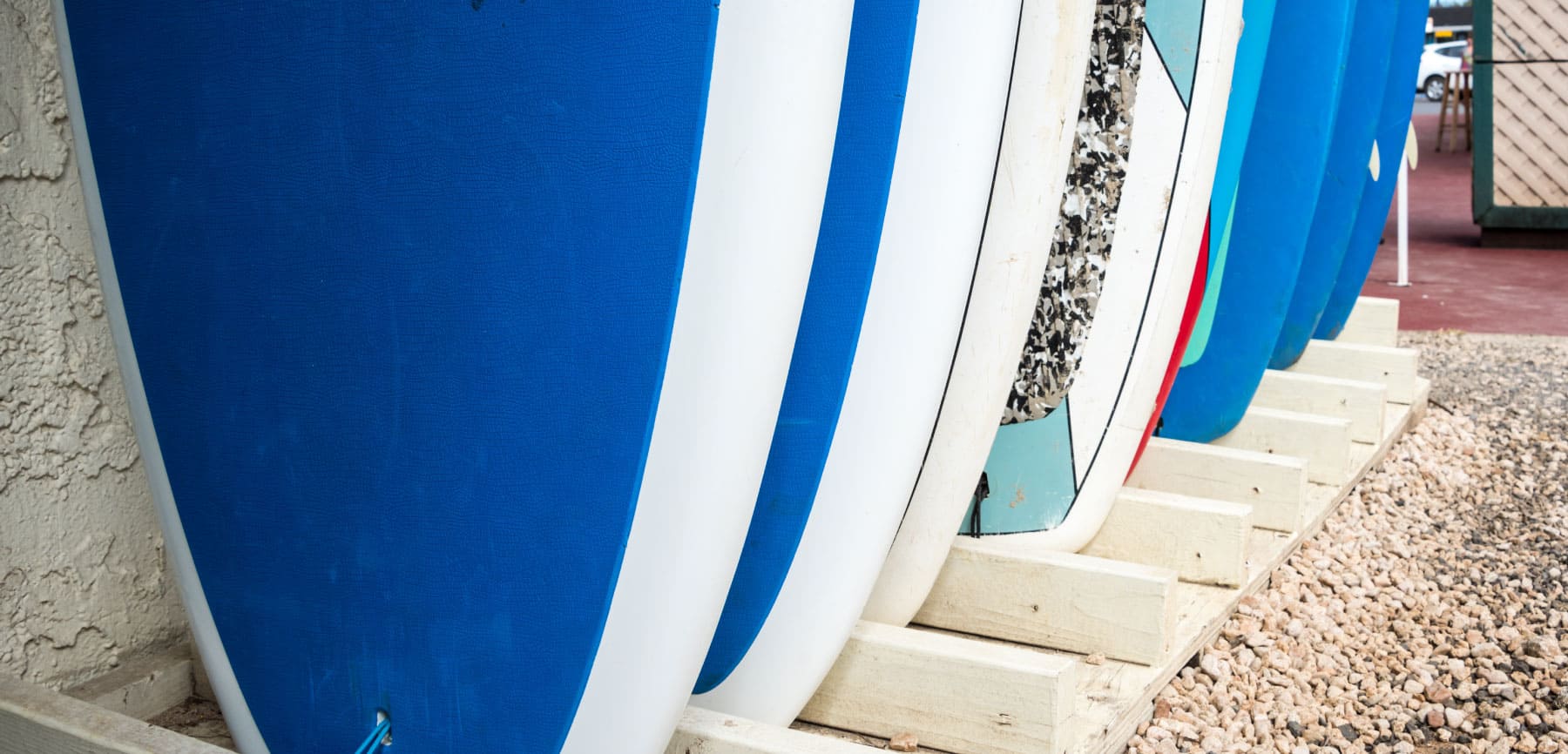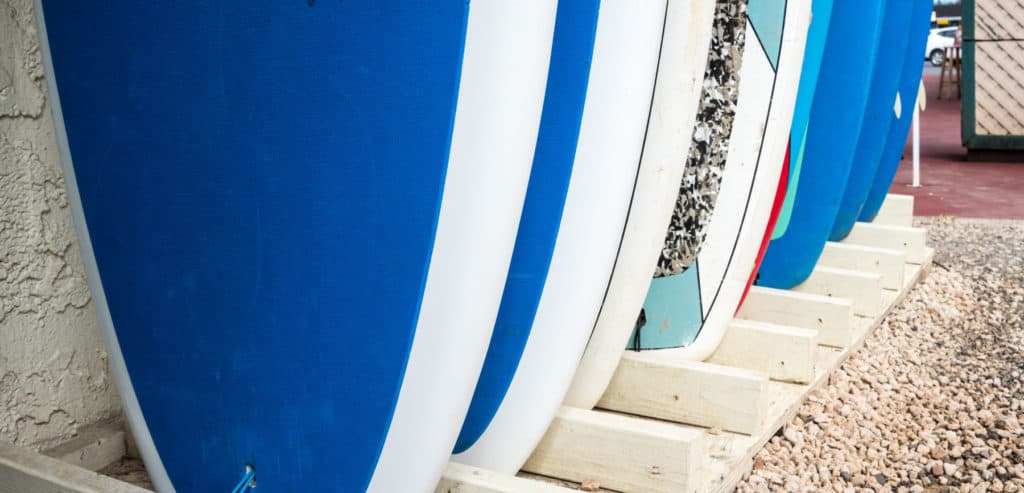 Now that you've decided to go with a hard SUP, the next point to think about is the SUP volume and weight capacity of the board. A board that can't handle your bodyweight won't do you much good once you're out on the water.
To understand your board and max weight, you need to first understand the following.
Expressed in liters, board volume indicates how well the board can float with weight on it. Higher the volume, the more weight the board can support.
Weight capacity is listed in pounds. Putting too much weight on a board will cause it to ride too low in the water making it difficult to paddle. Weight capacity means more than just your own body weight, but also the added weight of gear, food and drinks, paddle board partners, or even just your dog.
Where volume and board weight come into play is hull type, especially displacement hulls — or a board with a convex bottom. Too heavy, the board will sink and be hard to paddle. Too light and you won't sink enough and that can also make your board difficult to control.
So far we've talked about inflatable vs. hard SUPs, as well as board volume and weight capacity.
Although there's a bit more to know about paddle boarding, (we'll cover how to choose SUP length, width, and thickness in the FAQ section) for now, let's move on to the main event. Up next is our ranking of the 10 best paddle boards.
Methodology
While researching this article on the best paddle boards, we solicited input from SUP board experts David Lenze of the authoritative water sports-themed website, Floating Authority and ex-NFL quarterback, fitness expert, and SUP board enthusiast Thomas Jones.
After gathering input and consulting other similar rankings from all across the internet in order to gather a broad range of opintions, we conducted our own research.
We evaluated each board on the following:
Board dimensions
All-around versatility
Construction materials
Consumer reviews
Added accessories (military-grade construction, d-rings, paddles, fins, etc.)
All this combined has produced a comprehensive list of the best paddle boards available. We can't wait to get started.
The Best Paddle Boards
Need a little more information before making your choice? These SUP board FAQs are here to help.
How long should my paddle board be?
Here's what you need to know about board length in a nutshell: long boards tend to be faster than shorter boards, while short boards handle better on average. You'll also want to keep in mind transportation when deciding between long and short — will the board fit in your vehicle?
Here's a quick guide to how SUP length related to experience level and the style of paddle boarding you plan to do:
Short boards (under 10 feet)
Staying under 10 feet will get you a more maneuverable board that handles well in waves. For kids, pick a board eight feet or under. Short boards almost always have planing hulls (flat as opposed to something like the hull of a ship).
Medium boards (10–12 feet)
This is the sweet spot for most all-around SUPs and good for SUP yoga. Hull types on these boards are pretty 50/50 planning and displacement.
Long boards (over 12 feet)
Almost always made with displacement hulls, boards 12 feet and over are fast and track straight. They're the best choice for touring or paddling long distances.
Another thing to bear in mind on the subject board length is stability. The longer the board, the more stable it will feel.
How wide should my paddle board be?
From length, let's now turn to width. SUP board width ranges from between 25 to 36 inches, accomodating a wide range of preferences. Although wide boards are more stable, they're slower than thinner boards. A board that's too wide can be difficult to paddle simply because your arms can't reach wide enough to paddle comfortably. Here are some other factors to consider about the length of your SUP:
Matching board width to your own body weight is important. If you're small, stick with a narrow board. Lightweight people on a board that's too wide for them can run into a few problems. First, a body type/board width mismatch can make it difficult to paddle, but also, lightweight people on boards that are too wide for them can find it difficult to maintain balance.
What kind of paddling do I plan to do?
If you plan on racing or surfing on your SUP then choose a narrow board since they tend to be faster. For yoga, fishing, or SUP touring (when you might have to pack extra gear like a cooler or fishing pole) choose a wider board to accommodate your extra gear like fishing rods.
Last, experience level plays a part in SUP width because inexperienced paddlers tend to like a board that feels more stable, while more experienced paddleboarders like a board that's narrow, fast, and tracks well.
How thick should my paddle board be?
The last important dimension of your paddle board is thickness. Thickness is important because it affects the overall volume and weight capacity of your SUP. Comparing two paddleboards of the same width and length but different thicknesses, the thicker board has more volume and therefore can handle more weight than the thinner board.
Your own body weight plays a part in this as well. If you're small, a thinner board will help keep down the overall volume of your board, optimizing the performance of your board. Otherwise, your board might sit too high in the water. This can make it both feel unstable and difficult to paddle.
In general, beginning paddle boarders should stick to boards about five inches thick, unless you're a larger than the average person. If that's the case, look for something six or more inches thick.
Otherwise,e thick paddle boards should be avoided for the following reasons:
They ride higher in the water, making them feel "tippy."
Thin board feel better in the water — cutting through the water rather than floating like a raft
When you fall off a thick board it's harder to get back on
And last, thicker boards make carrying, transportation, and storage more difficult.
What are the best paddle boards?
Condensing all our own research and input from SUP experts into three categories: best paddle board, best paddle board for beginners, and best paddle board for kids, we're ready to present the three finalists. You're anxious to get out on the water, and we're here to help.
The overall best paddle board in our ranking is the BIC Sport ACE-TEC Cross Sup Stand Up Paddleboard. With a quality, all-around design the board has a keeled nose, allowing the board to track straight and glide well, with plenty of space for family, furry friends, fitness, and fishing.
Just getting started with paddle boarding? We have answers for you as well. Our choice for best paddle board for a beginner is the lightweight Peak Navigator Rigid Epoxy Stand Up Paddle Board, offering beginner-friendly SUP design with rugged construction and lots of bonuses, like an aluminum adjustable SUP paddle.
For kids that like to SUP, our pick is Wavestorm 8 ft Stand Up Paddleboard. Though the board is short (meaning it's extra stable!) it's built strong from superior EPS Core with three marine-ply stringers with in-mold carry handle. You'll also get a removable and adjustable 9-inch single fin with adjustable paddle.
RAVE Recommends
Now that you've selected the best paddle board, here are five paddle board accessories you need to make your first SUP trip a success.