Work isn't always fun, but that doesn't mean that you have to be uncomfortable, too.
A high-quality office chair can mean the difference between giving your back the support it needs and a day full of aches and pains. Although there are plenty of great office chairs out there, we've picked out a clear winner: the Herman Miller Sayl Chair. It's been crafted with ergonomic precision, it's aesthetically stunning, and most importantly of all, it's really comfortable.
Whether you slump down, slouch forward, or sit bolt upright, we all rest differently in our chairs when concentrating on a task.
Posture is crucial for the long-term health of our spines. That's why, no matter how you naturally tend to sit, high-quality office chairs are so important: They help you stay comfortable each day and keep your spine healthy for years to come.
But the humble chair hasn't changed a great deal visually since it was first invented. So how do you separate the good from the merely okay (and the just plain bad) when they all look very similar?
That's where we come in.
The Office Chairs We RAVE About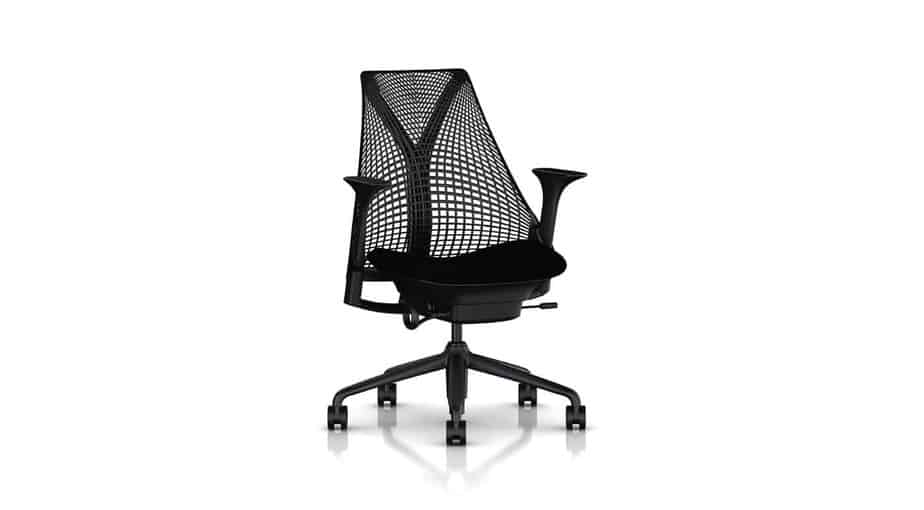 Best Overall Office Chair
Herman Miller Sayl Chair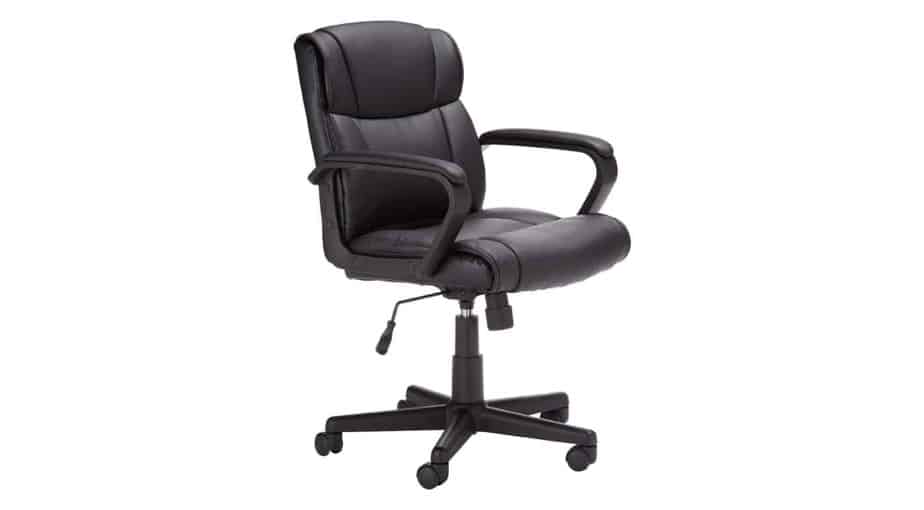 Best Budget Office Chair
AmazonBasics Mid-Back Office Chair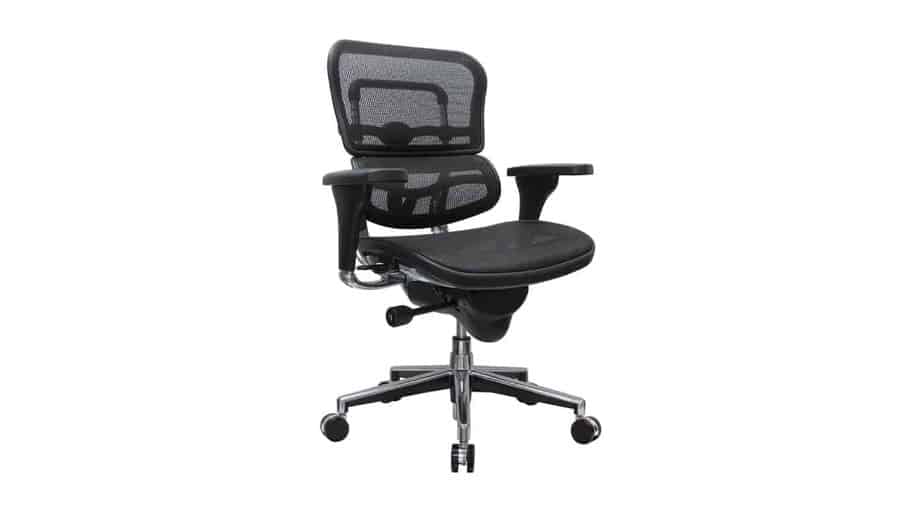 Best Luxury Office Chair
Eurotech Ergohuman
When it comes to office chairs, many people simply make do with what they're given. But if you work a typical 9-5, this could mean spending a significant portion of your life in an uncomfortable position. Not to mention that a poorly designed chair can encourage bad posture, which could result in long-term aches and pains.
There is a huge variety in office chairs, but many people don't even think about upgrading their own. So we've put together this ranking of the best office chairs to encourage you to bring greater comfort to your working hours.
What to look for in an office chair
One of the most important facets of a good office chair is the amount of lumbar back support it provides. A chair lacking in this area will increase the likelihood of poor posture, putting your back's health at risk. Ideally, pick a chair that has adjustable support. That way, you'll be able to tailor it to your height.
And personal adjustment doesn't stop at lumbar support — any good chair will offer you a range of other customization options. At a basic level, this normally includes adjustable armrest height, as well as being able to adjust the height of the seat. Premium chairs will offer back angle adjustment, tension control, and more, with some having as many as 14 settings.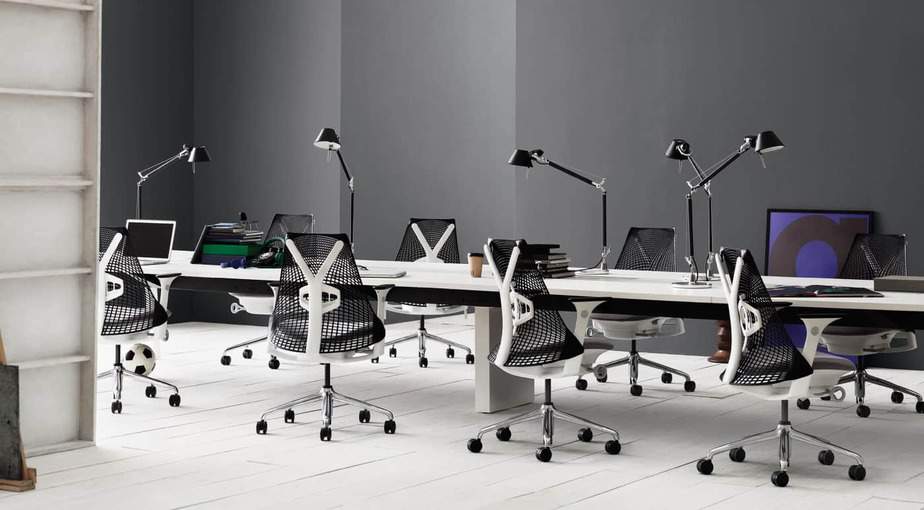 You'll also want to give thought to the type of fabric used in the chair's construction. This is more than just an aesthetic consideration, as you'll want something that's breathable when the office heats up. But you'll also need something that's comfortable, well-cushioned, and easily cleaned for when you inevitably spill your coffee.
Finally, don't forget to ensure that the depth and width of the seat match your height. Shallower seats suit shorter people, whereas taller users will feel more comfortable in a deep bucket seat. And don't forget to check whether you need extras like a swivel base and castor wheels on the chair.
Maintaining proper posture
There's all kinds of information available online regarding how you should be seated to ensure good posture. But to sum up, here are some basic pieces of advice to protect your back.
You should be seated in the chair with your hips back as far as they will go. This helps to maintain an upright posture that's important for the health of your back. Your armrests should be positioned in such a way that your arms are relaxed by your sides.
In terms of your legs, both feet should be planted flat on the floor. Your legs should be positioned so that your knees are level with or slightly lower than your hips.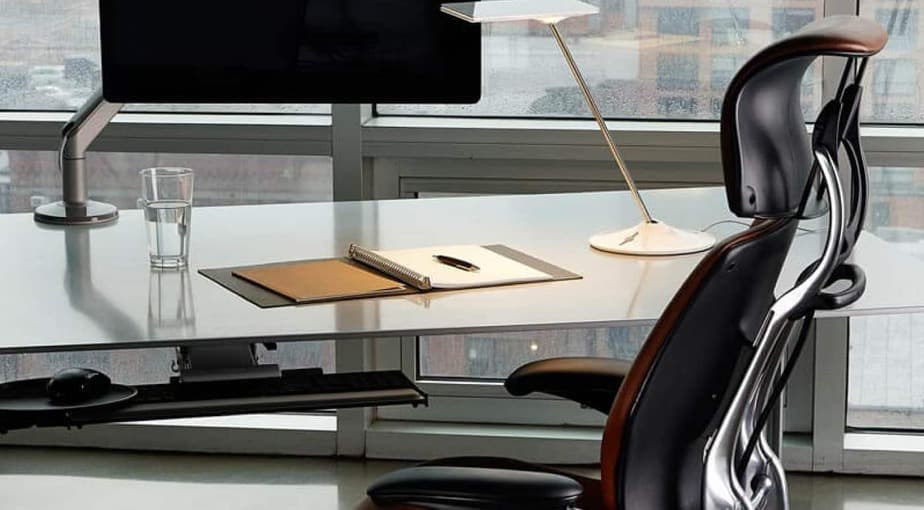 Getting rid of aging office chairs
If it's time to make the swap to new office chairs, you may wonder how to dispose of old units. They're large and unwieldy, so disposal is not as simple as you might think. If you're dealing with a lot of office chairs, your best option is probably to consult a junk removal company who can ensure that your chairs are properly scrapped.
When you buy the next round of office chairs, consider that many of the luxury chairs available today are environmentally friendly. Up to 95% of the materials on some of our winning models can be recycled at the end of their life. This leaves less of a footprint on the environment and makes it easier to know what to do with chairs that are ready to be replaced.
Methodology
To bring you this ranking of the best office chairs available, we started by taking a broad look at existing reviews online. We explored the websites and blogs of office furniture professionals. And we scoured websites like Amazon to gauge the average score awarded by everyday customers.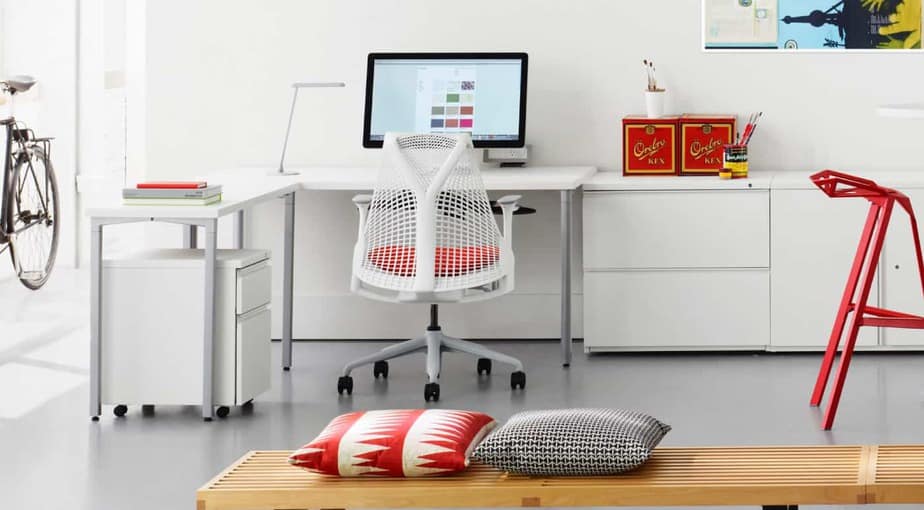 From this initial step, we created a long-list of the 43 best office chairs available right now. Then we narrowed it down to the 10 best-in-class using a cross-reference method, picking the chairs most frequently mentioned by a host of trusted authority sites and best loved by consumers.

Though a product may receive a great average review score, there can be some fundamental problems lurking in the reviews. So we further refined our list by looking at the following points:
The amount of lumbar support afforded to your back;
How adjustable the chair is for fine-tuned personal comfort;
Whether the chair has supportive armrests to help maintain correct posture;
The quality of the fabric used in the chair's design;
Accessories and functionality, like a swivel base and wheels;
Seat height and width, and how it affects comfort.
Best Office Chairs
1
Herman Miller Sayl Chair
The Sayl has clearly been created for those who favor a unique, attractive design that breaks the mold. With a wide base for the chair's wheels, the profile slims toward the peak of the backrest. The chair also offers best-in-class ergonomics, proving that the Sayl isn't just about looks.
This is definitely a chair for the eco-conscious consumer, featuring 93% recyclable materials for when it reaches the end of its lifespan. Structural components of the chair are hollowed out, which reduces the weight of the chair for ease of movement. And another benefit of the slim design is that it helps save space in cramped offices.
We do have to mention that the wheels are designed for carpeted flooring, so on wooden floors you may find them less maneuverable. You also can't adjust the height of the armrests, nor can you adjust the depth of the seat. But those drawbacks aside, this is still an easy pick for our favorite office chair.
Pros
Elegant, organic shape
Small profile saves space
Tilt limiter improves control
Cons
Wheels designed for carpet
Arm height non-adjustable
Seat depth non-adjustable
2
Steelcase Gesture Chair
Whereas some premium chairs simply mirror the designs of less expensive products, the Gesture does not. Available in a vast range of bright and matte colors, this is an office chair that has won awards for its innovative design.
The seat is extremely well-padded, with air pockets beneath the foam that bolster your comfort. The contoured design forces you to sit in a manner that's beneficial to your spine, yet is comfortable. And all of this chair's leading-edge ergonomic engineering is packaged into a heavy-duty frame that will resist distortions and wear from everyday use.
Other than being cumbersome and lacking a headrest and other accessories, it's a great all-around chair. Our only other suggested improvement is that the manufacturer consider better locking the arms into place.
Pros
Well-cushioned support padding
Heavy-duty, durable frame
Encourages good posture
Cons
Arms don't lock into place
High-quality materials are heavy
Pricey
The Ergohuman chair provides full body support, offering a headrest despite so many others omitting this accessory. Mesh fabric has predominantly been used, which aids air circulation and keeps you cool in a hot office. Unfortunately, the design of the armrests is counterproductive in this regard, which we'll touch on more below.
The chair also allows a vast range of adjustments throughout its seat, back and headrest. Tilt tension control, back angle and height, seat height and depth, and tilt lock are among the options offered. The result is a chair that's extremely comfortable, even over lengthy work days in which you're sat down for hours.
As is often the case with chairs both budget and premium, the problems lie with the armrests. Firstly, they cannot fold back, so you can't work without them should you prefer. Additionally, and as mentioned, the material on the arms tends to stick to hot, sweaty skin, which can be uncomfortable.
Pros
Mesh design helps skin breathe
Comfortable for lengthy periods
Numerous adjustments available
Cons
Armrests cannot fold back
Less comfortable in thin clothing
Armrests can stick to hot skin
4
Herman Miller Aeron Chair
The Aeron uniquely conforms itself to each individual user, so even if somebody invades your space, they won't ruin your posture. This chair is crafted from well-vented mesh, which is highly-breathable in hot climates or overheated offices. And there's built-in lumbar spine support, which many users have reported as helping their problematic backs.
Our main complaint is that some customers have experienced some problems with the recline function, which can tend to become disconnected. Thankfully, this is a rare problem only affecting some users, so it's not enough for us to write off the chair.
If you want a headrest, you'll have to look elsewhere, as this chair doesn't include one out of the box. And the instructions that come packaged with the chair leave a lot to be desired, which are the key factors that drop this chair into third place.
Pros
Built-in lumbar spine support
Breathes well to prevent sweating
Conforms to each unique body
Cons
Lacks a built-in headrest
Occasional recline problems
Instructions aren't the best
5
Steelcase Leap Fabric Chair
In terms of its footprint, the Leap chair is really very small — it's perfect for smaller offices where saving space is key. Available in colors suited to both home and corporate office use, it's aesthetically-pleasing whilst being highly-functional. Just be wary that the fabric feels itchy and scratches against exposed skin, though this shouldn't be an issue.
The Leap features custom Steelcase technology known as LiveBack, which changes its shape to conform to the shape of your spine. This is in addition to the manufactured lumbar support that forms the natural bend in the chair. And a glide system carefully repositions you in such a way that reaching your work doesn't place pressure on your back.
Our main complaint for the leap is that the armrests and base tend to move around slightly. This is usually unheard of with more expensive products, and is a complaint that's normally reserved for cheaper chairs. What's more, there appears to be 2 different versions available — some users seem to receive one, whilst other customers receive the other.
Pros
Cuts a relatively small profile
Mimics the shape of your spine
Glide system easily adjusted
Cons
Seat fabric coarse on skin
Seat and armrests move slightly
Some users receive varied models
6
AmazonBasics Mid-Back Office Chair
When you think "office chair," you probably picture something that looks very similar to this product from the AmazonBasics range. Yet it's more than basic — crafted from bonded leather, it's at the higher end of the budget category. And it's vastly cheaper than our best-in-class chair, the Steelcase Gesture, making it ideal for those on a budget.
Where expensive chairs can often compromise is in the provision of well-padded, comfortable armrests. Thankfully, this is one area in which the AmazonBasics Mid-Back chair smashes it out of the park. They're sturdy, don't swing around when in use, and they're well-padded for long-term use.
However, they're also fixed to the back, meaning you can't use the chair without them. Otherwise, our only other negatives revolve around the size and weight limitations associated with the chair. It's clear that the model is less accepting of very tall or heavier users, and likely to be less supportive.
Pros
Built from bonded leather
One-sixth the price of our winner
Well thought-out armrest designs
Cons
Less capable with heavy loads
Less accepting of size variance
Armrests can't be detached
7
Herman Miller Embody Chair
There really isn't another chair like the Embody unit manufactured by the well-known luxury brand, Herman Miller. Whereas the design appears streamlined, as if sacrificing functionality for form, you actually get both in spades. There's a wide range of motion in the armrests and seat depth, with all controls discreetly tucked away.
Mounted on 5 stunning castor wheels, the chair will work well on both carpeted and hard office floors. The BackFit spine support naturally contours itself to the curvature of your spine to encourage good posture. For the eco-conscious, this chair is 95% recyclable and manufactured in a 100% renewable energy facility.
Of course, when you choose a smoother, less rugged material, you're losing out in an another area. The fabric appears less durable than other mesh-backed chairs and may well wear out over time. And the well-polished metal legs of the unit appear to be highly scratchable despite their aesthetically-pleasing appearance.
Pros
Armrests widely adjustable
Stunningly unique design
Seat depth is also adjustable
Cons
Less durable fabrics
Limited range of colors
Scratchable chair legs
8
Alera Elusion Swivel Chair
Constructed from cool, breathable mesh that won't make you sweat in the war over the thermostat. And designed with a contoured seat that also features a built-in lumbar support curve. Though it may share similarities with cheaper chairs in terms of visuals, this is a sturdy, well-built seat that'll last.
The Alera also provides a wealth of adjustment options, in spite of one shortfall regarding the tilt, or recline function. This includes the potential to adjust back angle, reverse tilt, and even forward tilt. Coupled with a waterfall edge design, you should be comfortable regardless of the posture you choose.
Unfortunately, the recline adjustment leaves something to be desired, as it doesn't tilt back very far. And shorter individuals are likely to need a footrest as an additional expense, as your feet may not reach the floor. The only other negative is shared with many chairs here, in that the armrest fabric isn't too comfortable against skin.
Pros
Very simple construction
Inline lumbar back support
Massive adjustment options
Cons
Recline function doesn't go far
Shorter users need footrest
Armrests pinch at skin
9
HON Exposure Mesh Task Chair
The HON Exposure gives you everything you'd expect from a mid-range office chair at its price point. Tilt tension and lock, adjustable arm width and height, and adjustable lumbar features are all supported. And putting the chair together out of the box is said to be straightforward, too.
We've ranked this chair lower than others due to some fairly inherent design considerations that we weren't keen on. The chair is very tall, to the point that smaller users may struggle — despite short armrests that aren't too sturdy. And some customers have mentioned that the C02 cylinder, used for adjustment control protrudes from under the chair.
Still, despite heavier loads placing the armrests under duress, the seat can support a considerable weight. And built-in lumbar spine support will be beneficial for those people who do weigh more and struggle to get comfortable easily.
Pros
Supports heavier users
Comes with lumbar support
Straightforward to assemble
Cons
Fairly uncomfortable armrests
Gas cylinder protrudes
Extremely tall design
Many chairs omit a headrest from their design, but the Freedom has one built-in for extra comfort. Combined with the generously-sized and sturdy design, this is a chair that's built for users of all shapes and sizes. Plus the armrests move in conjunction with the chair when repositioned, to provide all-round support throughout the recline.
What's more, the angle and position of the headrest can be completely adjusted depending on who's using the chair. In fact, the headrest, backrest and seat can all be adjusted independently of one another. All these facets make for a chair that can be fine-tuned to suit practically any person's body.
Unfortunately, all our complaints revolve around the armrests, which somewhat let down the rest of the design. Firstly, they're short, meaning longer arms may struggle — and they don't adjust outwards for wider users. What's more, some users have reported breakages when excessive weight is applied to the armrests, so be careful.
Pros
Built-in, dynamic headrest
Independently adjusted parts
Armrests move in sync
Cons
Not good for longer arms
Limited armrest weight support
Armrests don't adjust outwards
How much weight can an office chair hold?
The standard office chair can hold around 250 lbs of weight. If you need to support greater than 250 lbs, then consider big and tall chairs that can handle more.
The bottom line is that you do need to care about the weight limitations on your office chairs.
Typically, specialized chairs can support anywhere from around 300 to around 800 lbs, depending on the model. If in doubt, check the manufacturer's advice before you make a purchase. Bear in mind that it's not always listed for "standard" chairs, but usually will be for specialized, more durable models.
How long should an office chair last?
You may be debating just how much you should spend on your new office chair, as some are particularly pricey. And one of the questions that you probably have on your mind is likely how long a chair will last. Nothing would be worse than spending 4 figures on a premium chair, only to have it last a few months.
Of course, it all depends on a number of factors, not limited to the quality of the brand and materials used. Budget range chairs — the AmazonBasics chair excluded — will often fail or see excessive wear in just a few short months. More expensive models can last many years, whereas the most premium chairs could potentially last decades.
It goes without saying that a chair will wear faster when it's being used every day for long periods. But this wear can be accelerated if a chair is used in a hot desk position, with multiple, regular users. And constant use of the chair's adjustment options can speed up the wear of the chair's mechanisms over time.
Fortunately, it's not normally a case of spending more money only to see the same degradation as a more inexpensive option. When you spend a larger sum on an office chair, you can typically expect a much longer lifespan. So it could be worth parting with a larger volume of cash to ensure that you have something comfortable that'll last.
Should my office chair have armrests?
As you'll likely have noticed from reviewing our ranking of the best office chairs available, most have arm support. Though it occasionally lets the design down due to poor material choices, or a lack of adjustment. Some models also provide removable armrests so that you can choose whether or not you use them.
Sure, there are office chairs available that don't have armrests, but this isn't because they're a useless frill. Armrests provide support for the upper torso, reducing the strain and stress placed on the neck and shoulders. Without armrests, users also tend to lean forward on the desk, which can also strain the back.
However, it's not uncommon to see manufacturers designing chairs without these accessories, as seen in our list of the best chairs. Such products are not optimized for lengthy periods sat in front of a computer, no matter how aesthetically-pleasing they are. If you're purchasing office chairs as an employer, then bear in mind that you should be wary of potential health issues. It may be worth spending more upfront to avoid employees developing back pain and taking sick leave.
Are office chairs good for gaming?
Office chairs and gaming chairs share some similarities, though there are key differences that could affect their use. Broadly speaking, most office chairs would also make a solid option for a gaming chair, whether that be PC or console. However, the same can't be said for the reverse scenario — many gaming chairs would be impractical in the office.
Take into account that gaming chairs designed to be used with racing games feature design variations. A raised bucket seat provides a more immersive car-like environment, as well as easier access to pedal accessories. But such a chair in your office would limit your movement, be hard to escape, and most likely lack adjustable options.
That isn't to say that all gaming chairs are impractical when placed behind a computer in a work environment. In fact, one of the chairs that made our longlist of the best office chairs was a purpose-built gaming chair. So if you're considering a multi-use chair, just make sure you think about the applications of the design specific to yours.
What are the best office chairs?
We could tell you the best overall office chair, and we will — it's the Herman Miller Sayl Chair — but it may not suit everyone.
Everybody is looking for different things, which is why we've gathered together the 10 best chairs available, according to real consumer feedback.
If your chair has to look like more than just a chair, then consider the Eurotech Ergohuman. It's huge and imposing, perfect for the MD of the company, with strong build quality. It's no wonder that this chair won our best luxury office chair accolade.
Or, if money is your concern, then the best budget office chair is the AmazonBasics design. The price tag also makes this perfect for populating a new office, without spending a fortune. Despite what the name may suggest, this chair can't be judged alongside other inexpensive, subpar brands.
RAVE Recommends
So now you know the best office chairs available on the market right now. But there's no harm in addressing the other areas in which you can bolster your comfort at work. We've done some additional research to bring you this list of Rave Recommendations — top products to help your productivity and mindset:
2.4G Wireless Portable Mobile Mouse: Overreaching for your peripherals can be a big contributor towards poor posture. Do away with your wires now and adopt a wireless mouse to relax your arms while working.

Under Desk Foot Rest & Adjustable Footrest: If you are too short for one of our best office chairs, all is not lost. An under-desk footrest can add a good degree of comfort to any office chair and desk setup.

Zyllion Shiatsu Back & Neck Massager: When basic lumbar support just isn't cutting it, replace it with one of these back massagers. Enjoy the feel of a lower back — or neck — massage while you smash through your to-do list.

AmazonBasics Adjustable Monitor Stand: In the war on bad posture, adjustable monitor stands — and correctly positioned monitors — are invaluable. An AmazonBasics chair already made our top 10 list, and we have no hesitation in recommending them again.

Yootech Wireless Smartphone Charger: When your phone is blowing up all day long, you need to maintain a strong charge. Rather than adding yet another cable to your desk, adopt a wireless phone charger that's compatible with both major brands.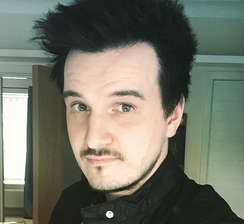 Chris Barry
Chris Barry lives in Dorset, England with his wife. When he's not writing product reviews, Chris can usually be found furiously writing and editing his first novel, or watching horror movies.