Having lightweight boots is important, but it's just one of many factors that make up a good quality hiking boot.
Our best overall lightweight hiking boots are the Timberland White Ledge, with a 4.5 star average rating across nearly 10,000 Amazon reviews. Crafted from 100% genuine leather, they are comfortable with great aesthetics, but are surprisingly affordable.
If you are questioning whether you need to purchase a pair of footwear specifically for hiking, the answer is yes. A hiking boot is not an ordinary boot — it's designed to take abuse and stand up to the elements. Hiking boots are also more adept at offering support, stability, and most importantly, grip on surfaces that aren't your average sidewalk.

You probably already know the importance of certain factors when it comes to purchasing an all-weather, all-terrain hiking boot. You want something that's waterproof yet breathable, flexible yet supportive, and durable without being too heavy underfoot. It can be easy to forget this crucial last point — your boots should be lightweight.

Nothing will put an end to a long hike faster than a pair of boots built like concrete blocks. So, we aggregated the best hiking boots from a vast range of sources and narrowed them down based on weight. The result is this recommendation of the 10 best lightweight hiking boots, where mobility has been given key consideration.
The Lightweight Hiking Boots We RAVE About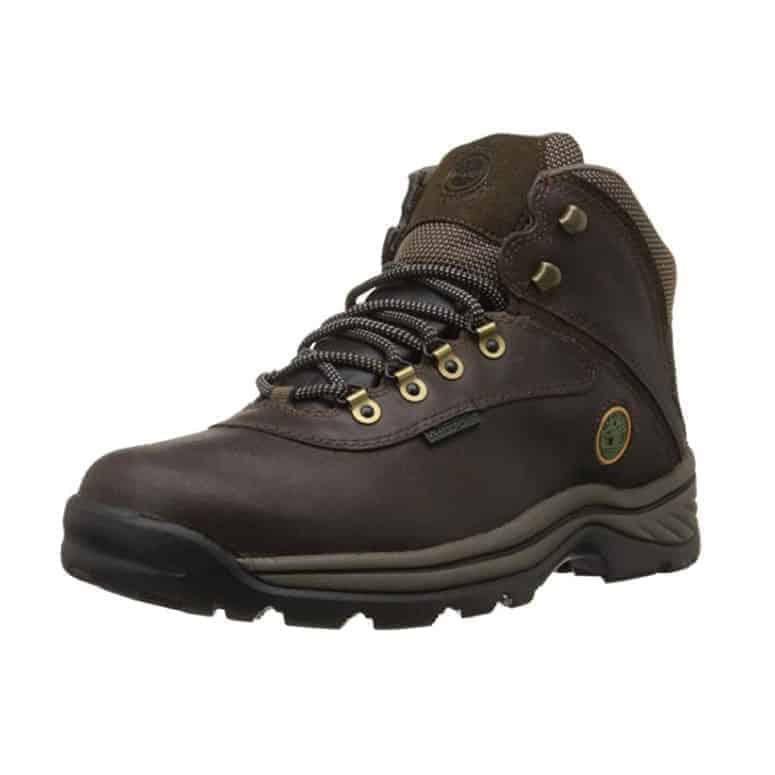 Best Overall Lightweight Hiking Boots
Timberland White Ledge Men's WP Boots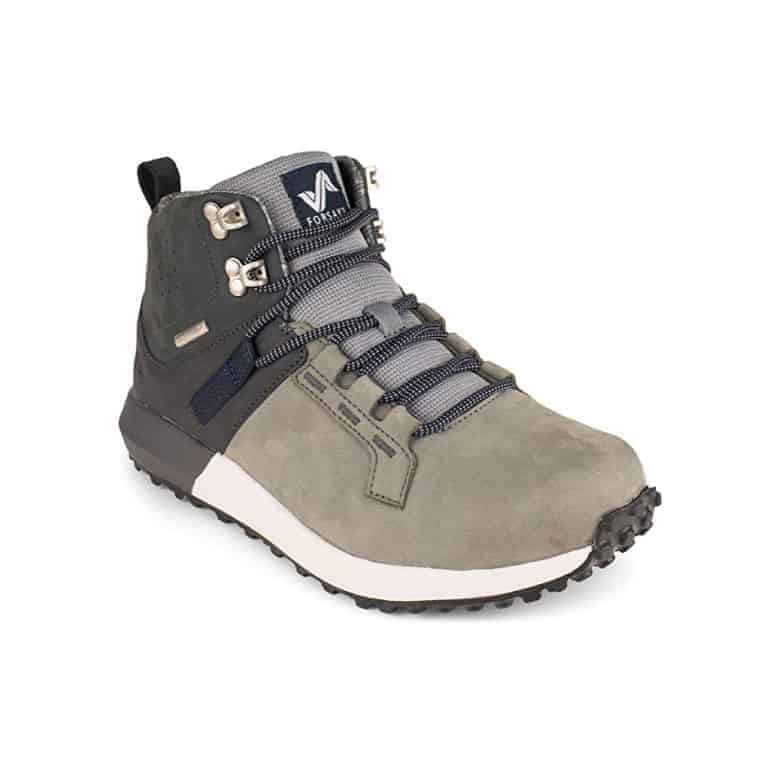 Best New Brand Lightweight Hiking Boots
Forsake Range High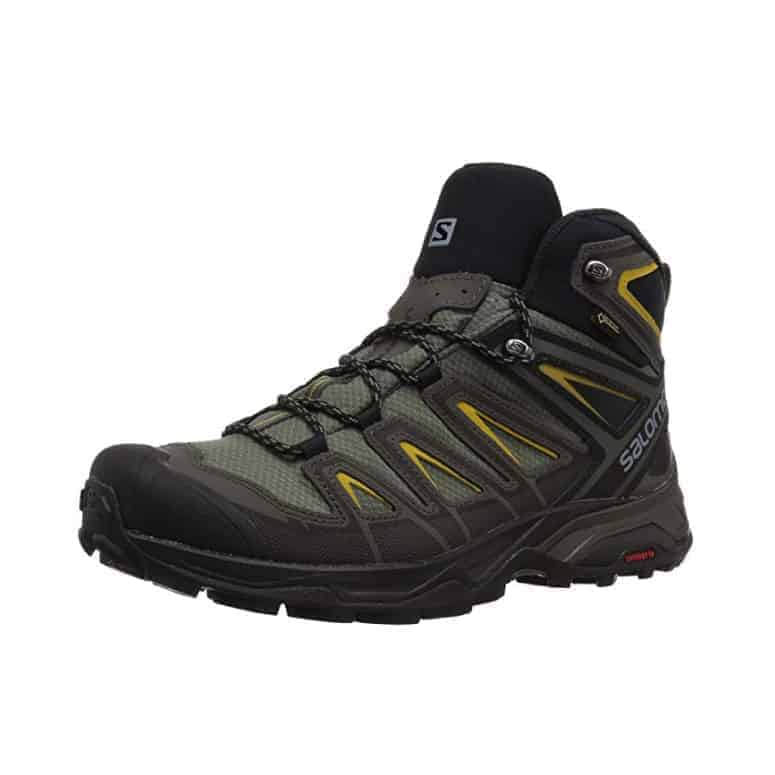 Best All-Terrain Lightweight Hiking Boots
Salomon X Ultra 3 Mid GTX
Finding your size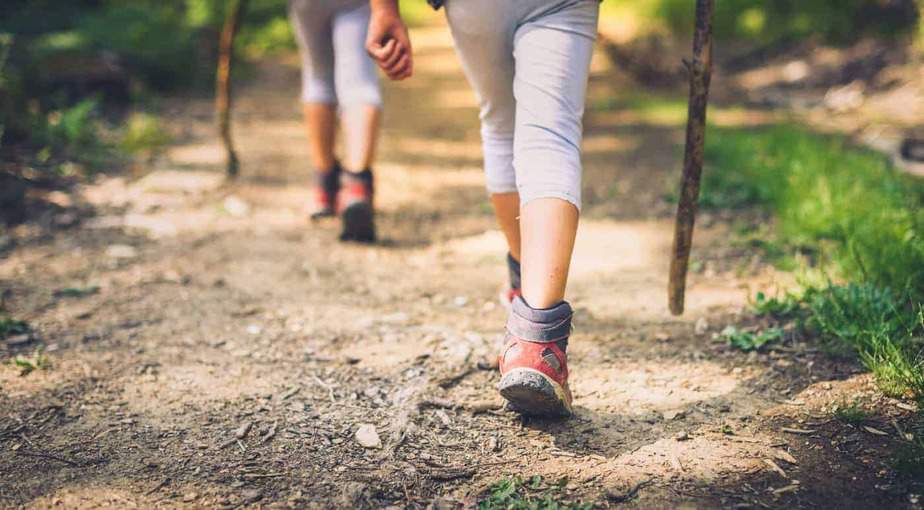 You probably already know what size footwear you wear for day to day shoes. Hiking boots are no different to regular footwear in the sizing department, so your size should remain the same. That said, some manufacturers can vary from a half to a full size, so look out for sizing in reviews.
Outside of sizes, there are other considerations to take in how the boot will fit you. For example, some boots are wider or narrower than others, as are people's natural foot shapes. And, the degree of space and protection of the toe box of any boot can vary from one model to another.
Also consider the heel and something called "heel lock," or how well your heel is kept in place. When you're hiking with your boots laced up, your heel should be locked in place and immobile. Adequate heel lock prevents rubbing and chafing, particularly on hills and slopes when your feet move around a lot.
Importance of waterproofing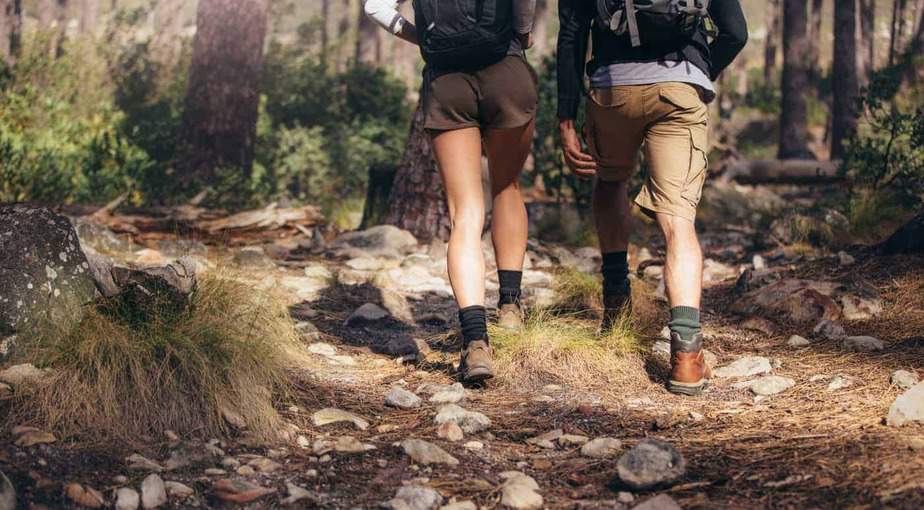 With high enough heel protection, some boots are sufficiently waterproof to keep your feet dry when walking through streams. However, even if you don't plan to traverse bodies of water, waterproofing can still prove useful. Thick, dewy grass can be enough to get your feet wet, as can heavy rain or snowfall.
If your feet get wet out on the trail, it can not only be uncomfortable, but also dangerous. Even a well-fitting pair of boots can start to chafe and lead to broken skin when your feet are wet. That said, the vast majority of hiking boots are waterproof to some degree these days, so don't worry too much.
When looking at waterproofing, consider breathability, which is the ability to allow moisture out of the boot. In hotter climates, your feet can quickly begin to sweat if your boots don't breathe well. Again, if your boots don't excel in this area, they can quickly become uncomfortable.
Materials and terminology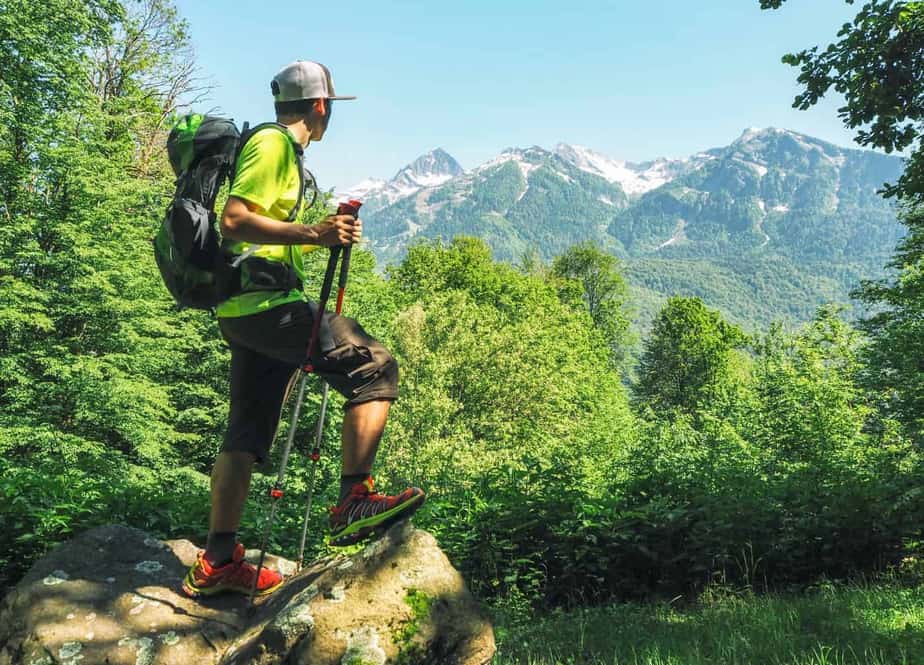 In the past, the most common material used for hiking boots was genuine leather rather than synthetic fibers. Leather is known for its durability and ruggedness, meaning your boots could stand the test of time and countless hikes. And though leather is still in use today, there are many alternatives that are much lighter and often cheaper.
Synthetic materials are generally more resistant to scuffs and easier to keep clean with water and a cloth. Watch out for boots that use other materials like suede, as they tend to be dirt magnets. Check reviews to make sure your boots aren't made from a material that will look aged after one hike.
When you're shopping for hiking boots, there are some common terms that you're likely to come up against. The "upper" is the main part of the boot that protects your feet against the elements. The "outsole" is the rubber tread that provides traction, plus protection against harsh terrain.
There is also the "midsole," which is the part between the upper and outsole that provides protection and support. Finally, the "insole" lies inside the boot and gives you yet more support and cushioning. For a sturdy and comfortable pair of boots, it's essential that they rank well in all these areas.
Methodology
To find the best products, our methodology usually remains the same: We consult multiple sources to aggregate the top scorers. This process involves scouring authority and critic websites in the industry, and looking at genuine customer feedback on sites like Amazon. From here, we can see which products are mentioned consistently and have received the highest praise within their respective category.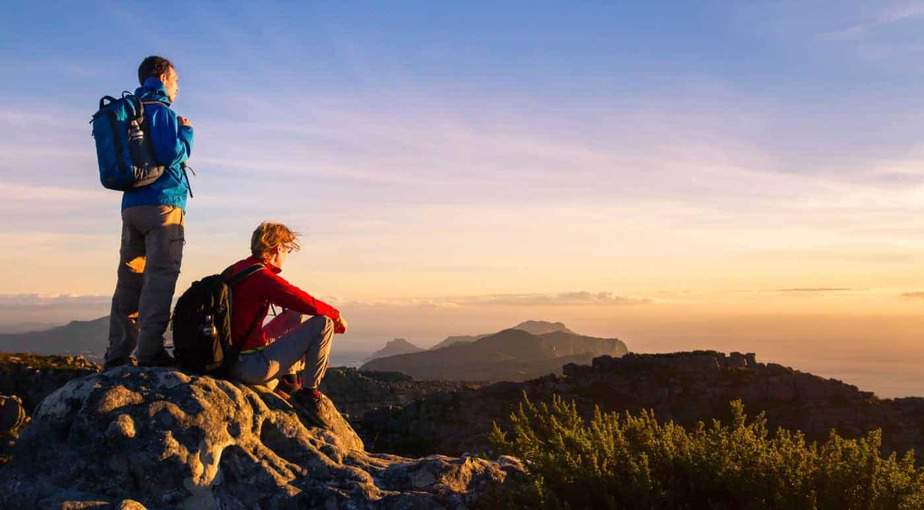 So, we only recommend the best boots in the industry according to real consumers and hikers like you. However, we also carefully considered the weight of each boot and ruled out those that may slow you down. What's more, we applied our own criteria, ensuring that each pair scores well for the following:
Fit — How true to size the boots are
Internal support — How firmly your feet are secured in place
Waterproofing — How well the boots repel water
Outsole and tread — Whether the traction is effective, and if the outsoles are built to last
Upper material — Whether the material repels or attracts dirt, and how durable it is
Liner breathability — Whether your feet are likely to sweat or breathe
The Best Lightweight Hiking Boots
1
Timberland White Ledge Men's Waterproof Boot
However important weight is, it's not the single defining factor when it comes to a good pair of hiking boots. So, while our top pick for best overall lightweight hiking boots isn't actually the lightest, it's still an excellent choice. Our winner, the Timberland White Ledge boot, comes from a brand that is recognizable to any footwear enthusiast.
Whereas many modern hiking boots use inexpensive, synthetic materials, Timberland keeps to its origins with authentic 100% leather. This material affords great comfort and surprisingly doesn't have a long break-in time, despite what you may expect from new leather. What's more, you're not going to have to pay a premium for authenticity, as these boots are highly affordable.
The main drawbacks are unfortunately also due to the attractive fabric and design choices. Firstly, leather isn't particularly breathable — in hot weather, your feet could sweat easily. Also, leather takes a lot of care to maintain, unlike synthetic materials that can simply be brushed or washed clean.
Pros
100% genuine leather
Lightest high-quality option
Minimal break-in time
Cons
Leather requires maintenance
Slippery on wet surfaces
Not breathable
2
Columbia Newton Ridge Plus II WP
The Columbia Newton Ridge II boots are the third lightest boots on our list. Not only that, but they're also highly affordable and budget-friendly if you are watching your purse strings. Despite the reasonable price tag, they don't sacrifice quality, and are made of genuine leather.
For a budget pair of boots, they don't lack functionality where it matters most: safety. These boots are touted as having excellent grip on tumultuous terrain. Best of all, the break-in period is short, so you won't have to wait long to hit the trails.
However, that the waterproofing isn't quite up to the standard that reviewers expect. So if you're shopping on a budget, try to avoid traipsing through moving rivers or deep standing water. Also, beware of hot weather, since these all-leather boots can become stifling.
Pros
Strong grip on rough surfaces
Short break-in period
Budget-friendly
Cons
Not very waterproof
Not breathable
Sole can become loose
3
KEEN Men's Targhee II Mid Waterproof Hiking Boot
Some boots suffer from complaints over lack of toe protection, or even a cramped toe box. The KEEN Men's Targhee II doesn't suffer from any such problems — the toe box is roomy and protects well. Leather and rubber materials create a spacious interior, as well as an outer that's both durable and scuff-resistant.
According to product design specs, the carefully engineered sole of these boots hugs the natural shape of your feet. Combined with the spacious interior, most users rate the general fit and support highly. That said, some users slate the heel for being less secure than other areas of the boots.
We recommend paying close attention to customer feedback suggesting these boots regularly run around a half-size smaller than expected. We also take the suggestion that the outsole can suffer from quality control issues with a grain of salt. A select few reviewers experienced the outsole coming away from the boot — but it doesn't seem widespread.
Pros
Ample room for wide feet
Waterproof
Removable, washable sole
Cons
Up to a half size off
Outsole quality control issues
Heel not very secure
Picking a lightweight boot doesn't mean sacrificing all-weather protection. The Merrell Moab 2 offers effective traction on wet terrains and protection against rain or standing water. What's more, you won't have to swap them out in the summer since they are also breathable.
With the exception of the sole, these boots are very supportive. According to consumers and critics, you shouldn't suffer from any rubbing or chafing after hiking on flat or mountainous terrain. Plus, these boots are strongly built and made from materials that won't easily take damage from rough, abrasive environments.
There are two main negatives of the design of these boots, the tongue and the sole. Reviewers find that the tongue lets debris in easily, while the sole is lacking some underfoot support. Another complaint is also common across the industry, which is that these boots tend to run a half-size small.
Pros
Breathable in hot weather
Supportive with no chafing
Durable upper materials
Cons
Lacking underfoot cushioning
Tongue allows debris in
Sizing issues
5
Merrell Men's Moab 2 Vent Mid Hiking Boot
That's right, we already covered the Merrell Moab 2 above — but this is not the same boot. This boot is another option that looks and wears like sneakers for a lighter alternative. There's less ankle support and overall less ruggedness, but there are some positive advantages.
Aside from their lightweight profile, these boots also perform well on both loose and rocky terrains. Due to the mesh upper that allows moisture to evaporate, they're also a good choice for hiking in hot climates. That said, some users say this design allows sand to flood in, so be wary of where you hike.
Otherwise, the main complaints seem to come from hikers who have previously owned the Moab 1 sneaker boots. Some claim this version runs less true to size, while others dislike small changes like the reduction in eyelets. Overall, unless you own the Merrell Moab 1, you won't even notice these things.
Pros
Lighter than Moab 2 WP
Good grip on loose terrain
Breathable mesh upper
Cons
Not for hiking on sand
Some users prefer Moab 1
Fewer eyelets than Moab 1
When your new boots arrive, you'll want to hit your favorite hikes as soon as possible. That's why a short break-in time — how long it takes to wear-in a new pair of boots — is essential. The Lowa Renegade GTX Mid boots feel like a second skin after a very short period of use.
These boots are some of the best in terms of both support and stability. Customers report superior outsole tread and grip on all kinds of wet, dry, and loose terrain. Plus, there's enough padded yet flexible support to protect your feet and ankles as they constantly bend and flex.
One of the main drawbacks of these boots is that the lacing system is weak compared to others. Though we recommend these boots, be wary that they are the second heaviest on our list. And, the rather expensive price tag could be the deciding factor if you're on the fence.
Pros
Padded fabric
Handles most terrains well
High, strong support
Cons
Lacing system isn't robust
Expensive
Higher in weight
7
Salomon X Ultra 3 Mid GTX
Design wise, the Salomon X Ultra 3 Mid GTX looks like a classic lightweight sneaker with synthetic mesh upper materials and a relatively low profile. Yet the additional heel support and high-rising eyelets are unmistakable hallmarks of a hiking boot.
This mixed design results in a boot that is very comfortable yet equally supportive. These boots offer superior waterproofing, yet they remain breathable thanks to the mesh layer. What's more, the break-in period is practically nonexistent out of the box.
Some sources raise questions over durability, though these comments are infrequent. The main drawbacks lie in the soles and tread, which some users find lacking in both cushioning and stiffness. Perhaps it's the lack of outsole stiffness that gives these boots such excellent traction on all terrain types.
Pros
Comfy and very supportive
Waterproof
Nonexistent break-in period
Cons
Some durability complaints
Lacks underfoot stiffness
Lacks cushioning underfoot
8
Danner Mountain 600 Enduroweave
If you're very particular about the kind of footwear you're caught wearing, these boots could pique your interest. Of all the boots we listed here, aesthetically the Danner Mountain 600 Enduroweaves are the least like a boot that we found. This hiking boot actually looks like a sneaker.
Thanks to this design, these boots weigh in at around 2 lbs for an average size 9 pair. Unfortunately, the snazzy design does come at a price, and they're some of the least water-resistant boots we found. The low-rise heel doesn't offer a high-reaching barrier against streams or deep puddles.
Still, things are much better inside of the boots — there's plenty of support and cushioning for your feet. What's more, there's a large amount of flexibility in the lightweight fabrics, making for a comfortable hike on uphill or downhill gradients. Just don't expect to have the utmost protection against harsh climates or deep winter weather in these boots.
Pros
Flexible on gradients
Just 2 lbs on average
Looks like a sneaker
Cons
Not very waterproof
Some users don't favor insole
Stiff when new
The Scarpa Zodiac Plus GTX is rugged enough to handle any loose, wet, or dry terrain you can throw at it. You'll appreciate the degree of support these boots offer, particularly over ground with lots of uphills and downhills. With high-reaching, padded ankle support, there's lots of protection for your constantly flexing ankles and heels.
This sturdy support extends beyond the rear of the boot, with considerable cushioning inside the toe box. But to get all this protection, ensure that your laces remain tightly fastened at all times. Some reviewers report that laces tend to loosen over time — so keep an eye on them.
The manufacturer's choice to craft the upper in suede is a main sticking point for some hikers. Suede tends to grip dirt and dust as if it were made of super glue, so take care in regularly cleaning these boots after every trail hike.
Pros
Grips wet or dry surfaces
Sturdy toe box protection
Reasonably high support
Cons
Doesn't repel dirt
Laces may come loose
Long break-in period
10
Forsake Range High – Women's Waterproof Leather
You might want the protection of hiking boots without the cumbersome and ugly designs that often come with them. Footwear known as sneaker boots help fill this role, a literal cross between a sneaker and a boot. Though durability generally doesn't quite live up to that of a traditional boot, you benefit from some more varied designs.
With a sneaker boot from a start-up brand, you can guarantee you'll stand out from the crowd. Each Forsake Range High boot weighs in at only 1 lb, yet they're blessed with strong waterproof protection. However, one main negative among reviewers is a lack of breathability when hiking in hot climates.
Be wary that with any newer brand, there's often a chance of inconsistencies in quality control from one boot to another, which can manifest in ways such as differing seams. But it's not a big deal: Overall, customer feedback is overwhelmingly positive and we wouldn't let a handful of comments regarding inconsistency put us off.
Pros
Offers both form and function
Lightweight and minimalistic
Unique
Cons
Waterproofing is not breathable
Not the most durable
Inconsistent quality
Related Rankings
Do hiking boots need to be waterproof?
There's no way to say that you absolutely must have waterproof hiking boots. If you hike solely on desert terrain with no rivers in sight, it may be an unimportant feature. But in our opinion, it never hurts to be prepared for every eventuality when you're hiking far from home.
Leather used to be the preferred choice for waterproof boot designs, but the industry has progressed. Now, there are many cheaper synthetic alternatives that use Gore-Tex waterproof membranes to keep out water. That said, be wary that some boots are also better at allowing water out — preventing your feet from sweating.
When your boots are hot and sweaty, not only is it uncomfortable, but your feet can chafe and become irritated more easily. However, if you're caught in rain that soaks through your boots, you'll have the same exact problem. So decide what's more important to you when selecting your footwear, and whether waterproofing is essential.
Do hiking boots need to be broken in?
New clothes are usually at their best when you put them on for the first time. They might lose some of their elasticity or color with each wash, or even shrink a little. For hiking boots, and some other types of footwear, the opposite is true: They need to be worn to be broken in.
Don't hit a long trail while breaking in your new boots. Instead, pace around the block to get a feel for them. Wear them around the house on a day off while you go about your chores. Look for any rubbing or pinching — these are signs of boots that may do more harm than good.
Be sure to wear the same insoles and socks you intend to use with your boots during this break-in period. Some materials like leather can be greater offenders and require a longer break-in period before they become flexible. The good news is that lightweight boots tend to become more flexible quicker than heavier pairs.
Are sneaker boots as good as hiking boots?
Sneaker boots are designed to be a cross between hiking boots and a good old pair of sneakers. They're more compact and thus a good all-purpose footwear choice, but they are less suitable for harsh hikes. So if you're talking about support for your feet on tough trails, then no, they're not as good. Here's why:
By design, sneaker boots are shorter than hiking boots, meaning the support extends less of a distance up your ankles. One of the key features you need in a hiking boot is support, especially on those steep inclines. And, on mountainous terrain without ankle support, you put yourself at serious risk for injury.
To be fair, in other areas such as durability and ruggedness, sneaker boots can be just as good as hiking boots. Of course, in many cases they are also more lightweight, which is our main area of focus. But overall, we think that they just can't match the overall benefit of hiking boots.
Are lightweight hiking boots less durable?
That extra weight has to come from somewhere, and in shaving off pounds, you could lose durability. Lighter boots may use thinner material in the upper or have a thinner outsole with a shallower tread. Or, they may use synthetic materials as opposed to leather, giving the boots a lighter profile.
Of course, craftsmanship and other factors come into play, so you can't always assume that heavier means tougher. Also be sure to look at how well the stitching holds together, whether there are issues with the outsole adhesive, and how strong and sturdy the lacing system is.
What are the best lightweight hiking boots?
It's tricky to name a single pair of hiking boots as the sole winner when some excel in different areas than others. Instead, we took our shortlist of 10 winners and picked out three that stand out in specific ways. If you're looking for the best of the best, take a look at the following three pairs of boots.
For our best overall lightweight hiking boots, look no further than the Timberland White Ledge. Coming from a world-recognized leader in quality footwear, you're guaranteed a well-built pair of boots that will last. You're also getting 100% genuine leather at a price that won't empty your wallet. 
If you favor a boot that has some character, pay attention to footwear from Forsake. This relatively new brand's Range High boot takes our accolade for best new brand lightweight hiking boots. You won't be just another face in the crowd on busy trails with this unique and lesser-known footwear brand.
Alternatively, there's the Salomon X Ultra 3 Mid GTX, which gets a nod for best all-terrain lightweight hiking boots. Whether wet or dry, loose or mountainous, these boots are capable of handling it all. They're perfect if you're the kind of hiker who switches things up a lot, hitting all kinds of trails.
RAVE Recommends
A solid pair of hiking boots shouldn't be your only purchase when it comes to useful gear for the trail. They're just one of many things that can make your hike both safer and more comfortable. So check out some of the other bits of kit we recommend for filling out your hiking pack.
Lightweight Parachute Portable Hammocks: Whole tent kits can be heavy, but there are alternatives. These lightweight portable hammocks are easy to fold and carry, and keep you from the cold, wet ground. 

LifeStraw Personal Water Filter: If you find yourself without fresh water, this filter can set things right in an emergency. Removing impurities and bacteria from water, it's a good alternative to carrying heavy loads of drinking fluids. 

DANISH ENDURANCE Merino Wool Hiking Socks: Don't invest in a pricey pair of hiking boots only to buy cheap, threadbare hiking socks. These merino wool socks are durable and provide excellent warmth and protection to keep your feet secure and dry. 

Pack-n-Wipe Compressed Disposable Towels: These compact towels expand into a full-size face towel when exposed to water. Whether you use them for a personal wash, or to wipe down your hiking boots, they're lightweight and take up little space.  

Traction Snow Grips for Boots: When even the strongest outsole grip won't do, you can add a pair of cleats to your boots. These chains help gain traction on the most slippery and rugged terrains you can find. 

Randy Brangman
Randy Brangman is a Licensed Physical Therapist and Exercise Therapist and a former long distance runner. He is the founder and Lead Exercise Instructor at Trinity of Wellness. Spending more time in running shoes than flip flops, he travels the world while going through pair after pair. He is currently writing a book about joint therapy.