Having lightweight boots is important, but it's just one of many factors that make up a good quality hiking boot.
Our best overall lightweight hiking boots are the Timberland White Ledge, with a 4.5 star average rating across nearly 10,000 Amazon reviews. Crafted from 100% genuine leather, they are comfortable with great aesthetics, but are surprisingly affordable.
If you are questioning whether you need to purchase a pair of footwear specifically for hiking, the answer is yes. A hiking boot is not an ordinary boot — it's designed to take abuse and stand up to the elements. Hiking boots are also more adept at offering support, stability, and most importantly, grip on surfaces that aren't your average sidewalk.

You probably already know the importance of certain factors when it comes to purchasing an all-weather, all-terrain hiking boot. You want something that's waterproof yet breathable, flexible yet supportive, and durable without being too heavy underfoot. It can be easy to forget this crucial last point — your boots should be lightweight. 

Nothing will put an end to a long hike faster than a pair of boots built like concrete blocks. So, we aggregated the best hiking boots from a vast range of sources and narrowed them down based on weight. The result is this recommendation of the 10 best lightweight hiking boots, where mobility has been given key consideration.
The Lightweight Hiking Boots We RAVE About
Don't let a poor choice of boots weigh you down when you're going for a personal best.
Best New Brand Lightweight Hiking Boots: Forsake Range High
Quality brands are popular for a reason, but they do tend to blend into the crowd. Stand out and support a rising name with a pair of boots from Forsake, a new brand in the hiking arena.
Read Full Review
Shop Forsake Range High
Finding your size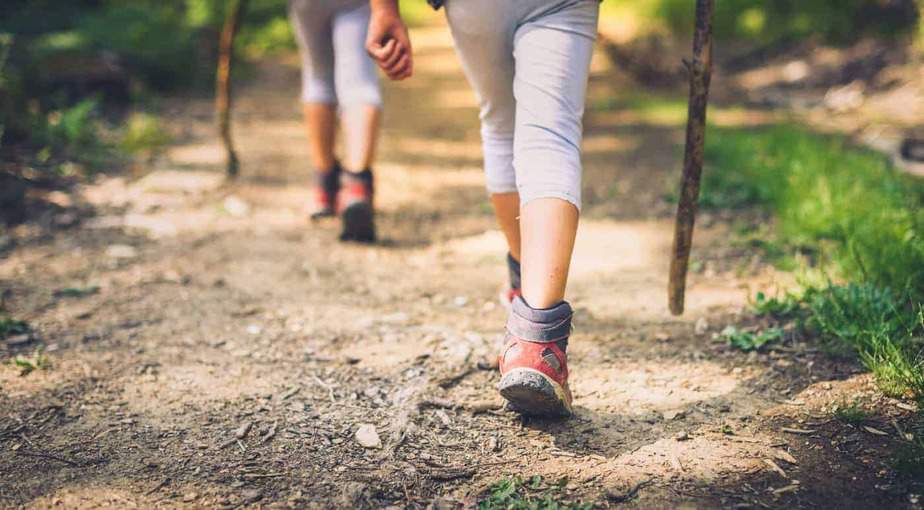 You probably already know what size footwear you wear for day to day shoes. Hiking boots are no different to regular footwear in the sizing department, so your size should remain the same. That said, some manufacturers can vary from a half to a full size, so look out for sizing in reviews. 
Outside of sizes, there are other considerations to take in how the boot will fit you. For example, some boots are wider or narrower than others, as are people's natural foot shapes. And, the degree of space and protection of the toe box of any boot can vary from one model to another. 
Also consider the heel and something called "heel lock," or how well your heel is kept in place. When you're hiking with your boots laced up, your heel should be locked in place and immobile. Adequate heel lock prevents rubbing and chafing, particularly on hills and slopes when your feet move around a lot. 
Importance of waterproofing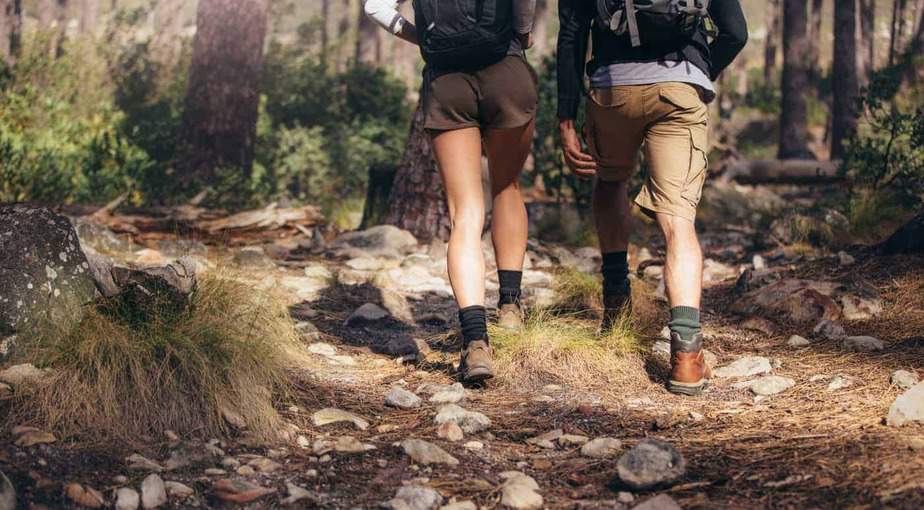 With high enough heel protection, some boots are sufficiently waterproof to keep your feet dry when walking through streams. However, even if you don't plan to traverse bodies of water, waterproofing can still prove useful. Thick, dewy grass can be enough to get your feet wet, as can heavy rain or snowfall. 
If your feet get wet out on the trail, it can not only be uncomfortable, but also dangerous. Even a well-fitting pair of boots can start to chafe and lead to broken skin when your feet are wet. That said, the vast majority of hiking boots are waterproof to some degree these days, so don't worry too much. 
When looking at waterproofing, consider breathability, which is the ability to allow moisture out of the boot. In hotter climates, your feet can quickly begin to sweat if your boots don't breathe well. Again, if your boots don't excel in this area, they can quickly become uncomfortable. 
Materials and terminology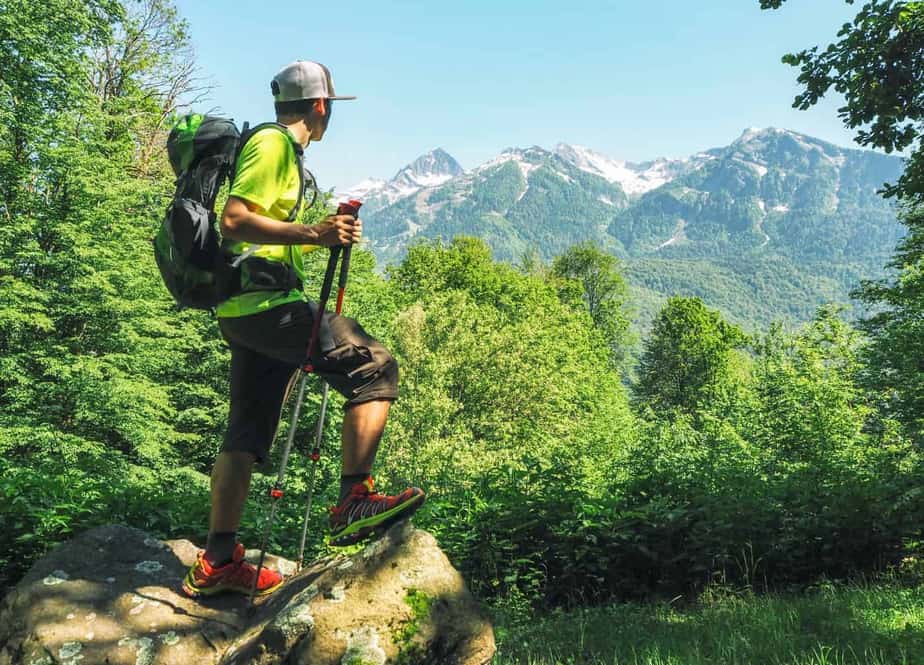 In the past, the most common material used for hiking boots was genuine leather rather than synthetic fibers. Leather is known for its durability and ruggedness, meaning your boots could stand the test of time and countless hikes. And though leather is still in use today, there are many alternatives that are much lighter and often cheaper. 
Synthetic materials are generally more resistant to scuffs and easier to keep clean with water and a cloth. Watch out for boots that use other materials like suede, as they tend to be dirt magnets. Check reviews to make sure your boots aren't made from a material that will look aged after one hike. 
When you're shopping for hiking boots, there are some common terms that you're likely to come up against. The "upper" is the main part of the boot that protects your feet against the elements. The "outsole" is the rubber tread that provides traction, plus protection against harsh terrain. 
There is also the "midsole," which is the part between the upper and outsole that provides protection and support. Finally, the "insole" lies inside the boot and gives you yet more support and cushioning. For a sturdy and comfortable pair of boots, it's essential that they rank well in all these areas. 
Methodology
To find the best products, our methodology usually remains the same: We consult multiple sources to aggregate the top scorers. This process involves scouring authority and critic websites in the industry, and looking at genuine customer feedback on sites like Amazon. From here, we can see which products are mentioned consistently and have received the highest praise within their respective category.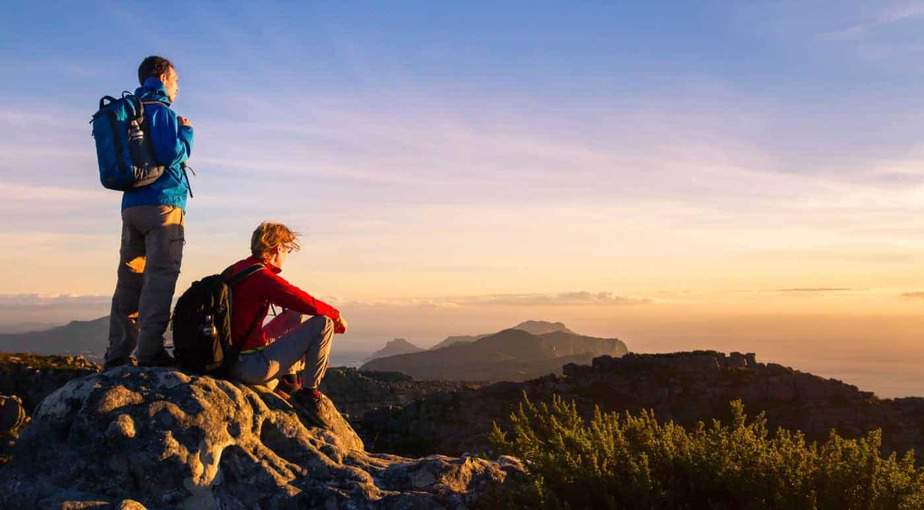 So, we only recommend the best boots in the industry according to real consumers and hikers like you. However, we also carefully considered the weight of each boot and ruled out those that may slow you down. What's more, we applied our own criteria, ensuring that each pair scores well for the following: 
Fit

— How true to size the boots are

Internal support

— How firmly your feet are secured in place

Waterproofing

— How well the boots repel water

Outsole and tread

— Whether the traction is effective, and if the outsoles are built to last

Upper material

— Whether the material repels or attracts dirt, and how durable it is

Liner breathability

— Whether your feet are likely to sweat or breathe 
The Best Lightweight Hiking Boots
Do hiking boots need to be waterproof?
There's no way to say that you absolutely must have waterproof hiking boots. If you hike solely on desert terrain with no rivers in sight, it may be an unimportant feature. But in our opinion, it never hurts to be prepared for every eventuality when you're hiking far from home. 
Leather used to be the preferred choice for waterproof boot designs, but the industry has progressed. Now, there are many cheaper synthetic alternatives that use Gore-Tex waterproof membranes to keep out water. That said, be wary that some boots are also better at allowing water out — preventing your feet from sweating. 
When your boots are hot and sweaty, not only is it uncomfortable, but your feet can chafe and become irritated more easily. However, if you're caught in rain that soaks through your boots, you'll have the same exact problem. So decide what's more important to you when selecting your footwear, and whether waterproofing is essential. 
Do hiking boots need to be broken in?
New clothes are usually at their best when you put them on for the first time. They might lose some of their elasticity or color with each wash, or even shrink a little. For hiking boots, and some other types of footwear, the opposite is true: They need to be worn to be broken in. 
Don't hit a long trail while breaking in your new boots. Instead, pace around the block to get a feel for them. Wear them around the house on a day off while you go about your chores. Look for any rubbing or pinching — these are signs of boots that may do more harm than good. 
Be sure to wear the same insoles and socks you intend to use with your boots during this break-in period. Some materials like leather can be greater offenders and require a longer break-in period before they become flexible. The good news is that lightweight boots tend to become more flexible quicker than heavier pairs. 
Are sneaker boots as good as hiking boots? 
Sneaker boots are designed to be a cross between hiking boots and a good old pair of sneakers. They're more compact and thus a good all-purpose footwear choice, but they are less suitable for harsh hikes. So if you're talking about support for your feet on tough trails, then no, they're not as good. Here's why: 
By design, sneaker boots are shorter than hiking boots, meaning the support extends less of a distance up your ankles. One of the key features you need in a hiking boot is support, especially on those steep inclines. And, on mountainous terrain without ankle support, you put yourself at serious risk for injury. 
To be fair, in other areas such as durability and ruggedness, sneaker boots can be just as good as hiking boots. Of course, in many cases they are also more lightweight, which is our main area of focus. But overall, we think that they just can't match the overall benefit of hiking boots. 
Are lightweight hiking boots less durable? 
That extra weight has to come from somewhere, and in shaving off pounds, you could lose durability. Lighter boots may use thinner material in the upper or have a thinner outsole with a shallower tread. Or, they may use synthetic materials as opposed to leather, giving the boots a lighter profile. 
Of course, craftsmanship and other factors come into play, so you can't always assume that heavier means tougher. Also be sure to look at how well the stitching holds together, whether there are issues with the outsole adhesive, and how strong and sturdy the lacing system is. 
What are the best lightweight hiking boots?
It's tricky to name a single pair of hiking boots as the sole winner when some excel in different areas than others. Instead, we took our shortlist of 10 winners and picked out three that stand out in specific ways. If you're looking for the best of the best, take a look at the following three pairs of boots. 
For our best overall lightweight hiking boots, look no further than the Timberland White Ledge. Coming from a world-recognized leader in quality footwear, you're guaranteed a well-built pair of boots that will last. You're also getting 100% genuine leather at a price that won't empty your wallet. 
If you favor a boot that has some character, pay attention to footwear from Forsake. This relatively new brand's Range High boot takes our accolade for best new brand lightweight hiking boots. You won't be just another face in the crowd on busy trails with this unique and lesser-known footwear brand. 
Alternatively, there's the Salomon X Ultra 3 Mid GTX, which gets a nod for best all-terrain lightweight hiking boots. Whether wet or dry, loose or mountainous, these boots are capable of handling it all. They're perfect if you're the kind of hiker who switches things up a lot, hitting all kinds of trails. 
RAVE Recommends
A solid pair of hiking boots shouldn't be your only purchase when it comes to useful gear for the trail. They're just one of many things that can make your hike both safer and more comfortable. So check out some of the other bits of kit we recommend for filling out your hiking pack.