After much pacing and even more research, we've chosen CARBON by Superfeet as the best insoles.
These are the best insoles for both casual walkers and athletes. They manage to do much with little — adding extra cushion and support to your gait, but under a low profile. You can slip them into almost any shoe and walk 500 miles before they need replacing.
So, whether you're training for a marathon or standing for hours each day in dress shoes, the CARBON is versatile, durable, subtle, and affordable enough to relieve your feet and prevent injury. But don't take our word for it. As they say, before you judge a pair of insoles, walk a mile with them in your shoes.
There are many varieties of insoles. What shape, style, and material you should choose depends on your lifestyle and foot health. The insoles on this list were selected for individuals who do an average, or above average, amount of standing, walking, or running each day — enough to require replacement insoles before buying replacement shoes.
Individuals with special health concerns or who lead extremely athletic lifestyles have personalized needs not considered in this list. If you fall into that category, we recommend you consult a podiatrist or physical therapist to find the right insoles for you.
These insoles were selected because they absorb impact, stabilize the foot, support the arch, and help you keep your feet healthy and comfortable. While many products on this list are known to alleviate certain painful foot problems — such as spurs or Plantar Fasciitis — they were not necessarily selected with those specific conditions in mind.
The Insoles We RAVE About
Best Overall
CARBON by Superfeet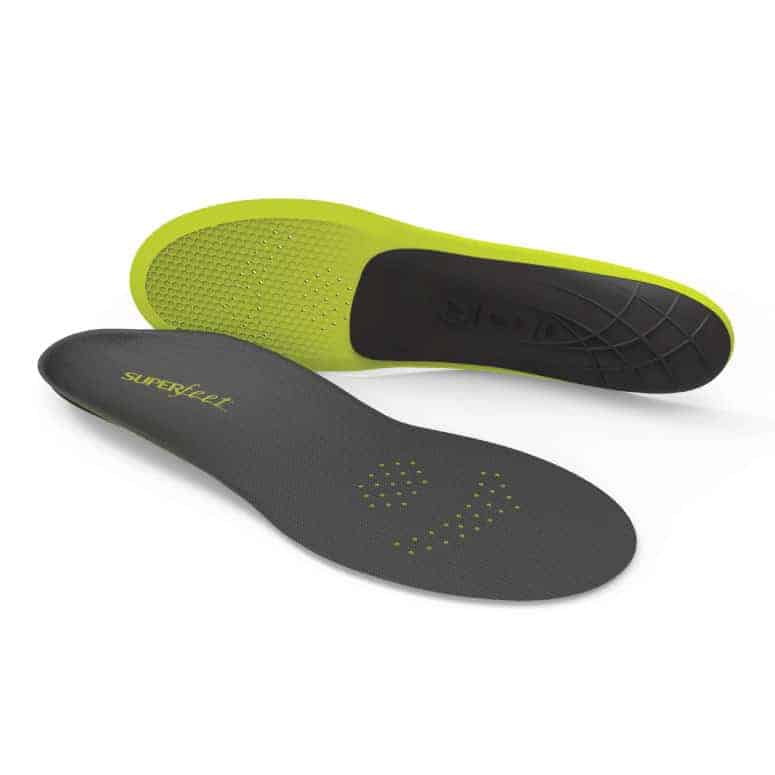 Best in Versatility
Powerstep Original Shoe Insoles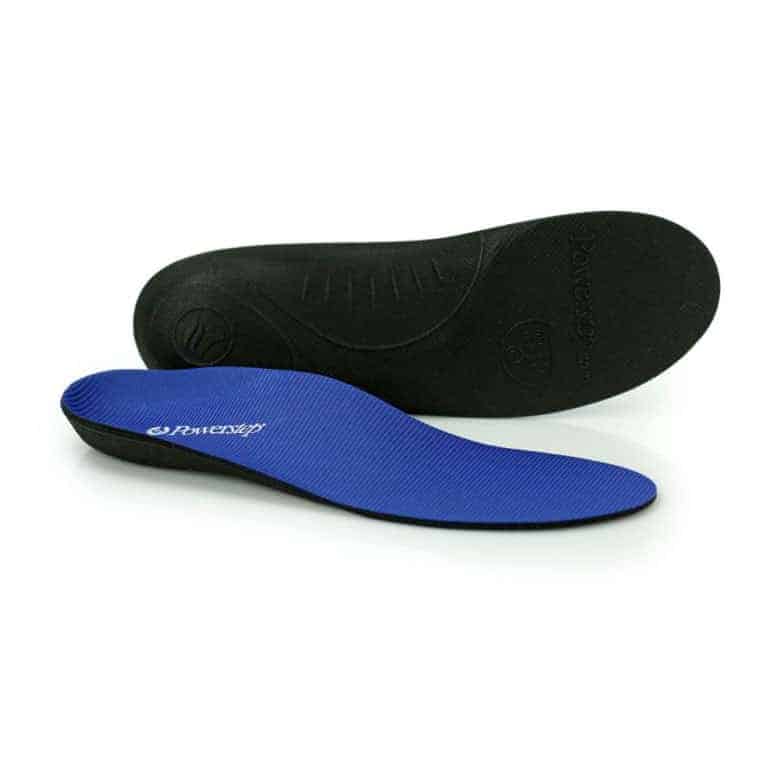 Best Price
Running Insoles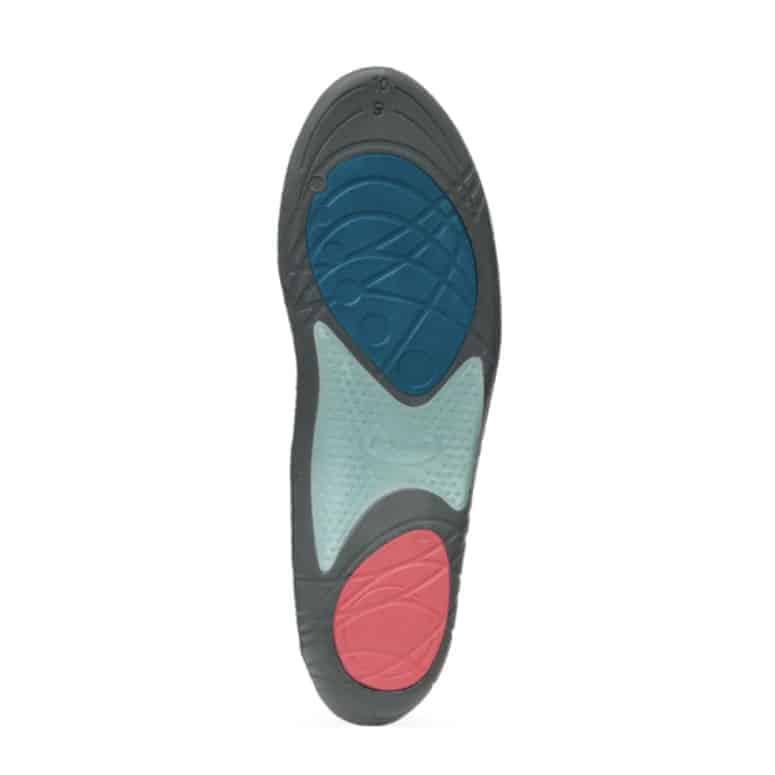 4 Benefits of Buying a Pair of Insoles
Every shoe comes with its own insole right out of the box. However, these are often thin and seldom offer the necessary degree of support and comfort. Though it costs a bit more, there are some major benefits to fitting your shoes with a fresh pair of insoles.
1. Extend the lifespan of your shoe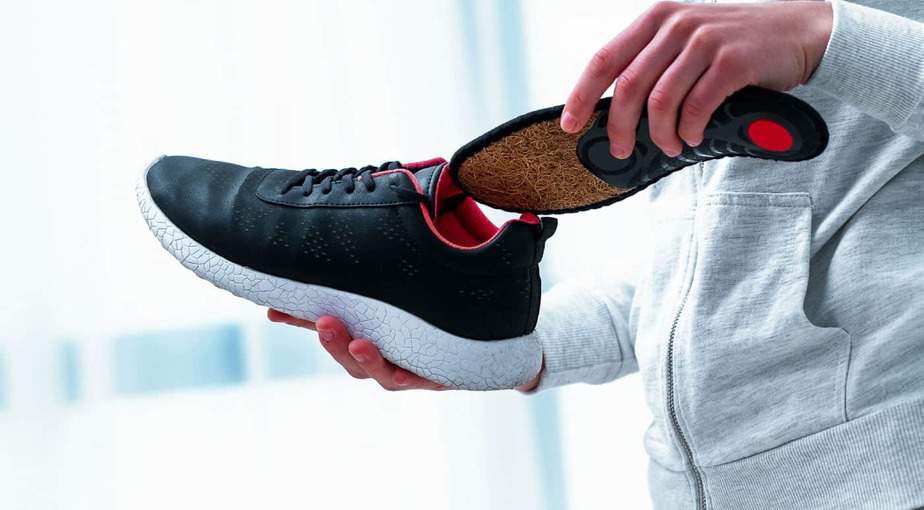 There's a reason why insoles are the only part of a shoe that can be removed and replaced. They take the brunt of the impact. Naturally, they are the quickest part of the shoe to fall to pieces, no matter how well-made they might be.
But just because the insole in your shoe is worn out, it doesn't mean the entire shoe needs to be replaced. A replacement pair of insoles is much cheaper than a new pair of shoes. More than that, insoles purchased separately tend to last longer than the ones that came with the shoes. Most likely, you won't have to replace them as quickly.
2. Prevent injury
A good pair of insoles does more than comfort the foot, alleviating aches and pains. It also stabilizes the foot. This lowers the odds of rolling your ankle or getting a sprain. Insoles purchased separately tend to give better arch support than the insoles that came with your shoe. This added support can help you maintain your balance, which can minimize the risk of stumbling or falling.
Supportive and comfortable insoles can also help prevent you from contracting painful foot problems like spurs or Plantar Fasciitis. So, whether you have these health concerns or not, insoles are a best practice for foot care.
3. Maximize performance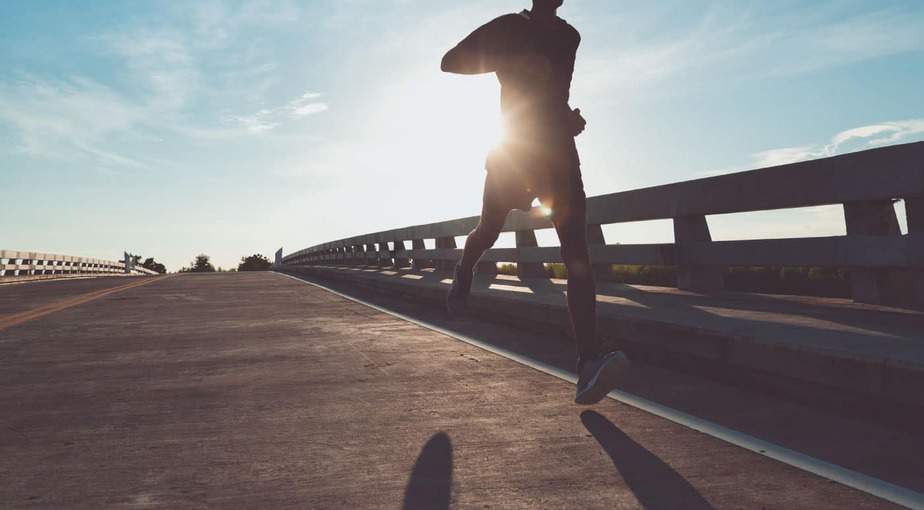 This one's a no-brainer. Ask any professional athlete and I guarantee you, they buy insoles for their shoes separately. It's not all about avoiding injury. Good insoles stabilize the foot, support the arch, and absorb impact — all factors which help make you stay on your feet longer. A pair of insoles is one easy step toward building up your speed and endurance.
4. Spend your day in greater comfort
Comfort should not be under-emphasized. What's worse than walking into the office, the court, or the hiking trail, and thinking about your feet instead of the task at hand? In a way, comfort is about not noticing something, whereas pain is the opposite. Insoles can take away any thoughts of discomfort by padding and supporting your feet, minimizing strain, and alleviating aches.
Many painful feet issues are a result of sub-par footwear. A single pair of insoles could go far toward a solution. At any rate, the cost can't be more painful than shifting your weight on achy, aggravated feet.
4 Things First-Time Insole Buyers Should Know
If you're buying a pair of insoles for the first time, there are a few things you need to keep in mind. Some of these things you need to know before you buy; some of them are about managing your expectations afterward.
1. They will be uncomfortable at first, but will wear-in over time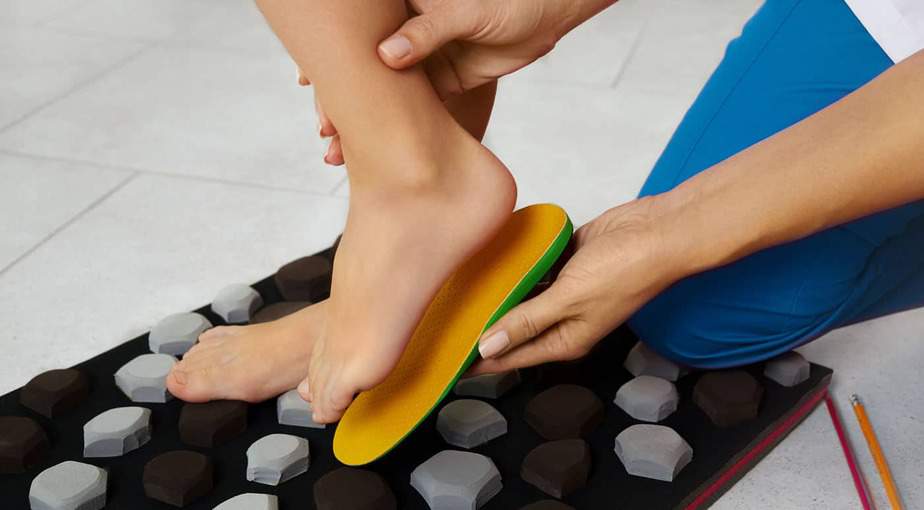 Insoles vary in thickness and softness. However, none of them will feel like pillows. Not at first. But give it some time. After you walk a few miles, your feet will break-in the insoles. They'll get more comfortable with time. You just have to be patient.
2. Your insoles may need trimming
There are too many varieties of shoe size and shape for custom insoles to be made for each one. Most insoles you buy are wider than you will need. This does not mean you need to buy a smaller size insole — it means you are expected to trim its edges with a pair of scissors. This is normal.
I recommend trimming just a little bit at a time. Insert and remove the insole repeatedly, clipping off a sliver each time until it fits perfectly inside the shoe.
3. You can use the same pair of insoles for multiple pairs of shoes
I mean, why not? Insoles are an additional cost, so it makes sense to transfer them from shoe to shoe rather than buy a new pair for each. Now, these insoles may still need trimming. The more you trim your insoles, the less transferable they become — in theory.
4. Know your arch type
Generally speaking, there are three arch types: low/flat, medium/neutral, and high. The arch seldom gets the support it needs, so you need to know your arch type before buying insoles. If you don't know which arch type is yours, a quick search online can show you some easy ways to find out.
Methodology
The results of these reviews came from cross-referencing product tests (both by companies and individuals), applying critical analytics to hundreds of customer experiences, researching the policies, principles, credentials, and methodologies of manufacturers, and also citing authorities on particular brands — such as professional athletes and podiatrists. In short, we did the homework so you don't have to!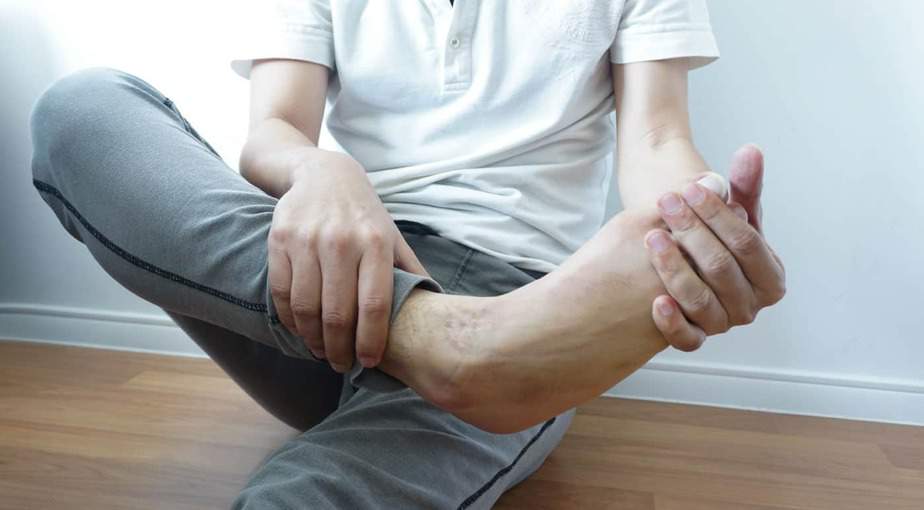 Below are the criteria we looked for when compiling this list:
Odor resistant: Insoles should feature some antimicrobial or antibacterial treatment to prevent odor, fungus, etc.
Durable: Insoles should be able to undergo several hundred miles before needing to be replaced in order to make the buyer's purchase worthwhile.
Size options: Insoles should be available in various sizes to accommodate all ages and genders.
Arch support: The best products will offer several options for each arch type, but preference will be given to medium (i.e., "neutral") arch support.
Cooling agent: Insoles should feature gel inserts, perforated foam, or some other feature to regulate temperature to prevent hot-spots, which could form blisters.
Fair price: Favor will be given to products which have a price proportionate to (or lower than) their quality.
Eco-friendly: Companies that demonstrate environmentally conscious practices will be given favor.
Versatile: Insoles should keep a low profile so that the same pair can be used for multiple shoes.
Shock absorbant: Insoles should be designed tactfully to support the foot and soften impact on hard, flat surfaces.
The Best Insoles
Related Rankings
1. Can insoles or footbeds cure spurs, Plantar Fasciitis, or arthritis?
Insoles cannot cure spurs, Plantar Fasciitis, or arthritis, but they can be a therapeutic factor in treatment.
These often-painful foot-related health issues have various causes that are seldom reducible to the quality of one's footwear. Simply changing what kind of shoe or insole you wear may not strike the problem at its source. While insoles can improve matters by adding support and comfort, you should see a physical therapist or podiatrist to take effective steps to recovery. They might even prescribe a custom insole you could not purchase over-the-counter.
That said, there is a strong case to be made that a high-quality insole can help prevent these issues before they occur. Insoles are a best practice for foot care. Not only do they keep your feet comfortable, reducing aches, but they also stabilize each foot, support the arch, and absorb impact. These factors could help prevent falls, twisted ankles, or the development of spurs and Plantar Fasciitis.
2. I just bought a new pair of shoes. Do I need insoles?
Probably. Most shoes bought new already come with their own insoles or footbeds right out of the box. However, the quality of these insoles varies. Particularly for dress shoes like brogues or high-heels, they tend to be little more than thin strips of leather or rubber. This is not always the case with athletic shoes or casual sneakers. Still, most insoles bought with the shoe do not offer sufficient comfort or arch support.
Purchasing a separate pair of insoles is best practice for foot health. However, you do not necessarily need a pair of insoles for each pair of shoes. Insoles like our top choice, the CARBON by Superfeet, keep a low profile, which makes them pair nicely with almost any shoe you can own. You can simply transfer the insoles to any shoe you plan to wear that day.
Some insoles need to be trimmed with a pair of scissors in order to fit in some shoes. Naturally, this limits their versatility. If this is the case, you may need to purchase more than one pair of insoles.
3. What material is the best for insoles?
Insoles can be made of multiple materials. Each material has its own set of qualities which may make it more appealing to you. The most popular materials are foam and gel. Foam is versatile and the material most likely to support your arch with the first purchase. Foam acts like clay, moulding to your foot and cradling it in a spongy hug. It is praised for its comfort and support. However, it tends to run pricier than other materials.
The second most popular insole material is gel. Gel is excellent at absorbing shock and regulating temperature. This makes it a top choice for athletes as well as individuals with sensitive joints. Insoles made entirely from gel tend to be inexpensive, but they are also less durable. Many manufacturers like to combine gel pads with foam footbeds.
More traditional materials for insoles include cork, leather, rubber, and thick fabric. None of these conform to the foot like foam and, with the exception of cork, are quite poor at regulating temperature. The insoles that come with a new pair of shoes tend to be made from one of these less supportive, less expensive materials.
4. What's the difference between an insole and a footbed?
Practically speaking, there is no real difference. Insoles and footbeds are spoken of interchangeably. It doesn't matter which word you use, people will have the same item in their heads.
Still, there is a slight difference. Technically, insoles are the inside of a shoe which touches the bottom of the foot. This may or may not be removable. A footbed is a certain type of insole; namely, a removable one that is not sewn (or stapled) into the shoe. Technically, all the products listed on this page are footbeds, but this distinction is rarely made.
For much of human history, insoles were a non-removable part of the shoe. To replace them required someone, like a shoemaker, who had the tools and skills required to take the shoe apart and then reassemble it with a new insole. These days, almost all insoles are additional parts of the shoe that can be slipped in or out with ease. All insoles are now footbeds, so we've forgotten the difference.
5. What are the best insoles?
Our top pick for the best insoles is CARBON by Superfeet. Every individual has their own idea of comfort. While we can suggest rules which tend to apply generally, it is up to you to know what your foot-related needs are. The best insoles support the arch. There are at least three different arch types, broadly speaking: low/flat, medium/neutral, and high. Most feet have a medium arch, but you should know which one yours have. It may differ from foot to foot.
The best insoles stabilize the foot to prevent rolling or spraining. Many accomplish this with a deep heel-cup or a firm latex frame which cradles the foot, but there are many ways to do it. Stabilizing the foot also prevents friction. Friction is the rapid rubbing of your foot against the wall of the shoe. This can create hot-spots, which are uncomfortable and can form blisters.
The best insoles are easy to trim (so they can be fitted to your shoe of choice), feature some antimicrobial or antibacterial treatment which prevents bad odor or fungus, and have some cooling feature like gel or perforated foam to regulate temperature. The best insoles are also durable, which extends the lifespan of your shoe. Because they meet all these criteria, we selected CARBON.
RAVE Recommends
The sole is an awfully small part of the body. Once you have the right insole or footbed for your toes, you still have the head, shoulders, and knees! If you want to step up your athletic game, take a stroll through these other products.